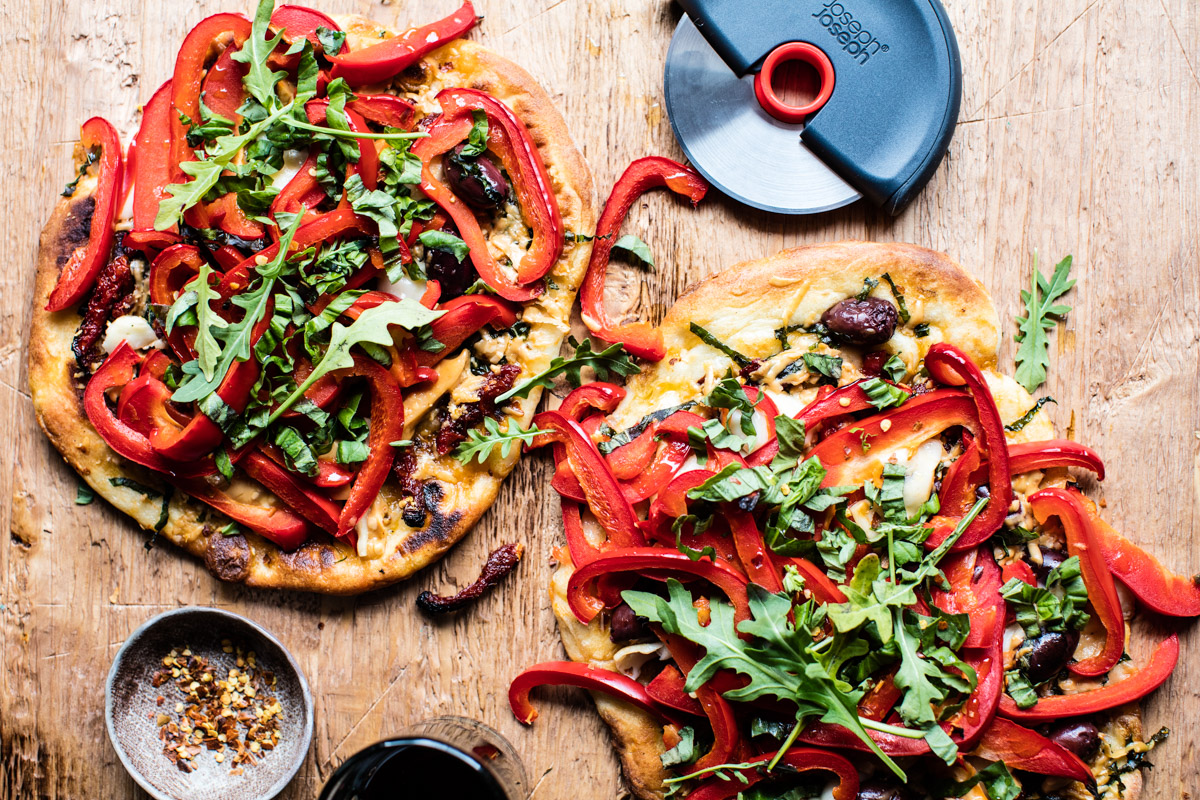 It's really such a perfect food. Pizza is one of the few dishes that covers all 5 food groups (don't forget…tomatoes are actually fruits), and there are so many ways to serve it.
I make a new pizza at least once a week. When I'm short on time, I love using store-bought naan as a quick, but delicious pizza crust. It's buttery, soft, doughy, and makes for the most perfect pizza base when time is limited.
This veggie-loaded pizza is one of my all time favorites. The flavors are very Mediterranean inspired with lots of fresh oregano, basil, olives, sun-dried tomatoes, and bell peppers. If you're feeling creative, feel free to use the veggies you have on hand or love most. I think a broccoli version of this pizza would be amazing! Oh, or maybe some thinly sliced zucchini? Really any veggies would be great!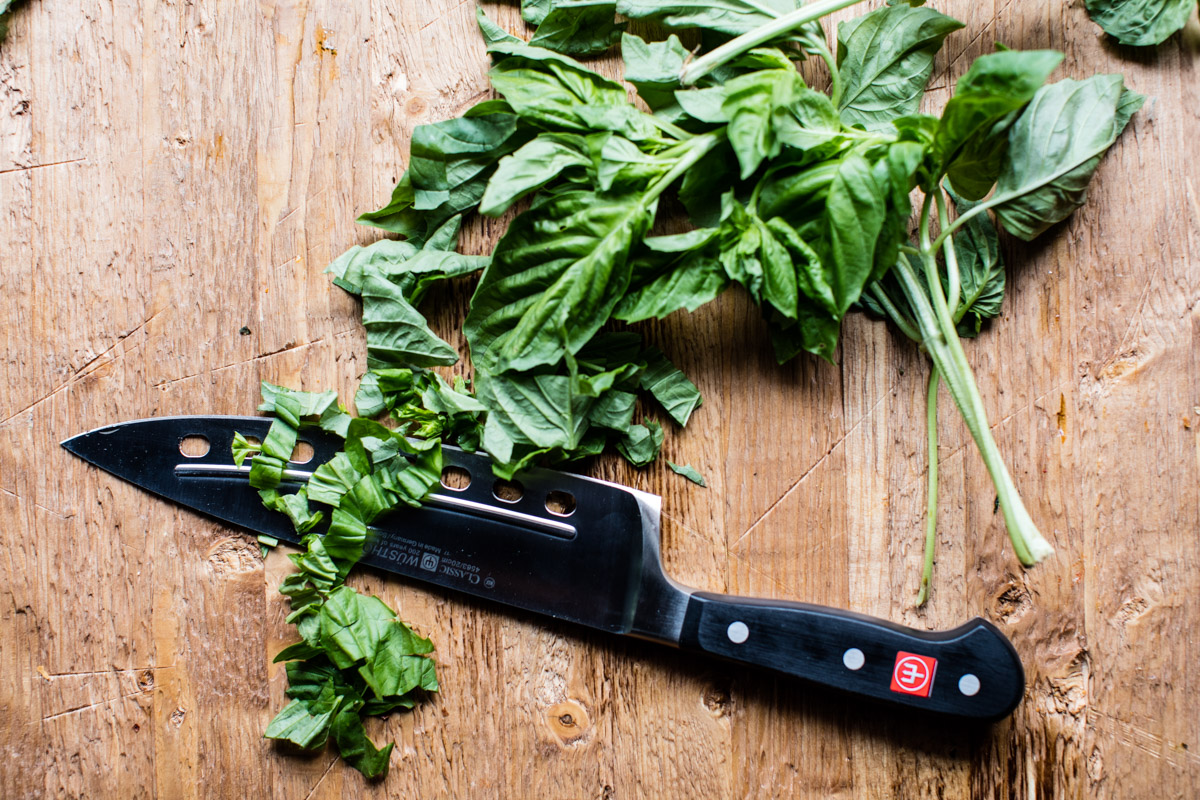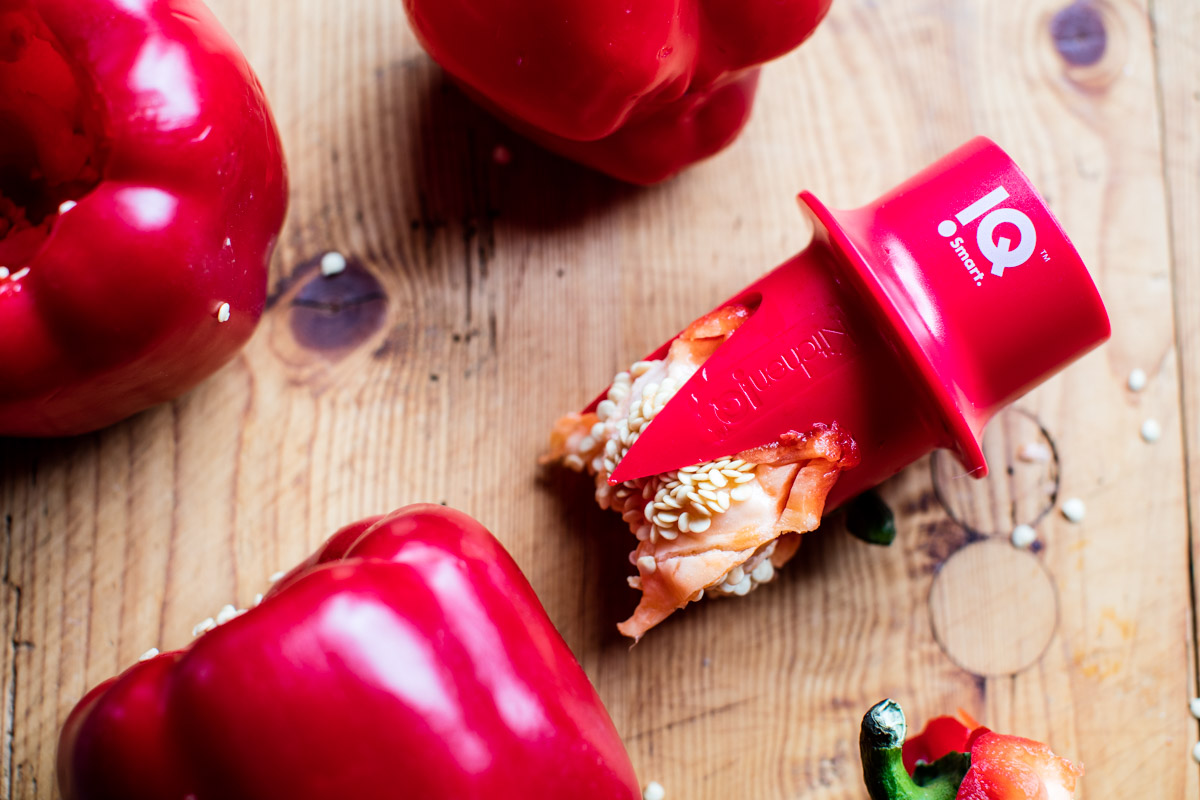 As for me cheese, I went with the combo of mozzarella, Gouda, and Parmesan. To me, you can never go wrong with a combo like that. The mozzarella melts really nicely, while the Gouda adds serious flavor. The Parmesan…well, Parmesan is just a must on any pizza, at least for me!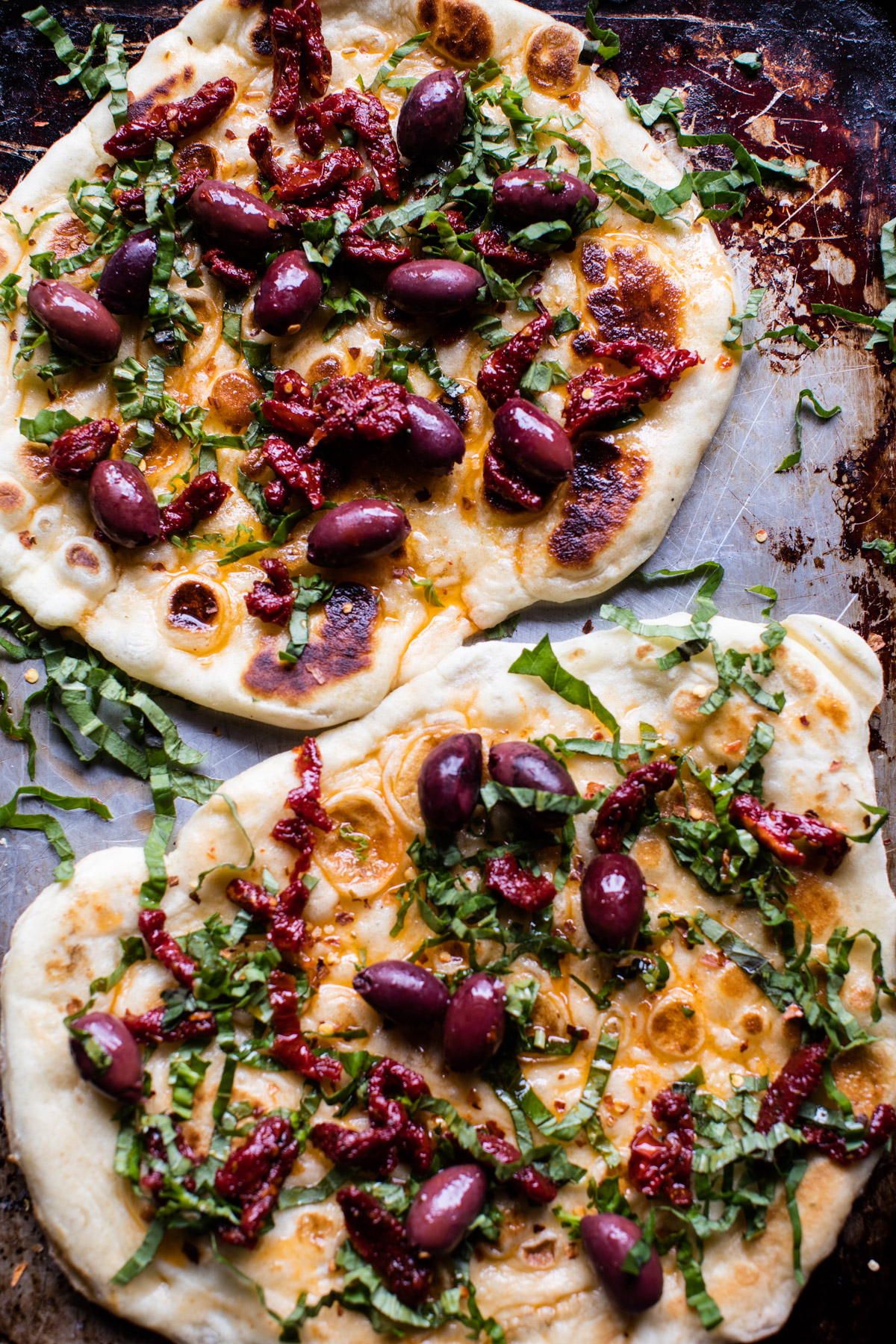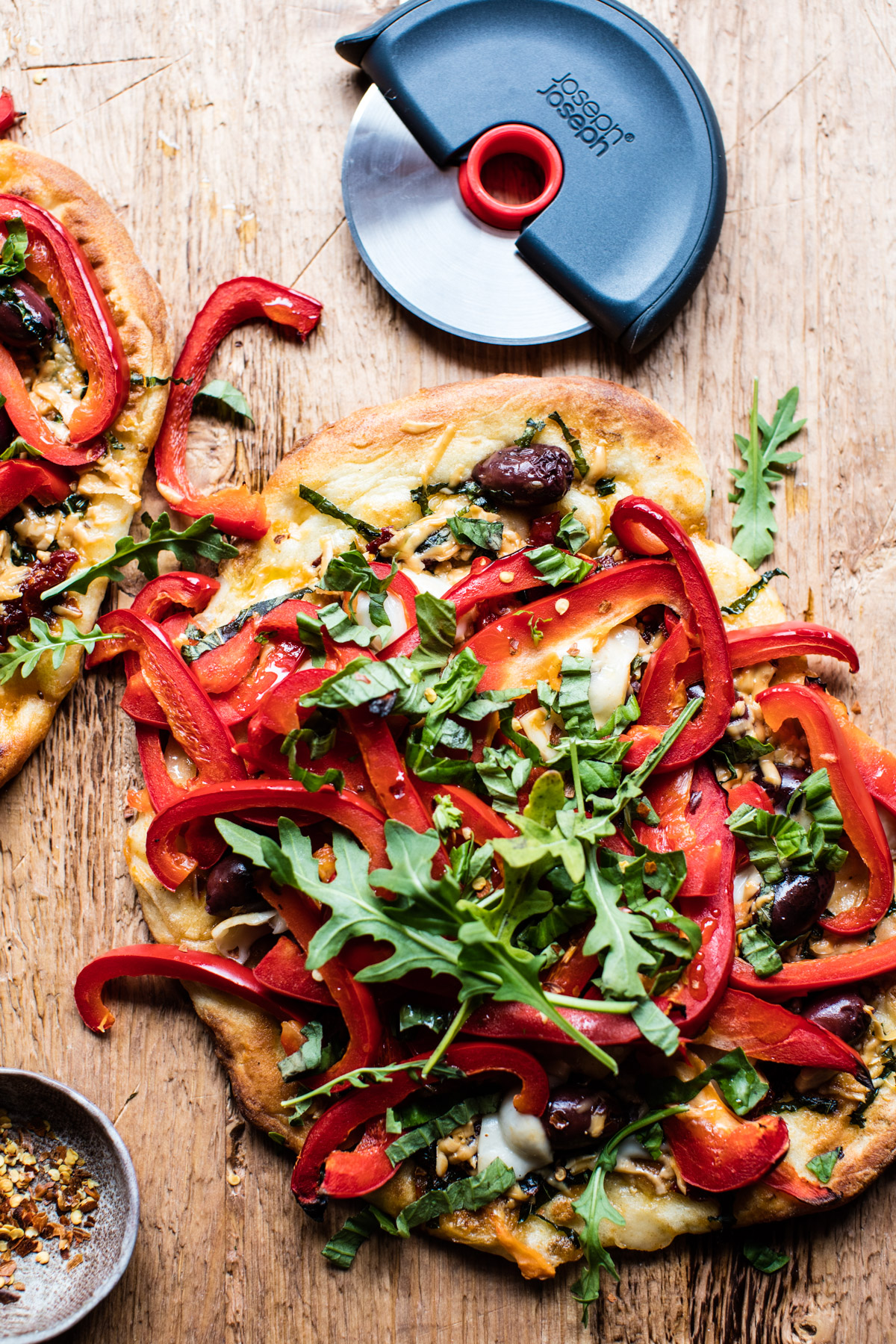 The best part about this pizza is how quick and easy it comes together. You can have it on the dinner table in less than thirty minutes. Yes, please!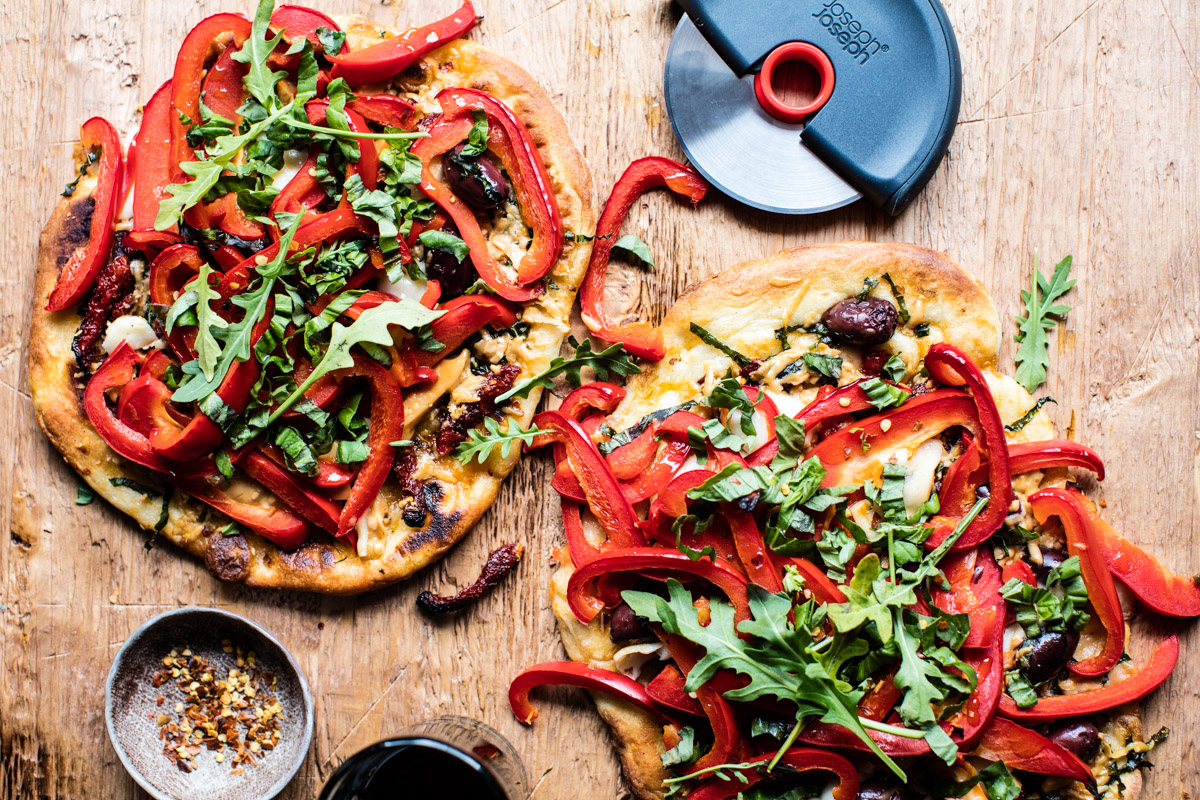 Loaded Veggie Naan Pizza Recipe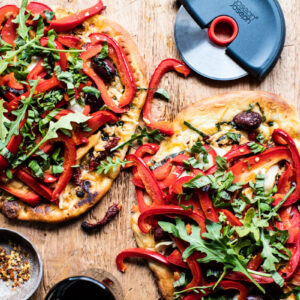 INGREDIENTS
2 pieces naan
¼ cup olive oil
1 tablespoon chopped fresh oregano
Pinch of crushed red pepper flakes
¼ cup fresh basil, chopped
¼ cup pitted kalamata olives
¼ cup oil packed-sun-dried tomatoes, oil drained and sliced
1 cup shredded mozzarella cheese
1 cup shredded Gouda cheese
½ cup grated Parmesan
2 red bell peppers, sliced
Fresh basil, for topping fresh arugula, for topping
INSTRUCTIONS
Preheat the oven to 425 degrees F.
Place the pieces of naan on a large baking sheet. Spread each piece with olive oil and sprinkle evenly with oregano, basil, and crushed red pepper flakes. Then add the olives and sun-dried tomatoes.
Divide the cheeses evenly among each pizza. Add the bell peppers and drizzle lightly with olive oil. Season the peppers with salt and pepper. Transfer to the oven and bake for 10-15 minutes or until the cheese has melted and the peppers are beginning to char. Garnish each pizza with fresh arugula and basil. Eat!