Corned Beef Tacos with Beer Battered Fries
I always love a good holiday. So when St. Patrick's Day rolls
around, it gives me an excuse to come up with creative new twists on traditional
foods. And ok, it also turns a boring month into a fun one! To be completely
honest, I'm not all that knowledgeable on Irish traditions, and I don't know very
much about Irish cooking… oh my Irish great-grandma would be so disappointed.
Here's the thing though, I do know that while corned beef is
very traditional on St. Patrick's Day, it can get a little boring. So today, I
took classic corned beef and I gave it a little "ole." Kind of a Mexican meets
Irish sort of meal.
YESS.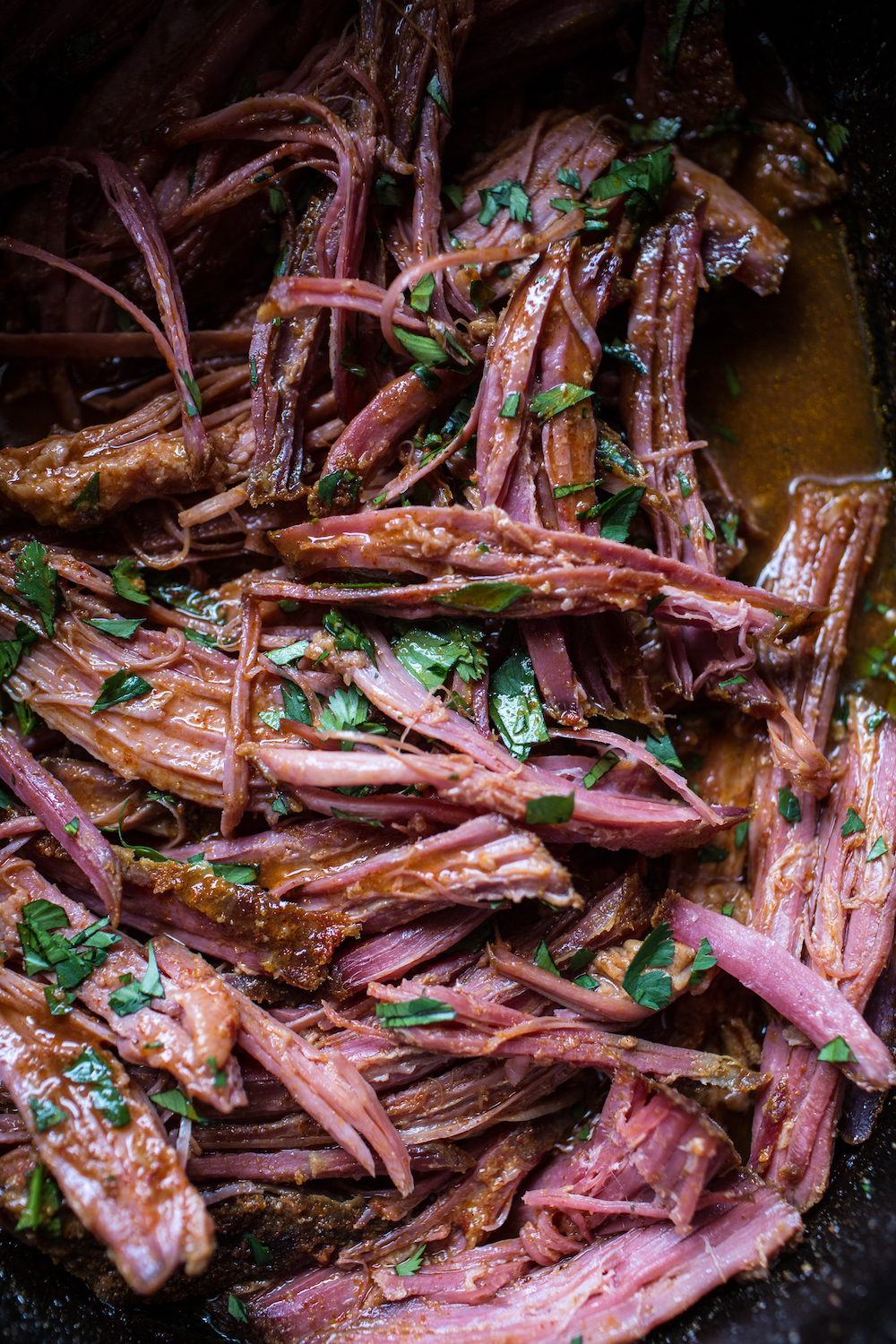 I'm talking Irish tacos with all the fixings. And when I say
fixings, I mostly just mean, BEER BATTERED FRIES.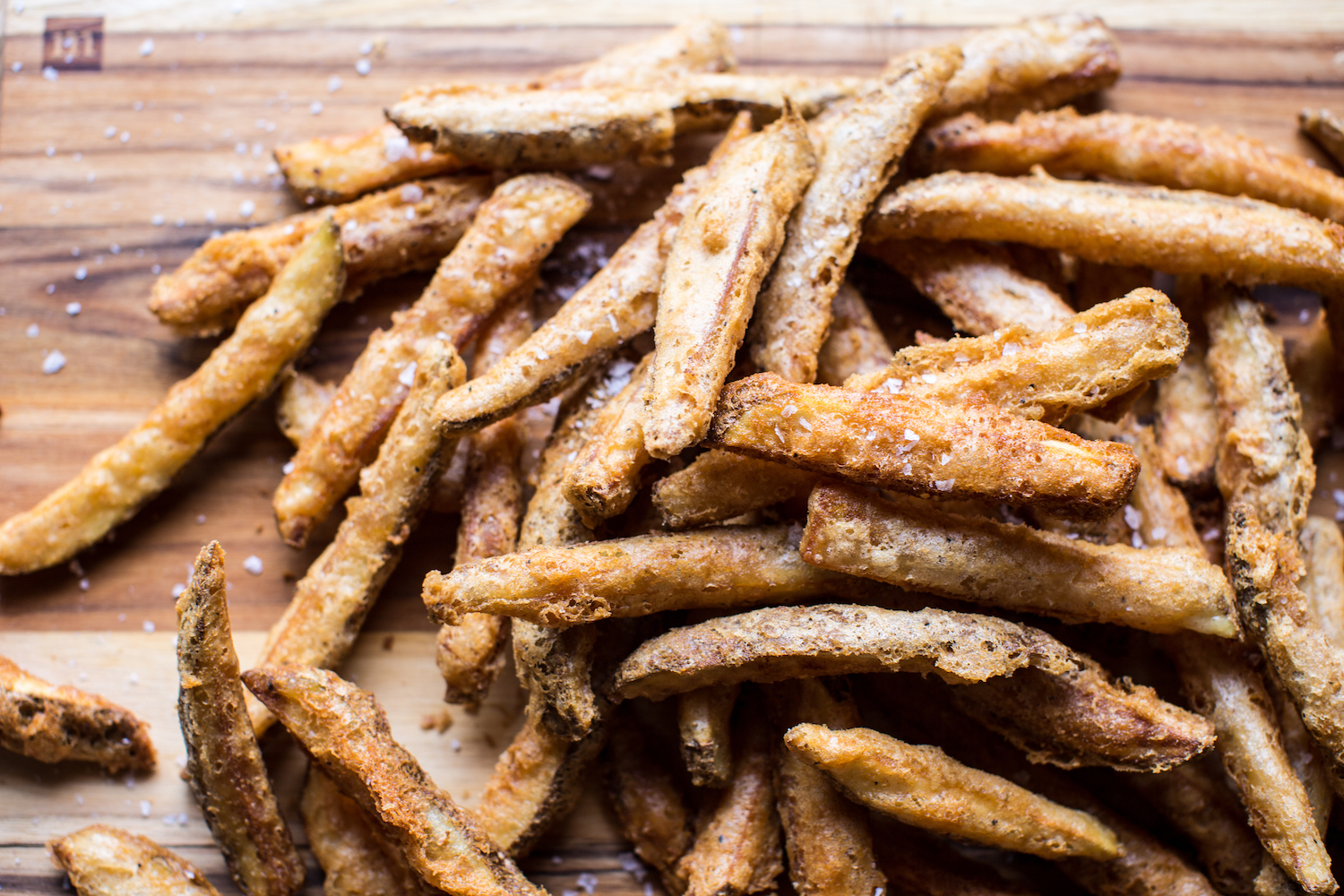 Here's the deal, the corned beef gets slow cooked in the
crockpot with spices and citrus. After a full day of cooking it basically falls
apart, which is just what you want. I topped my corned beef tacos with some
sharp Irish cheddar and cabbage, and then went for the big topper, those
gorgeous and perfectly crunchy beer battered fries. Oh those fries, they're
kind of everything. If you do one thing this March, let it be to make these
fries. They are a GAME CHANGER.
And that there is an your Irish taco!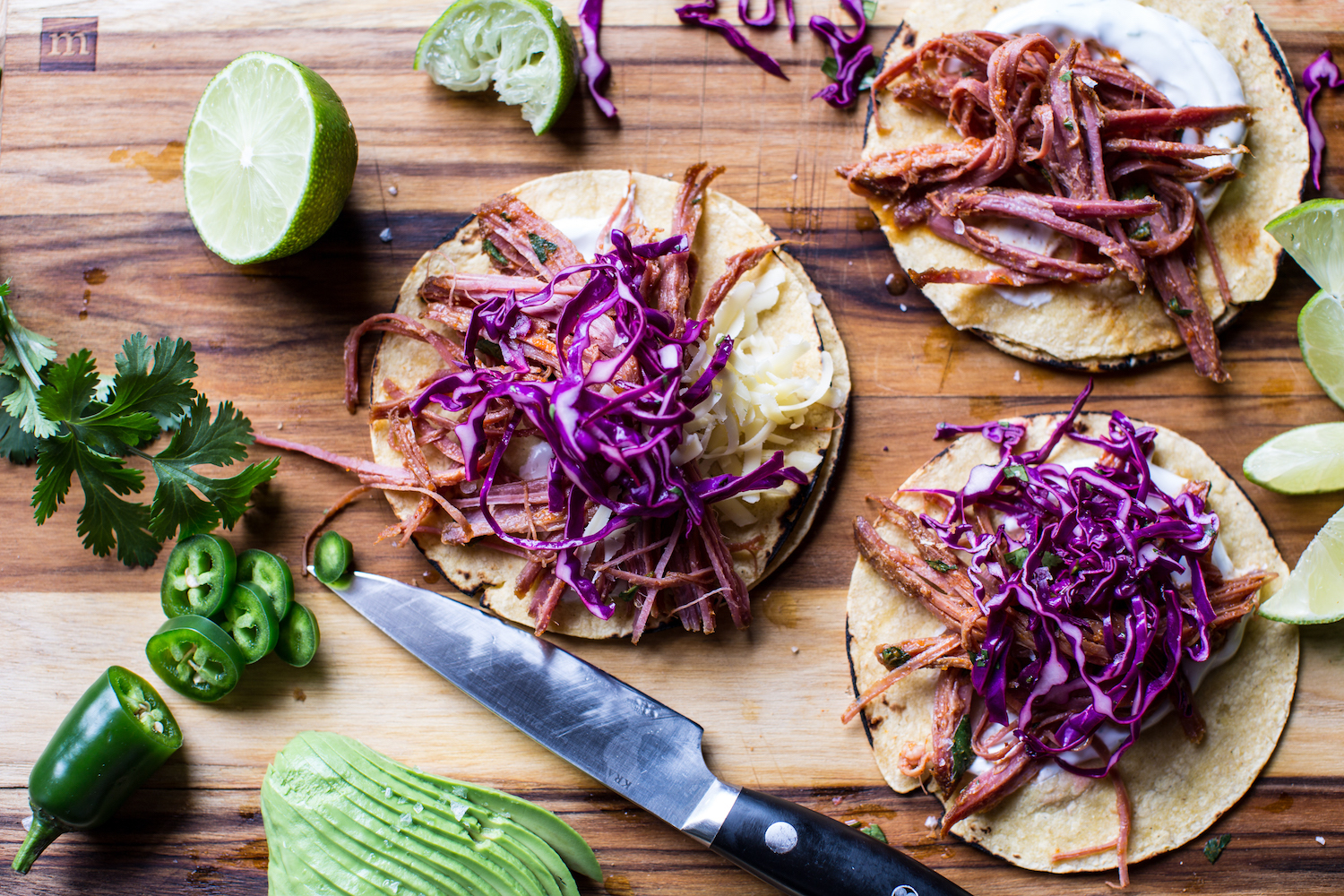 Nothin' better than a slow-cooked beef taco, topped with delicious
crunchy fries. This is certain to become a new favorite St. Patrick's Day meal with
my family. Something here for everyone to love… and I know you guys will love
them too!!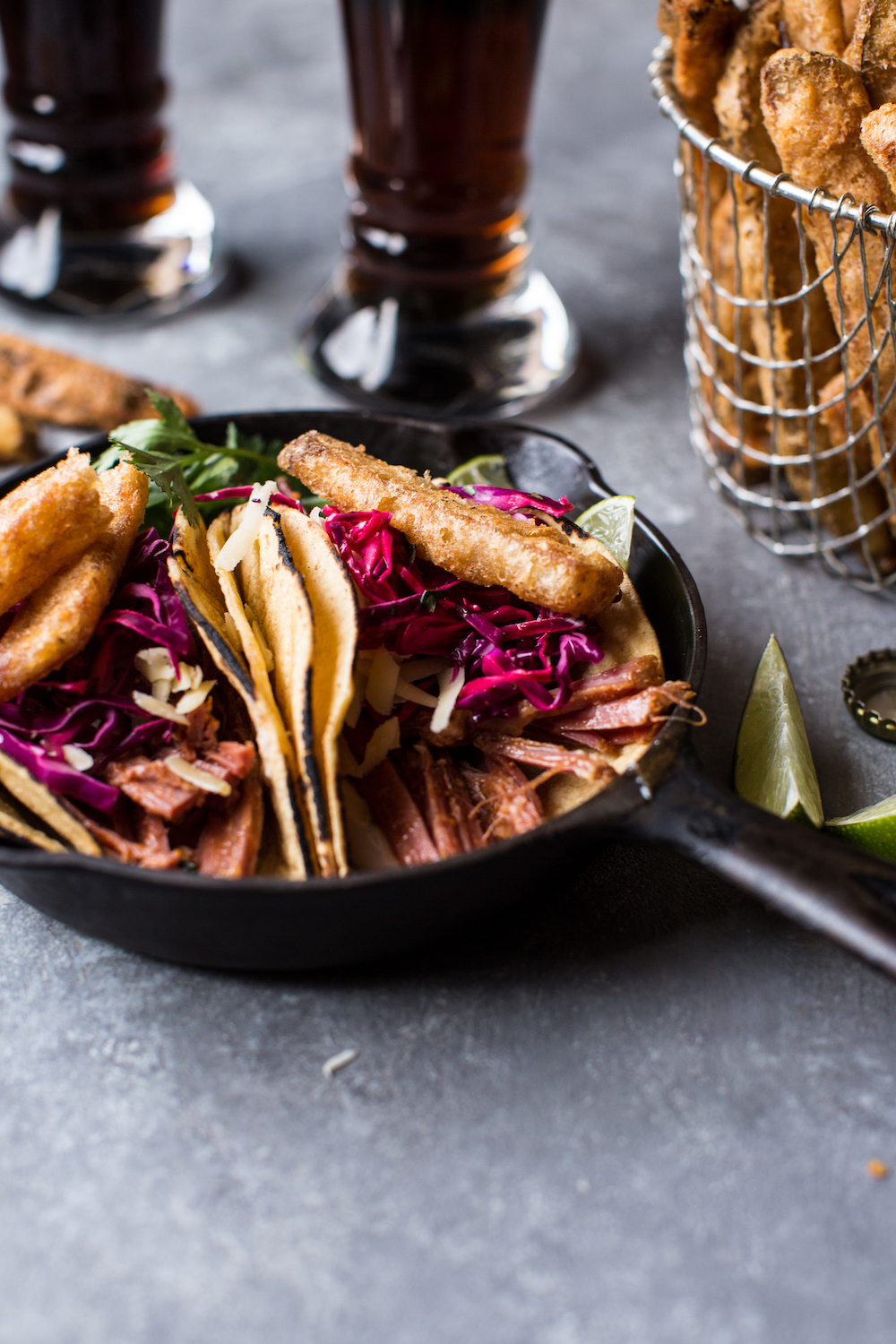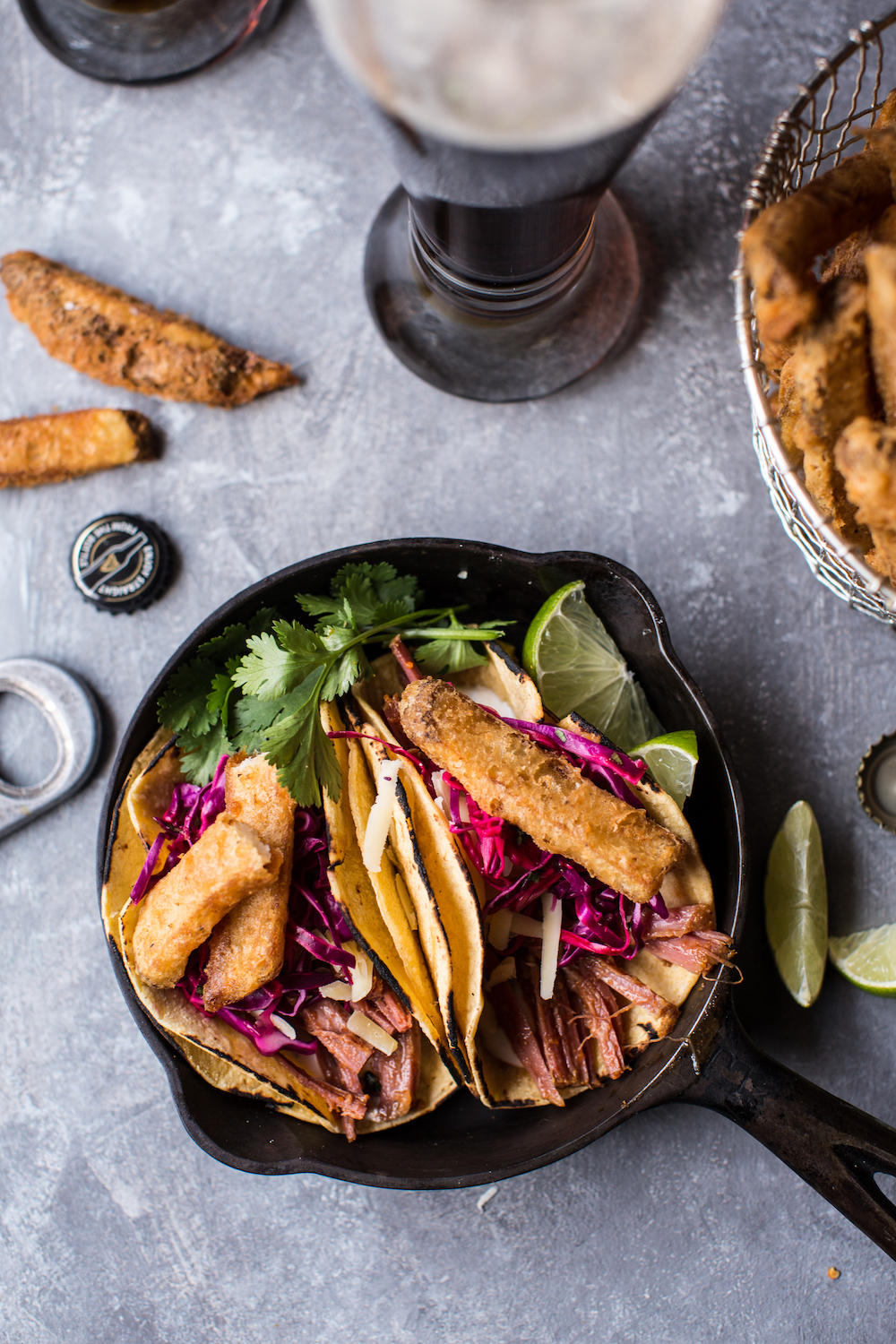 Corned Beef Tacos with Beer Battered Fries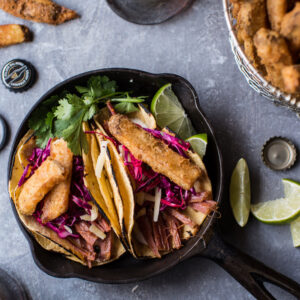 INGREDIENTS
Corned Beef
2-3 pounds corned beef
1 tablespoon paprika
2 teaspoons cumin
2 teaspoons chipotle chili
1 ½ teaspoons onion powder
3 cloves garlic, minced or grated
½ cup orange juice
¼ cup lime juice
Toppings
1 cup plain Greek yogurt
Juice of 1 lime
¼ cup fresh cilantro, chopped
6-8 corn or flour tortillas, warmed
1 cup shredded sharp Irish cheddar
Shredded cabbage, for serving
Lime wedges, for serving
Beer Battered Fries
1 cup flour
½ teaspoon baking powder
½ teaspoon garlic powder
1/8 teaspoon cayenne pepper
½ teaspoon salt + pepper
1 cup light beer
3 pounds russet potatoes cut into 1-inch sticks
INSTRUCTIONS
For the Tacos:

In the bowl of a crockpot, combine all of the ingredients for the corned beef. Add in 1-2 cups of water, or more as needed to cover the brisket by at least 1 inch.
Cover and cook on LOW for 8-10 hours or until tender.
Shred the beef with two forks and lightly toss with the remaining sauce. Keep warm.
In a bowl, mix together the Greek yogurt, lime juice and cilantro.
Spread a little of the yogurt into a warmed tortilla. Add the shredded beef, cheddar cheese and cabbage. Serve with fresh cilantro, limes and the beer battered fried (see recipe below.
EAT!!
For the Beer Battered Fries:
Heat oil in a large pot to 325 degrees F.
In a mixing bowl, whisk together the flour, baking powder, garlic powder, cayenne, salt and pepper. Whisk in the beer until a batter forms. If needed, add more beer to thin the batter. The batter should be the consistency of heavy cream. Let the batter sit while you partially cook the fries.
Working in batches, place the potatoes into the oil, being careful not to crowd the pan. Cook until lightly golden, about 5 minutes. Using a slotted spoon or skimmer, remove the potatoes placing them onto a towel-lined plate and sprinkle with a few pinches of salt.
Next, raise the oil temperature to 350 degrees F. Dip the partially cooked fries, a few at a time, into the batter, allowing any excess batter to drip off back into the bowl. Carefully lower the coated potatoes 1 at a time into the oil. DO NOT overcrowd the pot; only fry about 8-10 fries at a time. Cook until deep golden brown, 2 to 3 minutes. Remove and drain onto fresh paper towels. Sprinkle with salt and serve immediately.