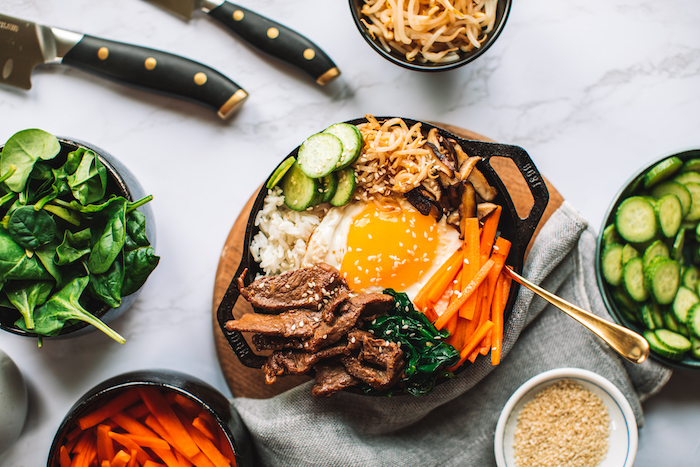 Bowl meals have become so much more popular over the past year — from veggie bowls to smoothie bowls, to burrito bowls — you name it! Personally, I am VERY happy about this trend. Bowl recipes are versatile and easy to customize to taste or dietary needs. Not to mention they are absolutely beautiful and (usually) pretty healthy with all of the natural ingredients mixed in.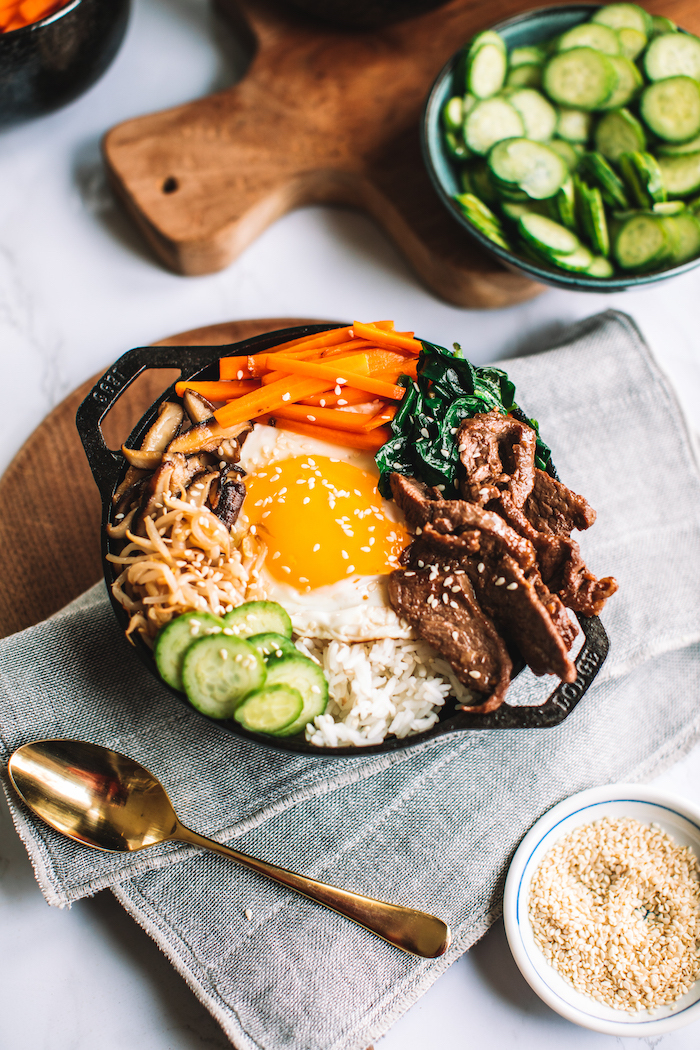 Assorted Natural Dishcloths

By Nawrap

Shop Now
These bibimbap bowls are probably my favorite category in the bowl meal trend. Translating literally to "mixed rice," this mouthwatering dish includes the best flavors of Korean cuisine. Plus, they are SO EASY to meal prep! I like to make each bowl a little different each day — one a little spicier with jalapeños, one filled with proteins like egg and meat, and one veggie-packed. Meal prep doesn't need to be boring, after all.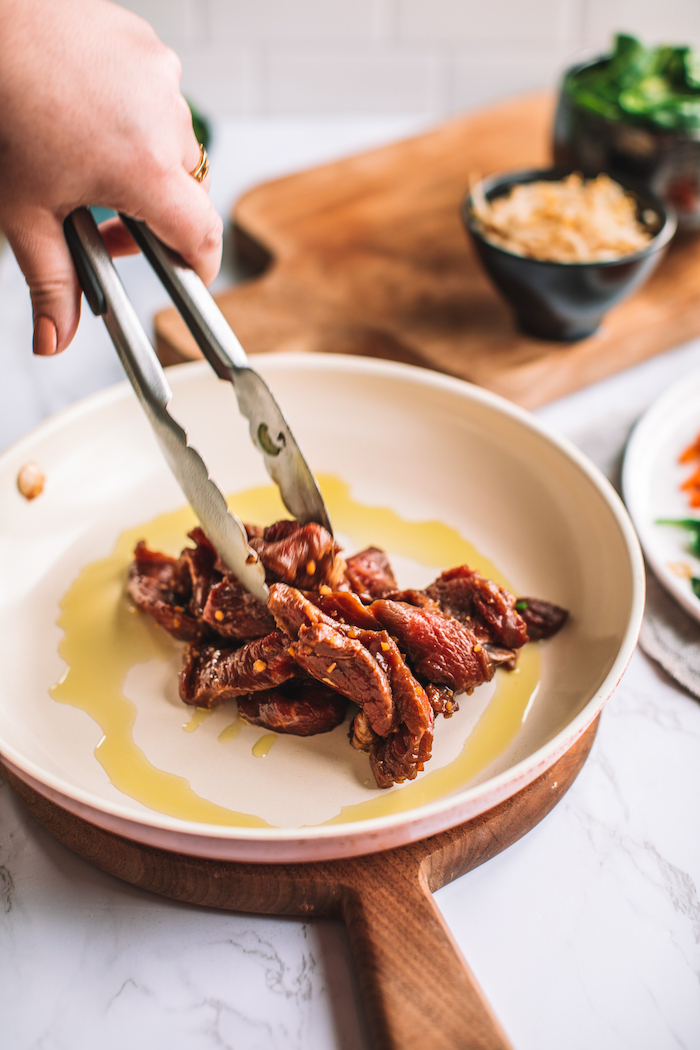 Why You'll Love These Bibimbap Bowls
It's endlessly versatile. Bibimbap is literally just a bowl of rice with your favorite ingredients mixed in — plus the delicious Korean spices. Have a picky eater who doesn't like spinach? They can have a bowl without it and everyone else can enjoy it! Is not everyone vegetarian? Totally fine — let the meat be an add-on option for a self-serve style dinner. The possibilities really are endless.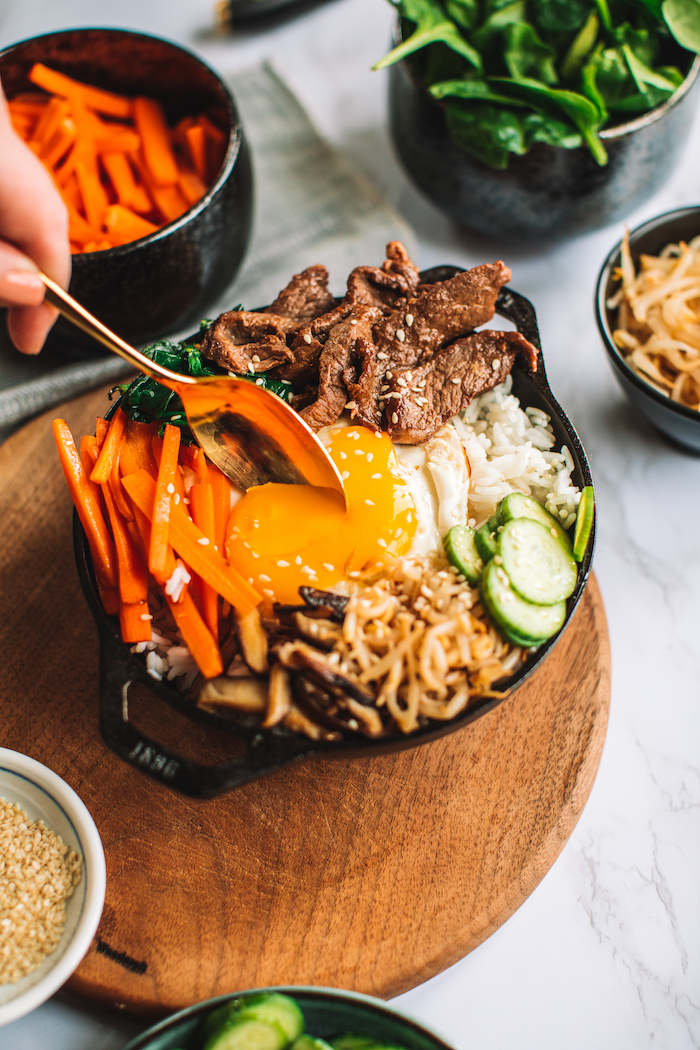 6.25 Inch Cast Iron Mini Wok

By Lodge

Shop Now
It's super quick. Depending on how many ingredients and toppings you choose to add and prepare, making bibimbap bowls is actually pretty quick. And if you're making it for meal prep, lining up bowls of rice and just adding toppings is also a nice "assembly line" process. For a prep-heavy dish, I love using my Schmidt knife set. There is a knife for everything and they look so gorgeous in my kitchen.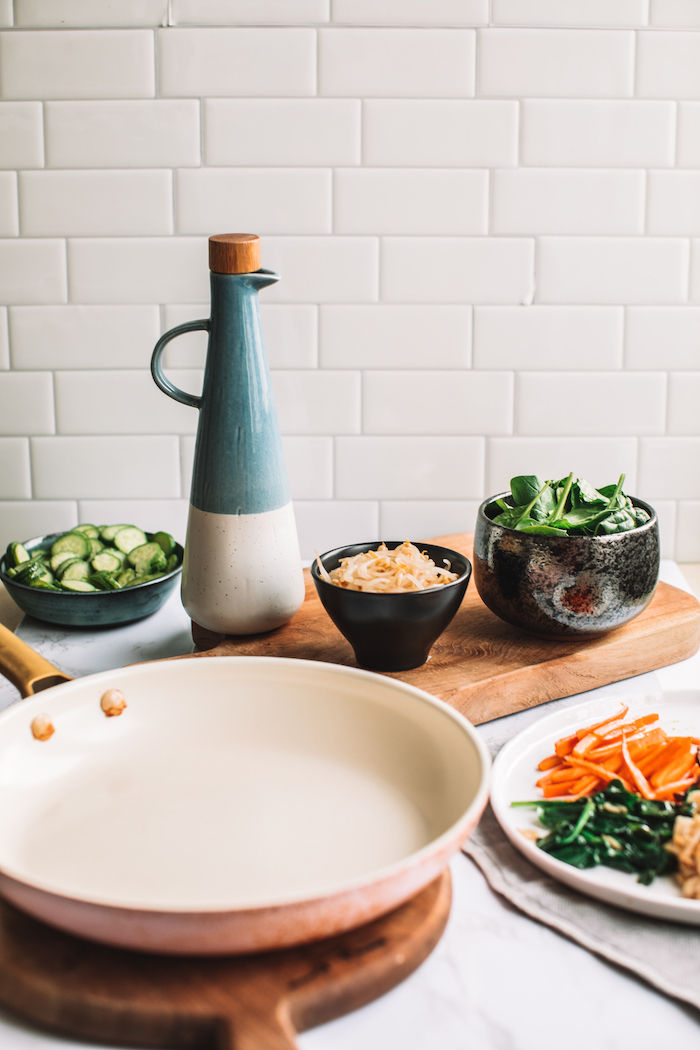 Gastron Japanese Bowl

By Emile Henry

Shop Now
It's great leftovers. I know, I know, I keep talking about meal prep and leftovers, but it really is GREAT the day (or next day) after. Personally, I like to prep ingredients at the beginning of the week, then when I want a quick lunch, I make some minute-rice and add my pre-made toppings. Quick and delicious.
Tips & Tricks
Prep veggies first. I always like to prep my veggies first, then arrange them in small bowls or containers. It makes constructing the actual bibimbap bowls super easy, and I tend to like the "self-customization" this setup offers to myself, family and guests.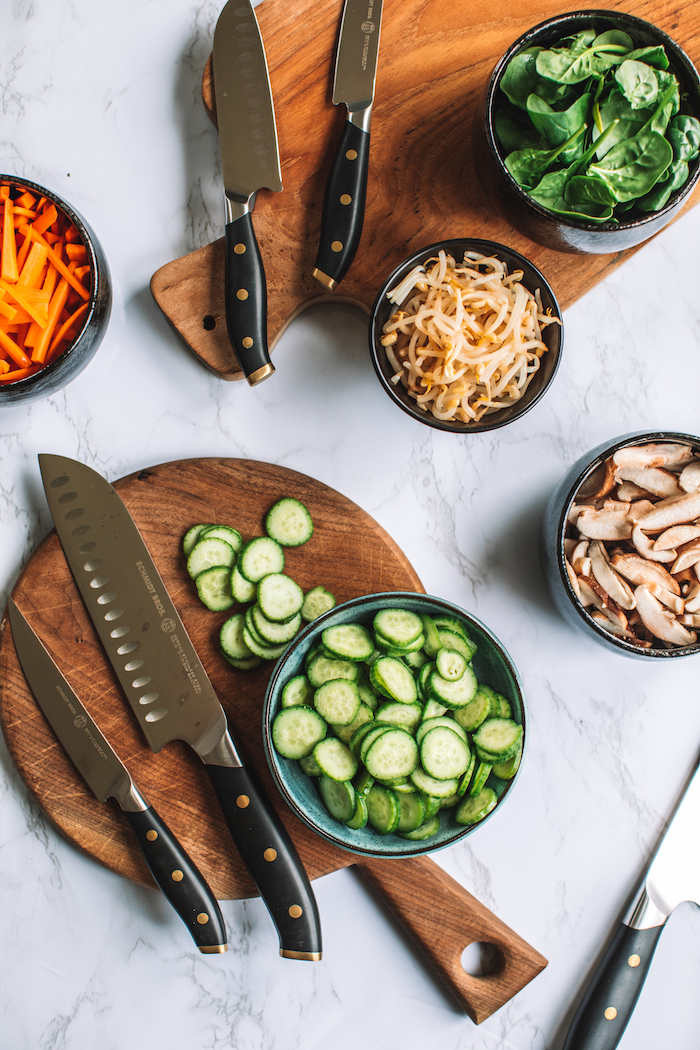 Volcanic Black Cereal Bowl (Set of 4)

By Over and Back

Shop Now
Make it vegetarian. This bibimbap bowl recipe tastes just as great (maybe even better) sans meat! Throw in some tofu or load up on sautéd veggies — either way, this Korean rice bowl won't disappoint.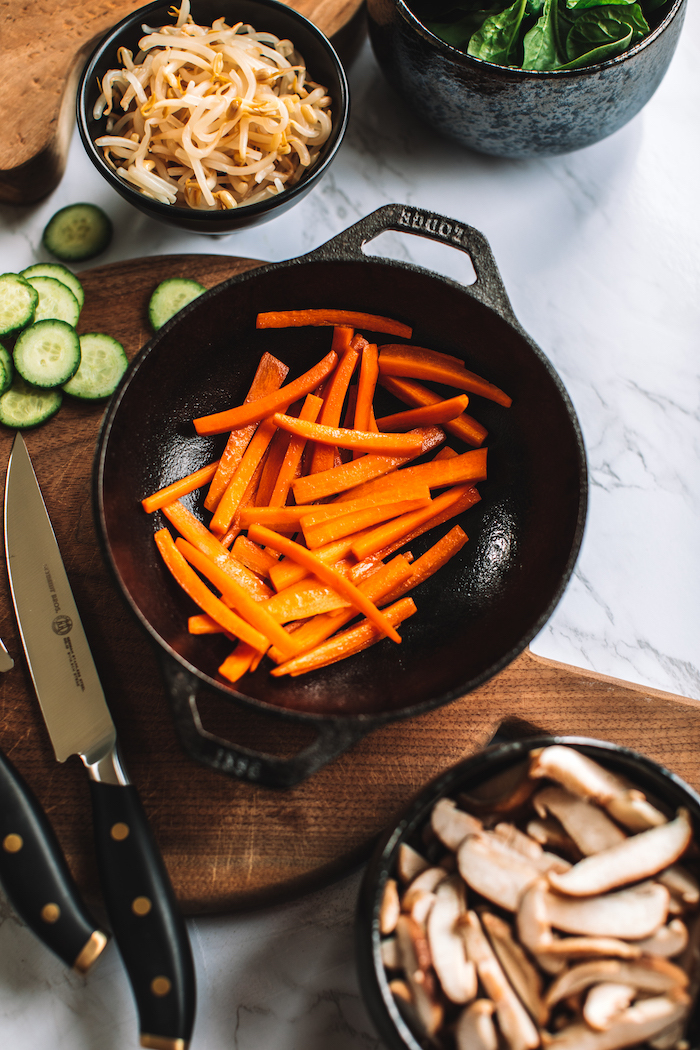 Black & Brass, 15-PC Cutlery Set

By Schmidt Brothers

Shop Now
Add some heat. When I want a little spice in my bibimbap bowls, I add just a tiny bit of chili powder when sautéing the veggies or meat. If you're really wanting more heat, you can always add in some jalapeños or a sautéd chili. Remember though, less is usually more!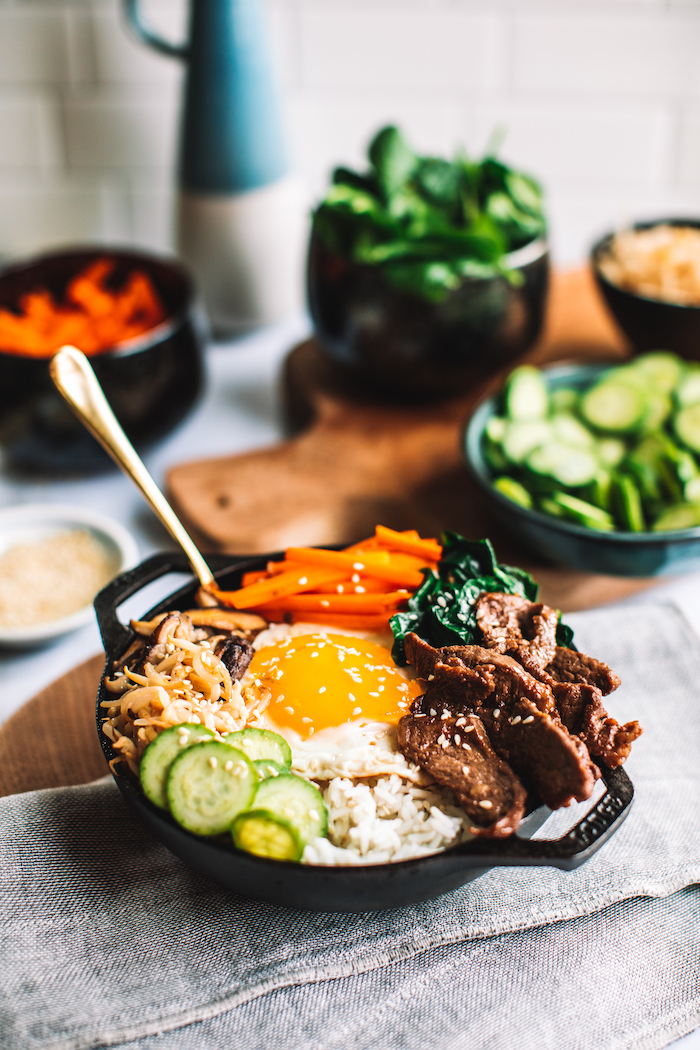 Bibimbap bowls are the perfect solution for meal-prep, eating on the go, or even a quick work-from-home lunch. Ready in less than an hour, these delicious Korean rice bowls are full of your favorite veggies and fresh flavors.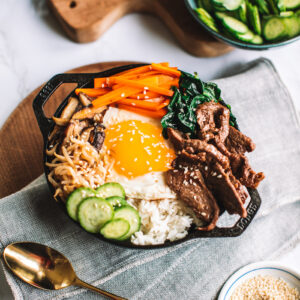 Ingredients
For Beef Marinade:

beef loin, very thinly sliced

2

tsp

minced garlic

2

tbsp

soy sauce

1

tbsp

honey

2

tsp

sriracha

2

tsp

sesame oil

For Rice:

4

cups

cooked white rice

For Veggies:

2

English cucumbers, thinly sliced

.5

tsp

rice vinegar

1

tsp

sesame oil

2

carrots, peeled and thinly sliced

2

medium zucchini, thinly sliced

2

cups

spinach leaves

2

cups

bean sprouts

2.5

tsp

sesame oil, divided

For Toppings:

4

fried eggs

sesame seeds

green onions
Instructions
In a medium bowl mix together thinly sliced beef, garlic, soy sauce, honey, and sriracha until the beef is well coated. Cover and marinate for 30 minutes while preparing rice and veggies.

Boil rice according to package directions. While rice is boiling, begin to prep veggies.

In a small bowl combine english cucumbers with rice vinegar and sesame oil. Set aside to marinate.

Heat ½ tsp sesame oil in a wok or skillet over medium heat. Sprinkle each vegetable with a small sprinkle of kosher salt. Sauté carrots for 2-3 minutes or until they begin to soften. Remove carrots and repeat with ½ tsp sesame oil and zucchini sticks. Remove zucchini and repeat with ½ tsp sesame oil and mushrooms and cook for 1-2 minutes. Remove zucchini and repeat with ½ tsp sesame oil and bean sprouts and cook for 1-2 minutes.Remove mushrooms and add in remaining sesame oil and spinach, sauté for 30 seconds or until the spinach has wilted. Keep vegetables warm.

Add in 2 tsp sesame oil and marinated beef strips to the pan. Cook on medium-high heat for 3-4 minutes or until the meat has cooked through and caramelized on the outside.

Fry eggs in a non-stick skillet to taste.

Assemble rice at the bottom of the bowl. Top evenly with vegetables, beef, marinated cucumbers and fried egg. Top with sesame seeds and green onions before serving.
Nutrition
Serving:
1
g
Calories:
1486
kcal
Carbohydrates:
163.2
g
Protein:
113.9
g
Fat:
48.1
g
Saturated Fat:
14
g
Cholesterol:
529
mg
Sodium:
2013
mg
Fiber:
13.3
g
Sugar:
31.8
g