Vegetarian Chili Recipe with Sweet Potatoes and Lentils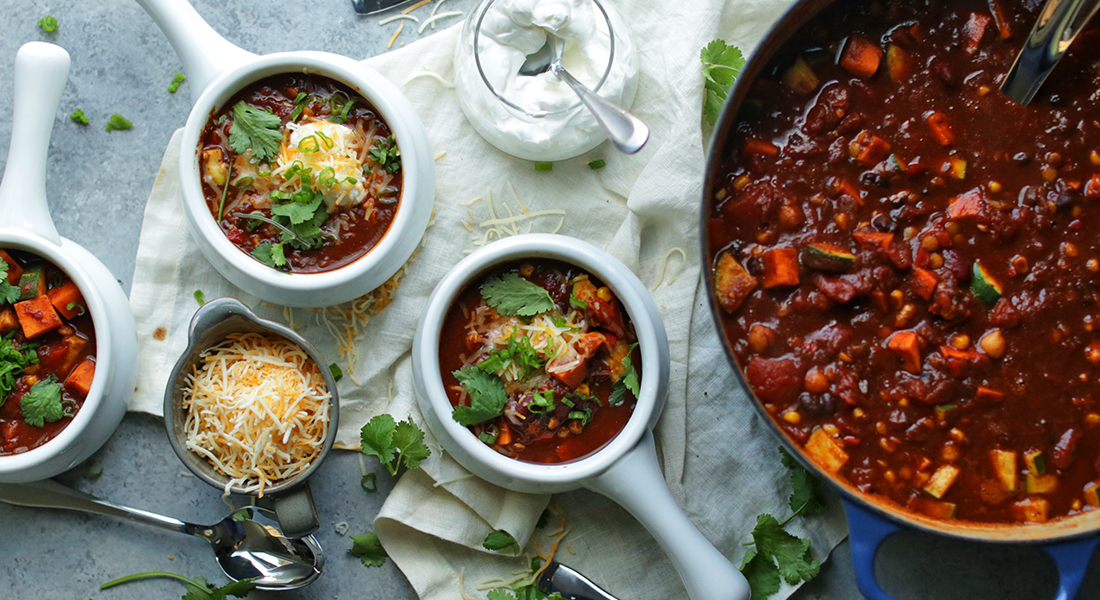 One of my goals for this year is to consciously make sure I am eating more vegetables, and one of the ways that I do that is by loading up my soups like this delicious Vegetarian Chili Recipe with Sweet Potatoes and Lentils.
If you're like me and focused on carbs and protein, and need more veggies, this is perfect timing because it's cold out and soup is the best way to load up with nutrient packed vegetables. I'm a pretty big chili fan and of course always usually made a beef chili or a white chicken chili, but lately I've made quite a few vegetarian chili's and they are every bit as good if not better than the meat filled version. I've taken everything I know about making a great chili and incorporated it into this Vegetarian Chili Recipe with Sweet Potatoes and Lentils. The secret you ask? Chocolate and cinnamon… That's right you heard it right!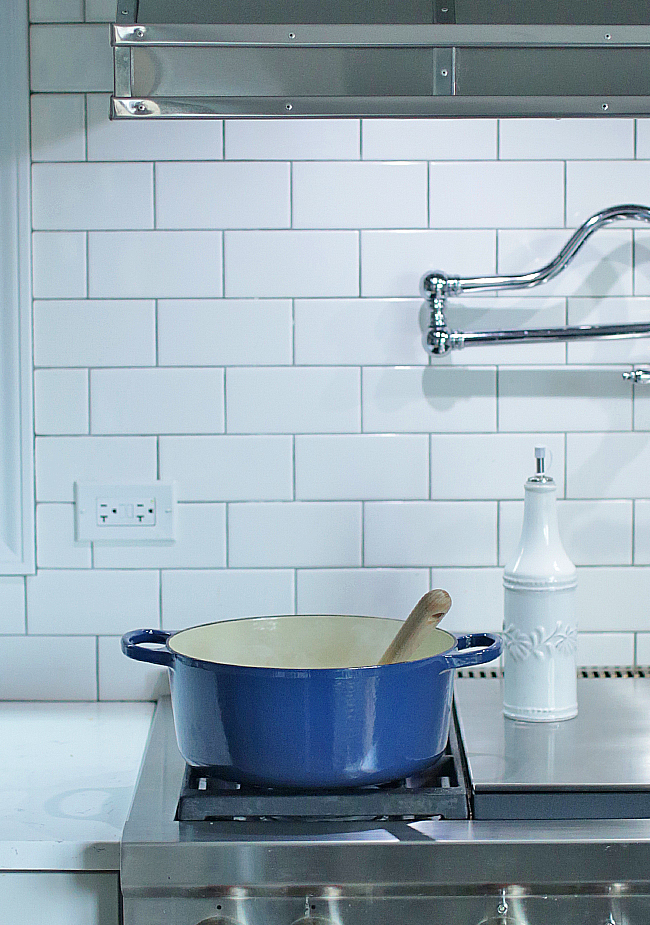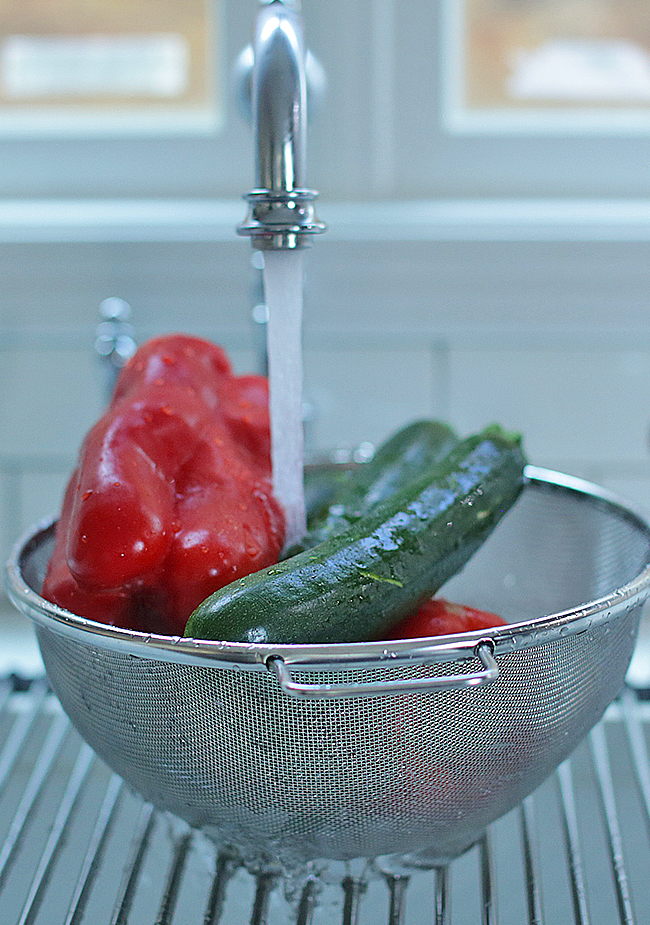 I always start off making chili by caramelizing the onions. Doing this sets the base of the soup with a delicious umami flavor with a hint of sweetness to it. In other words, you're starting off on the right foot. You also must know that caramelizing onions can take up to 45 minutes. It's all about slow and low and a lot of stirring until you get to that perfect stage of tender and sweet. If you don't have that kind of time, then what I would recommend is turning up the heat and constantly deglazing with water every 3 to 4 minutes or until the bottom of the pan starts to darken. While the onions are cooking, this is perfect time to wash up your veggies and dice them up. This part in the process is completely subjective because this chili can be so versatile.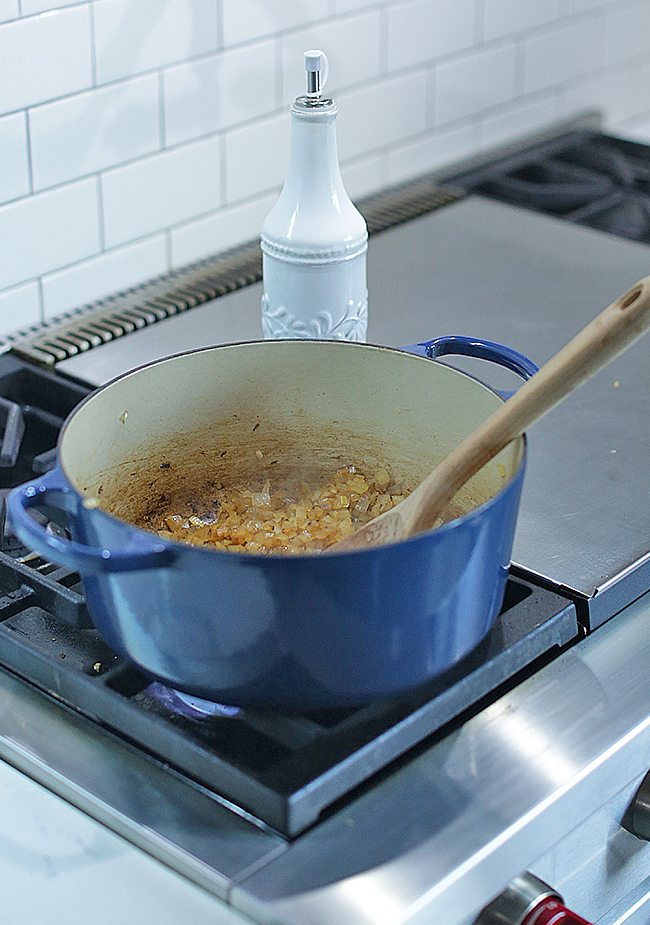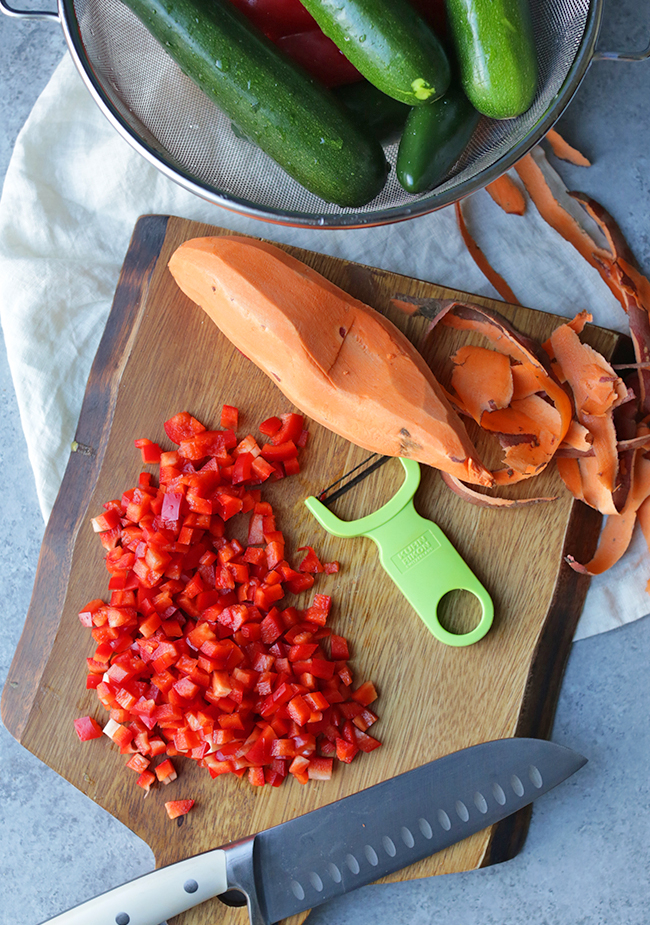 Whether you use my recipe verbatim or don't care for a few of the ingredients, it is at your discretion to change it to your desires. I used sweet potatoes, zucchini and peppers as my main vegetables, but you can absolutely swap out or add in. Since you're asking, I'll tell you what else I'd add in or replace. You can put in butternut squash, mushrooms, russet potatoes, yellow squash, kale, baby spinach, green beans, edamame, etc. Feel free to change as you see fit! Be mindful when you're adding in vegetables that you need to do so in order of firmness to softness. For instance, I wouldn't advise adding in the kale at the beginning of making the soup, you should do it at the end. Things like sweet potatoes and butternut squash should be put in when you add the liquid in to begin simmering. Make sense?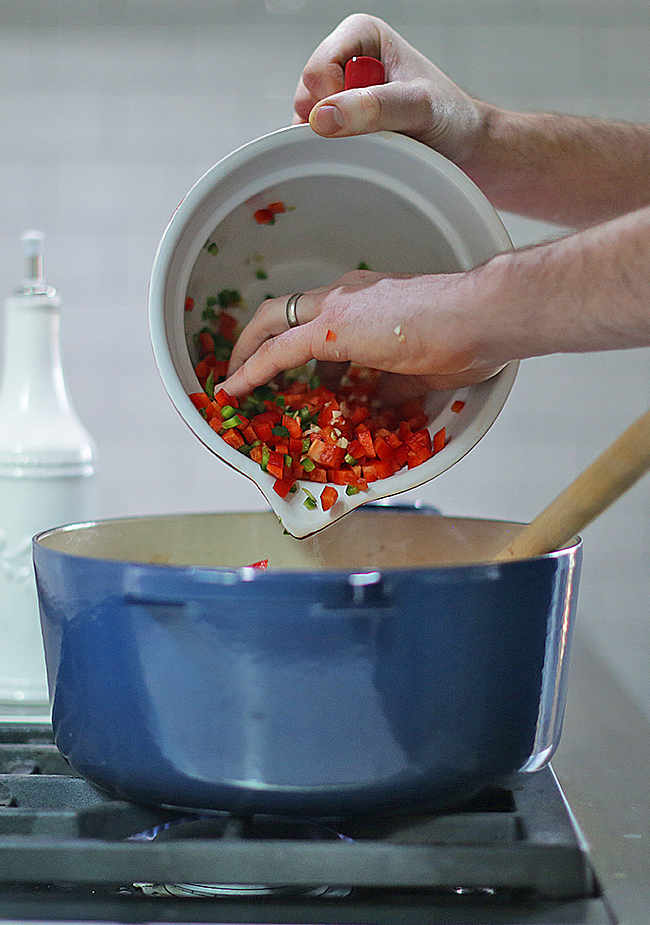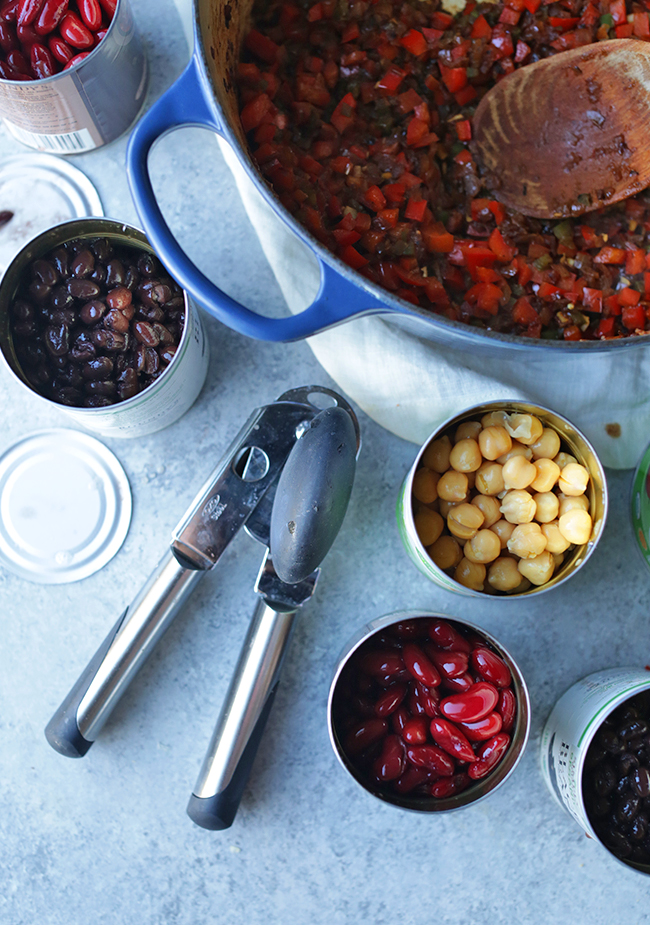 After the peppers and onions are browned up, add in the tomatoes and lentils and stew over low heat until the lentils are cooked. I prefer to use the diced and crushed tomatoes, or sometimes I used the whole peeled and crush them with my hands. There's no reason as to why I like them; again this is just preference. This is now optimal timing to add in your dry spices and herbs. I'm a huge fan of chili powder, cumin and oregano as my blend, but add in what you'd like to get the flavor you desire. Once the lentils are cooked, add in the beans and sweet potatoes and cook just until the sweet potatoes are al dente, or slightly crunchy.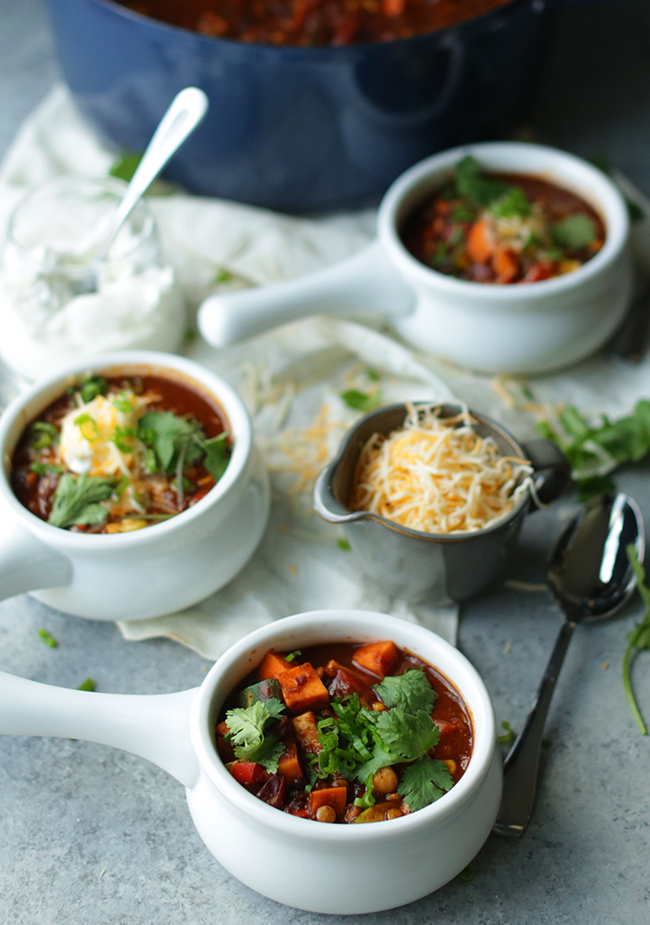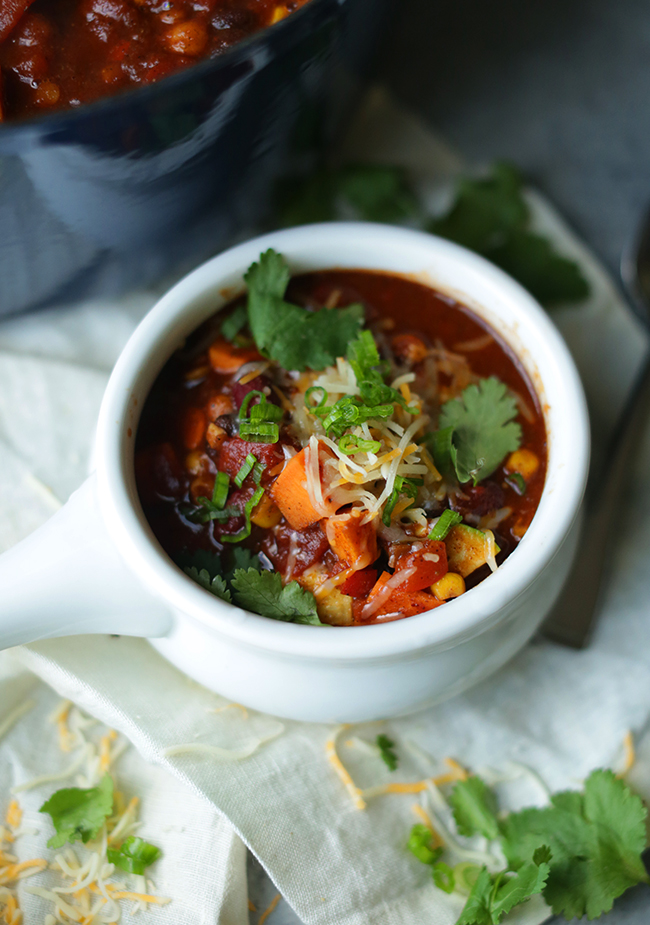 When cooking chili, or any soup for that matter, it will always taste better on day two and three because it allows for all of the flavors in the soup to come out. So once your chili is done, finish it off with a hint of dark chocolate and cinnamon. I know, I know, it sounds weird but I promise it will be worth it. Now after your make this soup and get it to where it needs to be, load it up with sour cream, cheese, green onions and cilantro so it tastes different 🙂
Vegetarian Chili Recipe with Sweet Potatoes and Lentils Recipe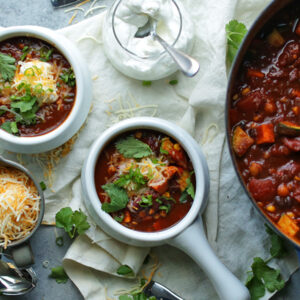 INGREDIENTS
1 tablespoon of olive oil
2 small diced yellow onions
2 seeded small diced red bell peppers
2 seeded small diced jalapeños
3 finely minced cloves of garlic
1 cup of lentils
3 28-ounce cans of diced or crushed tomatoes
¼ cup of chili powder
3 tablespoons of cumin
2 tablespoons of dry oregano
2 15-ounce cans each chickpeas, black beans, and dark kidney beans
3 peeled and large diced sweet potatoes
2 large diced green zucchini
2 small hershey chocolate squares
½ teaspoon of cinnamon
Kosher salt and fresh cracked pepper to taste
For garnish: Sour cream, sliced green onions, shredded cheese and cilantro
INSTRUCTIONS
In a large 2-gallon pot add in the olive oil and onions and cook over medium heat until caramelized, about 30 to 45 minutes.
Next, add in the peppers and garlic and cook for 10 to 12 minutes or until tender and lightly browned.
Add in the lentils, tomatoes, spices and herbs and cook over low heat for 20 to 30 minutes or until the lentils are tender.
Add the beans and sweet potatoes and cook over low heat for 20 minutes or until the sweet potatoes are slightly crunchy.
Finish by adding in the zucchini, chocolate, cinnamon, salt and pepper. Serve with garnishes.