Dark Chocolate Hot Cocoa Stirrers & Other Heart Healthy Foods You Should Be Eating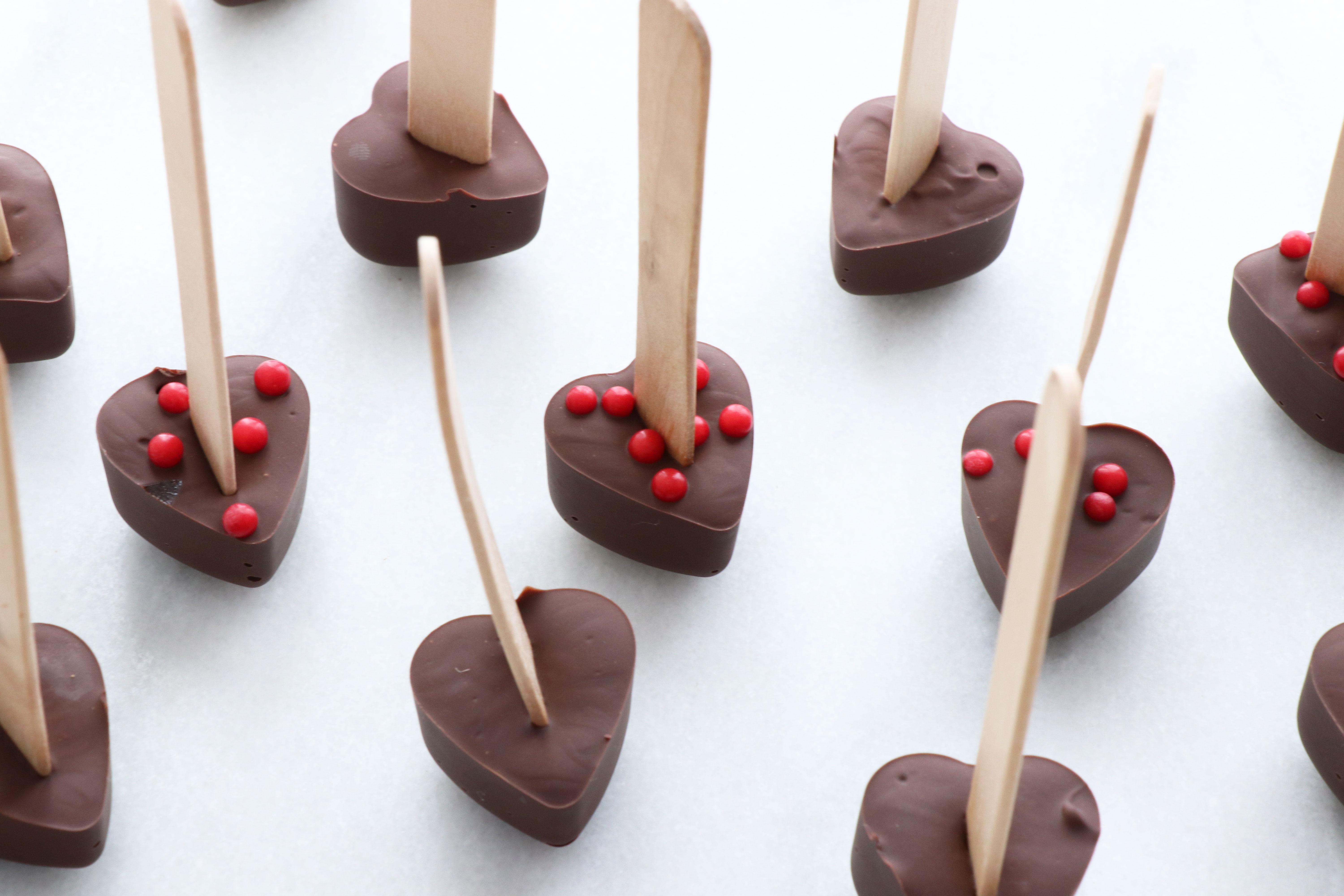 February is Valentine's Day and National Heart Health Month! It's a month to celebrate love and that includes taking care of your health too!
Cardiovascular Disease, often used interchangeably with Heart Disease, is a range of conditions that can affect the heart from a heart attack to a stroke to other conditions that can weaken the heart muscle, valves or rhythm. Heart Disease is the number one killer of men and women in America. Risk factors for heart disease include aging, gender (men are generally a higher risk), family history, smoking, poor diet, high blood pressure, high cholesterol levels, diabetes, obesity, lack of physical activity, chronic stress and poor dental health.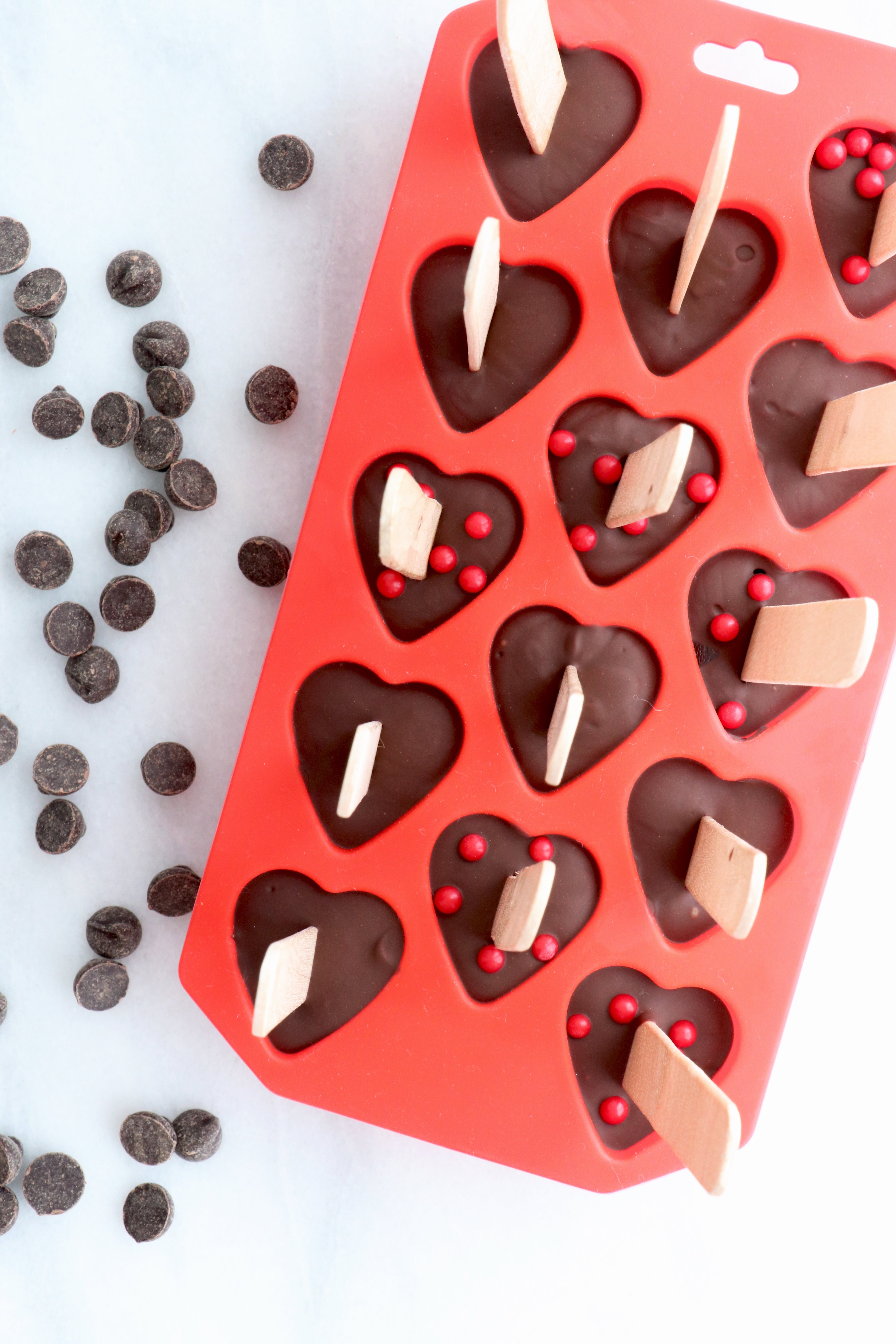 This list may seem overwhelming, however, many of the risk factors are lifestyle habits which can change or be improved upon to reduce your risk.
Today we'll be focusing on nutrition! Below is a list of 8 foods to eat on a daily or weekly basis to support heart health.
1. Blueberries
Blueberries are one of the richest sources of antioxidants. Research suggests that chronic inflammation can be a precursor and increase the risk of heart disease. Add blueberries to a bowl of oatmeal, topped with walnuts for a heart healthy breakfast!
2. Broccoli
Broccoli is a nutrient dense and packed with fiber as well as antioxidants. Broccoli has also been associated with helping keep blood vessels strong! Enjoy broccoli raw on a salad, dipped in hummus, steamed, sautéed or even add a few florets to your smoothie!
3. Avocado
Avocados are naturally free of sodium, sugar and cholesterol. Avocados contain monounsaturated fats. According to the American Heart Association, when consumed in moderation both monounsaturated and and polyunsaturated fats may help reduce blood cholesterol levels and decrease risk for heart disease.
4. Walnuts
Walnuts are also packed with Omega 3 Fatty acids which have anti-inflammatory properties. Walnuts also contain vitamin E and Folate. All of the nutrients are linked to promoting heart health.
5. Legumes
Legumes and beans are high in vitamins, minerals and fiber. They are naturally free of cholesterol and saturated fats. Try swapping meat for legumes a few times a week.
6. Dark Chocolate
Cocoa contains flavonols, which can help relax arteries an increase blood flow. Stick with 70 percent dark chocolate or higher to enjoy chocolate's true health benefits. Milk chocolate or white chocolate are mostly milk and sugar and provide little nutritional benefits.
7. Oats
Oats contain soluble fiber, which can bind to dietary fats, such as cholesterol, and help excrete cholesterol from the body. Stick to steel cut oats or rolled oats and avoid oatmeal products that are high in added sugar.
8. Green Tea
Green tea contains catechin and and flavonoids, two antioxidants with known cardiovascular health benefits such as helping to reduce the risk of blood clots. Choose Organic green tea for purity and pour yourself a cup today!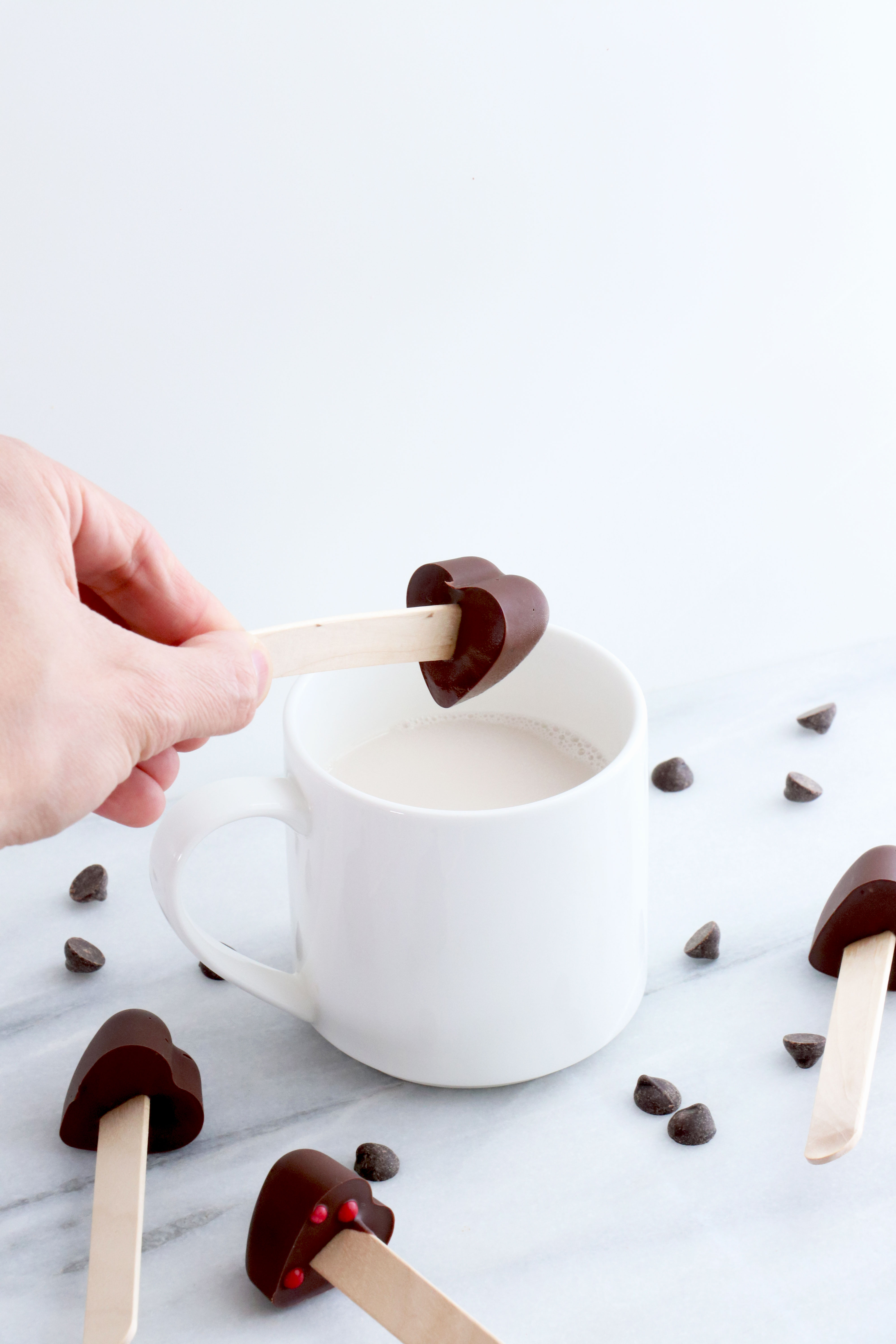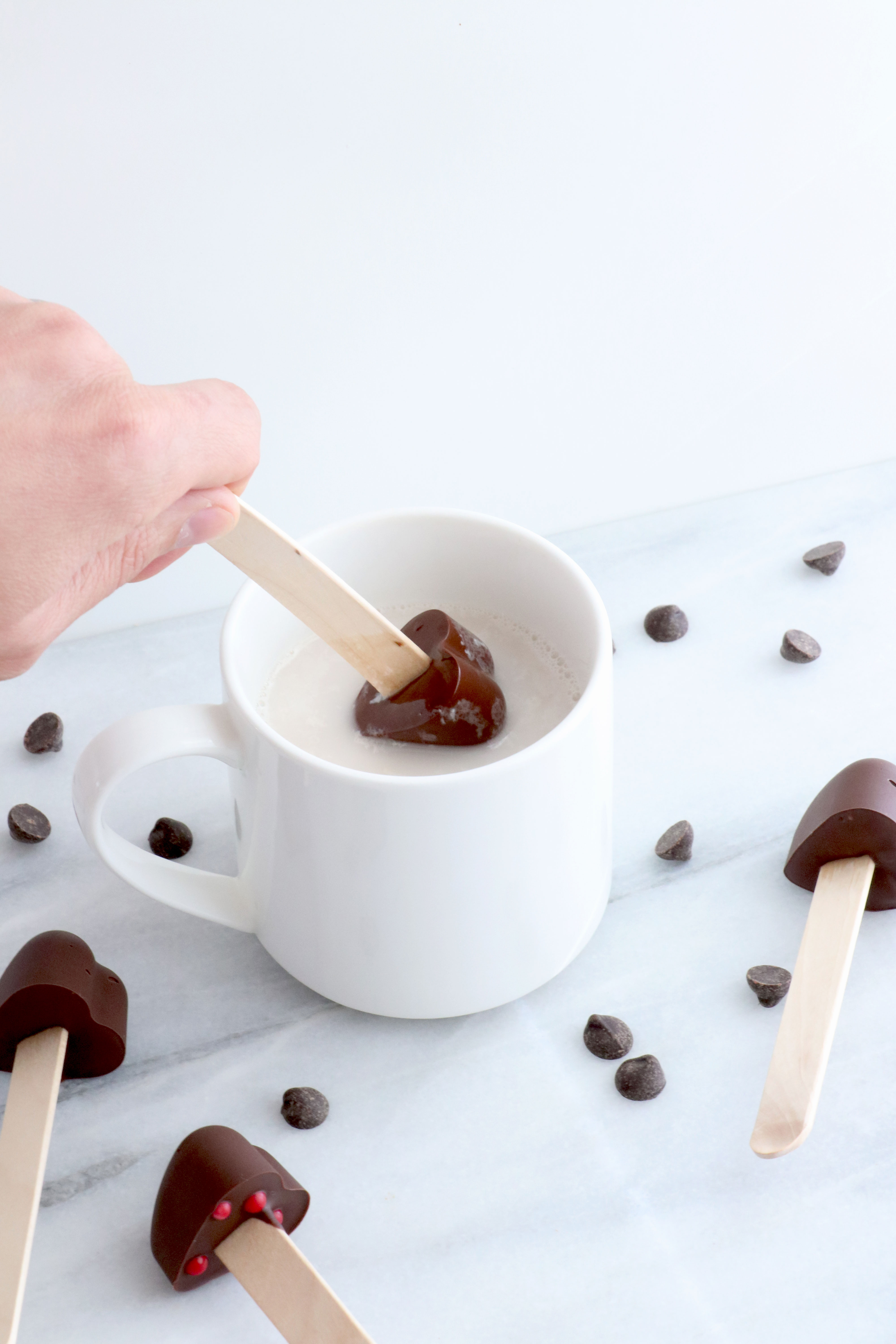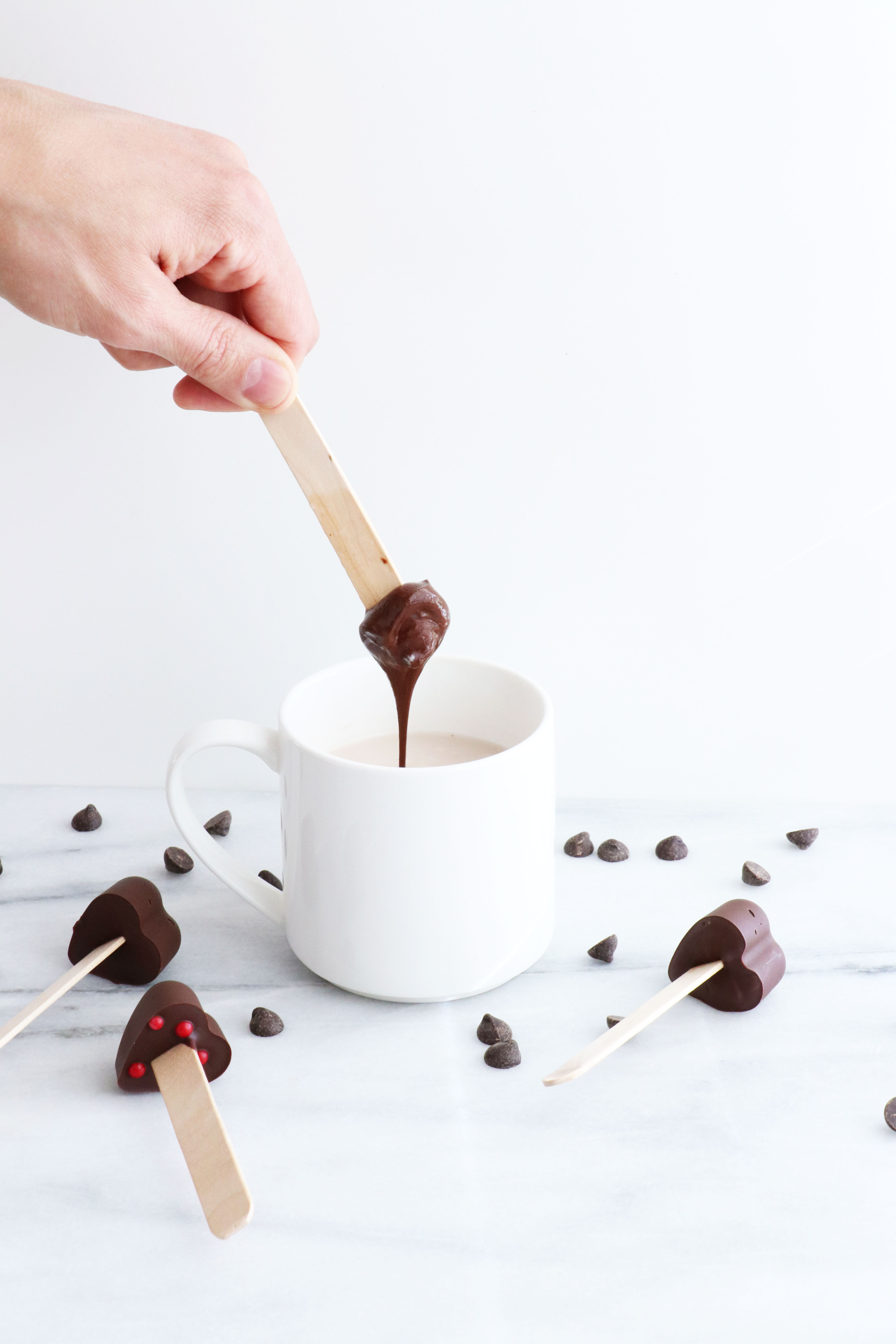 The Hot Chocolate Stirrers are a fun & festive way to show someone you care and care for your heart health at the same time!
The Hot Chocolate Stirrers are a fun & festive way to show someone you care and care for your heart health at the same time!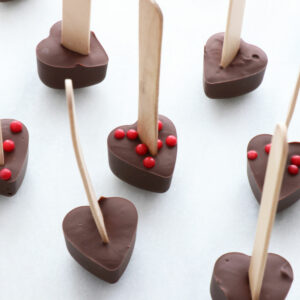 Ingredients
1

(10 ounce) bag of semi-sweet chocolate chips

Popsicle sticks

Silicone ice cube tray (heart shaped)

Optional Flavorings:

1

tsp

ground cinnamon

.5

tsp

vanilla extract

.25

tsp

cayenne pepper

edible sprinkles
Instructions
Add chocolate chips to a double boiler and melt slowly, stirring often.

Add in any flavoring you might want, I love adding cinnamon.

When the chocolate is fully melted, pour into the ice cube tray, let cool on the counter for about 5 minutes, add any toppings like sprinkles at this point. Then insert the popsicle sticks.

Chill and store covered in the refrigerator.

When you are ready to enjoy, heat your preferred type of milk until it is simmering, be careful not to burn it.

Add 8 – 10 ounces of hot milk to a mug and drop in a chocolate stirrer, slowly stir for 3 – 5 minutes until the chocolate has fully melted off of the stick and enjoy a mug of Hot Cocoa!
Nutrition
Serving:
1
g
Calories:
94
kcal
Carbohydrates:
12.1
g
Protein:
0.7
g
Fat:
4.9
g
Saturated Fat:
1.5
g
Sodium:
66
mg
Fiber:
0.7
g
Sugar:
7.7
g