Under the Kitchen Sink Is the Next Place You Need to Organize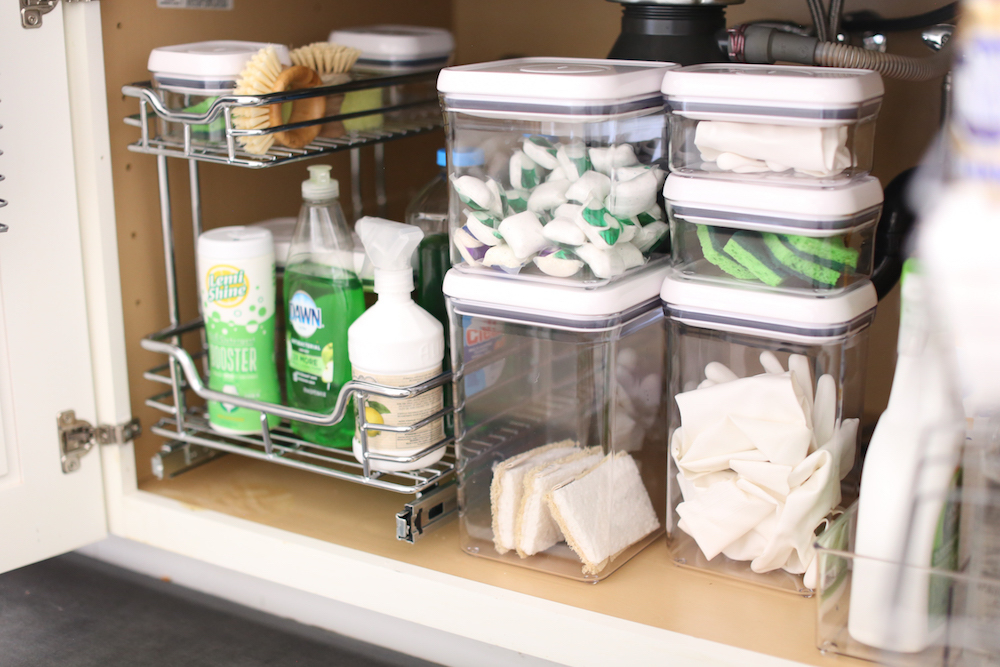 When it comes to everyday chores, there is one place I find myself daily and that's at the kitchen sink. It seems like no matter how well I clean the kitchen, there is always a kid or two who wants a snack, or a drink, or I don't know, SOMETHING that involves my rinsing, prepping and eventually cleaning up.
When we first moved into our home a year or so ago, I was determined to make sure I invested in organizational systems. You know, drawer organizers, hooks and hangers, anything that would keep all of our stuff in place. But for whatever reason I skipped over one of the most important places in the kitchen and that's under the kitchen sink.
If you're anything like me, this space can get out of hand very quickly. Without the proper storage bins and units, this can become that dark, dark place no one likes to visit. Without at least a monthly reorganizing session, this place gets bananas!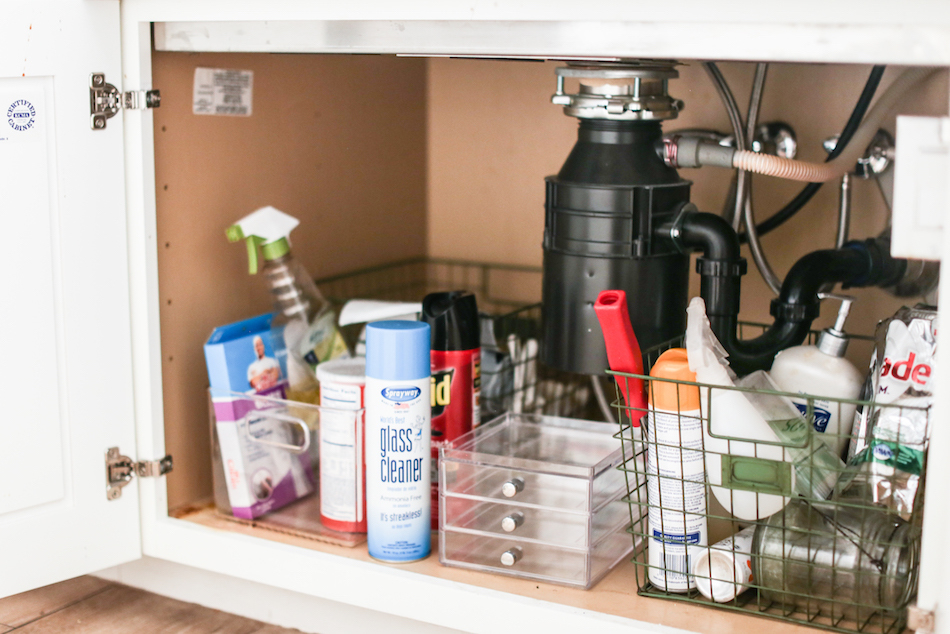 So with just a little prep and thought, I turned my under the sink mess into something functional and actually pretty! Because if things are prettier, then I'm more likely to keep it that way! Ha!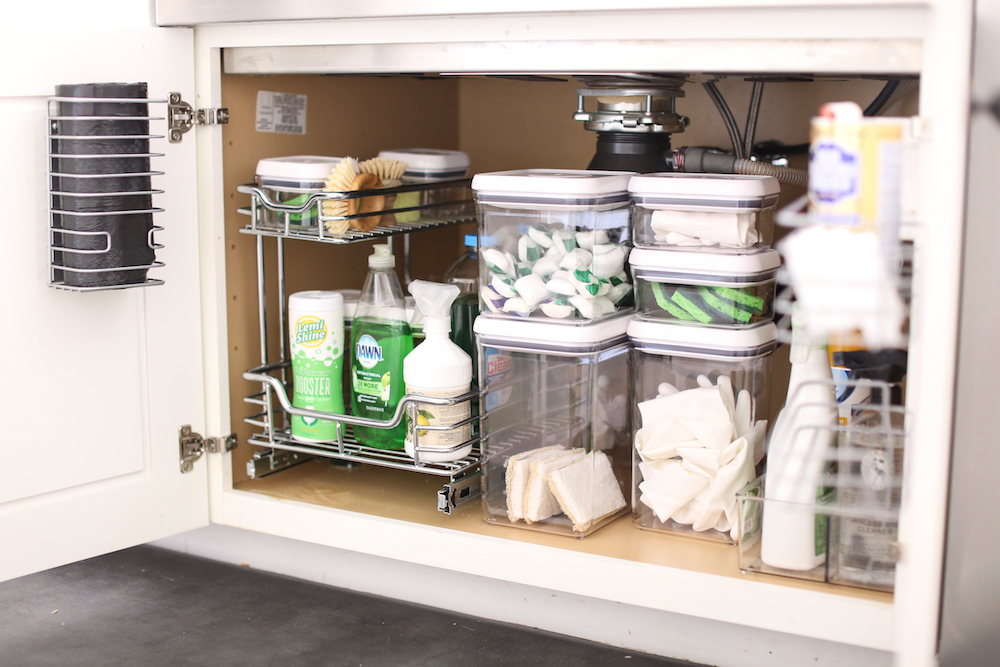 The first thing I did was remove all of my junk and give the cabinet a good cleaning. I removed any gunk that had built up over time, and gave the cabinet a clean slate. You can take a few minutes to install an under the sink mat to make cleanups easier, or you can skip it like I did!
Next, I installed the BEST little pull out rack on the market right now for cabinet organization. This chrome under the sink organizer is what dreams are made of. It fits around bulky items like your garbage disposal and helps you keep everything at your fingertips. Installation was a breeze so no need to worry about that. I also love that it has two tiers, which really maximizes the space!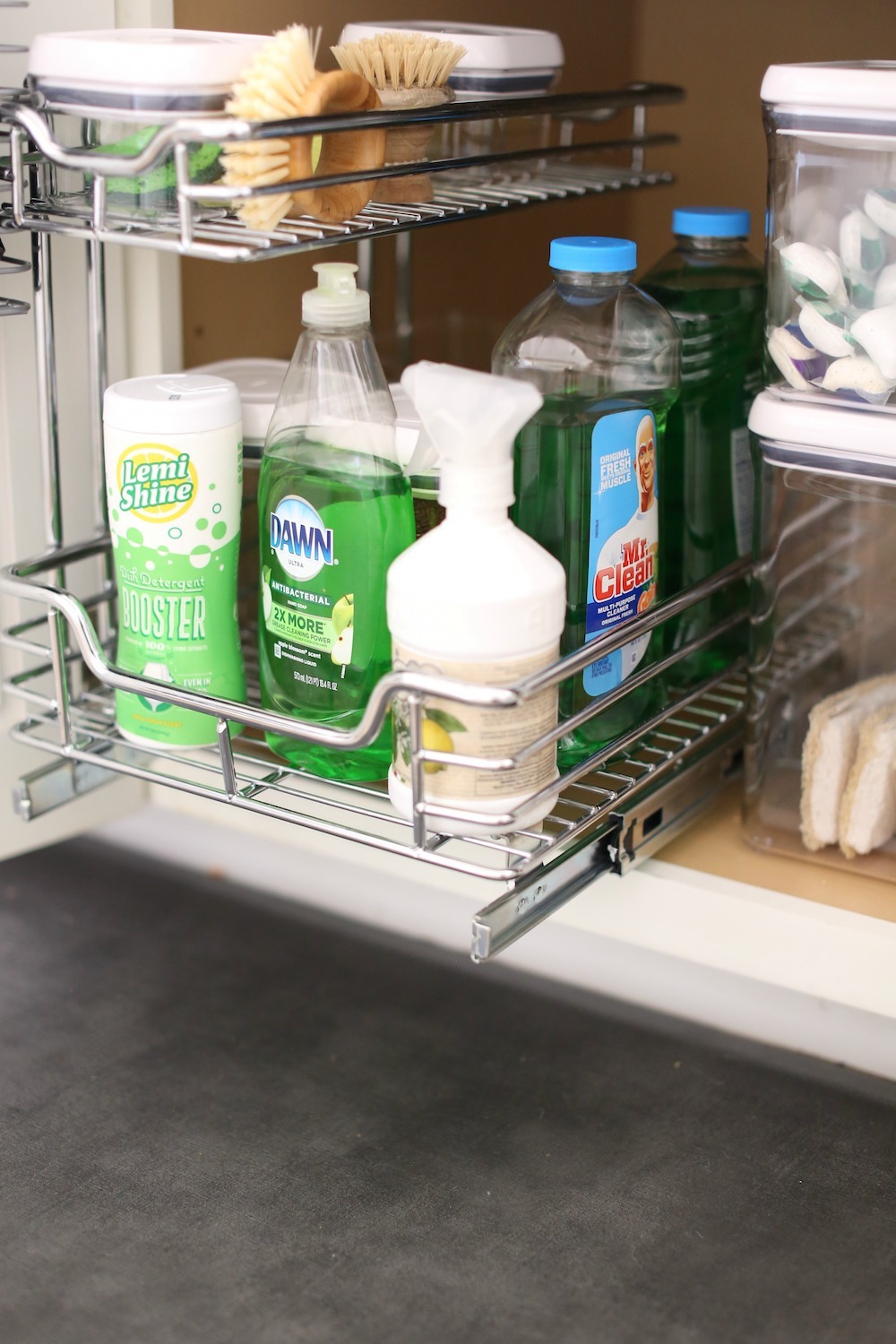 On the left hand door, I installed a trash bag holder. This is a perfect spot for it because it gets used daily and the trash cabinets is right next to it!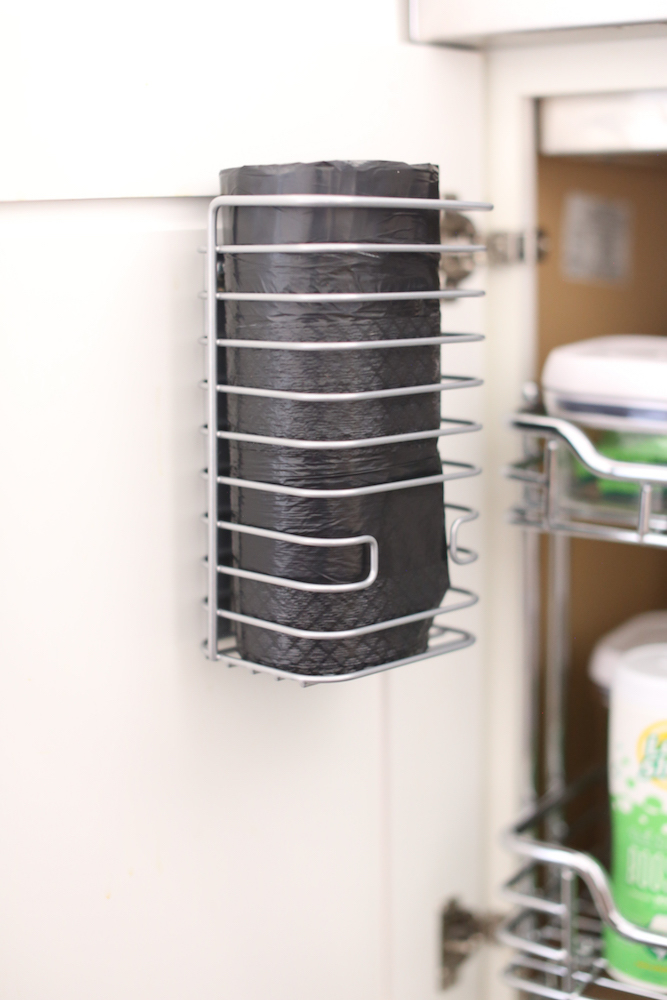 Most people wouldn't think to use food containers under the sink, but this multi-container set by OXO is perfect for keeping detergent fresh and even brushes, scrubber and rags. I also love that they stack easily in front of the sink. The pop up feature on the lids is my favorite. I don't even remove the container when I need a dish pod, I just pop the lid. Plus you can use them for just about anything!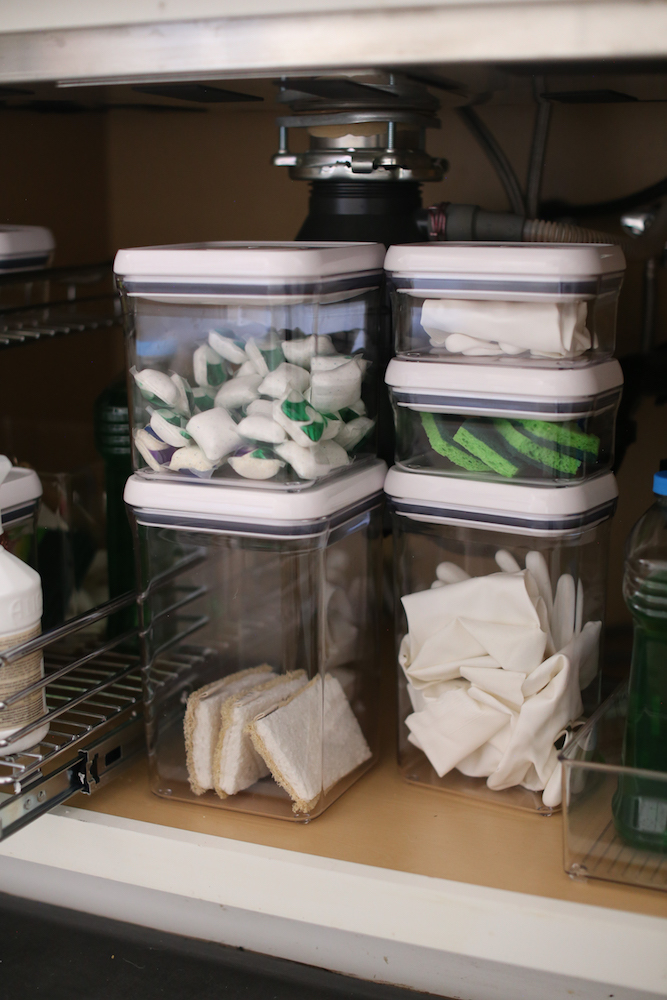 On the right side of the sink, I used an easy access caddy by InterDesign for all my countertop, stainless steel cleaner, and anything else I need for daily cleaning. After I'm done I can easily put it back into this spot so it's easy to find. You can do the same thing with all of your daily cleaning supplies!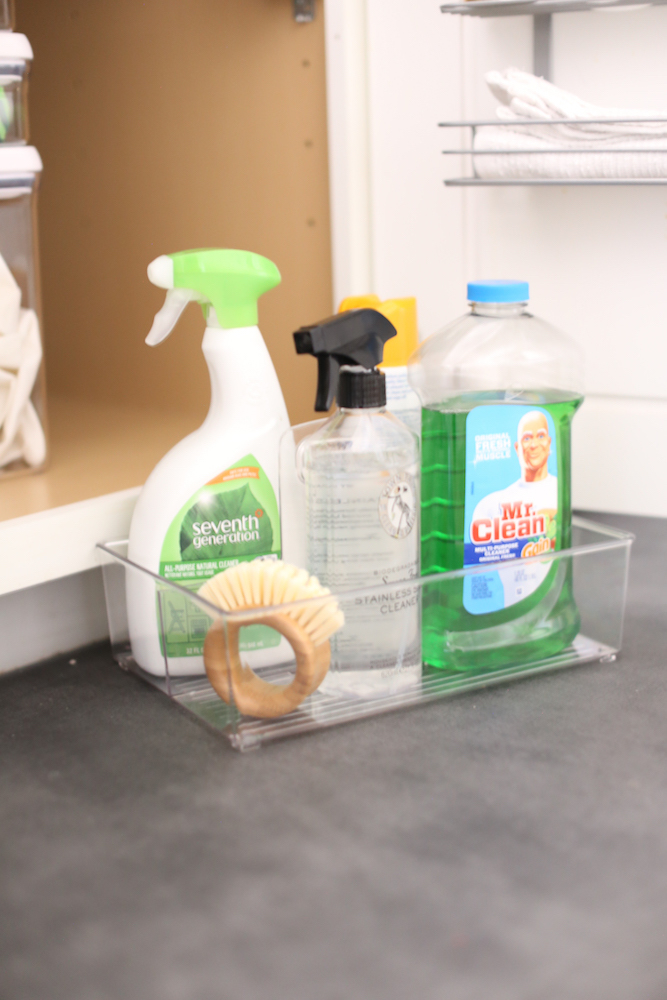 To really maximize the space and storage I also installed a wall mount rack on the door. I can easily get scrubbers for pots and pans here, also rags and anything else I need for dishwashing.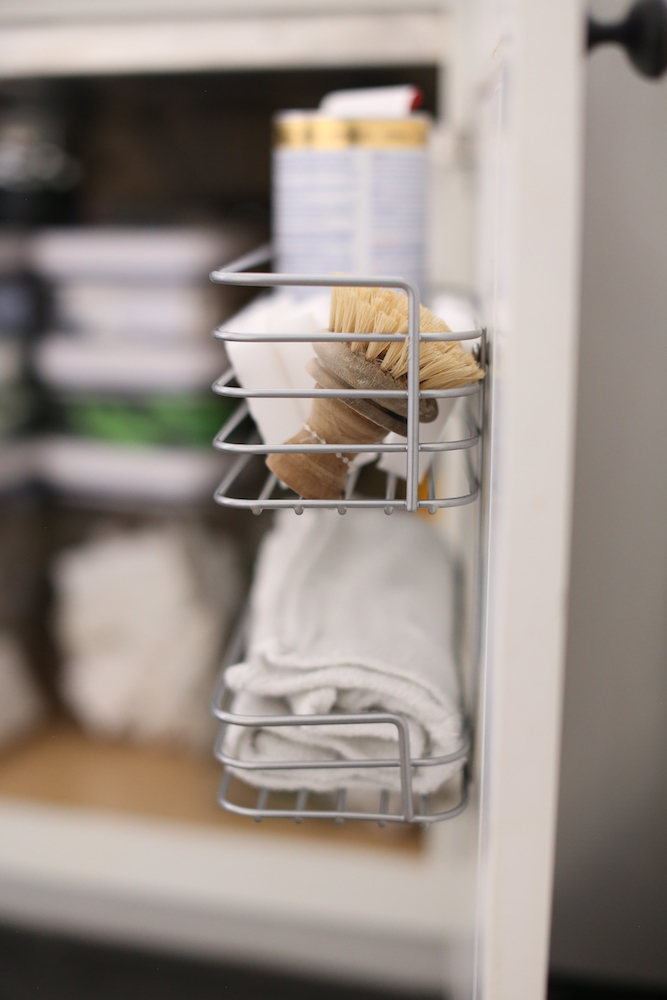 If you spend a lot of time under the kitchen sink, you might as well be comfortable right? I use to find myself hovering over the sink, fatigue after washing and soaking dishes after dinner. Plus with our hard floors it can be really hard on my back and my feet.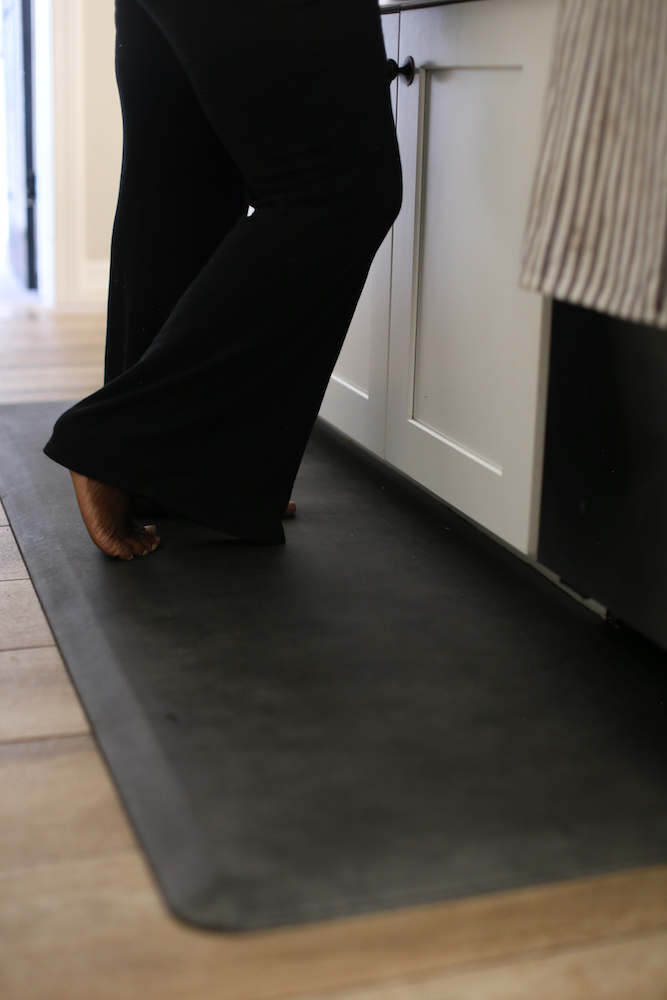 Getting a small piece of luxury under your foot is well worth worth it. WellnessMats are the perfect solution for anyone who is assigned kitchen duty. These beautiful mats are medically proven to provide comfort for you while you get your mom on. I'm not kidding friends, it feels like your floating on a cloud! This 6-ft mat stretches from the trash to the dishwasher and it's amazing.
So are you ready to tackle the space under your sink?