Two Ingredient Pumpkin Pasta with a Simple Brown Butter Sage Sauce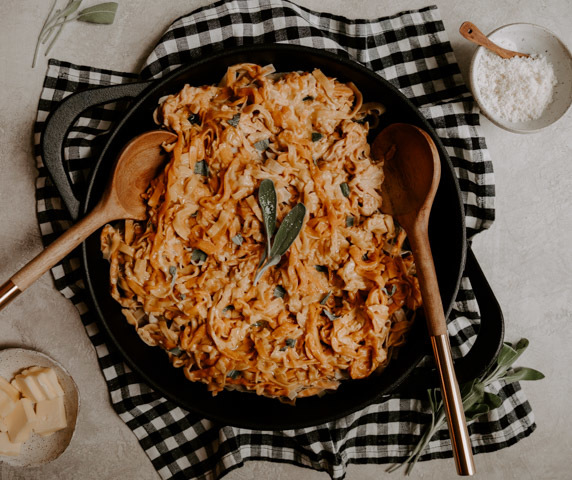 If you've never made fresh pasta before, don't be intimidated by this recipe. Arguably easier than egg pasta, this two ingredient pumpkin pasta is a safe bet for beginners and/or the kiddos. It's basically no-fail, and can be easily fixed if something goes awry.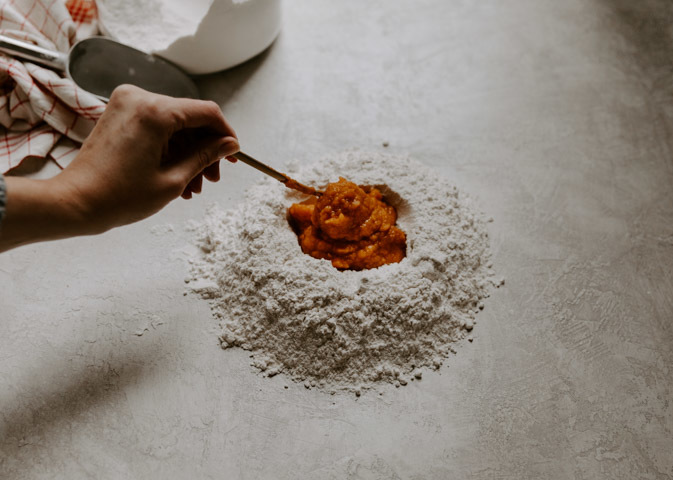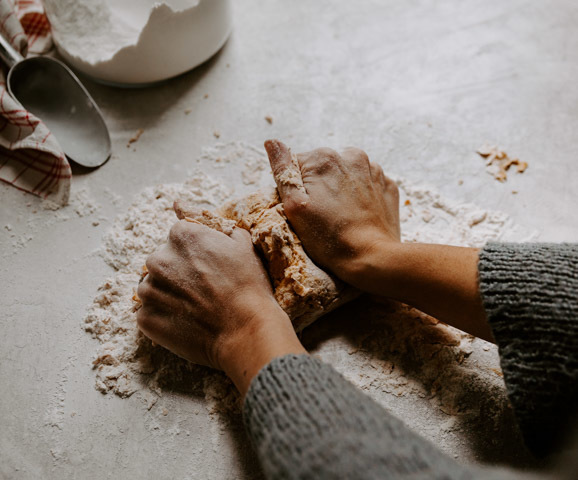 I love the ritual of making fresh pasta as a family or friends night. Pour yourself a glass of wine, give everyone (even the littles!) a turn at each step, and have so much fun building memories together over a simple and delicious meal. It's a sure-fire way to keep your kids interested (read: not picky), and everyone benefits from that. Not to mention freshly made pasta is so delicious, you'll wonder why it took you so long to do this. Trust me, I've heard exactly that response before.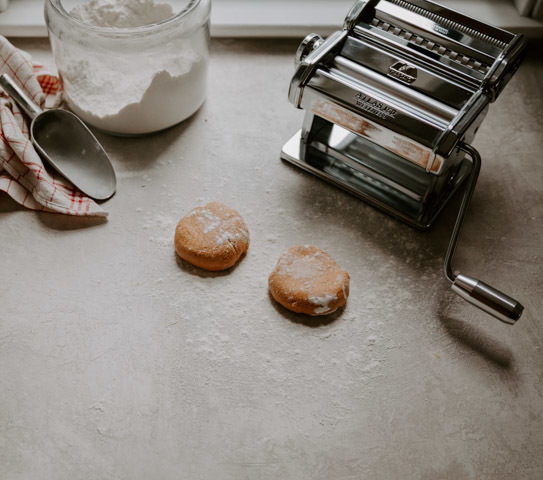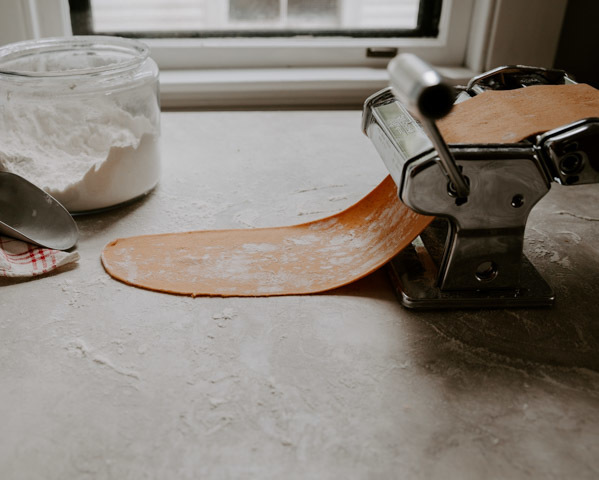 A few recipe notes:
When using the pasta machine, don't be afraid to add lots of flour as you go. The pasta inevitably gets sticky as it flattens out, so add, add, add. You won't ruin it, I promise.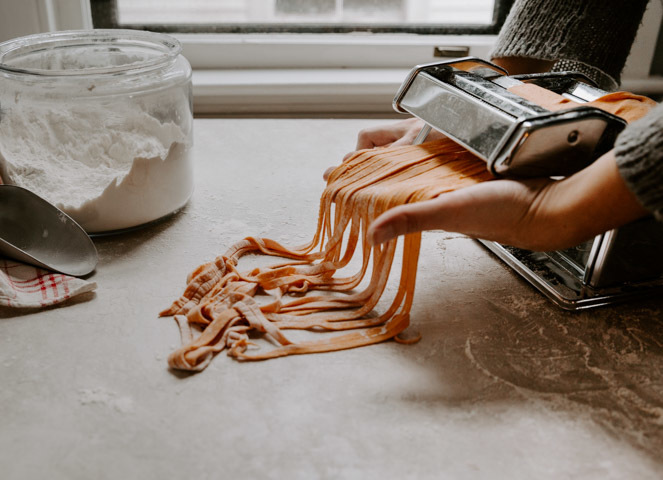 I love using cultured butter because the flavor is so much richer, and the butter is just a tad healthier (hello gut-friendly bacteria just like that found in yogurt!). We primarily use cultured butter in our house and it's my secret weapon for adding depth to any dish that calls for butter.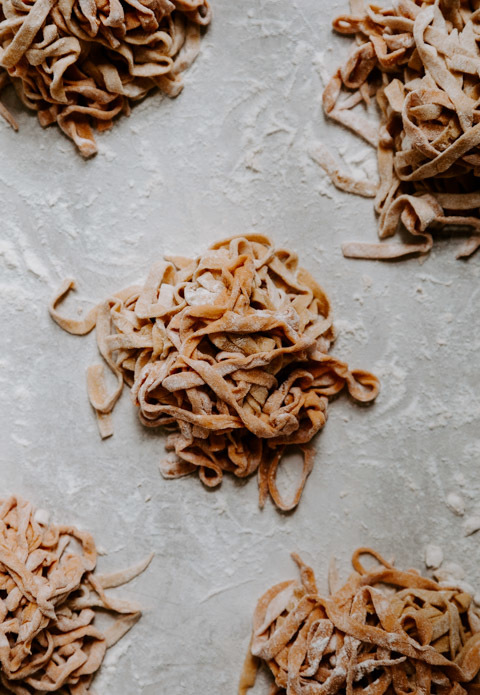 Make your own roasted pumpkin, or save yourself a huge step and buy it canned. Or, play with other squash varieties like butternut. Yum!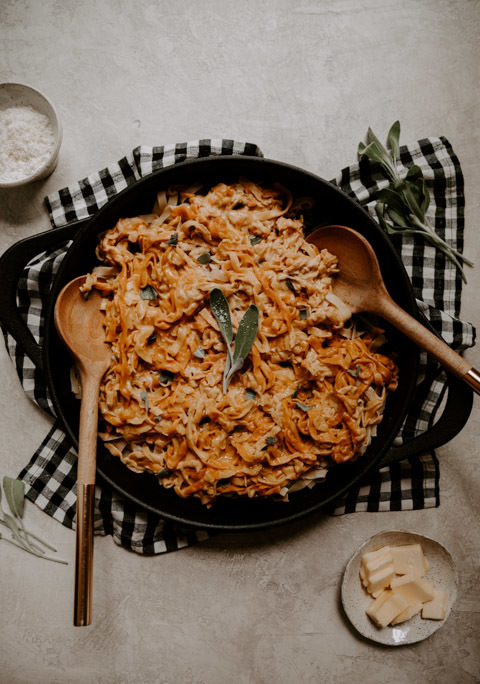 Two Ingredient Pumpkin Pasta with a Simple Brown Butter Sage Sauce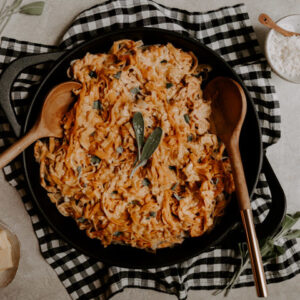 INGREDIENTS
For the Pasta:
3 cups AP flour, plus more for rolling
14 oz. canned pumpkin puree (this is about 1 and ⅔ cups homemade puree)
For the Sauce:

1 double stick (16 tbsp.) cultured butter, cut into pieces
2-3 bunches fresh sage, roughly chopped
¼ cup Pecorino or parmesan, with more to taste
Flaked Salt to taste/garnish
Freshly ground black pepper to taste
INSTRUCTIONS
For the Pasta:
Place all of the flour in a mound on a cleaned surface and make a well in the center. Add pumpkin puree into the well.
Using your hands, work together the flour and pumpkin until a non-sticky dough is formed. Add more flour and knead if necessary.
Divide into 4 parts and cover each with a light dusting of flour and plastic so no air gets to the dough and let it rest.
Using a pasta machine or a rolling pin, flatten each dough disc into a very thin sheet, adding more flour as you go. If using the machine, I flatten at a 3 setting and send the pasta sheets in twice before cutting. Using a pasta machine attachment or a pizza cutter, cut into fettuccini.
Place cut noodles into small nests on a lined sheet and cover until ready to cook, or dry on a pasta rack until ready to store. Start on the sauce below.
Bring large pot full of water to a boil, salt water with a very generous handful of salt, and place each nest into the water, mixing with each addition. Cook for about 2-3 minutes until al dente. Pull from the water and place directly into sauce. If a little cooking water gets into the sauce, that's perfectly okay.
For the Sauce:

In a medium cast-iron pan, melt butter on medium low heat, stirring occasionally for 6-8 minutes, until just brown. Try not to let the butter bubble/boil otherwise it will separate.
Add sage and continue to stir until aromatic.
Add pasta with a little cooking water and mix fully.
Add parmesan and mix. Adding any reserved cooking water to thin the sauce if necessary. Taste and adjust seasoning as needed.
Plate and add a small pinch of flaked salt, parmesan, or chopped sage for garnish.
Enjoy!