Squid Ink Pasta with Smoked Salmon, Fresh Dill and Cherry Tomatoes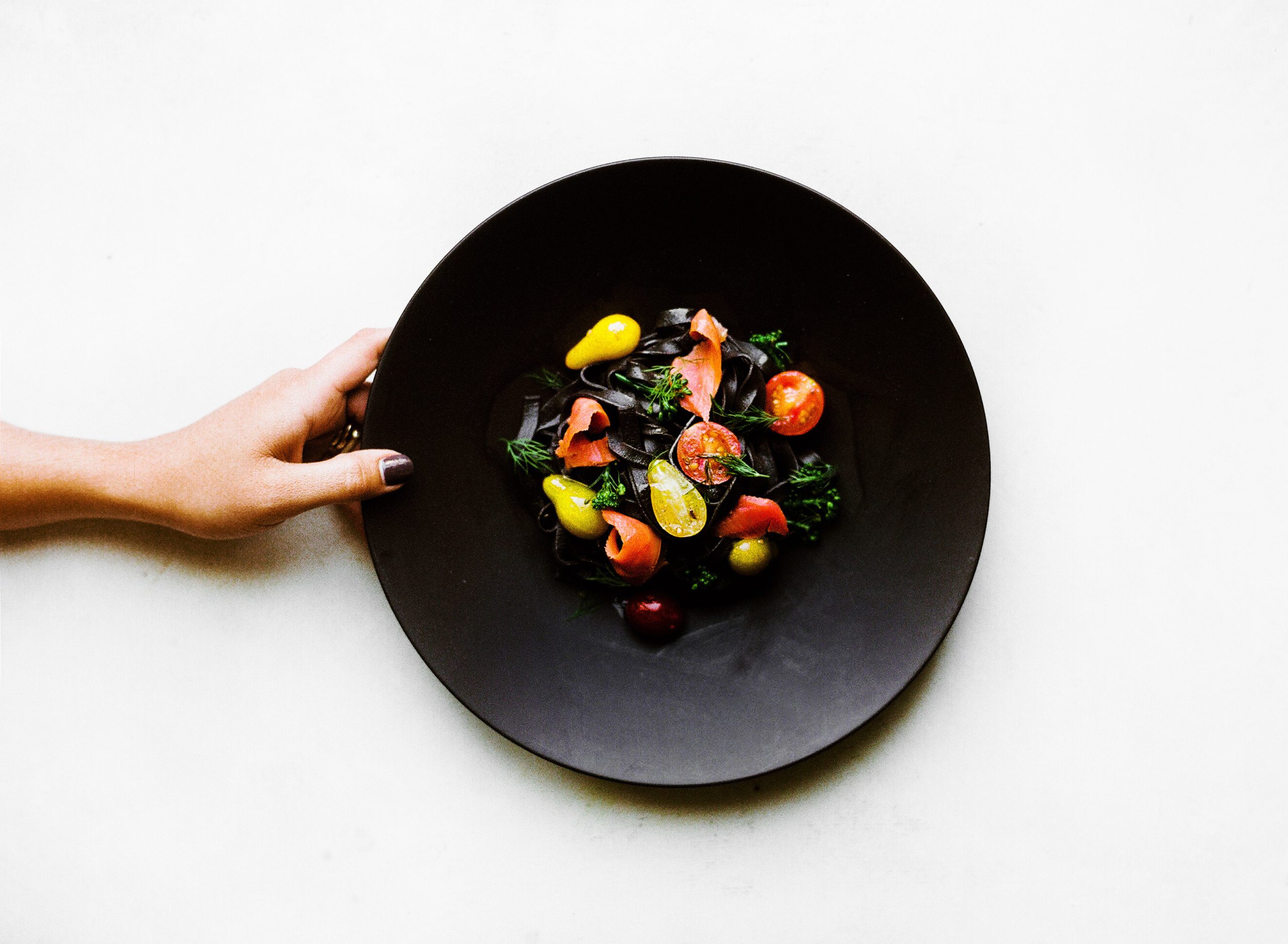 Chef Billy Parisi is teaching us how to master homemade pasta. Even this squid ink pasta is within your reach.
Squid ink pasta calls for the old-school rolling pin (for rolling) and knife (for cutting). Feeling the thickness of the pasta as I roll it out helps me to monitor its progress. Once the pasta is rolled out, dust with flour and gently fold it over before slicing to your desired thickness. Whether you cut it thick like pappardelle or thinner like linguine is up to you and your knife.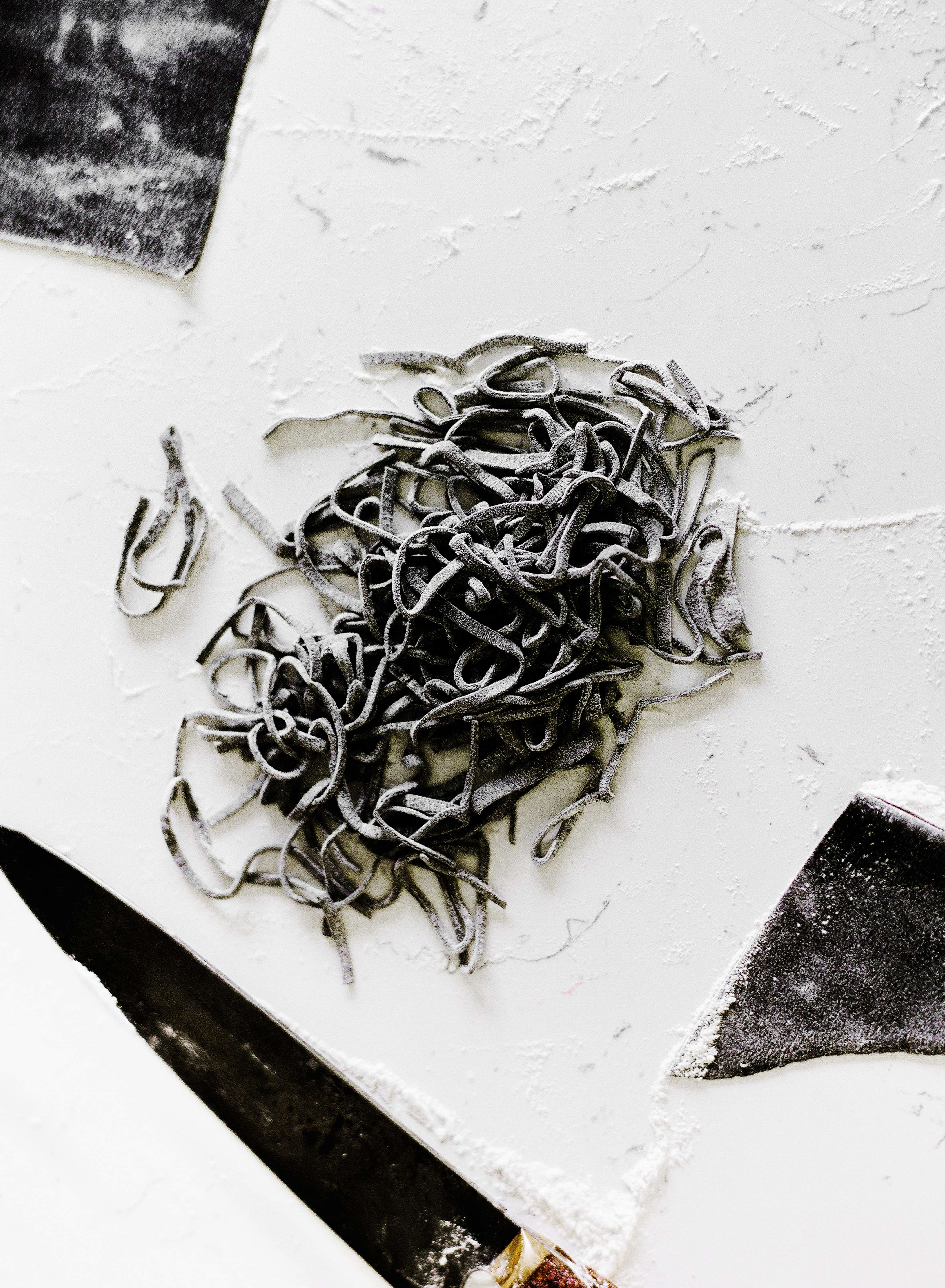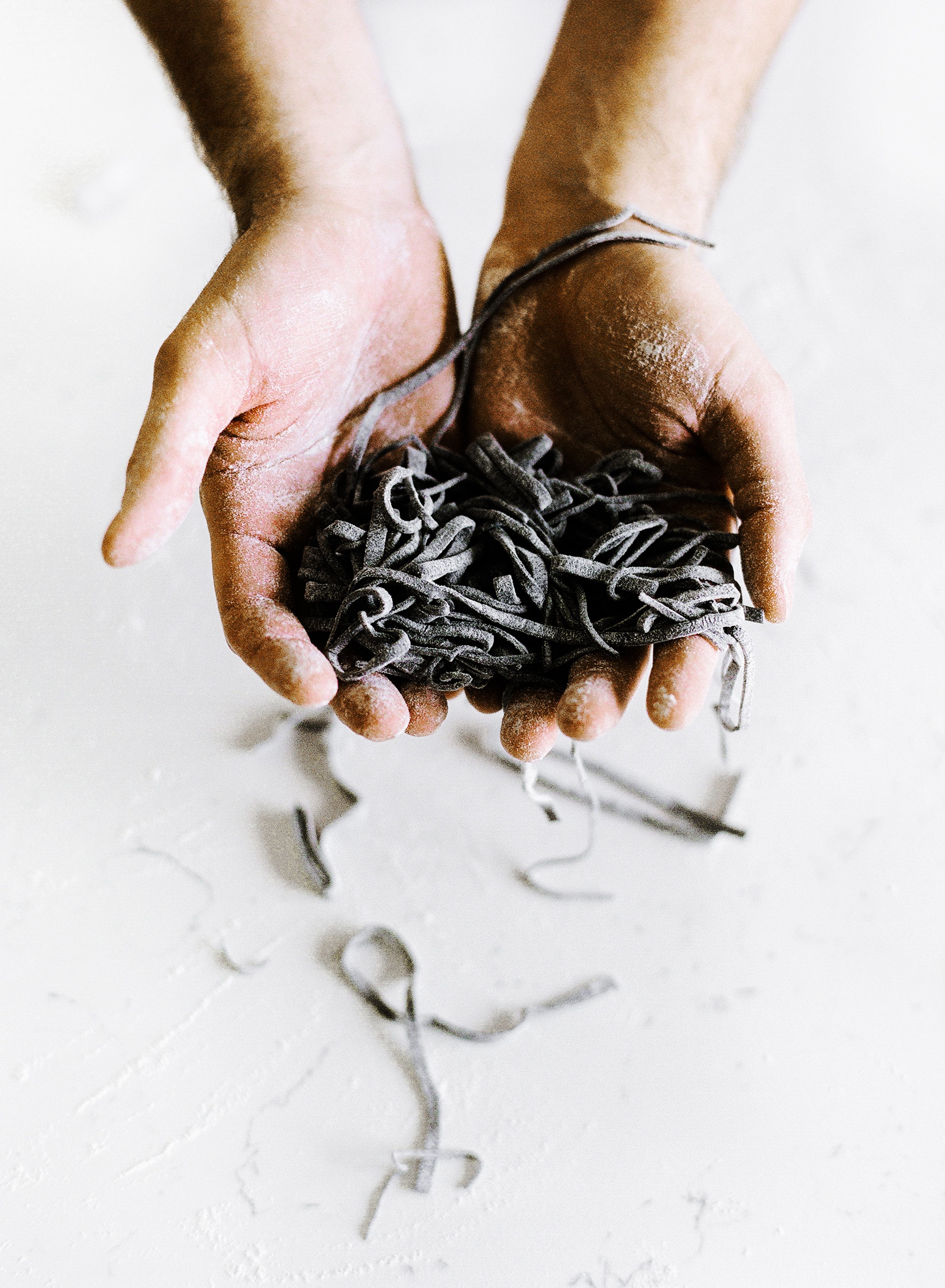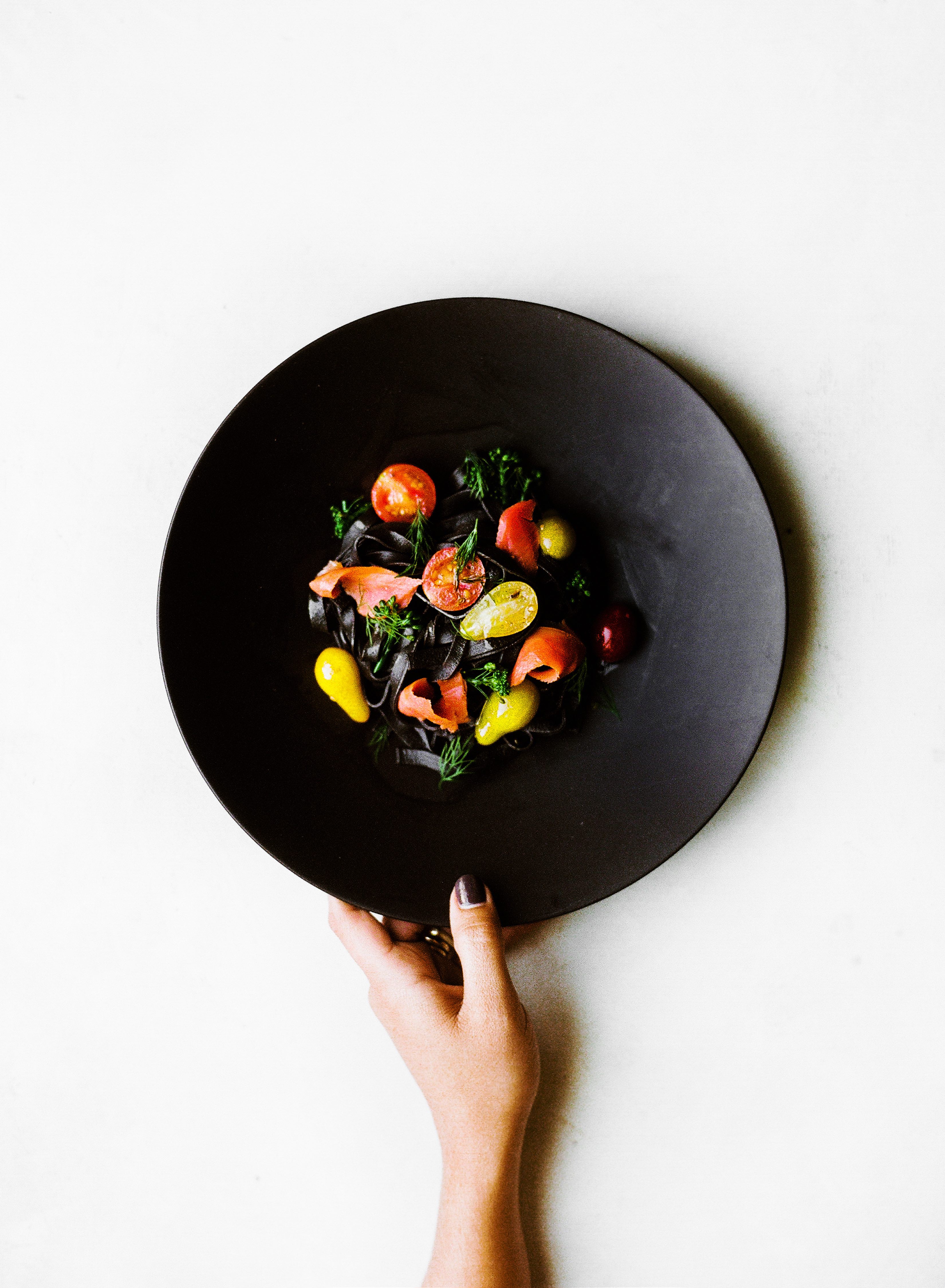 Squid Ink Pasta with Smoked Salmon, Fresh Dill and Cherry Tomatoes Recipe
Master your chef skills with this squid ink pasta recipe!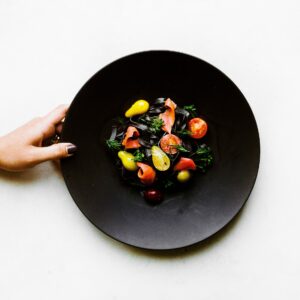 Ingredients
1.75

cups

flour, sifted

.5

tsp

Kosher salt

3

eggs

1

tbsp

squid ink

water as needed

1

oz

unsalted butter

.5

cups

broccolini florets

1

cups

assorted cherry tomatoes, ½ cut in ½)

2

oz

smoked salmon, cut into 2″ squares and rolled up

1.5

tbsp

fresh dill leaves

Kosher salt and fresh cracked pepper to taste
Instructions
Add the flour and salt to a clean cutting board and using your hands make a well by pushing the flour with the backside of your hand from the inside out.

Next, add the eggs and squid ink to the center of the well and whisk them with a fork until combined.

Gradually add the flour to the center of the well with the fork while continuing to whisk until it is combined. Optional: Use a bench knife to scrape the cutting board to make sure and get all of the flour and eggs.

With your hands, knead the dough for 5 to 7 minutes. Wrap in plastic and refrigerate for 1 hour.

Next, divide the dough into 3 chunks and dust each with flour on both sides. Gently roll the dough to slightly flatten them so they will be able to fit into the Marcato pasta roller.

Set the pasta roller to 0 and using the crank feed the dough through it. Dust with flour and fold the outer 1/3's of the dough in and run through the roller again. Dust again but do not fold.

Change the roller setting to 6 and again feed the flattened dough through. Note: it will become a long flat pasta dough so be sure to have enough room to set it on a clean dusted surface.

Cut the dough into 3 parts using a knife.

Add the linguine attachment and feed each cut rolled out dough 1 at a time until all 3 have been made into linguine pasta.

Hang the pasta on a drying rack for 30 to 45 minutes or until it has slightly dried out.

Cook the pasta in a large pot of boiling salted water for 3 to 4 minutes or until al dente, or slightly crunchy. Keep warm.

In a medium size saute pan over medium heat, add in the butter and cook the broccoli florets for 2 to 3 minutes. Next, add in the tomatoes and cook for a further 2 to 3 minutes. Season with salt and pepper and remove from the heat.

Add the lightly cooked tomatoes and broccolini to the top of the squid ink pasta, along with the salmon squares and dill.
Nutrition
Serving:
1
g
Calories:
456
kcal
Carbohydrates:
82.6
g
Protein:
18.6
g
Fat:
5.2
g
Saturated Fat:
1.3
g
Cholesterol:
126
mg
Sodium:
635
mg
Fiber:
4.1
g
Sugar:
2.2
g
Check out some of Chef's other pastas:
Red Beet Ravioli Stuffed with Goat Cheese, Shallot Reduction and Brown Butter
Egg Noodle Pasta with Roasted Vine Tomatoes, Burrata, Extra Virgin Olive Oil and Fresh Oregano
Spinach Noodle Pasta with Fresh Asparagus, Peas, Pesto and Parmesan Cheese
Tomato Noodle Pasta with Fresh Arugula, Ricotta Cheese, Lemon and Extra Virgin Olive Oil