Throw the Sweetest Galentine's Day Party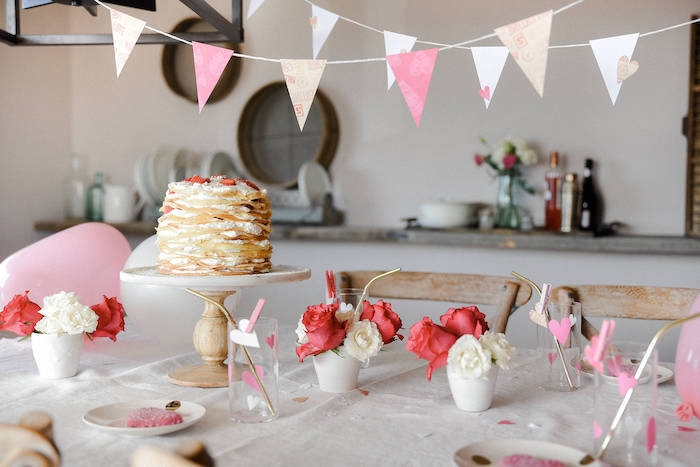 Whether or not you are a fan of Valentine's Day, I think we can all get behind the idea of celebrating Galentine's Day! As I get older, I realize just how important my friends are to me. It's true that two or three incredible, meaningful, and trustworthy friends are more valuable than a room full of half-friendships. You know what I mean? Your girls, your tribe, they're the ones that help us get through those hard times and celebrate with us during the good times!
I love the idea of putting together a Galentine's Day party to celebrate friendship! Maybe it means you get manicures together, or maybe you invite your gals over for a cocktail and dessert. I want to share a little inspiration with you today so that if you'd like to host your own Galentine's Day party, you can whip it up with ease!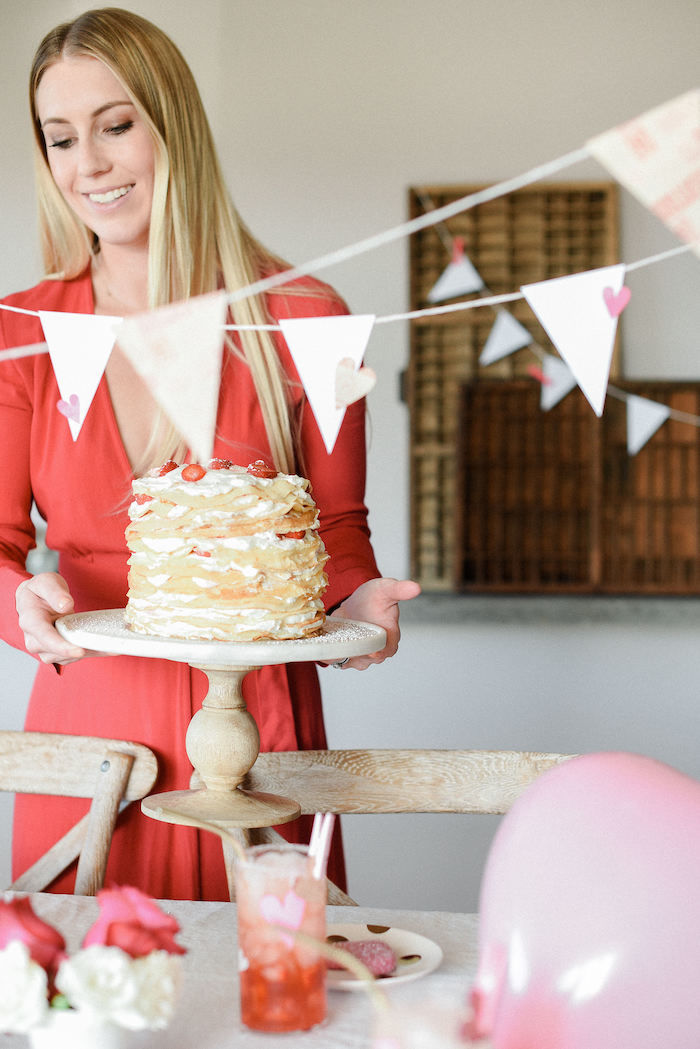 I am a huge believer that a Galentine's Day party isn't complete without sweets. I created a strawberries and cream crepe cake for this party, but you can dream up any dessert! Try making a giant heart shaped cookie or these Valentine's Day brownie bites!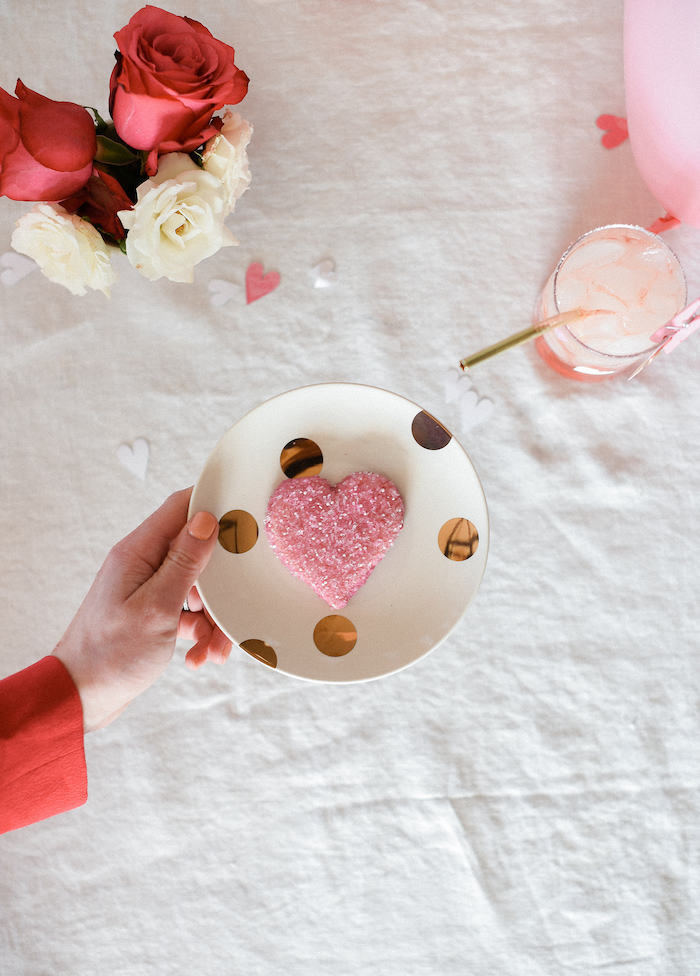 To make your everyday glasses festive, try adding vinyl cut outs to them. This can be done for any holiday! The vinyl is removable and is such an easy way to dress up what you already have.
Tip: If you don't have a vinyl cutter, you can use stickers!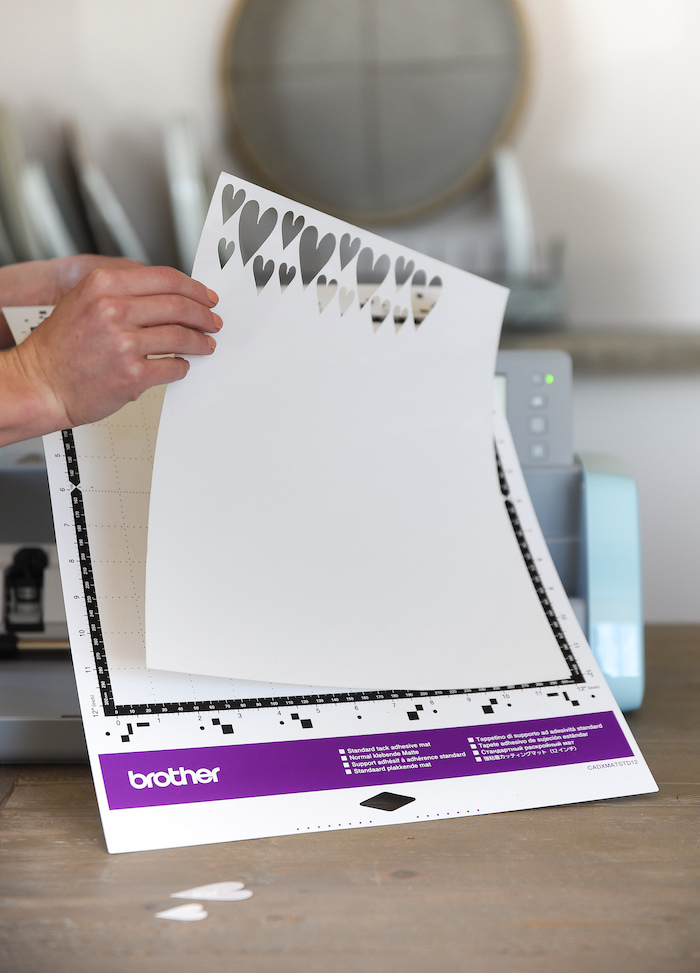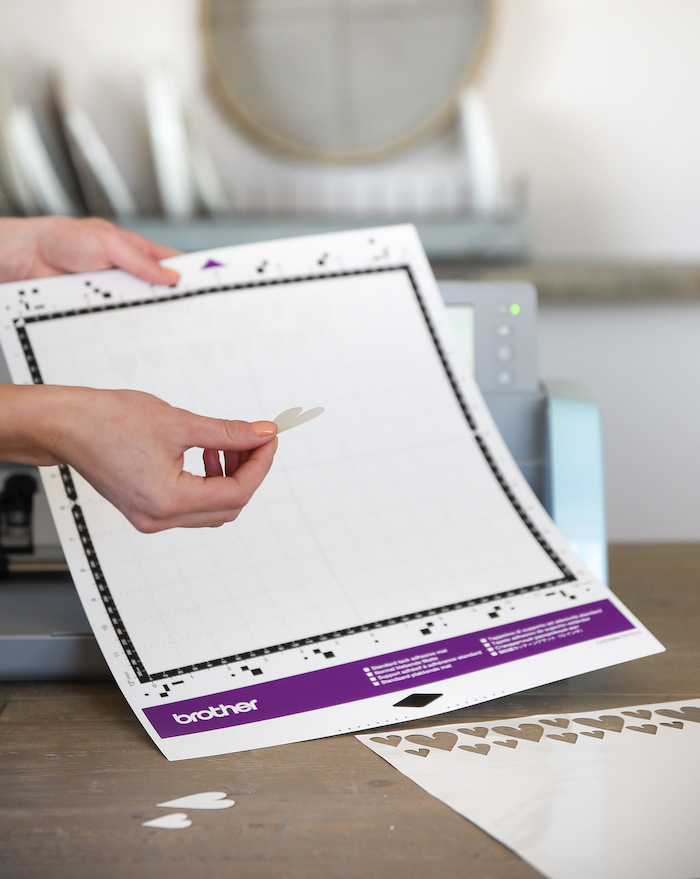 I love the Brother ScanNCut machine for projects like this! I used the CanvasWorkspace website to design a cute Valentine's Day banner, heart shaped confetti, and vinyl hearts for my very favorite cocktail glasses.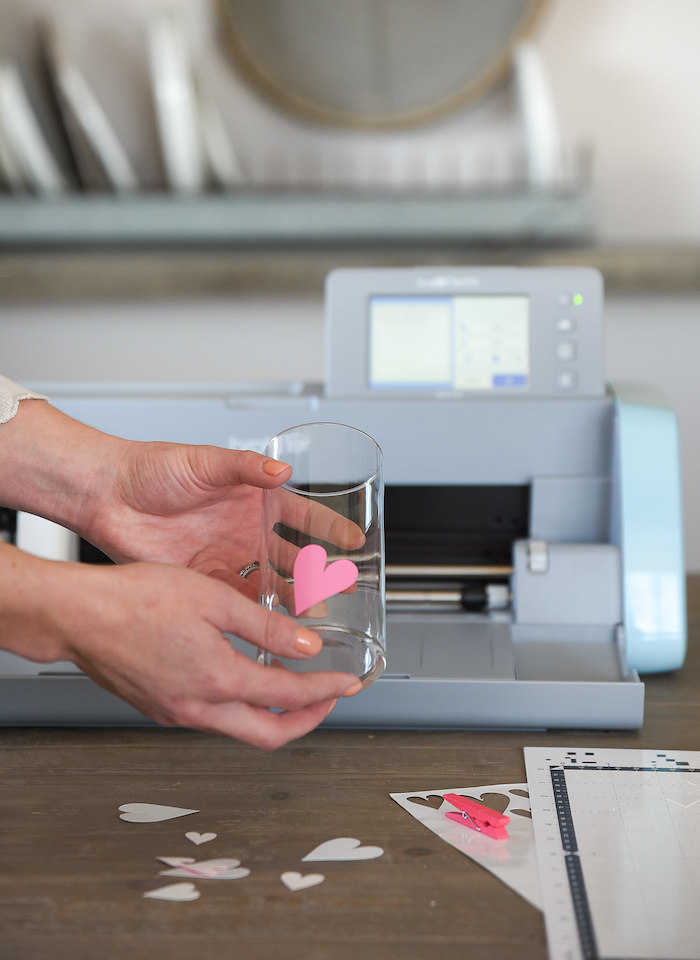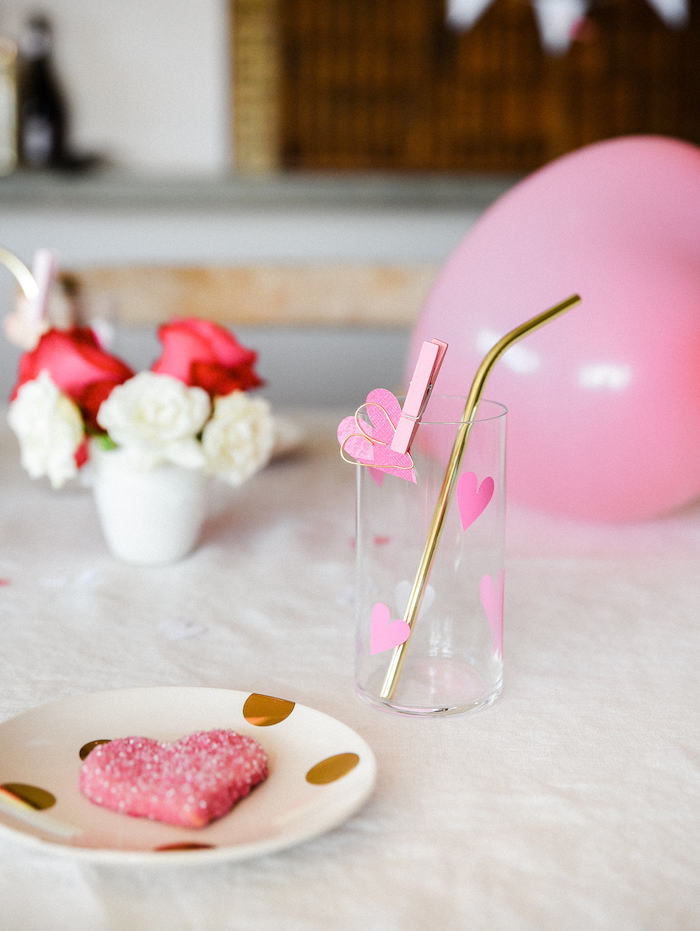 To create my banner, I simply cut out triangles and then added them to baker's twine with glue dots! The project took me about 10 minutes, and made a beautiful addition to our Galentine's Day party!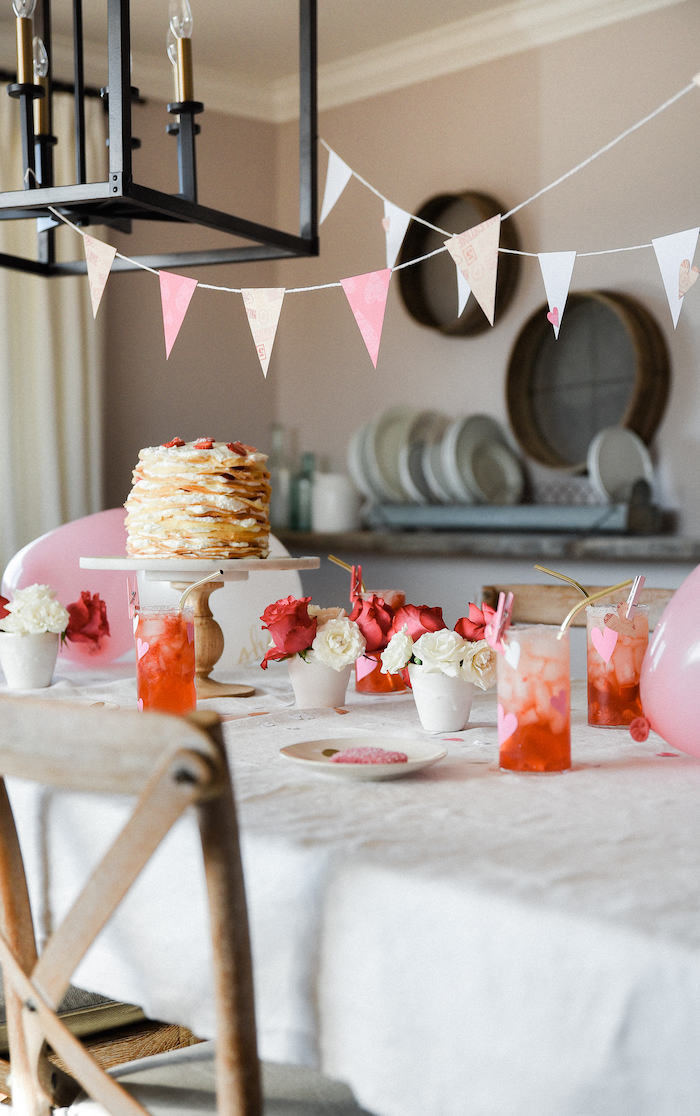 In addition to heart-shaped cookies and crepe cake, I made a delicious strawberry champagne Valentine's Day cocktail! The crushed strawberries went perfectly with the cake and looked so darling in the heart adorned cocktail glasses.
Galentine's Day Cocktail Glasses
Supplies:
Brother ScanNCut
White & Pink Vinyl
Clear Glasses of your Choice
Instructions:
Open the CanvasWorkspace website and design your vinyl cut outs. I used different sized hearts, but you could go with kiss prints or x's and o's!
After you have finished designing, send the design to your machine! I love that this can be done wirelessly with the Brother ScanNCut.
Next, add a sheet of vinyl onto your cutting mat, load the cutting mat, select the appropriate settings, and begin cutting!
Once the machine has finished cutting, peel away the vinyl backing and stick the hearts (or other shapes) directly onto the glassware!
There you have it, cute, simple glasses to add a little something extra to your Galentine's Day party! These are such a cute and festive way to dress up glassware, or even candle votives!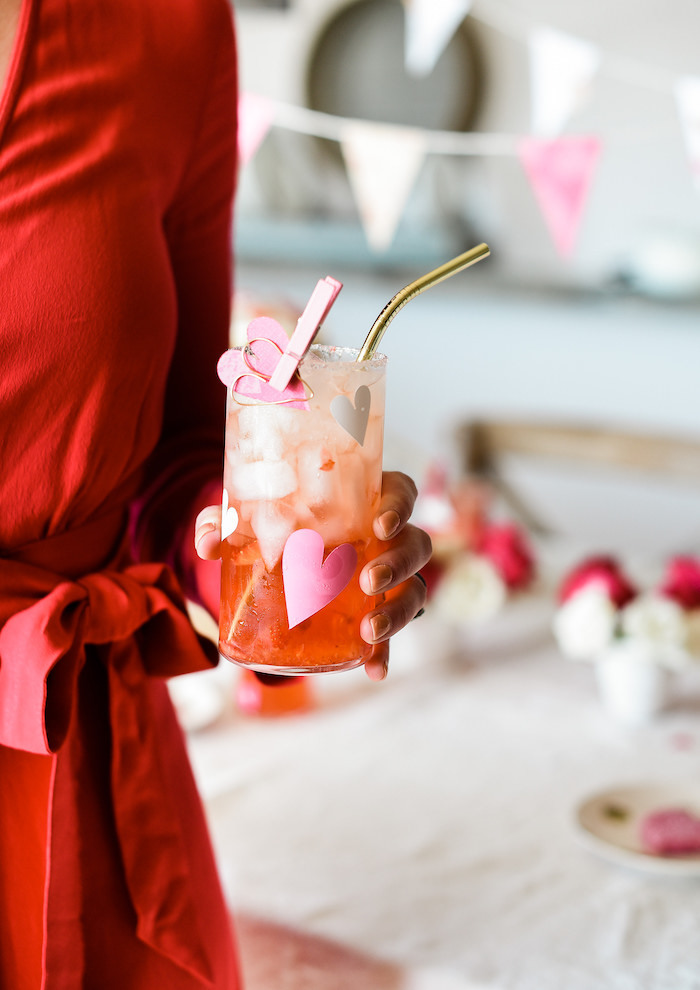 For more Valentine's Day party ideas, be sure to visit me at boxwoodavenue.com and visit my YouTube channel to see more seasonal recipes and projects!