Set a Lemon-Infused Tablescape for Spring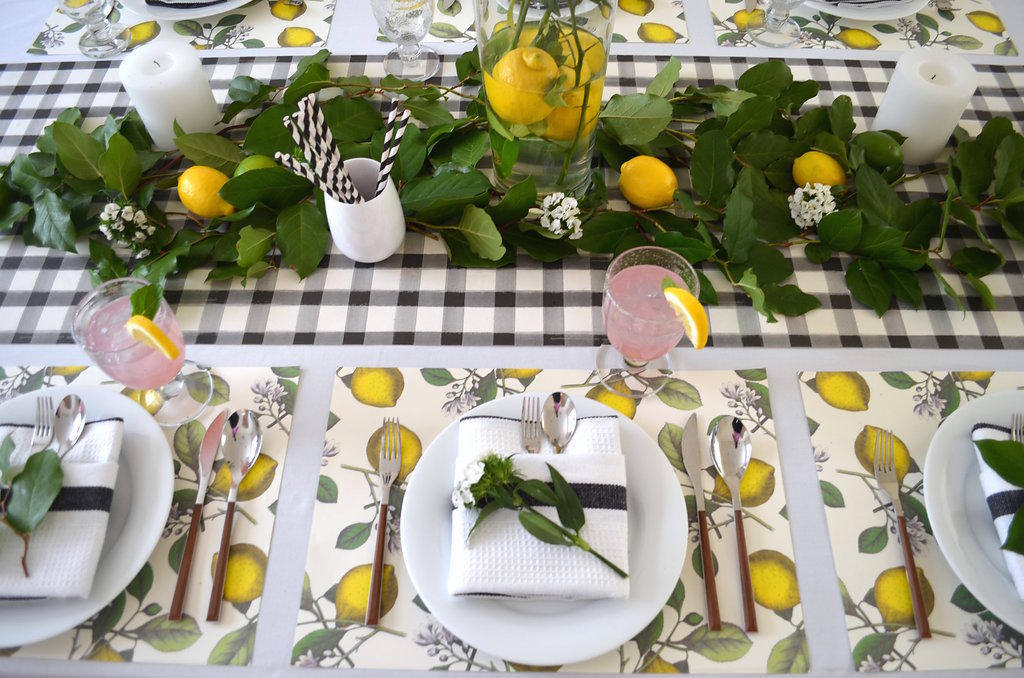 Hello, my fabulous entertaining friends…
Did you love having a long weekend as much as I did? Saturday was filled with chores, but Allie and I spent Sunday doing some wedding planning. Are we excited? Let me count the ways. I can't believe my daughter is getting married AND we have a date and venue. November 4th is going to come up fast so it goes without saying, we are officially in serious wedding planning mode.
With all the wedding festivities and parties coming up, it made me realize that anyone getting married anytime soon is all over Pinterest searching for the same inspiration we are. Engagement parties, bridal showers, bridesmaids luncheons, spring and summer get togethers; it's time to start planning dates, create guest lists, choose invitations, shop and order what you'll need and want. With all those thoughts in mind, here's an idea I have for a Lemon infused tablescape, because who doesn't love lemons and for the bride who's not into frills, this table's for you.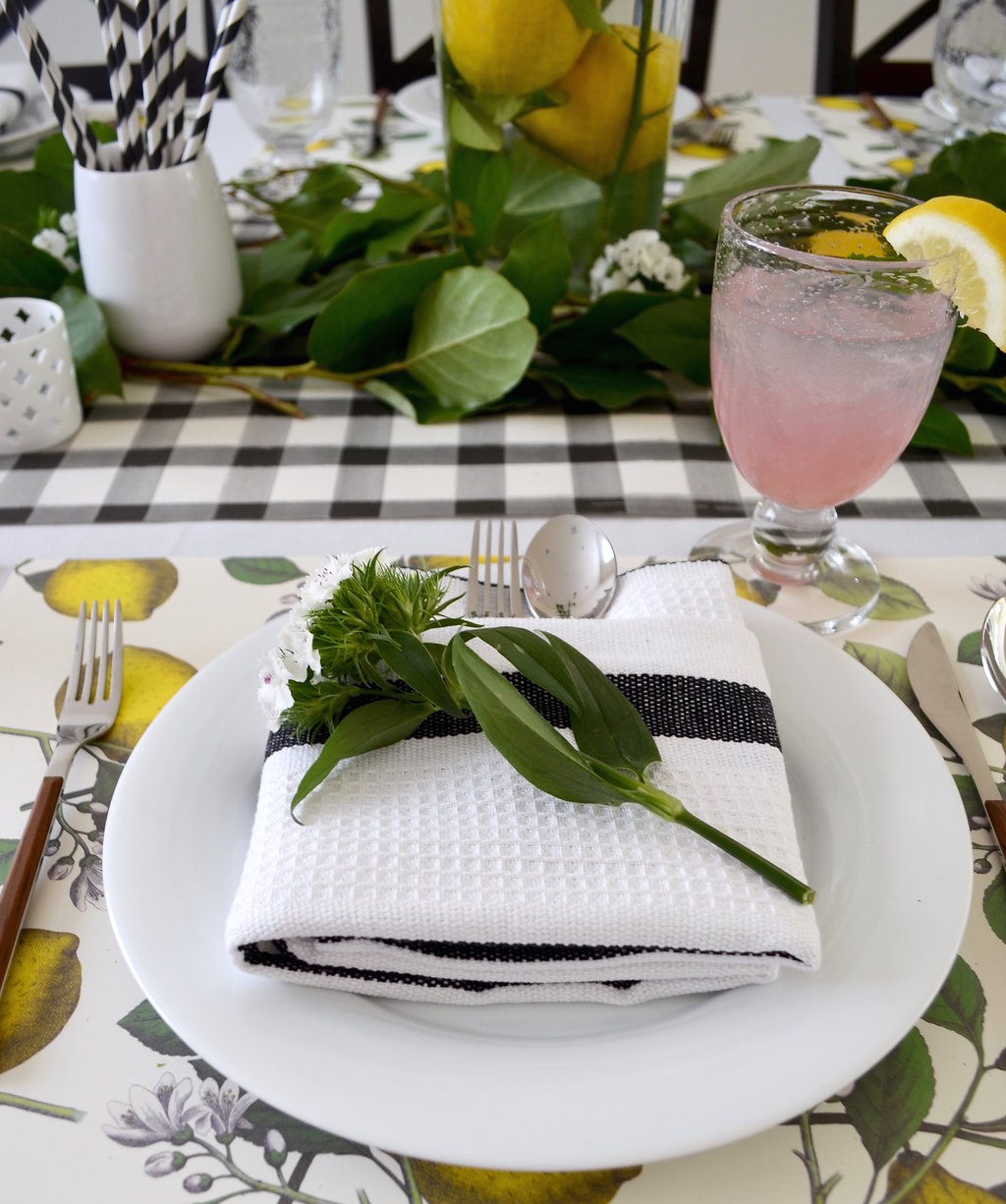 While setting the table comes easy to me, I meet so many people that love to entertain but are either terrified at the thought of it or don't know where to start. My best advice? Start with an idea you fall in love with and reproduce it with your own style. So, pour yourself a drink, scroll down and let's drum up a lemon infused tablescape together.
Love this look? Here's how to do it:
First, let's talk about table decor. Keep it simple and stay focused with 2-3 colors. Tops! For this setting, I layered a BIG bunch of fresh lemon leaf branches down the table to create a runner. I tucked white Dianthus and fresh lemons in for some springtime feels. Take a stab at it and stop when it look and feels good to you. I mean, I'm no florist, but I know what I like. Since these types of runners look full and attract a lot of attention, use a simple tall vase in the middle of the table for some height and dimension; add a few leaves and a couple lemons to the bottom, and one or two lemon branches. These branches are from our lemon tree (baby lemon included) and probably took me all of fifteen minutes to put together. Add candles and you are done. Easy, right?
Runners and placemats can do the work for you. Here I layered a Black Painted Check Paper Table Runner and Lemon Paper Placemats over a white tablecloth. With the print and plaid going on, I wanted the dinnerware to be simple, so I went with my Crate & Barrel whiteware. Take note: It's ten years old, looks like the day we got it, can be mixed and matched with color and is definitely my go-to. The napkins are actually kitchen towels, which are on my list of new favorite things to use on the table. To keep a casual vibe, I added Dansk wooden handled flatware, which I think are just the right accent. Two things I LOVE in glassware. 1. A goblet and 2. Bubble Glass, which is why I set this table with Bubble Glass Goblets. They're perfect for casual entertaining.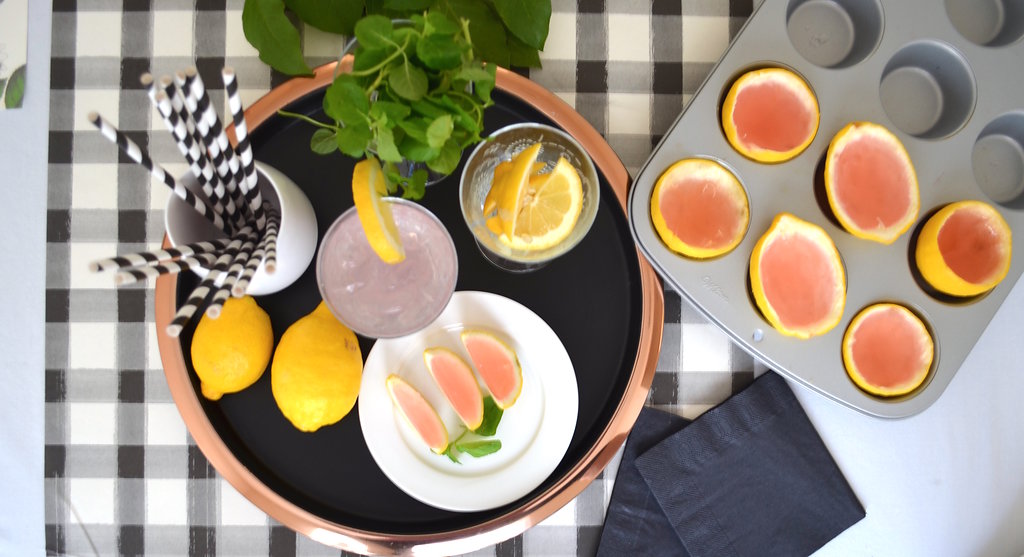 What could be more fun at a citrus infused table or party than Pink Lemonade Lemon Drop Jello shots? I combed Pinterest and sure enough found some by A Beautiful Mess, who I absolutely adore. I gave them a try and they are not only super cute, but REALLY good.
Pink Lemonade Lemon Drop Jello Shots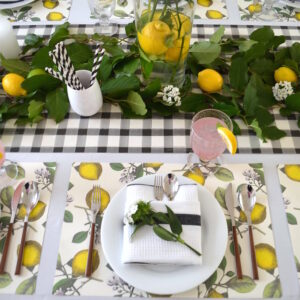 INGREDIENTS
2 packets of unflavored gelatin
1 cup pink lemonade
½ cup regular vodka
½ cup lemon vodka or Lemon Eddy
5 lemons - Cut lengthwise
INSTRUCTIONS
Cut your lemons in half and use a serrated grapefruit spoon to scoop out the inside of the lemon.
The rest can be easily peeled out.
Heat the lemonade in a pan over medium heat and slowly stir in the packets of gelatin until it dissolves.
Add the lemonade and gelatin mixture to a bowl or large pourable measuring cup and pour in your vodka liquids.
Stir until combined.
Place your lemon halves into a muffin tin to keep them upright.
Pour in the liquid until each is ¾ full and refrigerate for about 4 hours or until set.
Remove the tin once the lemons have set, cut into slices right before serving and Salute!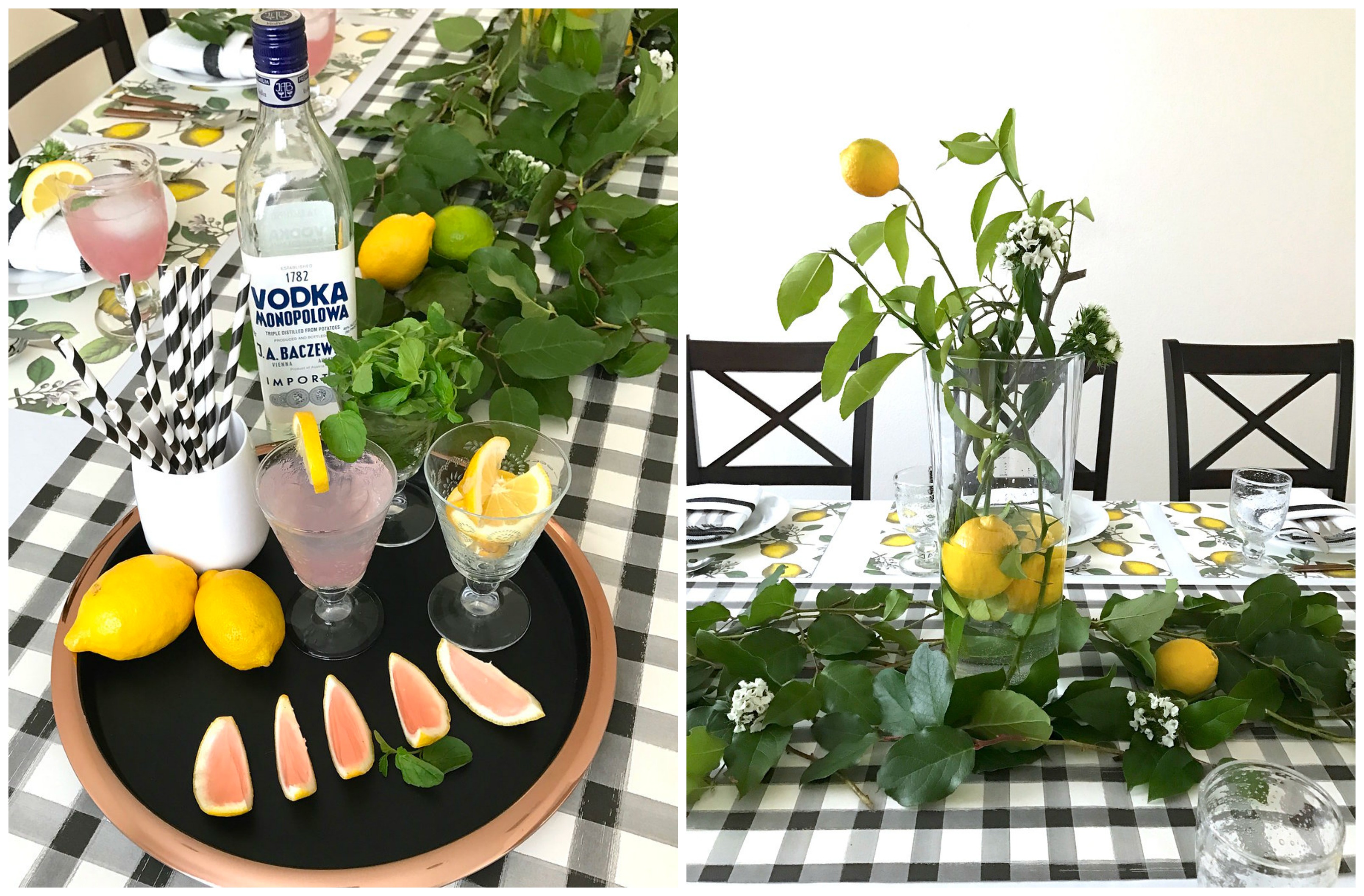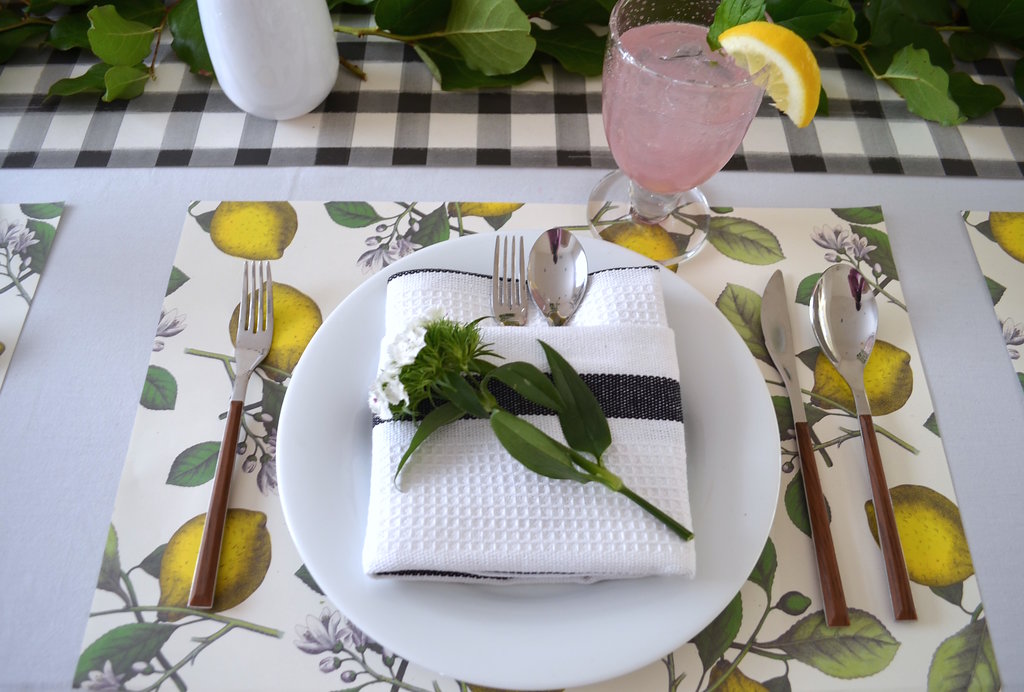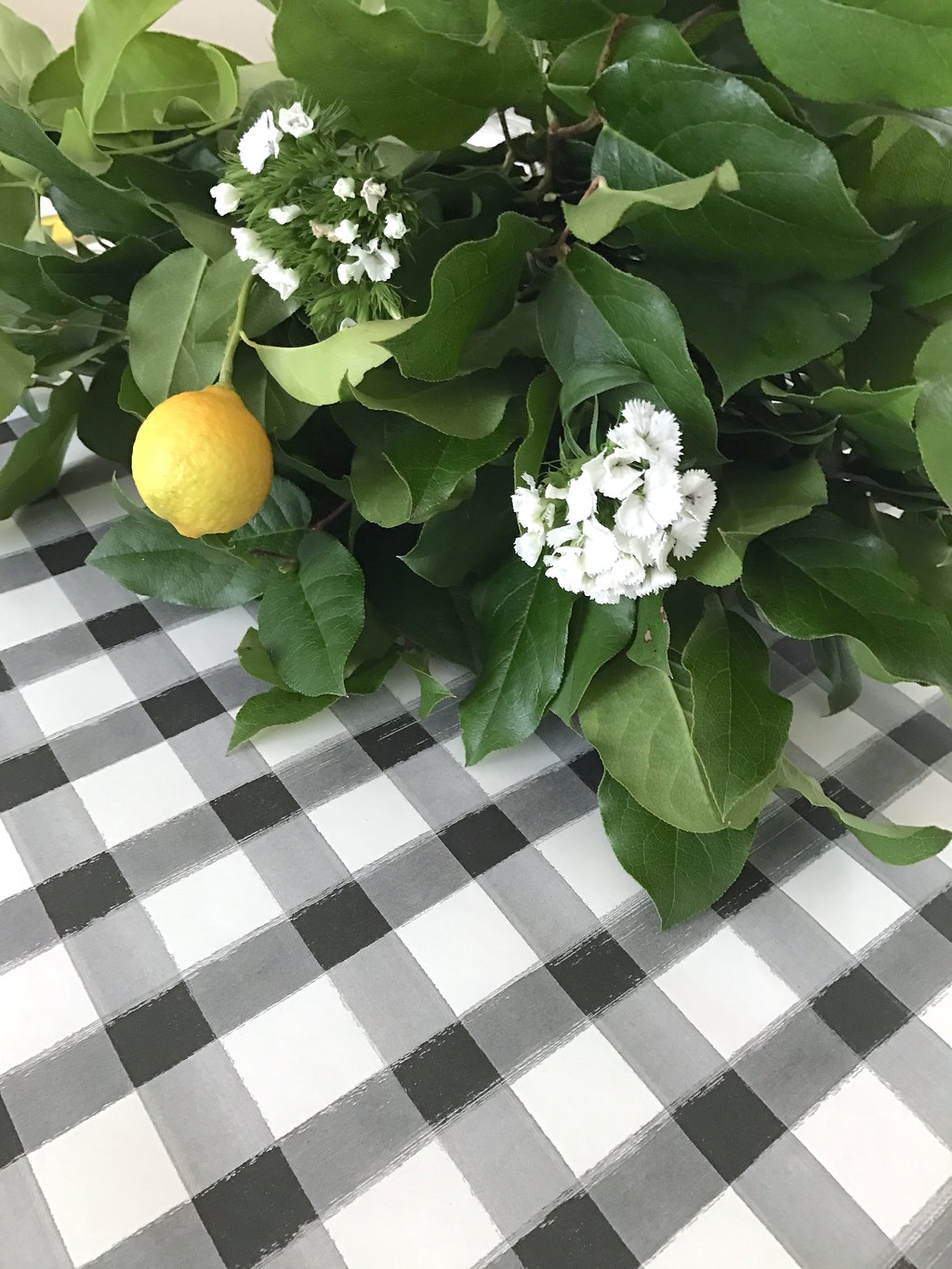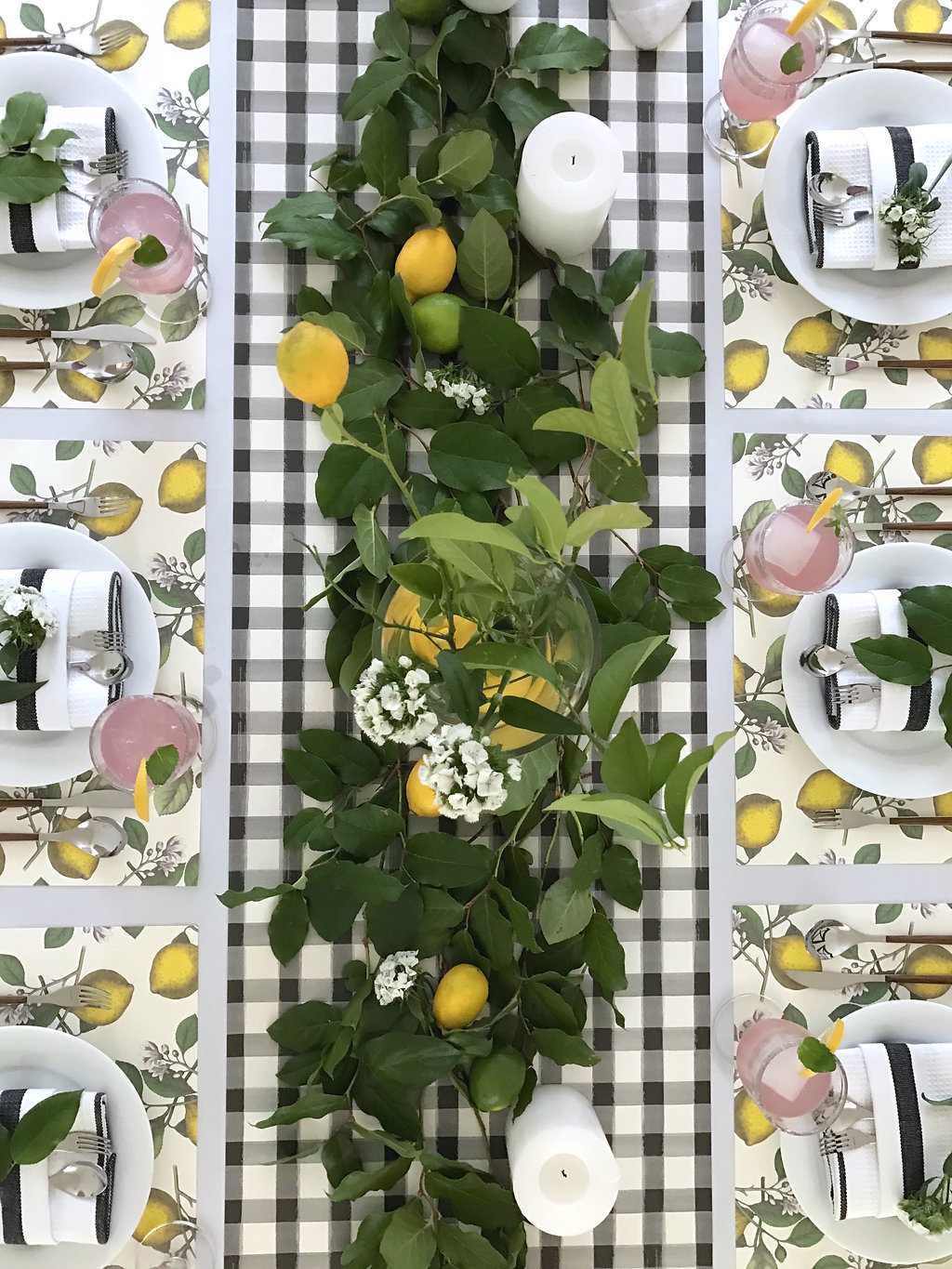 I know you are probably wondering why the emphasis on the ice cube? Because, WOW. BIG ice cubes are my sudden obsession. Crazy, I know, but they keep drinks cooler, longer, they look great and you can add edible flowers, strawberries, blueberries or whatever you like. You can find silicone ice trays by Tovolo at Target or Bed, Bath and Beyond. FYI, they can also be used for juices or stock.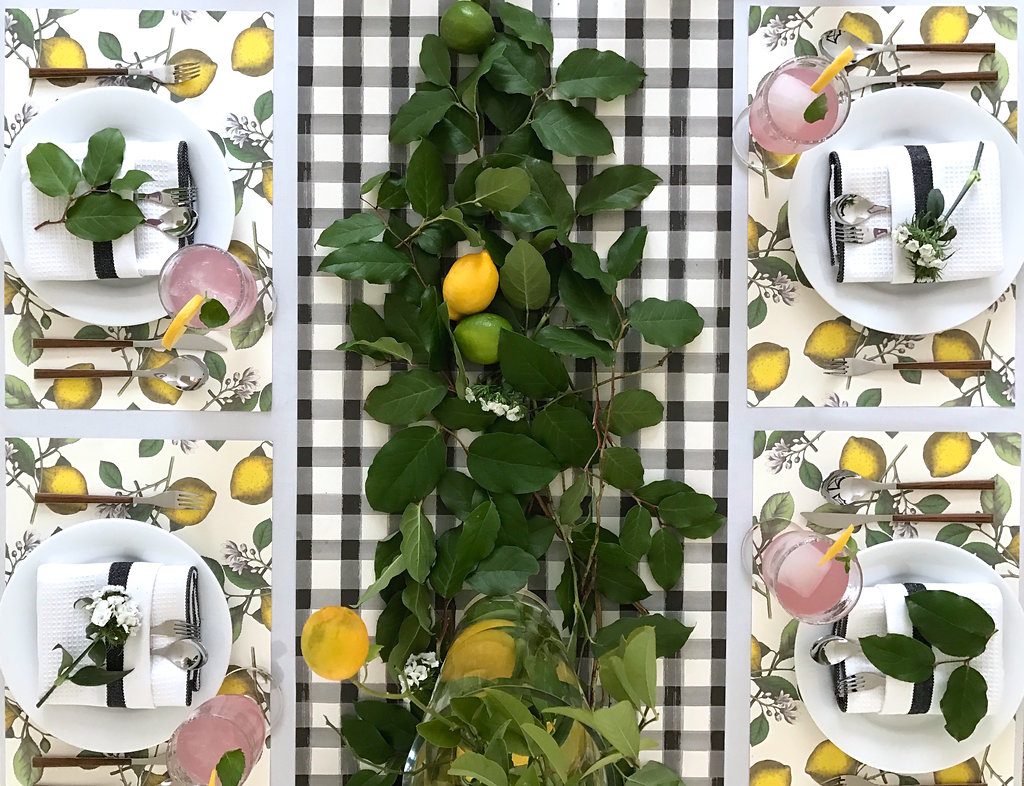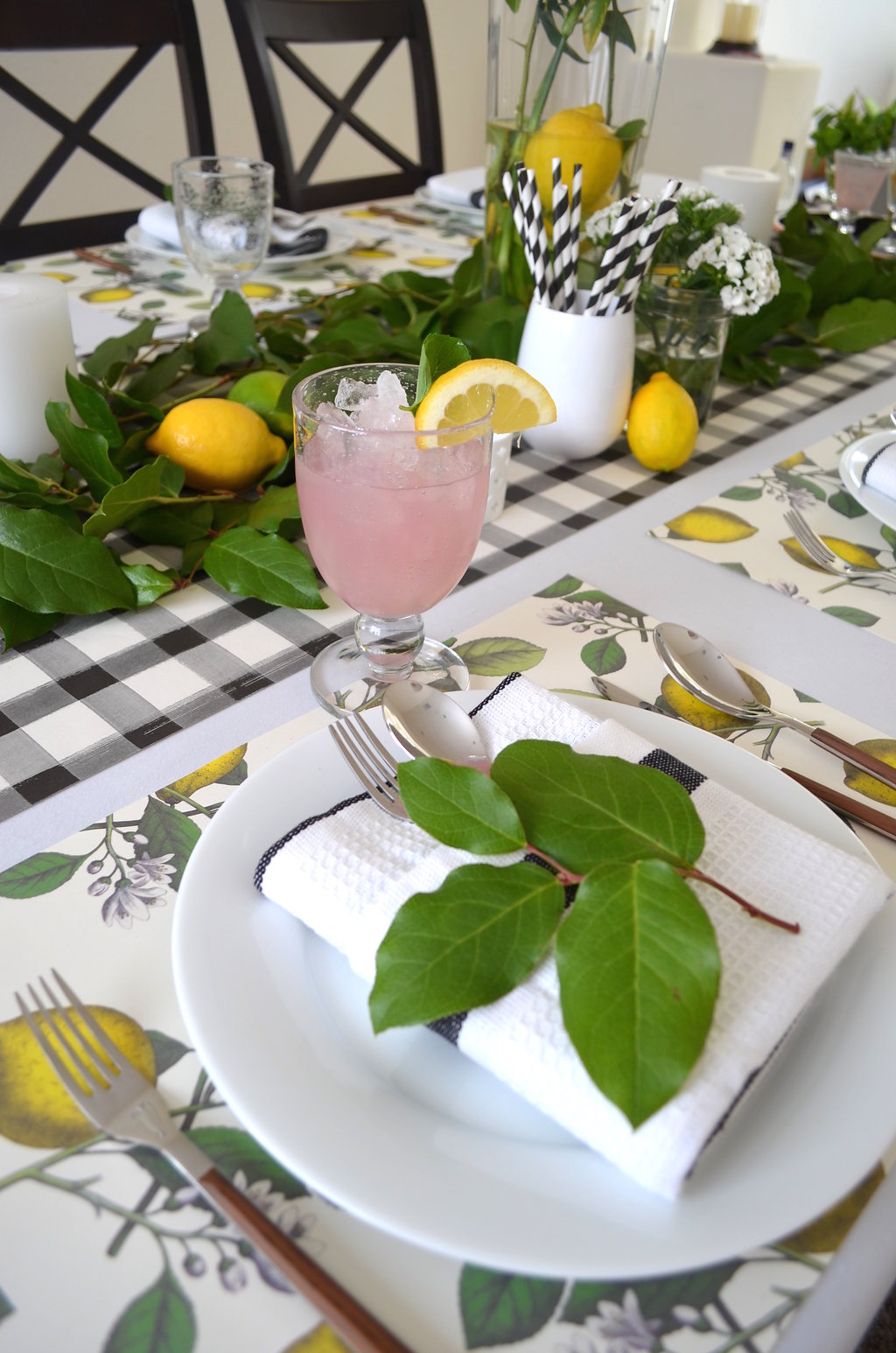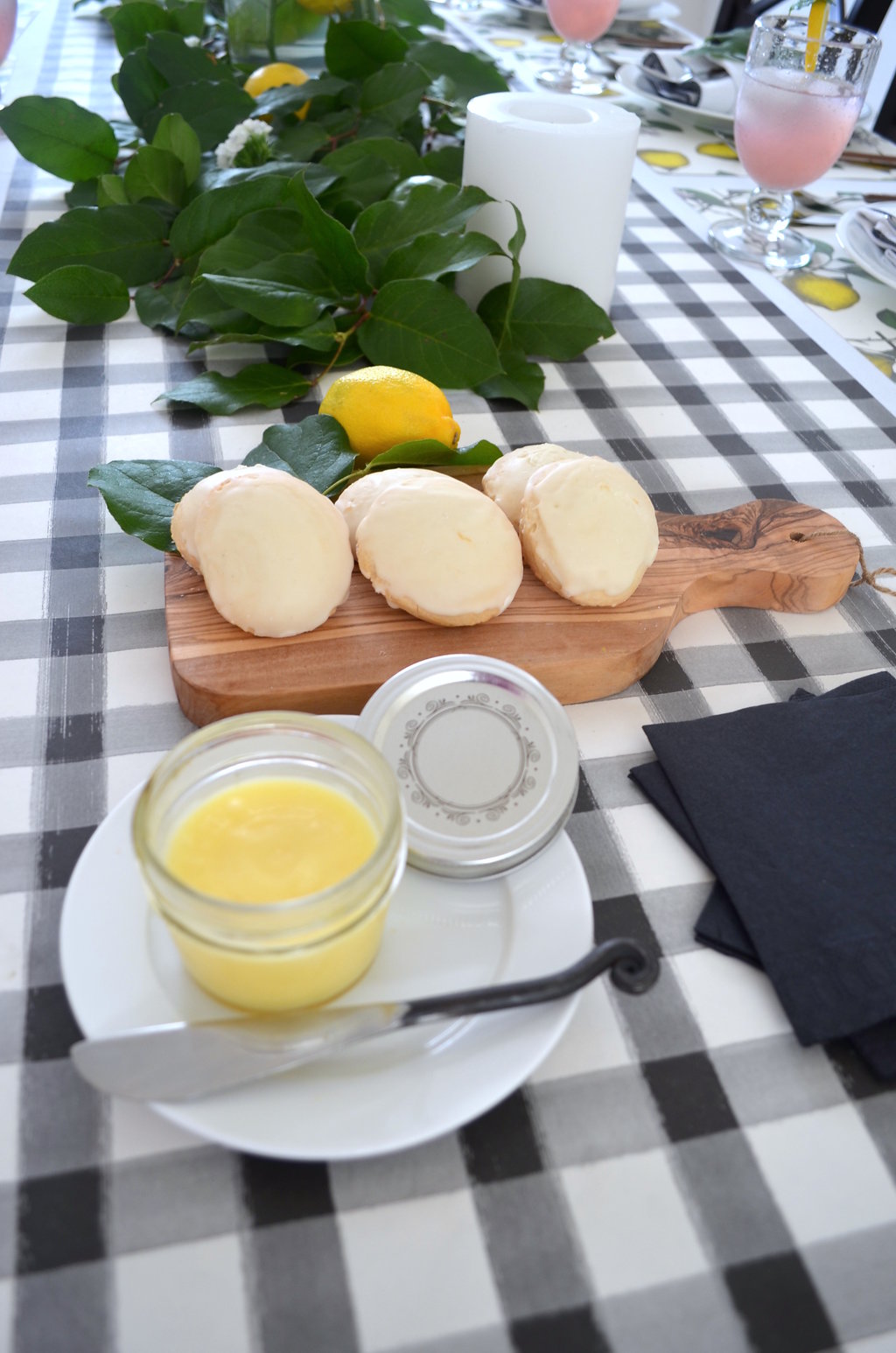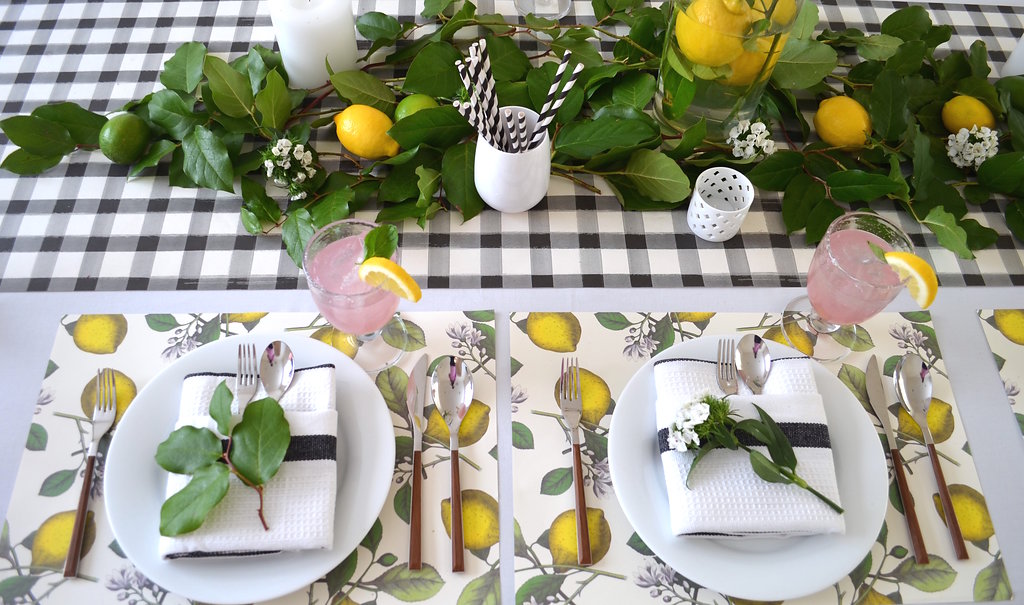 Add a few candles down the table, have the bar set for cocktails, your playlist on demand, lemon cookies ready for dessert (well, might as well stick with the theme) and you are party ready.
Happy hosting, my friends!
xx, Deborah