These Time-Saving Tech Picks Will Help Bring a Little Zen to Your Life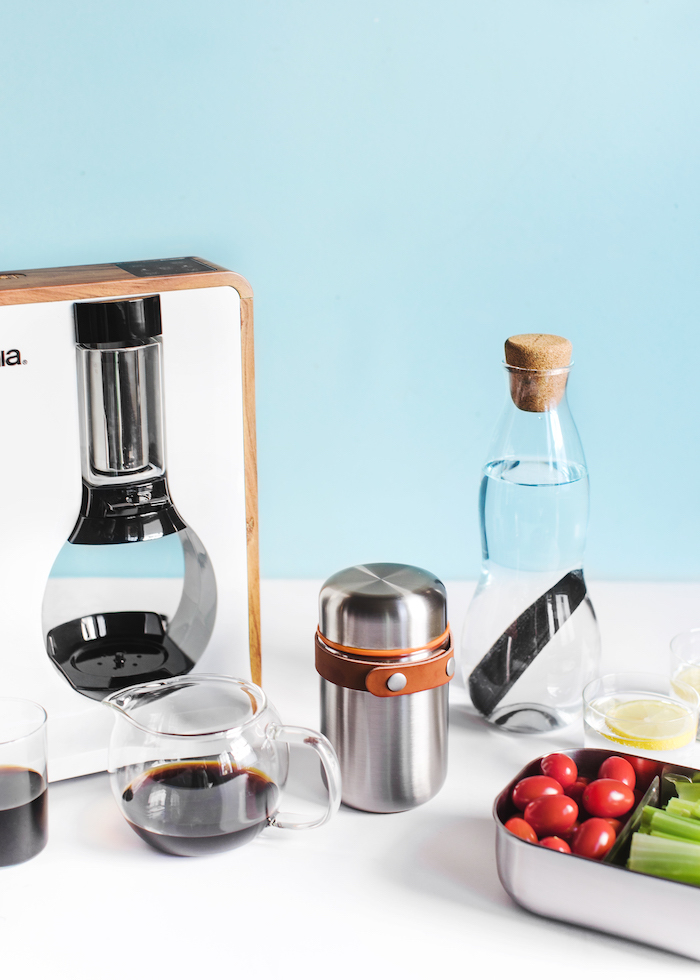 Technology is good at throwing us off kilter— just toss a few social media notifications
on a pile of texts, news alerts, and emails and you've got a stress tsunami (or, as I like
to call it, Thursday). These days, I look for ways to minimize all those distractions, and
curate technology that can help me find (and keep!) a little Zen in my "crazy busy" life. Here
are a few go-tos that can help you stay calm and balanced from sun up to shut down.
For the times when technology creates tension, reach for these items to help restore calm and balance.
I have a recurring dream that I make more plant-based,
balanced lunches at home,
nourishing myself with nutrient-dense food… and then I
wake up and Postmates a "taco
combo".
When I saw the Prep'd Pack lunchbox, I knew it might be just the thing to help me turn over a new leaf. Its innovative design has all the functionality of a bento box and the looks of a roll-top desk. Inside, you'll find lunch-friendly containers and a set of cutlery that sticks to the box— and to each other— thanks to built-in magnets.
The Prep'd companion app has recipe ideas developed by experienced chefs and nutritionists, and will even track the nutritional value of your lunch, so you can feel good about skipping those tacos (though the occasional one is okay… in the name of balance, right?).
There's nothing that gives me
more product joy that a multitasker, and the Black + Blum
Stainless Steel Lunch Box is a
true three-in-one. Its streamlined design belies its functionality. Cook in it, transport
your lunch in it, and use it to
store food in the freezer. It even
comes with a stainless steel
fork and a slider divider to keep
foods separate.
Stainless Steel Lunch Box

By Black + Blum

Shop Now
I'll admit that it's tough to ditch convenient disposable water bottles, but in the name of conservation, I have committed to using reusable beverage containers. Black + Blum's Eau Carafe makes it easy… and healthy. It includes an XL binchotan active charcoal filter (6 months life) that makes your tap water taste great, and even helps whiten teeth and improve digestion. And its handblown glass design makes it an elegant addition to the dinner table.
If you're an avid camper, a travel sports parent, or just someone who frequently eats on the run like me, you're no stranger to trying to find innovative ways to transport food. And sitting on the sidelines during a chilly spring soccer game, there's nothing I want more than a hot cup of soup.
I found just the product to make this dream a reality with the Black + Blum Food Flask, perfect for transporting warm soup on a cold day, or, conversely, cooling me off with a cold beverage. The rustic artificial leather strap that secures a spoon to the flask is the perfect touch to make me feel like I'm sipping in style. Now that's balance.
If you're going to let your phone bother you with loud notifications, they might as well let you know your massage is imminent. Zeel delivers same-day, licensed in-home therapists to your door for the days when balance is tougher to come by. (The service is available seven days a week and as late as 10:30 PM).
Sometimes, it's just been one of those days and a cocktail is in order. I've never had great drink-mixing skills, but with the Bartesian capsule cocktail maker, I can be a precision mixologist every time. Fill the glass reservoirs with your spirits of choice, then pop in a capsule (full of real fruit juices, bitters, or other mix-ins) and select your strength. All you need to do is bring a glass of ice, a twist of lime, and press a button. Maybe some salt on the rim? It's Margarita Time.
Nothing calms me down like a hot cup of tea. And since I don't drink coffee, it's an all-day ritual for me: green in the morning, peppermint during the day, and chamomile or bedtime tea at night. I love the aesthetics and flavor of brewing the looseleaf variety, but the old-school process can be an ordeal.
That's why I turn to Gourmia's sleek-looking gadget, which makes the steeping easy. Brew up to four cups with three different settings (light, medium, and strong) so any type of tea has optimized flavor extraction.
Once it's finished brewing, it passes through an extra-fine strainer which traps any stray leaves. In other words, it makes a perfect cup ever time. FYI – for those of you loyal to your Americano, it brews coffee too.
A high-brow replacement for this gas station car deodorizers that hang from your rearview mirror, this aromatherapy diffuser from Serene House slots right into the cigarette lighter in your in car and releases your favorite essential oil into the air.
I used to just stick with lavender if I wanted to destress, but mixing oils can be so much fun, and feel very personal. Sage can add a grounding, clarifying vibe, and Ylang Ylang instantly calms me when I'm feeling anxious – and driving on Los Angeles freeways will make you anxious, let me tell you!
All hail the ease of dinner you can make ahead! (And let's not forget the joy of walking in the door to a kitchen filled with the aromas of an effortless meal.) It took me a minute to join the Instant Pot Mafia, but now I'm a card-carrying member. Bone broths, stews, and whole grains like quinoa and wild rice are on repeat at my house, and they're the kind of cozy meal to enjoy (slowly!) with your family after a lightning-fast day.