A Chef Explains Why You Need a Knife Sharpener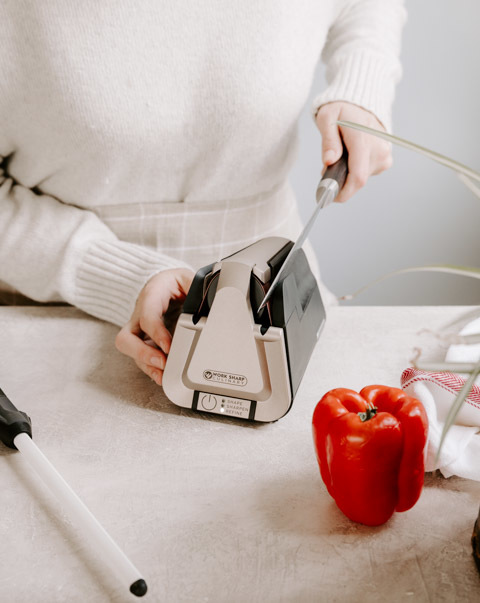 The holiday season is upon us, and with all of our cooking, let's not forget that a sharp knife is a safe knife! Below I'm sharing the two reasons why you should always have a sharp knife, and how to best buy, protect, and maintain your knives.
Whether you're standing in front of all your guests slicing up a freshly roasted turkey or ham, or you're prepping all the veggies and sides in the kitchen behind the scenes, having a sharp knife makes any job a cinch – and a much safer one at that. But the thing is, how many of us can say the last time we sharpened our knives? Was it last holiday season? Maybe the answer is the knife's edge never gets attention at all and it just gets duller and duller until you someday decide to get a new knife. Or maybe the answer is it gets honed every so often, and isn't that enough?
Growing up, I distinctly remember watching my dad each Thanksgiving and Christmas as he stood at the head of the table and honed his beloved carving knife. I always thought he was sharpening his knife and I was impressed by the grand gesture of it all. However now, after attending culinary school and learning all about knife maintenance and safety, I know that honing is actually the knife's daily or weekly upkeep and cannot replace the regular sharpening of its edge. It feels a bit counter-intuitive but a knife is significantly safer to use when very sharp because you're in complete control over the item you're cutting.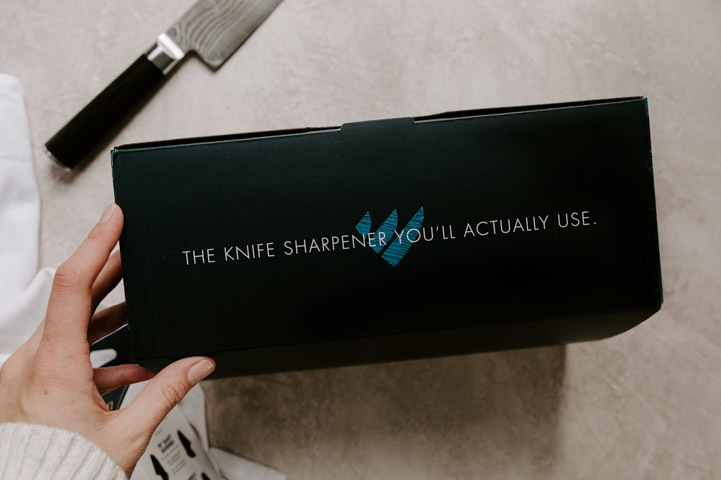 And honestly there's nothing like making a cut with a perfectly sharp edge. Imagine perfect slices of a ripe tomato without remotely squishing it, or effortlessly cutting a spaghetti squash in half without fear — that resistance-free glide is super cathartic. It's the professional chef's favorite tool for a reason. Luckily, the joys of a sharp knife don't have to be reserved only for professionals. Everyone should benefit from a properly sharp knife.
One time we had friends over for dinner and someone asked to use my knife. This friend was slicing limes for margaritas, and with his first slice of the sometimes-tricky citrus, he exclaimed, "Wow! This knife is the real deal. I'm realizing now how dull my cheap knives at home are!" He was genuinely excited about investing in nicer, sharper knives after just one use of mine. The best part was my knife was at its most dull before its regular sharpening.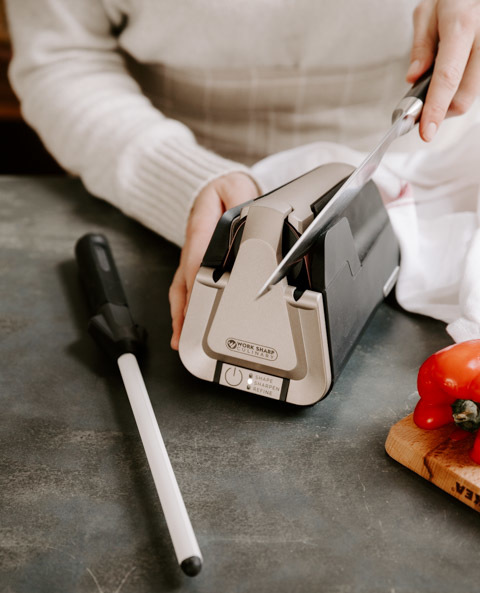 Okay, okay, so now you understand why your knives should always be sharp, but what about the process of it all. It just seems so difficult or inconvenient. I get it! Despite my education on the subject, I still make my husband sharpen my knives for me because I dread how complicated a traditional wet stone can be. Life is busy, who can remember to find the time to set that all up? Let alone sharpen at precisely the right angle each time.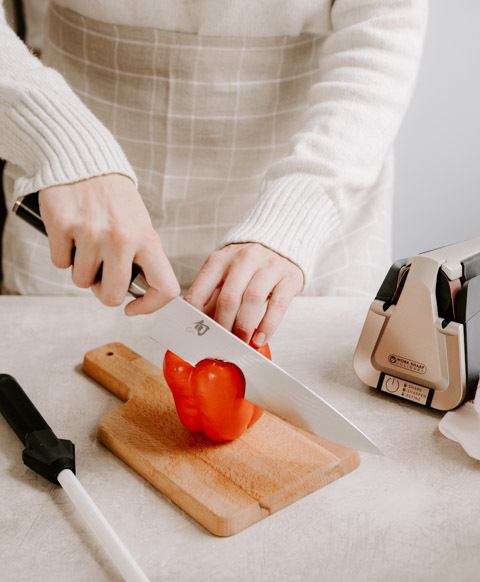 So, when I first received this knife sharpener from Work Sharp Culinary, I couldn't say no to an easier, more accurate way to keep my knives just the way I love them. Not to mention a properly maintained edge protects my investment, too. With no surprise, I fell in love with this machine after my very first use. This wonderful sharpener has one touch programming for a literally effortless professional result, different belts for different maintenance needs and knife edges (Asian/Japanese edge vs. European/German edge), and the set includes a Microforge that pretty much makes their ceramic honing rod a superhero.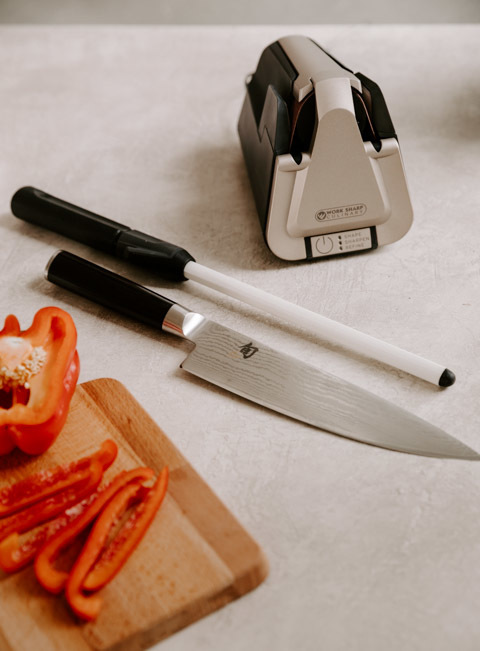 All you need to do is set your knife into the sharpener and continuously draw it back towards you using consistent, medium pressure. The machine automatically moves through cycles from sharpening to shaping, and then shuts off completely once it's done. It even has the ability to repair any minor dings or scratches with one extra tap of the button. It's clear to me that everyone needs a knife sharpener — and just in time for holiday gift giving, too!
A few tips on how to best buy, protect, and maintain your knives:
BUY:
I prefer to invest in fewer, higher quality knives. These knives cost a little bit more but will last you a lifetime with proper use and maintenance. I suggest the following:
8" or 10" Classic Chef's Knife
Serrated/Bread Knife
Bird's Beak Paring Knife
Bonus: Either a Deba Bōchō (fish/meat) Knife or a Nakiri (vegetable) Knife, depending on your needs/usage.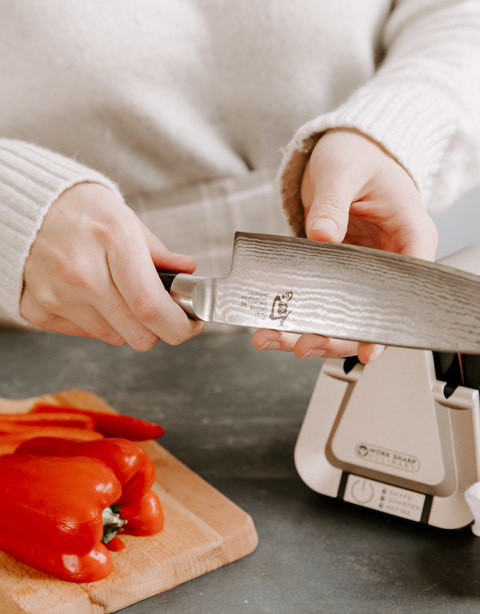 PROTECT:
Make sure to wash your knives immediately after each use and store completely dried with the edges protected. To avoid chips, make sure to never leave a knife directly in the sink, and try to keep the knife's handle away from the edge of the counter to prevent dropping. Always cut on appropriate and secure surfaces, and preferably soft wood. Also, be sure to brush up on your knife skills by watching YouTube videos or attending a class to ensure you're using all parts of your blade (point, tip, edge, heel, etc.) properly. I recommend the following accessories to protect your investment:
Mild dish soap and a sponge or soft bristle brush
Knife blade guards (sometimes referred to as knife edge protectors or sheaths), a wall-mounted magnetic knife holder, OR a knife block.
Wood cutting boards. I use Boos Block cutting boards.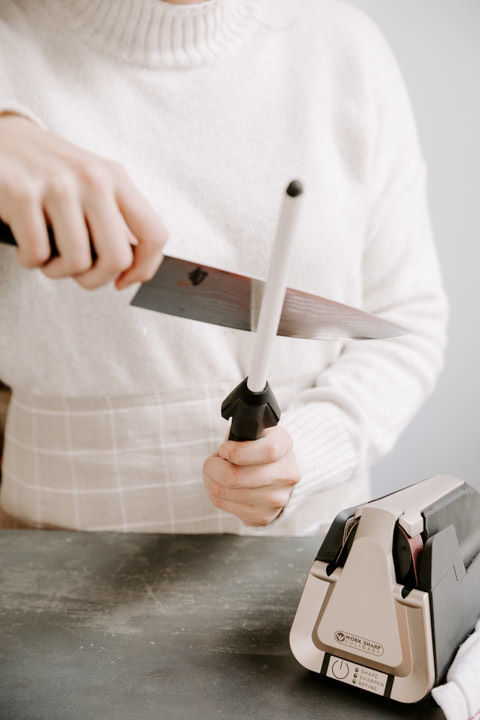 MAINTAIN:
A good rule of thumb is to hone your knives weekly and sharpen the edges quarterly (3-4 times a year). Remember, kitchen knives are for food, avoid using them for opening boxes or other household projects. Here's what you need to maintain your knife's edge:
A knife sharpener & honing rod.