These Spiced Cider Waffle Ice Cream Sandwiches Are Such an Easy, Fall Dessert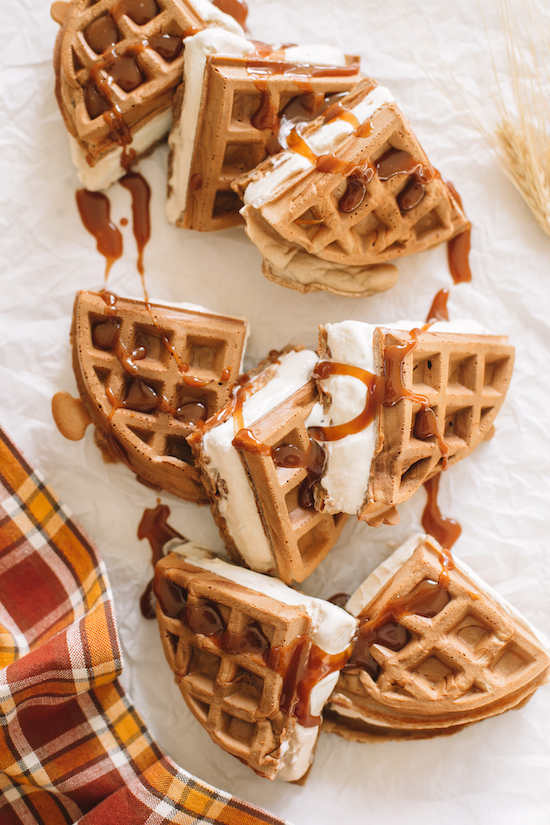 Using spiced apple cider in fall desserts brings out a wonderful seasonal flavor and these spiced cider waffle and caramel ice cream sandwiches are bursting with warm spices and fall spirit. Sandwiches between two spiced cider waffles is creamy caramel ice cream drizzled off with even more homemade caramel. If you're like me and think that caramel and apple go together like peanut butter and jelly, then this will be a MUST SAVE for an easy fall dessert recipe.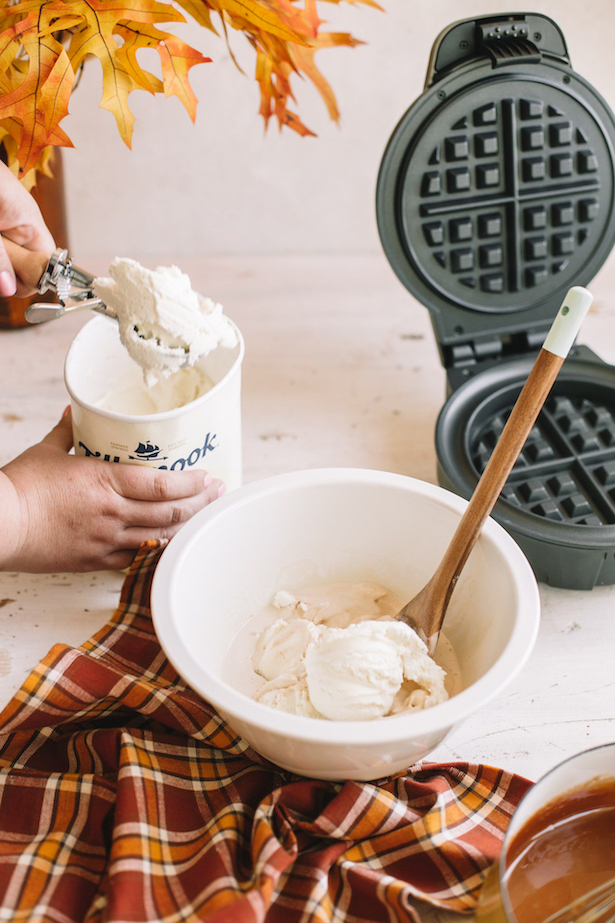 As much as I wish we did, California doesn't see a "true" fall like other states. But while the temps barely drop below 70 and it's too early to break out our chunky cable knit sweaters, we make the most of the season. Some of my favorite West Coast fall traditions include pumpkin carving parties (usually outside in shorts) and heading up to an apple orchard for some apples and homemade apple cider donuts.
TIlt Mixing Bowl Set

By Zak Designs

Shop Now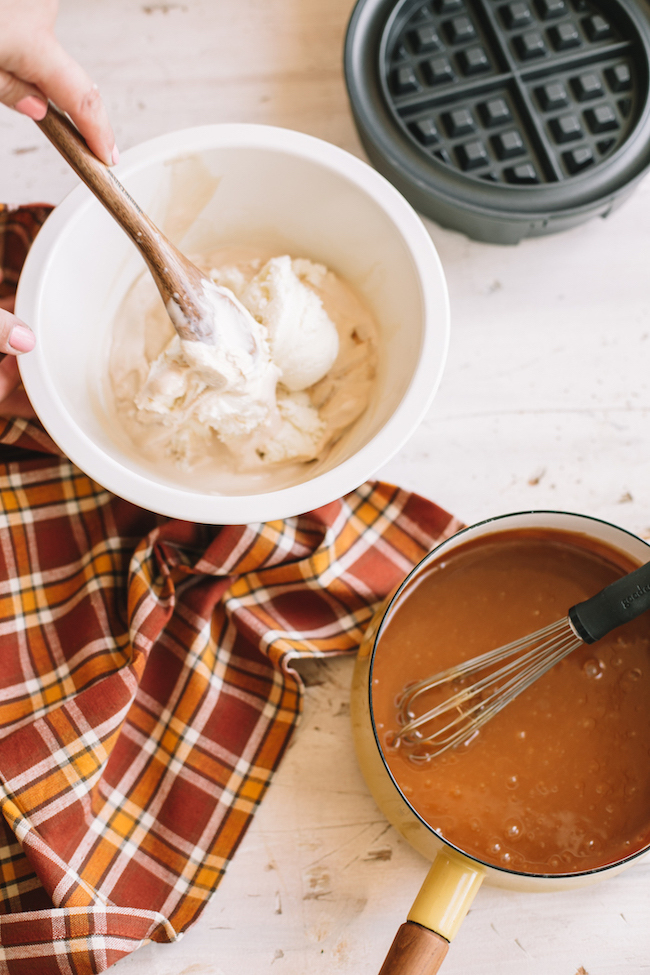 The orchard is a good hour and half drive up into the mountains but always makes for a memorable day trip each season. After each apple picking trip, I am so inspired by the seasonal creations from the farm and this year was no exception. This year, we had traditional apple spiced cider donuts (a must!) and they were served with a creamy, caramel ice cream that reminded me of just how delicious and classic this flavor combo is.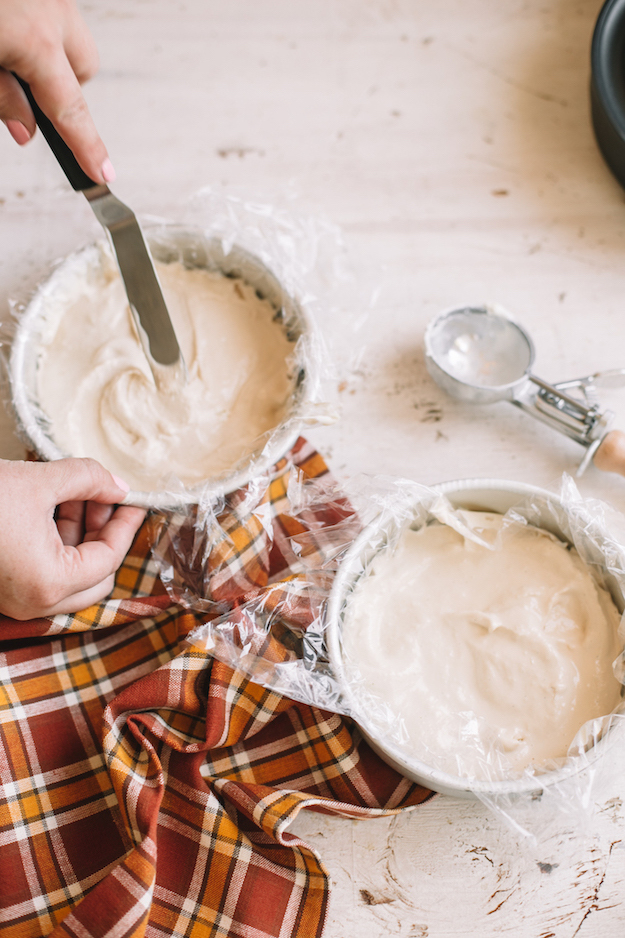 Last year's Apple Chai Bread Pudding Bundt Cake with Vanilla Bean Caramel was a prime example. Needless to say, after this year's trip to the orchard, I knew than an apple caramel ice cream sandwich situation was totally in my future…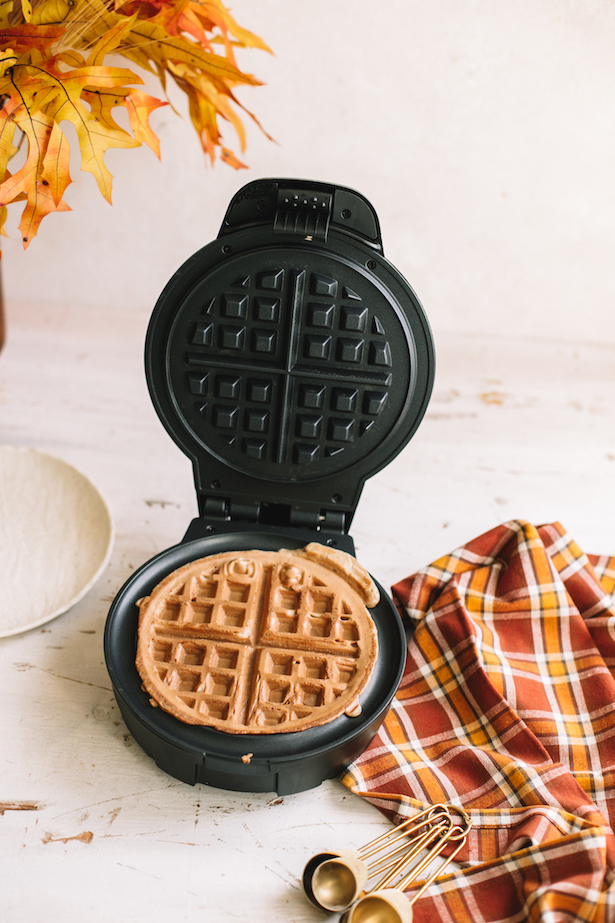 Are homemade ice cream sandwiches hard to make?!
No my friend! They're as easy as making waffles in a waffle iron and freezing ice cream in cake tins! I'm serious!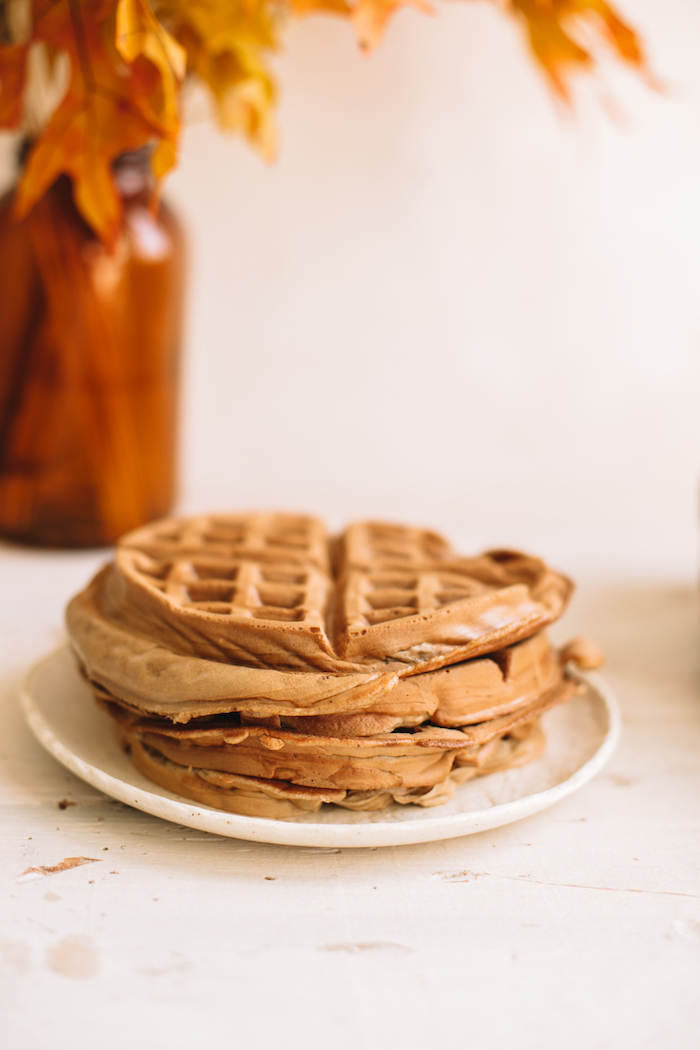 The first time I ever thought about making homemade ice cream sandwiches, I pictured a melted ice cream mess all over the counter, but you just have to be smarter than the ice cream! To keep things easy, let your ice cream soften for 10-15 minutes or until it's "stirrable." Then line a small cake tin (I used a six inch) with plastic wrap. Smooth out a 1-inch layer of ice cream and freeze for at least an hour or two, or until hardened. This will give you an easy ice cream "disk" to work with once you sandwich together your waffles!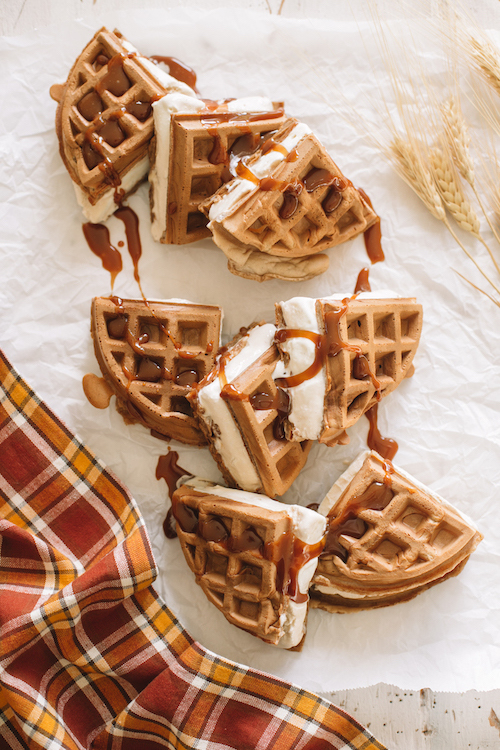 While your ice cream is freezing, break out that waffle maker! Today, I am using my Chefman Belgian Waffle Maker for the spiced cider waffles. This waffle maker is one of my favorites because its non-stick coating is the real deal. I get perfectly crisp waffles every time. Make sure your waffles have had proper cooling time before putting the sandwiches together!
Belgian Waffle Maker

By Chefman

Shop Now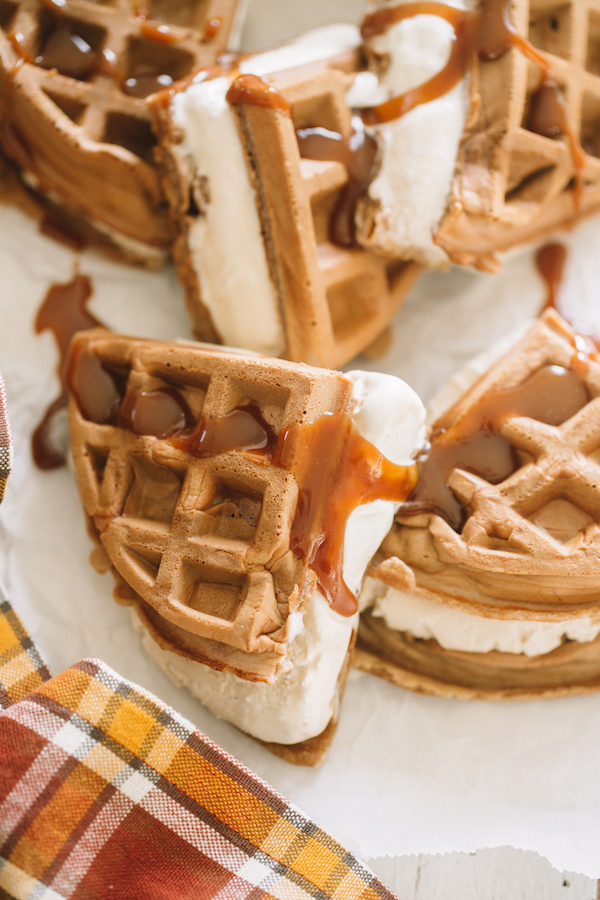 Spiced Cider Waffles & Caramel Ice Cream Sandwiches Recipe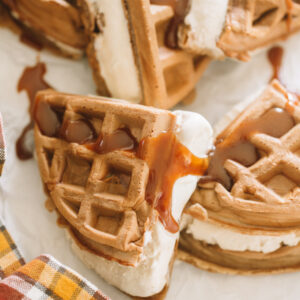 INGREDIENTS
For the Waffles:
1 cup of all-purpose flour
1 teaspoon of baking powder
½ teaspoon of baking soda
½ teaspoon of salt
2 tablespoons of sugar
1 teaspoon of cinnamon
½ teaspoon of nutmeg
¼ teaspoon of ground cloves
¼ teaspoon of cardamom
1 cup apple cider
1 large egg
For the Caramel:
1 cup of granulated sugar
½ cup of heavy cream
6 tablespoons of unsalted butter, diced
2 tablespoons of bourbon
1½ teaspoons of sea salt
For the Sandwiches:
1-2 pints of caramel ice cream
INSTRUCTIONS
For the Waffles:
In two medium and large mixing bowls whisk together the dry ingredients: flour, baking powder, baking soda, salt and sugar, cinnamon, nutmeg, ground cloves, and cardamom.
In a separate bowl whisk together egg and apple cider.
Whisk in wet mixture to dry mixture until just combined.
Heat ½ cup or small ladle full of waffle mixture into waffle iron until cooked.
Allow waffles to cool completely before sandwiching together with ice cream.
For the Caramel:
In a heavy bottom saucepan heat one cup of sugar until melted 5-10 minutes. Stir constantly with a wooden spoon and be VERY careful not to burn. The color should be an amber brown. Any darker and you have burned your sugar.
Add in butter slowly and stir until melted.
Very slowly add in heavy whipping cream. *Note the butter and cream will splatter and bubble up because they are a different temp to the sugar, so be careful!*
Continue to boil and stir for another 30 seconds to 1 minute. At this point we are just trying to thicken the caramel.
Remove pan from heat add in salt and bourbon and stir.
Transfer caramel to a glass jar and cool completely before refrigerating.
To reheat the caramel place jar in microwave for two 30 second increments, stirring after the first.
For the Ice Cream:
Soften caramel ice cream for 10-15 minutes on the counter and then spread a 1-inch layer into six inch cake tins lined with plastic wrap.
Return to the freezer for 2 hours or until completely hardened.
For the Sandwiches:
Layer up one ice cream disk between two waffles and slice with an extra sharp knife into triangles.
Freeze for another 1-2 hours (overnight is best) to give the sandwiches time to come together.
Before serving, drizzle with homemade caramel.
Even More Fall Desserts to Ease You Into Winter:
Donut and Apple Cider Tea Date
Pumpkin Layer Cake with Chai Cream Cheese Frosting