How to Make Homemade Dark Chocolate and White Chocolate Holiday Bark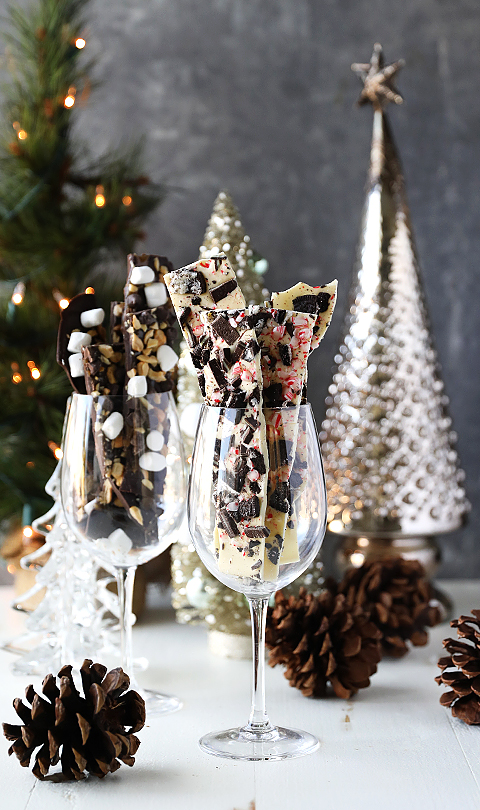 One of my all-time favorite things about the holiday season is the abundance of cookies that are made and consumed. I mean, my Italian side of the family absolutely goes to town when making cookies, and I would bet they probably make 10-15 different kinds every year and all at once. Well I'm more on the consumption side of holiday cookie making, but I do usually make a few of them just to say I did 🙂 One of my favorite things to make is chocolate bark, but let me just warn you if you've never made it… IT IS ADDICTING BEYOND BELIEF!! It's like those chips, you can't only eat just one.
This year, I decided to make both dark chocolate and white chocolate bark just to switch things up. The white chocolate is awesome because it's so bright in color that when you put other colored ingredients into it, it really stands out and looks cool. I made the white chocolate holiday bark recipe more on the minty chocolatey side so I included Oreos, mints and a chopped-up candy cane onto it. The dark chocolate holiday bark recipe was themed like rocky road and caramel which consists of marshmallows, peanuts (I used cashews), chocolate chips, and of course caramel. Both are amazing, but let's talk about just how easy bark is to make.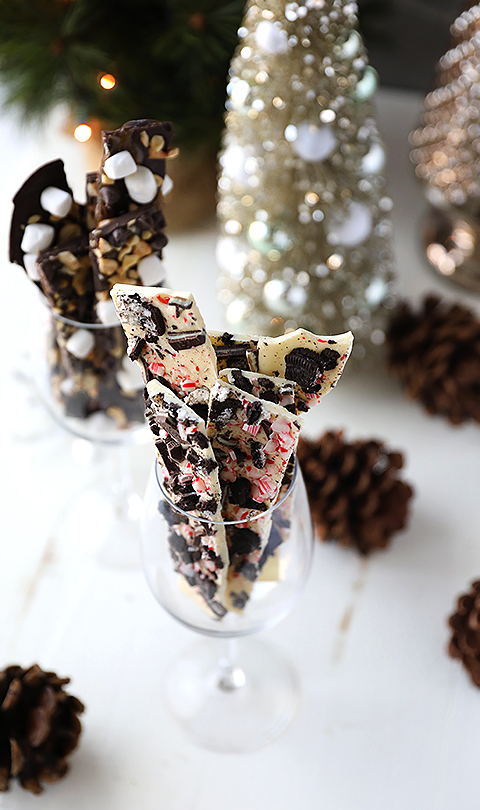 No matter if you are using dark chocolate or white chocolate, you need to melt it and get it to in between 110° and 115° so that it is completely smooth and melted. The easiest way I know how to melt chocolate is by placing it into a microwave safe bowl and cooking it for 1 minute and then stirring it before doing it into 30 second bursts until it is melted. Once it is melted, it will most likely be over the optimal 110° to 115° temperatures so be sure to stir it around until it drops to temperature before putting it in the pan lined with a Silpat. The reason you want to do this is because it if it's too hot the chocolate will run and won't be able to keep all of the toppings on top, it will go right through which will make the bark split really easily.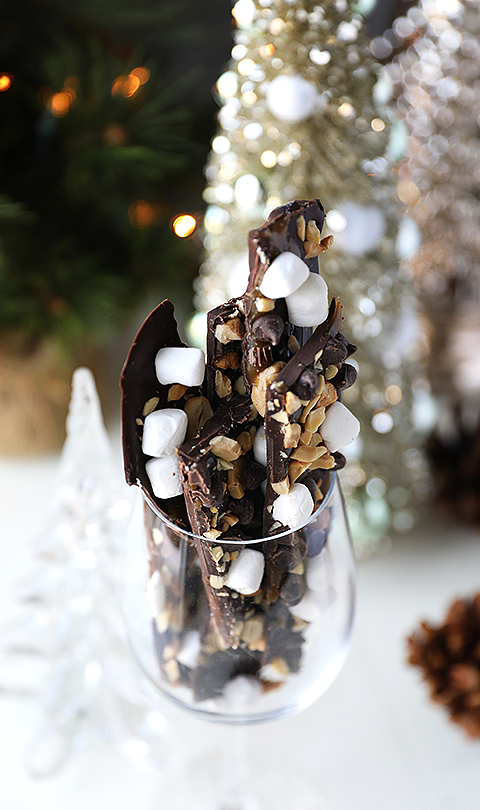 The cool thing about chocolate bark is that you can add on whatever toppings you like to make it the flavor you want. I think it's really cool that you can do combo flavors like chocolate and mint, or rocky road, or you could do just caramel or even combine the two chocolates together. Regardless, this is a super simple recipe and is 100% of the time delicious so if you aren't a cookie maker, but love sweets over the holidays, then this bark recipe is for you!
Dark Chocolate and White Chocolate Holiday Bark Recipes
This recipe IS ADDICTING BEYOND BELIEF!! It's like those chips, you can't only eat just one.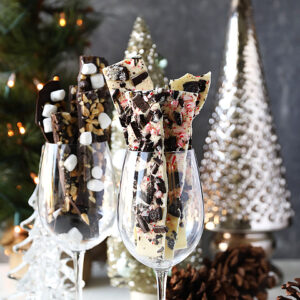 Ingredients
For the White Chocolate Bark:

16

oz

white chocolate

1

cups

chopped Oreo cookies

33

cups

chopped Andes mints

2

chopped candy canes

For the Dark Chocolate Bark:

.5

cups

packed light brown sugar

2

tbsp

unsalted butter

3

tbsp

heavy whipping cream

8

oz

semisweet and bittersweet chocolate (for each chocolate)

.5

cups

chopped cashews

1

cups

mini marshmallows

.33

cups

chocolate chips
Nutrition
Serving:
1
g
Calories:
520
kcal
Carbohydrates:
70.1
g
Protein:
5.6
g
Fat:
26.1
g
Saturated Fat:
14.3
g
Cholesterol:
18
mg
Sodium:
134
mg
Fiber:
2
g
Sugar:
58.9
g