Vegetarian Backyard Fire Pit Feast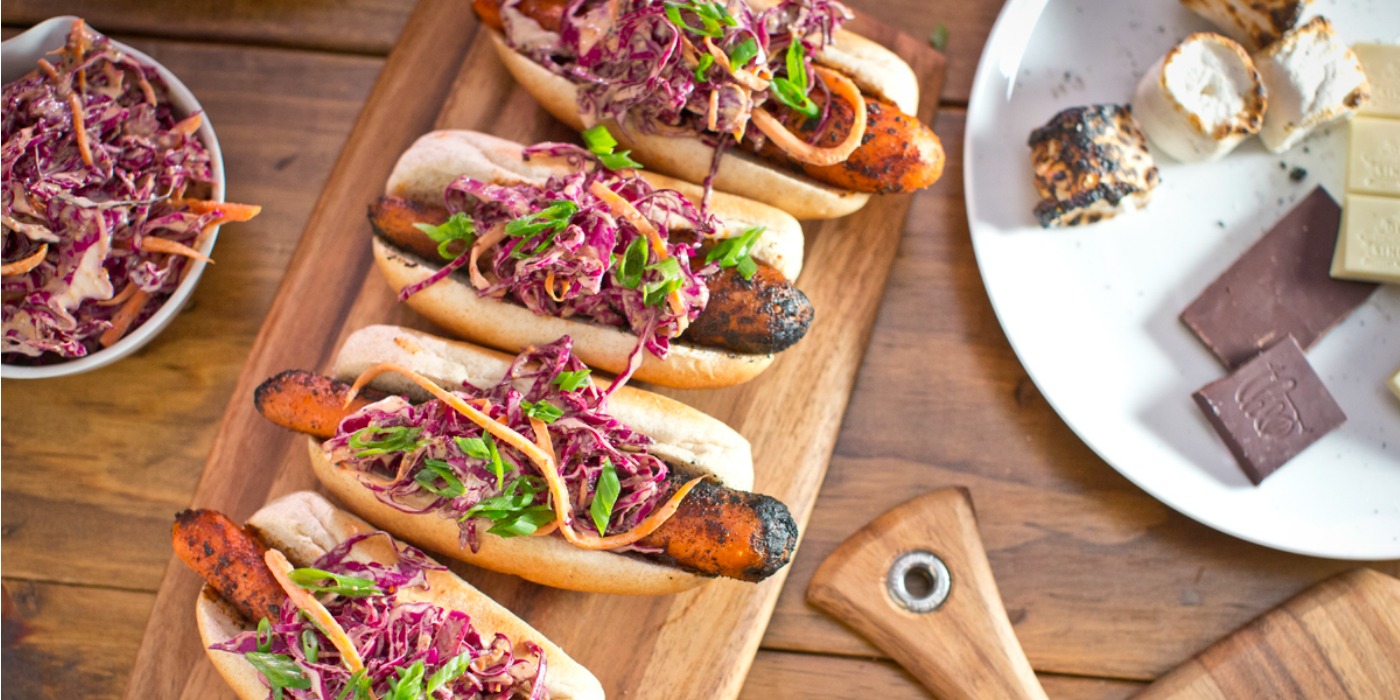 The best situation to be in when you're throwing a backyard cookout is to be able to do a few quick things ahead of time and then trick your unwitting guests into cooking their own dinner.
All you need to do is to have a few great ideas, a little time to prep, and some tools that make cooking interactive for your guests.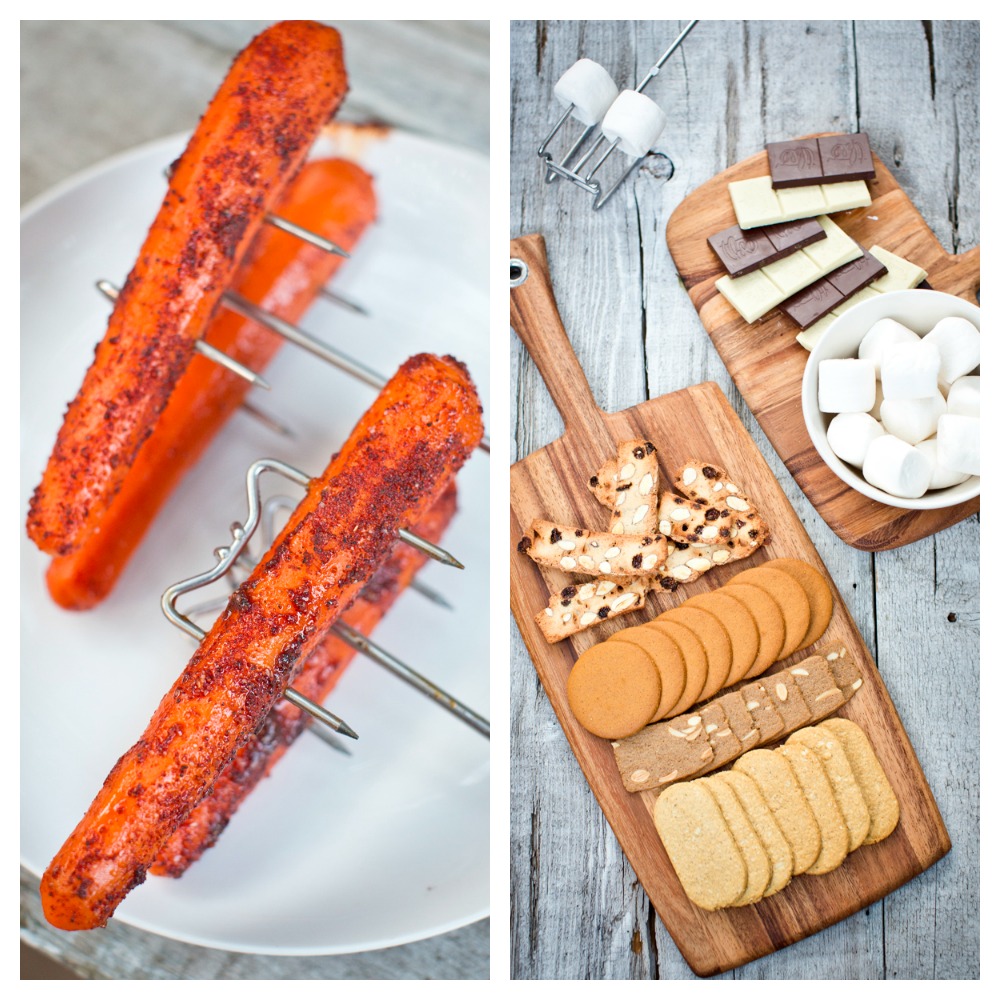 Recently, we tested out this theory on a party of three before bringing it to a wider audience. Our vegetarian cookout features two recipes that can be cooked over a fire pit: BBQ Carrot Slaw Dogs, with spiced carrots standing in for frankfurters, and a Build-Your-Own S'mores Bar with plenty of surprising flavor combinations like white chocolate, fruit, and almond or dark chocolate plus a double dose of ginger. It really was a blast to light a fire in the backyard last weekend and work together to create an unexpected and rustic meal.
You'll need a few tools to pull this party off right. First, you'll need a fire pit; you might already have one, but if not, do what we did — check out the selection at any home improvement store. We found that basic versions start around $60, so we purchased a well-designed starter pit and ended up loving it.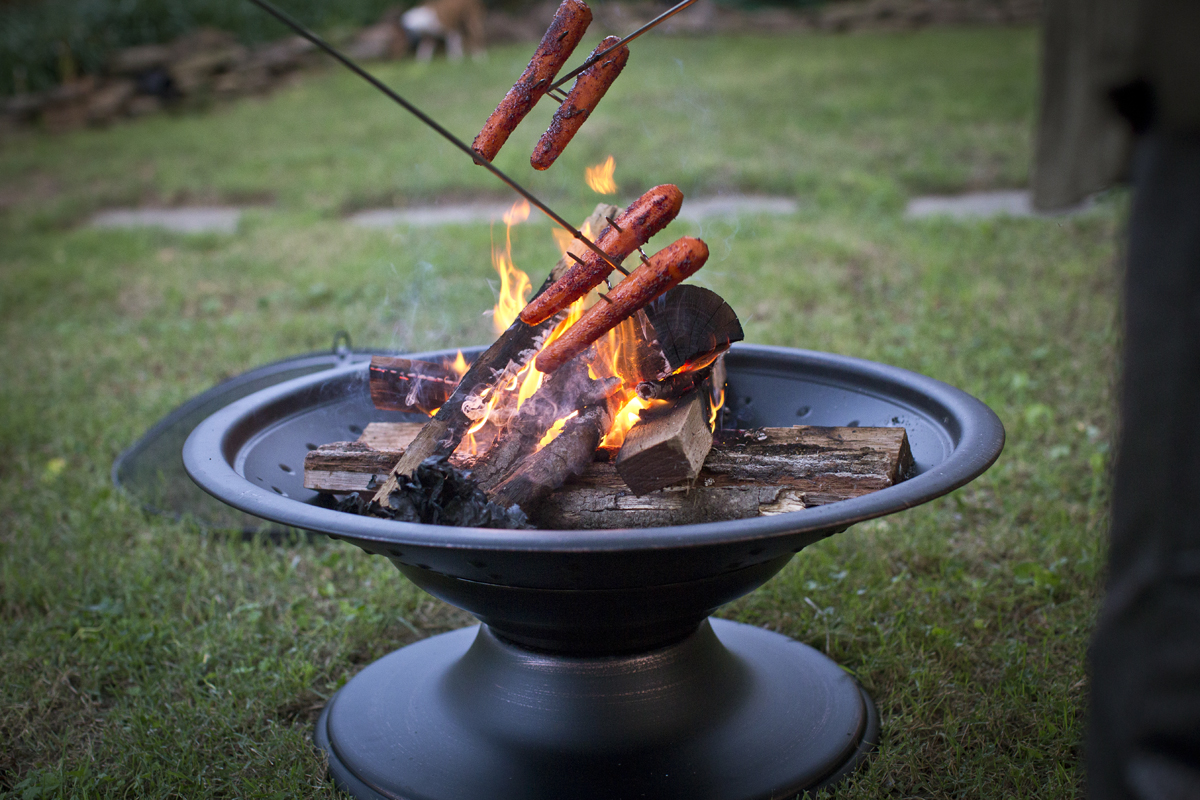 This menu is a great way to put your fire pit to good use in the summer months–it's not just for warming your bones on a chilly fall evening. We cooked two out of the three items on our menu over the flame using two Outset Rotating Campfire Forks. They're the markedly more grown-up version of unbending an unpainted wire coat hanger to dangle a marshmallow over the fire. Plus, you aren't nearly as likely to lose that perfectly toasted marshmallow to the dusty, glowing embers if you have a dedicated campfire fork. It securely holds 4 marshmallows or 2 hot dogs, or carrots in this case. Carrot Dogs are an unexpected way to work an extra vegetable into your dinner; our guest/helper remarked that she didn't miss the usual hot dog at all. The char on the carrots adds some good smoky flavor, and the sweetness of the carrot is brought out well by the open-flame preparation.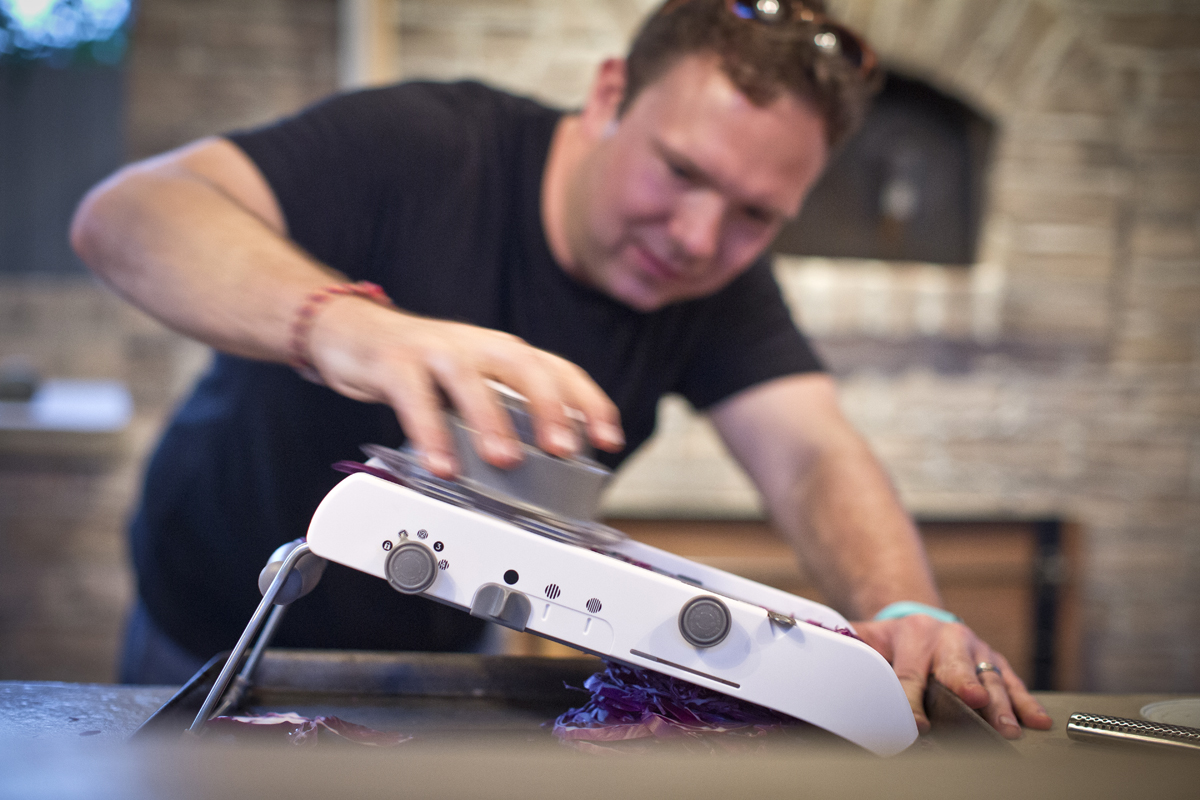 You'll top the carrots dogs with slaw, and so you'll need a good-quality mandoline for quickly shredding purple cabbage and cutting carrots into a julienne shape. We love our new well-designed and sturdy PL8 Professional Mandoline . We've owned several different models of mandolines, and in comparison, this one is safest and easiest to use. We're also really looking forward to making gaufrettes, or thin waffle fries, with it soon.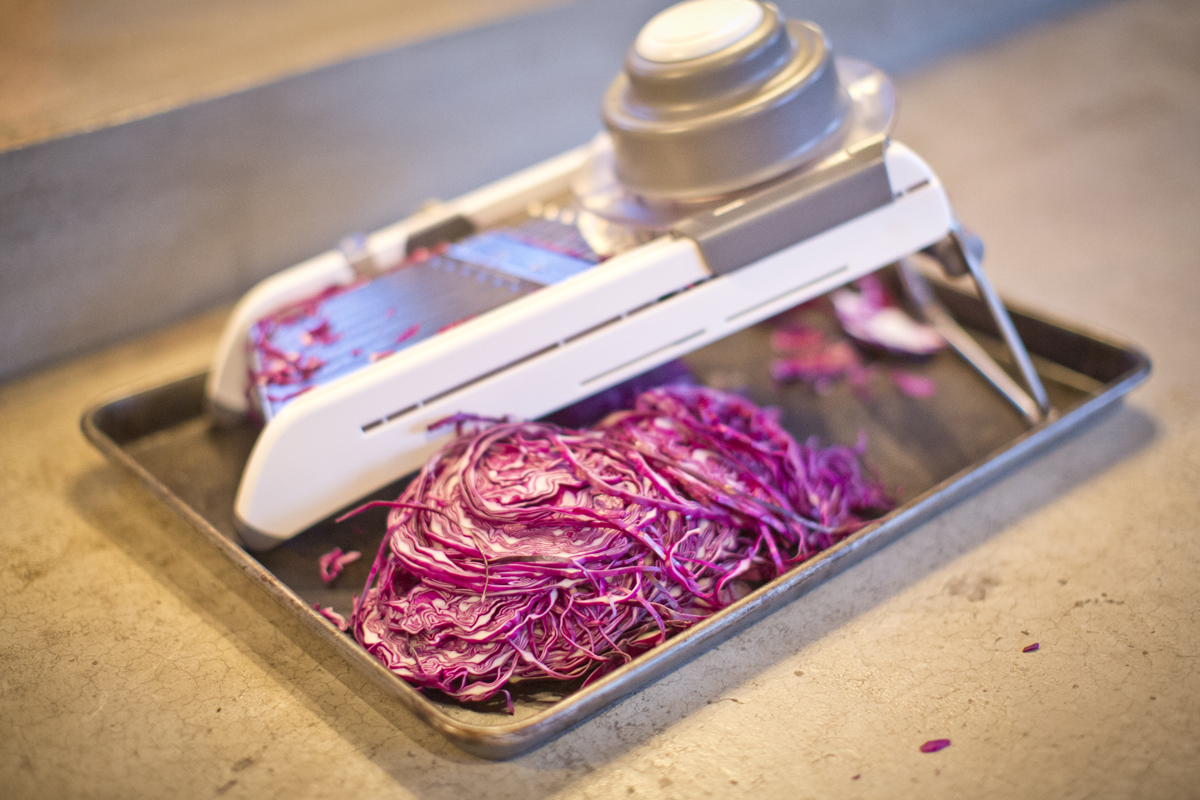 In the following recipe, you'll see that we add a bit of barbecue sauce to the slaw along with olive oil mayonnaise and Creole mustard. We prefer to dress our slaw lightly in order to keep the focus on the vegetables and bring out their natural flavor and crunchy texture.
On to dessert: we finally tried out a s'mores bar! It's been in the back of our heads to attempt this for a while now. Even the most basic s'more made with graham crackers and milk chocolate is good at the very, very least, but why not switch a few of the expected ingredients out for some more adventurous flavors to create an unforgettable dessert?
Just imagine a toasted marshmallow and dark chocolate that's studded with candied ginger between two thin gingersnaps — we all thought these were amazing. Your guests could also mix it up by sandwiching a marshmallow and white chocolate between two lightly sweet almond and dried fruit cookies. You may want to spring for a bag of vegan marshmallows, which are available at health food stores and online, like we did. This way, everyone can participate; generally, other marshmallows include gelatin, which strict vegetarians and vegans choose not to eat.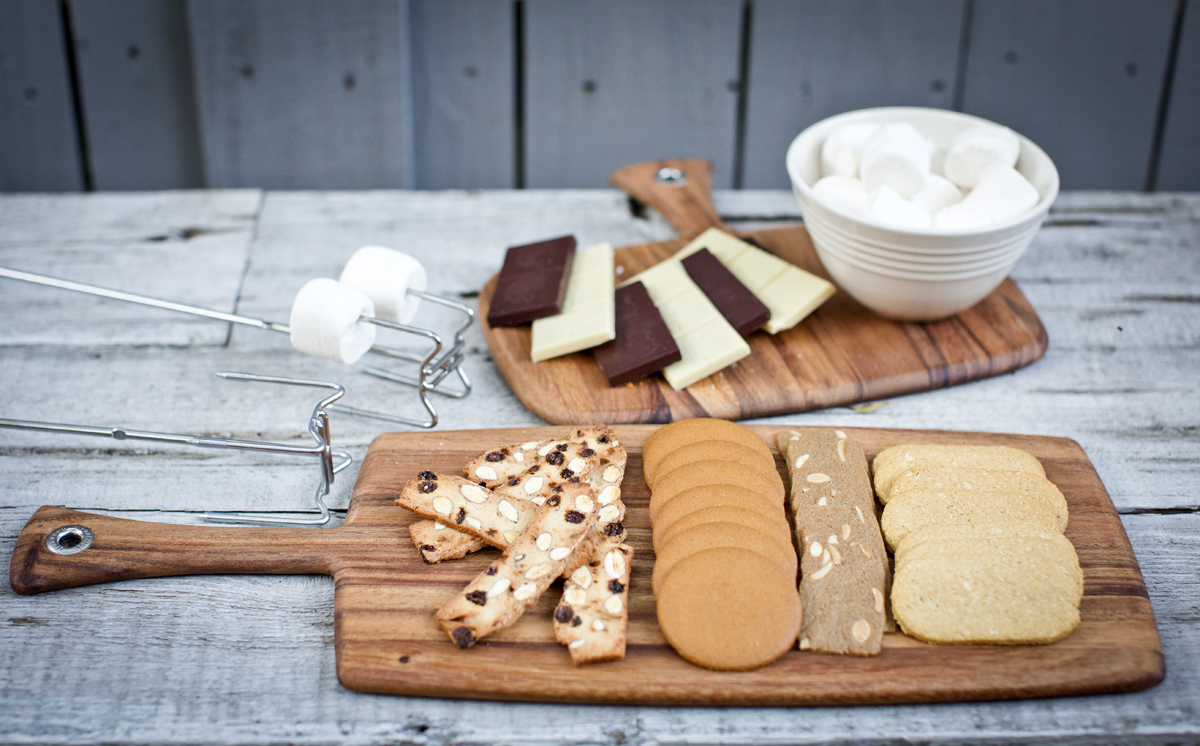 Lastly, since your guests will be eating outside, you'll need something rustic and virtually unbreakable on which to serve supper. We used these great Ironwood Gourmet paddles in different sizes. The paddles are made from acacia wood, which isn't harvested from any rain forest, so you can feel good about that. These boards make for a sleek, modern presentation, they have multiple uses, and they will last forever if you take care of them by oiling them and keeping them out of the dishwasher.
So this summer, we say go ahead and give a different kind of cookout a shot! Light the fire, do a little prep work, grab a cold drink, and watch your guests cook dinner for themselves while you get all the credit. What could be better?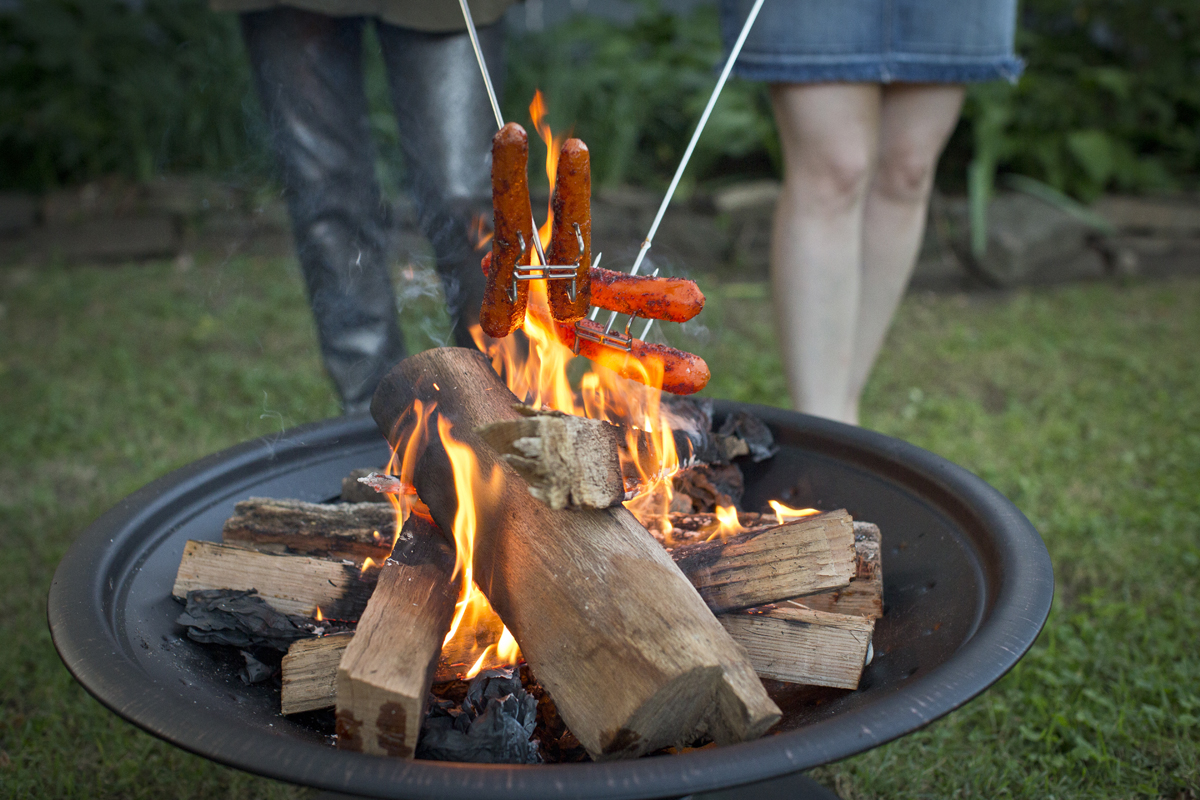 Try this easy backyard bbq recipe - and get your guests involved!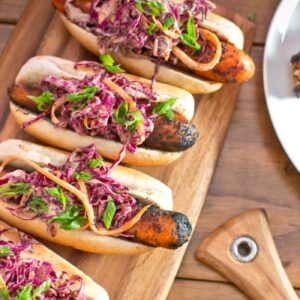 Ingredients
1

small head of purple cabbage (shredded, about 2 1/2 cups)

7

extra-large carrots

1

tbsp

mayonnaise (olive oil or vegan)

1

tbsp

mustard (grainy or Creole)

1

tbsp

BBQ sauce (plus more for garnish)

Kosher salt and cracked black pepper (to taste)

1

tbsp

toasted sesame oil

1

tbsp

BBQ dry rub seasoning

6

whole wheat (or sprouted wheat) hot dog buns

.5

cups

sliced green onion
Instructions
Place a large pot of salted water on to boil and light the fire pit. Cut the core out of the purple cabbage and slice the cabbage in half. Using a mandoline, like the PL8 Professional Mandoline, choose the '1' setting and shred the purple cabbage by gliding it back and forth across the blade. Into a large mixing bowl place the shredded cabbage. Finely julienne one of the carrots using both of the pop-up blades on the PL8 Professional Mandoline and place the carrot into the bowl with the cabbage. Add the mayonnaise, mustard, BBQ sauce, and salt and pepper to taste. Toss to incorporate and place the slaw into the fridge until ready to serve.

Peel and trim the ends off of the remaining 6 carrots. Place them in the boiling, salted water for 8 minutes. Using tongs, carefully remove the carrots and place them on a plate to allow them to cool. Drizzle them with the sesame oil and coat them liberally in BBQ dry rub.

Thread two carrots onto the Outset Rotating Campfire Forks and cook them over the fire pit, turning them over the flame until they're lightly charred on the exterior and warmed through. This should take about 6 to 8 minutes. Repeat for the remaining carrots.

Assemble the BBQ Carrot Slaw Dogs by placing a roasted carrot into each bun, drizzling it with BBQ sauce, and topping it with 1/4 cup of slaw. Garnish with sliced green onions.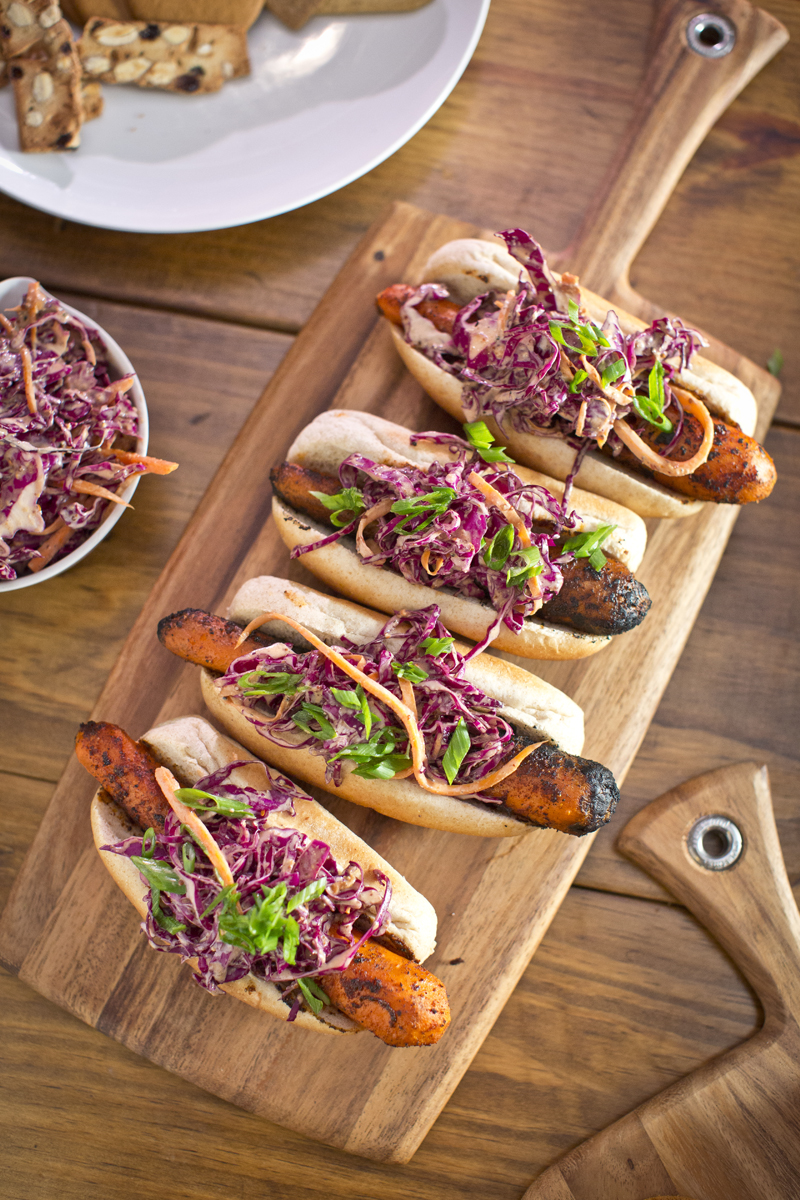 Build-Your-Own S'mores Bar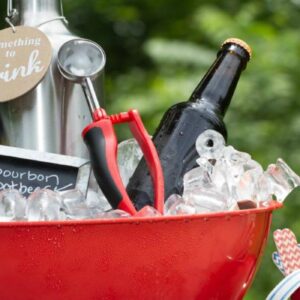 INGREDIENTS
12 large vegan marshmallows (like Dandies brand)
24 assorted cookies (like gingersnaps or almond-and-dried-fruit cookies)
1 3.5-ounce white chocolate bar
1 3.5-ounce dark chocolate bar with ginger
INSTRUCTIONS
Arrange the marshmallows, cookies, and chocolate bars on two Ironwood Gourmet paddles. Have your guests toast the marshmallows over the fire pit using the Outset Rotating Campfire Forks for 2 minutes or until toasted. Assemble each s'more by placing one toasted marshmallow onto a cookie, topping that with one square of chocolate, and then another cookie.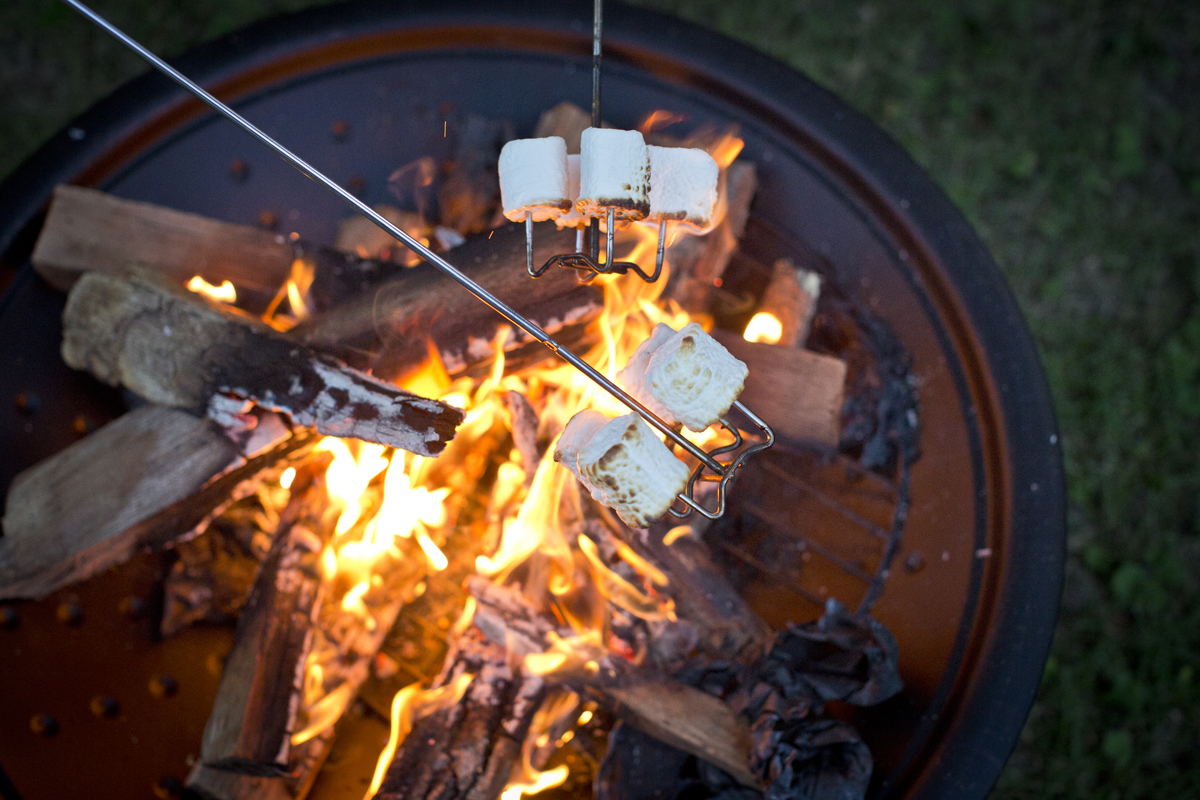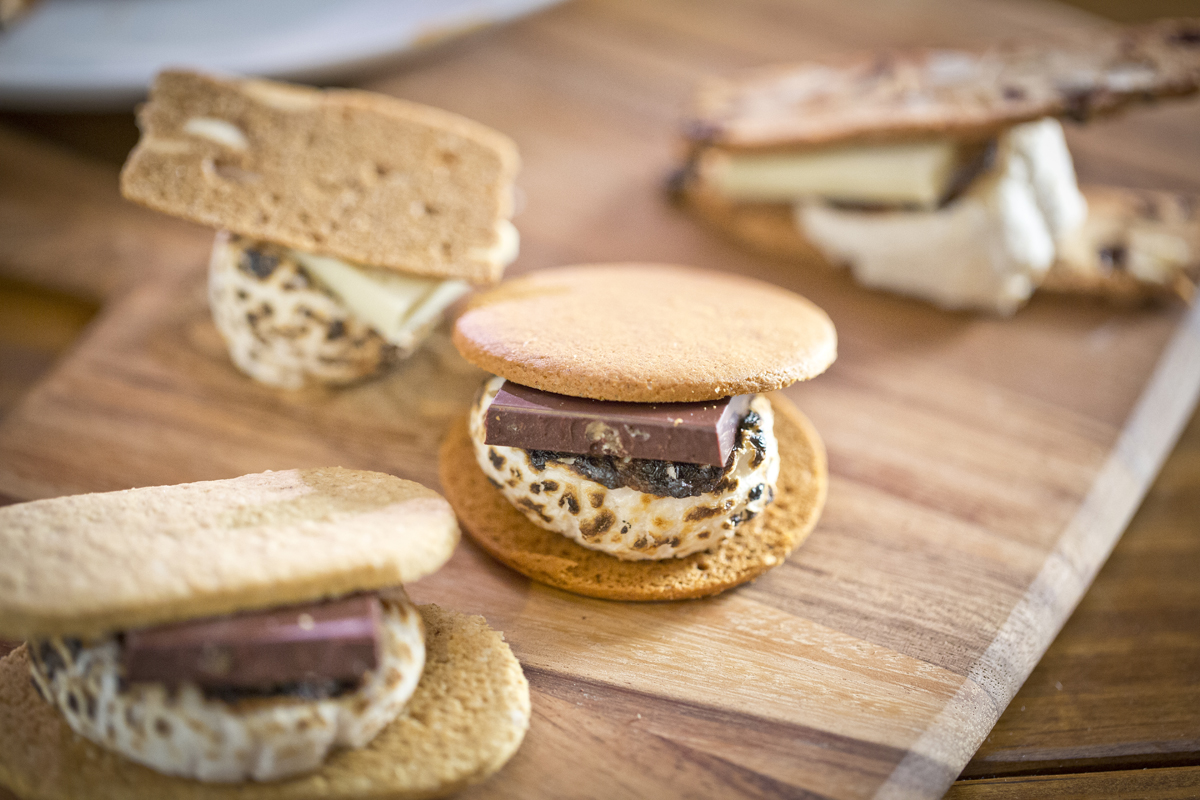 We are excited to have been selected by the International Housewares Association to contribute to their Inspired Home blog. We have been compensated for our time, but our opinions are, of course, our own.