The Festive & Refreshing Pomegranate Punch You Need to Make This Holiday Season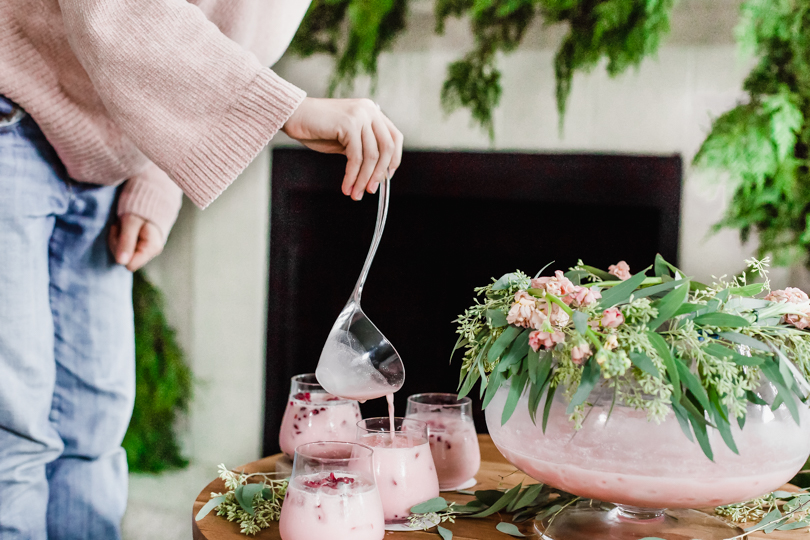 You can't enter the high season of entertaining without a kick-butt holiday punch recipe up your sleeve. You just can't.
I love a good eggnog as much as the next gal, but if you want to make something memorable amidst the onslaught of typical holiday flavors, sometimes it pays to back off the baking spices and use what's actually in season. So, let's talk pomegranates and one of my favorite winter weapons: homemade grenadine.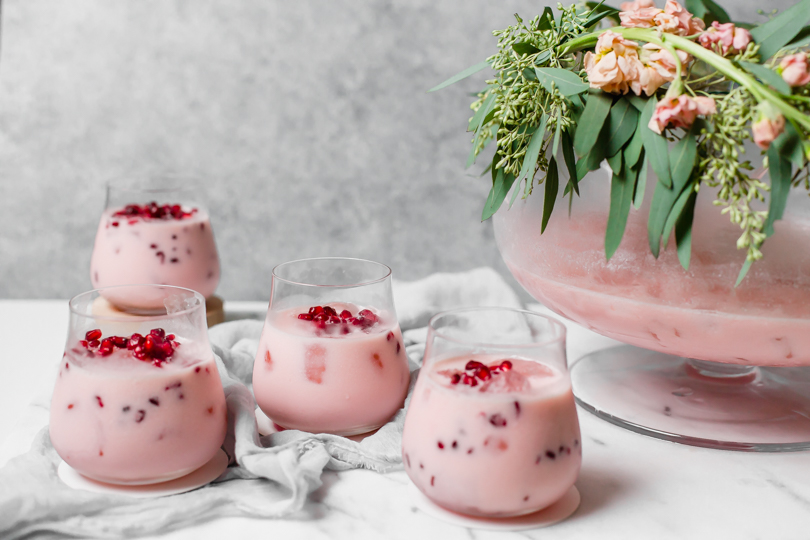 Making fresh grenadine is the best way to get a highly seasonal burst of tangy, floral pomegranate flavor, and color into your cocktail without a ton of work. If you read my post on Pink Lady Cocktails, you know that I feel almost duty-bound to show people how easy it is to make homemade grenadine whenever pomegranates are in season. [Spoiler alert: you literally just combine equal parts pomegranate juice and sugar in a blender].
Homemade, fresh grenadine lends a gorgeous jewel-toned hue and fresh pomegranate flavor to more than a few classic cocktails. Making your own is surprisingly easy -- essentially just two ingredients and a blender (no stovetop required)!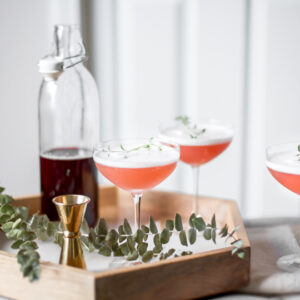 Ingredients
500

g

fresh squeezed pomegranate juice

500

g

sugar

2

oz

pomegranate molasses (optional)

2

tsp

orange blossom water (optional)
Instructions
Simplified recipe: Combine equal parts fresh squeezed pomegranate juice and pure cane sugar in a high speed blender. Blend on high until the sugar is completely dissolved. Store in fridge.

For best results: Use a kitchen scale to weigh the sugar and pomegranate juice (500 grams each) instead of using measuring cups. Add 2 ounces of pomegranate molasses and 2 teaspoons of orange blossom to the blender before blending to give the grenadine better depth and more pronounced floral notes.

Bonus tip: If you plan on using your grenadine over an extended period of time (more than a couple of weeks), add an ounce of vodka to the recipe and it will stay fresh longer.
Nutrition
Serving:
1
g
Calories:
284
kcal
Carbohydrates:
74.2
g
Sodium:
12
mg
Sugar:
70.2
g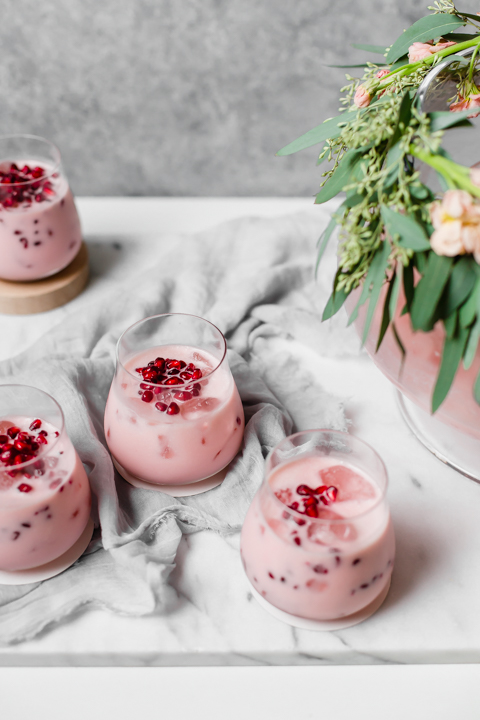 Grenadine drinks are wonderfully bright, slightly tart and floral. They run the gamut of pale pinks and deep plummy reds thanks to the rich purple hue from the fresh pomegranate. This punch is incredibly refreshing – a welcome respite from heavier winter fare and the perfect way to set the tone for a holiday gathering.
I'm obsessed with serving it in this footed punch bowl from Fortessa; its' tall configuration (as opposed to more typical low, wide punch bowls) really shows off the drink's lovely, rosy hue.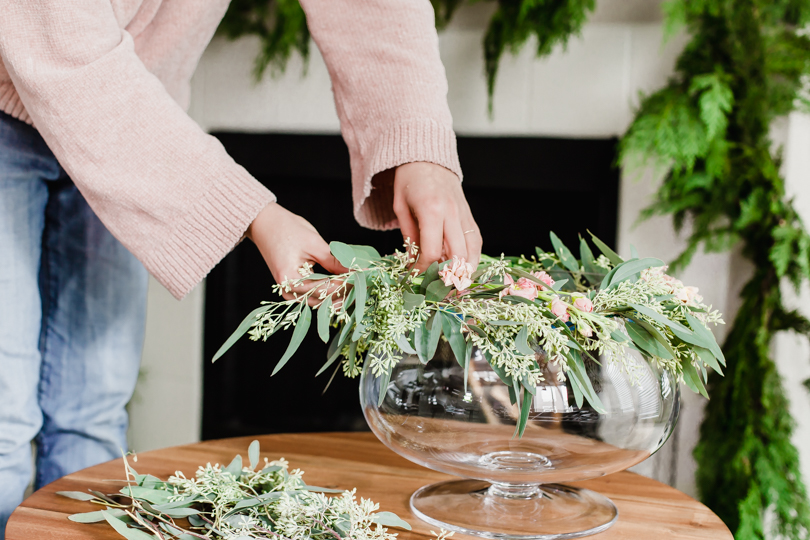 I added a floral crown to my punch bowl because a little extra festive flair never hurt anyone. I'm sure there are more involved ways of doing this, but I just wrapped the rim of the punch bowl with floral wire and taped it into place, then tucked the stems under the wire.
One small bunch of seeded eucalyptus was all I needed to ring my entire bowl, along with a few stems of inexpensive spray flowers. I got both at Trader Joe's, and the entire crown cost under $7 to make. I even had leftover flowers, which are now brightening up my bathroom.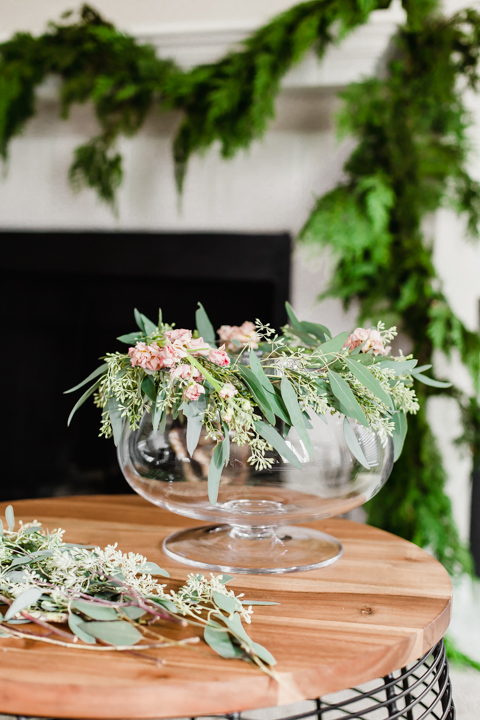 I like to garnish with extra pomegranate arils – the pops of bright red really set off the punch's pale pink, and make a bolder holiday statement.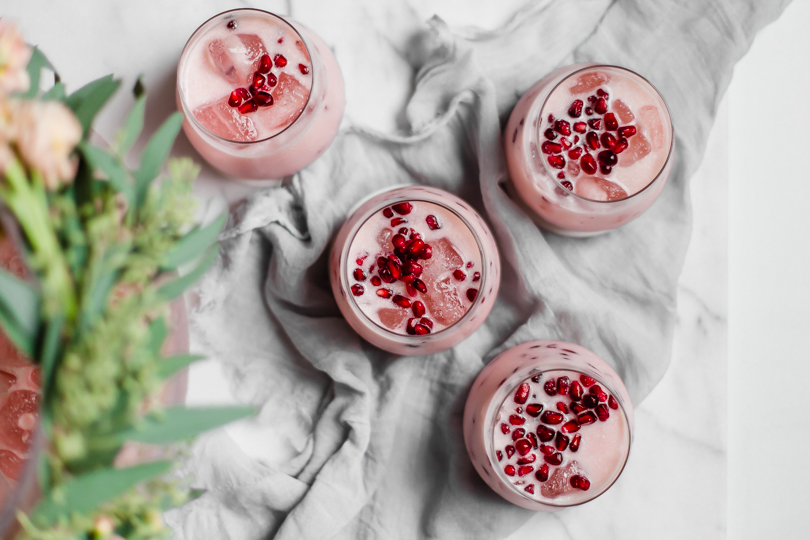 Pomegranate Holiday Punch
You can't enter the high season of entertaining without a kick-butt holiday punch recipe up your sleeve. You just can't.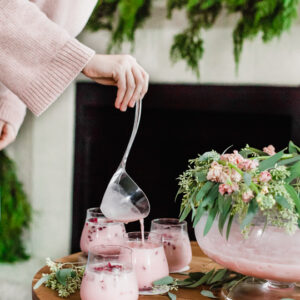 Ingredients
2

cups

gin

.5

cups

ginger liqueur (like Canton)

1

cups

heavy cream

.75

cups

fresh grenadine

.5

cups

fresh squeezed lemon juice

.5

cups

fresh squeezed lime juice
Instructions
Combine all in a punch bowl filled with ice. Add the cream first. If the punch begins to separate after sitting, give it a quick stir.
Nutrition
Serving:
1
g
Calories:
488
kcal
Carbohydrates:
39.3
g
Protein:
0.6
g
Fat:
8.9
g
Saturated Fat:
5.5
g
Cholesterol:
33
mg
Sodium:
2819
mg
Fiber:
0.1
g
Sugar:
31
g