Pink Lady Cocktails with Homemade Grenadine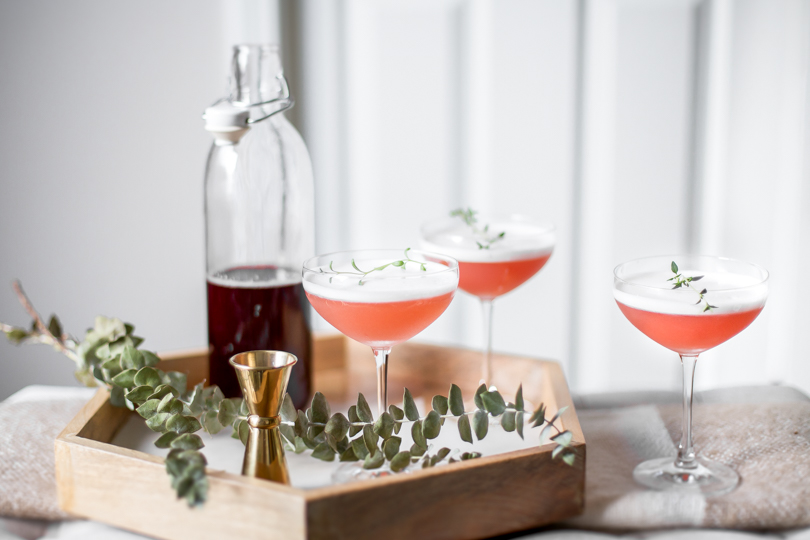 I feel almost duty bound to show people how easy it is to make grenadine every time pomegranates hit the market. [Spoiler alert: you literally just combine equal parts pomegranate juice and sugar in a blender]. Aside from the wonderful, seasonal flavor, grenadine adds the loveliest shades of red and pink to mixed drinks.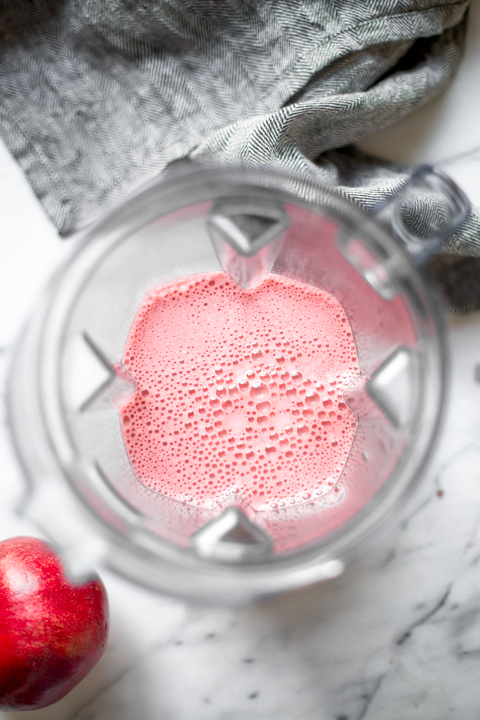 When I bring up grenadine, few people know what it really is — Shirley Temples and that candy red, mass market bottle come to mind. Warning: the "grenadine" you get from a typical grocery store shelf or see behind budget bars is NOT true grenadine. Grenadine is a pomegranate simple syrup. That stuff is literally just corn syrup dyed red (ew).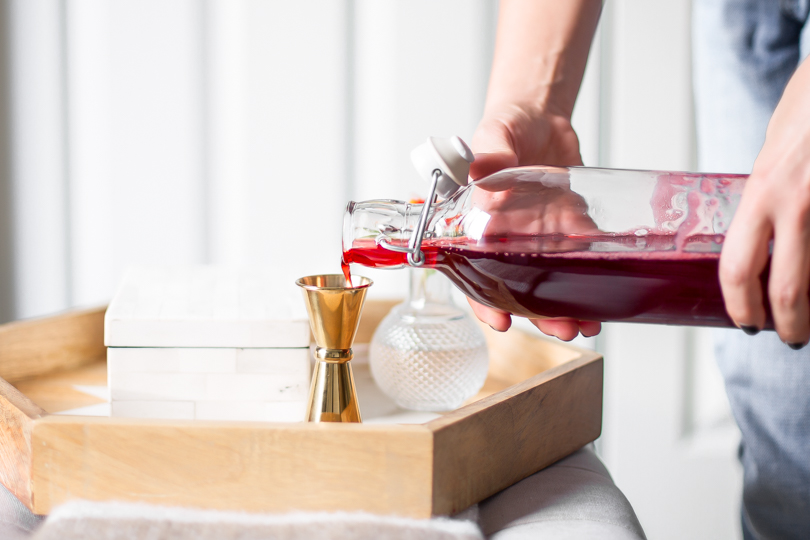 Making fresh grenadine from scratch couldn't be easier, so you really have no excuse to ruin a drink with a nasty grenadine imposter ever again. It's the best way to get a highly seasonal burst of tangy, floral pomegranate flavor and color into your cocktail without a ton of work. In fact, the most difficult part is squeezing the pomegranates. I like to cut mine into chunks and press them in my citrus reamer to speed up the messy process; getting 500 grams of juice took me about 5 minutes, maybe less. If you're really crunched for time (or can't find pomegranates), you can use the refrigerated Pom brand pomegranate juice instead, but to me the fresh juice's flavor is worth the tiny extra bit of effort.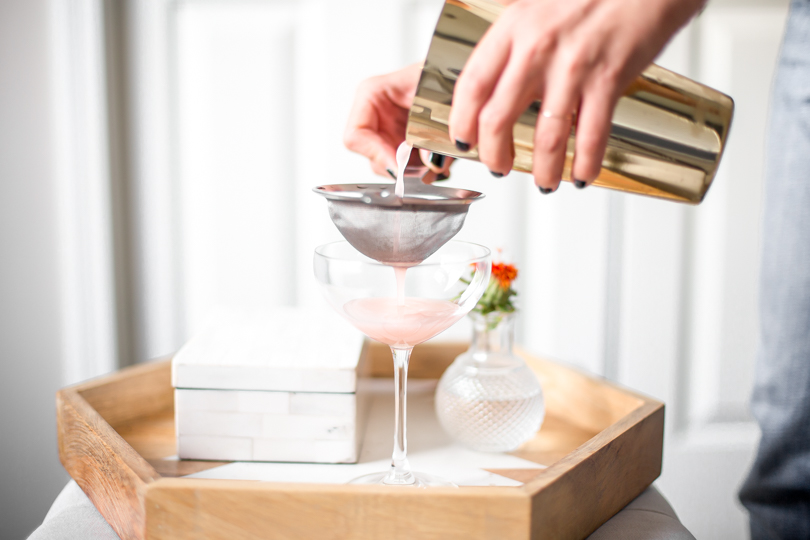 From there, you just pour the juice in a blender and add equal parts sugar. A kitchen scale is definitely the way to go here (they are cheap and will change your cooking/baking/cocktail mixing game FOREVER). Sugar and juice have different densities, so the only real way to get equal parts is to measure by weight. If you need to use measuring cups instead, use 2 cups of each, and repeatedly bang the measuring cup on the counter as you're pouring the sugar — it will make the sugar more densely packed and give you a slightly more accurate read.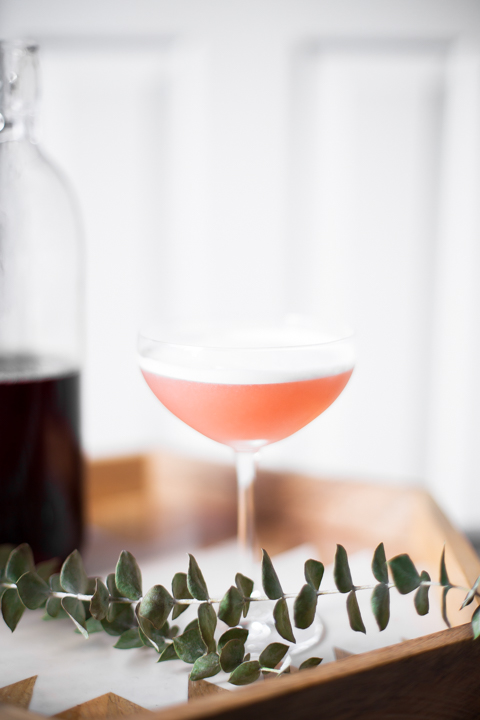 Then add a bit of orange blossom water and pomegranate molasses if you can find them — they're easy to order online, but most grocery stores carry them as well. They're good to have on hand for a variety of cocktail recipes, but also for baking and a variety of middle eastern dishes. Don't sweat it if you need to skip, though — it won't throw the whole recipe out of whack. It just adds a nice layer of depth and heightens the pomegranate's floral notes.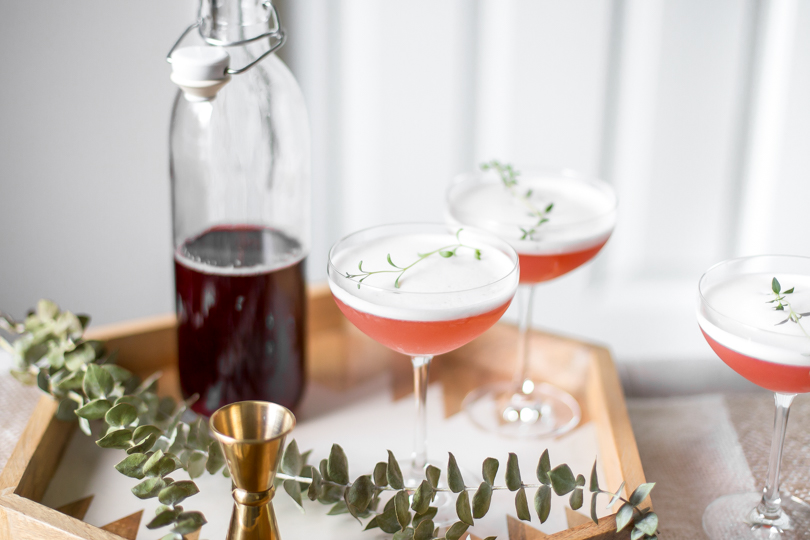 Blend on high until the sugar is completely dissolved, and you're finished. You'll notice that true grenadine is a deep, rich, purple — not a candy apple red. The cocktails you mix with your fresh, seasonal syrup will capture the loveliest shades of pale pomegranate, like this show stopping Pink Lady. The Pink Lady — a foamy, floral, slightly tart and refreshing gin sour — is just one of many classic grenadine cocktails to try. If you're shy of egg white, try a Jack Rose or a Scofflaw instead.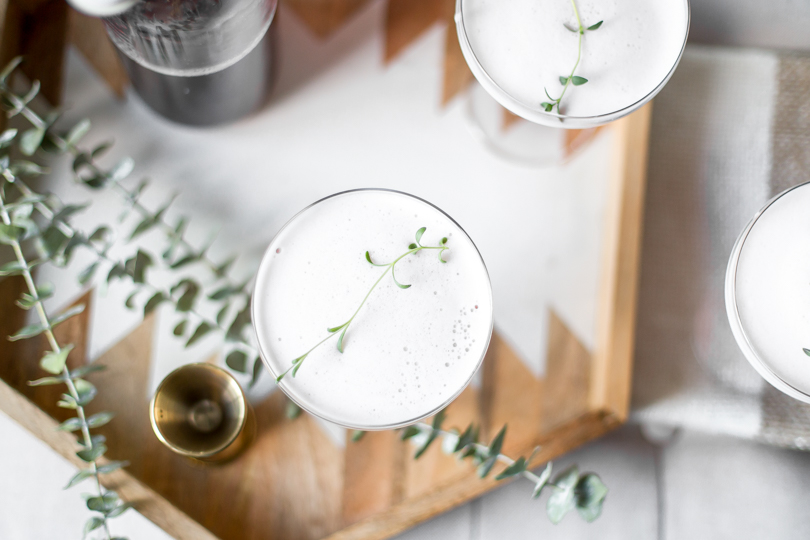 Homemade, fresh grenadine lends a gorgeous jewel-toned hue and fresh pomegranate flavor to more than a few classic cocktails. Making your own is surprisingly easy -- essentially just two ingredients and a blender (no stovetop required)!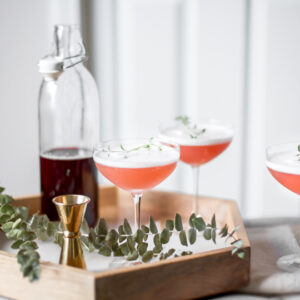 Ingredients
500

g

fresh squeezed pomegranate juice

500

g

sugar

2

oz

pomegranate molasses (optional)

2

tsp

orange blossom water (optional)
Instructions
Simplified recipe: Combine equal parts fresh squeezed pomegranate juice and pure cane sugar in a high speed blender. Blend on high until the sugar is completely dissolved. Store in fridge.

For best results: Use a kitchen scale to weigh the sugar and pomegranate juice (500 grams each) instead of using measuring cups. Add 2 ounces of pomegranate molasses and 2 teaspoons of orange blossom to the blender before blending to give the grenadine better depth and more pronounced floral notes.

Bonus tip: If you plan on using your grenadine over an extended period of time (more than a couple of weeks), add an ounce of vodka to the recipe and it will stay fresh longer.
Nutrition
Serving:
1
g
Calories:
284
kcal
Carbohydrates:
74.2
g
Sodium:
12
mg
Sugar:
70.2
g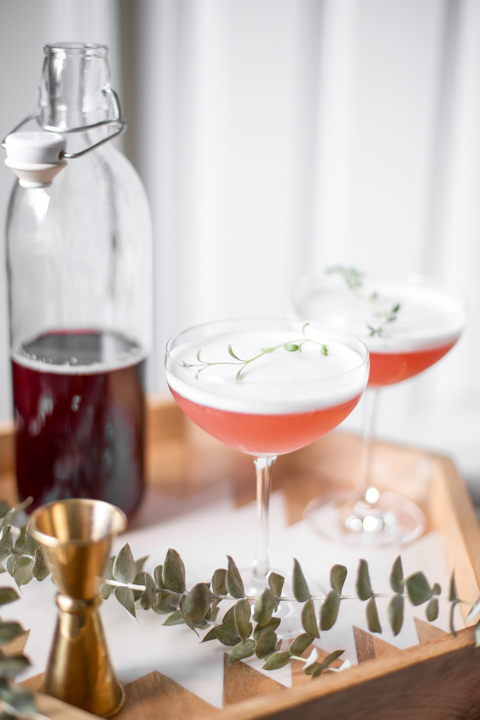 Make fresh grenadine from scratch and then use it to make these delicious and beautiful Pink Lady Cocktails.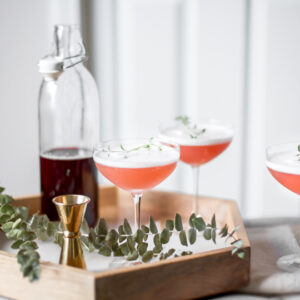 Ingredients
1.5

oz

Plymouth gin

.5

oz

Applejack

.5

oz

Grenadine

.5

oz

Simple syrup

.75

oz

Fresh squeezed/strained lemon juice

1

oz

Egg white
Instructions
Combine all ingredients in a cocktail shaker without ice and shake hard for 20 seconds (press the lid down firmly while shaking – it won't seal tightly like it does when you shake with ice).

Add ice to the shaker and shake a further 15 seconds.

Strain through a fine mesh strainer into a chilled coupe glass.