How To: Make 5 Flavored Ice Cubes That Will Change the Way You Look at Ice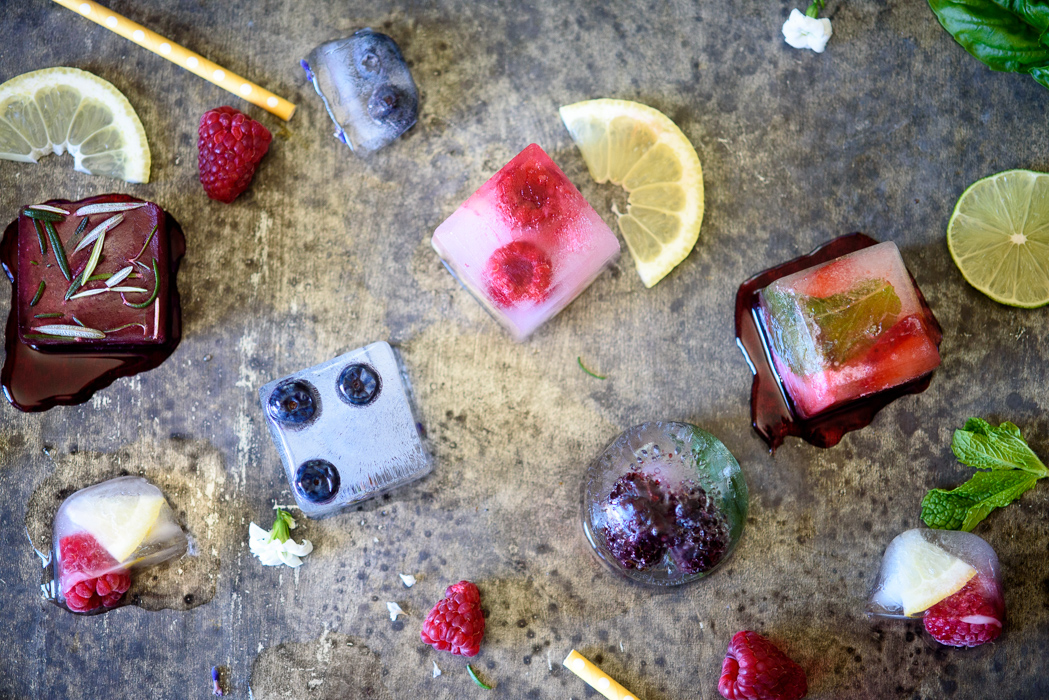 Banish the boring ice cubes. Make your summer drinks gorgeous and delicious in a snap with these herb and fruit filled ice cubes!
I've been wanting to play with flavored ice cubes for ages but always put it off as "too fussy." After all our experiments I am happy to report that these are ridiculously easy and so worth it!
We used these large square Tovolo ice cube trays and I absolutely loved them. Because they are silicone they are super simple to pop the ice cubes out of without breaking them. We used Zoku round molds as well to make some in a sphere shape.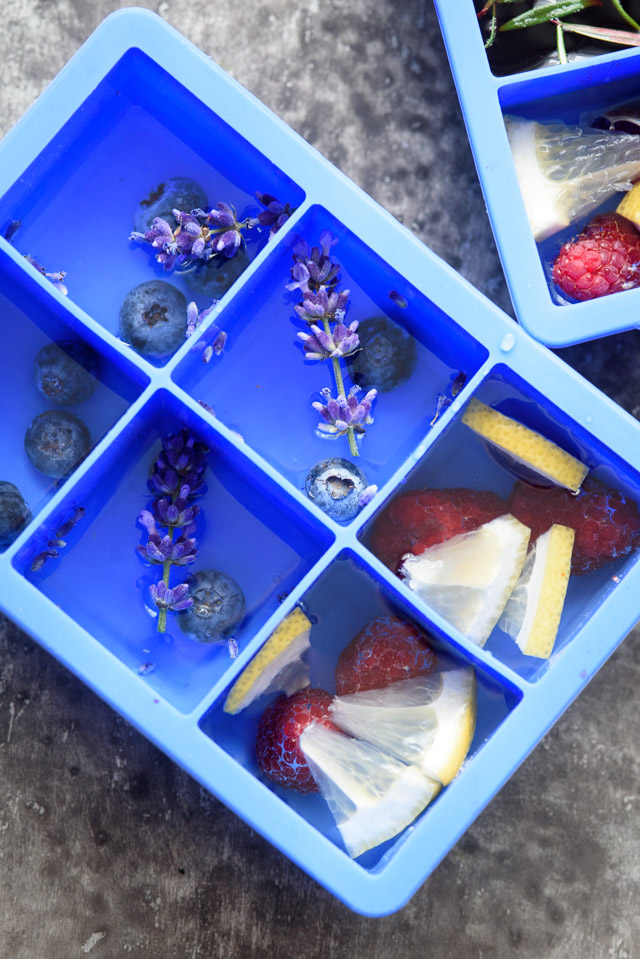 If you want to ensure that you get your fruit or herbs on all sides of the ice cube you can freeze them in two parts. But I found that a single layer was an acceptable solution for most of our needs.
We did a bunch of research on creating clear ice cubes and ultimately what we discovered was this: making clear ice at home is almost impossible. We used distilled water and tried boiling water and still got bubbles. The problem with making clear ice at home is that home freezers freeze from all sides at the same time. Commercial ice makers freeze from the bottom only and force the air bubbles up and out of the ice.
There is a way to do it at home that Bon Appetit teaches but you basically just have to hack up the bottom clear ice to get clear chunks which wouldn't work as well with our pretty ice cubes. So we decided that we live with the bubbles and get excited when some come out clearer than others.
We decided on 5 different variations:
Raspberry and Lemon: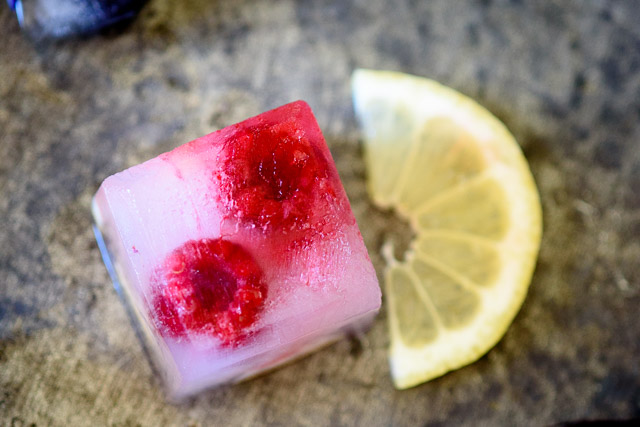 Blackberry and Basil: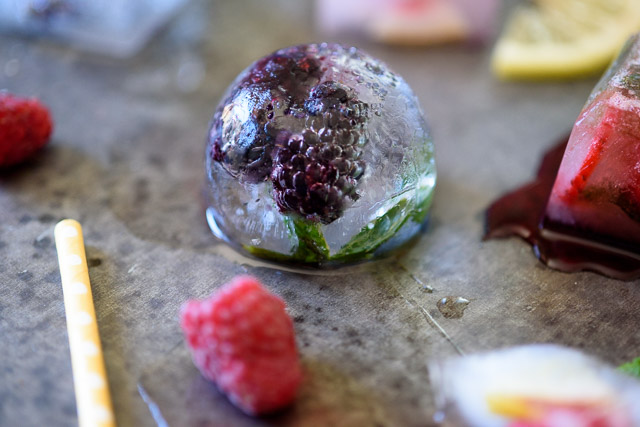 Strawberry and Mint: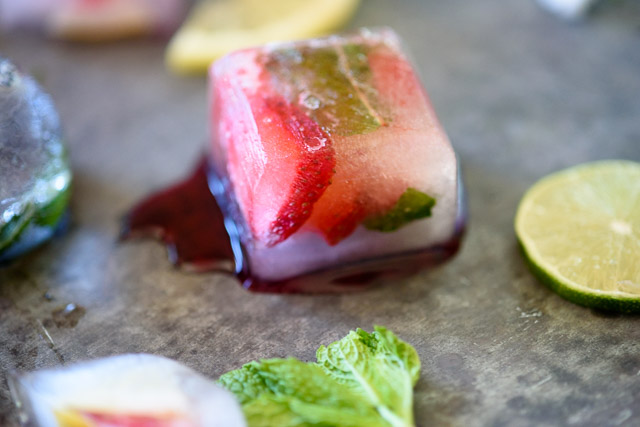 Pomegranate Juice and Rosemary: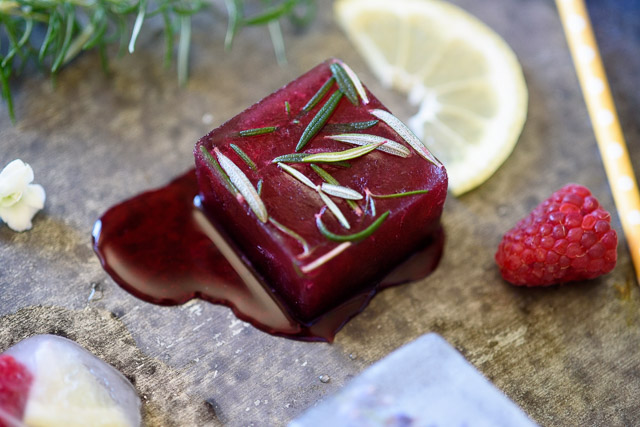 Blueberry with Fresh Lavender: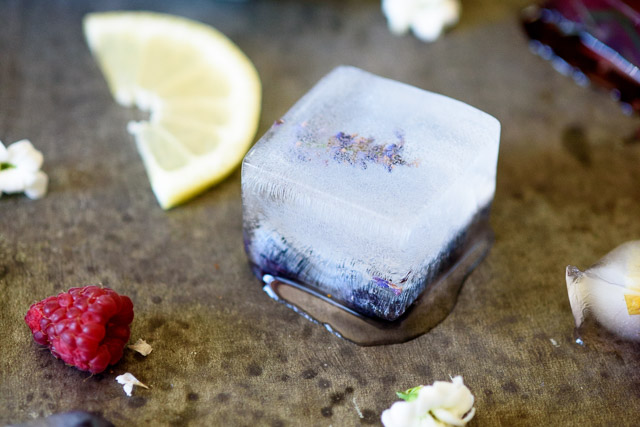 Tips: We also tried a few others like lime juice with wedges that we found didn't work as well. If you use lime juice or lemon juice it is best to dilute them at least 50% with water as they can dramatically flavor your drink with too much lime or lemon. The lime rind also tended to discolor so we decided that sticking with lemons was the best bet. We found that using the whole lemon slices worked the best.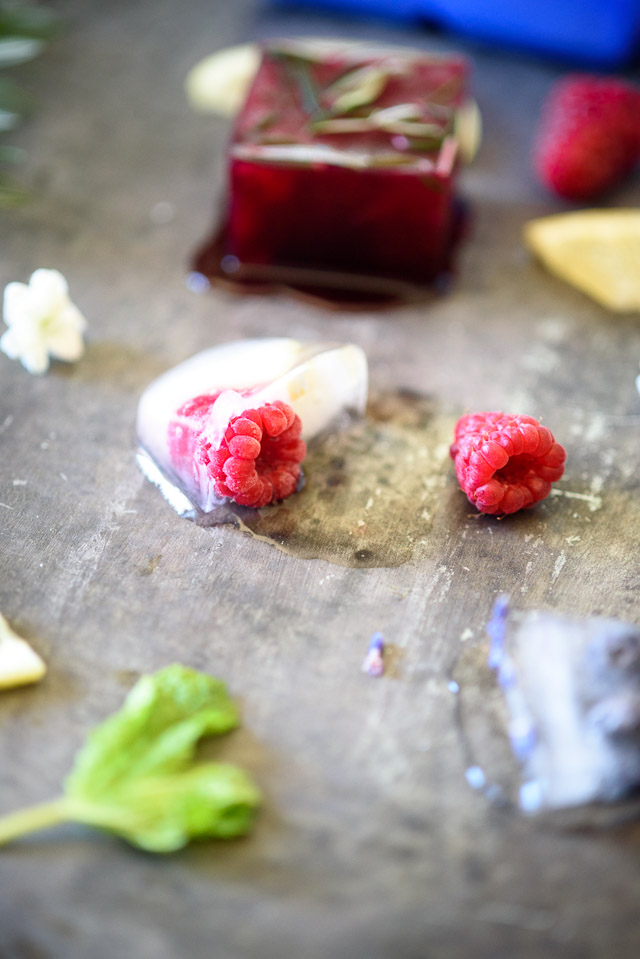 Leafy herbs like mint and basil did discolor slightly as well but we loved the flavor so much that we found them acceptable and kept a bit of the fresh herbs to add to the drinks as well. Less fragile herbs like rosemary, thyme and even the lavender held their shape extremely well.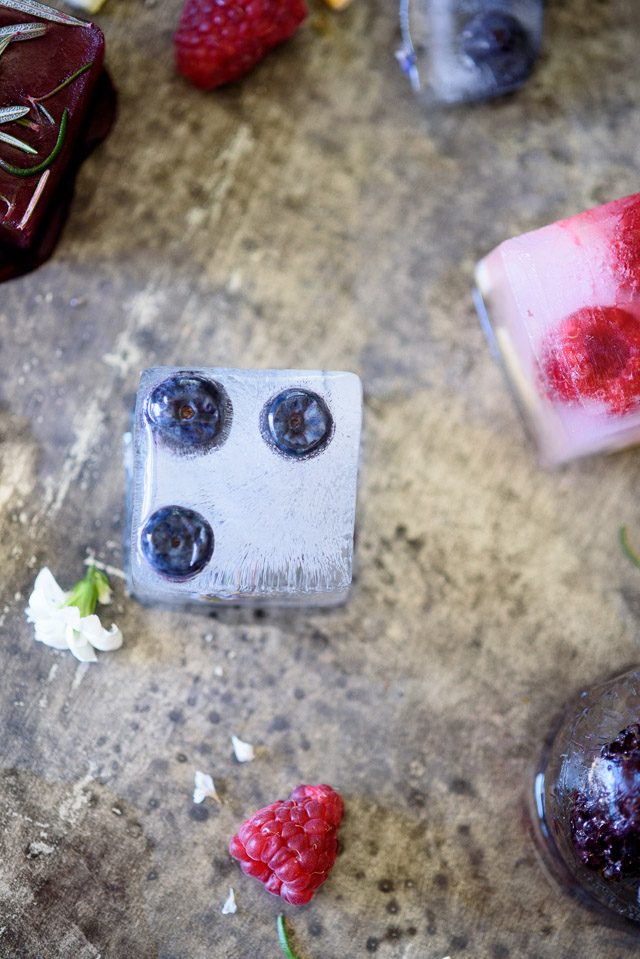 Keep in mind that utilizing multiple flavors of ice cubes in say a big pitcher can create some funny flavors so try to pick a flavor profile and stick with it through all your cubes or pair them together with intention.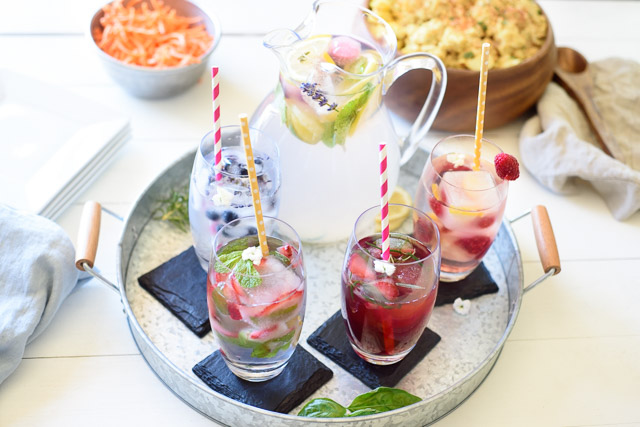 Or create a variety of cubes and let people make their own combinations!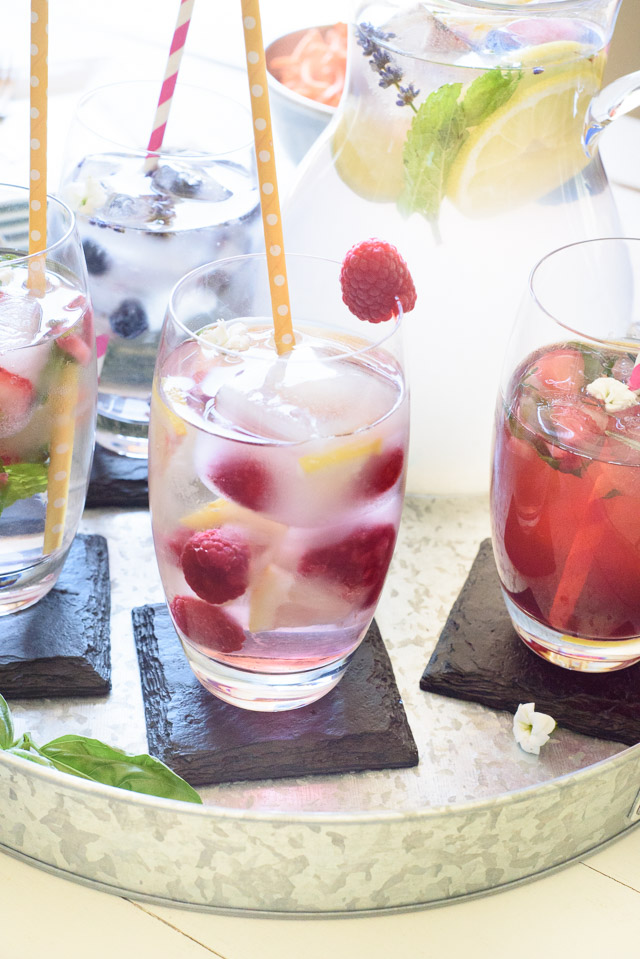 My personal favorites? The raspberry lemon and the blueberry lavender.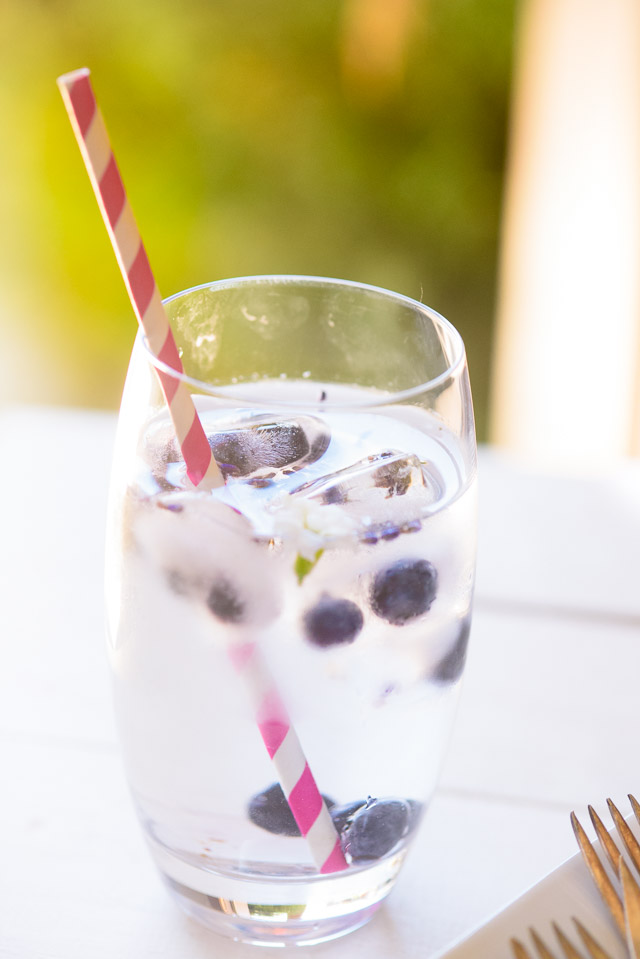 So gorgeous and perfect to mix a champagne cocktail together with or just spruce up your summer waters.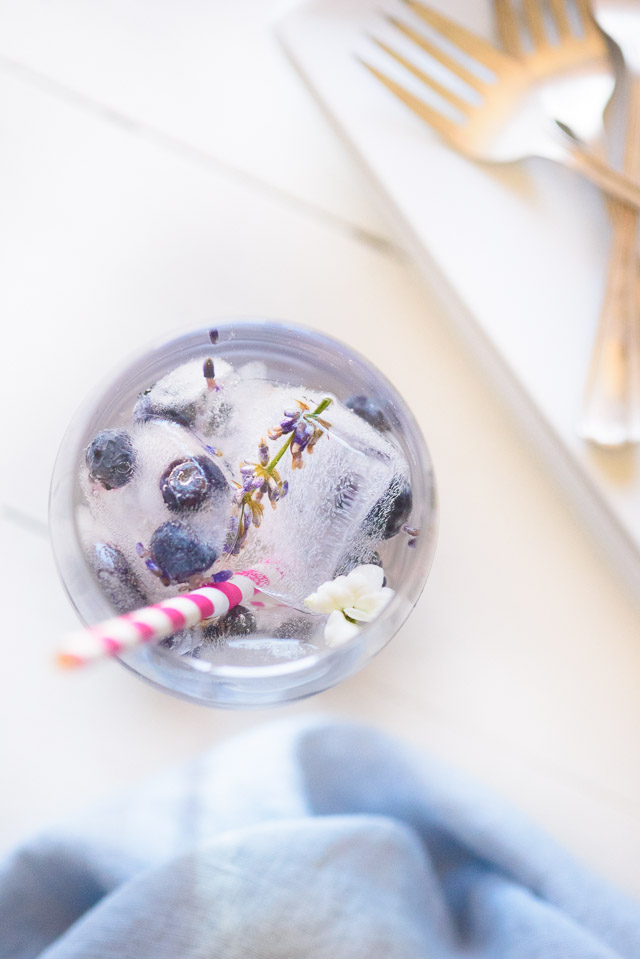 I can't wait to hear what combinations you come up with!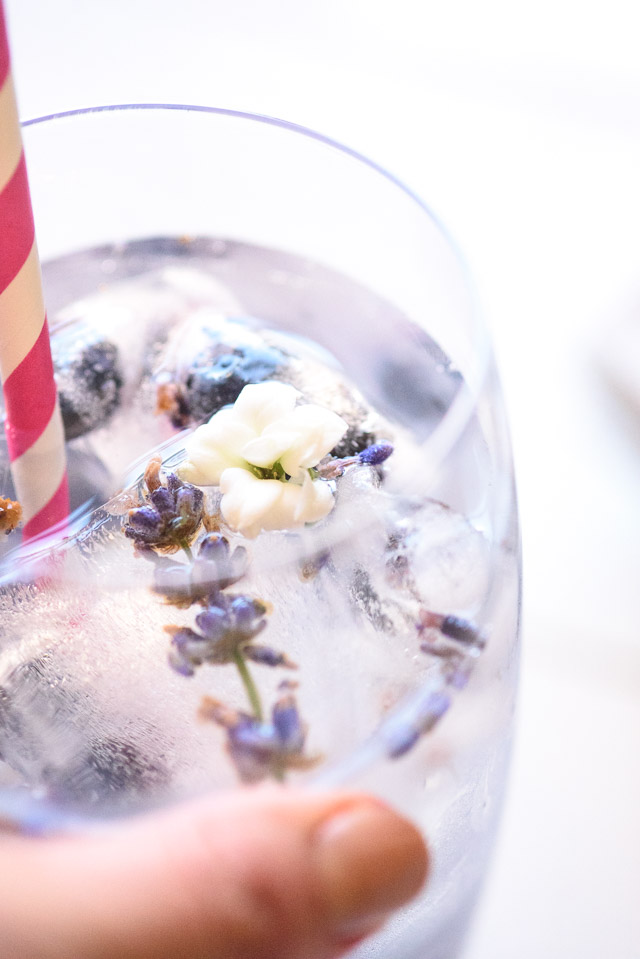 Happy ice cube making!