The Classic Chicken Pot Pie of Your Comfort Food Dreams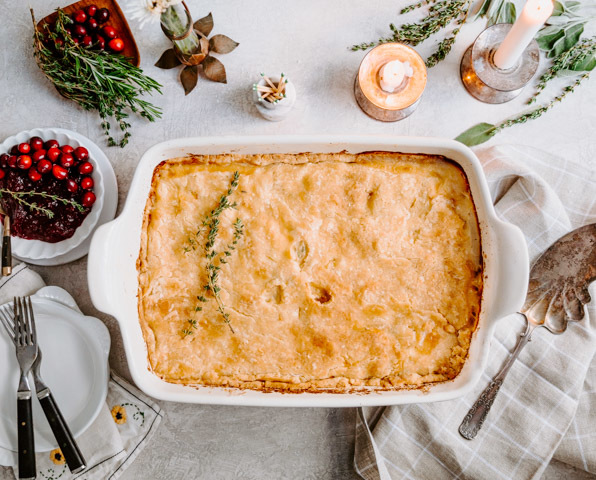 Chicken pot pie is one of my family's favorite winter meals. It's thick and hearty like a good stew, but with the bonus of that yummy flaky, salty crust that satisfies all the senses. What I love about being a Certified Health Coach with an Intuitive Eating approach is that I firmly believe all foods, even classic chicken pot pies, can fit within a healthy lifestyle.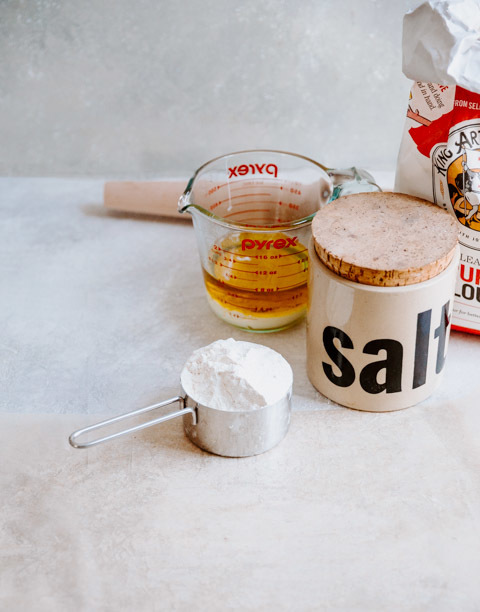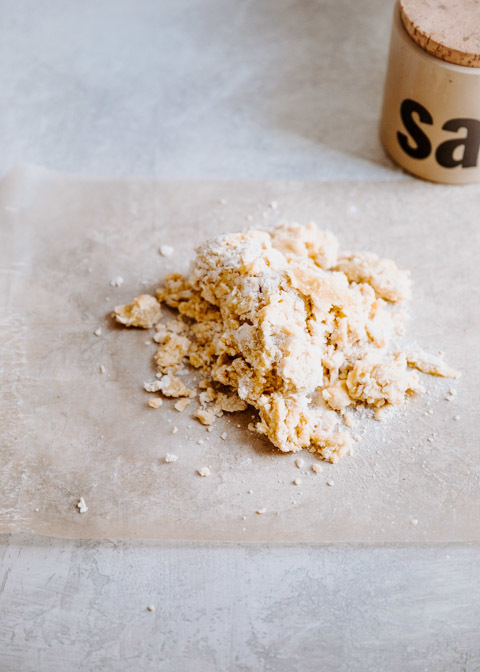 I teach that there's no such thing as "bad" foods and, unless you have an allergy or health complication, there's no need to substitute ingredients for "healthier" alternatives. As long as you are listening to your body by feeding it food that genuinely makes you feel good — both mind and body, getting plenty of plants and whole foods, all while allowing for the flexibility to eat everything else too, you will be much healthier than if you are habitually dieting. In fact, the evidence shows that chronic dieting for weight loss is detrimental to our health. All the more reason to ditch the diet this holiday season and find peace in freedom with food.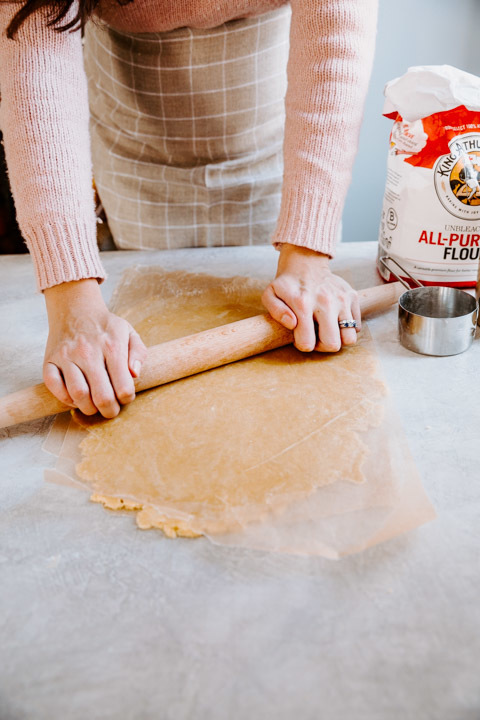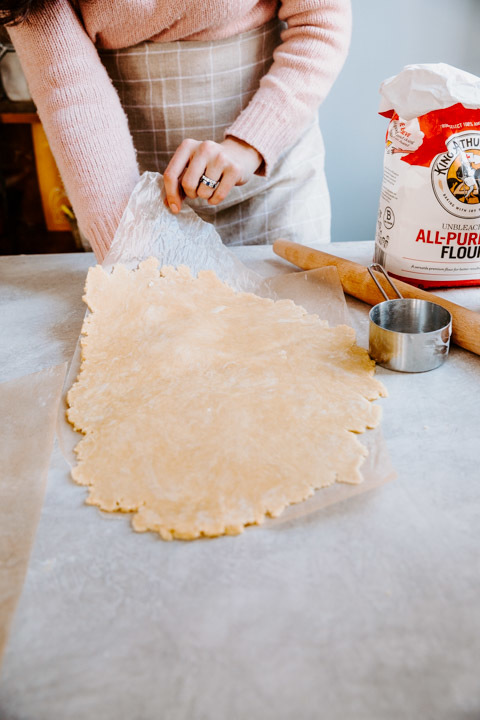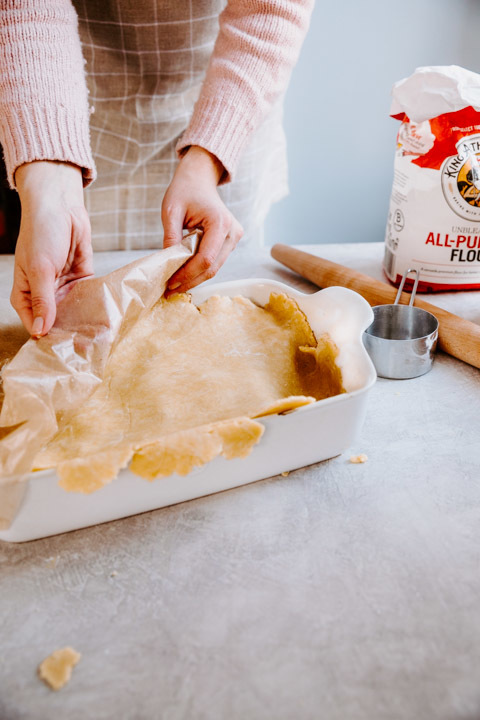 Back to this yummy recipe! I love how rustic and simple a classic chicken pot pie is to make. Everything just goes into a large baking dish and gets topped with a single layer of crust. Nothing too fancy or complicated. And speaking of the crust, I'm sharing my husband's family crust recipe. It's way easier than a butter crust, and completely delivers on flakiness and flavor. If you're new to crust making, this recipe is the perfect one to get you started.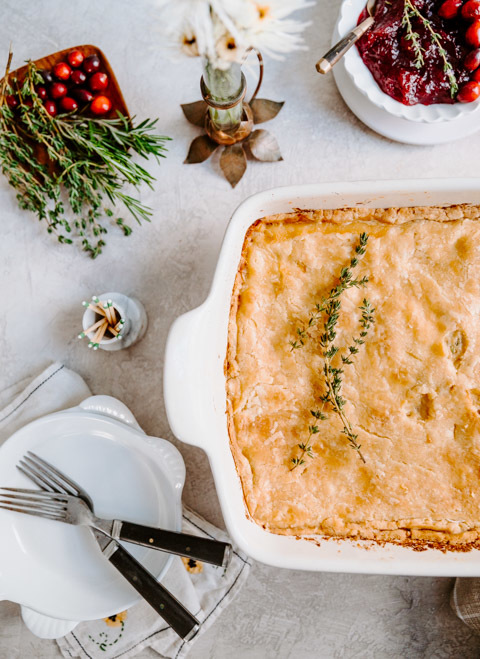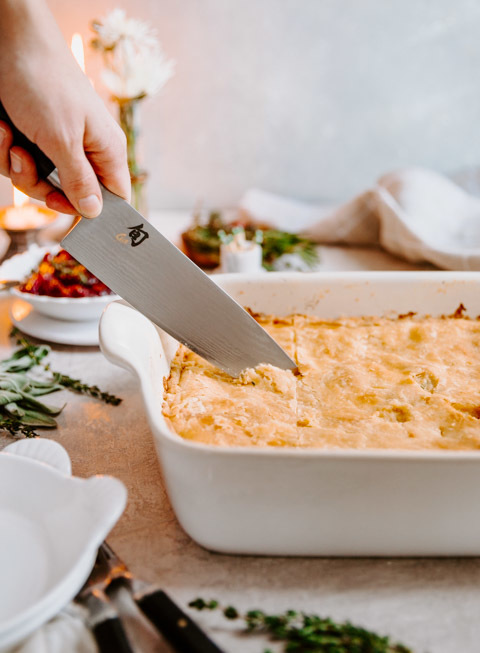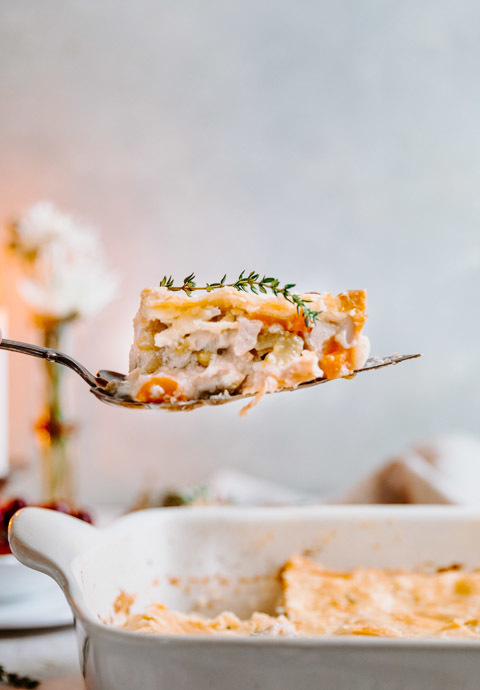 A few things to note:
Unfortunately pot pie takes a bit of time from start to finish, simply because of the chicken cook time and the final bake time. If you're crunched for time, both of these steps can be easily reduced by using leftover turkey from Thanksgiving or a rotisserie chicken from the grocery store, and by prepping it a day or so ahead of when it needs to be baked fresh. Additionally, you could freeze the pot pie for about a month and stick it in the oven anytime for an easy weeknight dinner. Just be sure to increase the cook time by a few minutes.
We love peas in this house, in fact my 2-year-old will eat them straight out of the freezer, so we always add a bit more than a cup to this recipe.
A fun condiment that can be served with this classic pot pie is cranberry sauce! My father-in-law always eats his with a dollop of this seasonal sweet and tart sauce, and I can't blame him for it. The additional of cranberry sauce satisfies that sweet and salty palate.
If you want to add a bottom crust, make two batches of crust and either blind bake or add about 10-15 minutes of cook time.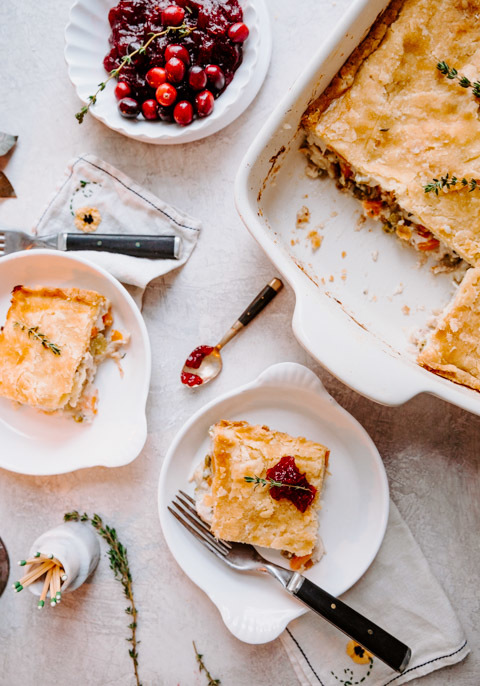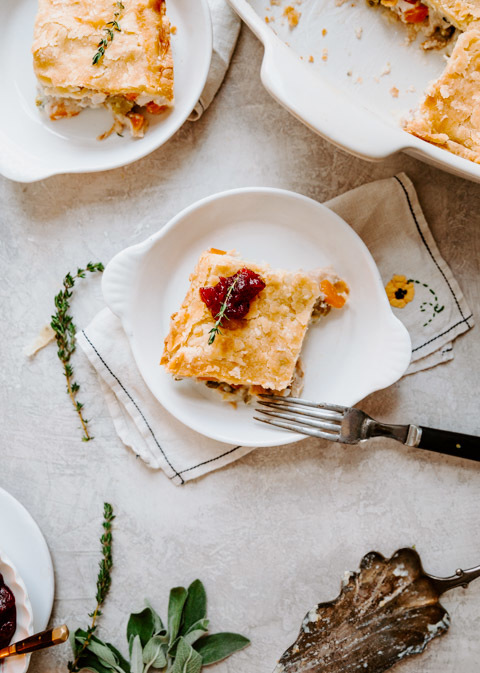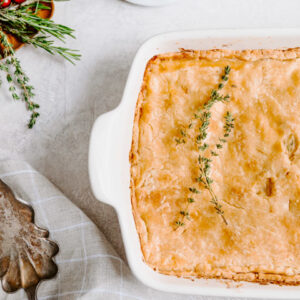 INGREDIENTS
For the Crust:
2 cup unbleached AP flour
1 ½ tsp. salt
½ cup flavorless vegetable oil
¼ cup cold whole milk
Wax Paper + Rolling Pin
For the Filling:

1.5 lbs. boneless skinless chicken thigh or breasts, trimmed
2 cups free range chicken stock
7 tablespoons cultured butter
1 large yellow onion, finely diced
4 large carrots, peeled and cut into half-moons
3 large celery ribs, sliced to match thickness of carrots
½ teaspoon finely ground Himalayan salt
¼ teaspoon ground white pepper
½ cup unbleached AP flour
1.5 cups whole milk
½ teaspoon ground thyme
1 cup frozen peas
9×12 Baking Dish
INSTRUCTIONS
For the Crust:
Mix together flour and salt.
Measure the cold milk and vegetable oil together in one liquid measuring cup, do not stir. Pour into the flour mixture.
Using a fork mix until just barely combined. Use your hands to pat in the last flour-y crumbs.
Place wax paper on a slightly damp counter to create a seal. Empty barely formed crust onto parchment and using your hands form an even disc. Cut into two and set one half aside.
Using a second piece of parchment paper as a barrier, roll ½ of crust into roughly ¼" thick piece to match your cooking vessel.
For the Filling:
Preheat oven to 400 degrees. In a heavy bottom pot or enameled cast iron pan, bring chicken breasts and chicken broth to a simmer and cook covered for about 10 minutes, or until chicken breasts are cooked through. Transfer chicken to a plate and save cooking liquid.
Without washing, bring the same cooking vessel to medium heat and melt 3 tablespoons of butter. Cook onions, carrots, celery, and salt until soft. About 5 minutes.
Meanwhile, using a fork or your fingers, shred or chop chicken into small pieces and place into a large bowl. If there are any remaining juices from the chicken, add it to the reserved broth. Pour cooked vegetables into the same bowl as the shredded chicken.
Return the vessel to medium heat and melt remaining 4 tablespoons of butter. Add flour and stir constantly for 1 minute, or until flour has cooked into butter. Whisk in reserved chicken stock, milk, and thyme. Bring to a slow simmer and cook for about 1-2 minutes, or until the sauce thickens. Remove from heat and stir in chicken, vegetables, peas, and season with salt and pepper to taste.
Pour mixture into a rectangular bake dish, about 9×12, and roll crust over top. Tuck or crimp any excess dough along the sides. Cut vents into the dough to avoid cracking the top during baking.
Place pot pie on baking sheet to catch any overflow, and cook for about 40 minutes or until the crust is golden brown and the filling is bubbling. Cool before serving.