Take a Better, More Relaxing Bath Tonight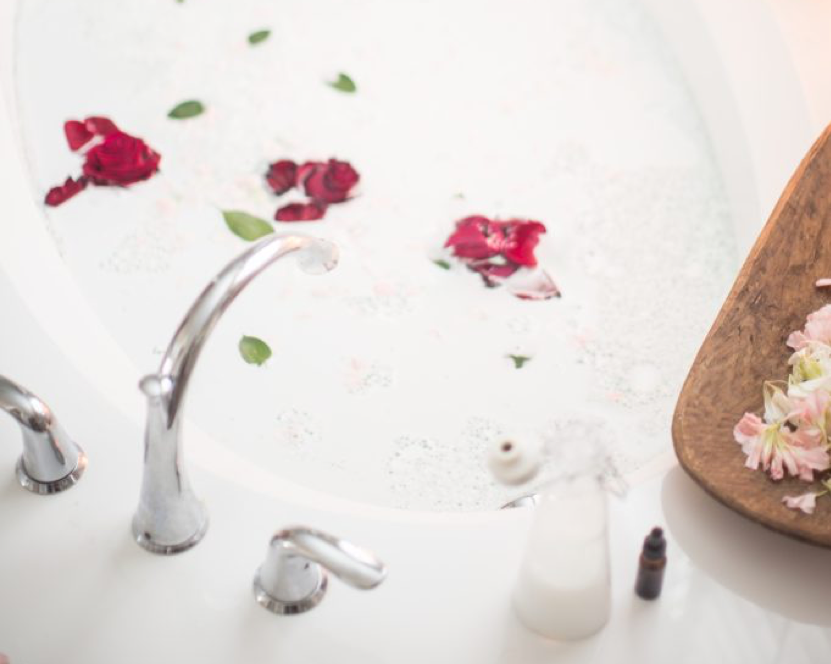 Bathing isn't just about getting in the tub with some hot water. No, bathing can be an experience of healing for your body that can relax you and melt daily stress away. It's about letting go of all your worries, taking a time out and letting yourself be still in the craziness of the world. If you ever thought baths to be useless, think again! A good bath can relax muscles, boost brain power, soothe dry skin, and improve sleep.
A few tips before you take a bath:
Shower. Rinse off before you get into the shower. Remember bathing isn't about getting clean. It's about relaxing and healing the body. Unless you want to bath in filth showering is recommend!
Clean your tub. Make sure you tub is clean and free of anything that might irritate your skin.
Gather your supplies. Before you get into the tub make sure you have all your supplies nearby. There's nothing worse than getting in the tub only to realize you forgot your towels.
For a beautiful and relaxing bath you will need a few things:
Flowers
Epsom salt
Essential oils
Milk bath (store bought or homemade)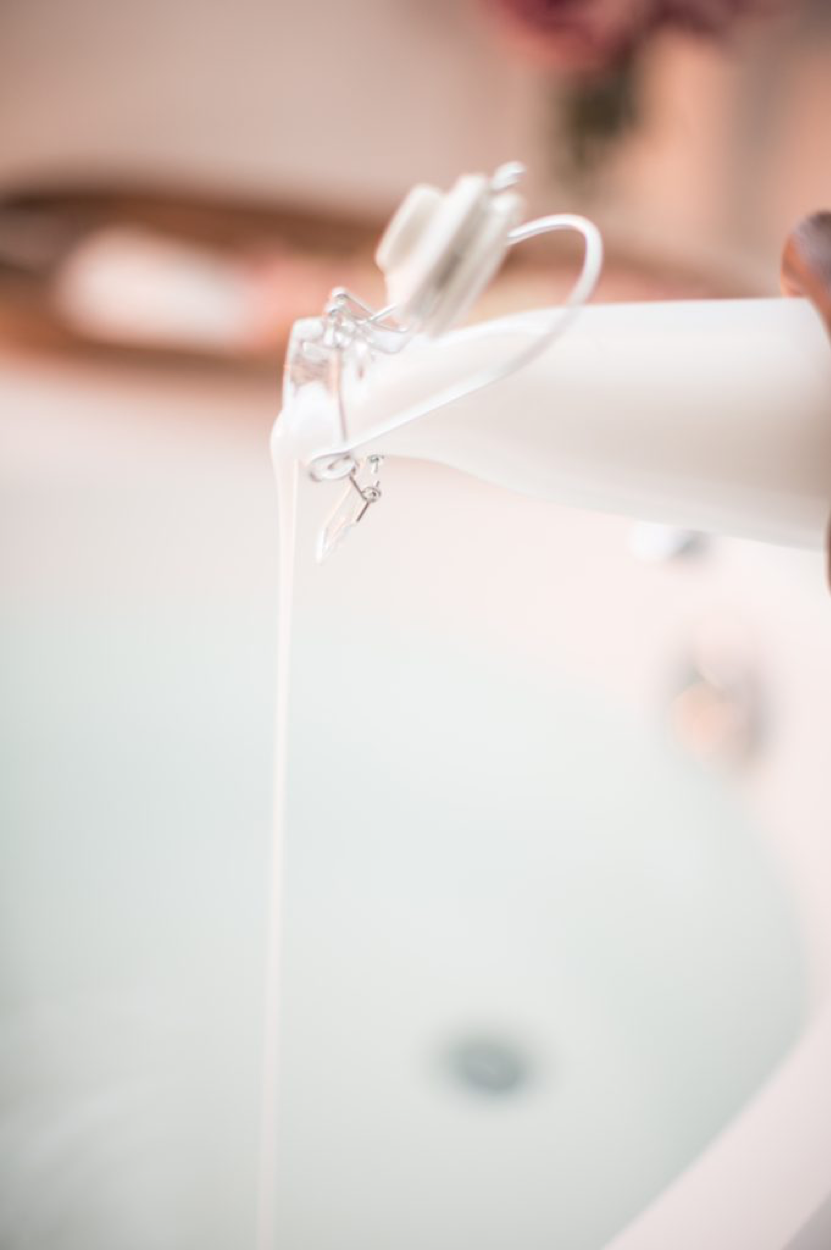 Milk Bath
Milk bath is solely for your skin. Soaking in milk will help any skin dryness and will smooth the skin. To enhance these properties and your own experience you can drop a few of your favorite essential oils into the bath as well like lavender or peppermint.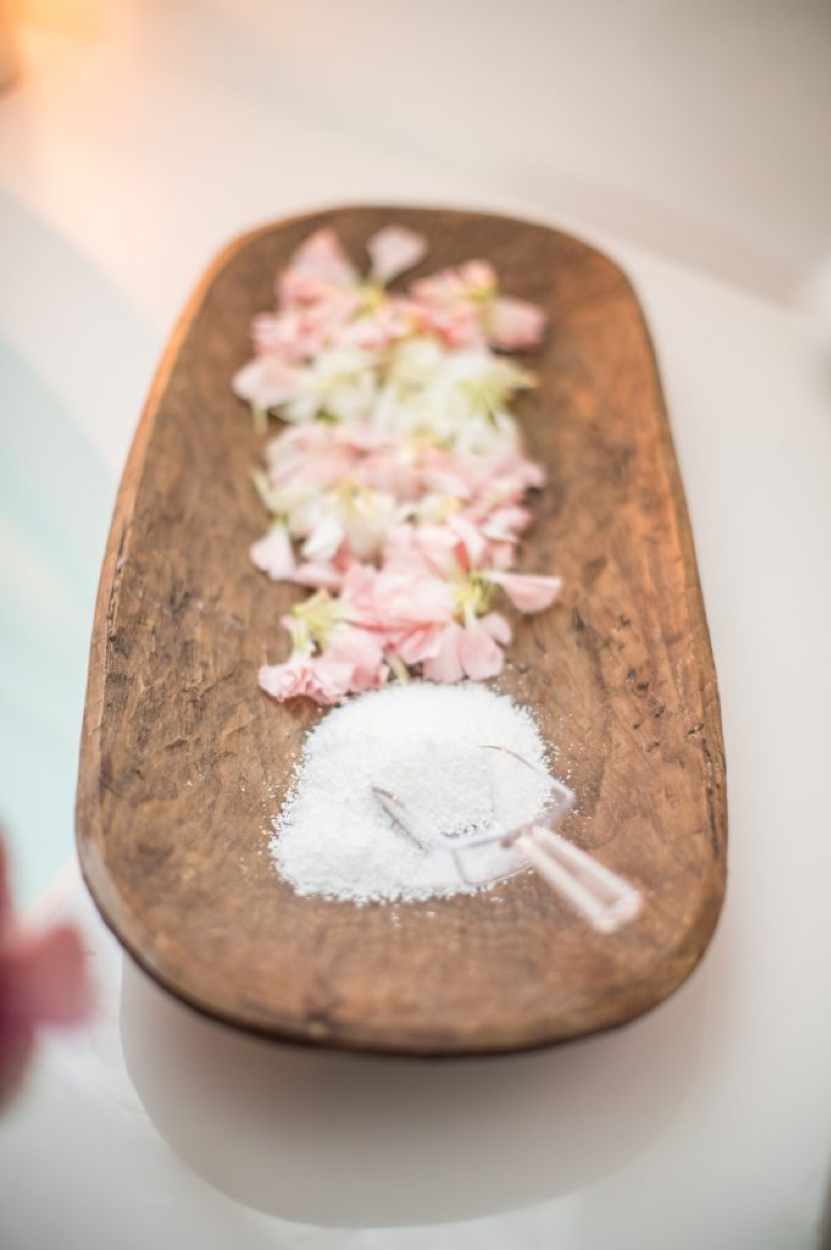 Salts
If you only add ONE thing to your bathing routine, Epsom salt should be it. Epsom salt is not really a salt at all! It's actually magnesium sulfate, a mineral that helps your body produce energy. Not only does do that, it soothes sore muscles and has many anti-inflammatory benefits too. It also helps cleans, smooth and detoxify your body. So whether its after a hard day at the gym or all the stress you seem to be carrying on your shoulders, Epsom salt baths can help really reset your body for a better day! Epsom salt can be find in any drugstore in the beauty and bath sections. I like to use anywhere from 2-3 full cups in my baths under running water so it dissolves quickly.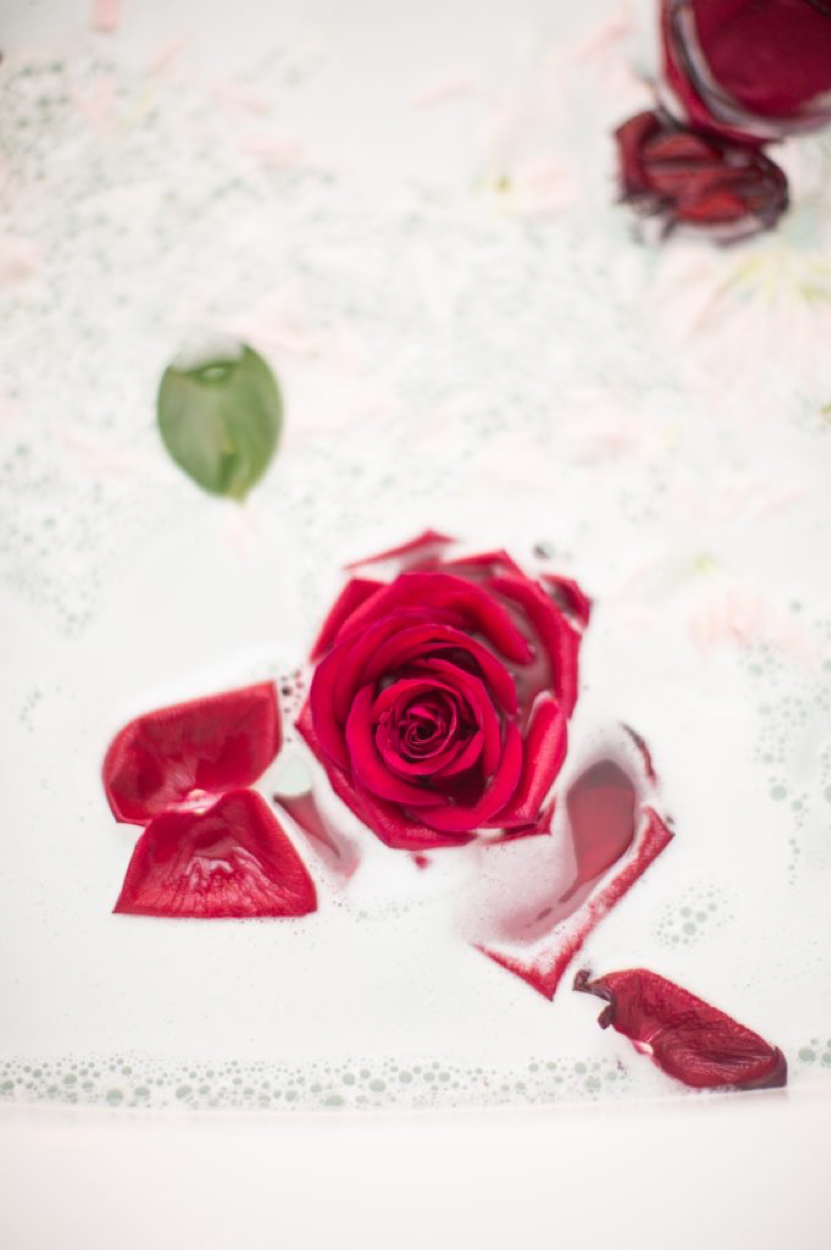 Florals
Rose petals are known to enhance your milk bath by calming and soothing the heart while relieving inflammation and toning the skin. Simply pluck petals from some organic roses and toss them into your bath. Let the steep for a about 10 minutes and then slip in to your gorgeous bath. Not only do the rose petals help with your skin. The beauty of them instantly boosts your mood and who doesn't need a little mood booster!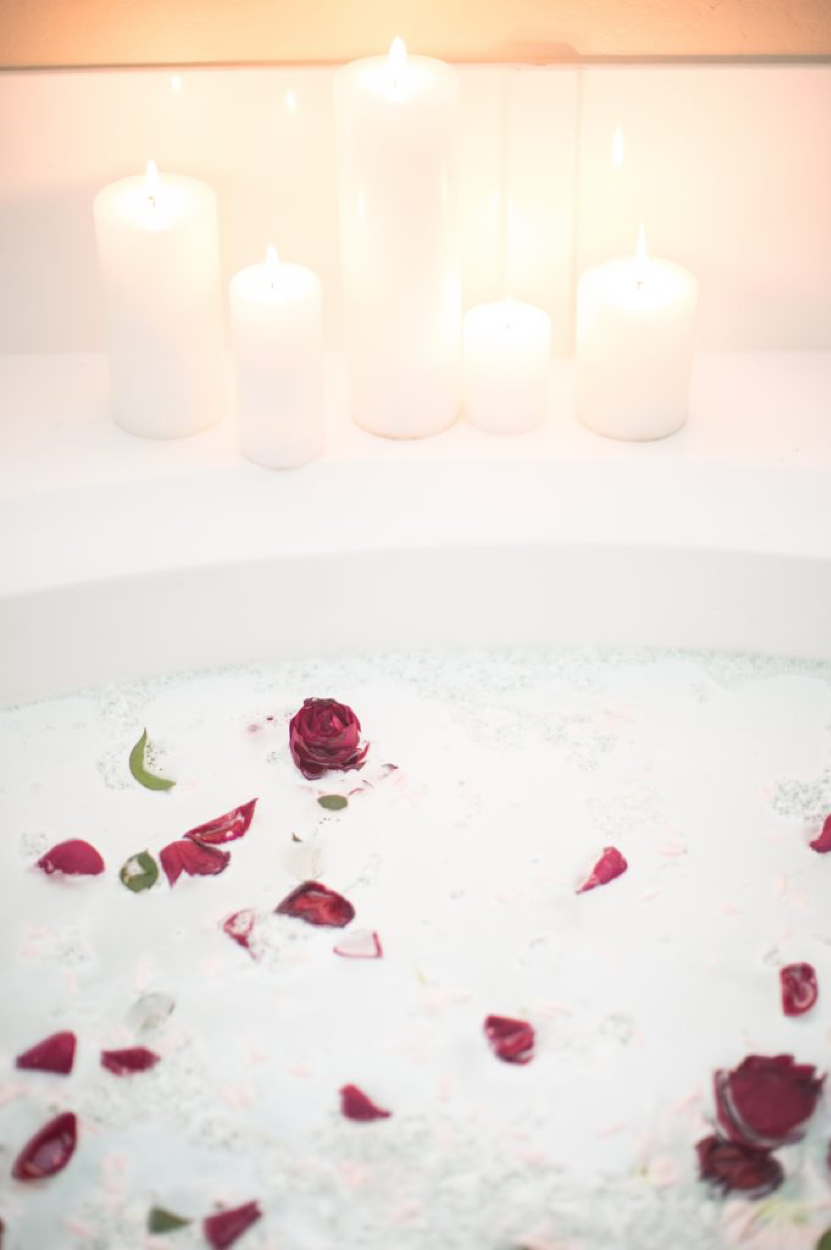 Ambiance
Ambiance is everything when it comes to your bath. Sight, sound and scents really do matter. I lit up a collection of Stone candles right on the rim of my bath to help with the sight and scents part! These Stone pillars have a multi-layer of scents that will bring your a different experience as you continue to burn them during your bath! The top layer of these candles have orange, grapefruit, spearmint notes. Once you reach the middle your will smell white tea leaves, geranium, lemongrass. After that musk, orris and ylang. So have multiple heights like this allows you to experience the scents all together!
Dimming the lights and lighting candles are the perfect way to quiet your mind. Also playing music from your favorite playlist helps transform your bathroom into a tranquil getaway. You won't want to leave!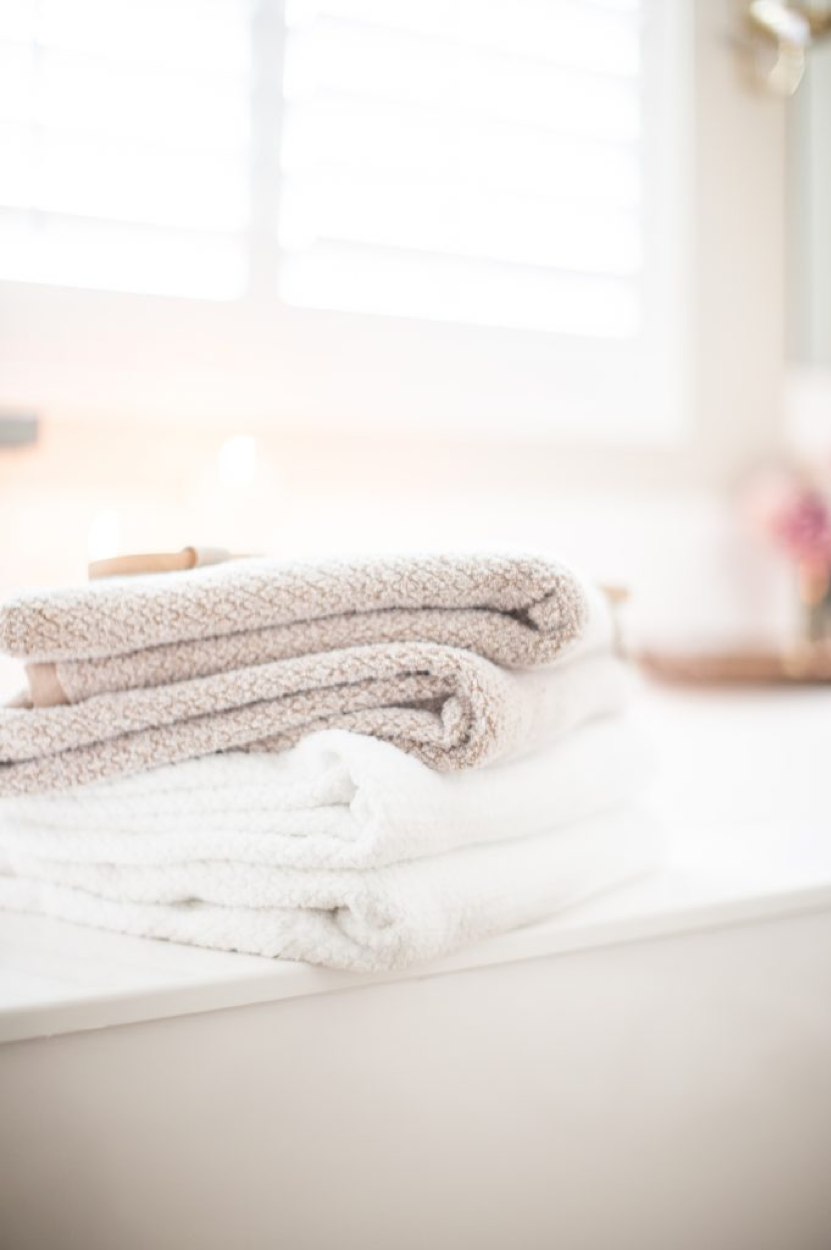 Stepping Out
Now that your finished your bath, your relaxed and ready to end your day it's important that you use a towel that won't irritate your skin and erase all that hard work you just did bathing. Make sure you blot your body with a clean towel that also leaves your skin feeling smooth and dry. These towels from EverPlush are designed to be lint free, extra absorbent, and long lasting. Even after wash after wash they are guaranteed to take care of you as long as you take care of them! The EverPlush Technology makes the towel feel like butter on your skin but somehow it leaves you feeling dry and fresh!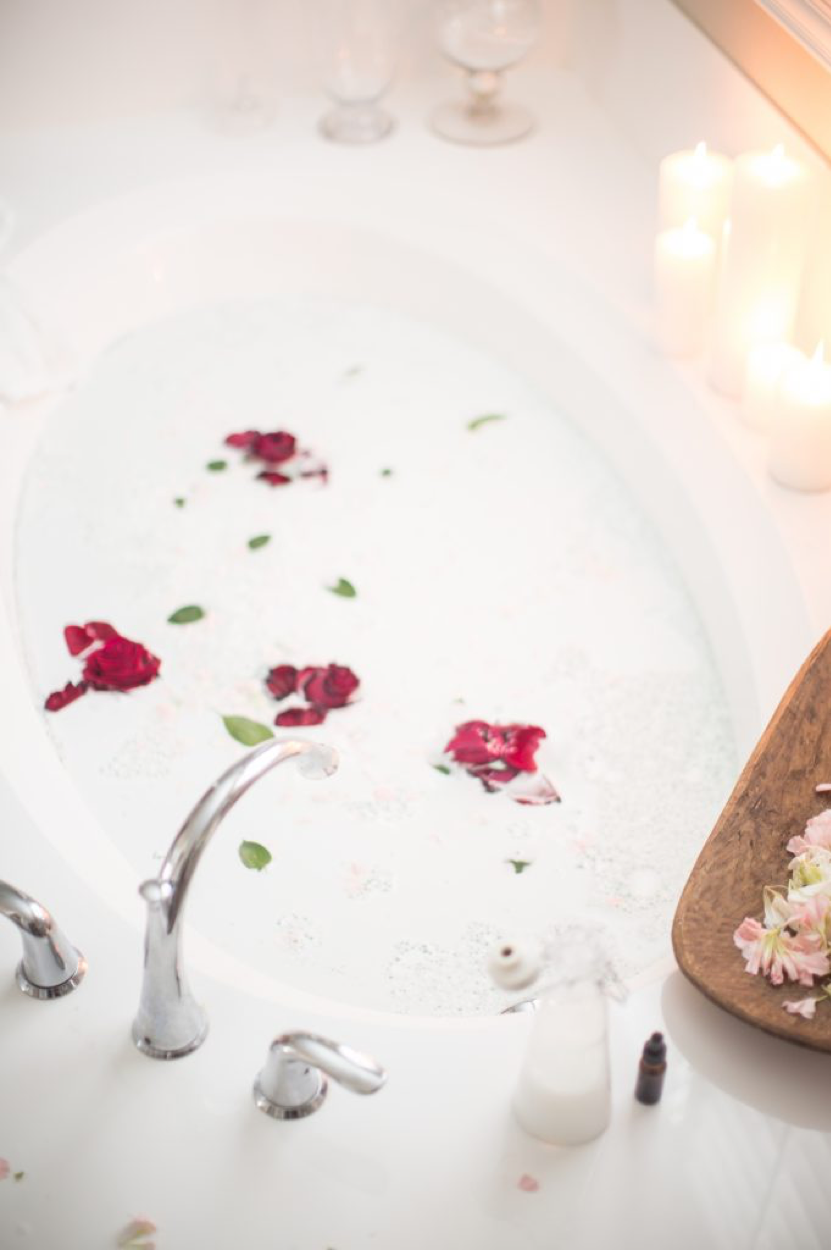 You owe it to yourself to take a better bath!