Sunday Supper: Making Memories with My Grandma's Meatballs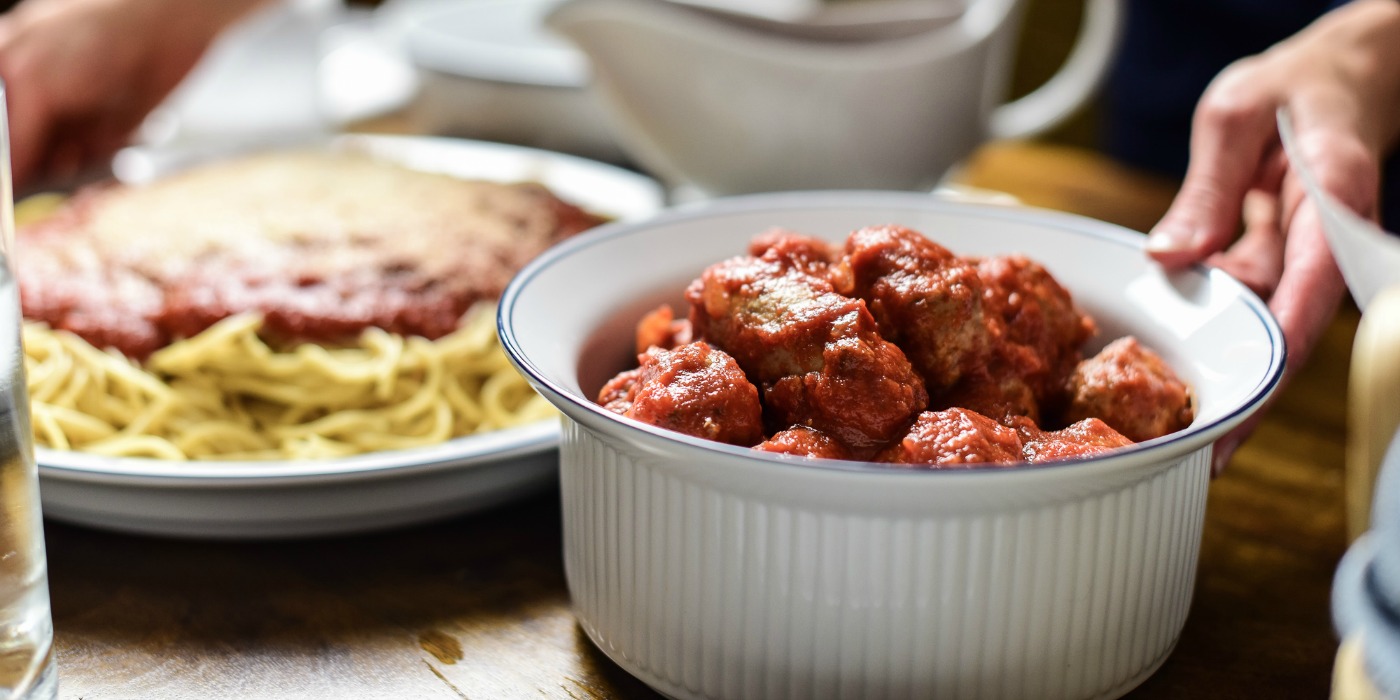 My Grandma Rose is almost 96 years old, in excellent health and beloved by all for her carefree attitude and world-famous homemade meatballs. She stays with our family often, which has allowed my children the exceptional opportunity to get to know their great-grandmother quite intimately. Whenever she visits she leaves us with freshly ironed shirts and a freezer full of meatballs. We are endlessly grateful that she is such a regular, cherished part of our lives.
Recently though, it occurred to me that my 4-year old daughter Lillian, hadn't yet been taught the art of meatball making with Grandma Rose (she calls her "GiGi"). I can still remember helping Grandma in her kitchen when I was that age and I know those moments played an enormous role in developing my lifelong passion for cooking. So, we asked Grandma and my Mom to come by one afternoon for a meatball making session spanning four generations.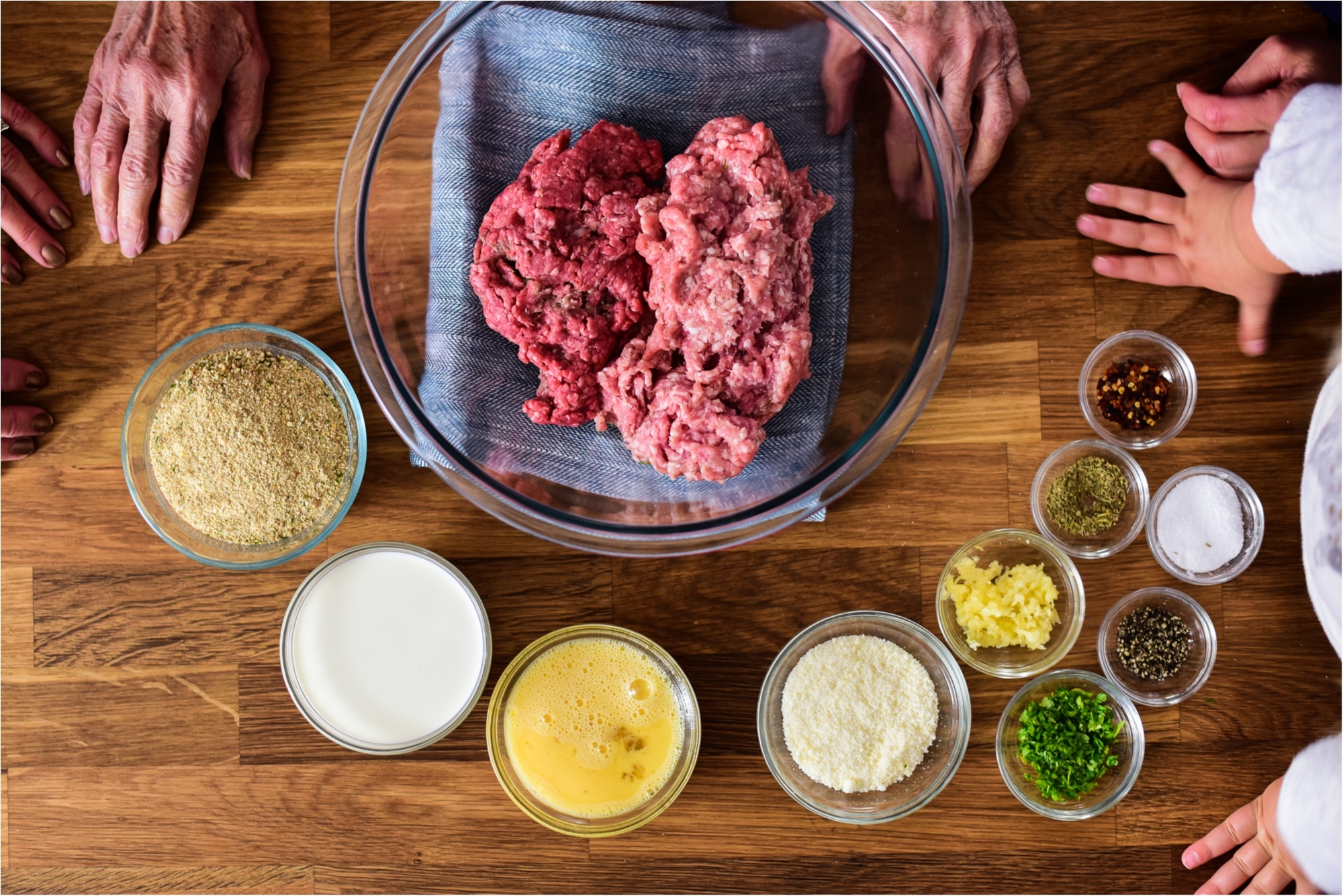 The process starts with two pounds of ground meat — in our family we use a mix of beef and pork. Then Grandma Rose adds seasoned breadcrumbs, milk, eggs, Parmesan cheese, garlic, herbs and spices.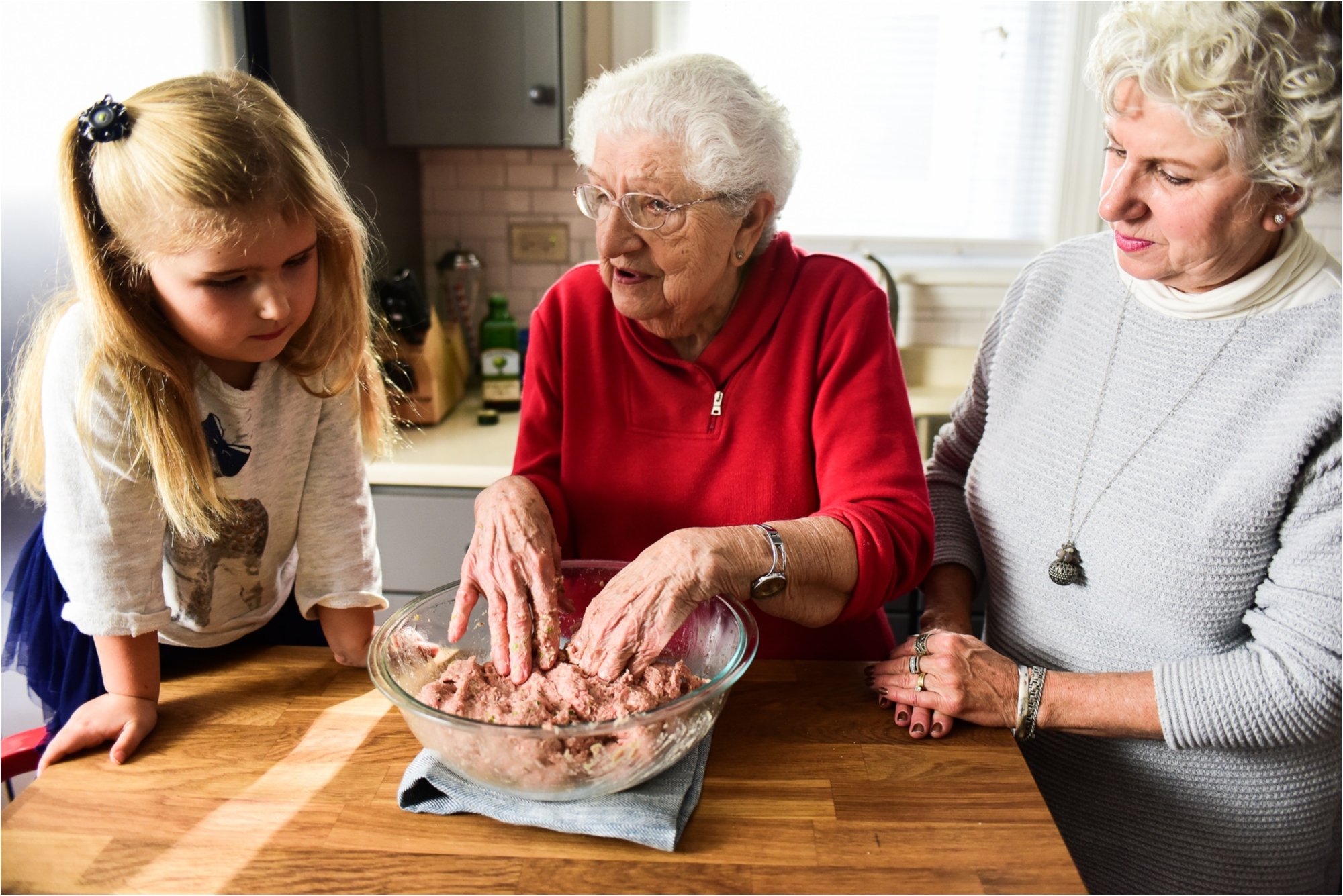 In all the years I've watched her, she's never once used a spoon for this step. Her wise, strong hands know just how long to incorporate the ingredients while maintaining a tender texture.
Next we roll. In our family, meatballs are about the size of a golf ball. Some folks make them much larger but we find this size is best for even cooking (and fits perfectly on a meatball sub).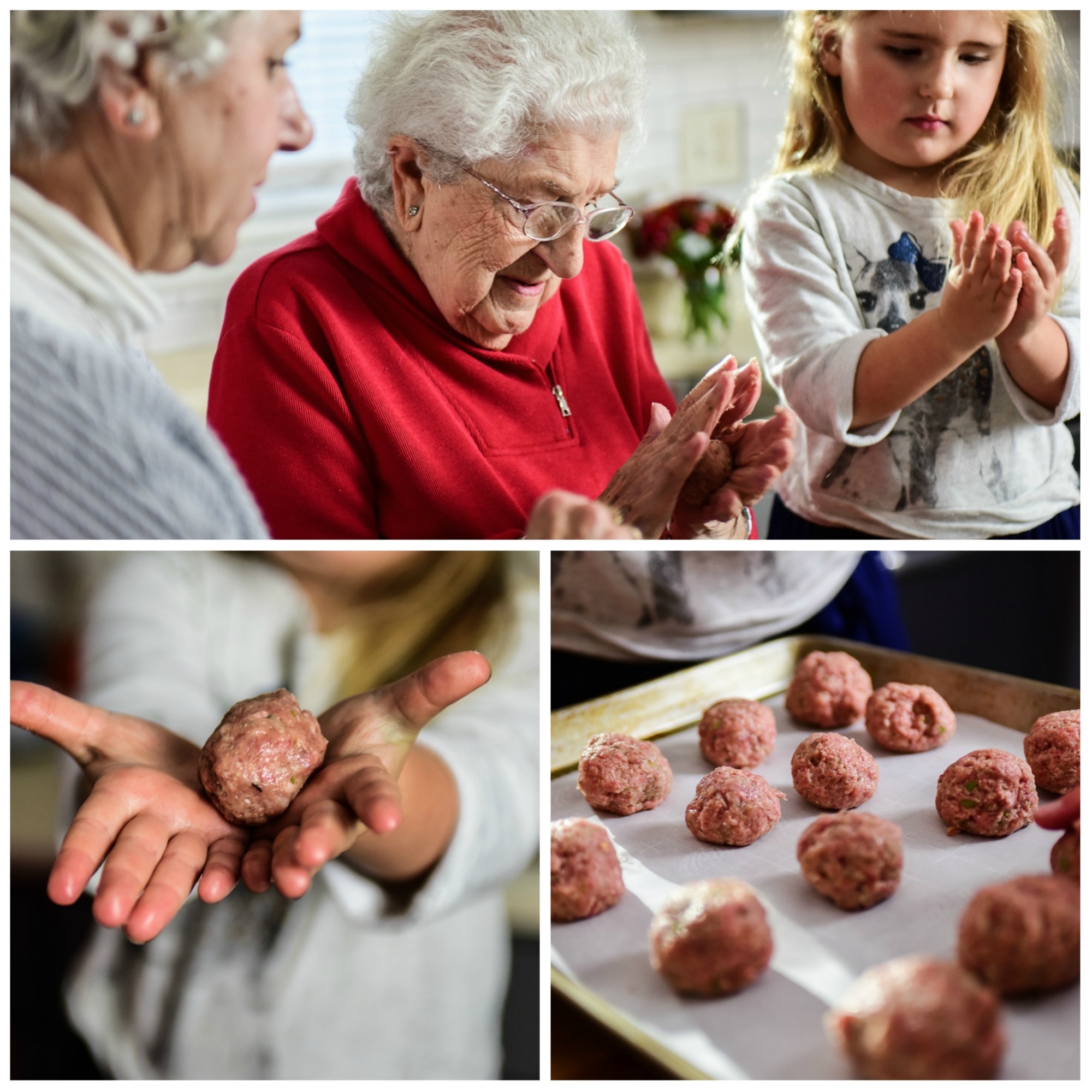 The raw meatballs are placed on a cookie sheet for baking in a hot oven for about 15 minutes. Once they are cooked, some are allowed to cool, then placed in the freezer for later use. They might end up in a pot of Italian Wedding Soup or tucked into sandwiches.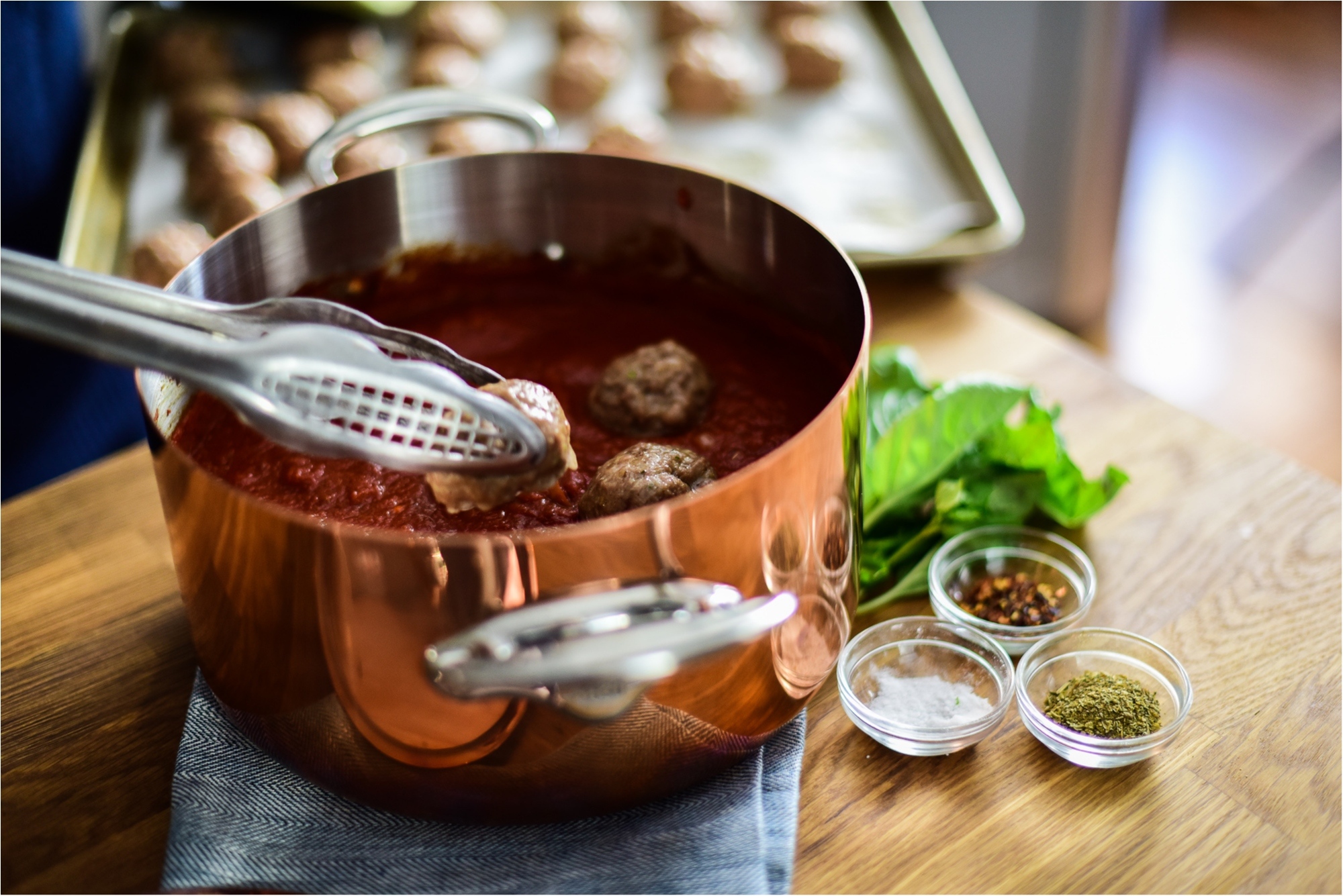 As for the rest of the meatballs, we gently transfer them to a pot of our family-recipe spaghetti sauce (sugo), which has been simmering on the stovetop for hours (visit my blog for our family sugo recipe).
For this step, I rely on my Cuisipro Grill Fry Tongs, which have an open design that allows most of the cooking fat to drip away from the meatballs before I place them in the sauce.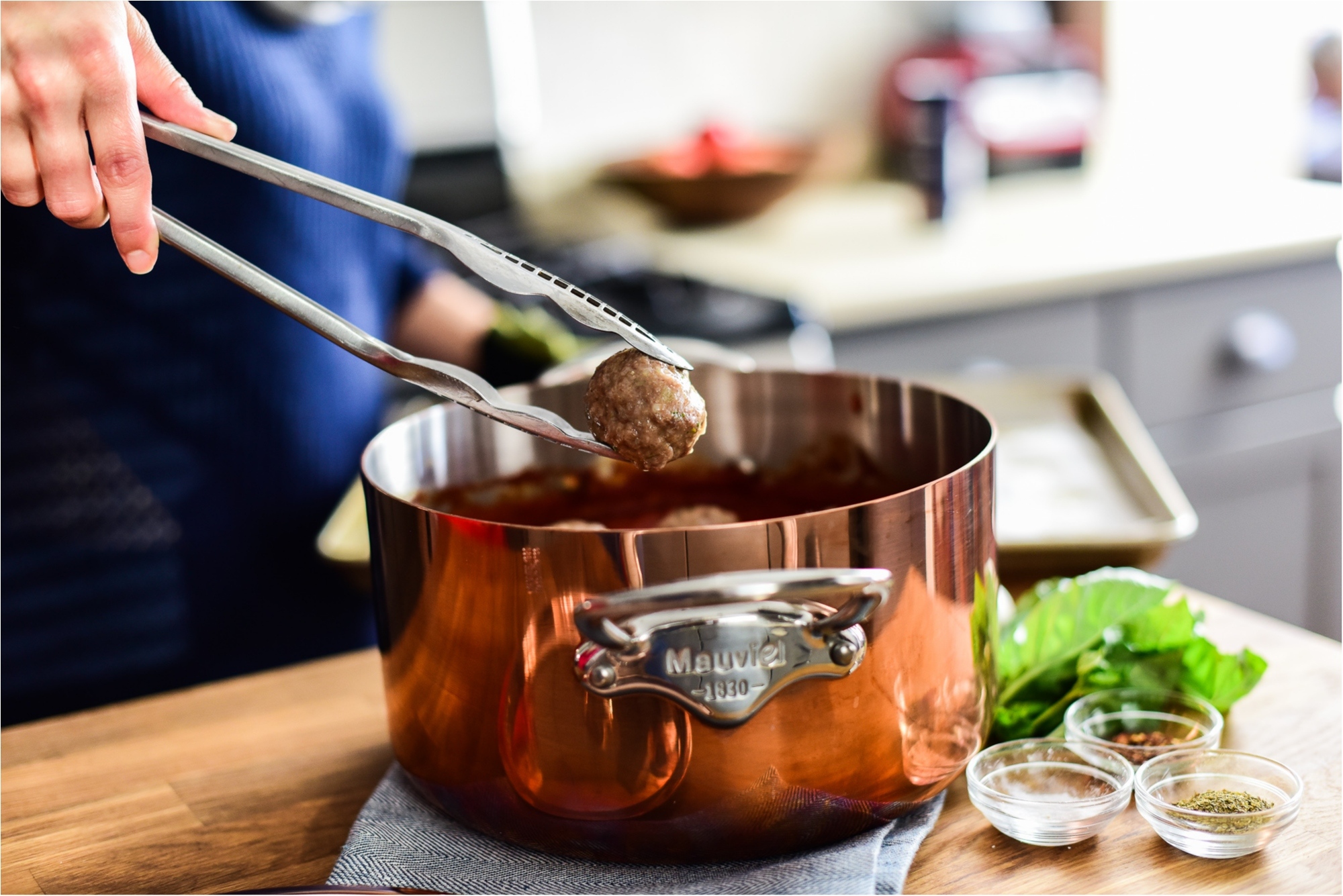 Once the meatballs are incorporated into the sauce, we place the pot back on the stovetop and let them simmer for several additional hours, which allows the flavors of the meatballs and sauce to meld and intensify. We consider these recipes to be family treasures and therefore we cook them in an heirloom-quality copper and stainless steel Mauviel Stew Pot. Its important to cook your sauce in a large, heavy bottomed pot designed for long, slow cooking.
When dinnertime approaches, we boil a pound of spaghetti and my mom tosses her signature Italian salad. The ingredients vary depending on the season but she always includes romaine lettuce, a copious amount of garlic and lots Parmesan cheese. This wooden salad bowl from Nambé is casually elegant and big enough to serve a crowd.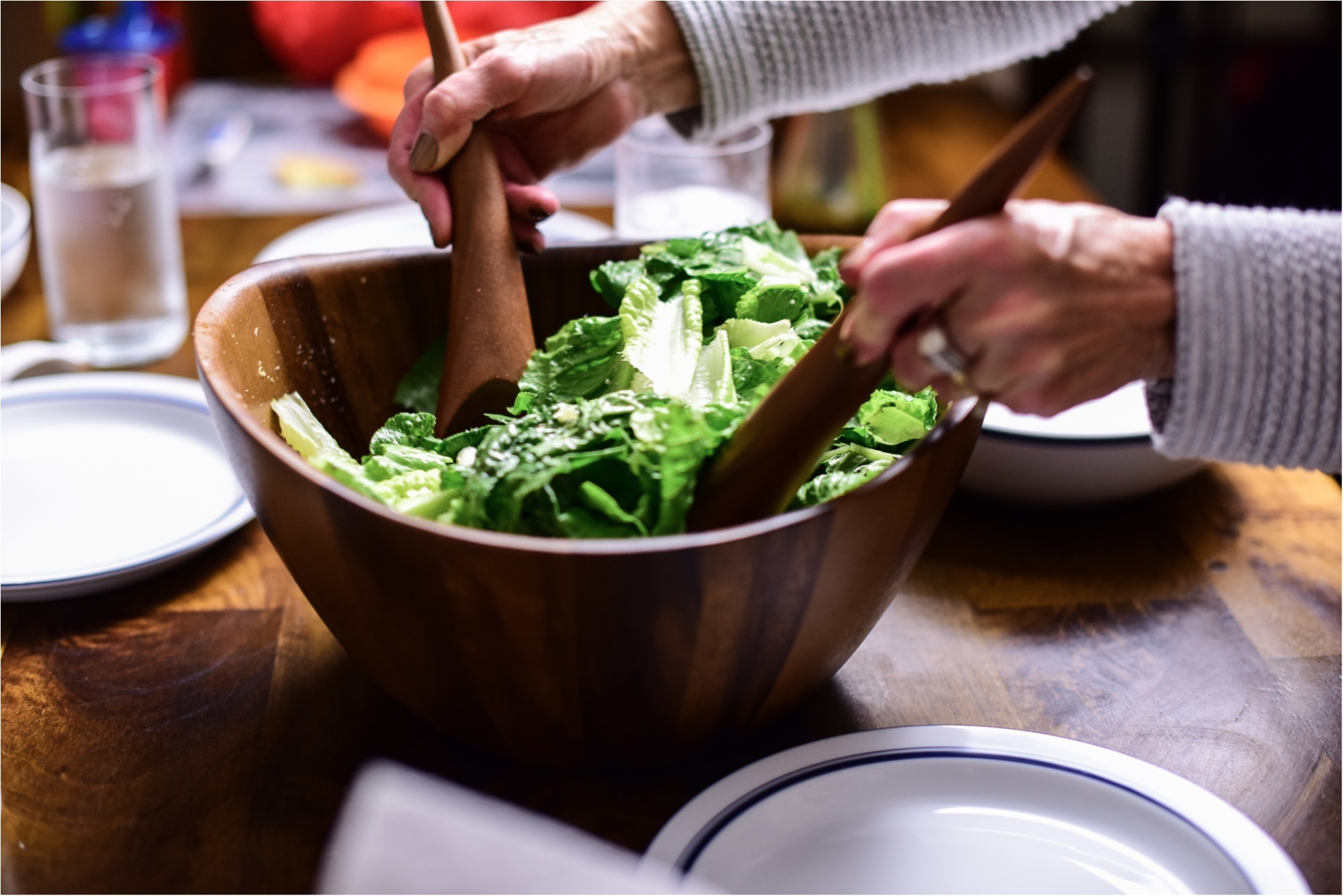 Finally, dinner is served. We set the table simply — pasta bowls and salad plates from the Lenox Bistro collection. Grandma's meatballs are always piled lovingly in a big serving bowl at the center of the table.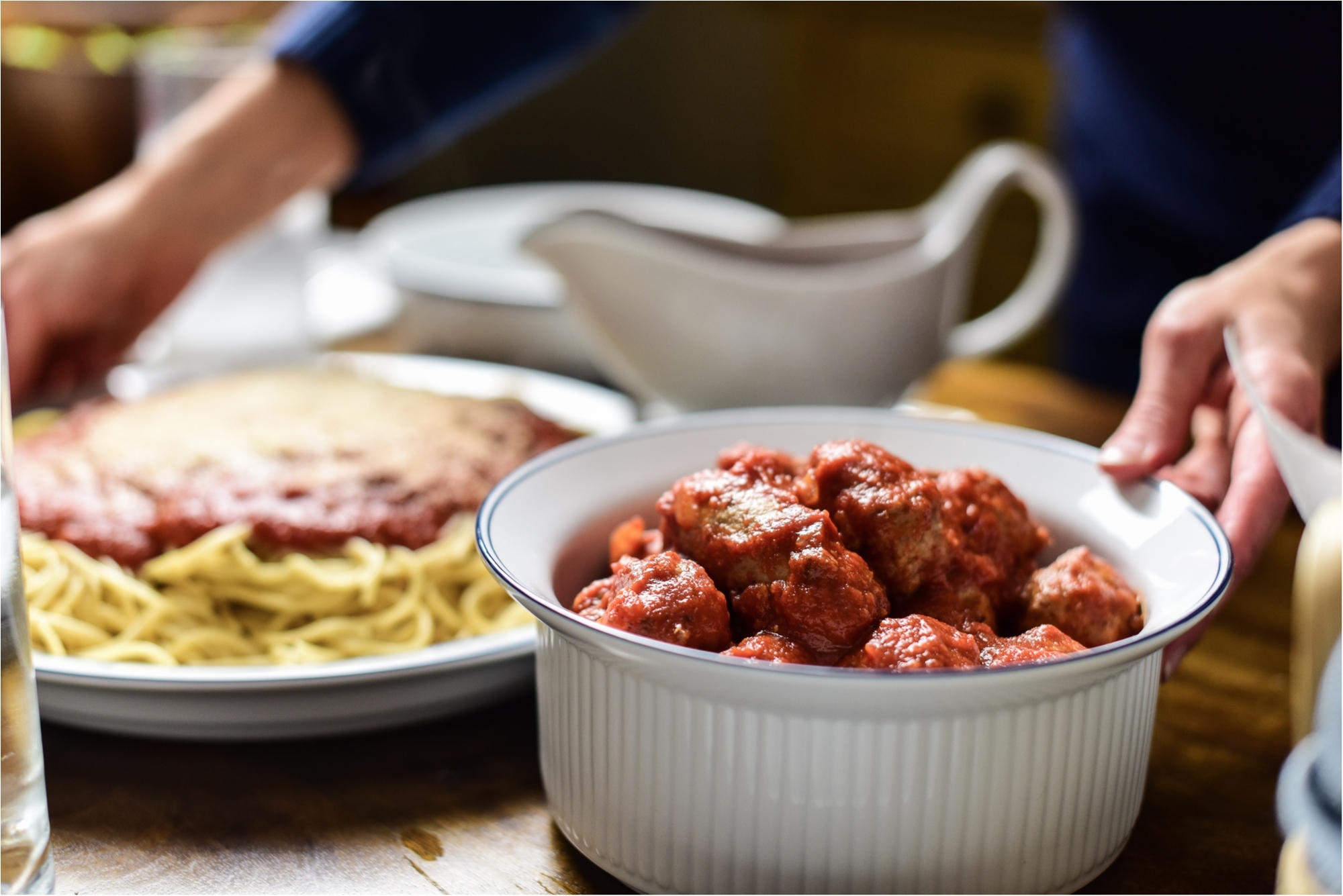 In our family, the very best memories take place in the kitchen and around the table. Every time we gather together, I'm reminded how blessed we are to have four generations of memories on our plates and in our hearts.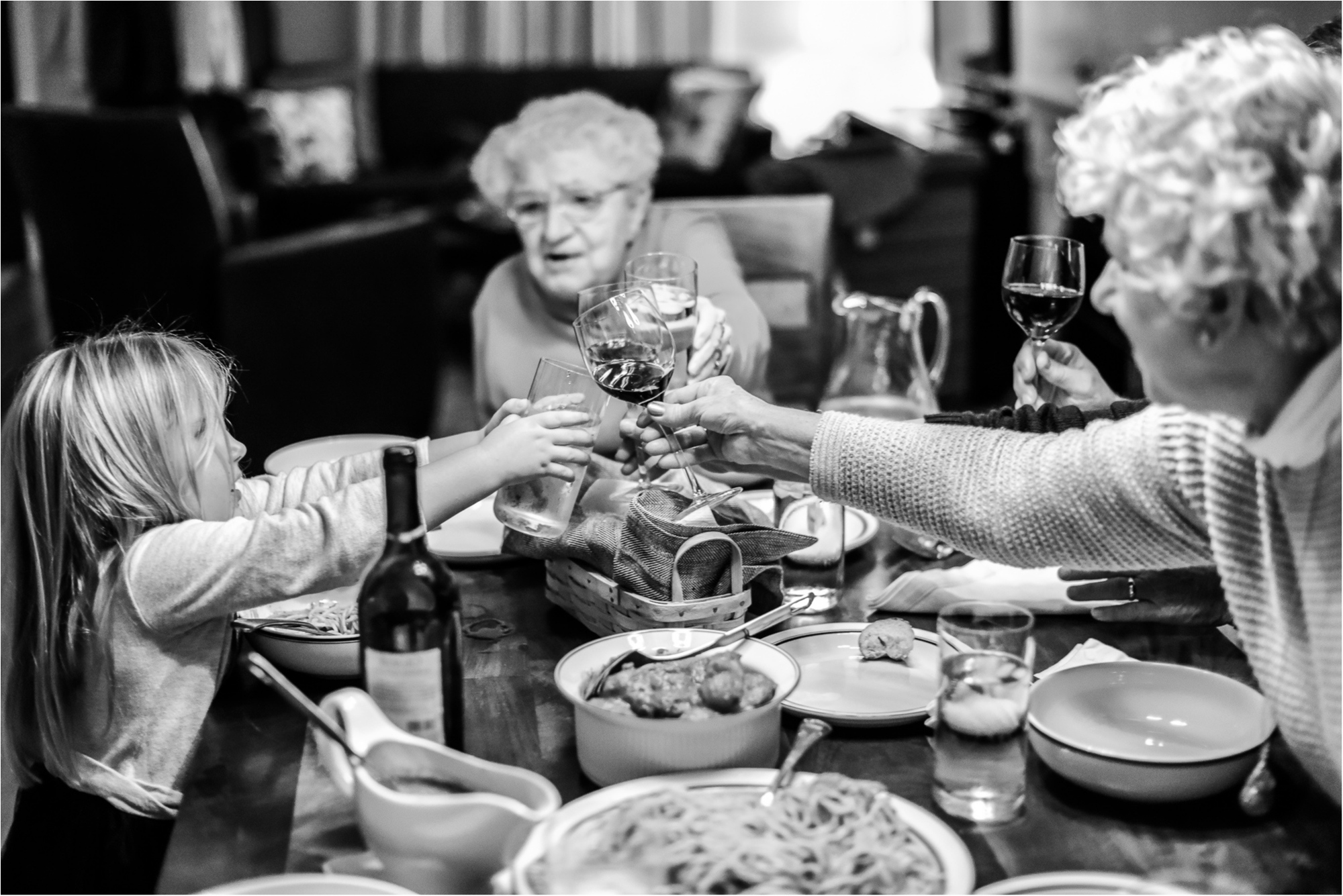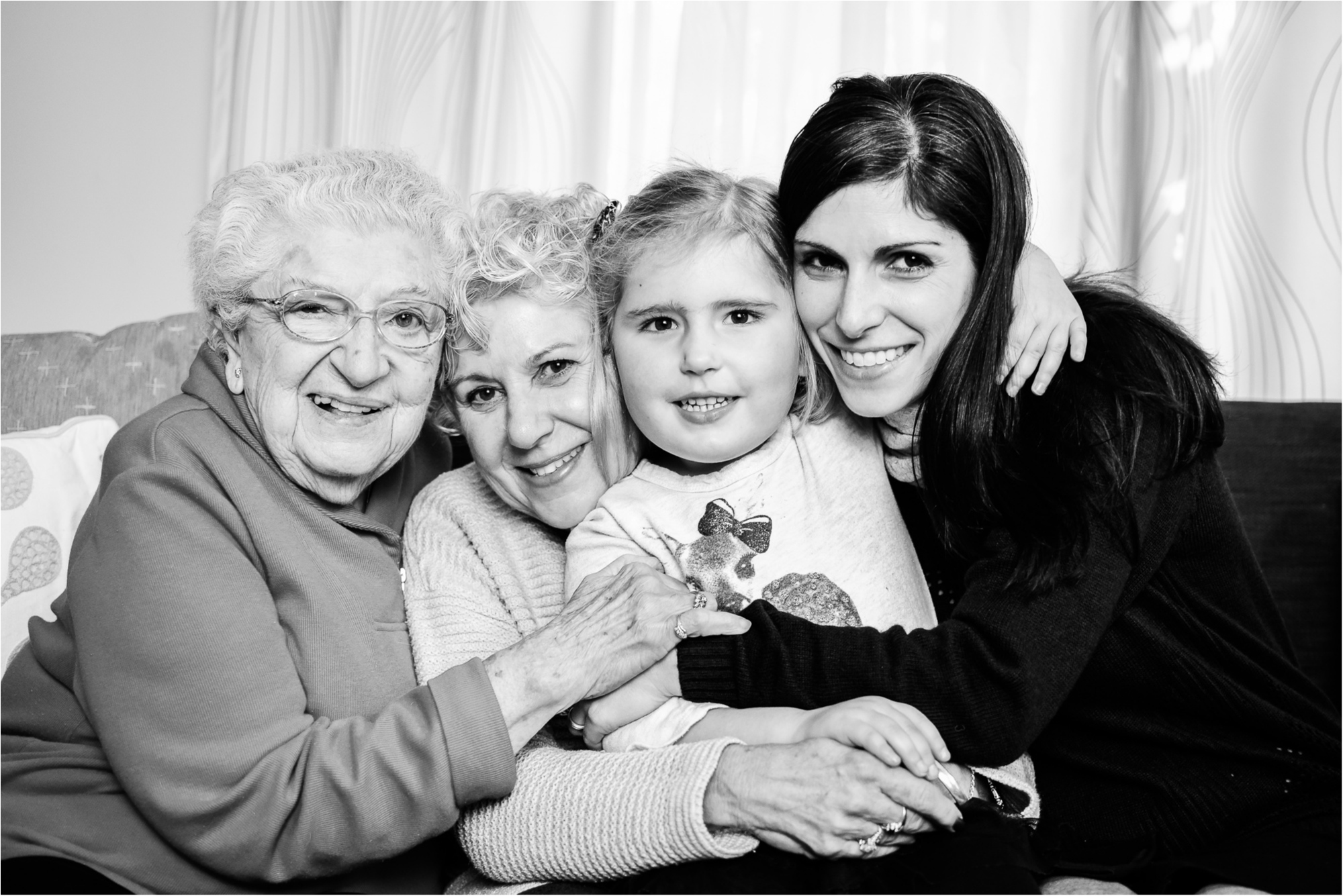 Wishing you a season of warm hearts and full bellies, from our family to yours.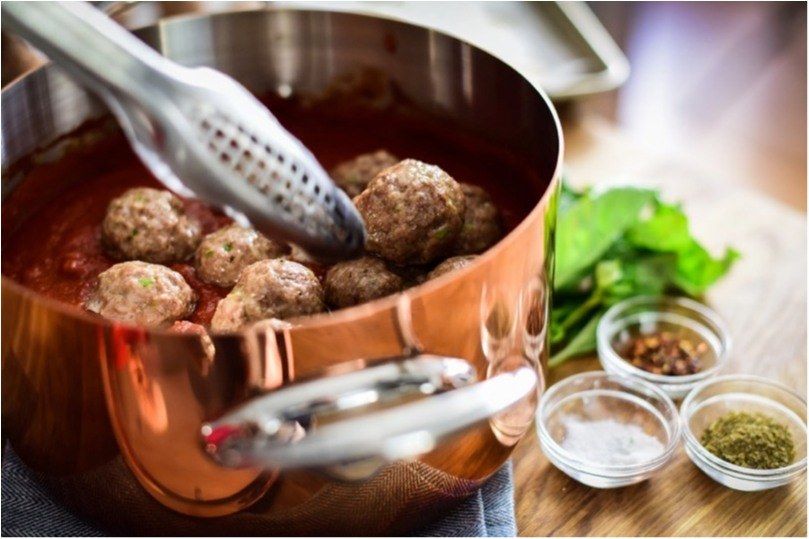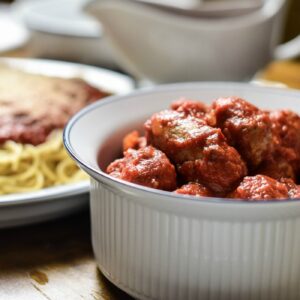 INGREDIENTS
1 lb. ground beef
1 lb. ground pork
1/2 cup Italian seasoned breadcrumbs, plus and additional ½ cup reserved
2 eggs, beaten
1/2 cup lowfat milk
4 tablespoons Parmesan cheese, grated
4 cloves garlic, crushed
1 teaspoon Italian seasoning
1 teaspoon fresh parsley, chopped
½ teaspoon red pepper flakes
½ teaspoon Kosher salt
½ teaspoon ground pepper
INSTRUCTIONS
Preheat oven to 350 degrees F. Line a half sheet pan with parchment paper. Set aside.
In a large bowl, combine ground beef and pork, 1/2 cup of breadcrumbs and remaining ingredients. Use your hands to evenly mix the ingredients, adding additional breadcrumbs if needed, until the mixture reaches the consistency of cookie dough.
Using clean hands, grab a golf-ball sized amount of the meat mixture and roll into a ball. Place meatballs evenly spaced on the prepared sheet pan.
Bake meatballs in preheated oven for about 15 minutes.
Immediately add meatballs to a large pot of simmering spaghetti sauce or allow meatballs to cool completely before freezing for later use.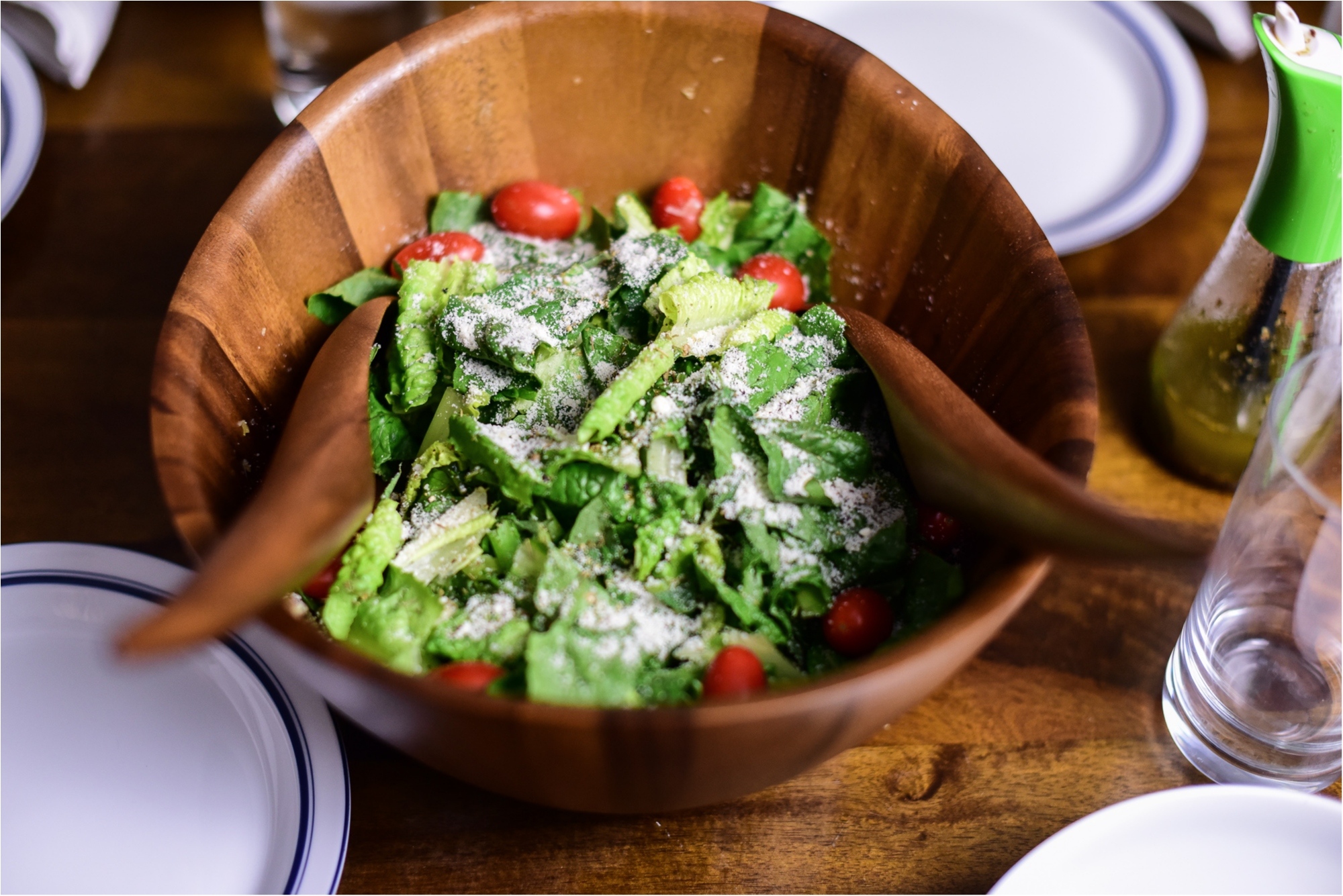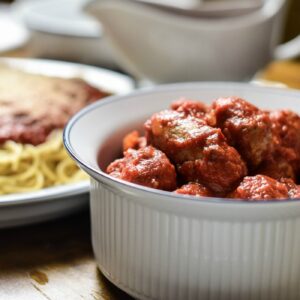 INGREDIENTS
1 clove garlic, sliced
2 hearts of romaine, red leaf or other lettuces of your choice, washed and torn in to bite sized pieces
Diced cucumber, carrots or other fresh vegetables
Parmesan cheese
Grape tomatoes
Italian olives, pitted and chopped (optional)
Italian croutons (optional)
2/3 cup extra virgin olive oil
1/3 cup red wine vinegar
3 cloves garlic, crushed
1 teaspoon Italian seasoning
1/2 teaspoon sugar
1 teaspoon Kosher salt
1 teaspoon ground pepper
INSTRUCTIONS
Rub garlic halves on the inside of a large, wooden salad bowl, then discard clove. Arrange lettuce, vegetables, Parmesan cheese, tomatoes and olives in salad bowl. Cover bowl with a damp paper towel and place in refrigerator until ready to serve.
Combine olive oil, red wine vinegar, crushed garlic, Italian seasoning, sugar, salt and pepper in a salad dressing shaker and shake to emulsify.
Just before serving, remove salad from refrigerator, sprinkle croutons on top and drizzle with desired amount of dressing. Toss until dressing is evenly distributed and serve immediately.