A Pretty in Pastel Mother's Day Table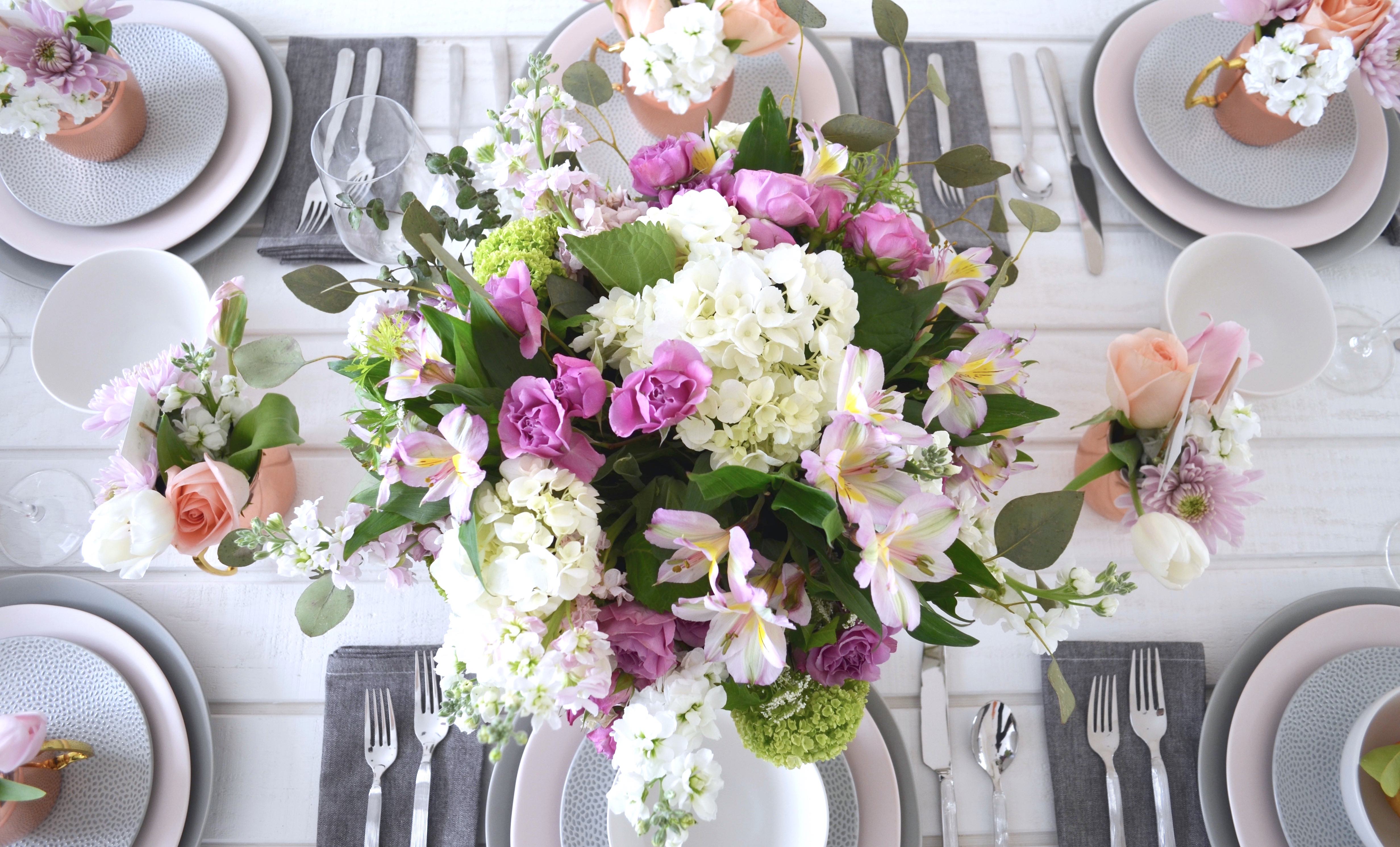 Who doesn't love pampering their moms on Mother's Day?
It's the day to say thank you to the hardworking women in our lives who taught us everything we know, had big dreams for us and shaped us into who we are today. They made thousands of dinners, attended every event, cheered us on at the sidelines, and gave us strength, courage, guidance, confidence, support and all their love.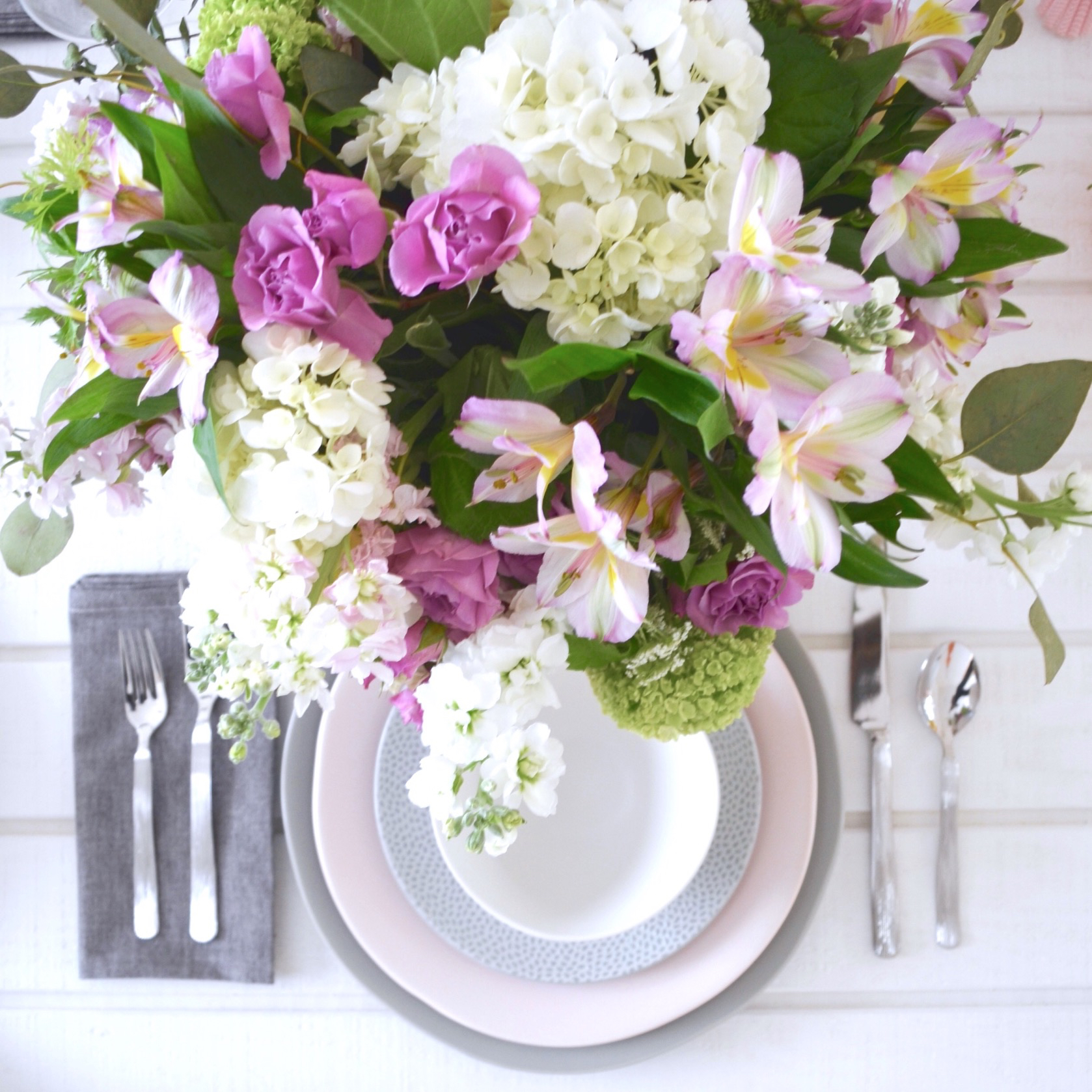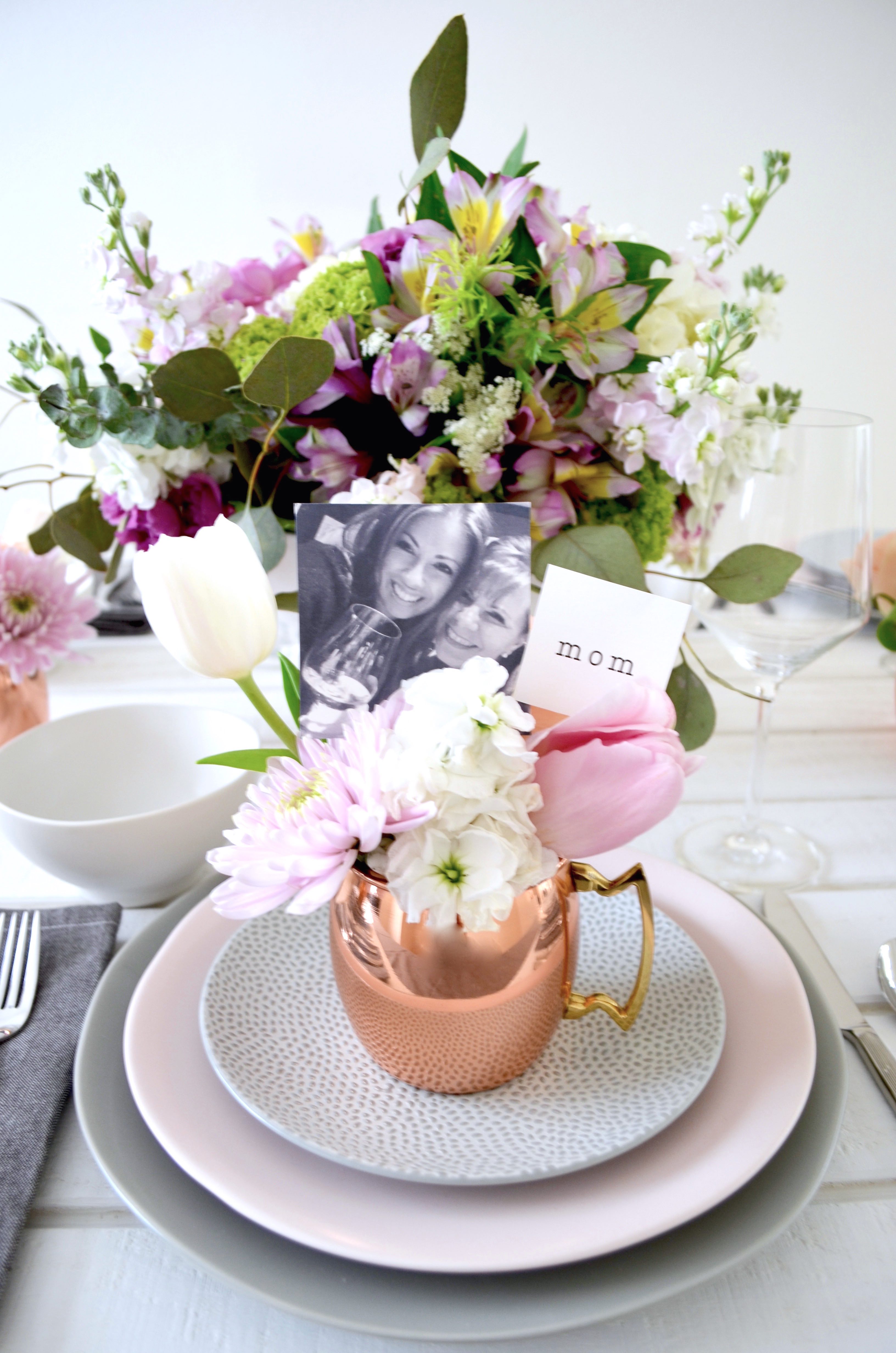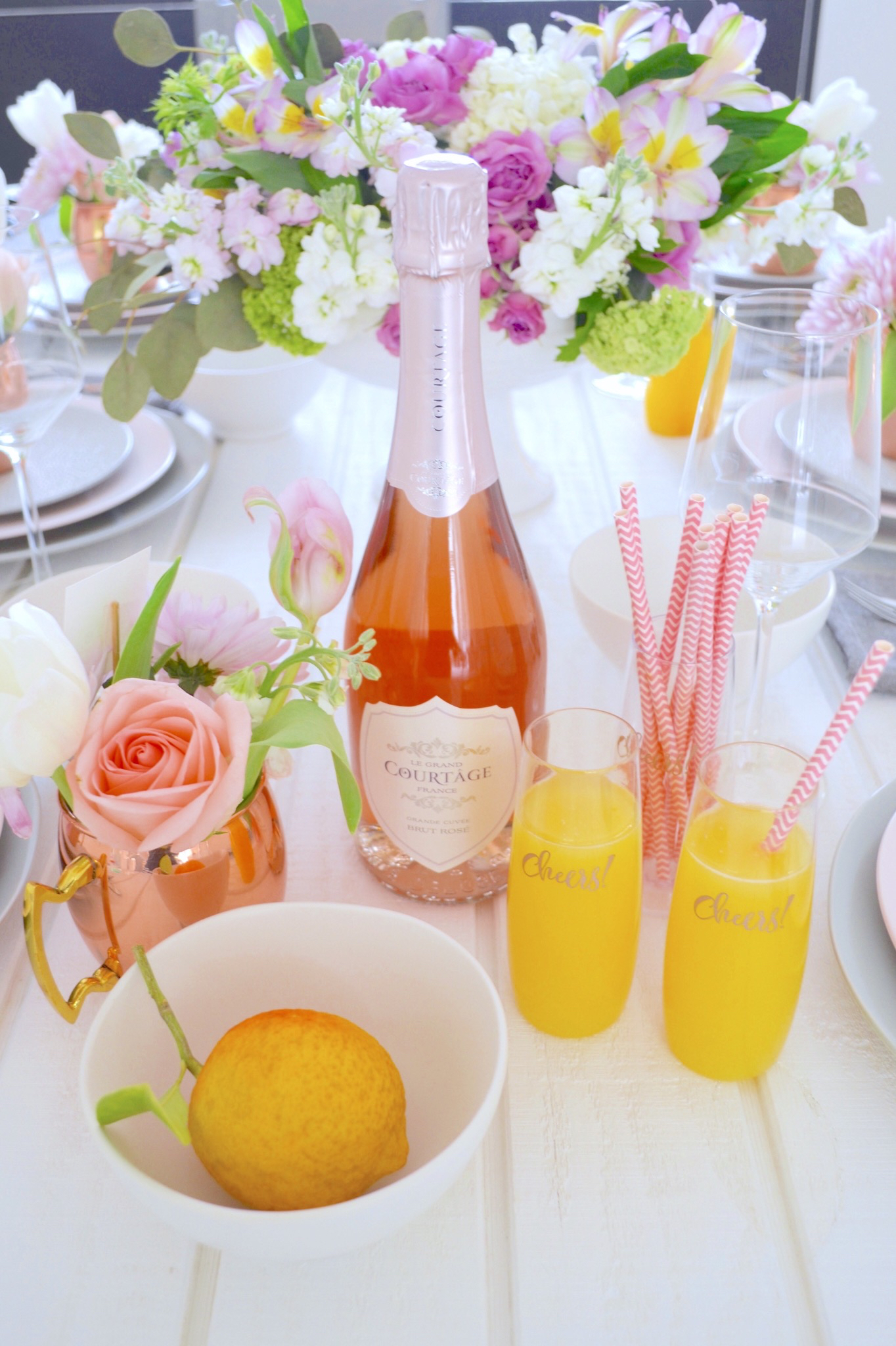 A Mother's Day brunch or any party only takes a few ingredients; a creative color palette, an easy, but mouthwatering menu, fresh blooms, and a table filled with family and friends. Add your favorite bubbly (we're serving a peach, orange and mango Tropical Mimosa, with a French 75 option) and you're on your way to celebrating the woman who set many tables for you.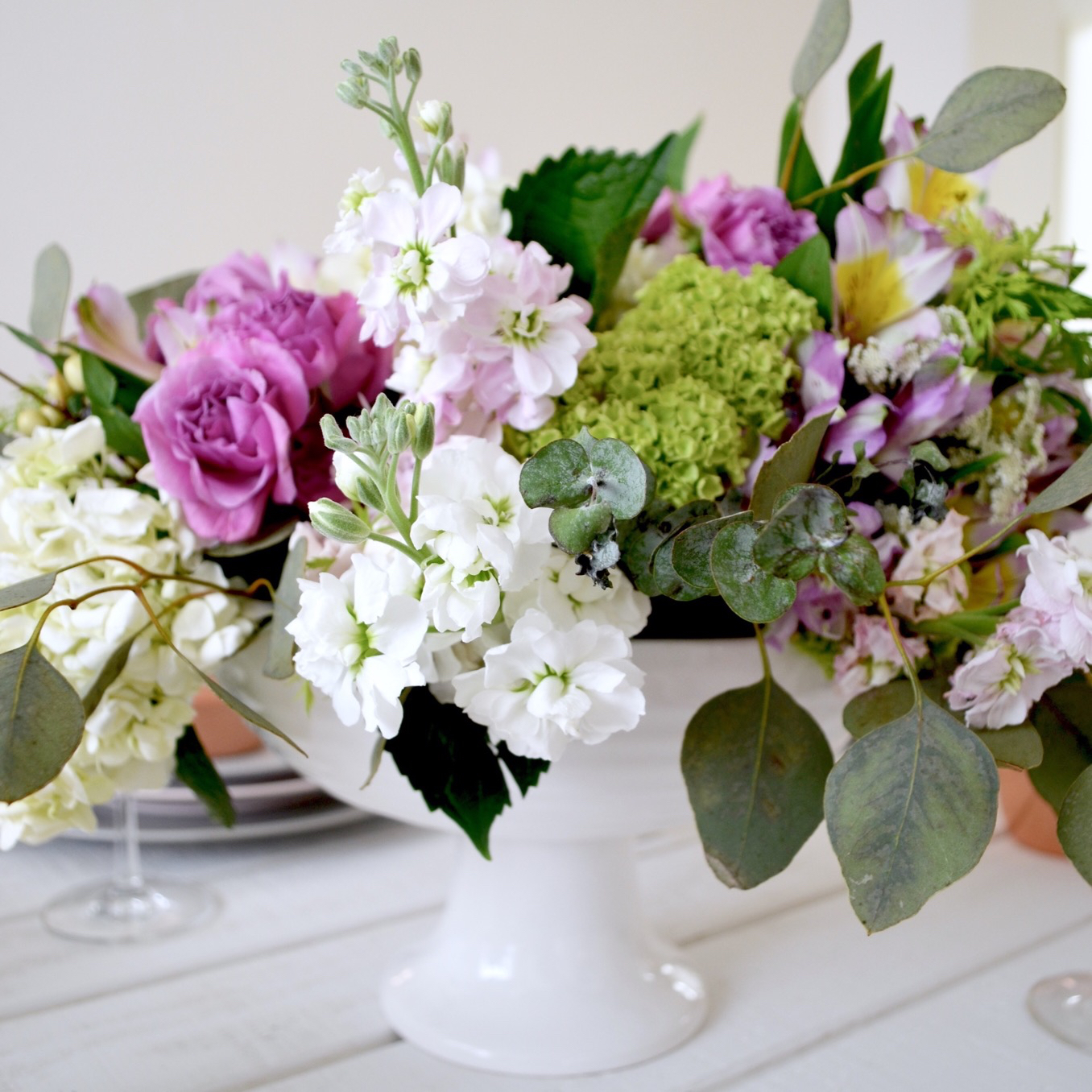 Color Palette: Straight off the spring palette and runway, a range of sweet hues with pops of color.
Tabletop: A casual backdrop, satin layers of blush, gray and linen shaded dinnerware, textured flatware, coordinating napkins, serveware, and a combination of our favorite stems and fun glassware. For each placesetting, I layered an Heirloom Gray Charger Plate and Heirloom Blush Dinner Plate , a textured Cobble Gray Salad/Accent plate and topped it with an Heirloom Linen Rice bowl, and complimented each one with Schott Zweisel PURE stemware all by Fortessa .
Great news! Just in time for Mother's Day, Fortessa is offering my readers 15% off their entire site. Awesome, right? Use code TABLE+DINE at checkout.
The Skandia Birch Flatware, Now Designs Pewter Chambray Napkins and the copper mugs for each placesetting were perfect accents to my gray and blush palette. I can't say enough about the Staub Cocottes and cookware. I made homemade minestrone to test them out, and they honestly bring the cooking experience to another level and I love that they are stove or oven to table.
Florals: A lush mix of beautiful blooms, think hydrangeas, stock, tulips, roses, orchids and mums as a centerpiece, with a mini-version for each placesetting.
Menu: If you're a mom, too, it's your day off! Enlist your husband, dad, brother and cousins to take over for the day so that you can enjoy, too.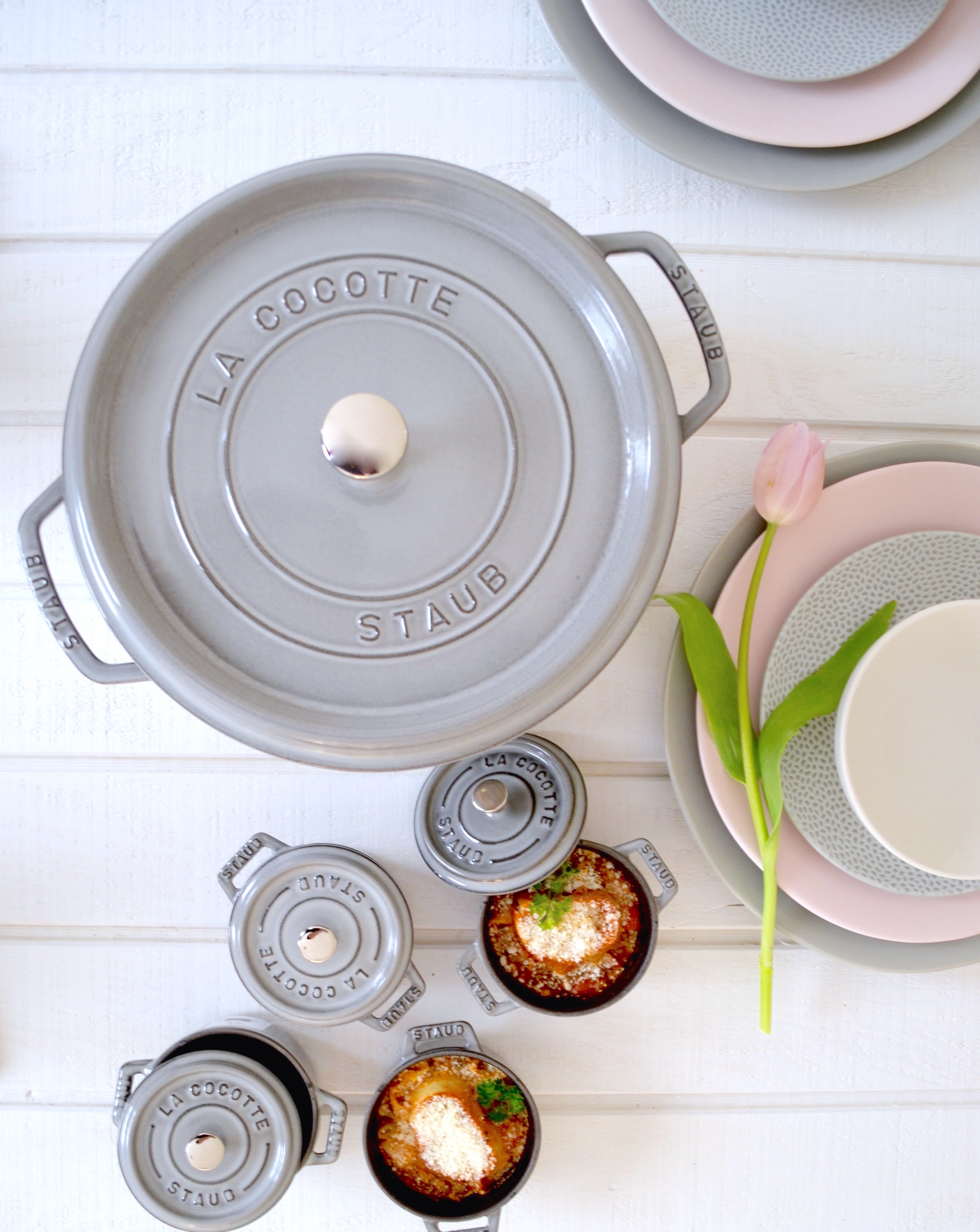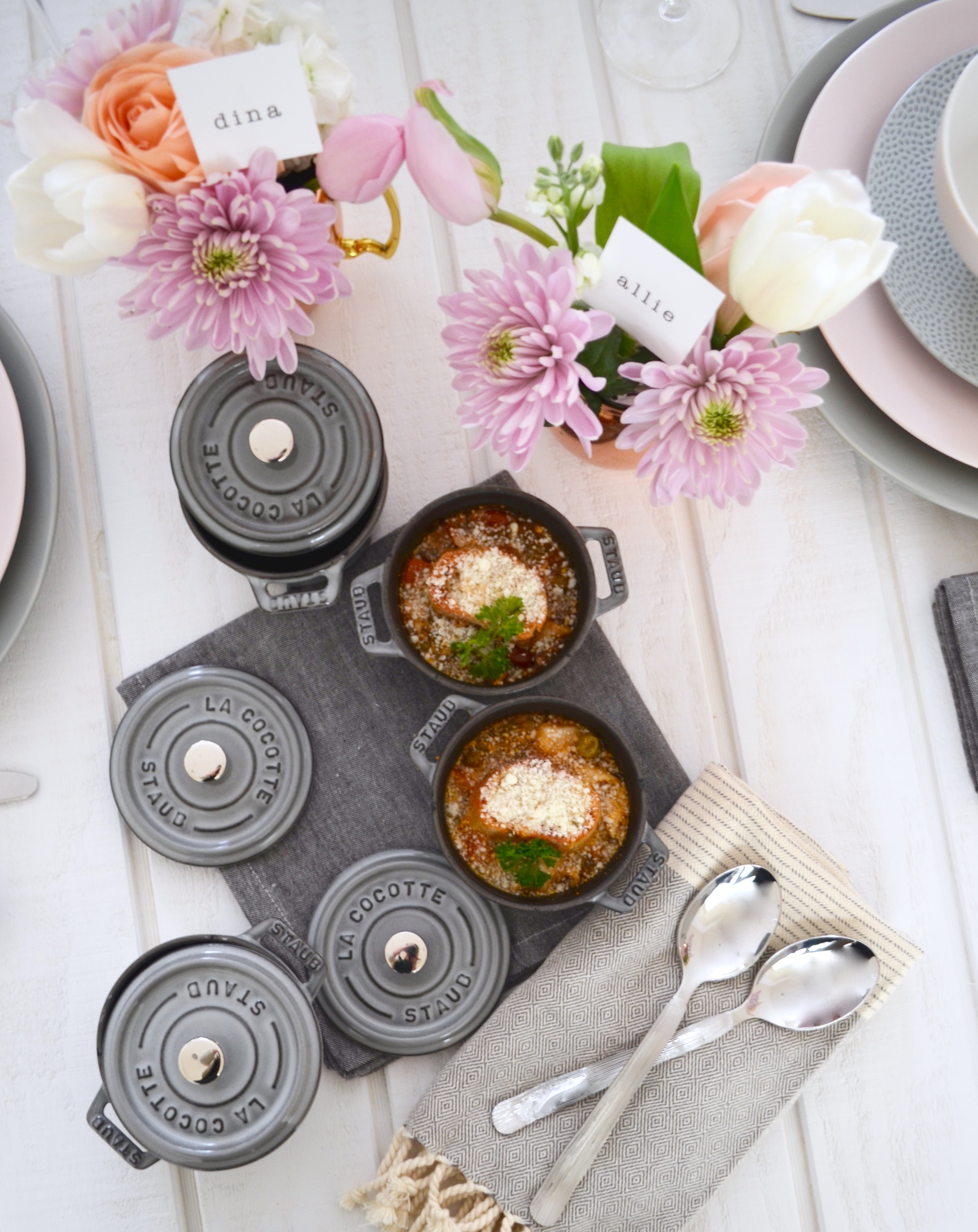 Idea to Try: I love to say thank you to my guests for joining us! Create mini bouquets for each placesetting that double as placecards, decor and make a perfect thank you gift for your guests. Add a snap of you and your mom to her placesetting, a grandchild or each guest and your mom for everyone at the table. I guarantee the thought behind this thoughtful gift will be the one mom (and your guests) will remember the most.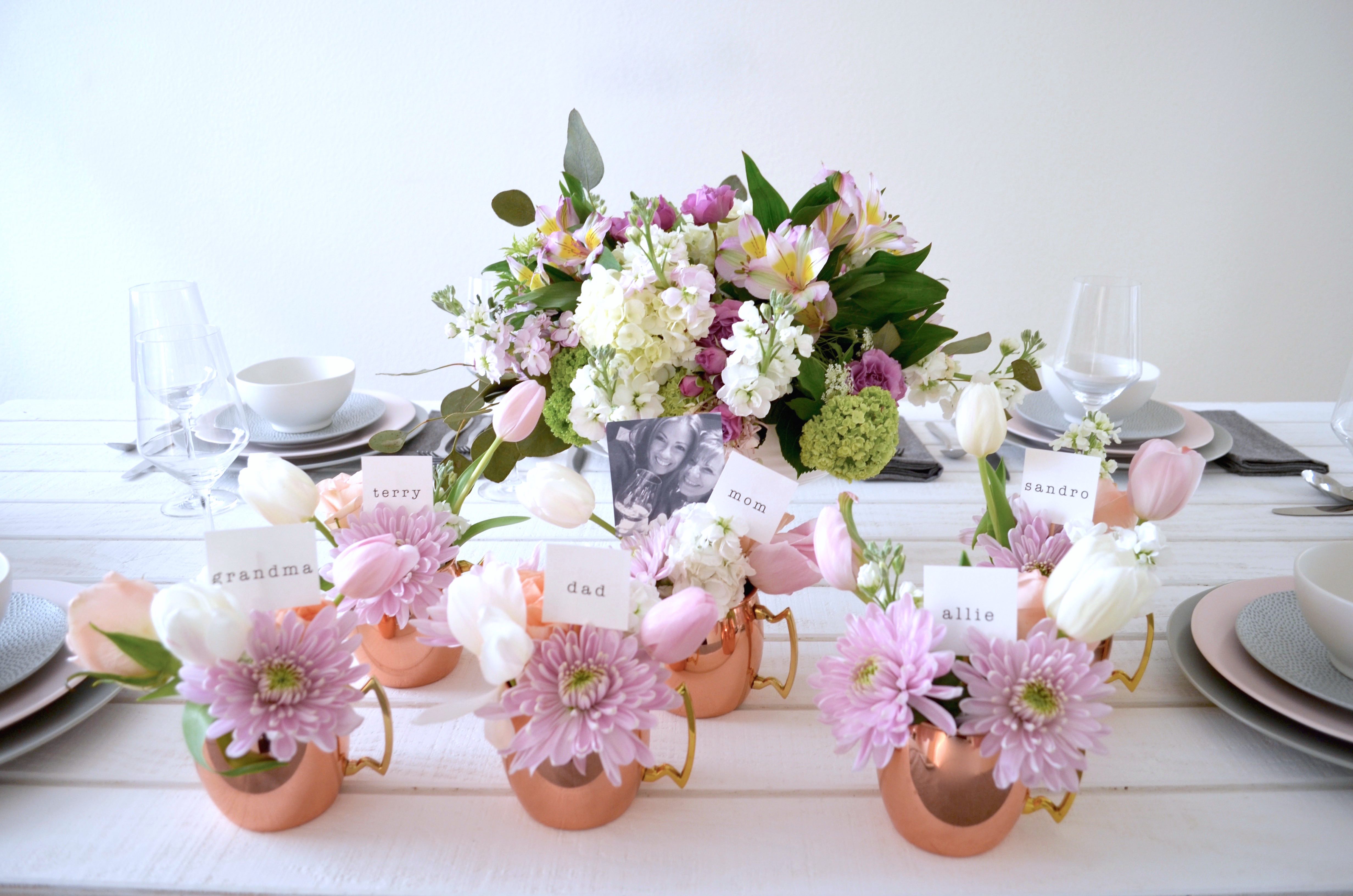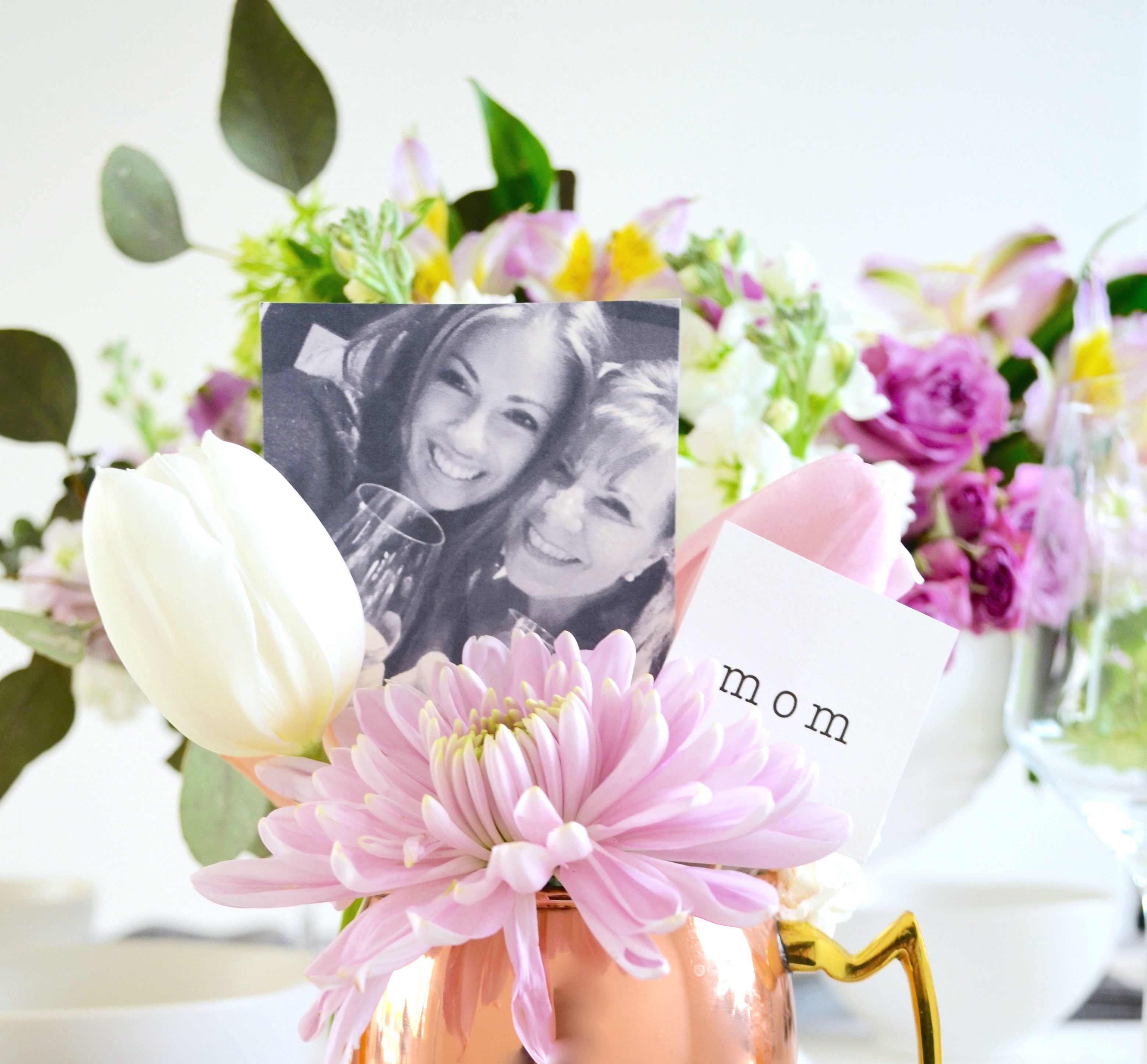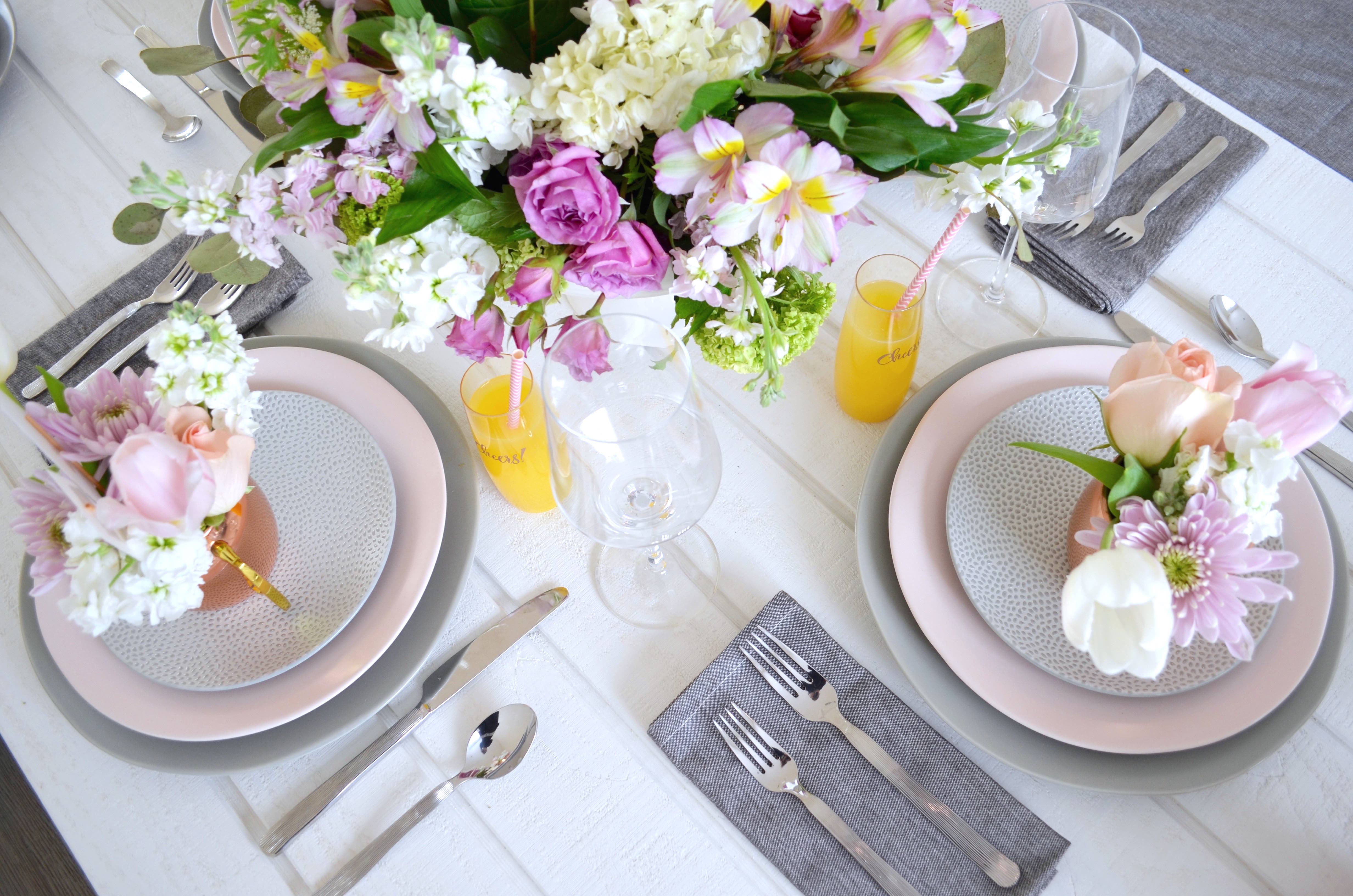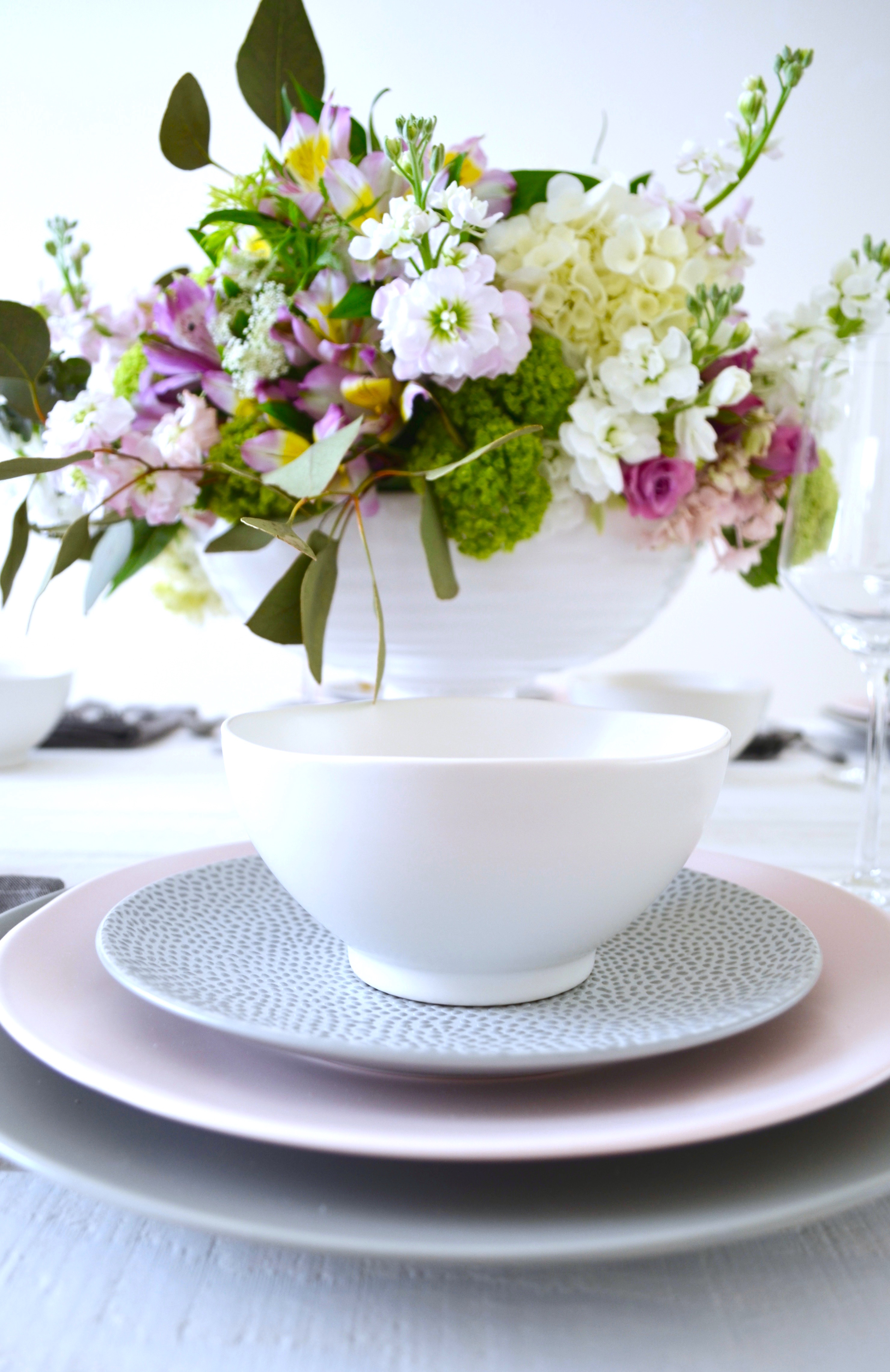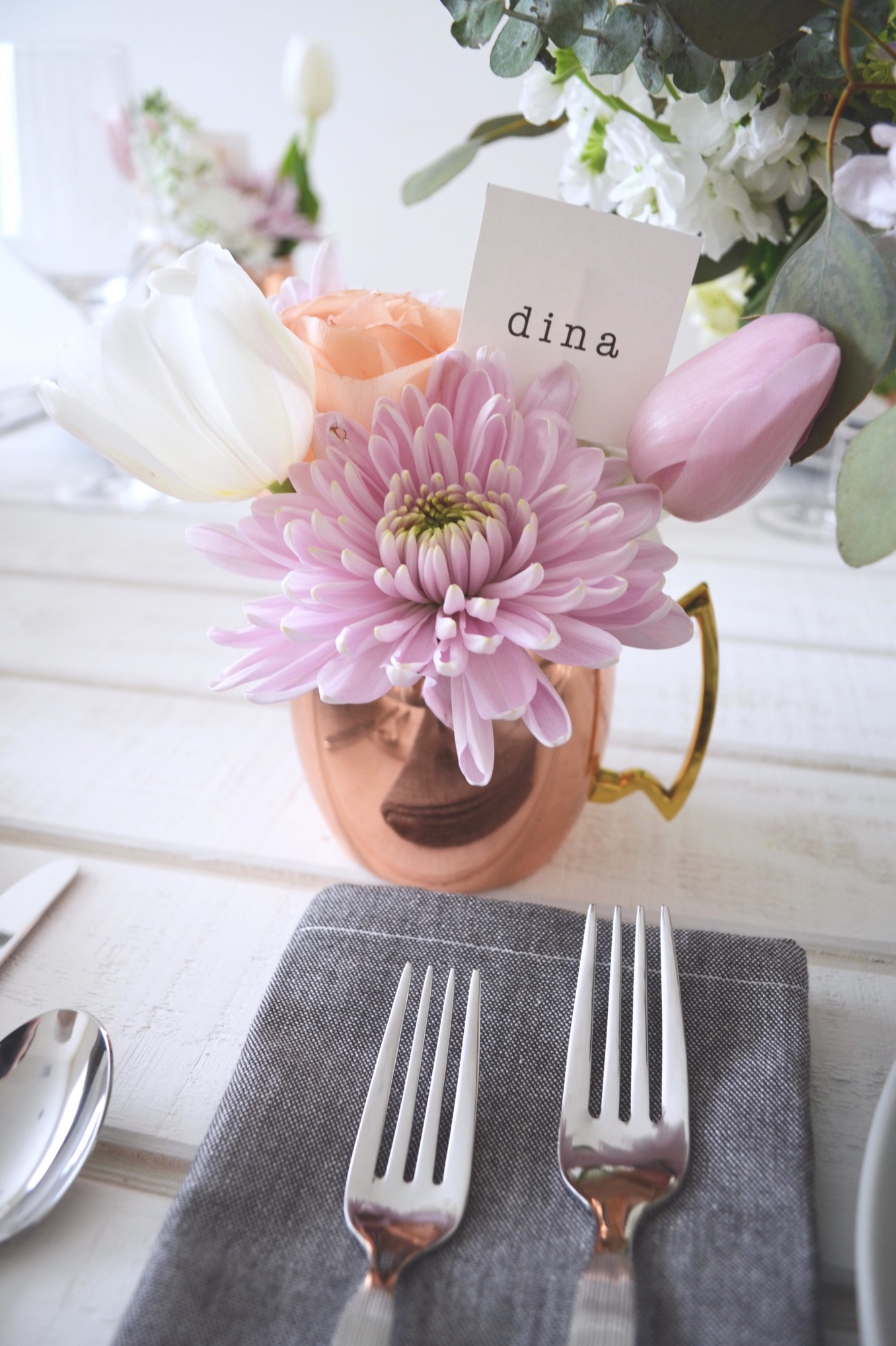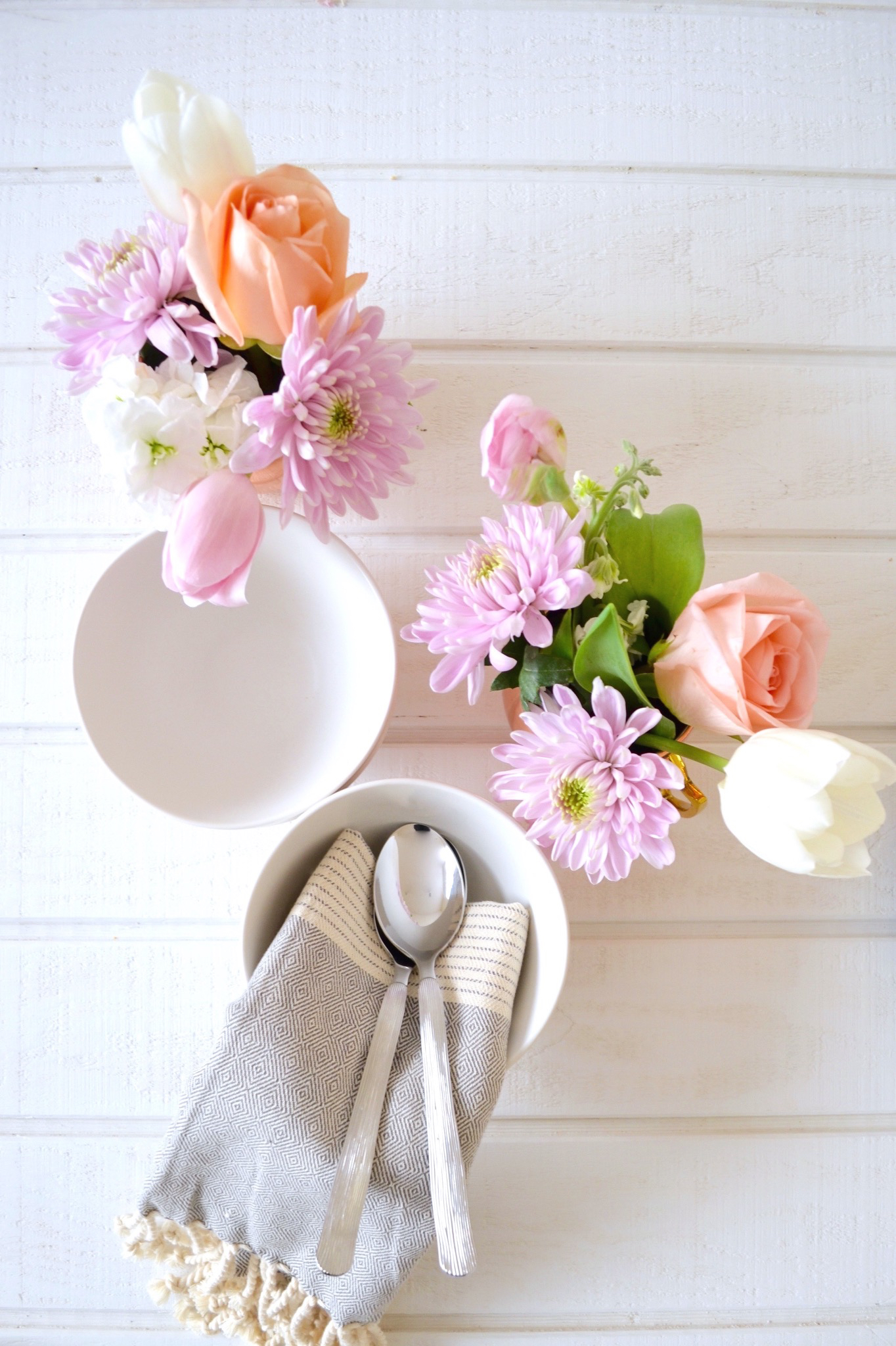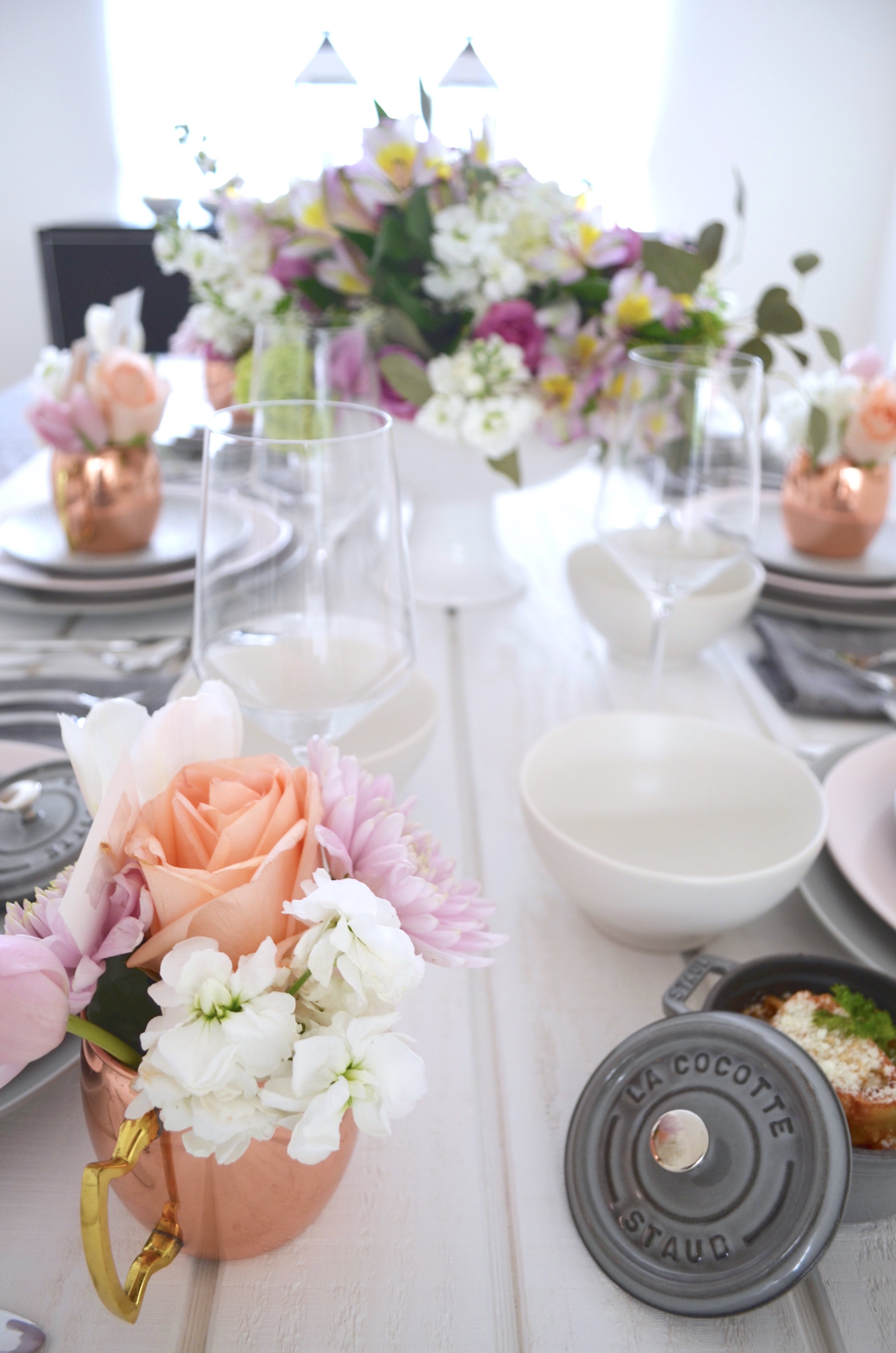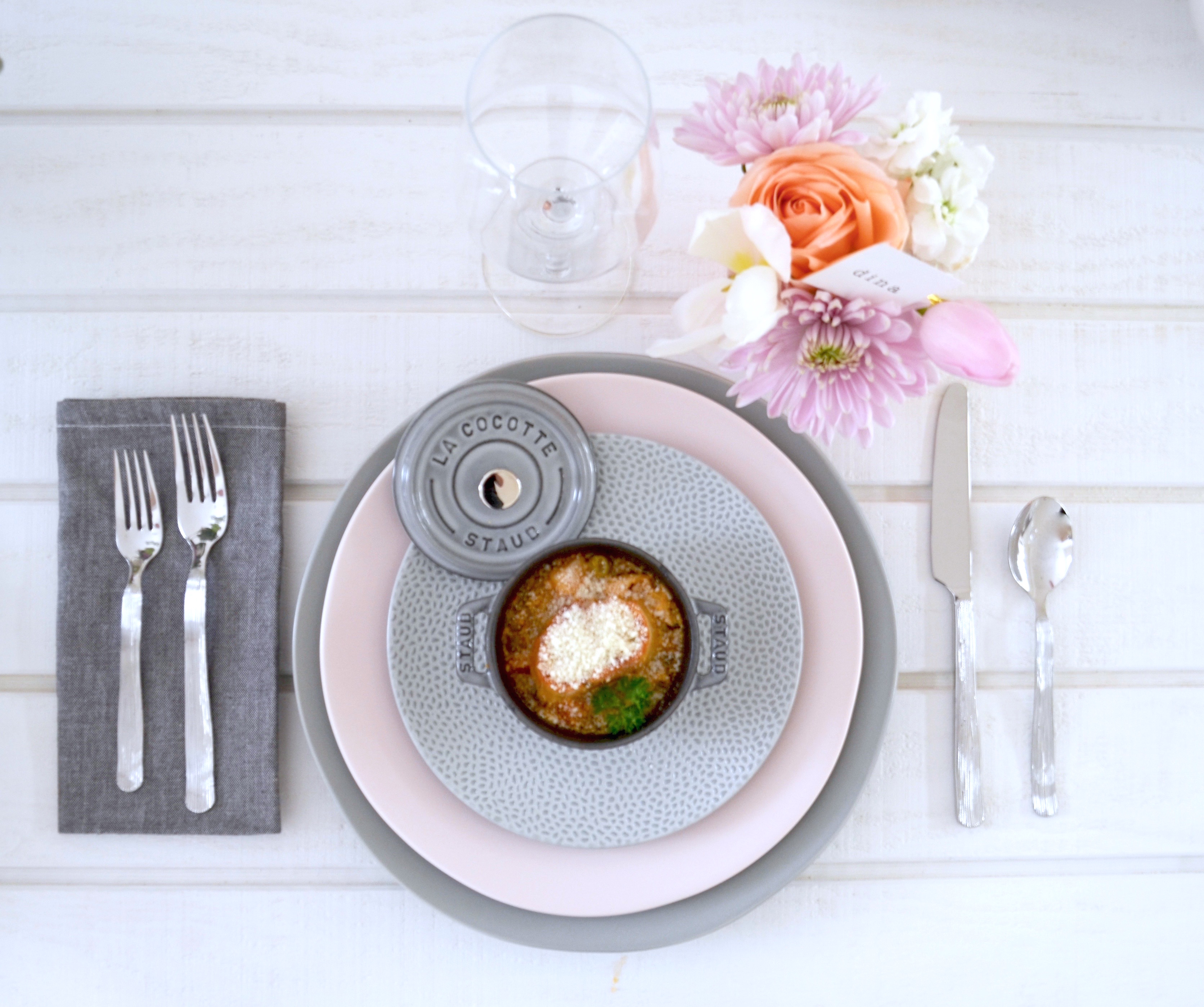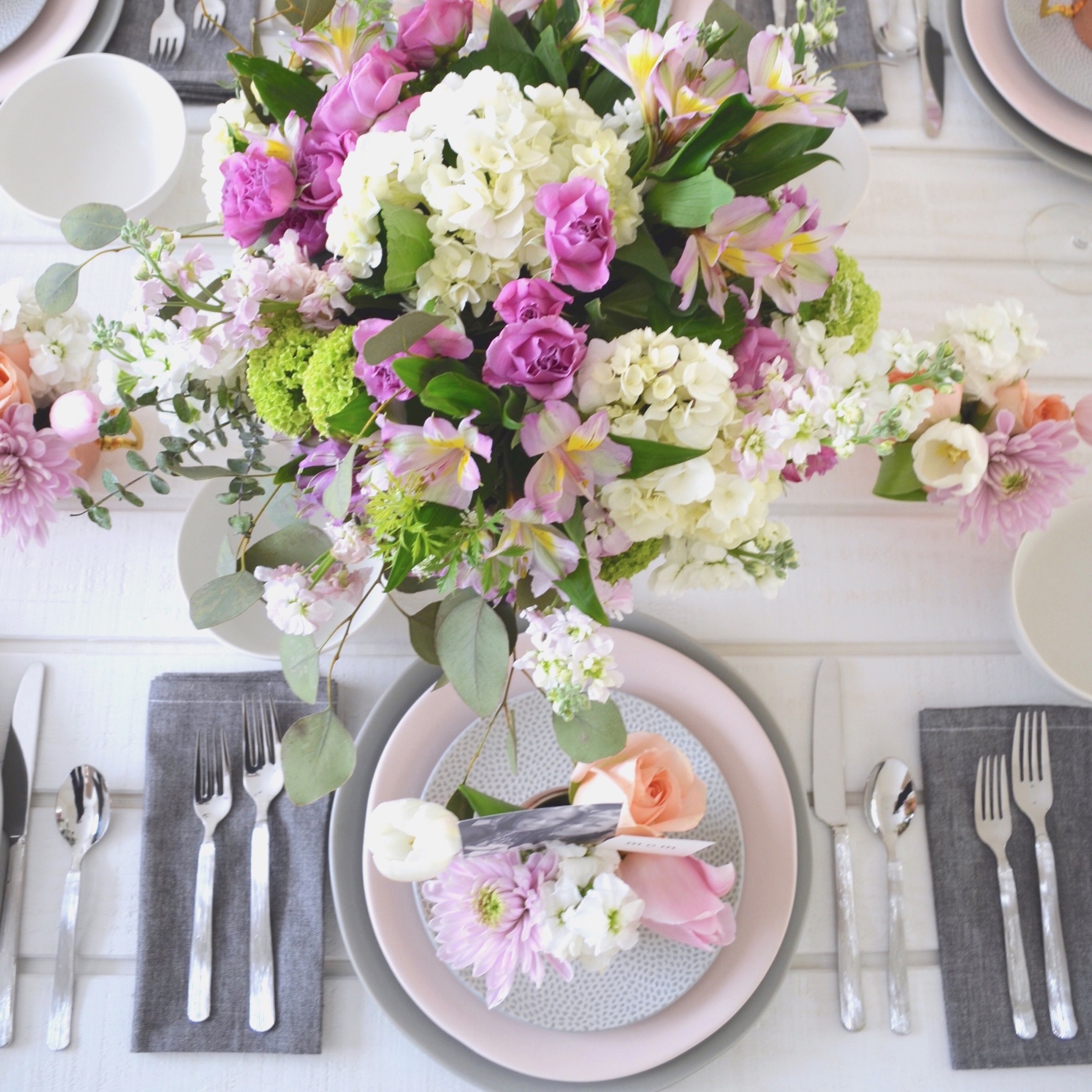 On the Table:
Stemware: Schott Zwiesel PURE Stemware
Rice Bowl: Vitraluxe Heirloom Linen Rice Bowl by Fortessa
Salad Plate: D&V Cobble Accent / Dessert Plates by Fortessa
Dinner Plate: Vitraluxe Heirloom Blush Dinner Plate by Fortessa
Charger Plate: Vitraluxe Heirloom Gray Charger Plate by Fortessa
Flatware: Hampton Forge Skandia Birch Flatware
Napkins: Now Designs Pewter Chambray Napkins
Copper Mugs: Old Kentucky Moscow Mule
Mini Round Cocotte Cookware: Staub Mini Round Graphite Cocotte
Round Cocotte Cookware: Staub Cast-Iron Round Graphite Cocotte
Champagne Glasses: Govino Celebration Glasses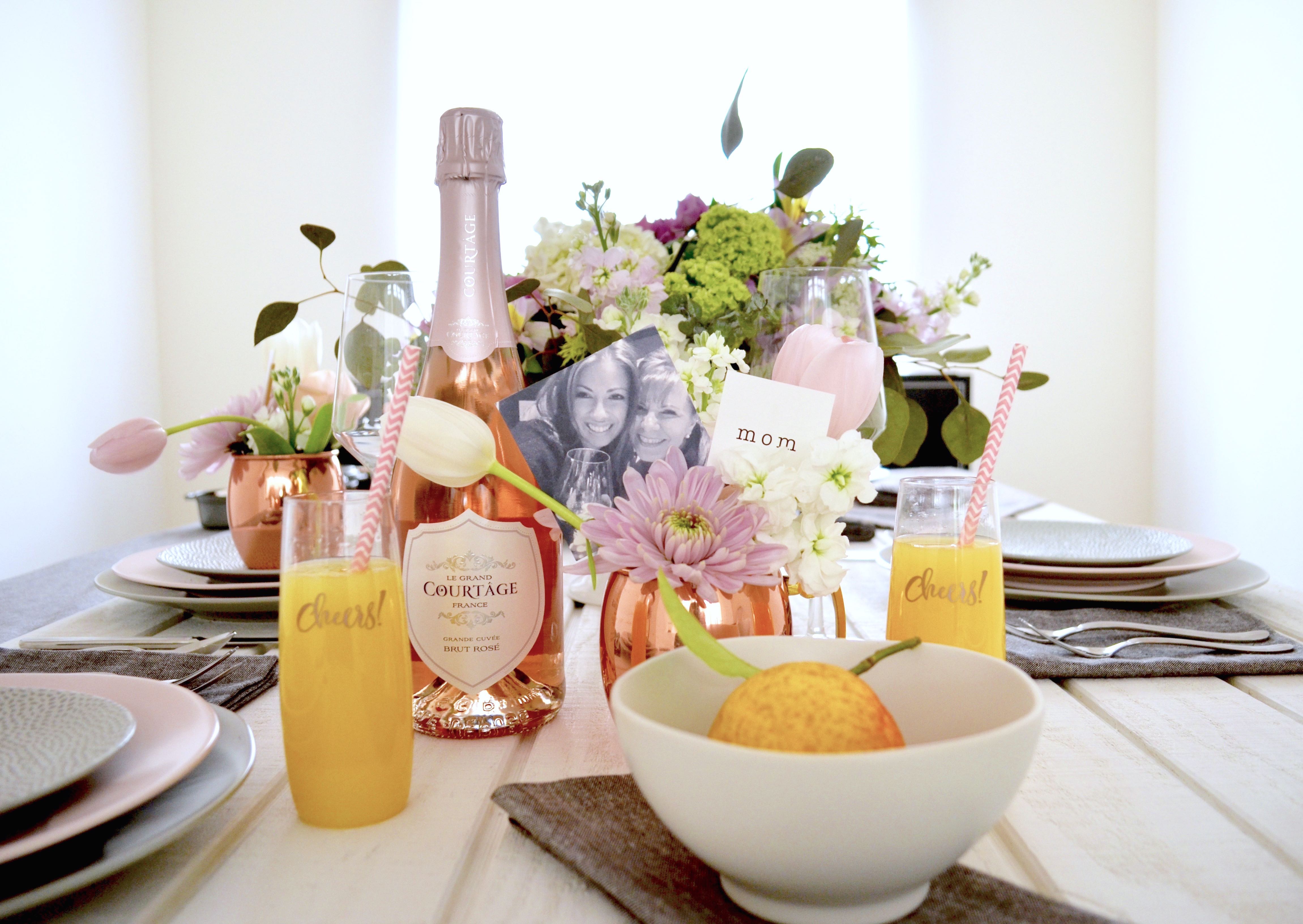 To all my mom friends, get the party started and Happy Mother's Day!
xx, Deborah
**Florals by Debra Barron.