Mini Spring Quiches for Your Next Brunch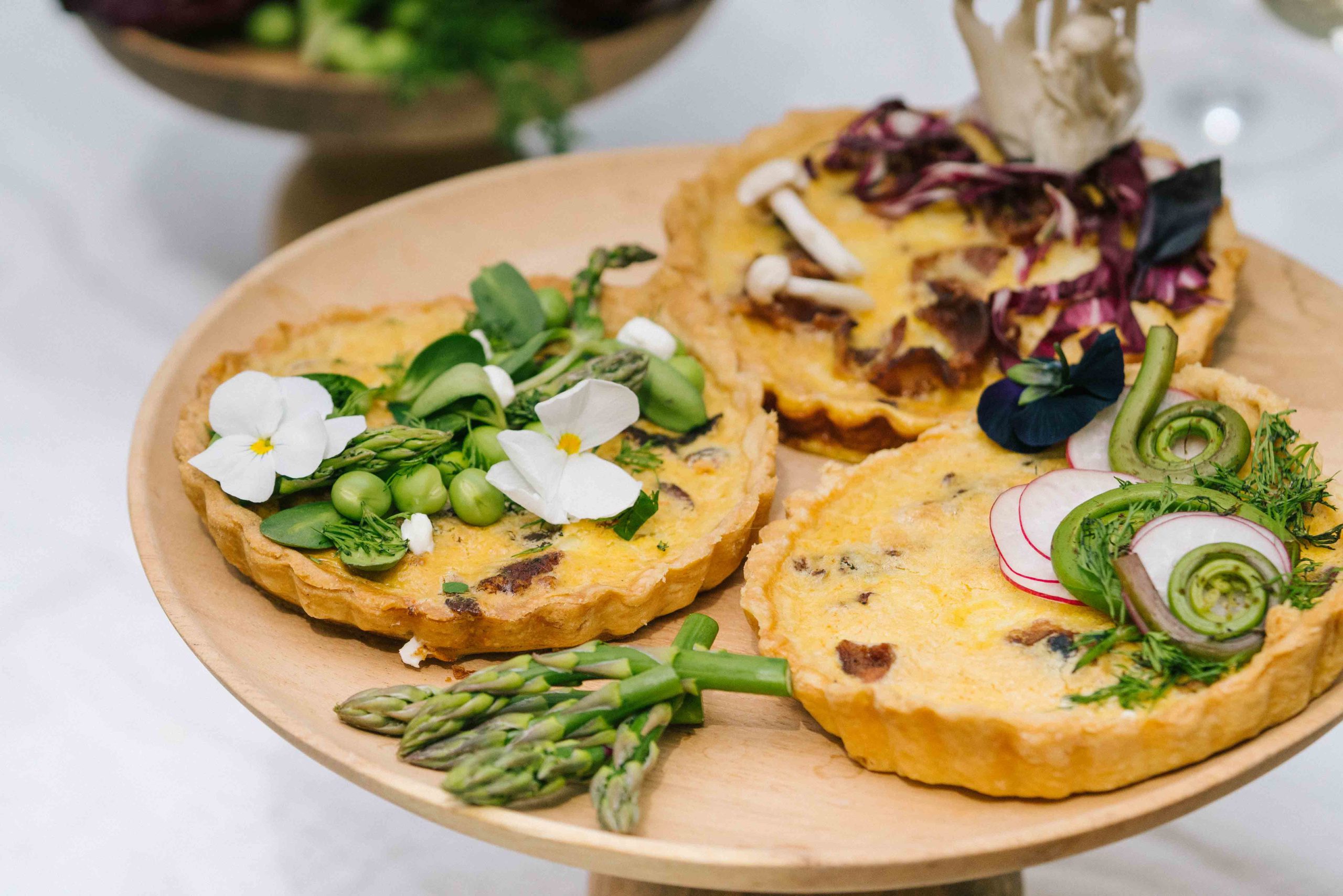 Spring is the perfect season for quiches. Between the baby showers, bridal showers, brunches, Mother's Day gatherings, and graduations, if you're never quite sure what to serve, a quiche is always a solid choice. If you pick a good crust, you don't even need a plate. It's a pick up and go bite (less dishes are always a plus).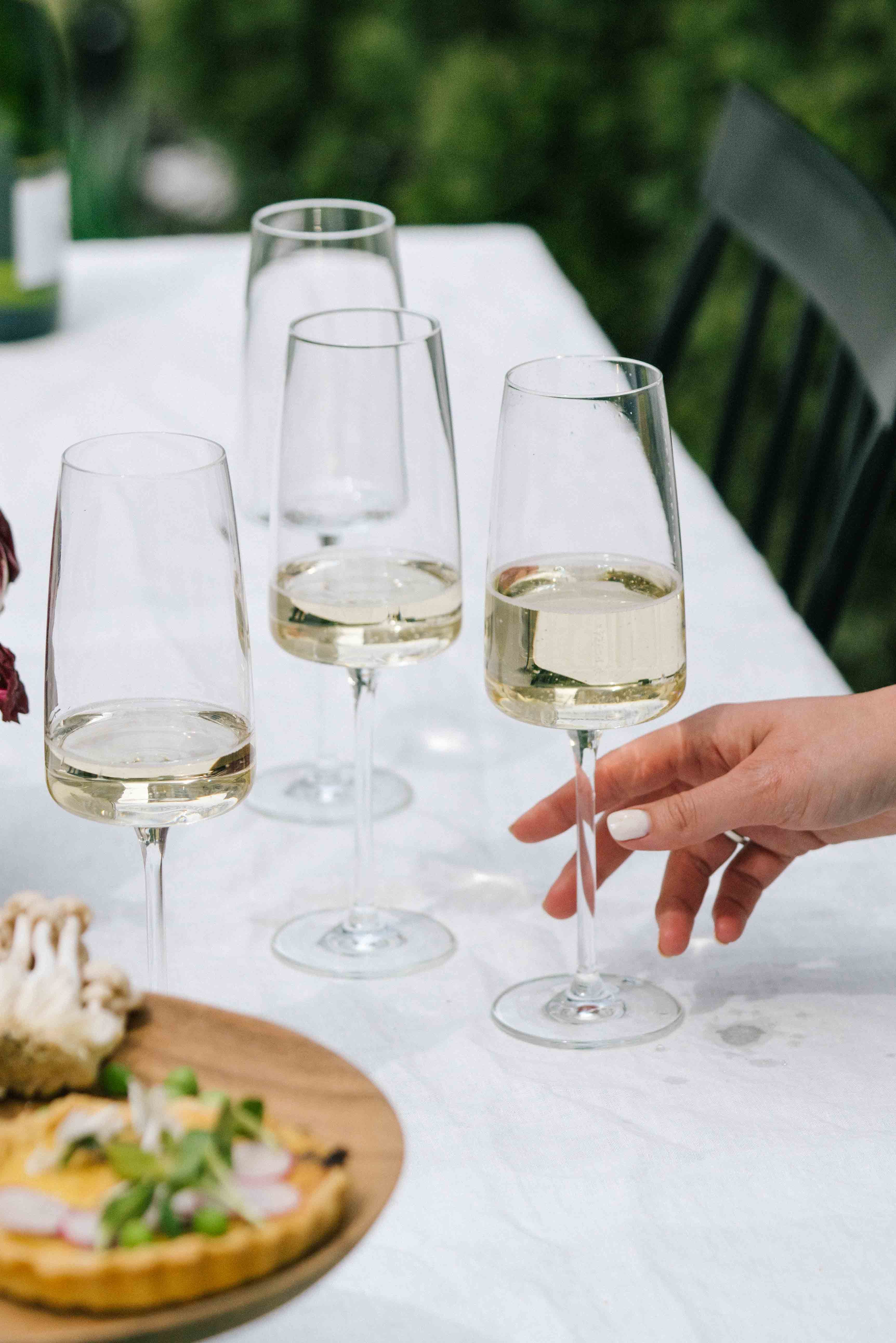 Quiche is incredibly versatile. The fillings can contain spices and herbs, vegetables, cheeses or meats. And if you've got a bunch of picky eaters, you can always create a base quiche and serve with a variety of toppings (tons of 'rabbit food'), as shown here.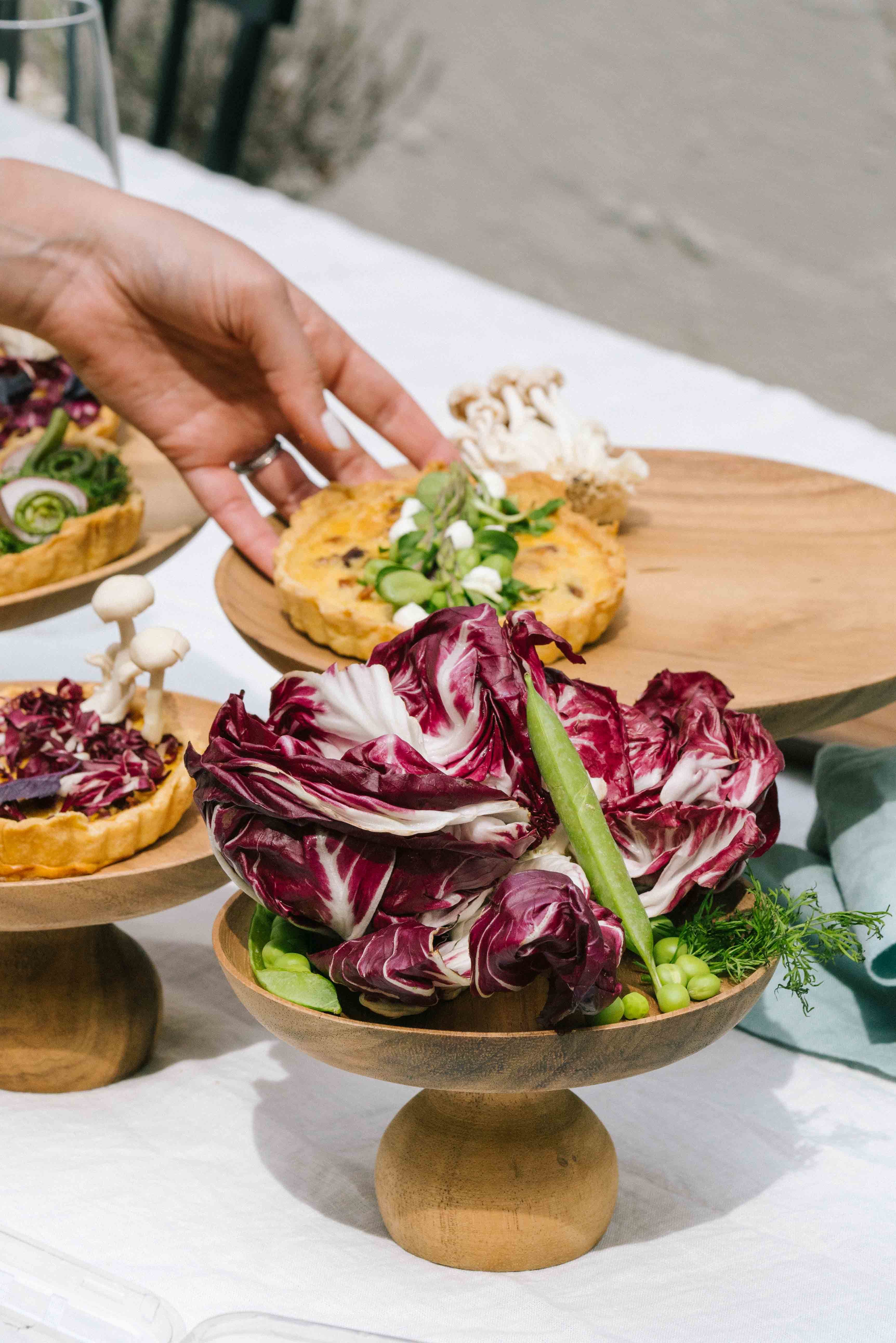 Today's quiche is packed with umami flavors including miso, bacon and sautéed onion. The toppings are a celebration of all spring vegetables and although there are three topping combinations shown here for styling and flavor inspiration, let what's available be your guide. If you have a simple spring salad mix, toss lightly with a honey miso salad dressing and serve as a sprinkle on top (just be sure to serve immediately).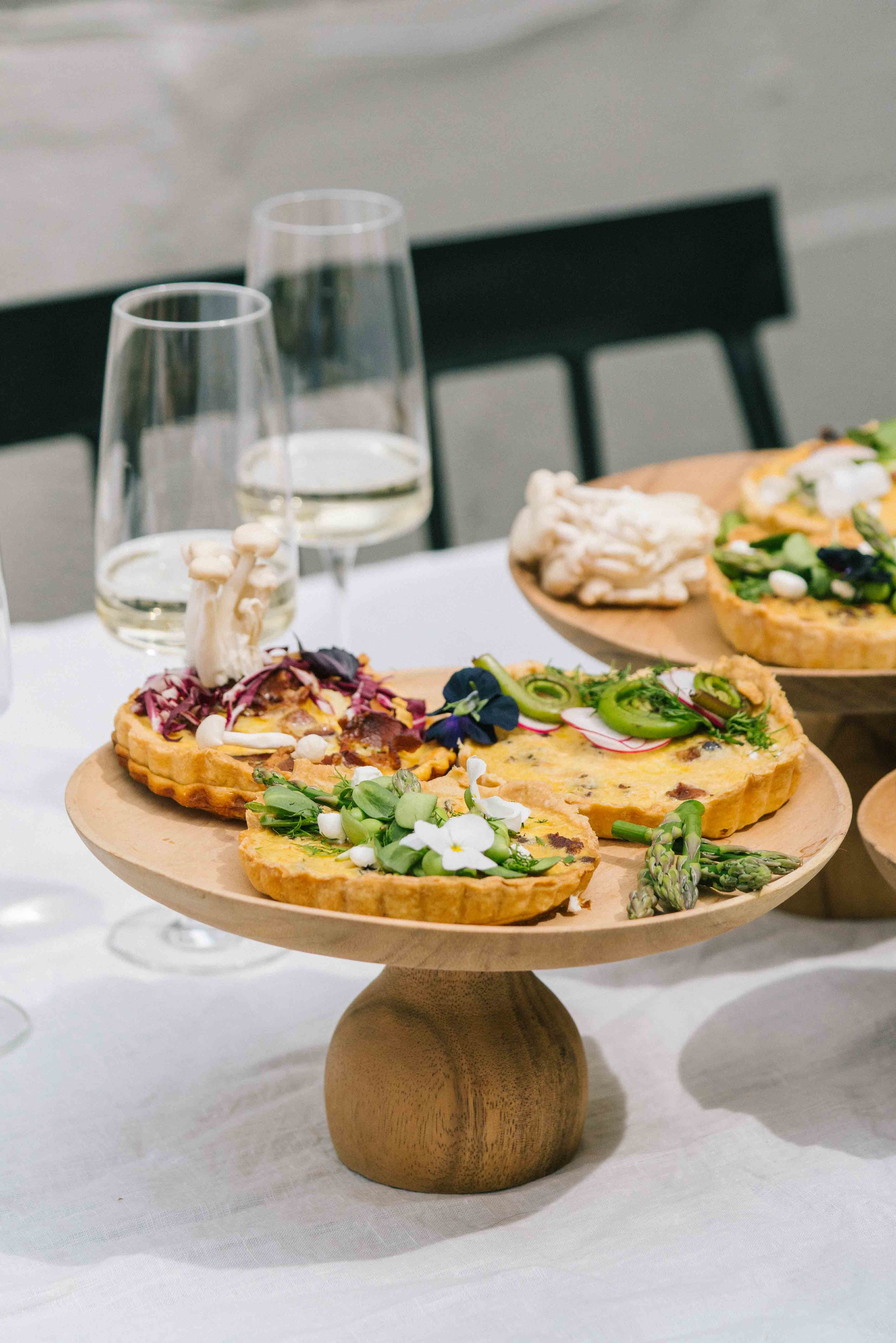 A quiche is also the perfect place for an edible floral garnish. Who says your centerpiece shouldn't also be your brunch platter? From violas to marigolds and nasturtiums, your color palette is endless.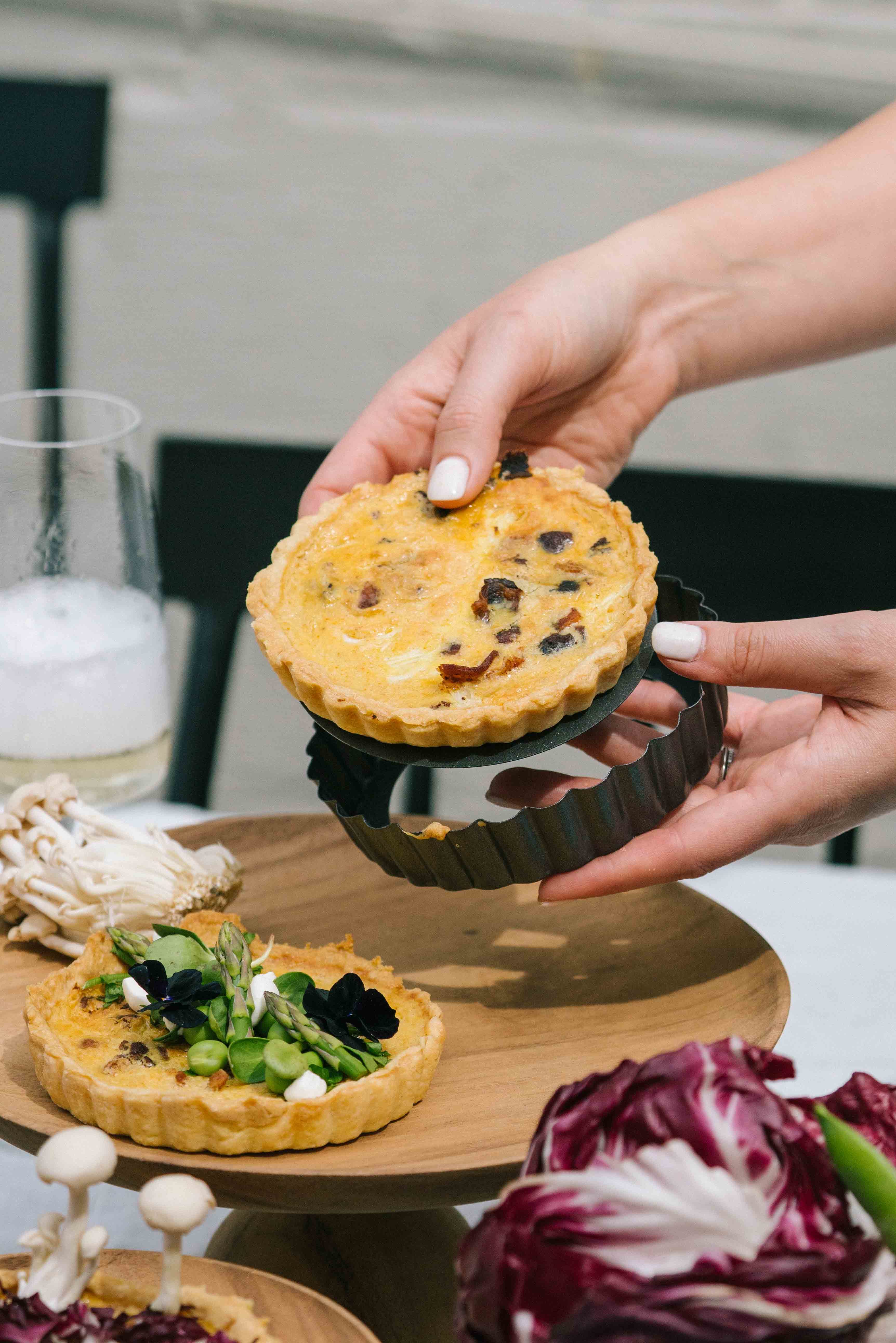 Once you have your filling and topping figured out, it's time to talk about tart pans. A quiche can be served as wedges from an entire pie-like tin, or baked into personalized quiches. Whatever you decide, you should absolutely consider a tart pan that has a base separate from the walls. This allows for a perfect release, keeping the pretty tart edges in tact.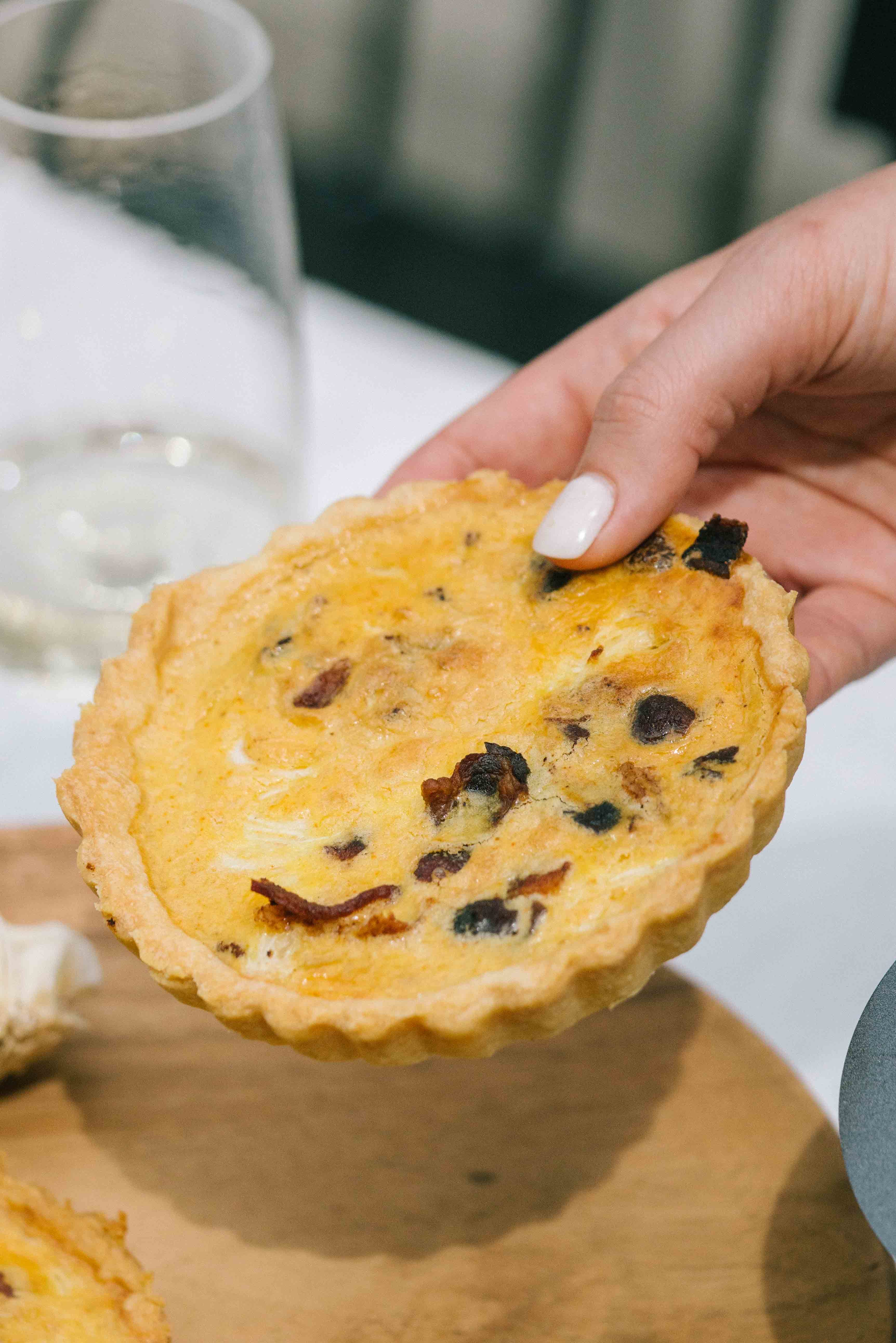 It's also important to remember, a quiche doesn't need to be 100% from scratch. For a shortcut, use store bought pie crust. Have a favorite recipe? Go for it! My go-to is Bon Appétit's Basic Tart Dough.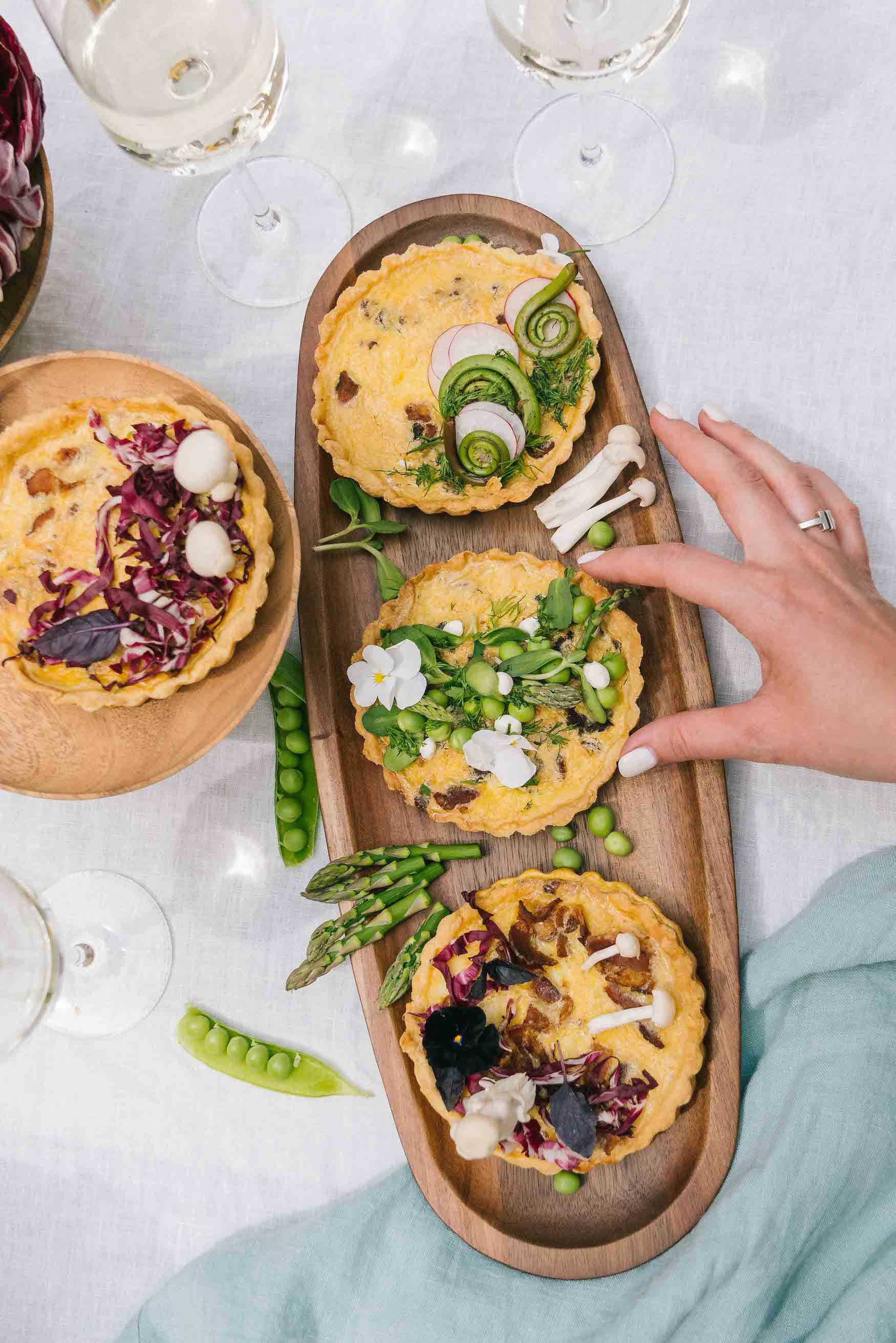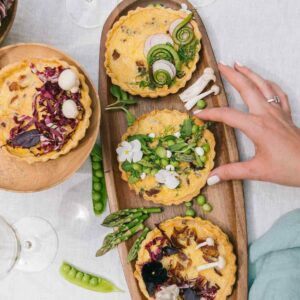 INGREDIENTS
For the Quiche:
Tart crust of choice
6 large eggs
¼ cup heavy cream
2 Tablespoons blonde miso paste
1 teaspoon ground cayenne
¼ teaspoon kosher salt
4 slices of bacon
2 teaspoons onion
¼ cup thinly sliced white onion
For the Garnishes & Toppings:
Radicchio
Radishes
Sunflower sprouts
Dill
Parsley
Purple basil
Whipped ricotta and cream cheese
Asparagus tips
Fresh peas
Fiddle head ferns
Mushrooms
Edible flowers
INSTRUCTIONS
Make or roll out tart dough, form to quiche containers with slight overhang of dough. Bake with pie weights to package or recipe directions and cool.
Add eggs, heavy cream, miso, cayenne and salt to a large bowl and whisk or blend using an immersion blender.
Cook bacon and chop.
Sauté onions and butter for about five minutes. Add bacon and onion in an even layer over the bottom of the pie crust.
Pour egg blend just below edge of quiche top.
Bake on a baking sheet at 325 for about 15 minutes or eggs have set.
Store in fridge for up to a day before garnish as desired. Serve.