Spring Vegetable Quiche Recipe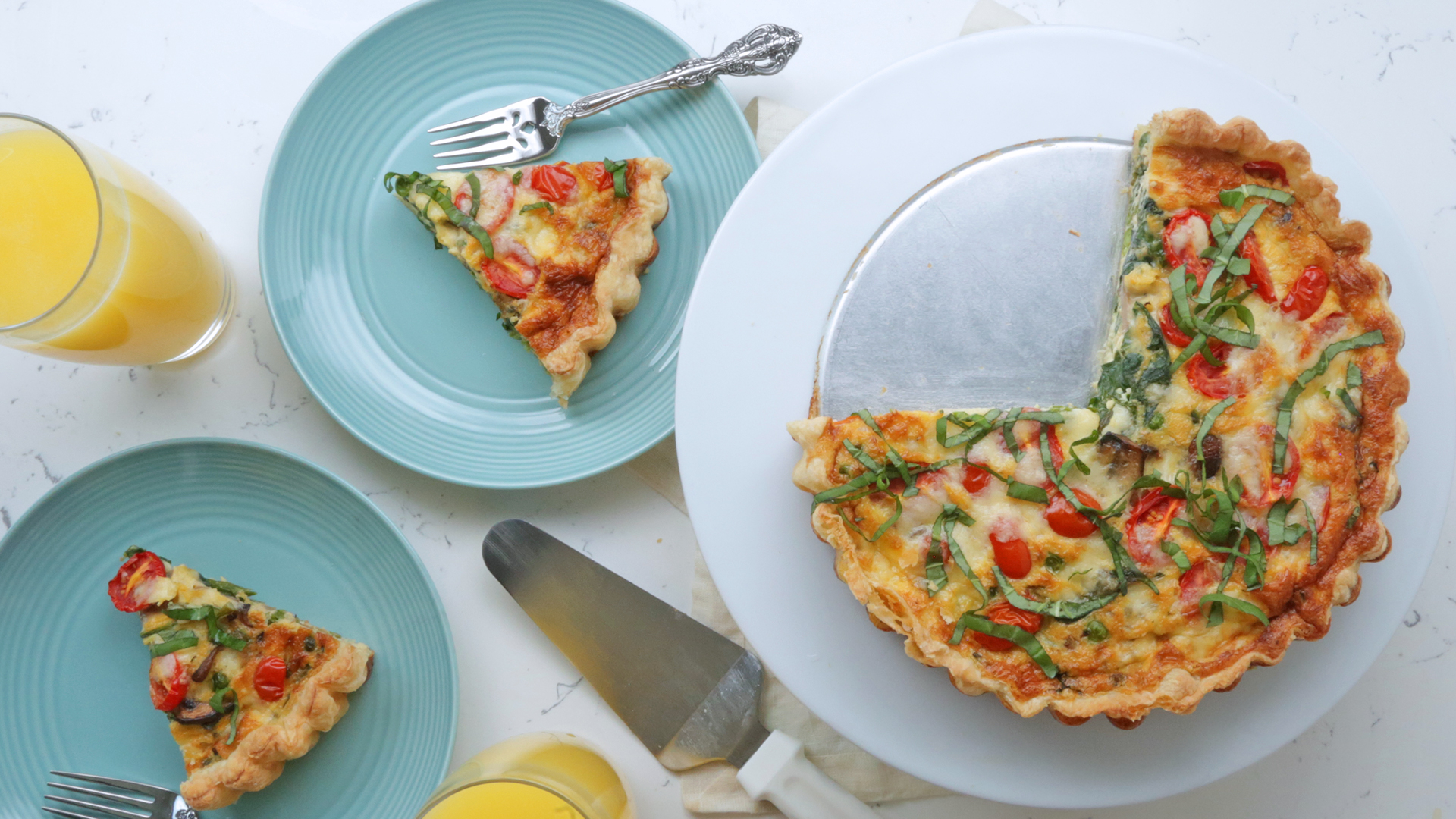 This Spring Vegetable Quiche Recipe is the perfect breakfast or brunch recipe to serve up to your friends and family.
Quiche is so incredibly easy to make and definitely can add a touch of elegance to your table top spread, and even better is that it's so versatile. I try to create most of my recipes with the creator in mind where they can swap out ingredients to their liking. I can imagine some folks would maybe want to use kale instead of spinach, or perhaps don't like tomatoes and don't want to use them, the beautiful thing is that you can add, remove or swap out whatever vegetables you'd like in this Spring Vegetable Quiche Recipe.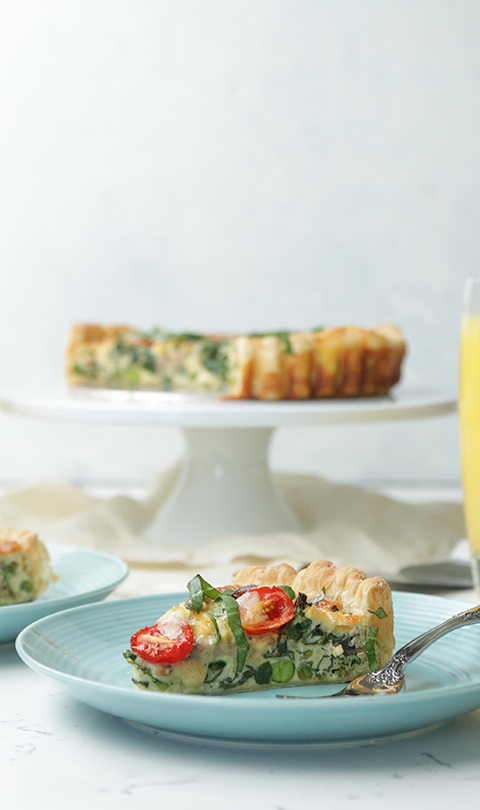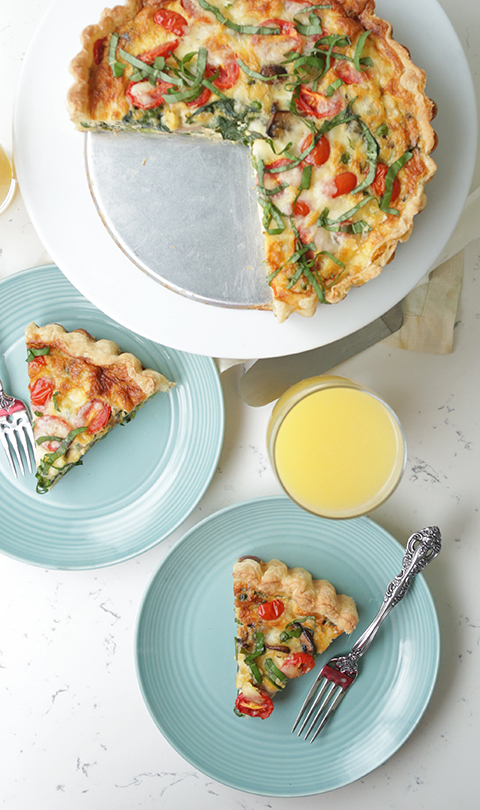 I've made quite a few quiches over the years and to this day I still find that puff pastry makes for the best crust. Yes you can absolutely make a homemade crust and use it, but if you are looking for the ultimate in flaky crusts then save yourself some time and go pick up a sheet from the freezer aisle. The other important part is to make sure you use some kind of cheese in the egg and heavy cream batter. You can use cheddar, gouda, asiago, it doesn't matter just use some kind of shredded cheese in it. Cheese will not only help bind everything together but it will also add some delicious flavor to your quiche.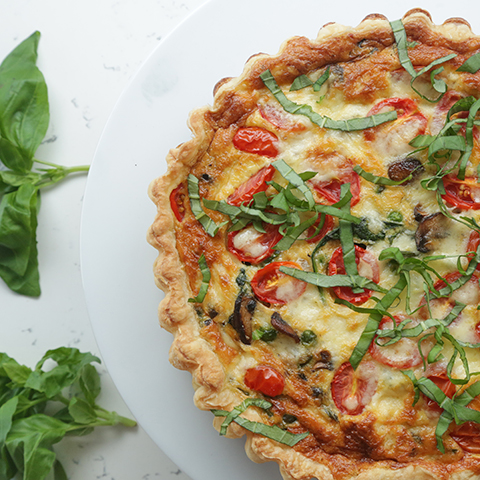 Last but not least sprinkle on some fresh herbs over the top of the quiche. You can use thyme, chervil, oregano or basil as I did. That's it for now kids, happy quiche cooking!
Spring Vegetable Quiche Recipe Recipe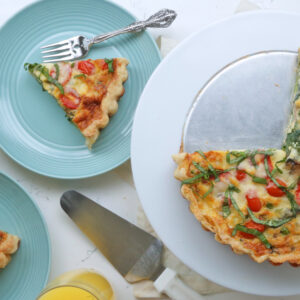 INGREDIENTS
1 tablespoons of olive oil
1 cup of small diced yellow onions
1 cup of sliced cremini mushrooms
1 cup of sliced asparagus stalks
1 cup of peas
3 cups of packed baby spinach
7 eggs
1 cup of heavy whipping cream
6 ounces of shredded fontina cheese
1 rolled pout puff pastry sheet
1 cup of sliced cherry tomatoes
Kosher salt and fresh cracked pepper to taste
INSTRUCTIONS
Preheat the oven to 350°.
Heat the olive oil in a large saute pan over medium-high heat and add in the onions, mushrooms and asparagus. Cook for 4 to 6 minutes or until lightly browned.
Next, add in the peas and spinach and cook for 2 minutes. Season with salt and pepper and set aside to cool.
In a large bowl whisk together the eggs, cream, 5 ounces of shredded fontina cheese, salt and pepper until combined and then fold in the sautéed vegetables. Set aside.
Roll out the puff pastry sheet on a clean surface dusted with flour and then fit it into a 9" fluted pan. Remove and excess dough and discard.
Dock the bottom of the pan with a fork and pour in the egg and vegetable mixture and evenly add on the tomatoes and remaining 1 ounce of cheese and bake in the oven for 35 to 40 minutes or until lightly browned on top and firm in the center.
Garnish with basil and cool for 15 to 20 minutes before slicing and serving.