Spooky, Smoky Cocktails for Halloween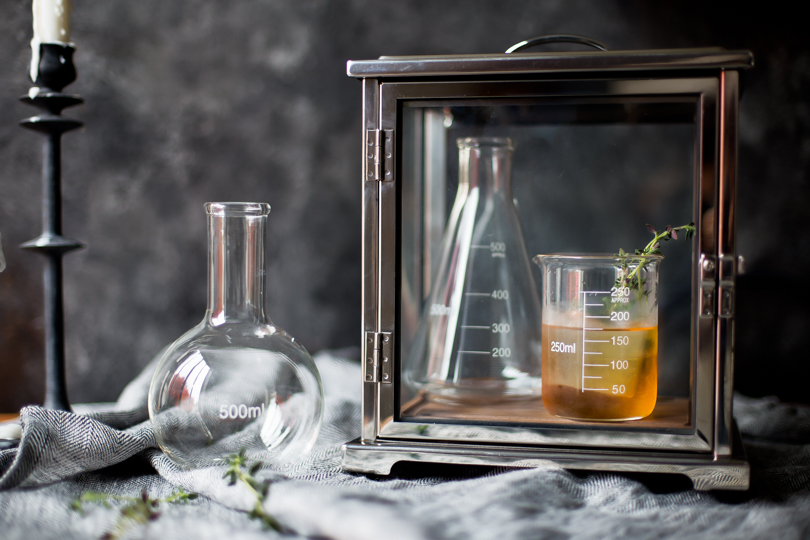 Break out your spookiest candles and darkest decor. You're throwing a Halloween party, and these smoked cocktails are going to steal the show.
Back when I first discovered the cocktail magic that is smoking box from Crafthouse by Fortessa, I could not wait for Halloween to roll around. The dramatic presentation — smoke billowing around a cocktail, clinging to the glass and filling the air with autumn campfire aromas — perfectly captures the spirit of Halloween.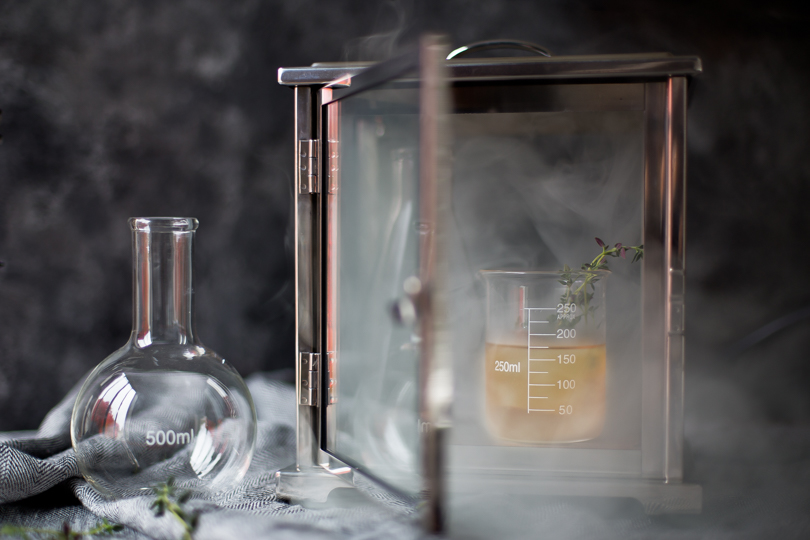 If you read my recipe for Double Smoked Maple Old Fashioneds, you know that using a smoking box is a surprisingly simple process. You just stick your cocktail inside, light the smoker, and watch your glass disappear in a thick hazy fog. Open the door and enjoy the show as curls of lovely, scented smoke waft through the air, adding flavor and aroma to your drink. A very subtle layer of smoke clings to the glass, adding a touch of depth that won't overpower your cocktail.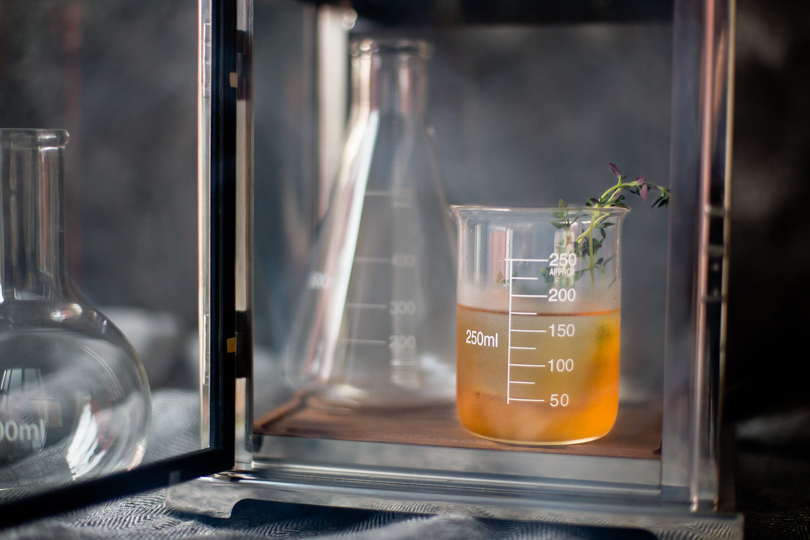 Trust me, your guests (and probably even you) will freak out over how mesmerizing the smoked cocktail process is, and it only takes a few seconds.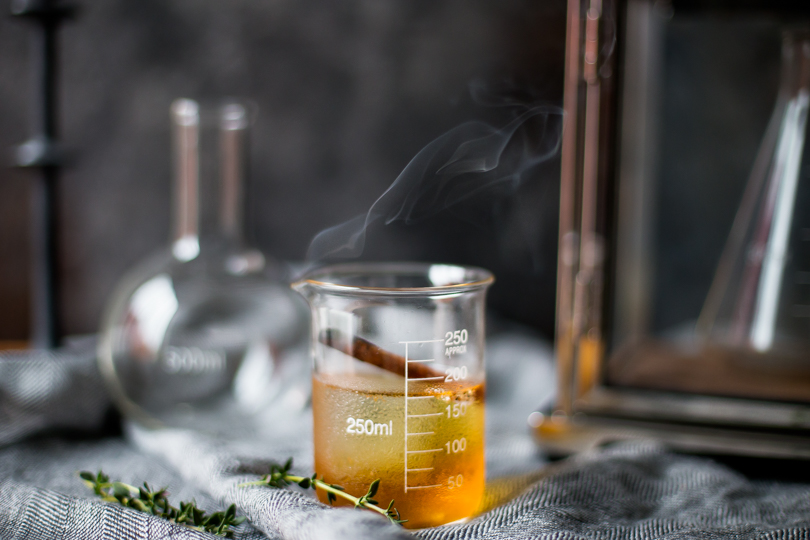 I went with classic-leaning, stiff, stirred cocktails for a reason here. First of all, when you're entertaining, you have to be able to make drinks fairly quickly, and stirred-in-glass cocktails require about zero effort. Can you pour? Can you stir? Then we're good. And not for nothing, there's less cleanup at the end of the night when you don't have mixing glasses, shakers, or strainers to deal with.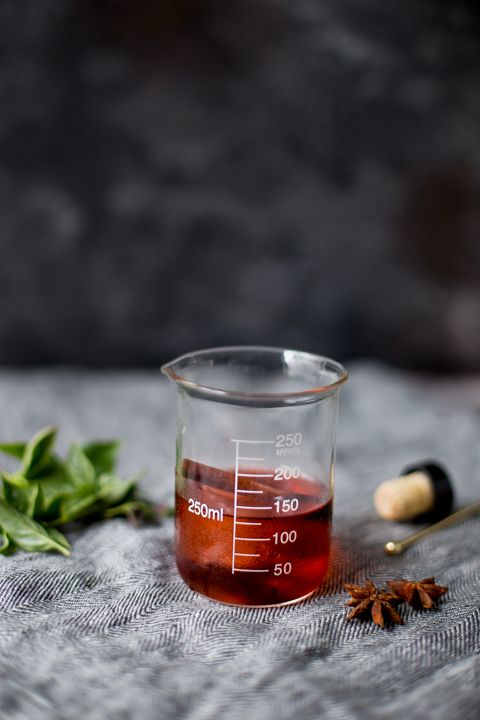 Secondly, a spirit-forward cocktail just sounds kinda right for Halloween, yes? It's a holiday for spirits, after all. And on a practical note, this category of cocktail tends to highlight smoke flavors particularly well. I started with a brand spanking new, smoke-forward recipe (below) that tastes like an apple roasted over a campfire in the best possible way, then started experimenting with other classic cocktails — creativity no doubt inspired by Libbey's Chemistry Set, which is so on point for a Halloween spread. My favorite was a Boulevardier; its deep maroon hue looked both stunning and appropriately spooky when coated by a curling white cloud of quickly dissipating smoke.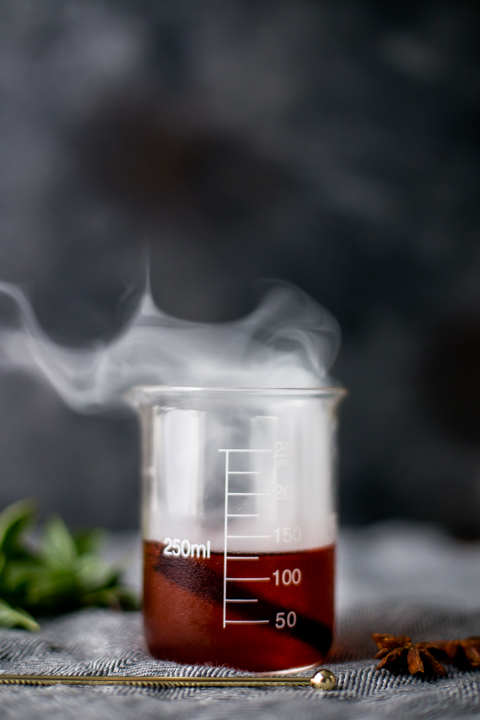 I also had fun experimenting with different aromatics like rosemary, thyme, star anise and cinnamon sticks — you can let guests choose their own. They capture a bit more smoke to begin with, and can be charred themselves to amp up the smoke levels even further.
Ghost in the Orchard Cocktail
If you're throwing a Halloween party, and these smoked cocktails are going to steal the show.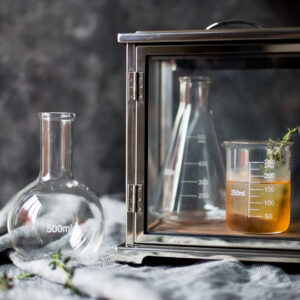 Ingredients
1

oz

Mezcal

1

oz

Applejack

.5

oz

Benedictine

1

tbsp

Maple syrup (bar spoon amount is encouraged)
Instructions
Combine all ingredients in a rocks glass over one large ice cube. Stir until well chilled.

Garnish with an aromatic (cinnamon, thyme, rosemary, star anise are good options) and place the drink inside the smoking box. Fill the box with smoke according to package instructions. Let the cocktail sit in the smoke-filled box for a few moments, then open and drink immediately.