Boozy Mexican Hot Chocolate to Spice Up Your Winter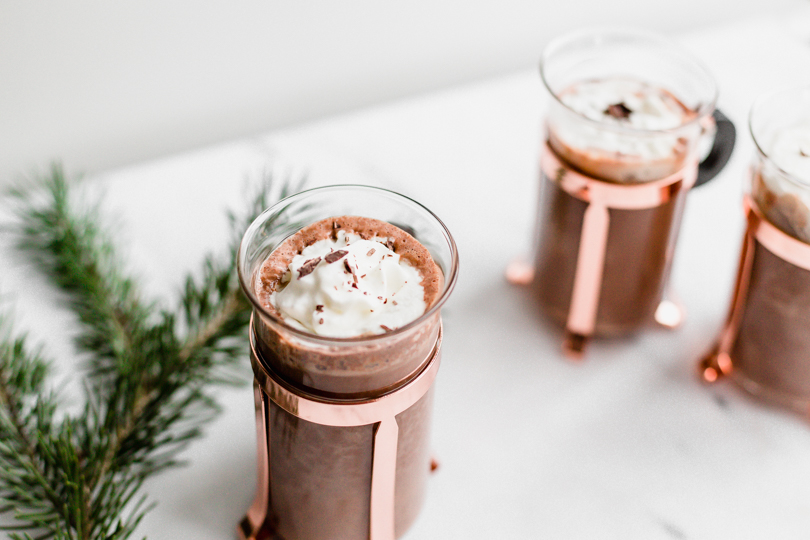 As we head into the darkest, coldest days of the season (eek!), there are few weapons as effective against the chilly gloom than an epic hot chocolate recipe. Warm blankets, fuzzy slippers, and roaring fires can all make a strong case for their own comforting prowess, but something about the heats-you-from-the-inside-out quality of a rich, frothy hot chocolate will always make it reign supreme for me.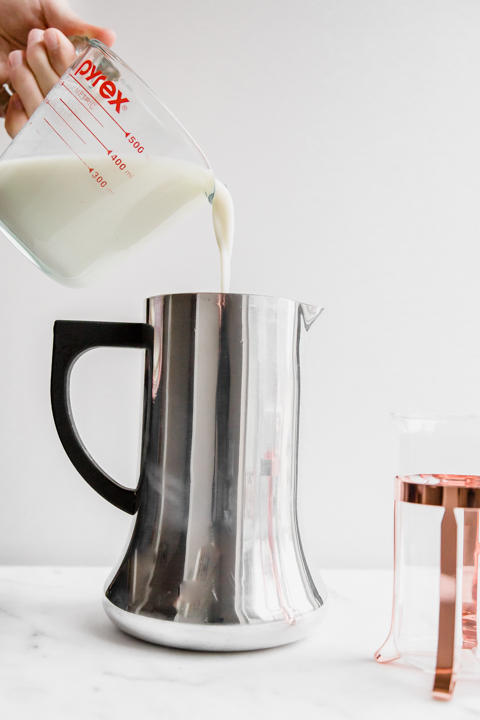 Hot chocolate can be made in as many flavors and varieties as chocolate itself — spiced, infused, thick as fudge or light as air — and one of my all time favorites is widely known as Mexican hot chocolate, based on the tradition of adding a little chile heat and cinnamon spice to the brew.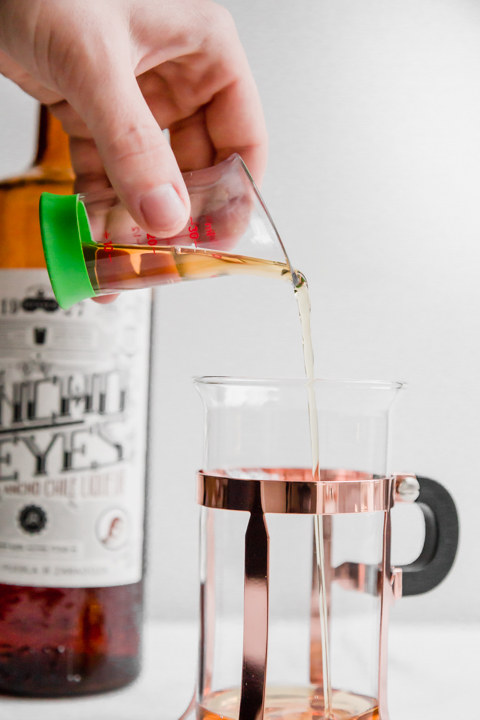 Recipes for drinking chocolate (though much different than the modern version, served bitter and cold) can be found as far back as the Maya and Aztec empires, with the preference for heat likely coming from their Spanish invaders. However it came to be, it's still extremely popular in Mexico, and I can easily see why. A touch of spice can transform your average cocoa into something truly magical.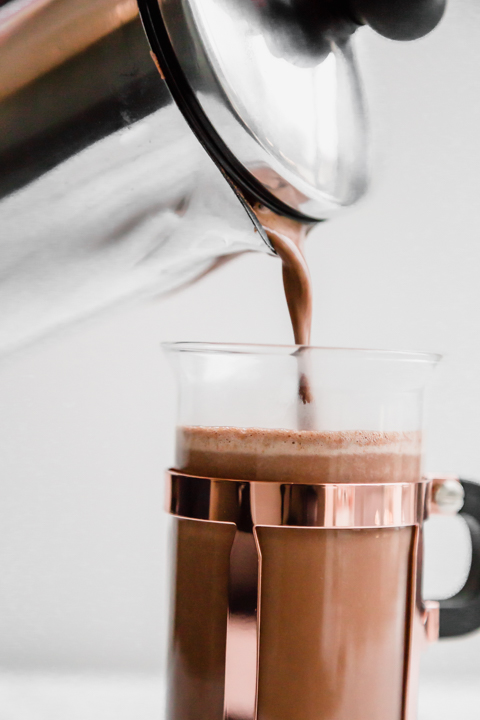 My Mexican Hot Chocolate gets some of its heat and spice from Ancho Reyes chile liqueur, an ingredient you might remember from my Campfire Cocktails recipe. It's lightly sweet, lightly spicy, lightly smoky, and — most importantly — very well balanced, so you can add it to your mug without fearing a wallop of booze on the palate. We taste spirits more strongly in warm drinks than in cold, so the mildness of Ancho Reyes makes it a perfect addition here.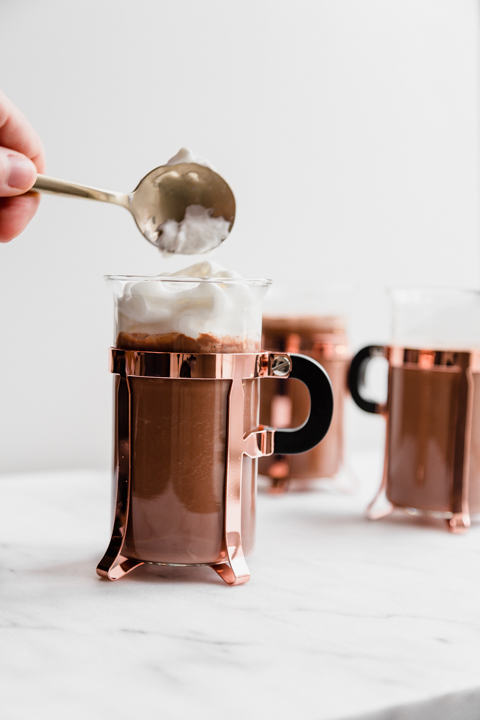 If you prefer a more spirit-forward flavor, Ancho Reyes also plays nicely with a whole slew of partners. My personal favorites are tequila, rye, bourbon and mezcal for an extra layer of smoke. Just add one ounce of Ancho Reyes chile liqueur instead of two, then sub in your alternate for the missing ounce. I've tried every single one of the above, and they are all excellent in different ways.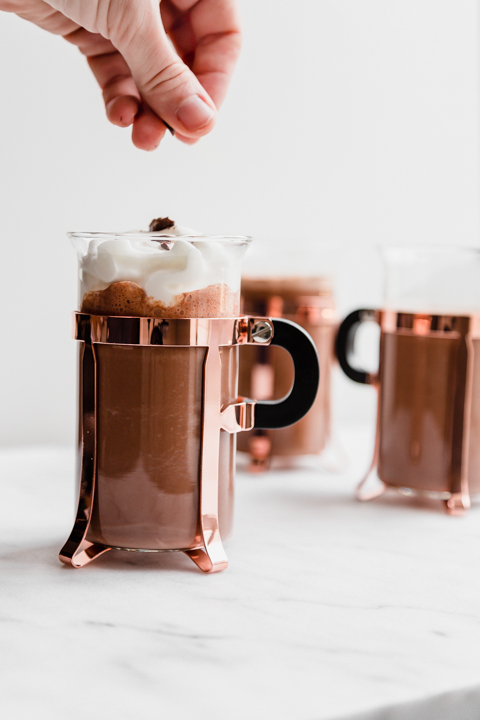 I make my Mexican hot chocolate very rich and thick, but still smooth and drinkable. It's not quite as heavy as those cafe hot chocolates you spoon out of a tiny cup, but the decadent, almost mousse-like flavor is still there. The secret is starting with a block of real semi-sweet chocolate (not cocoa powder), and finishing with a whisk or built-in frother, like the one in this fantastic hot chocolate carafe. It's stovetop safe, so you can make, froth, and serve your batch right out of the vessel (I hate cleaning extra pots and instruments, so this is huge for me).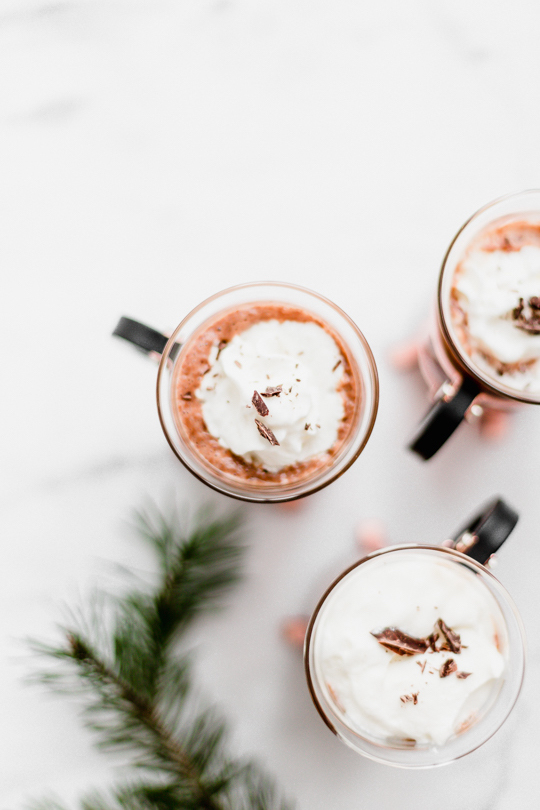 Top with a big spoonful of whipped cream, plus a pinch of extra chopped chocolate. Winter isn't so bad, after all.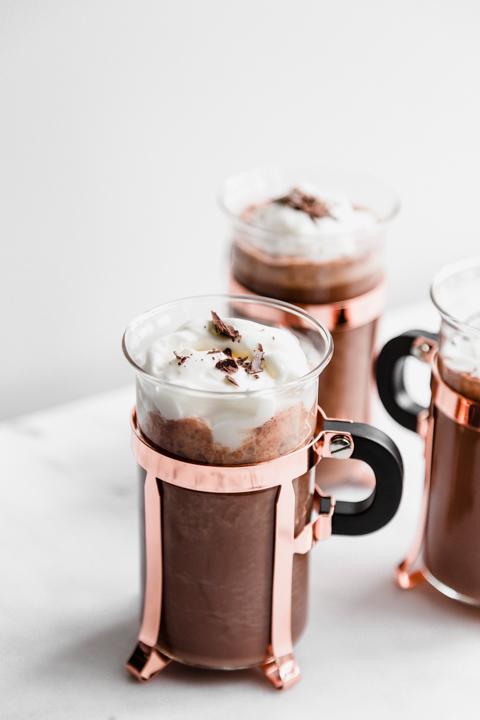 Boozy Mexican Hot Chocolate
Enjoy this delicious twist on a traditional hot chocolate recipe!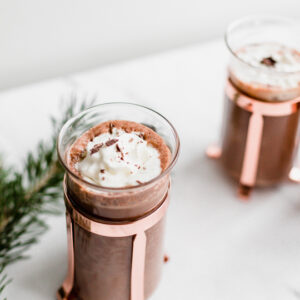 Ingredients
3

cups

whole milk

8

oz

semi-sweet chocolate (get a good quality bar), finely chopped

3

tbsp

brown sugar

1

tsp

vanilla extract

1

tsp

ground cinnamon

.25

tsp

cayenne

Pinch of salt

8

oz

Ancho Reyes liqueur
Instructions
Warm the milk in a saucepan or hot chocolate pot over medium heat, just until steaming. Whisk in the chocolate until completely melted.

Bring the mixture to a simmer, being careful not to let it boil over. Let simmer, whisking constantly, for 3-5 minutes, until it thickens slightly.

Remove from heat and add the brown sugar, vanilla, cinnamon, cayenne, and salt. Whisk rapidly to combine and froth, or use the pot's built-in frother.

Divide the Ancho Reyes evenly between four mugs, and top with the hot chocolate and (optional) whipped cream.
Nutrition
Serving:
1
g
Calories:
441
kcal
Carbohydrates:
53.1
g
Protein:
9.7
g
Fat:
21
g
Saturated Fat:
12.8
g
Cholesterol:
18
mg
Sodium:
114
mg
Fiber:
0.3
g
Sugar:
46.4
g