Spicy Pork Al Pastor Quesadilla with Roasted Tomatillo Salsa Verde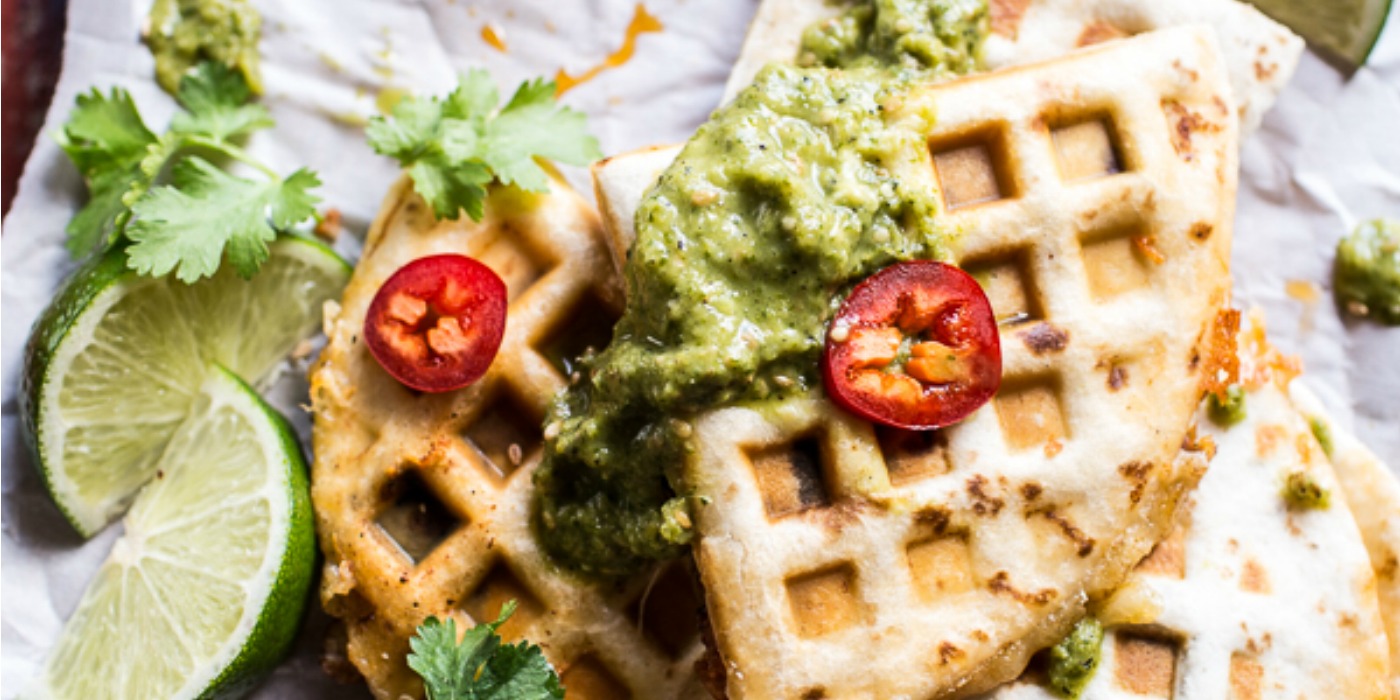 With the days getting warmer and longer I am always on the lookout for a good no oven, easy, yet super flavorful meal. There is just something about this time of year that screams, "let's grill everything."
Or well, at least it does for me. I am pretty excited for summer: summer's warmth, summer produce and basically all that summer has to offer (ice cream, burgers, watermelon, sweet lemonade and days at the pool or beach).
I know quesadillas can be eaten any time of the year, but something about summer just makes me think quesadillas. Maybe it is their simplicity. Whatever the case, I wanted to create an extra fun quesadilla to celebrate.
Today I am sharing a very Mexican quesadilla with a Korean inspired salsa. It's a little Mexican Korean fusion food, and it is so good!! Oh, and to make things even more fun, I used a waffle maker to cook my quesadillas. Yes, a waffle maker. I know that may seem odd, but it actually works SO well. It cooks the middle, melts all that cheese and perfectly browns the outside. AND, you don't even have to mess with flipping the quesadilla. It really makes things so easy and quick!
Plus, I feel like everything cooked in a waffle maker just tastes better…or maybe that's just because it's fun and child-like. Either way, the waffle maker cooks a delicious quesadilla!
Before I go, I want to mention a few things about the recipe. The pork part is pretty basic, you just need to marinate for an hour or so before grilling, but the salsa has a special ingredient called Korean Sunchang. It is just a spicy Korean paste that you can find online or at Asian food markets. Some health food stores carry it as well. If you cannot find it or do not feel like looking for it, sriracha can be used in its place.
And that's it. Hope you all enjoy the quesadillas!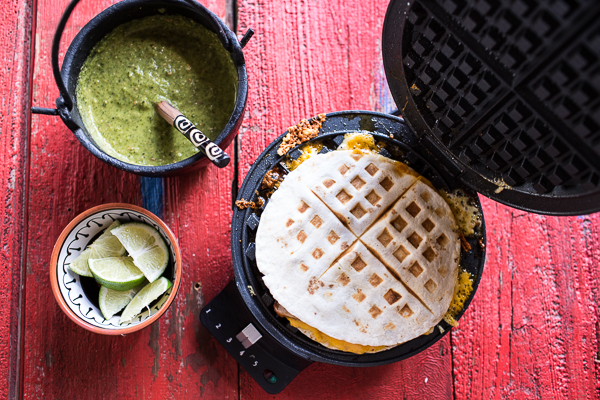 Spicy Pork Al Pastor Quesadilla with Roasted Tomatillo Salsa Verde Recipe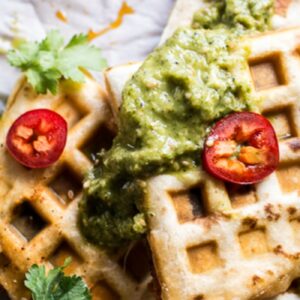 INGREDIENTS
1 ½ pounds thin-sliced pork shoulder (1/4-inch-thick slices are perfect)
1 white onion, quartered
2 cloves garlic, minced or grated
2 tablespoons chili powder
1 teaspoon dried oregano
½ teaspoon cumin
½ teaspoon salt + pepper
3 chipotle chilies in adobo, chopped + 2 tablespoons adobo sauce
½ cup orange juice
½ cup pineapple juice
8 (6-inch) flour tortillas
2 cups shredded Mexican cheese (I use a mix of cheddar and monterey jack)
1 cup cooked white or brown rice
Fresh cilantro + lime wedges, for serving
Roasted Tomatillo Salsa Verde
6 tomatillos, skins removed
2 tablespoons Korean Sunchang, can substitute sriracha or Gochujang (Korean chile paste) if needed*
¼ cup fresh pineapple chunks
2 tablespoons sesame oil
2 tablespoons low sodium soy sauce
Juice from 2 limes
1-2 tablespoons toasted sesame seeds
½ cup fresh cilantro, chopped
INSTRUCTIONS
In a blender or food processor, combine the onion, garlic, chili powder, oregano, cumin, chipotle chilies + adobo sauce (from the can of chipotle chilies), orange juice and pineapple. Blend until smooth. Add the pork to a large bowl or gallon size Ziploc bag and then pour the sauce over the pork. Toss well to coat. Try and make sure that almost all the pork is submerged in the sauce. Cover and place in the fridge for 1 hour or overnight.
Meanwhile, prepare the tomatillo salsa. Preheat the broiler to high. Line a baking sheet with parchment. Add the peeled tomatillos and place under the broiler for 3-5 minutes, turning once or twice or until the tomatillos are mostly charred all over. Remove from the oven and let cool slightly. Then add the charred tomatillos and pineapple chunks to a blender or food processor. To the blender, add the Korean Sunchang, sesame oil, rice vinegar, soy sauce and lime juice. Blend until mostly smooth. Pour into a glass jar or serving bowl and then stir in the sesame seeds. Cover and store in the fridge until ready to serve. The sauce can be stored for at least a week in the fridge.
Preheat the grill or a grill pan to medium high heat. Once hot, remove the pork from the marinade and grill until cooked through, about 4-5 minutes per side (depending on how thick or thin your cut of pork is). As the pork is cooking, spoon the marinade over top for extra flavor. Allow the pork to rest at least 10 minutes and then dice into bite size pieces. While the pork is resting, you can add the remaining marinade to a small saucepan and bring to a boil, reduce the heat and simmer 5 minutes or until slightly thickened if desired.
Preheat a waffle iron or quesadilla maker; I love this one from Cuisinart. Once preheated, layer one tortilla on the waffle maker and then add a layer of cheese, a layer of pork, a sprinkle of rice and then another layer of cheese. Add the top tortilla and carefully close your waffle iron. Be careful not to overload your quesadilla or your waffle iron will not shut. Cook until lightly golden and browned, about 5 minutes. Repeat with the remaining ingredients.
Serve the quesadillas warms with the salsa verde and fresh cilantro.
*Korean Sunchang is a Korean chili paste/sauce and can be purchased on Amazon. You may also use sriracha or Gochujang (Korean chile paste) in its place, but I really love the flavor the Korean Sunchang adds.