Slice Like a Chef: Cutting Edge Cutlery for the Home Kitchen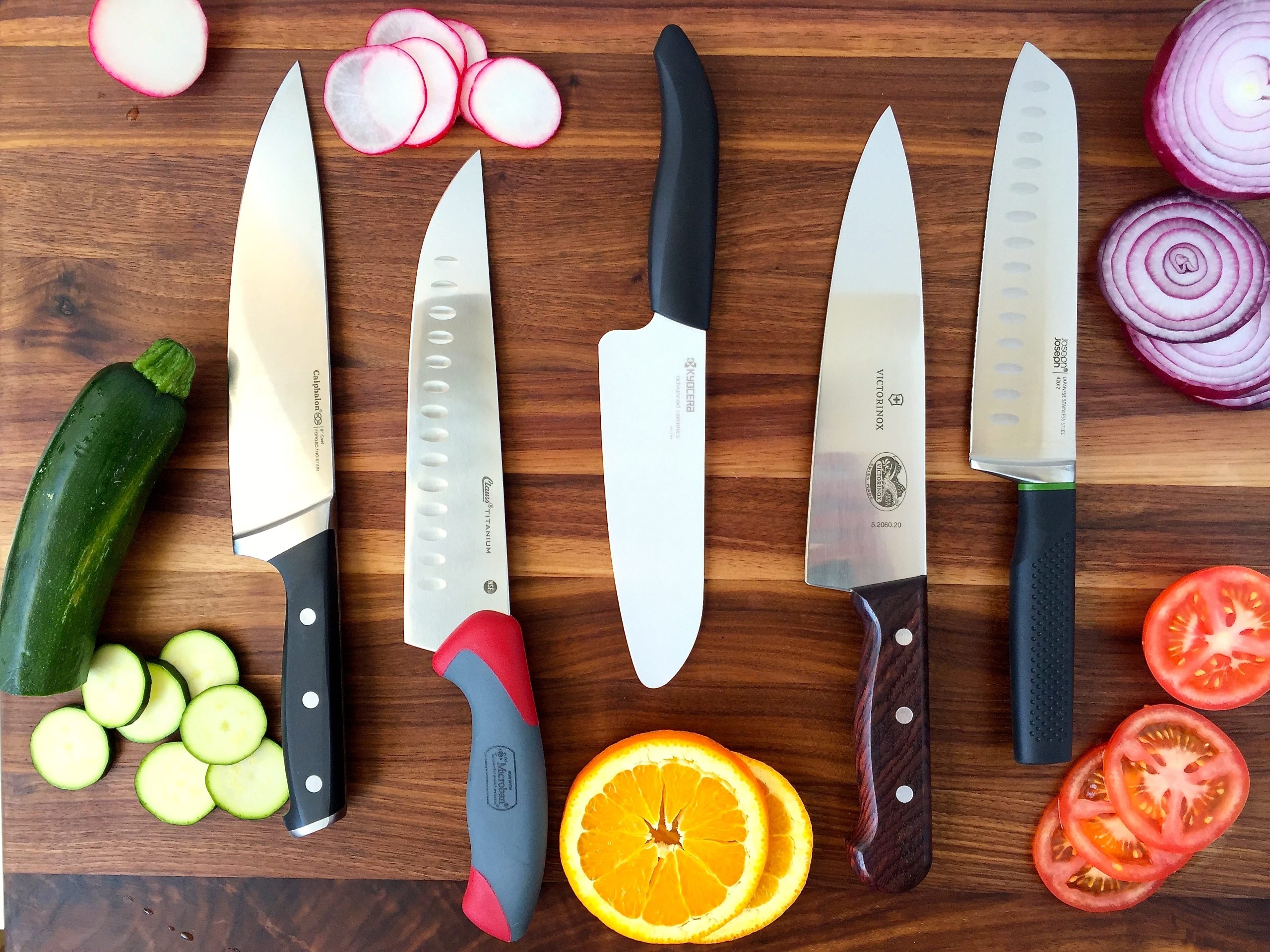 Knives are one of the most important tools in a professional
kitchen and they are treated with great respect. Chefs invest a great deal of
time and money having their knives professionally sharpened, storing them in
gorgeous knife rolls, washing them gently and honing them frequently. Unfortunately,
this high-maintenance routine can be difficult to replicate in a home
kitchen.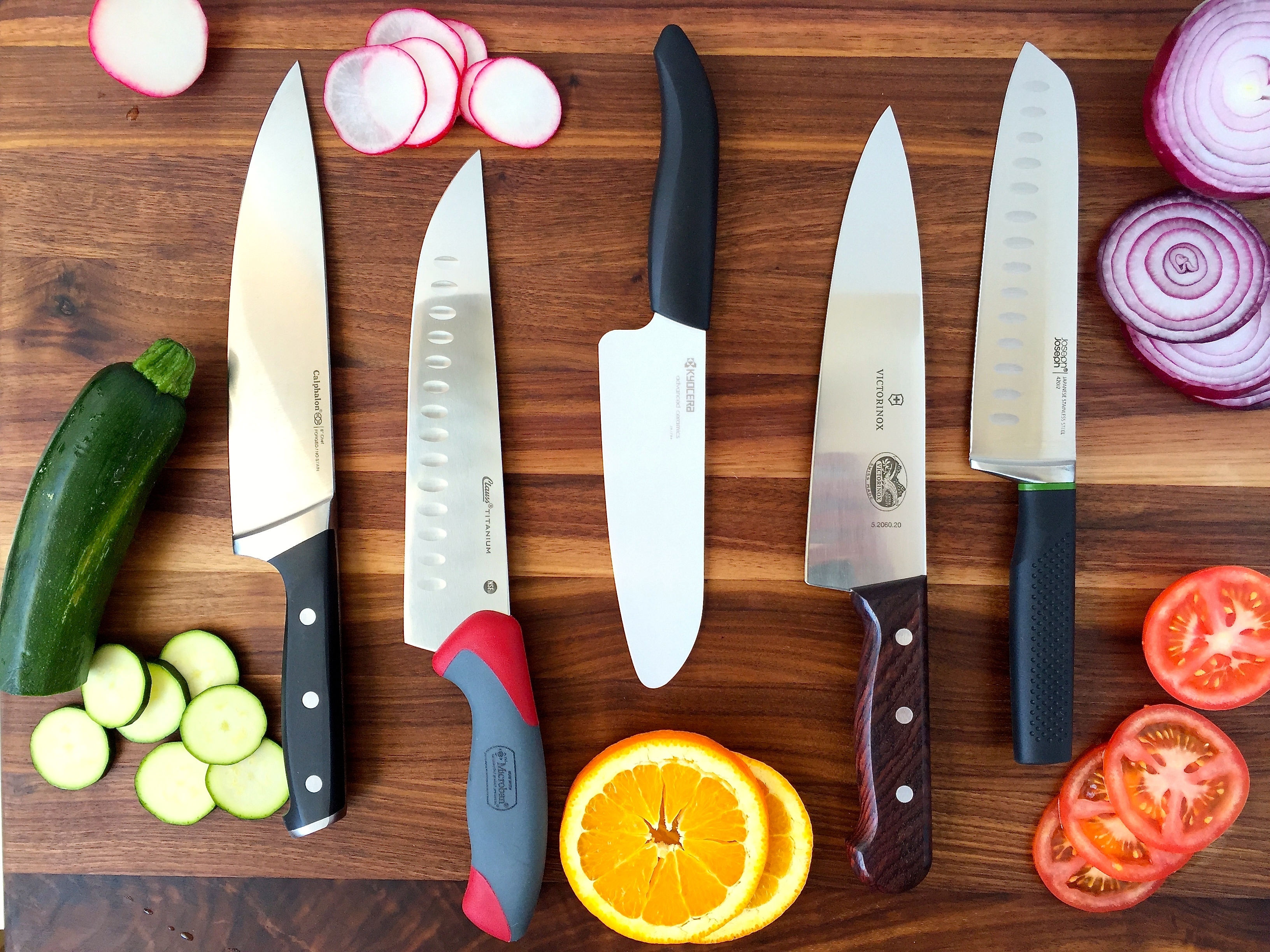 In many families, knives are rarely honed, almost never
professionally sharpened and, when they lose their edge, end up tossed in a
drawer, forgotten until someone gets a nastxy has come a
long way and we've found some amazing products that make it easy to maintain
and store your knives safely and beautifully for a lifetime.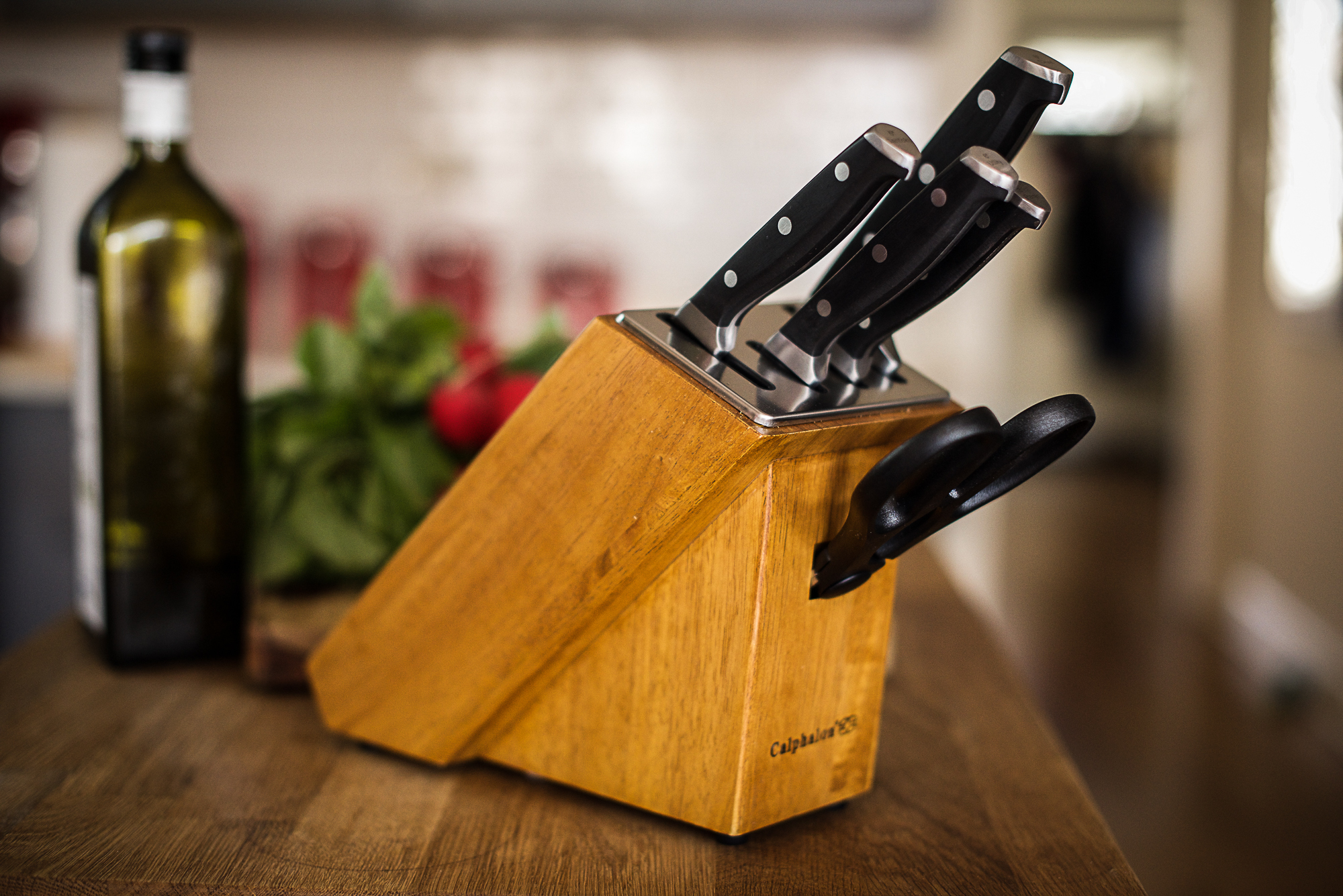 This set provides the ultimate combination of high-quality and low-maintenance. Calphalon's SharpIN knife block features ceramic sharpeners built right into each knife slot. The knives are literally sharpened every time you pull them in or out of the knife block. With regular use, these knives should stay sharp for a lifetime without additional maintenance.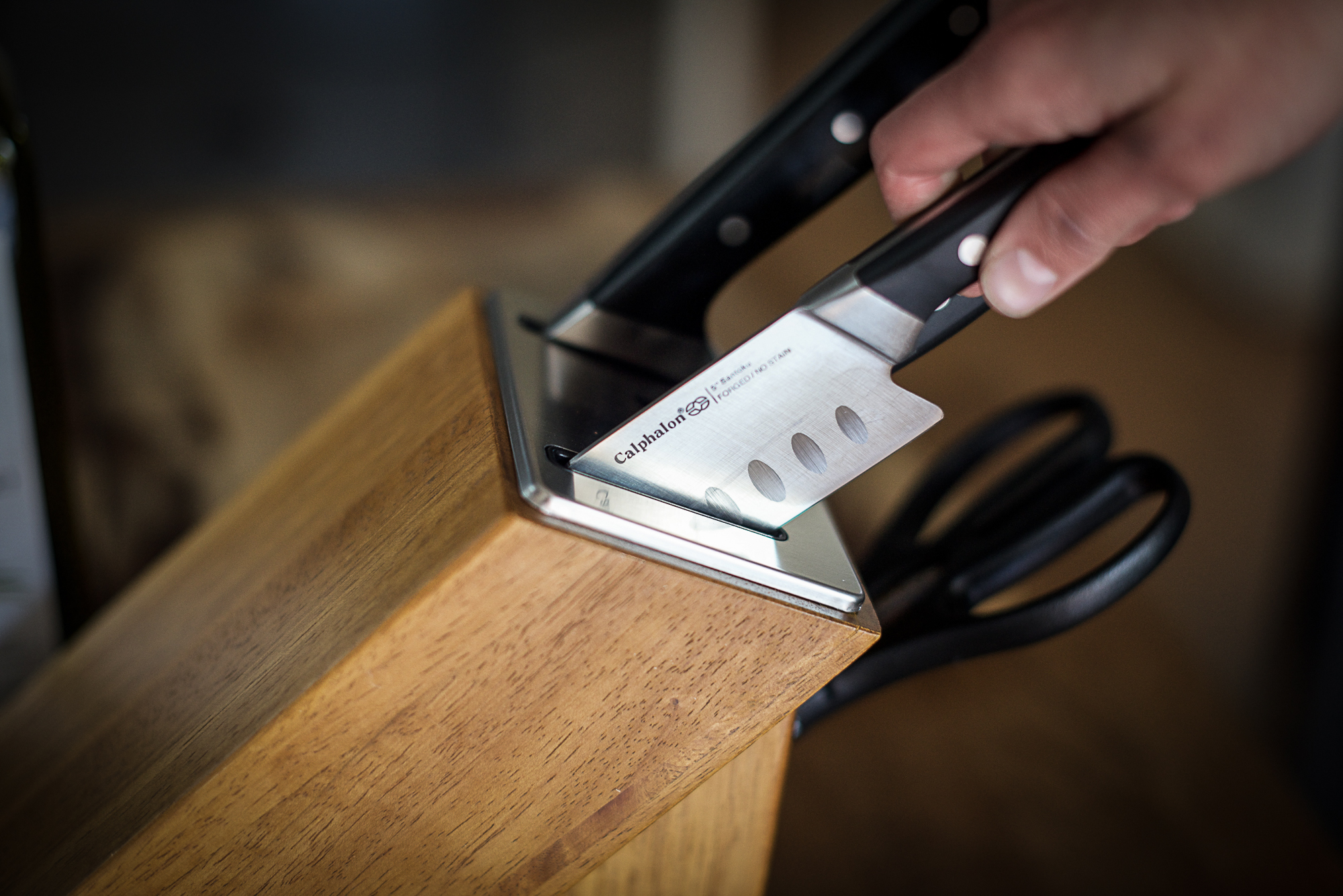 We've been using the Classic Self-Sharpening 6 Piece Set, which includes an 8" Chef's Knife, 6" Utility
Knife, 5" Santoku, a paring knife and utility shears. As a set, this covers all
the basics needed in a home kitchen on a daily basis, while avoiding the hassle
of cutlery upkeep, making it an ideal starter or replacement set.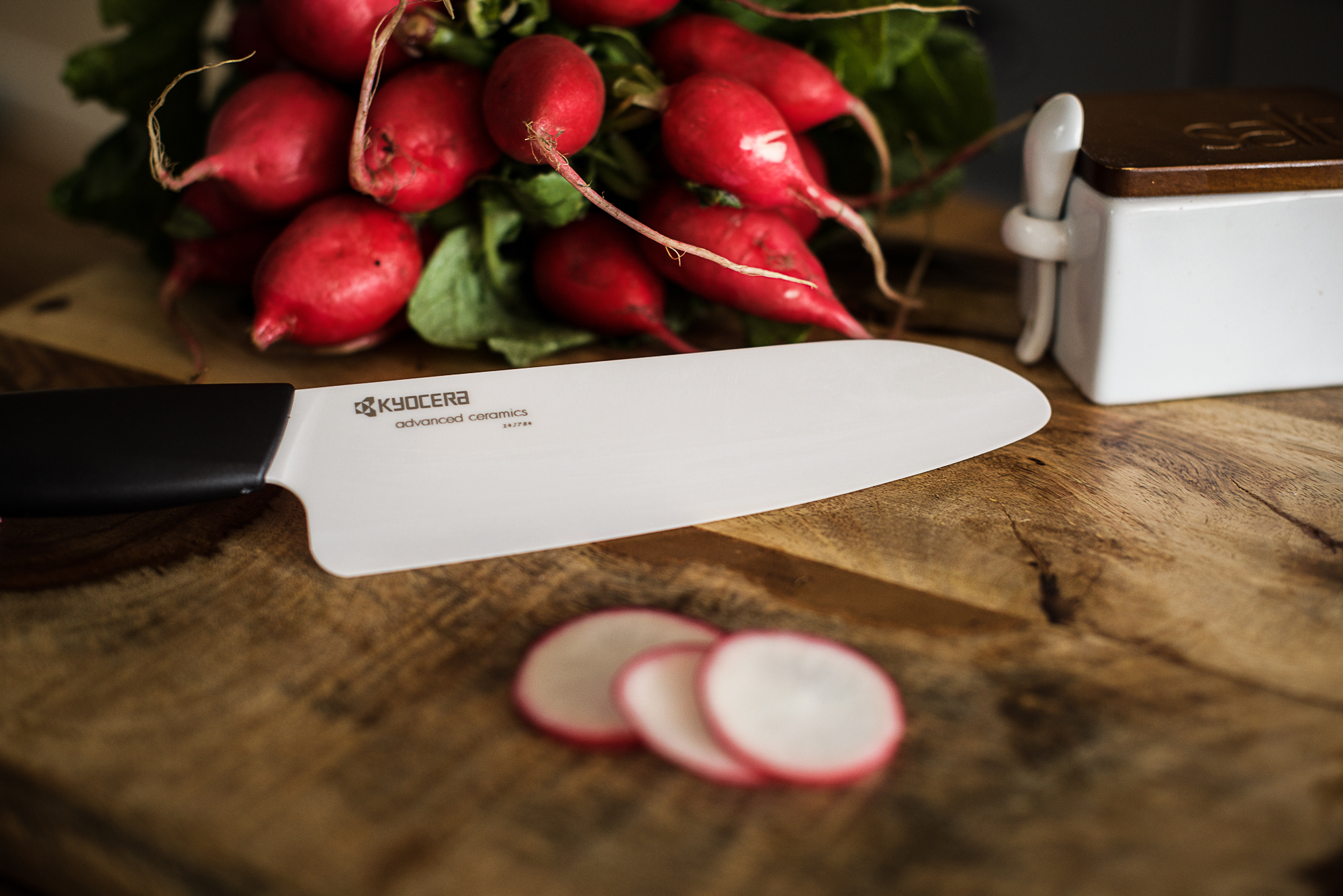 This knife was a total revelation. My husband and I were comparing it to a zippy little sports car due to its incredible sharpness and ability to slice veggies razor-thin. It's a great knife for slicing fruits, vegetables and boneless meats.
The blade is constructed from ceramic instead of metal. Since ceramic is harder than metal and will stay sharper for longer. In fact, because it's ceramic it can only be sharpened at the factory. Kyocera recommends that you send your ceramic knives back for sharpening annually (more or less depending on use). You pay for the shipping and they'll take care of the rest.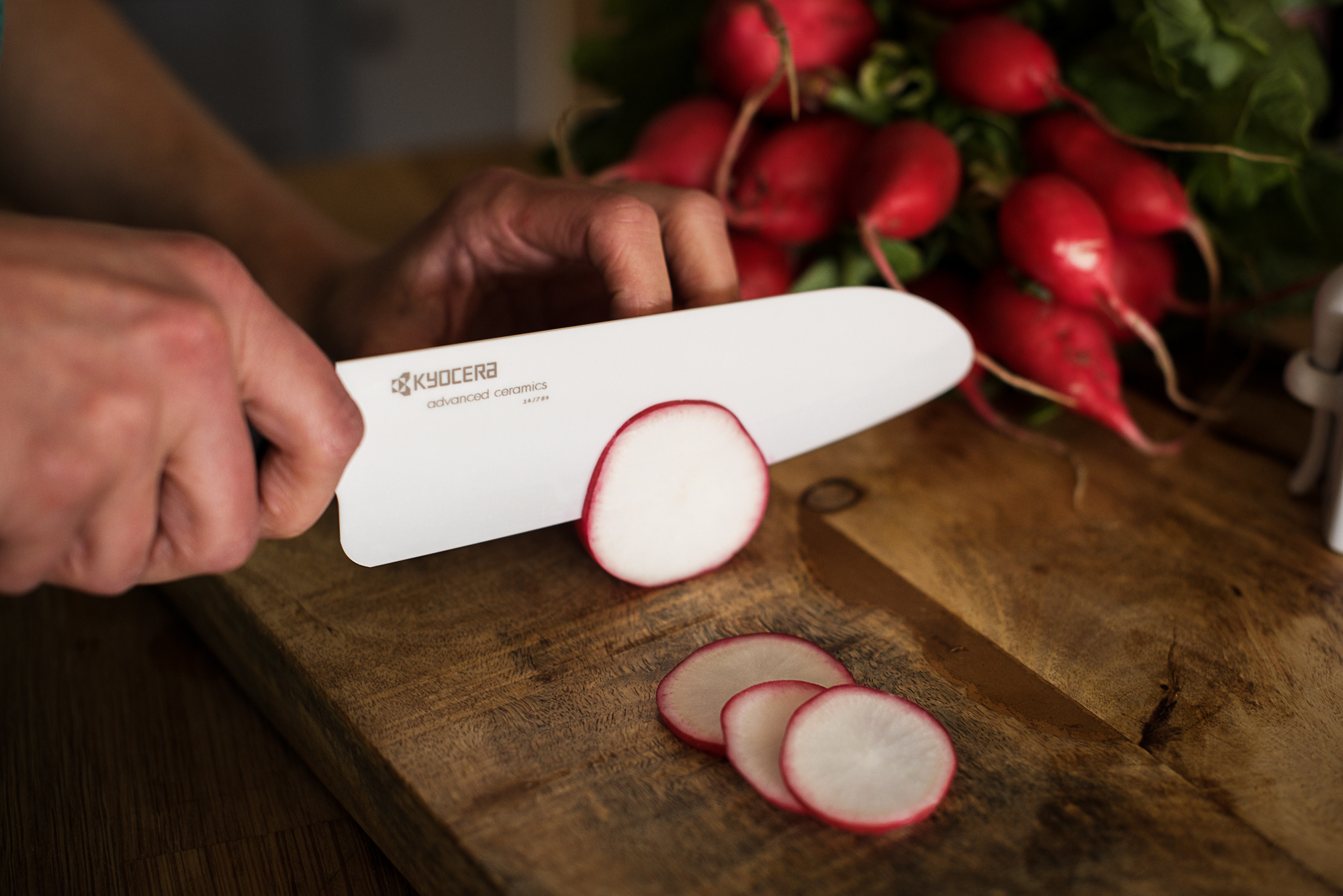 However, there are some things you can't do with a ceramic knife — because of the material's brittle nature they can't be used in situations where the blade might bend or twist. For example, using a knife edge to twist the pit from an avocado could shatter a ceramic blade. But for regular tasks like dicing a pile of veggies or slicing tomatoes paper-thin a ceramic blade is an ideal addition to your cutlery collection.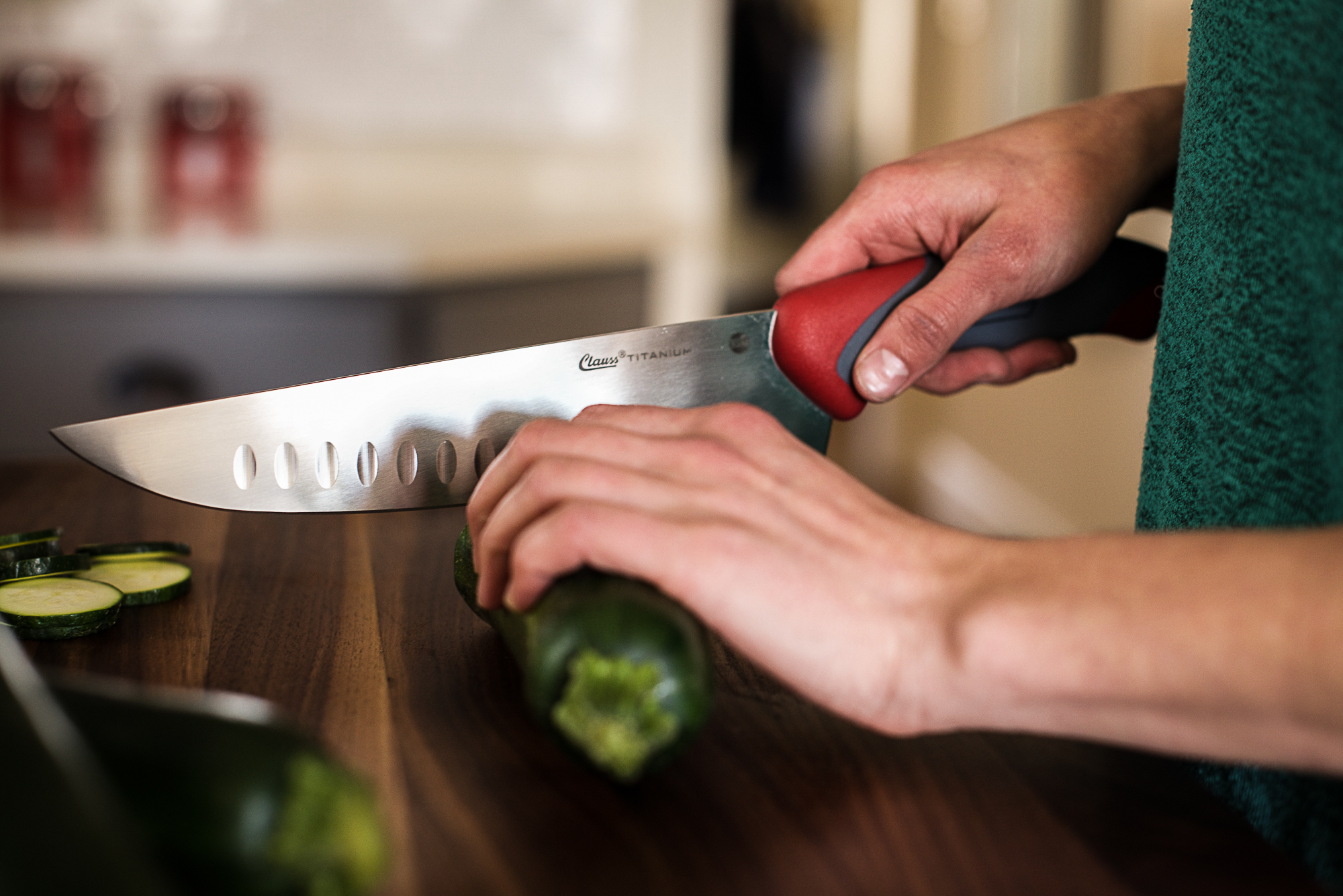 What about for heavy-duty tasks like slicing an enormous
watermelon or deboning meats? Well, we have the knife for you: to keep the
automotive analogy going, if the ceramic blade was a zippy sports car, then
this Clauss 10" Titanium Chef's Knife is a professional-grade pickup truck. Constructed
from bonded titanium, this blade will stay sharp far longer than a steel knife
and can still be lightly sharpened at home when needed.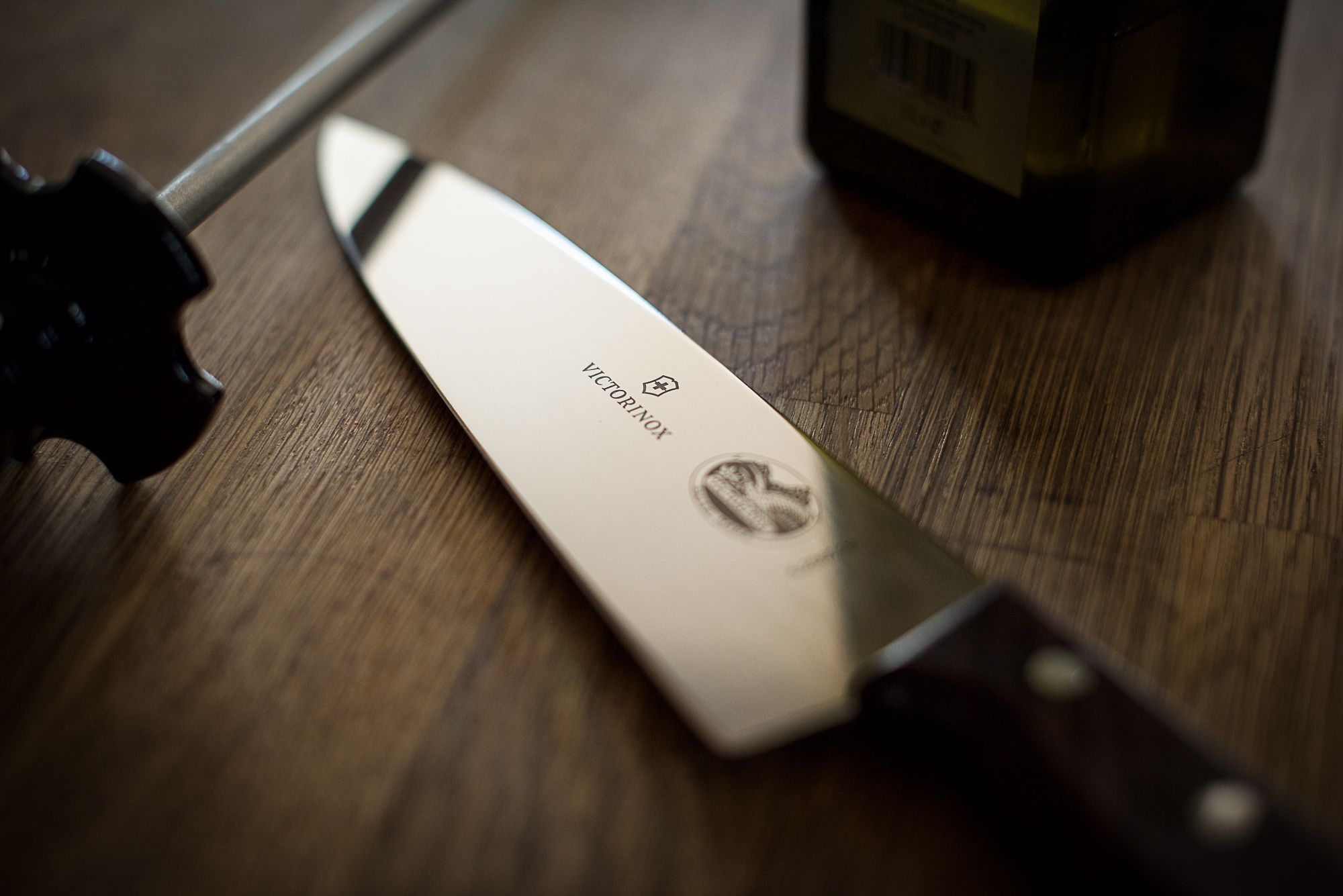 If you're looking for an all-around high-quality knife, look no further than the Victorinox 8-Inch Carving Knife. This brand was standard issue when I was in culinary school and for good reason. This is a great-quality, super-reliable knife for nearly any task in the kitchen. It will require regular care to maintain its edge. However, Victorinox uses softer steel in their blades than many other brands, which they claim, makes it easier to hone and sharpen at home. The rosewood handle makes this knife as beautiful to look at as it is to use.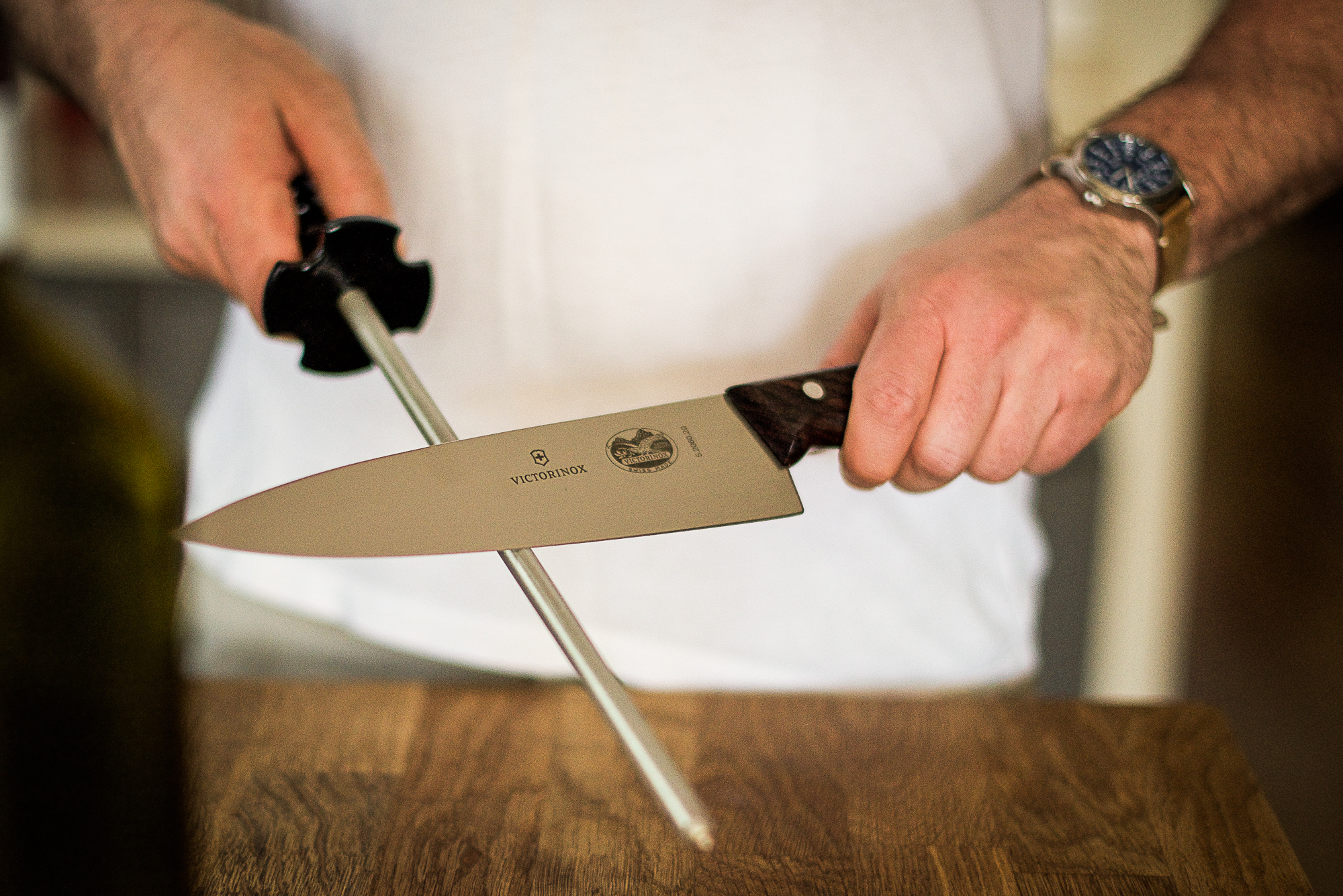 When it comes time to sharpen that Victorinox, or any other standard blade in your home cutlery collection, a Diamond Steel Sharpening Rod is your best bet. The rod design makes it easy to lightly sharpen your blades with the same motion you'd use to hone them on a traditional steel but with a diamond coating that sharpens faster and more efficiently. Simply slide each side of your blade back and forth across the steel at the proper angle until the edge is restored.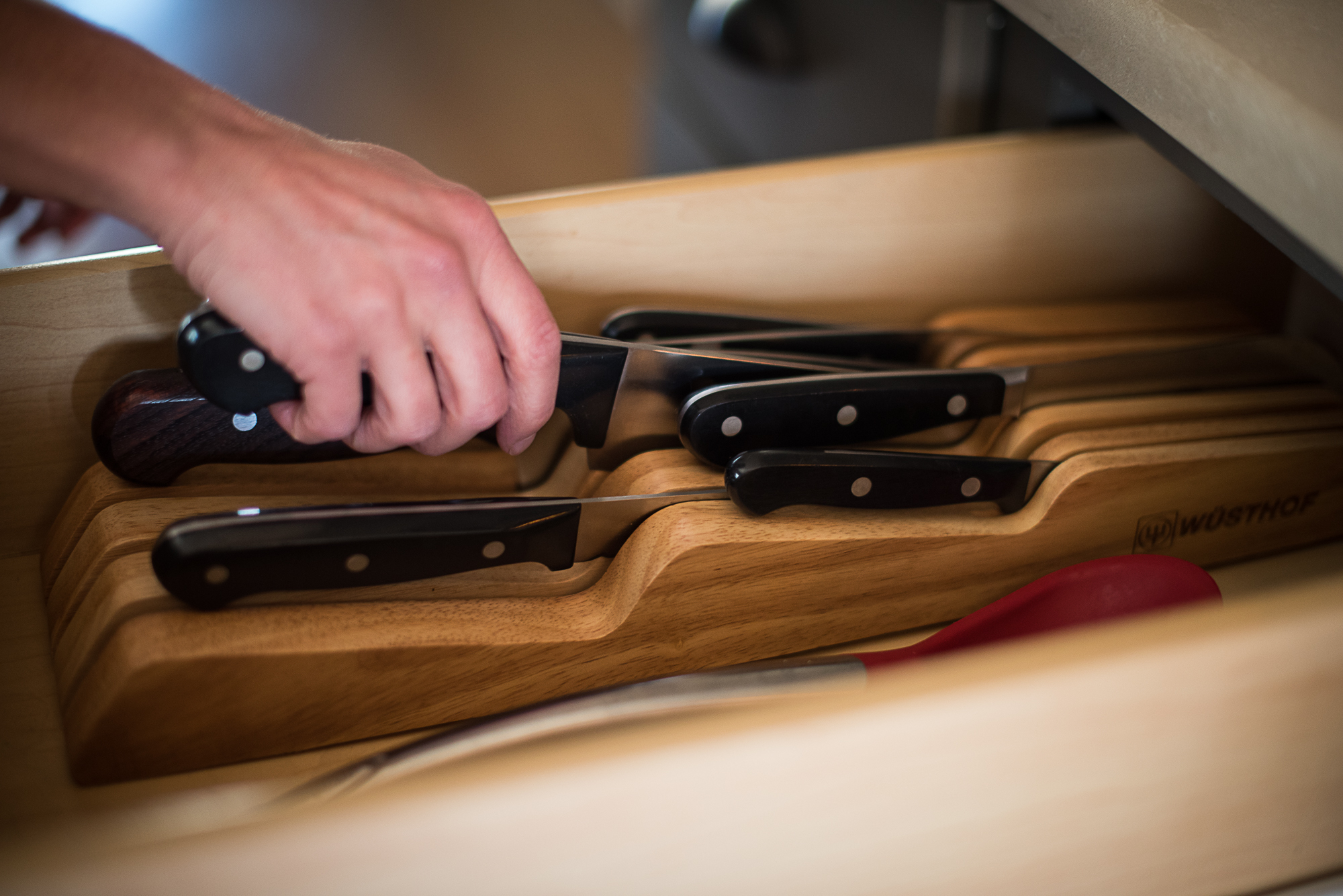 When it comes time to store those knives, an in-drawer storage
tray is a wonderful solution for keeping cutlery neatly organized and, most
importantly, safely stowed. No need to sacrifice precious countertop space with
a knife block or risk storing knives dangerously loose in a drawer. This
beautiful beechwood model holds 3 large knives and 4 smaller ones in any
standard kitchen drawer.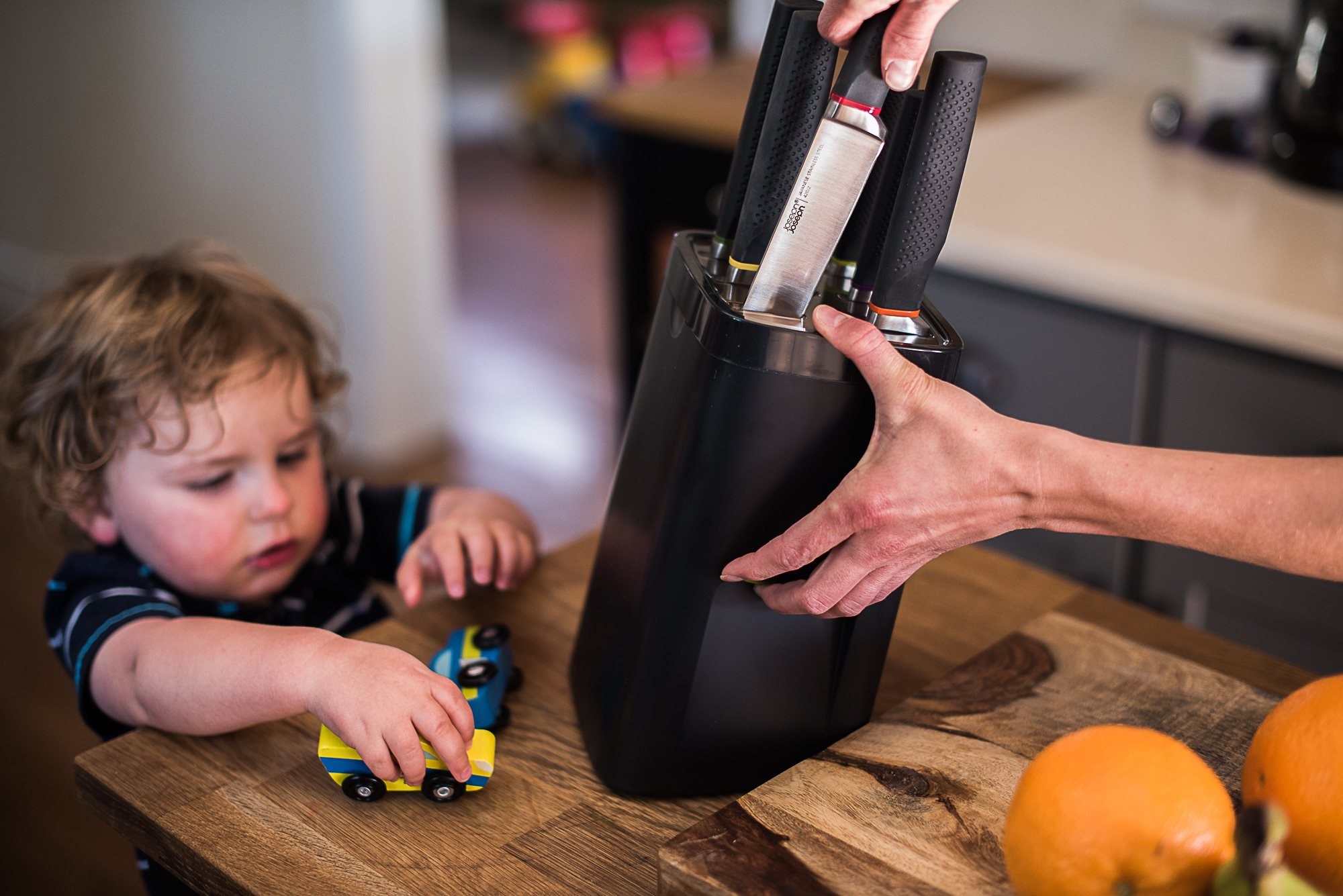 Speaking of safety… as a mom, I completely love the innovative thinking behind the Joseph Joseph LockBlock. This knife block features a design that locks the block so that children can't remove the knives. An adult-sized hand is required to squeeze the lever to release the knives. As soon as you let go of the lever, the block resumes a locked position. Any parent or grandparent who has attempted to cook with the "help" of young children will appreciate the piece-of-mind this feature provides. Joseph Joseph offers the LockBlock as part of a 6-piece knife set that is color coded to easily identify which knife goes where. The LockBlock is also available in a universal model that will safely store and lock your existing cutlery collection.
Parents with young children may also want to check out my article on Curious Chef's Kid-Safe Knife Set, which have become a favorite tool when the kids want to help me in the kitchen. The knives work great on fruits and veggies and have become a wonderful tool for teaching knife safety and techniques from a young age.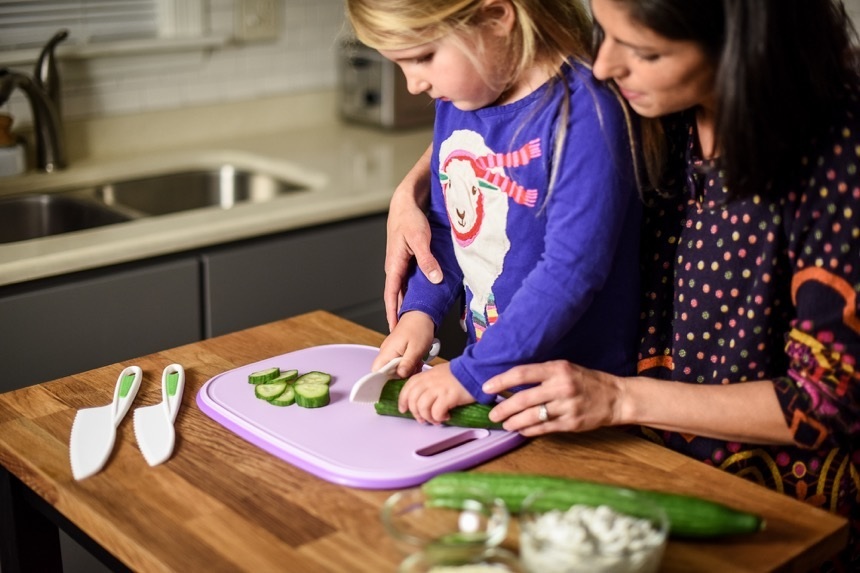 Knives are definitely one of the most critical tools in the
kitchen. Thanks to a variety of cutlery innovations, even the most laid-back
home cook can start slicing like a chef in no time!