Savory Dutch Baby Pancake Recipe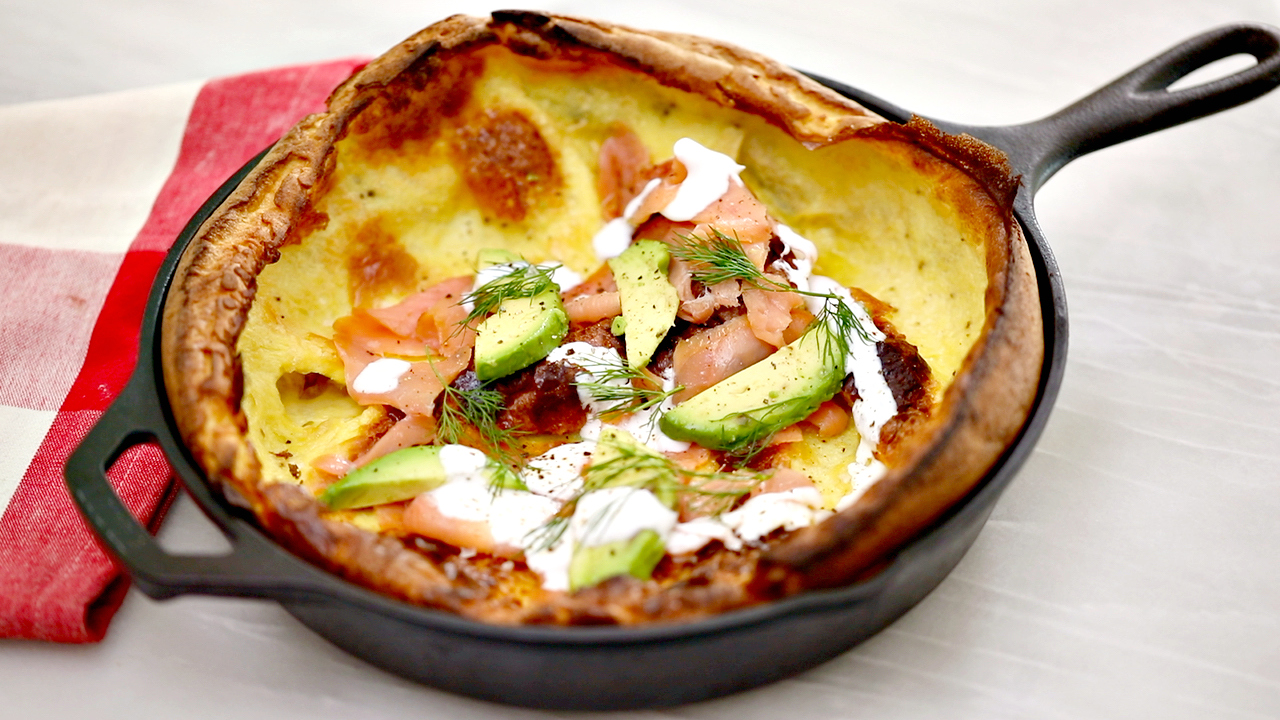 Breakfast being the most important meal of the day means there should be no scrimping.
Sure, cereal is a go-to for busy mornings when you are running late but how about those weekend days when you don't have to rush and can take the time to make something special? That's where my Dutch Baby Pancake comes in. Also, since today is Pancake Tuesday (aka Fat Tuesday) this recipe is perfect timing.
A Dutch Baby is what you would get it you mix a pancake with a popover. It's puffy, light and full of flavor. They are most commonly served as a sweet breakfast but they are equally good as a savory dish.
Once you make your Dutch Baby Pancake you can top it with any of your favorite ingredients. Personally, my go-to breakfast includes smoked salmon so I decorated my Dutch Baby with salmon, avocado and crème fraîche. What are your favorite flavors? Are you partial to eggs and ham or bacon and spinach? You can get creative with your toppings. As my mother would say "paper never refused ink," meaning put whatever you want on there.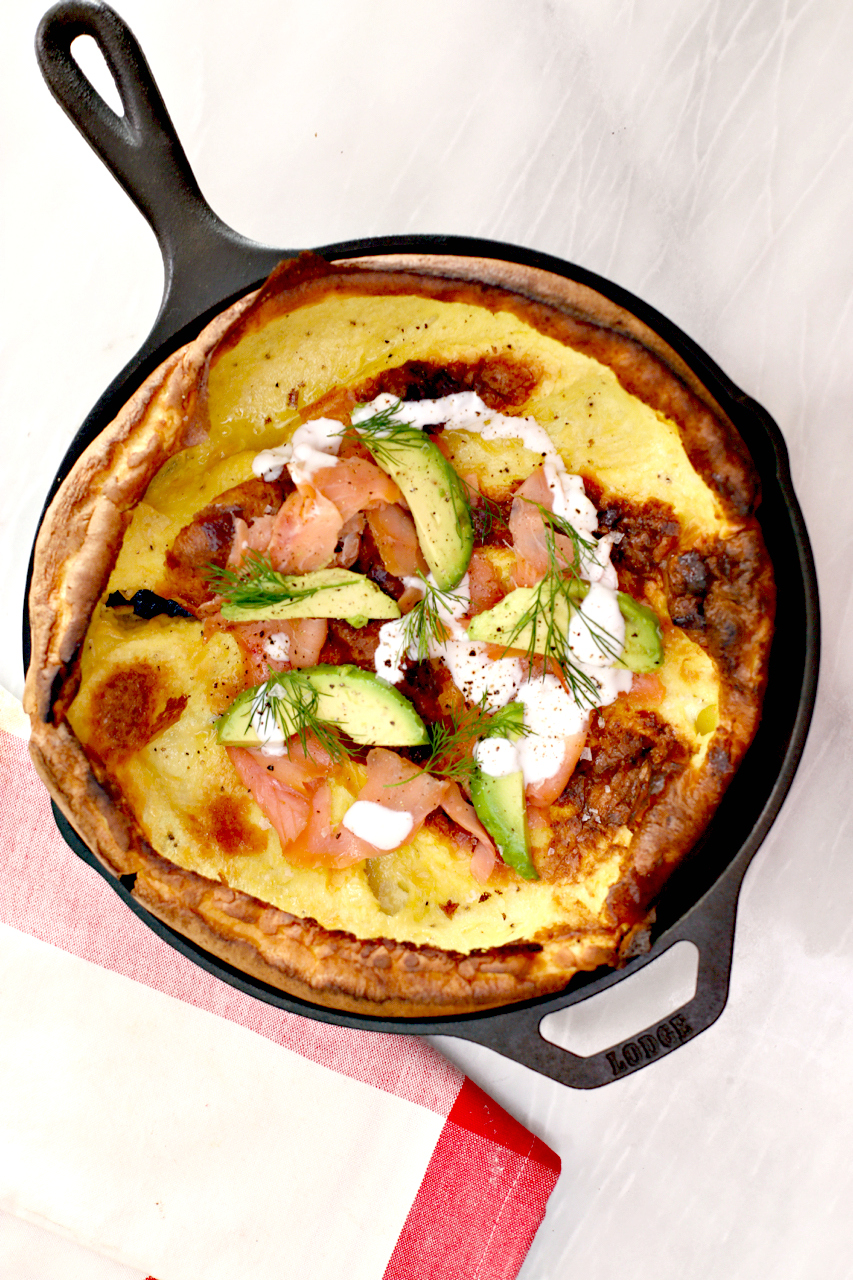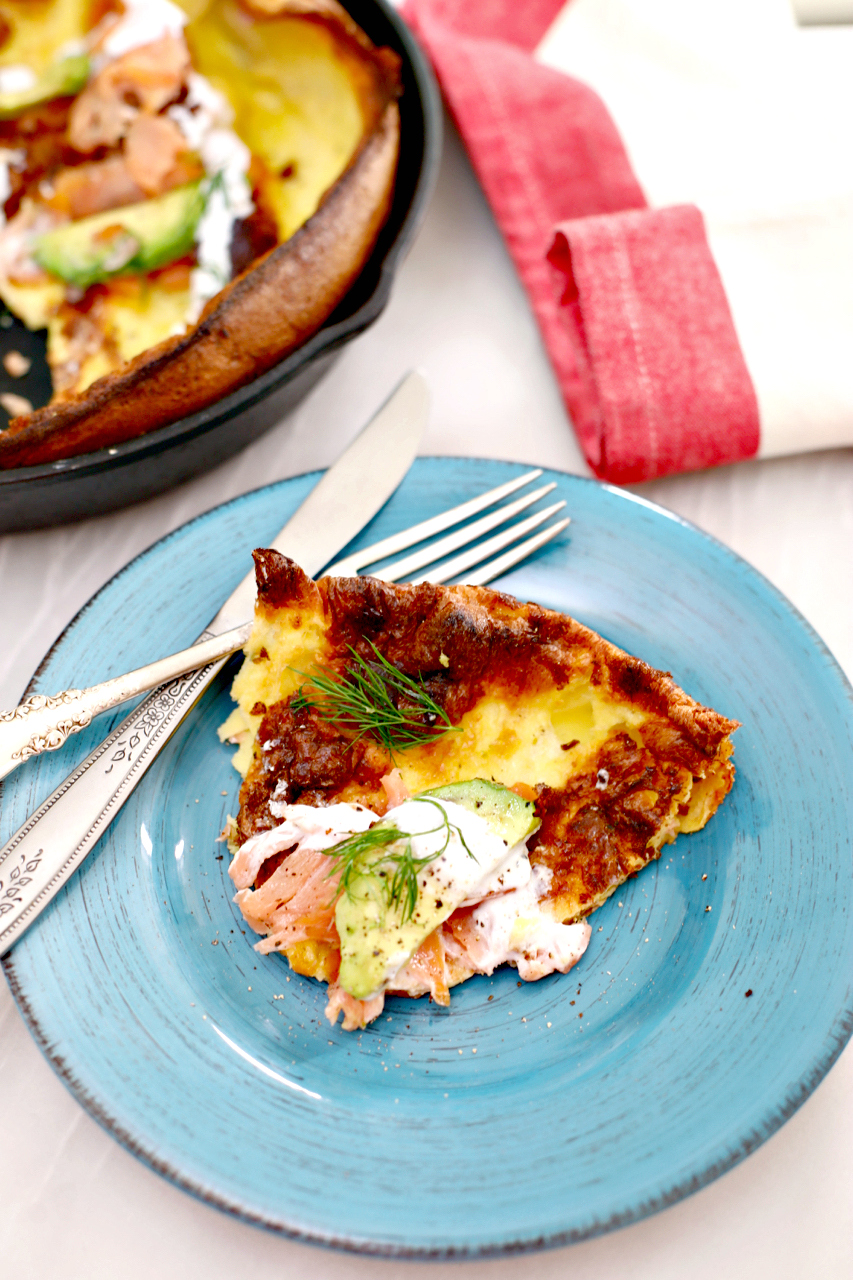 When making the batter you want to whip up your eggs well. I did this using my KitchenAid Ultra Power Hand Mixer. It is powerful and gives you light, fluffy eggs that you are looking for. Dutch Babies are traditionally baked in a cast iron skillet. I used my well-seasoned Lodge Cast Iron Skillet. If you want one cast iron skillet to last you a lifetime then this is it.
If you like to prepare your meals ahead of time then make the Dutch Baby batter up the night before then when you wake up pop it into the oven for an impressive and best of all, stress-free breakfast.
Treat yourself to something special this Pancake Tuesday and whip up this Savory Dutch Baby for everyone to enjoy!
Savory Dutch Baby Pancake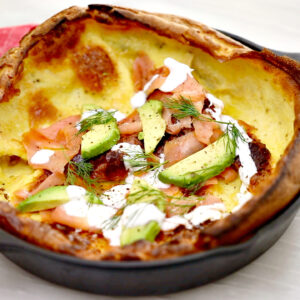 INGREDIENTS
3 large eggs, room temperature
¾ cup (6floz/180ml) milk
3 tablespoons (1½oz/45g) butter, melted, divided
½ cup (2 ½oz/75g) all-purpose flour
2 tablespoons cornstarch
½ teaspoon salt
½ teaspoon freshly ground black pepper
To decorate
Smoked salmon
Avocado
Dill
Crème fraîche
INSTRUCTIONS
Place a medium ovenproof skillet in the center of the oven and preheat oven to 450oF (225oC). Let skillet heat for 10 minutes.
In a large bowl, beat the eggs until thick, about 2 minutes.
Once fluffy gradually stream in milk and 2 tablespoons of butter.
Add flour, cornstarch, salt, and pepper and whisk just to combine.
Carefully remove skillet from the oven and swirl remaining 1 tablespoon of butter in skillet to coat. Immediately pour batter into skillet (butter will brown quickly, so have batter at the ready to prevent burning).
Bake pancake until puffed and brown around edges, 15-20 minutes. It will begin to deflate as soon as it comes out.
Top with avocado, smoked salmon, dill and crème fraîche.