Salmon en Papillote with Fennel and Tarragon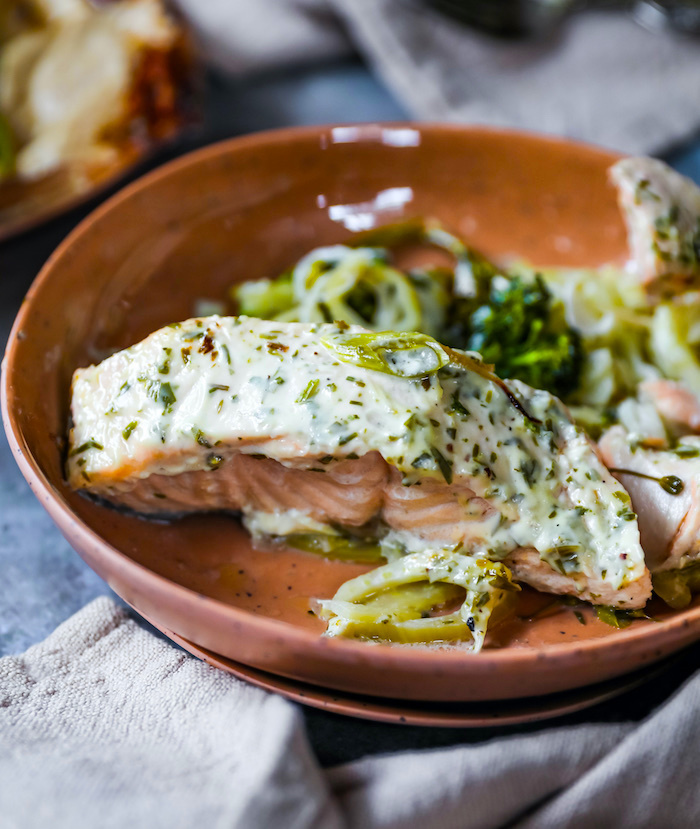 The technique of cooking salmon in parchment paper, known as Salmon en Papillote, is one that has really stuck with me ever since culinary school. We had a module called Spa Food where we learned soft cooking methods and recipes that felt lighter than normal restaurant food.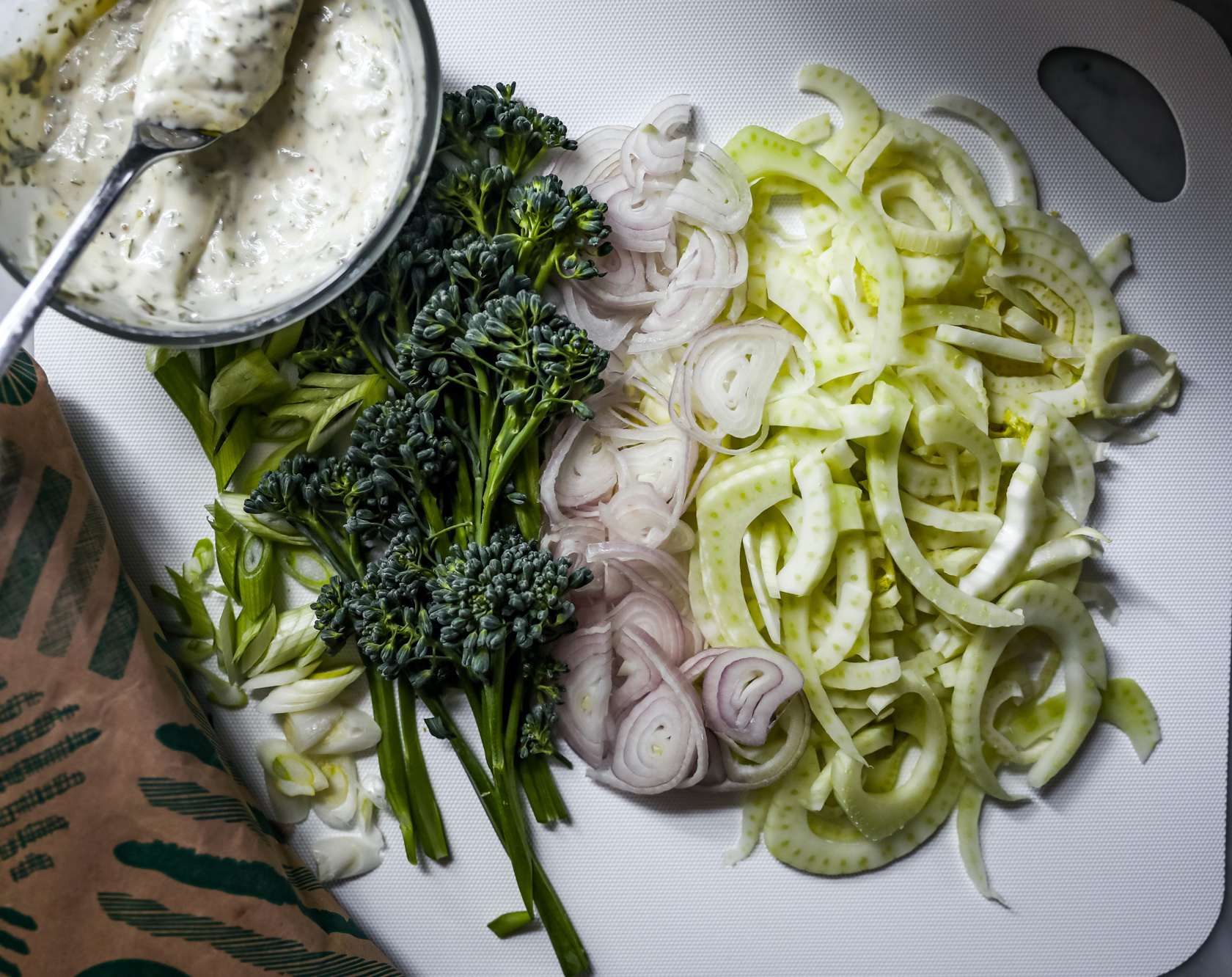 Flexi Cutting Boards, set of 4

By Dexas

Shop Now
The idea was to be able to create menus for hotels with spas, retreat centers, rehabilitation homes, etc. What's funny is that I went to a natural foods cooking school, which meant that everything we learned, by default, was lighter and different than standard restaurant fare. This module just stepped it up a notch.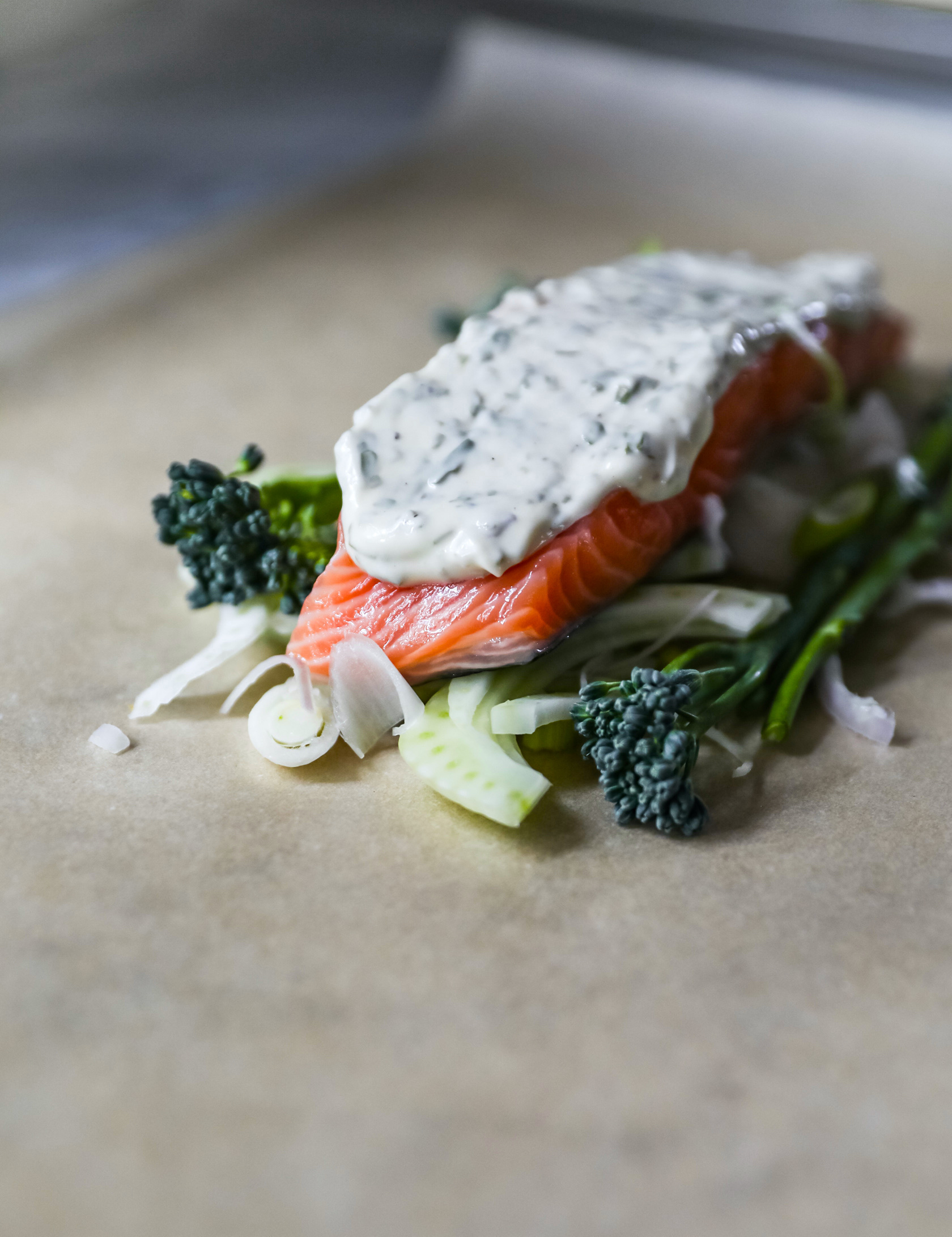 Salmon en Papillote really stuck with me because the presentation is dramatic, the cooking method is easy and delicate for the fish, and it's honestly just fun to make. I would prepare this for my clients when I was cheffing in New York City after culinary school and it was always a hit.
Take any base of vegetables, play with seasonings, and switch up the oily fish and you have instant variety with a fun technique.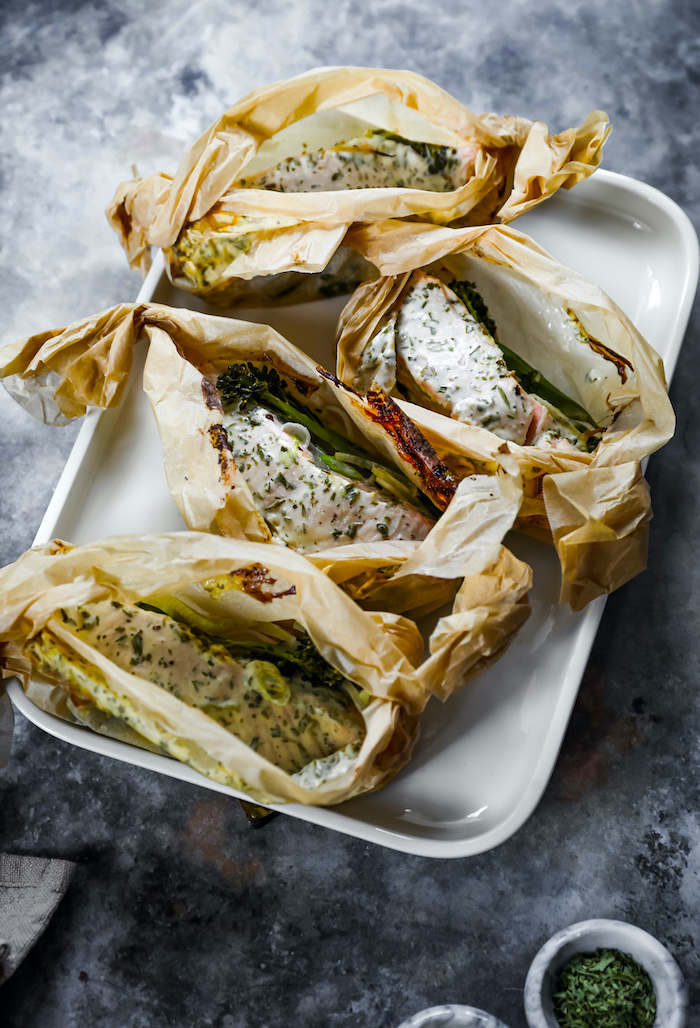 Clever Cooking Rectangular Serving Platter

By Villeroy & Boch

Shop Now
For this recipe, I decided that I wanted to play with anise flavors. Anise pairs so nicely with oily fish, and I was sick of lemon, butter, and caper everything. It's funny because I love lemon and caper, and don't prefer anise as much.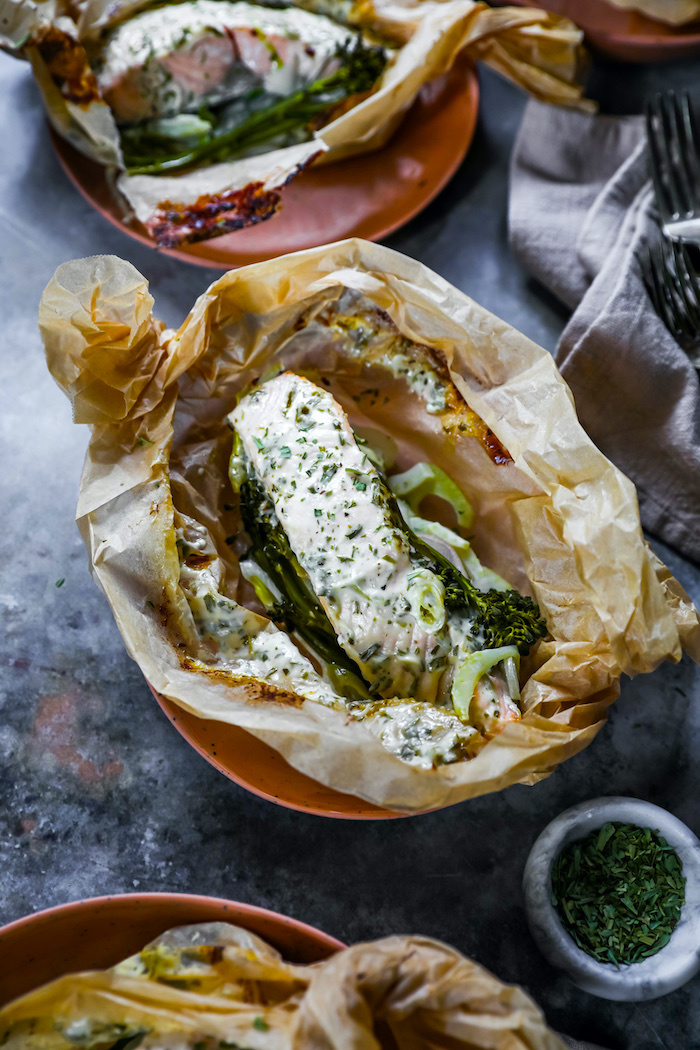 But here we are, on an exploration of flavors that paid off big. I'm not sure if I'll ever like black licorice, but I am sure sold on fennel now. I pair it with tarragon to give it a heady kick of flavor that brings the oily fish up a notch. I can't wait for you to try this one!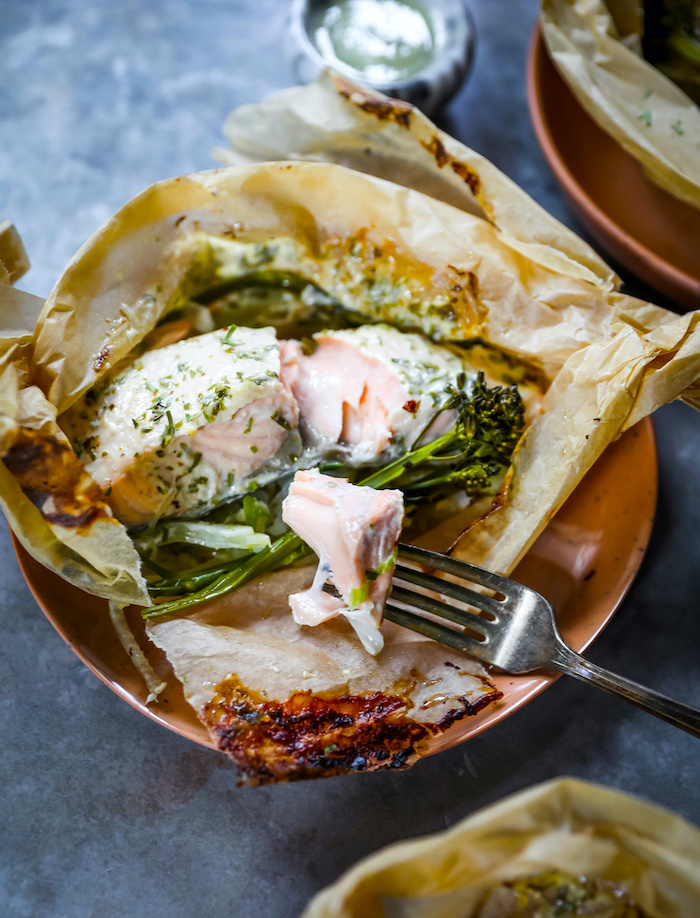 Salmon en Papillote with Fennel and Tarragon
This recipe, which calls for cooking salmon in parchment paper is so easy and flavorful. We paired this recipe with fennel and tarragon, but feel free to make this recipe your own!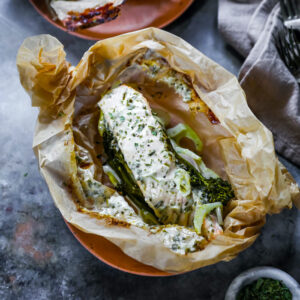 Ingredients
.33

cups

mayo

1

tbsp

lemon juice

1

tbsp

tarragon

.25

tsp

salt

4

turns of freshly cracked pepper

heavy drizzle of olive oil

4

6-8 oz. servings of salmon, deboned and lightly seasoned with salt and pepper

1

shallot, sliced thin

8

stalks baby broccoli, trimmed and cut in half or quarters

2

stalks green onion, sliced on a diagonal
Instructions
Preheat the oven to 350 degrees. In a small bowl, mix mayo, lemon juice, tarragon, salt, pepper, and oil. Set aside.

Using roughly 1 foot long pieces of parchment paper, assemble the packets by layering ¼ of each: fennel, shallot, baby broccoli, green onion, and a piece of lightly seasoned salmon. Spread roughly a quarter of the sauce over top of each piece of salmon.

Pull the long sides of the parchment paper rectangle up and together over the salmon. This should make a horizontal line along the length of the salmon. Fold a few times to close the packet, while leaving a little pocket around the fish and vegetables. Roll the short sides of the parchment paper rectangle like a piece of hard candy and tuck under the fish packet. Repeat with each piece of fish wrapped individually.

Line each salmon packet on a baking tray and cook for 30 minutes. Serve immediately by tearing a top in the parchment paper. Serve with your favorite sides and enjoy!
Nutrition
Serving:
1
g
Calories:
398
kcal
Carbohydrates:
12
g
Protein:
36.1
g
Fat:
24.4
g
Saturated Fat:
3.5
g
Cholesterol:
80
mg
Sodium:
393
mg
Fiber:
2.6
g
Sugar:
3
g
Recipe Notes
Don't be intimidated by the paper pouches. You can buy pre-made paper pouches if you need to, but all you do is basically wrap like you would a piece of candy or lollipop. Lots of rolling and folding.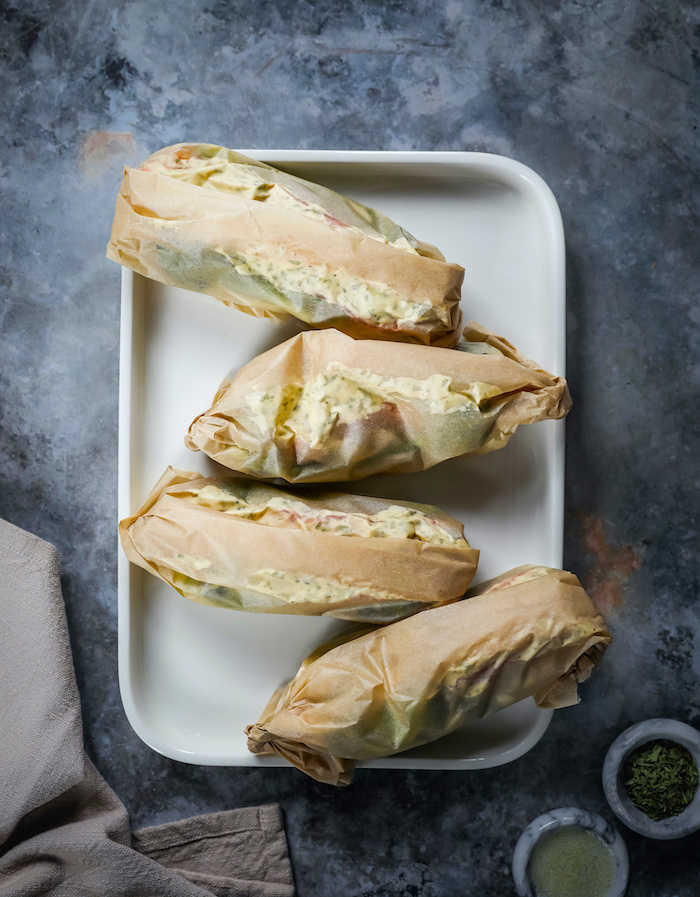 Flavors. I use fennel and tarragon here, but feel free to play with any flavors that you like. I was debating making this using basil and pesto flavors, and I still think that would be delicious with couscous. Have fun. Explore. Make this yours.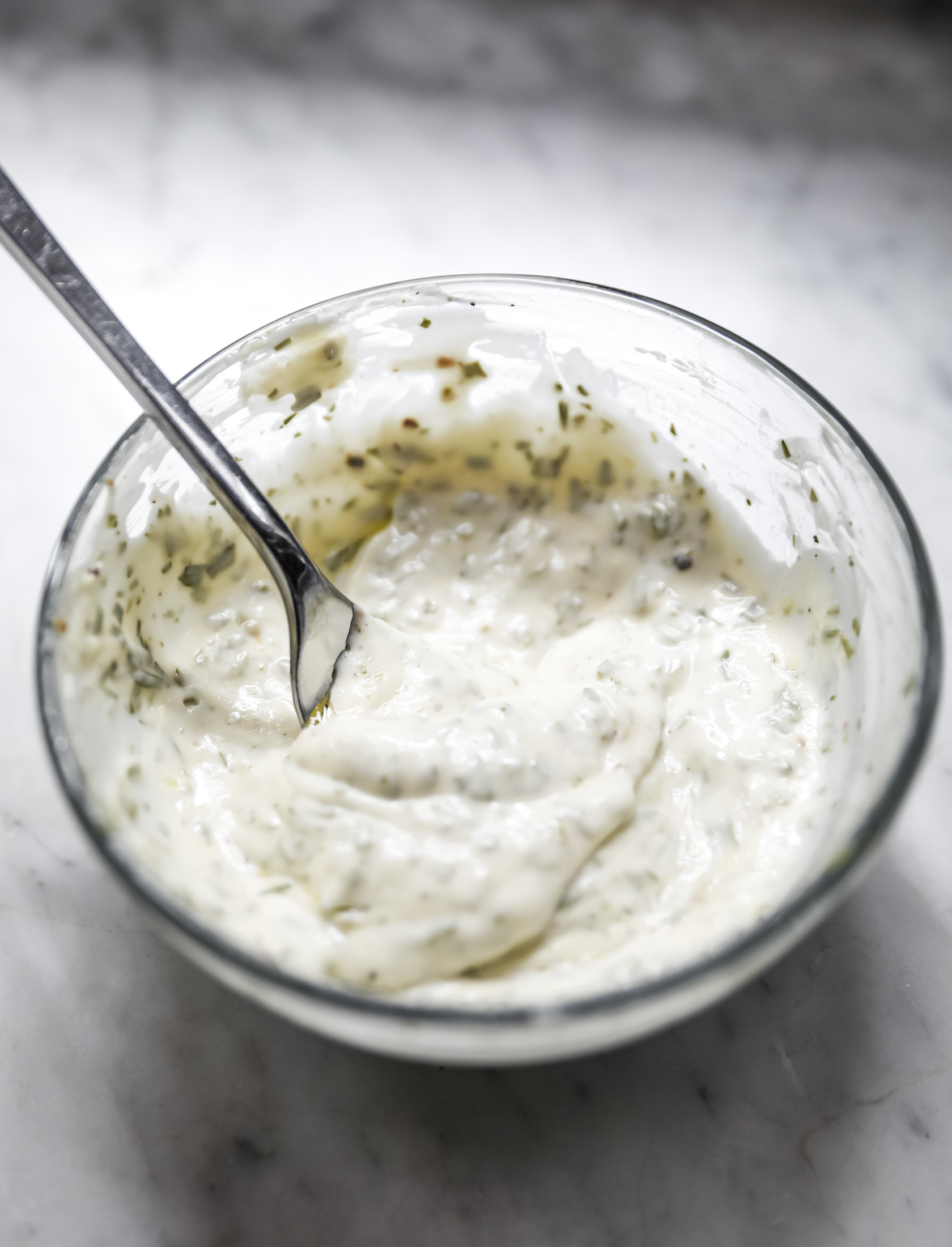 Cooking. The sauce, fish, and veggies give off enough moisture to steam cook the food inside the pouch. Don't add any more liquid or it will get soggy.