Fish Tacos with Citrus Mango Salsa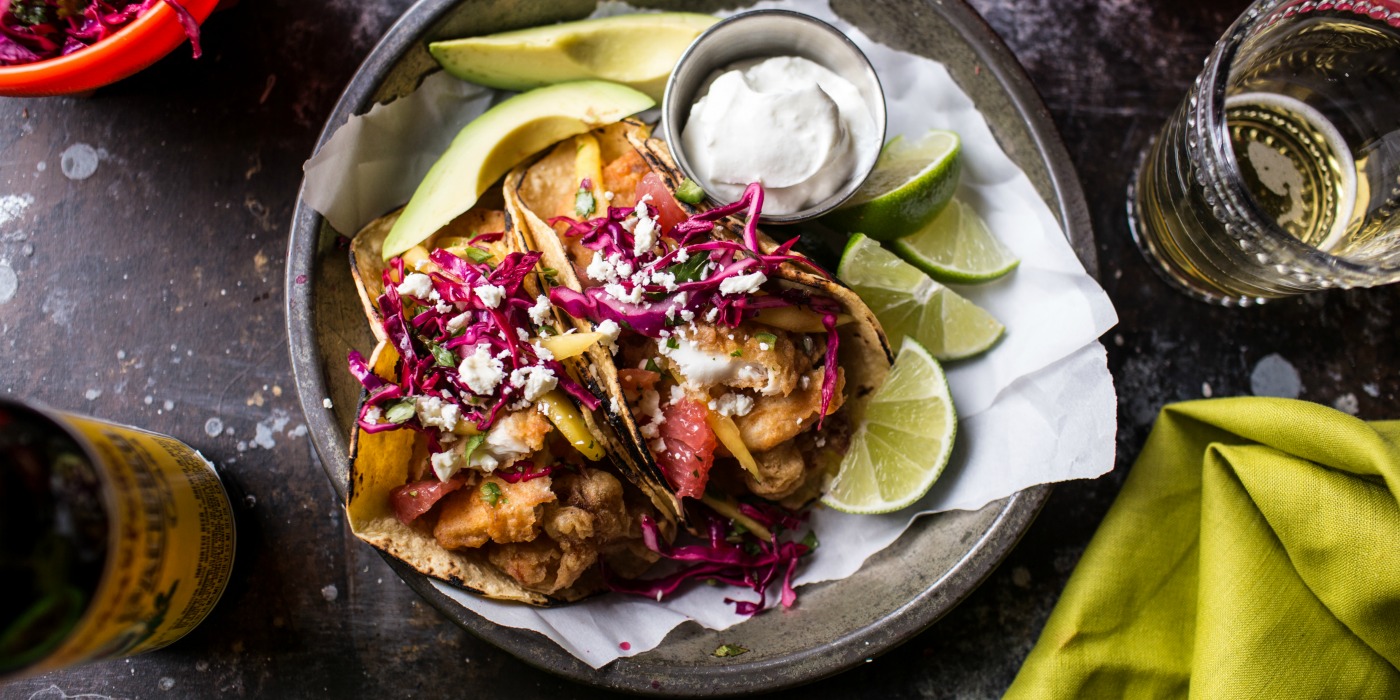 These fresh and light fish tacos are a sure way to brighten your spirits on these cold winter days and take you away to a tropical place, even if it's only for a short while!
Tacos are one of my all time favorite foods. I make them whenever I need some freshness and color in my life, or whenever life gets a little boring and I just feel like having a mini Mexican fiesta! I think my favorite taco though is the Baja inspired taco. Baja style tacos are typically fried white meat fish with plenty of salsas and slaws for topping. They're fresh, colorful and make you feel like you might just be sitting on a gorgeous Mexican beach sipping margaritas!
Ah, if only that were the case!!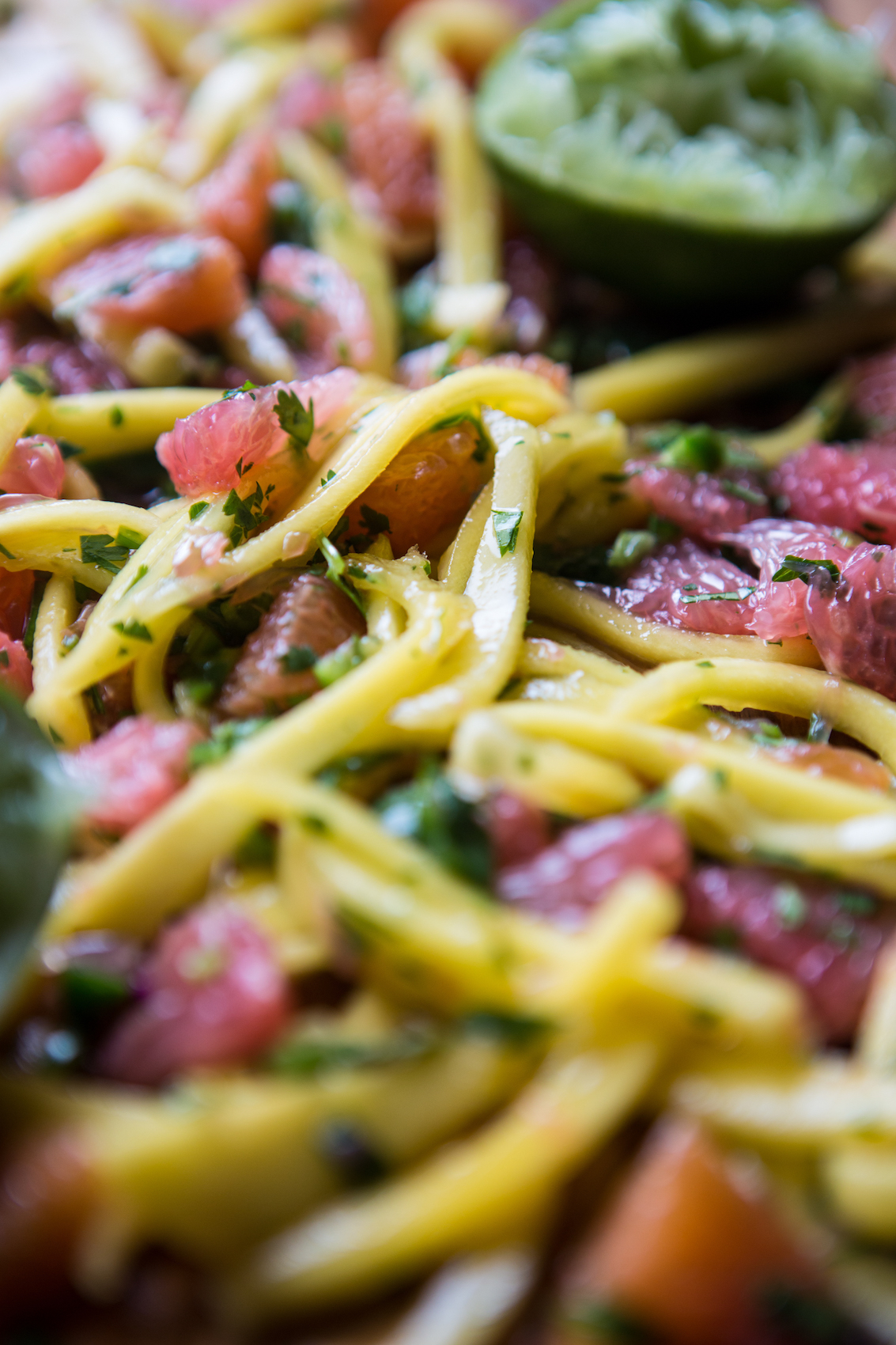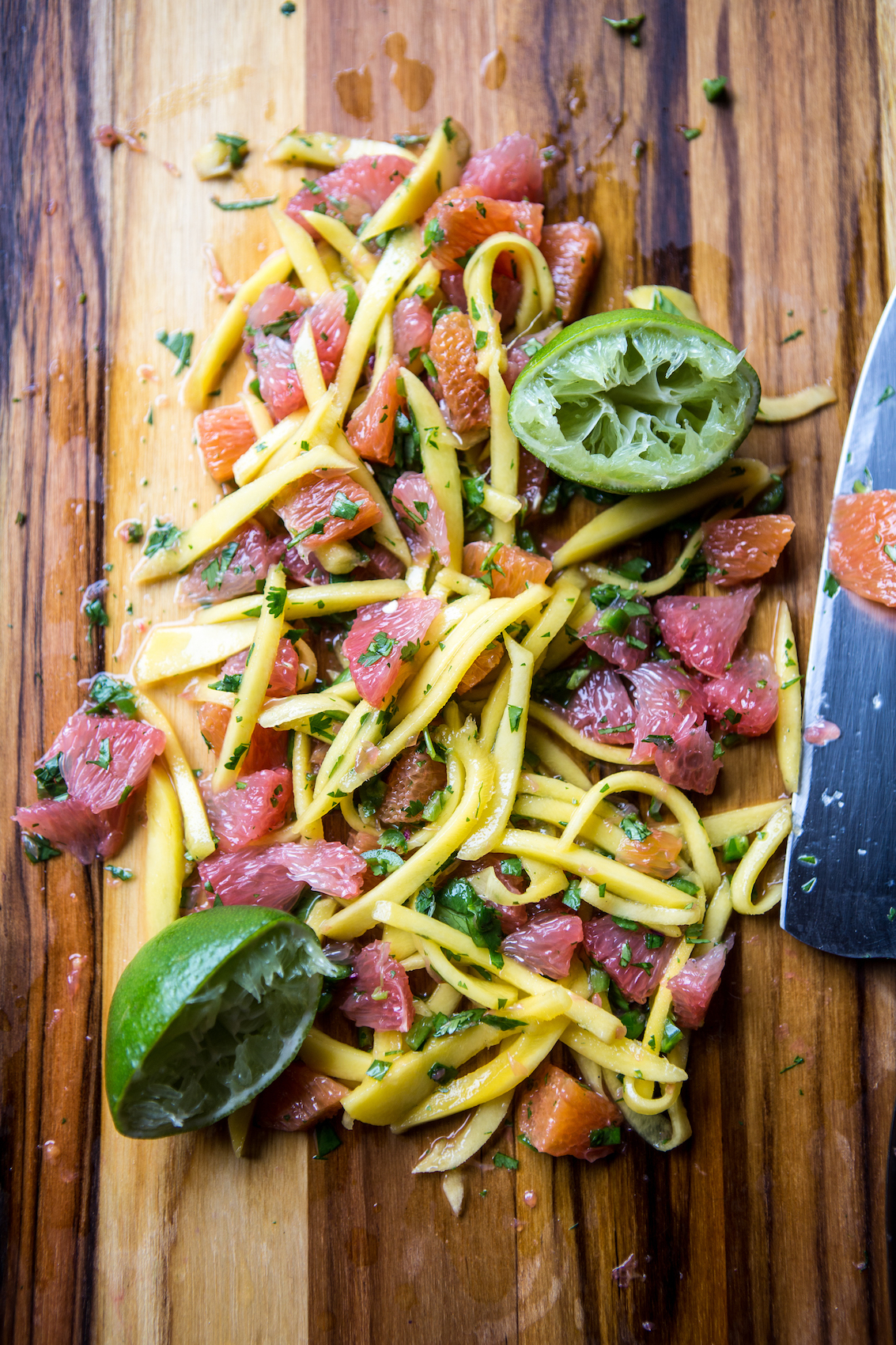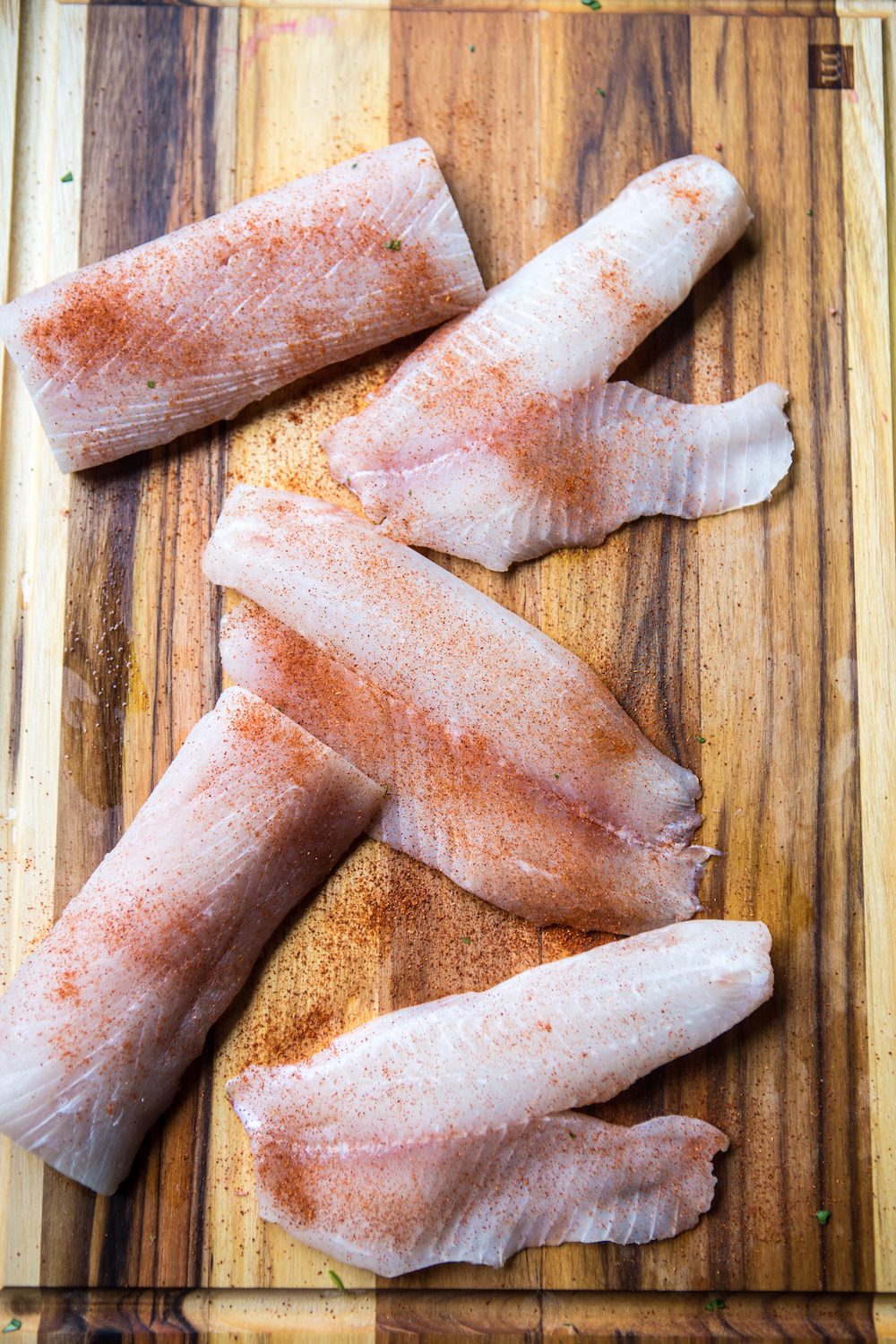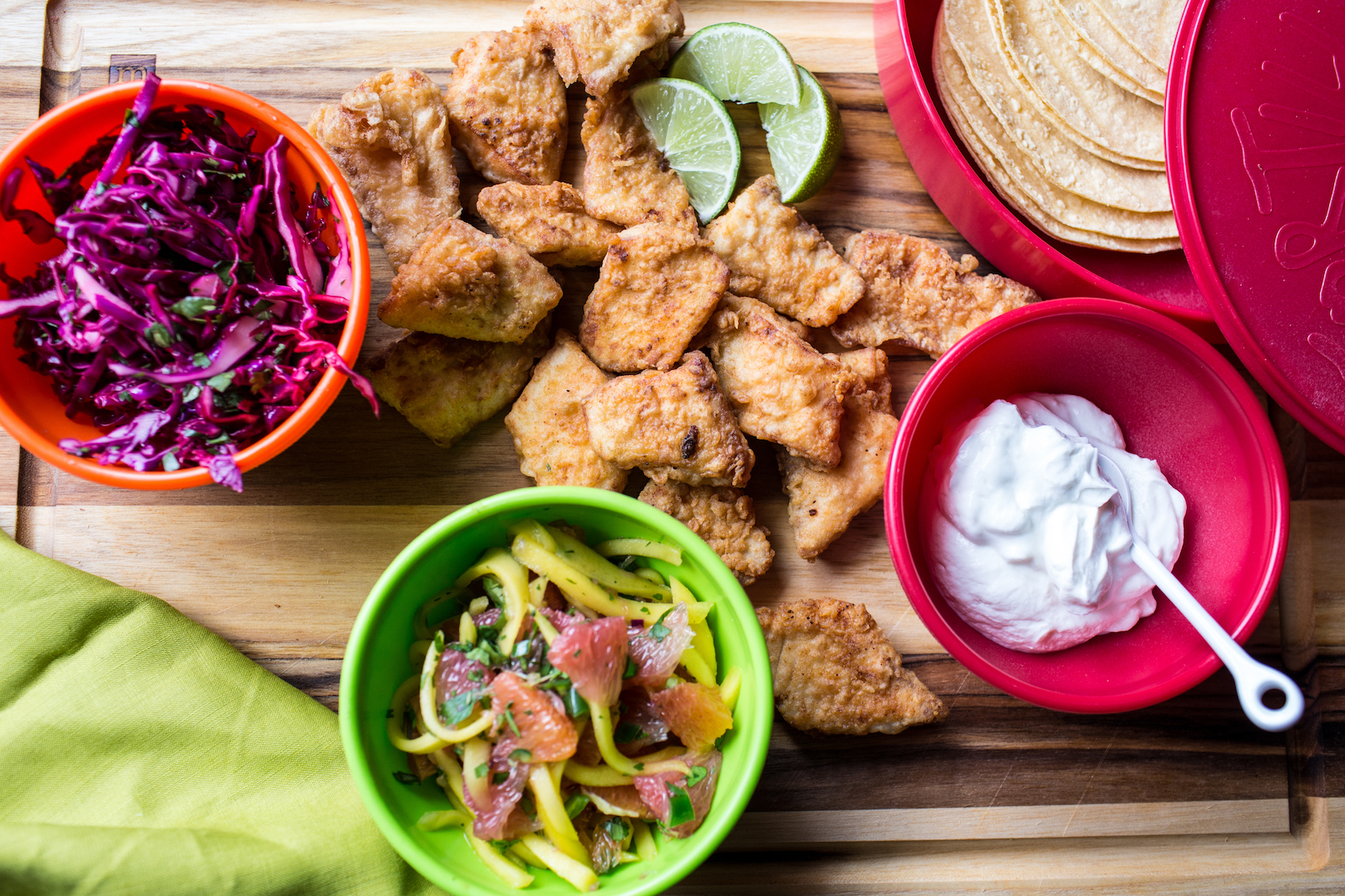 Since we are now smack dab in the dead of winter, I adapted these tacos a bit, and used the fresh winter produce now available in grocery stores. I decided to pair the tacos with a citrus mango slaw – one of my all time favorites. This slaw is extra tropical and fun, and makes delicious use of winter produce. For my citrus, I used grapefruit and cara cara oranges, but really, you could use any of your favorite fruits here. Blood oranges would work great or, if you're not a fan of citrus, you could easily use pineapple as well.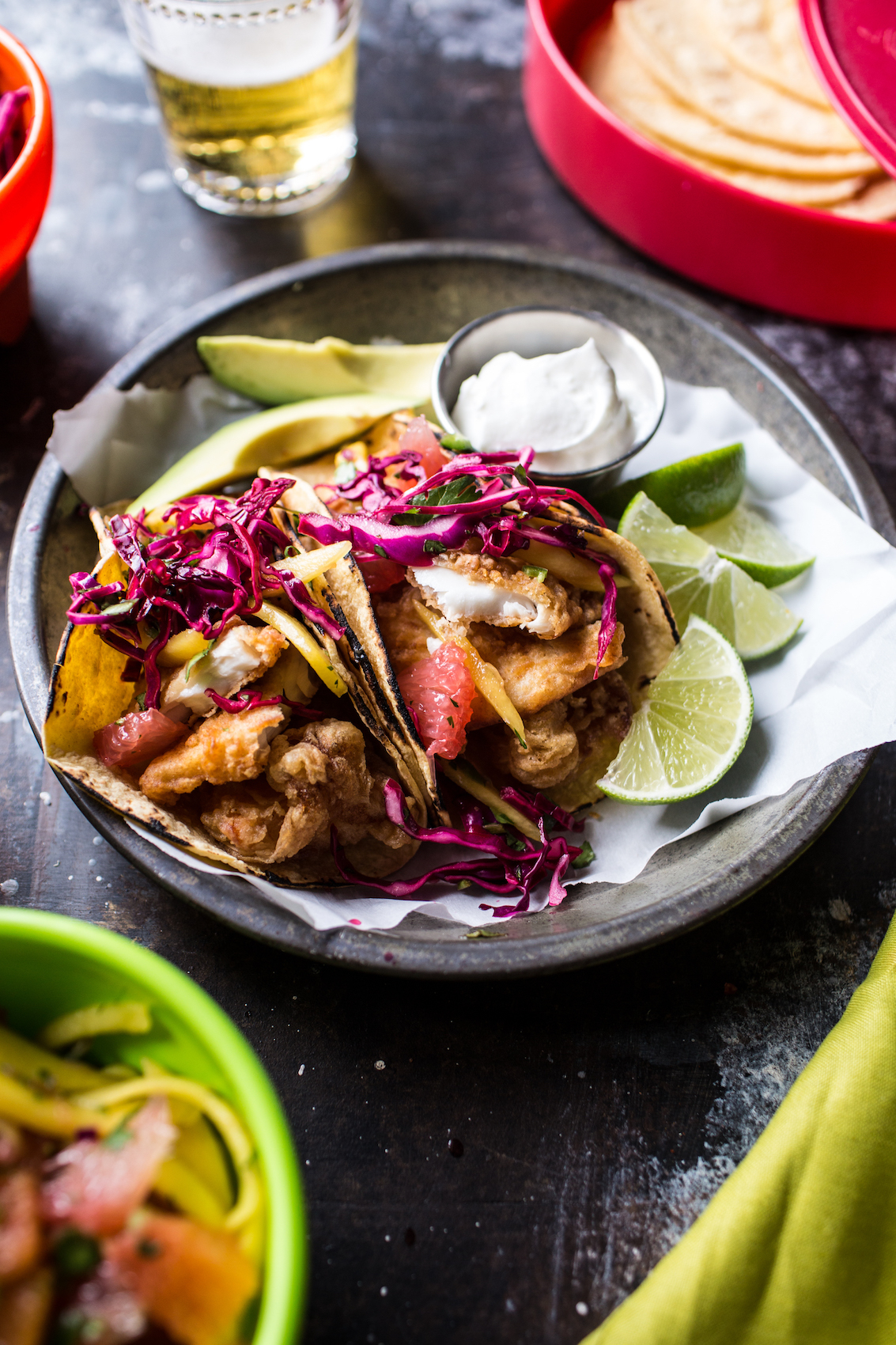 I also made a quick purple cabbage slaw and then served the tacos with avocado, cotija cheese, cilantro and Mexican Crema. Sometimes if I have a little extra time, I will mix about 1/2 cup of crème with 2 minced chipotle chilies in adobo, 2 tablespoons ketchup, the juice of 1 lime and about 2 tablespoons chopped fresh cilantro. This is my easy version of a Mexican "special sauce"!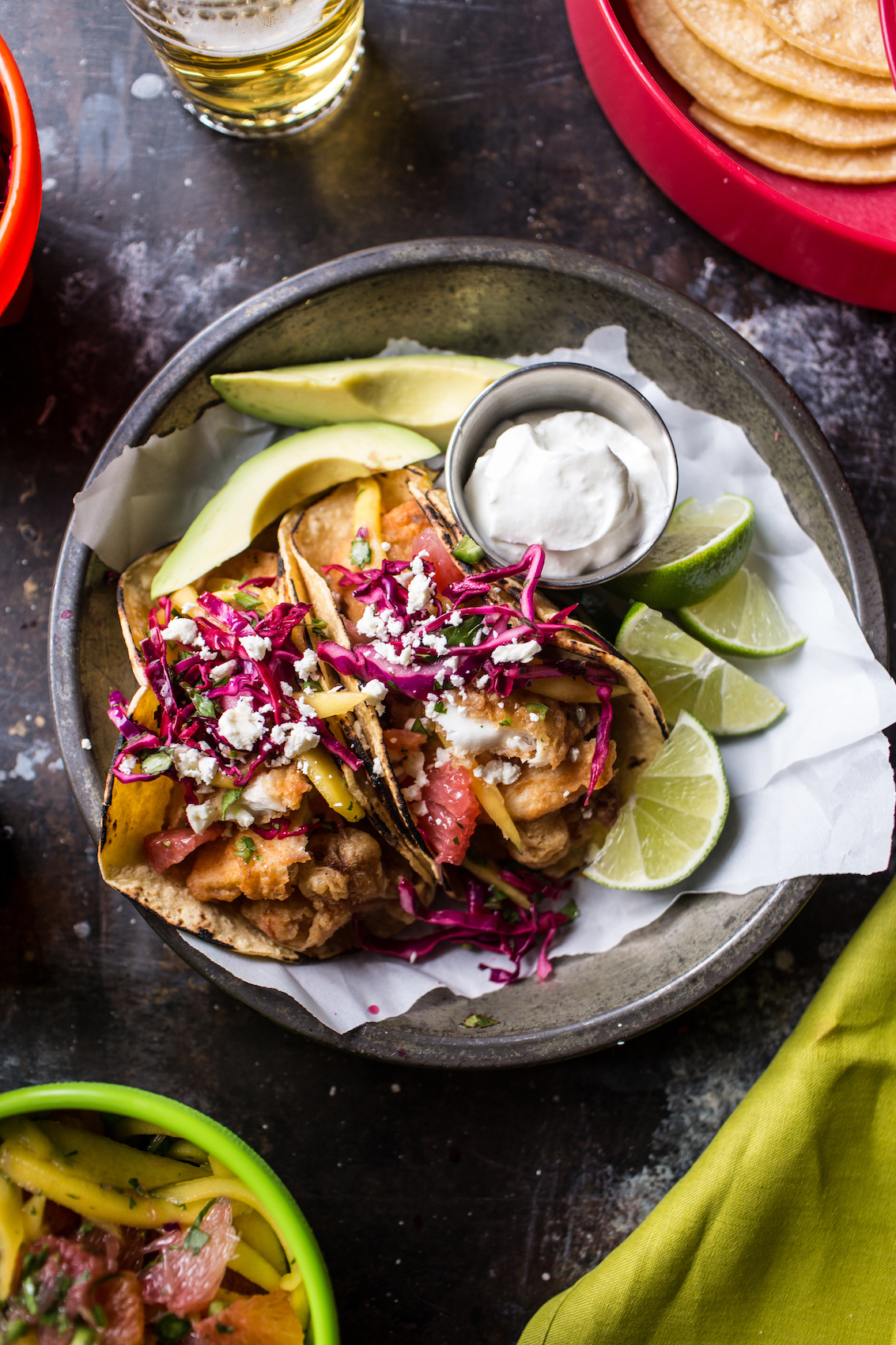 The fish gets fried in a simple beer batter and then sprinkled with a flaky salt to finish off. Once everything is made, just add it to a taco shell and EAT. Promise, you guys will love these tacos – plus, they're a great excuse to mix up some margaritas as well! Yes, please!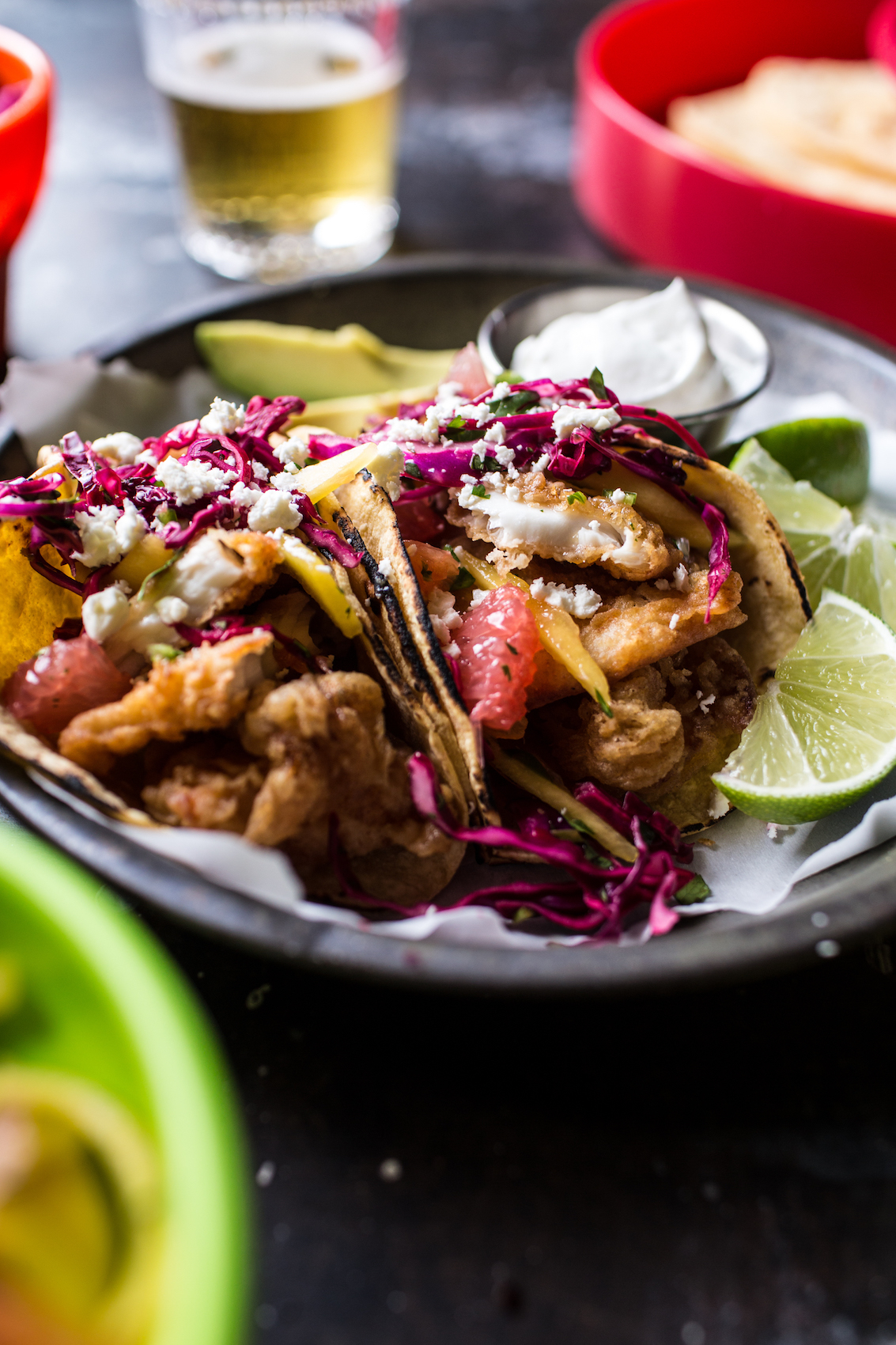 Fish Tacos with Citrus Mango Salsa Recipe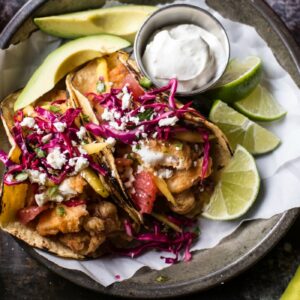 INGREDIENTS
Purple Cabbage Slaw
4 cups shredded purple cabbage
1/2 cup green onions, chopped
1/2 cup fresh cilantro, chopped
2 tablespoons apple cider vinegar
1 tablespoon honey
salt, to taste
Juice of 1 lime
Citrus Mango Salsa
1 grapefruit
1 cara cara or blood orange
1 mango, peeled + sliced into thin strips
1 jalapeno, seeded + chopped
1/4 cup fresh cilantro, chopped
Juice of 1 lime
Baja Fish
2 pounds white meat fish, cut into 1 inch chunks
1 tablespoon paprika
2 cups self-rising flour (or 2 cups flour + 1 tablespoon baking powder)
2 eggs
1 cup of your favorite beer
Canola or vegetable oil, for frying
Warm corn or flour tortillas, for serving
Chipotle special sauce or Mexican Crema, for serving
Cotija cheese, crumbled, for serving
Flaky sea salt for seasoning (optional)
INSTRUCTIONS
To make the Purple Cabbage Slaw:
Combine all the ingredients in a large bowl and toss well, making sure all the cabbage is moistened.
Cover and let sit in the fridge for at least 20 minutes before serving, or up to overnight.
To make the Citrus Mango Salsa:
Cut off the peel and the white pith (the white layer between the outer peel and the flesh of the fruit) from all around the grapefruit.
Working over a small bowl, use the knife to cut between the membranes (the layer that encases each section of grapefruit) to release the grapefruit segments into the bowl.
Then squeeze the remaining juice from the leftover membranes into the bowl.
Next, remove the grapefruit segments from the bowl and cut into bite size pieces and then return them to the bowl.
Now do the same with the cara cara orange (or blood orange), but only remove the membrane if desired (orange membranes are not bitter like grapefruit).
Add the mango, jalapeño, green onions, cilantro and lime juice, taste and season with salt.
Cover and store in the fridge until ready to serve.
To make the Baja Fish:
Place the fish on a cutting board and sprinkle with the paprika.
Add the flour to a medium size shallow bowl. In another medium size shallow bowl, whisk together the eggs and beer.
Heat about 4 inches of oil in a large heavy bottom pot to 375 degrees F.
Dip each piece of fish through the egg/beer mixture and then dredge in the flour.
Carefully lower, 3-4 pieces of fish at a time into the hot oil.
Fry until golden and cooked through, about 3-4 minutes.
Transfer with a slotted spoon to a paper towel lined plate to drain, then season with salt.
To assemble the tacos:
Place the fish in a warm tortilla.
Top with slaw + salsa, avocado, crema and cheese.
Serve with fresh limes and another sprinkle of salt if desired.
Enjoy!