​Homemade Italian Sausage with Roasted Peppers, Onions + Mushrooms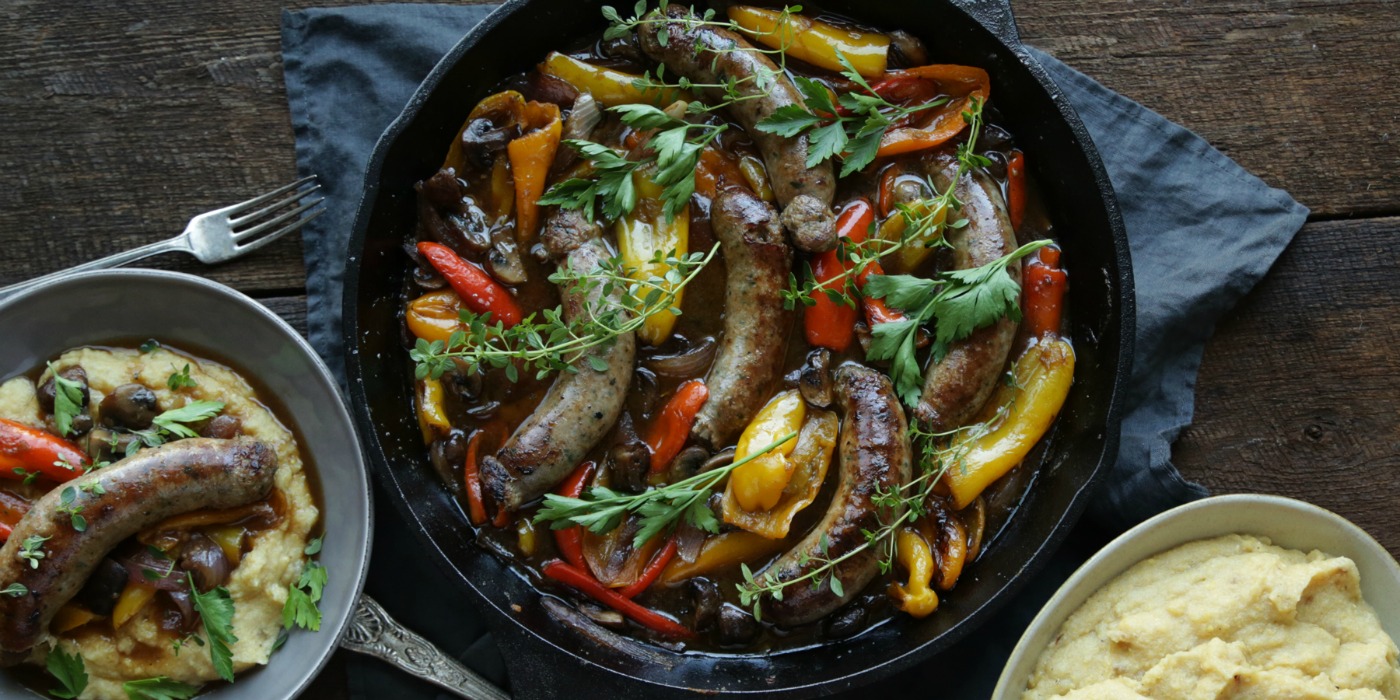 It's been over 15 years since I last made any sort of sausage, so when I got the chance to make some homemade Italian sausage, I jumped right in.
Oh, the memories that came flooding back to those restaurant years, except this time it was much more pleasant, because I wasn't stuffing 100 pounds of sausage, I was stuffing 3 ½ pounds. I'm a huge fan of all sausages, but I have to say that a good Italian sausage still has to be my favorite. With the bursts of fennel seeds or the sweetness from the brown sugar, to me, it's the perfect balance and so good just eaten by itself.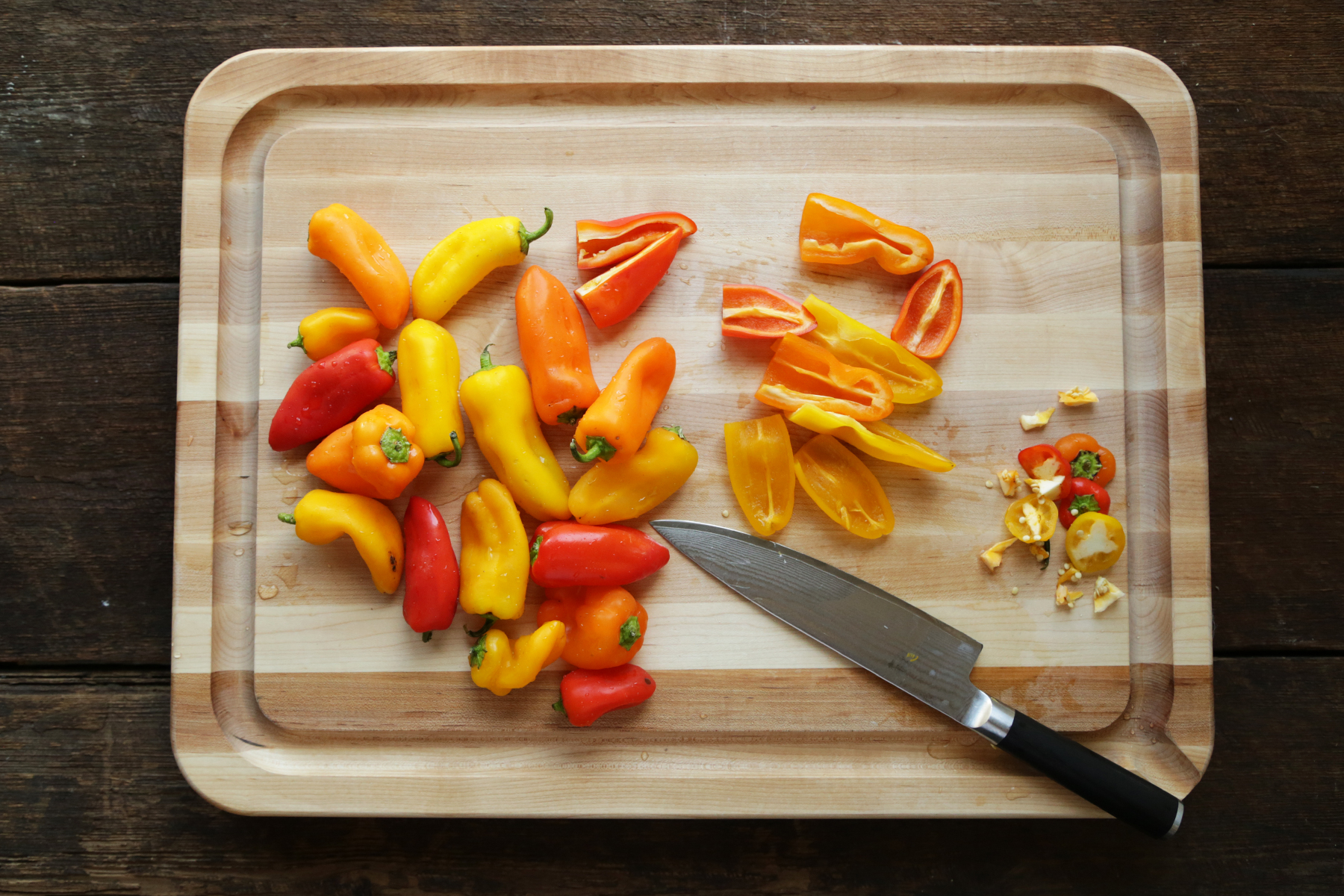 While this sausage is FANTASTIC by itself, I wanted to make an old school Italian dish so I seared off these sausages along with some baby bell peppers, onions, and mushrooms and roasted everything in big cast iron skillet in the oven in a Marsala sauce. After that's done roasting up, you pour it all over some delicious buttery polenta. Now, how to make all this deliciousness!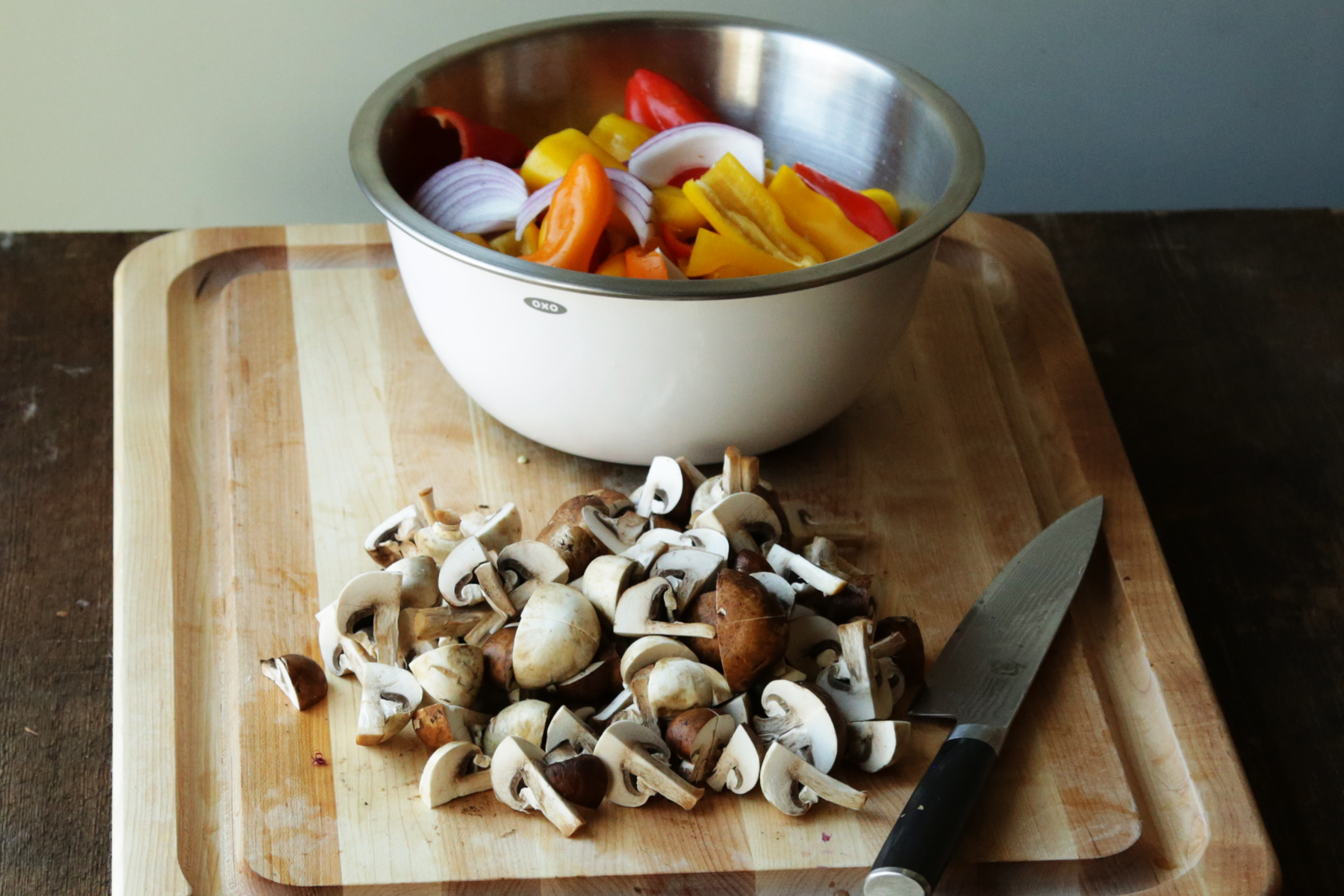 Let's start with the sausage! The first thing you need to do is place the grinder, blade and gear from the KitchenAid sausage attachment into the freezer and make sure it's really cold before using! This will help keep everything nice and cold while grinding. For the actual ingredients of the sausage, I used some pretty basic staples in a traditional sweet Italian sausage with the addition of some herbs and grated Parmesan cheese. Making sausage is very easy these days thanks to KitchenAid, but it does take about an hour and a half to complete, so set aside some time and do this thing up right! You can also feel free to add some more spices and herbs if you'd like to change up the dynamics a bit more. Like I always say, recipes should be used as a guideline.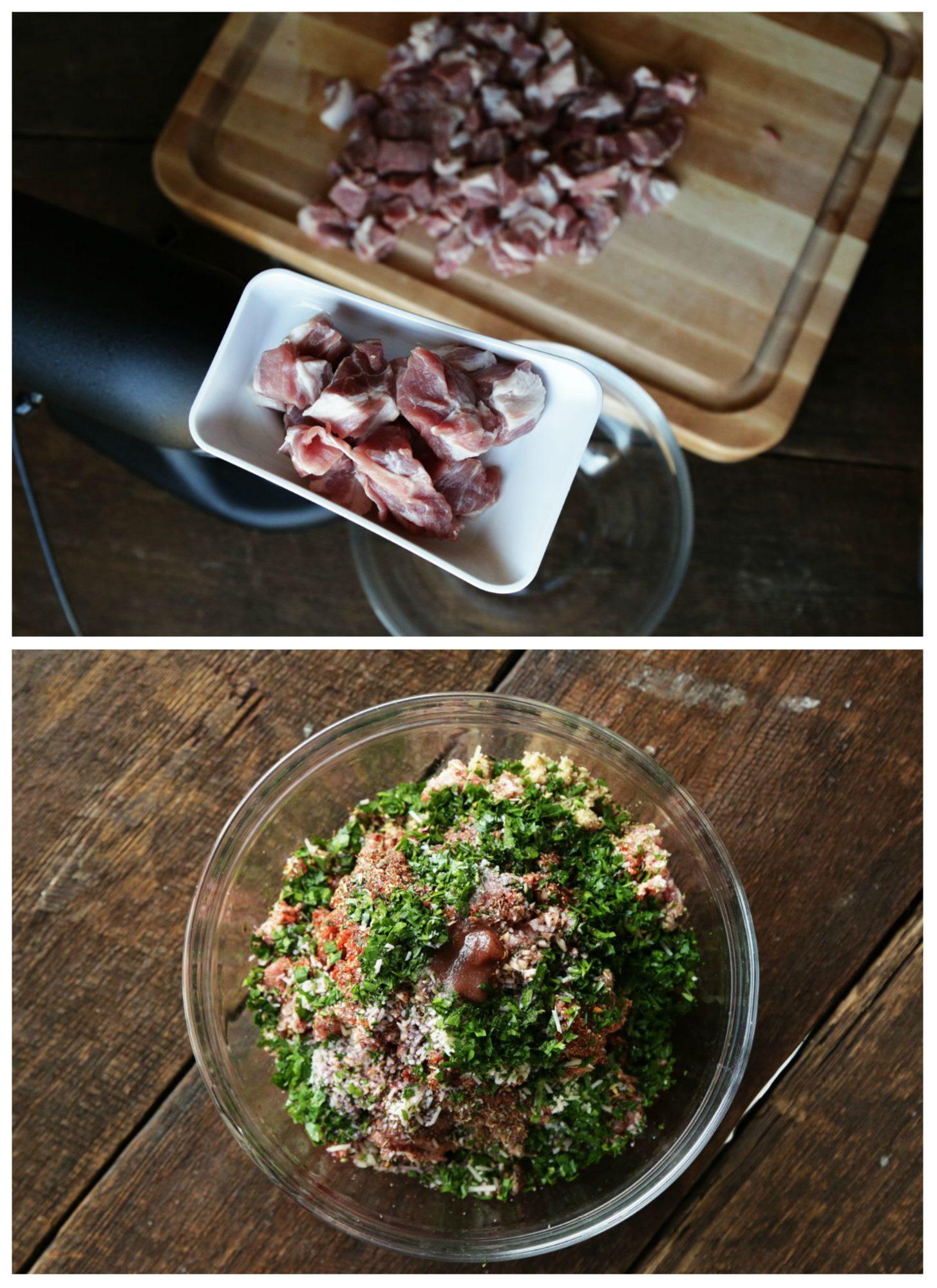 The roasted peppers, onions and mushroom sauce just makes this dish; it is unbelievable when soaked up in that amazing Marsala brown stock sauce. The large Lodge cast iron skillet was just what I needed to fit all of the ingredients in and help create that perfect brown sear. Start by searing the sausage and get some of that good flavor on the bottom of the pan and then set them aside after they've been marked. Follow up by roasting up all the veggies and then deglazing with the Marsala and then stock. Place the seared sausages on top of the pan and finish 'em up in the oven!
This is like the ultimate man meal, so ladies or moms, if you've got some time on your hands, this recipe is sure to make your favorite man smile! Good Luck!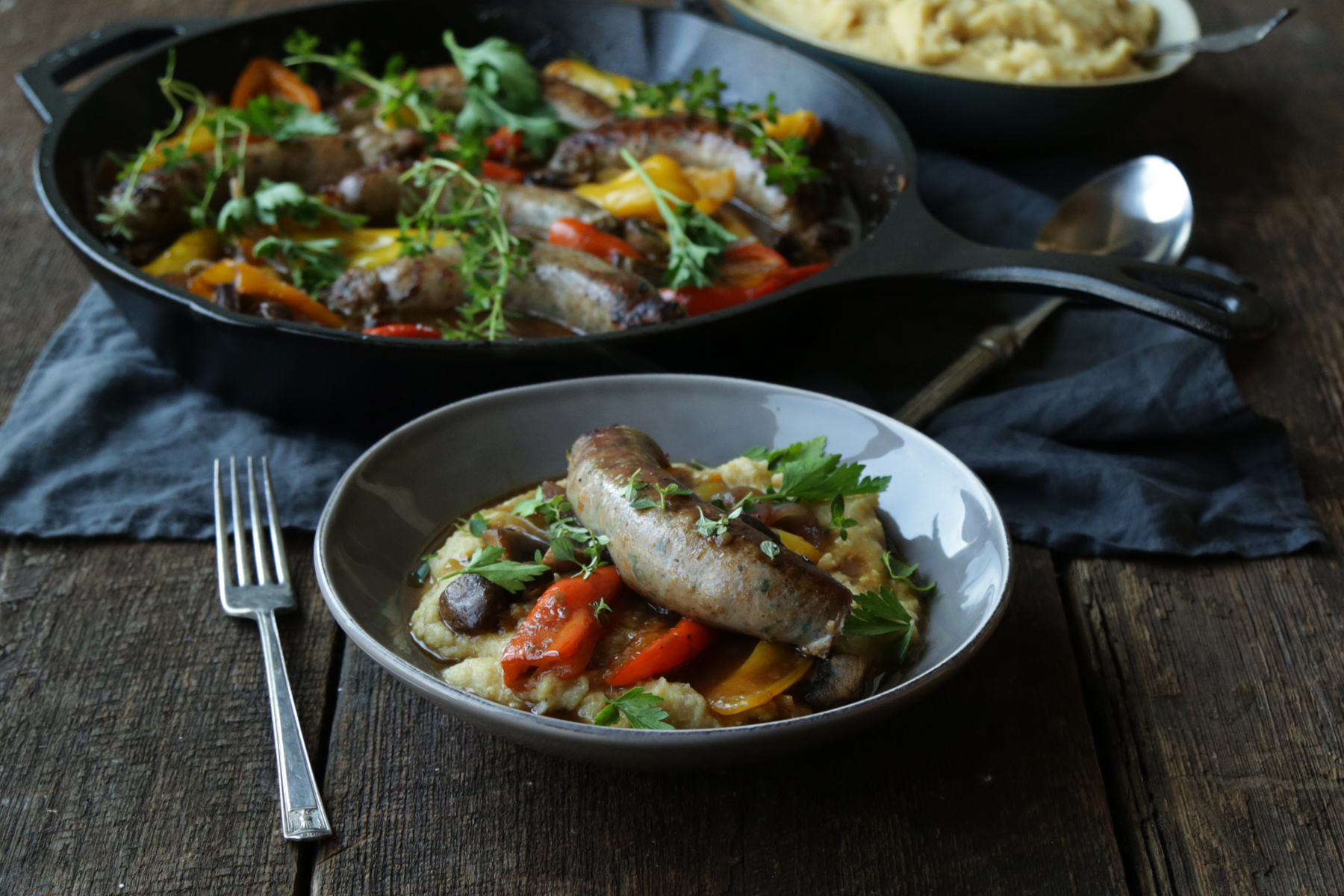 Homemade Italian Sausage with Roasted Peppers, Onions and Mushrooms
It's been over 15 years since I last made any sort of sausage, so when I got the chance to make some homemade Italian sausage, I jumped right in.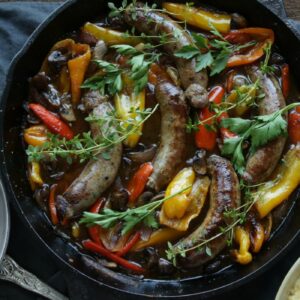 Ingredients
3.5

lb

pork butt cut into 1 inch chunks

2

tbsp

light brown sugar

1.5

tbsp

Kosher salt

2

tsp

dry oregano

2

tsp

dry basil

.5

tsp

crushed red pepper flakes

.33

cups

chopped fresh parsley

.25

cups

dry red wine

.5

cups

grated Parmesan cheese

Hog casings soaked in warm water

--------------------

For the Vegetables:

For the Sausage:

2

lb

baby bell peppers, ends removed, seeded and cut in half

2

thick julienne red onions

2

cups

each baby bellas and domestic mushrooms cut into quarters

1

cups

Marsala wine

2

cups

good beef stock

2

tbsp

olive oil

Kosher salt and fresh cracked pepper to taste

--------------------

For the Polenta

1

small diced yellow onion

4

finely minced cloves of garlic

2

cups

Bob's Red Mill Course Corn Meal

5

cups

good chicken stock (5-6 cups)

.5

cups

unsalted butter (1 stick)

1

tbsp

olive oil

Kosher salt and fresh cracked pepper to taste

Fresh thyme and parsley leaves for garnish
Instructions
For the Polenta:

In a medium sized saucepot on high heat with olive oil, caramelize the onions and garlic. Once brown, add in the corn meal and cook for 2 minutes while continuing to stir. Pour in ½ of the chicken stock and stir on medium heat until it begins to get thick.

Add in chicken stock as needed until it is cooked.

Finish the polenta with butter, salt and pepper.

For the Sausage:

Using the coarse grinder attachment, process the cut pork chunks through the KitchenAid with food grinder attachment into a large bowl.

Next, add in the rest of the ingredients and thoroughly mix until completely combined.

Remove the grinder and blade from the attachment and add on the sausage stuffer and line it with some hog casings and tie a knot at the end.

Stuff the hog casings on high speed with the mixed ground pork until all of the sausage has been stuffed.

Make 6-inch long sausages by pinching on either end of the sausage and rolling it to pinch off the ends and then cut and set aside.

For the Vegetables:

Preheat the oven to 425°. In a large cast iron skillet on high heat with olive oil, add in the sausage and sear on all sides to golden brown and then set aside.

Next, add the vegetables into the pan and roast for 8 to 10 minutes until the peppers, onions and mushrooms are brown. Deglaze with Marsala wine and cook for 4 to 6 minutes and then add in the stock.

Season well with salt and pepper; add the sausage to the top of the vegetables and roast in the oven for 15 minutes.

To Plate: Place some polenta in a bowl and top off with a piece of cooked sausage, roasted peppers, mushrooms and onions and some of the sauce. Garnish with fresh thyme and parsley.