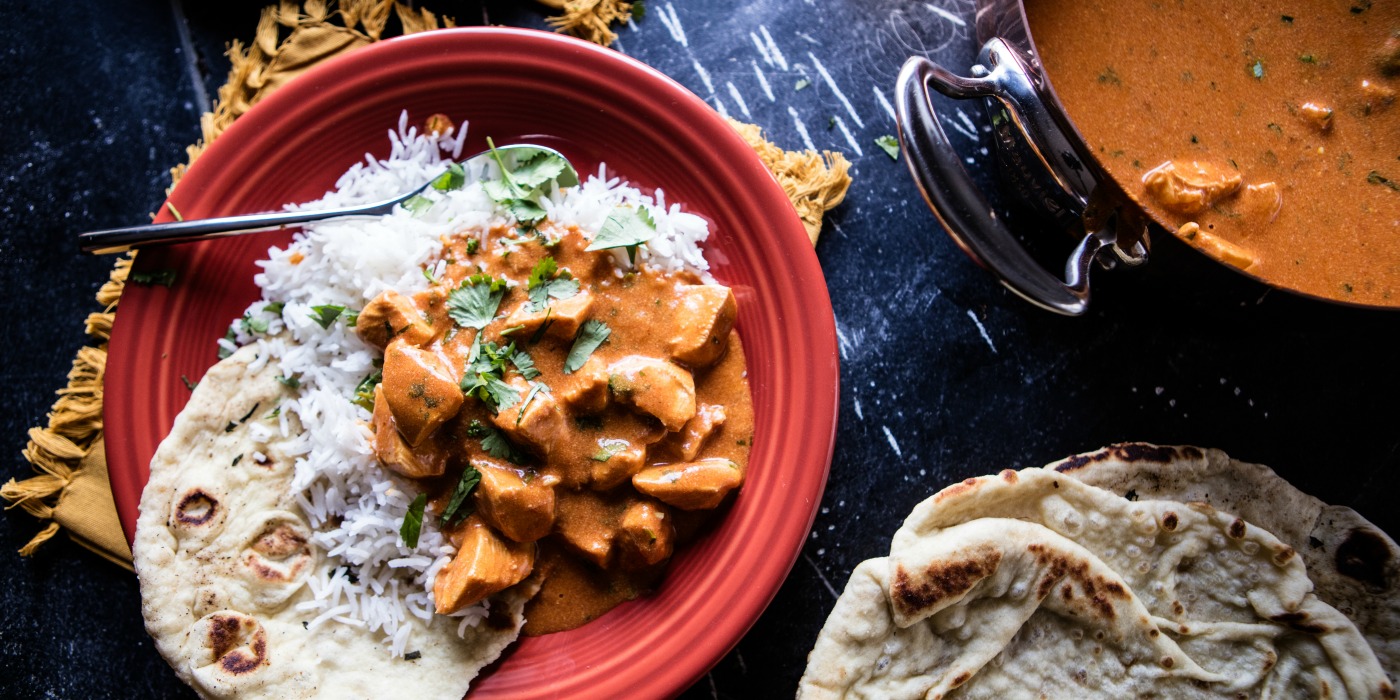 Butter chicken is a fairly new recipe to me. Actually, most Indian cuisine is fairly new to me. Growing up, Indian cuisine just wasn't part of our repertoire. More like chicken, burgers, tacos and pasta. I mean, we did eat a lot of rice, but I'm thinking that doesn't really count since the entire world eats rice, you know?
Anyway, once I started cooking, I began to venture away from
the family regulars. In doing so I discovered some delicious Indian recipes.
Butter Chicken was obviously one of them. If you've never tried Butter Chicken,
don't be fooled, it's not just butter and chicken. Nope, it's actually chicken
in an incredibly creamy and buttery Indian curry sauce. It's DELISH. I always,
always serve this recipe over rice and with a side of naan. A final sprinkle of
cilantro is also in order, and then DONE.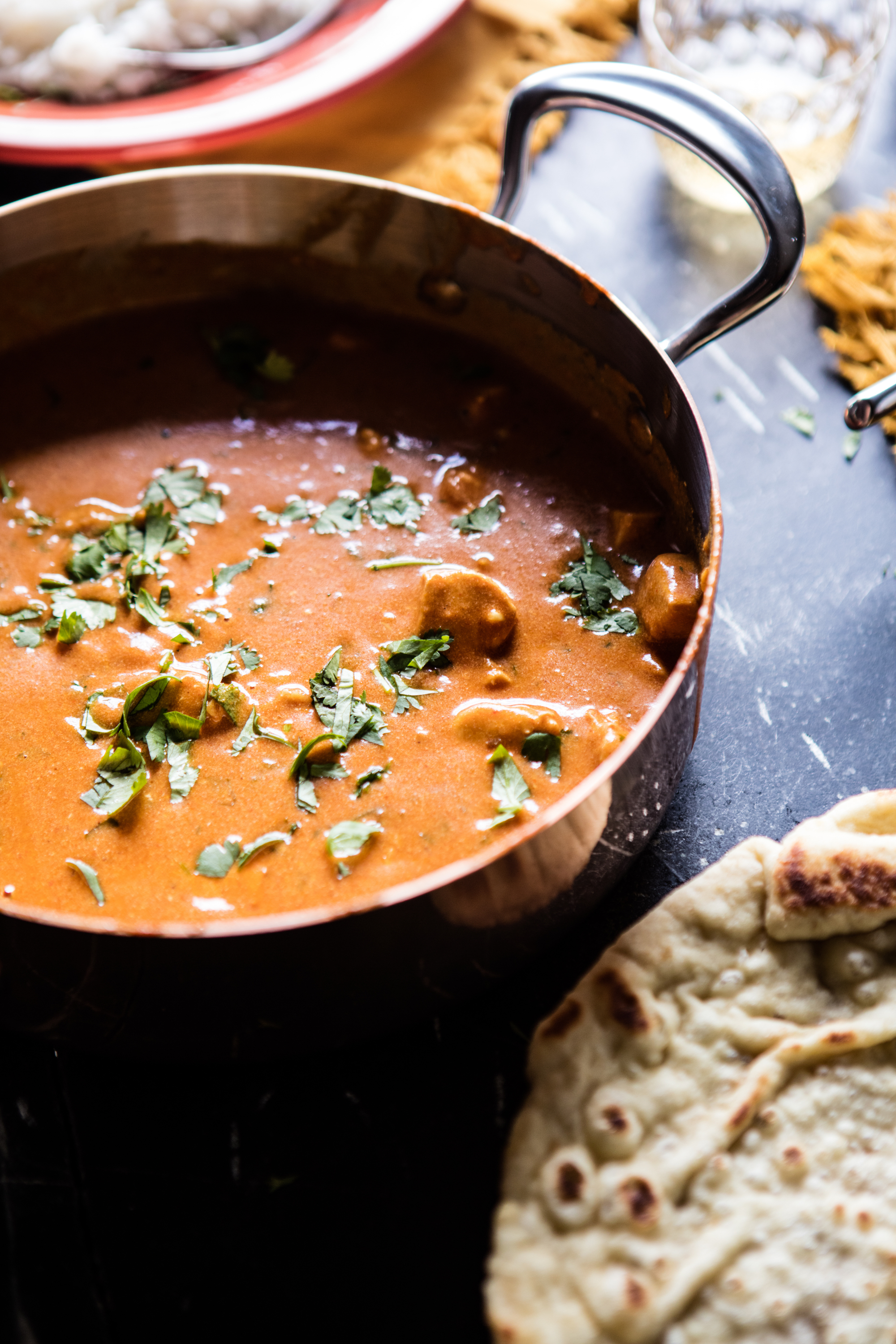 Typically, Butter Chicken can be somewhat time consuming to
make, but I've modified the traditional recipe in a few ways to make it a bit
quicker for easy weeknight cooking, and more to my tastes!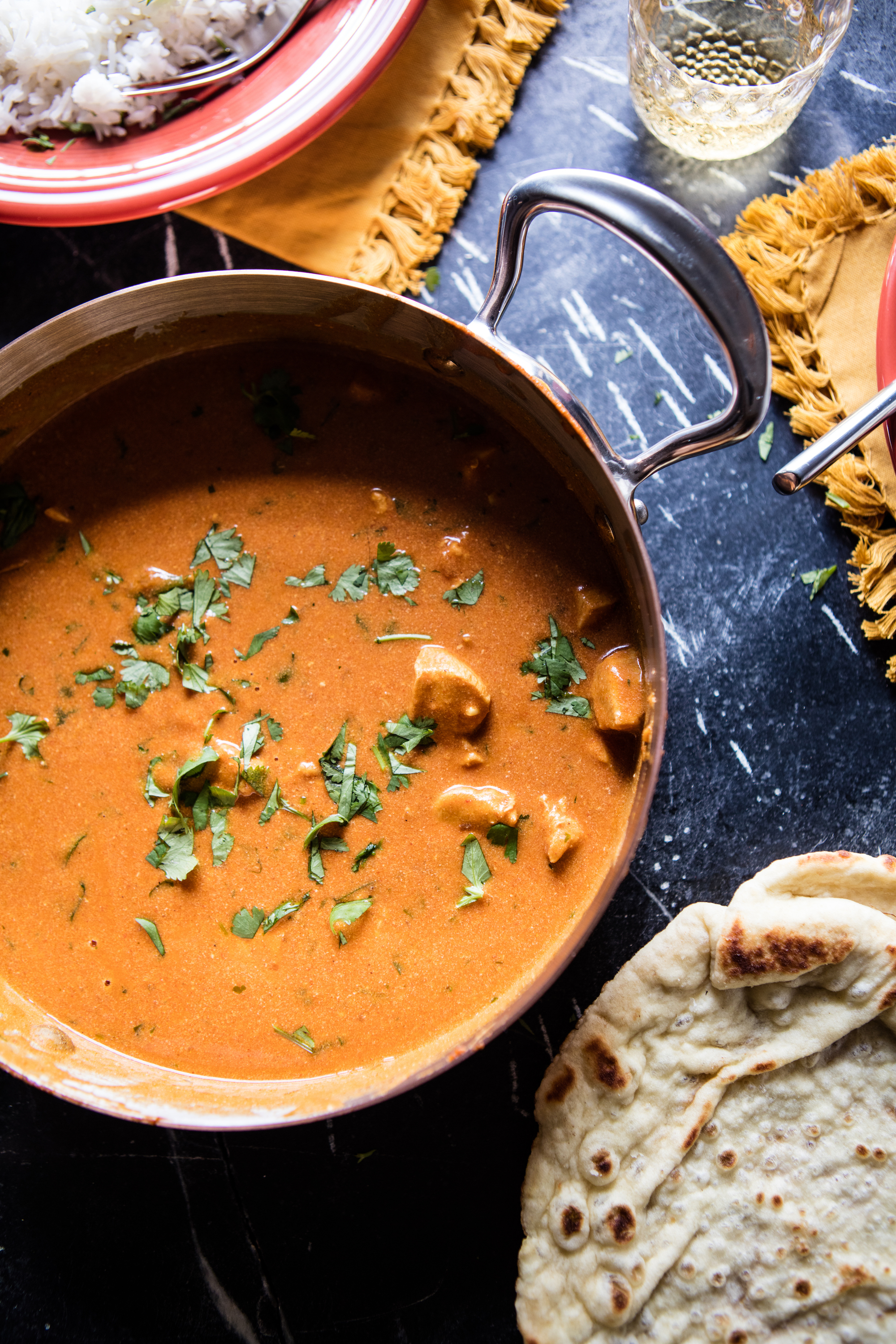 I love making this recipe in my Mauviel 1830 Copper Rondeau. Not only is it awesome for a pretty presentation, but it also does a great job of evenly cooking the curry! Best of all, it cleans up in a snap!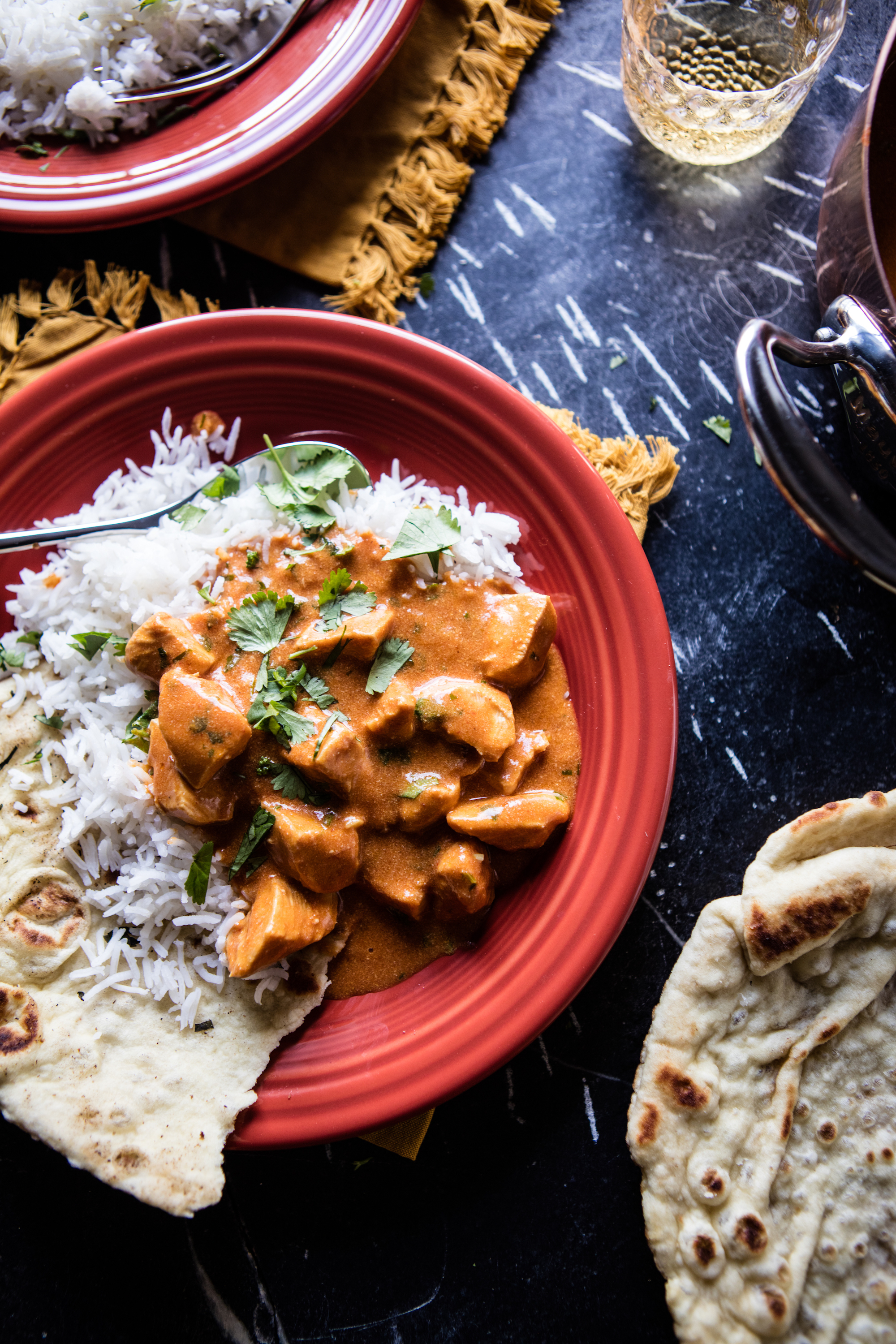 Indian Butter Chicken Recipe
Butter chicken is a fairly new recipe to me. Actually, most Indian cuisine is fairly new to me.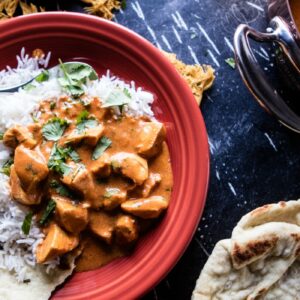 Ingredients
1.5

lb

Boneless skinless chicken breast, cut into bite size chunks

2

tbsp

Garam masala, divided

Juice from half a lemon

3

tbsp

Coconut oil or olive oil

.5

Onion, finely minced

3

Cloves garlic, minced or grated

1

tbsp

Freshly grated ginger

2

tsp

Curry powder

2

tsp

Curry paste (I used 2 teaspoons of Thai Red Curry Paste)

2

tsp

Paprika

.5

tsp

Turmeric

.5

tsp

Cayenne pepper (use less if you are not a spicy person)

.25

tsp

Cinnamon

.25

tsp

Salt

6

oz

Tomato paste (1 can)

14

oz

Coconut milk, regular or lite (I used regular), plus more if needed to thin the sauce (1 can)

.5

cups

Greek yogurt (I used 0%)

.25

cups

Half and half or heavy cream

.33

cups

Fresh cilantro, chopped

3

tbsp

Butter, softened

Cooked white rice, for serving

Fresh homemade Naan, for scooping (a must!)
Instructions
In a bowl, combine the chicken, 1 tablespoon of the garam masala and the juice of half of a lemon. Toss well to combine and set aside to marinate for 10-20 minutes, or cover and place in the fridge for up to overnight.

Heat the oil in a large heavy-bottomed pot set over medium heat. Once hot, add the onion and cook 2-3 minutes or until lightly charred on the edges.

Add the garlic and ginger, cook 30 seconds. Add the remaining 1 tablespoon garam masala, curry powder, Thai red curry paste, paprika, turmeric, cayenne, cinnamon and salt, continue cooking for another minute or until the curry is fragrant.

Stir in the tomato paste and cook 30 seconds. Slowly pour in the coconut milk. Stir to combine and then bring the mixture to a boil.

Once boiling, add the marinated chicken. Reduce the heat to a simmer, cover and cook for 15-25 minutes or until the chicken is fully cooked through. Stir in the yogurt and heavy cream, continue cooking uncovered for another 5 minutes. If your sauce thickens too much, add coconut milk to thin it a bit.

Remove from the heat and stir in the butter + cilantro.

To serve, divide the rice among plates and top with the butter chicken. Garnish with fresh cilantro.

EAT!