The "Perfect Salad" According to the Ruffage Cookbook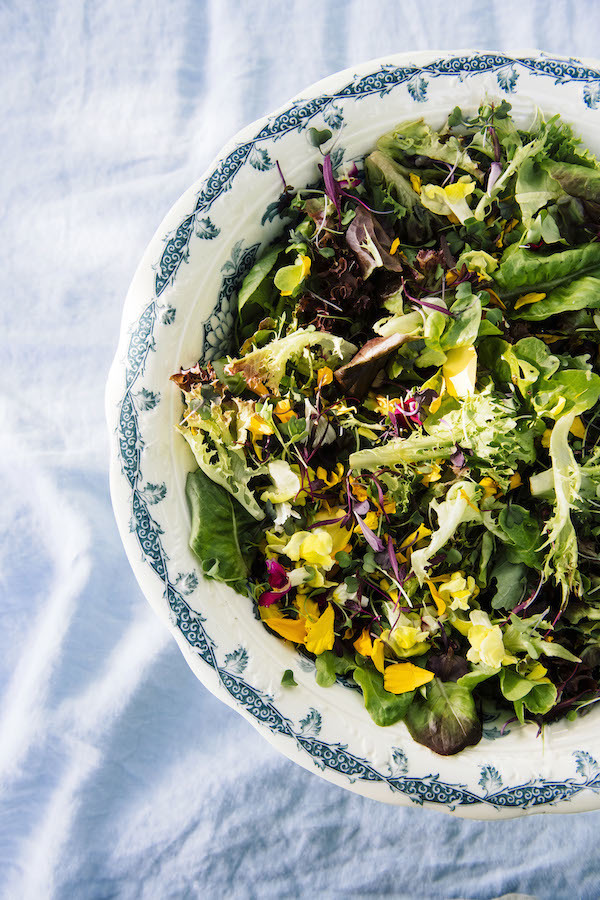 Reprinted from Ruffage by Abra Berens with permission by Chronicle Books, 2019
A simple green salad is one of my benchmarks for a truly great restaurant. Too often the salad station is the lowest rung on the kitchen ladder, yet that is where the most delicate vegetables are prepared. Thankfully, I trained at Vie Restaurant under the tutelage of Paul Virant, who always dressed the salads perfectly and knew when I did not. For a single person, I always assume two healthy handfuls of lettuce and 1 Tbsp. of vinaigrette. He taught me to place the dressing in the bowl and then lightly swoop the leaves through, always using your hand because metal tongs will bruise. Taste each time and adjust as you go.
Feel free to reduce the amount of salad in this recipe if you aren't feeding an army. I prefer to serve salads on a large platter rather than a deep bowl, ensuring that the herbs, flowers, and bread crumbs are evenly distributed both throughout the salad and among your guests.
– Abra Berens
Ruffage Cookbook's "Perfect Salad"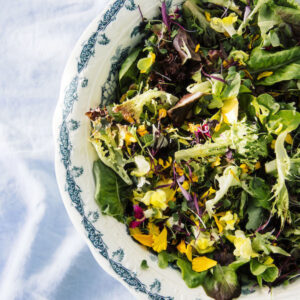 INGREDIENTS
For the Salad:
1 bag salad (4 oz | 115 g) greens or 1 head (12 oz | 340 g) lettuce (preferably a mix)
1 bag (4 oz | 115 g) arugula
¼ cup (60 ml) favorite strong vinegar (sherry, apple cider, red wine— just not balsamic)
¼ cup (60 ml) olive oil
Salt and freshly ground black pepper
½ cup (35 g) garlic bread crumbs (see below)
Any additions (edible flowers, microgreens, picked herbs)
For the Bread Crumbs:

¼ cup neutral oil
4 garlic cloves (28 g), minced
1/2 tsp (3 g) salt
1 cup (140 g) bread crumbs or panko
INSTRUCTIONS
For the Salad:
Wash and dry all the greens. If using heads, give a rough chopping to the leaves to make them manageable but leaving them large.
Combine the vinegar, olive oil, and salt in a mason jar and shake to mix.
In a large bowl, combine the greens and dress lightly with the vinaigrette and several good grinds of black pepper. Taste and adjust the seasoning and amount of dressing.
Transfer the salad to a serving platter and sprinkle with the bread crumbs. Top with the additions and serve immediately.
Store the extra vinaigrette in the jar in the fridge or on the counter.
For the Bread Crumbs:
In a large frying pan, heat the oil until shimmering hot and add the garlic and salt.
Remove from the heat so the garlic doesn't burn, and let sit for 10 minutes (or cook the garlic on low for 5 minutes, keeping a sharp eye out to prevent burning).
Add the bread crumbs and stir to combine. Return to the heat and toast the oily bread crumbs until golden brown and fragrant, about 3 minutes. Remove from the heat and let cool.
Store in an airtight container and sprinkle on any and all savory dishes.
Check out more recipes, ideas, and tips from Abra Berens' Ruffage Cookbook.