Slow Cooker Curry Chicken Noodle Soup Recipe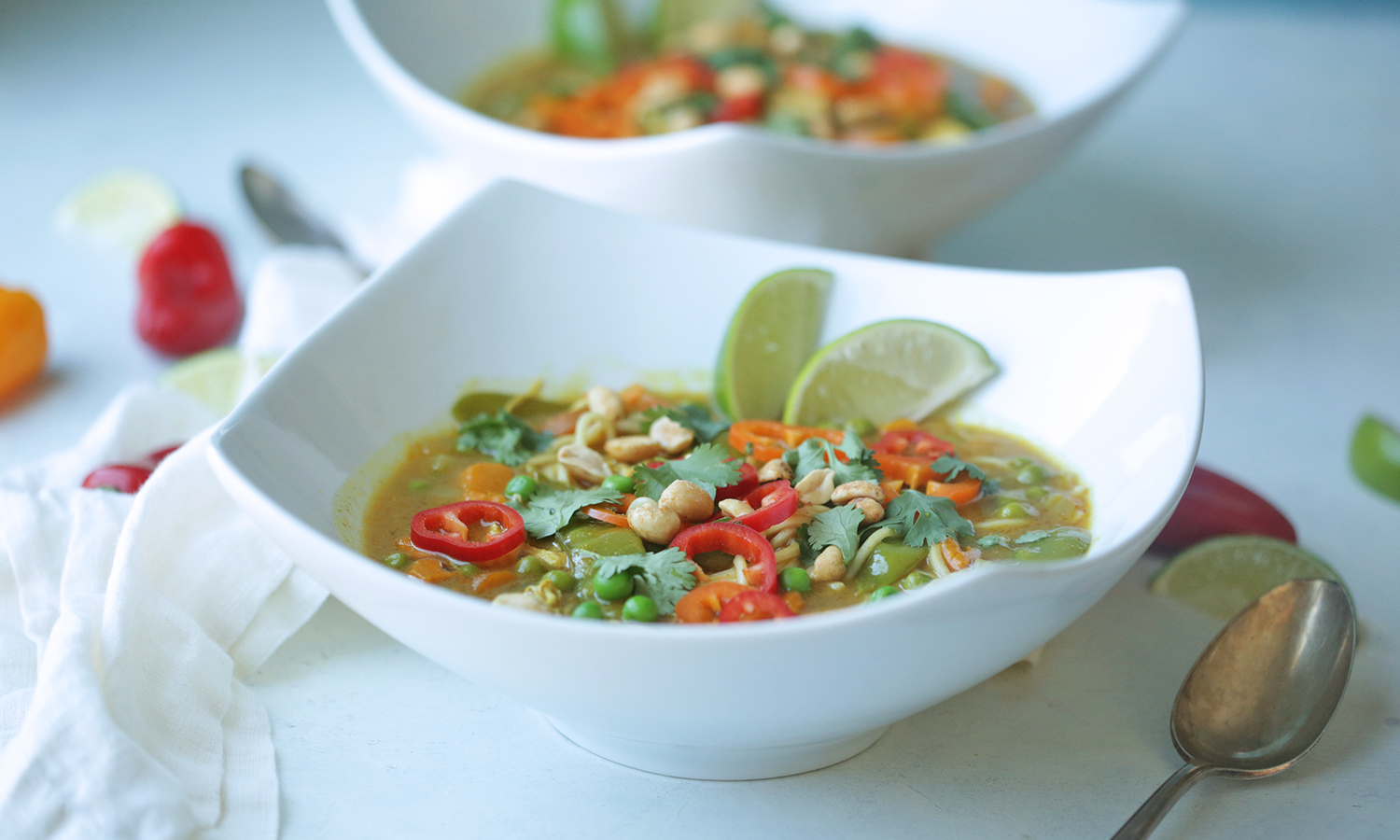 I was never shown to use a slow cooker throughout my culinary career. I was taught how to sear and then braise in the oven for long periods of time in a pot… It's really the same method but a bit more intense.
Since time is precious these days and taking the time to sear and braise, and put in an oven, and watch every hour is out of the question, slow cookers however have become a lifeline for us. As a chef, and a dad and husband, I'm responsible for feeding everyone. Using a slow cooker is one of the easiest ways to get a myriad of vegetables and nutrients into 1 pot while putting very little effort into it. My favorite part about using a slow cooker is that you lightly prep for it in the morning, toss in the food and then forget about it for 8 hours. There is no 5 o'clock scramble, I repeat there is no 5 o'clock scramble!!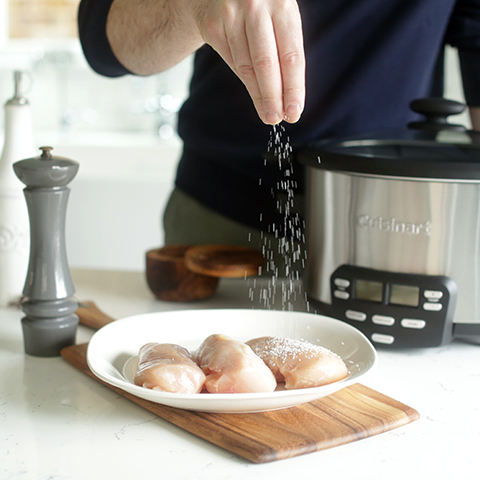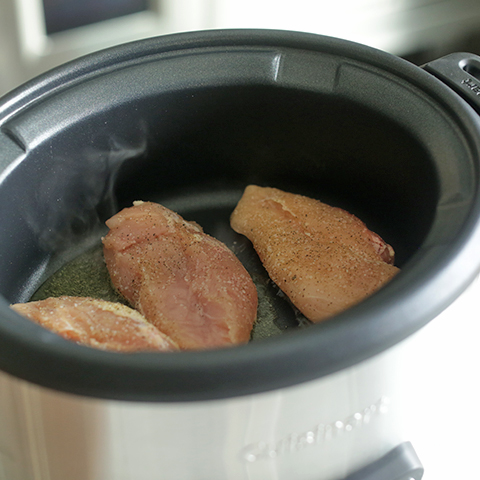 I've been seeing a ton of variations of curry chicken noodle soup across the web, so I knew I wanted to take a stab it so I came up with this Slow Cooker Curry Chicken Noodle Soup Recipe. This thing is loaded with vegetables, tender pulled chicken and ramen noodles in the most delicious broth on earth, coconut-curry!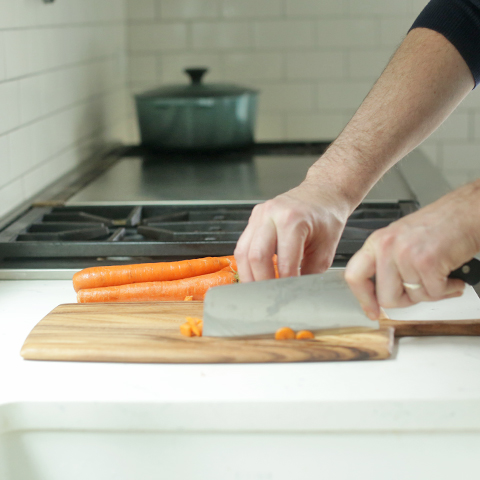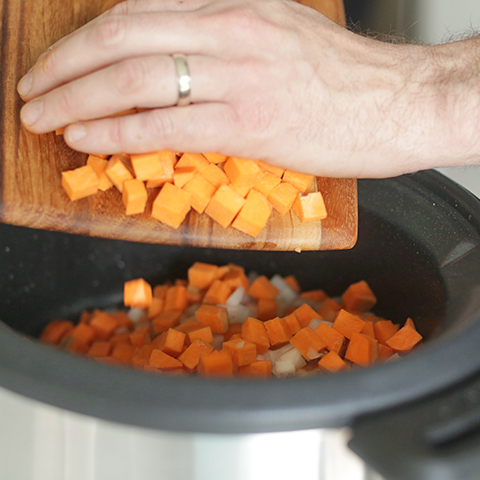 Not only are all of the vegetables in this Slow Cooker Curry Chicken Noodle Soup great for you but the curry itself has so many health benefits including being loaded with antioxidants and anti-inflammatories. Yup, this soup is packed with goodness and you can be more than proud to serve it up to your friends and family.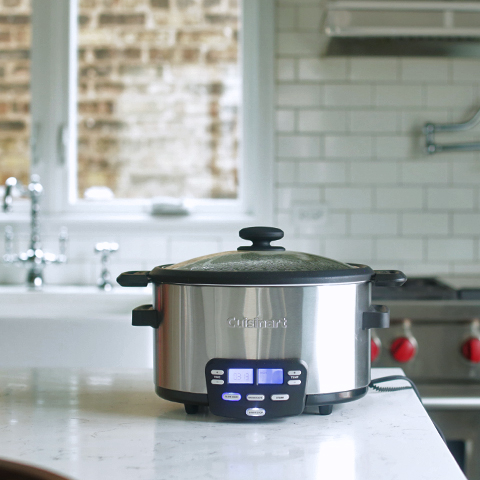 One of the coolest things I've noticed on slow cookers these days are that they have a "sear" function. I've always been weirded out about putting raw meat along with vegetables in a pot under low heat and waiting for it to cook. I prefer to brown the protein first and then add it to the slow cooker along with everything else. Maybe it's just nerves, but I have to do it this way. Normally I would sear in a pan and then place it in the slow cooker, but now things have gotten even more streamlined with a sear function on the slow cooker.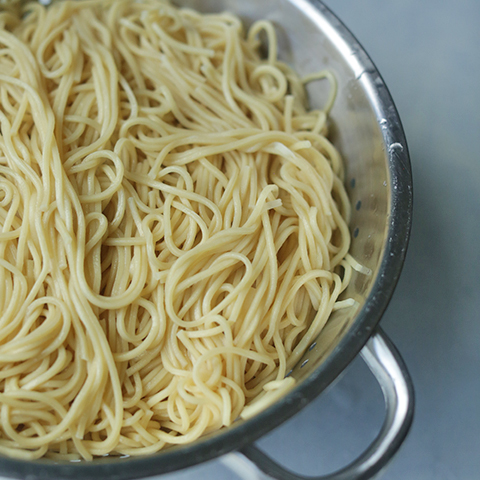 After the chicken is nice and brown you then simply add in the vegetables, minus the snow peas and peas, the stock, coconut milk and curry and let it cook on high for 4 to 5 hours. I like to add the snow peas and peas about 45 minutes before the soup is done cooking so that they stay nice and crisp. Nothing more gross than mushy soup and because of that I boil the noodles separate and then simply add it a soup bowl per serving. It works the best this way and will make sure it tastes crisp and fresh.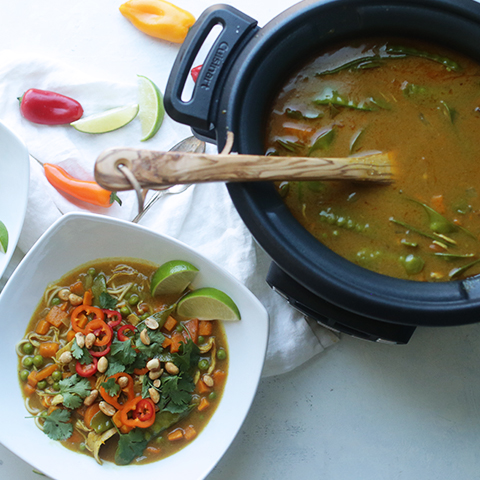 Well that's all I got for this tasty Slow Cooker Curry Chicken Noodle Soup Recipe, be sure to get on trend and make this sometime this week! Happy Slow Cooking!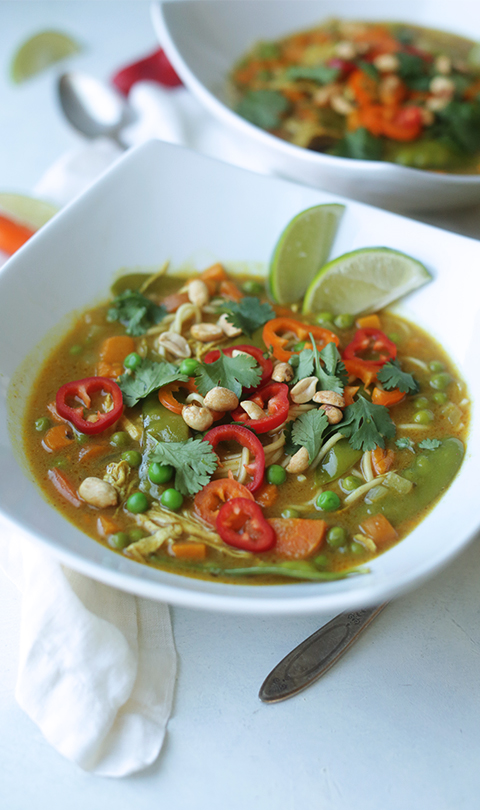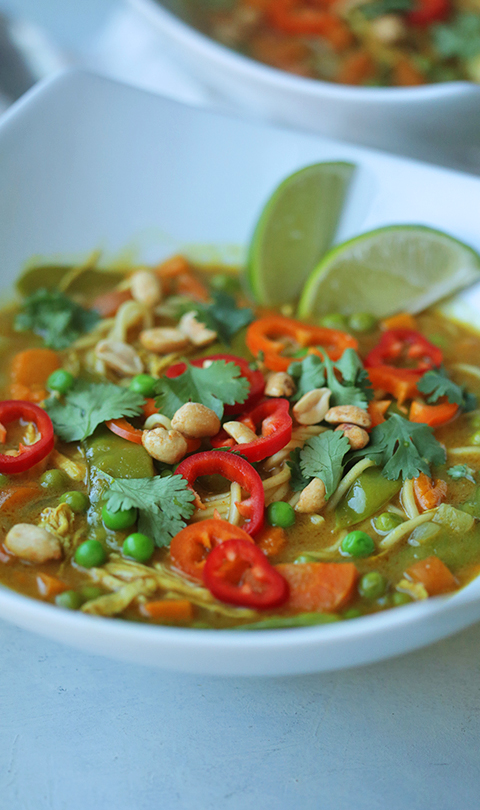 Slow Cooker Curry Chicken Noodle Soup Recipe Recipe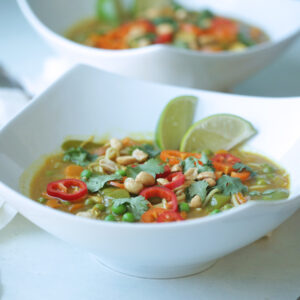 INGREDIENTS
3 6-ounce boneless skinless chicken breasts
1 tablespoon of sesame oil
3 medium diced carrots
½ medium diced sweet potato
½ peeled and small diced yellow onion
32 ounces of chicken stock
2 15-ounce cans of coconut milk
2 tablespoons of red curry paste
1 tablespoon of yellow curry powder
¼ cup of soy sauce
½ teaspoon of fish sauce
½ teaspoon each of fresh grated garlic and ginger
2 cups of snow peas
1 cup of peas
1 pound of boiled and cooled ramen noodles
Sliced mini bell peppers, peanuts, and cilantro leaves for garnish
Kosher salt and fresh cracked pepper to taste
INSTRUCTIONS
Set the slow cooker to sear.
Season the chicken on both sides with salt and pepper.
Add the oil to the slow cooker and brown the chicken on both sides, about 3 to 4 minutes per side.
Switch the slow cooker to slow cook high and then add in the carrots, sweet potatoes, onions, stock, coconut milk, curry paste, curry powder, soy sauce, fish sauce, garlic and ginger and cook for 5 hours.
Add the snow peas and peas with 45 minutes remaining in the cooking process.
Shred the chicken using 2 forks. Season the soup with salt and pepper.
Serve the soup over top of some noodles and garnish with peppers, peanuts and cilantro leaves.