This Grilled Corn Casserole Is the Best Way to Use That Great Summer Corn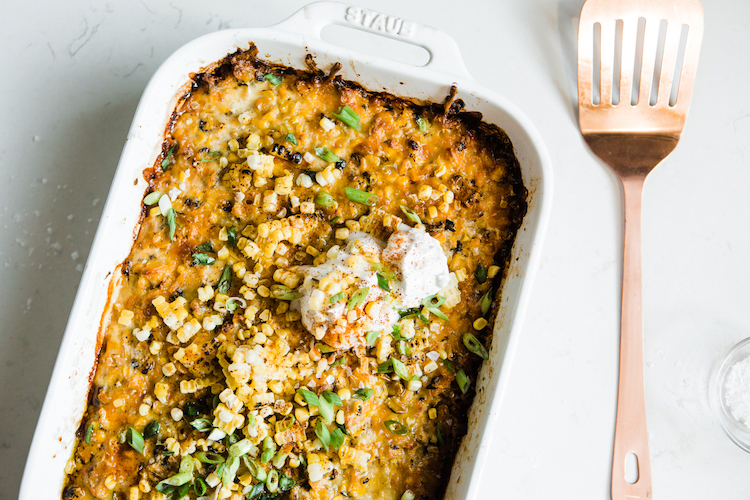 Next time you're in the grocery store or visiting the farmers market and see corn priced at those insane summer prices (last week, ears were 10 for $1 in my neck of the woods!), scoop up a full bushel of them and head straight to the kitchen. Because this corn casserole may be the best way to cook up the flavors of the season.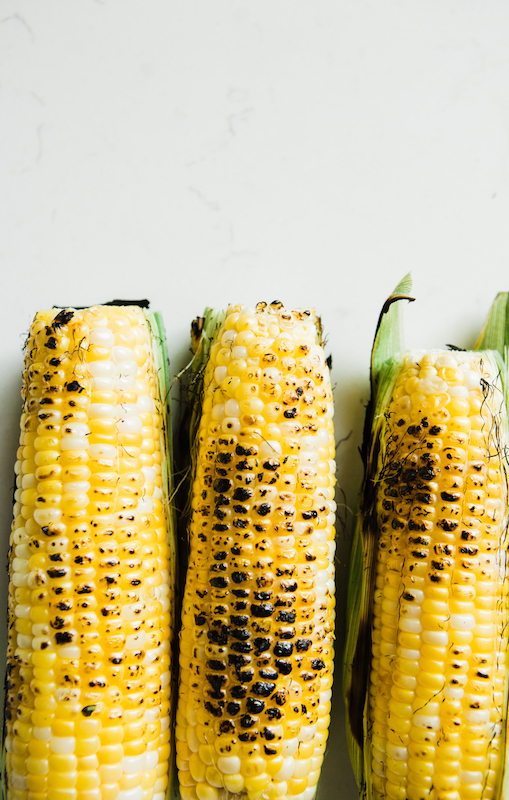 Fresh corn, cheddar cheese, creamy ricotta. As I was mixing it all together, a friend stopped by, peered into the bowl and said, "When is this coming out of the oven? I need to come straight back for all the bites."
And she did.
At which point she sat at the kitchen island, forked big bites into her face and kept exclaiming, "Oh my. Tell me this is on my diet."
It isn't. But I assured her it was. Because that's what friends do.
As she left, she waved excitedly and shouted over her shoulder, "Worth every bite!"
I headed back into the kitchen, took a few extra bites myself, hummed aloud and agreed. Yep, this one is worth every bite.
Grilling Hack
If roasting a couple dozen ears of corn on your outside grill isn't feasible, here are two alternatives: 1) Place over the flame of a gas stove until charred or 2) Hit the freezer section and purchase pre-grilled bags of frozen fire-roasted corn.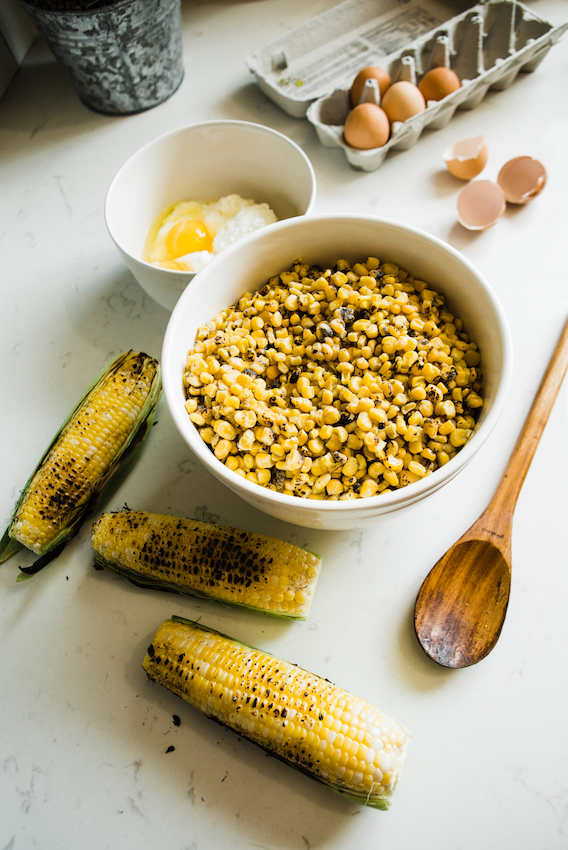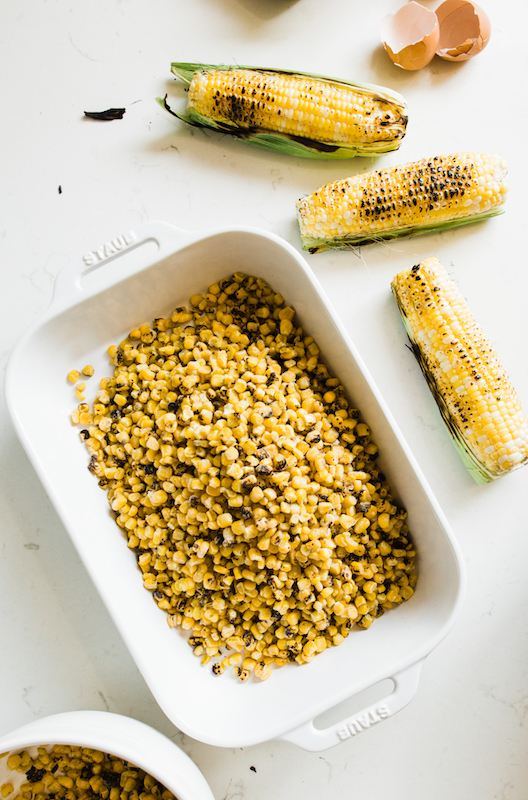 Goes Great With…
Big slices of this casserole make a great side. Or serve with marinated tomato and cucumber salad and big slices of rustic French bread for a simple summertime meal. This dish also tastes great with your favorite barbecued chicken, pulled pork or ribs.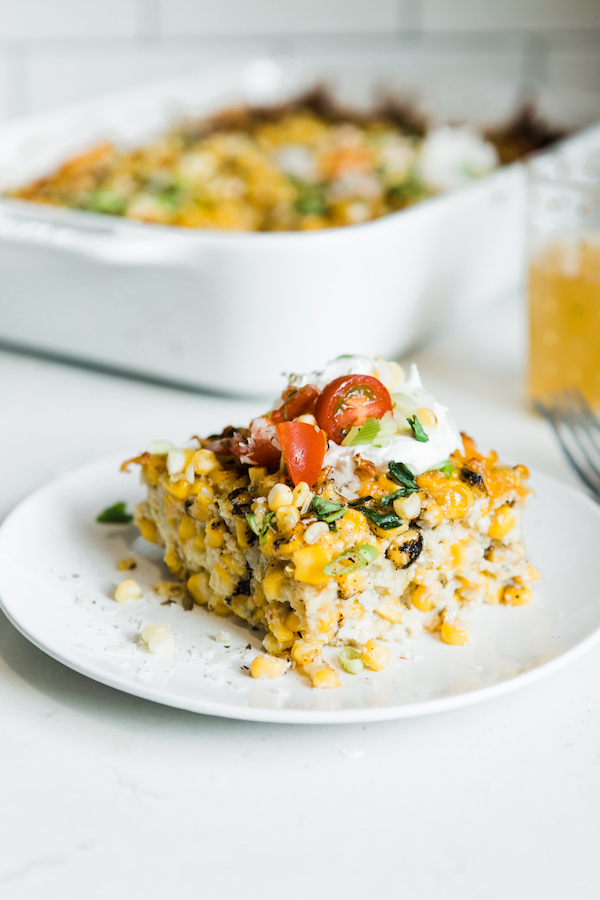 This corn casserole may be the best way to cook up the flavors of the season. Big slices of this casserole make a great side, tasting great with your favorite barbecued chicken, pork chops or brisket.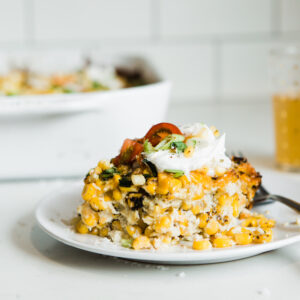 Ingredients
3

(16 oz bags fire-roasted corn (or 8 cups grilled corn)

4

eggs

15

oz

ricotta cheese

2

cups

sharp cheddar

2

cups

white cheddar

1.5

cups

half and half

3

tbsp

cornstarch or ¼ cup flour

1

tbsp

garlic puree

2

tsp

salt

Fresh ground pepper

.5

bunch green onions, diced

8

oz

sour cream

.5

tsp

chili powder (optional, for garnish)
Instructions
Heat oven to 375 degrees F.

In a large bowl, stir together corn, eggs, cheeses. In a second bowl, whisk together half and half, cornstarch, garlic, salt, and pepper. Add this mixture to the corn mixture. Stir well.

Pour into an 8×13" baking dish. Bake for 40-50 minutes, or until the edges turn golden brown and the center of the casserole is set.

Top with sour cream and sour cream. Garnish with a sprinkling of chili powder, if desired.
Nutrition
Serving:
1
g
Calories:
379
kcal
Carbohydrates:
10.6
g
Protein:
18.7
g
Fat:
27.3
g
Saturated Fat:
17.2
g
Cholesterol:
119
mg
Sodium:
975
mg
Fiber:
0.1
g
Sugar:
0.2
g
Try These Add-Ins
Make a loaded corn casserole by stirring diced green or purple onions, diced red peppers and/or crumbled bacon bits for an extra tasty dish.