​Roasted Tomato Confit Soup & Avocado Bacon Grilled Cheese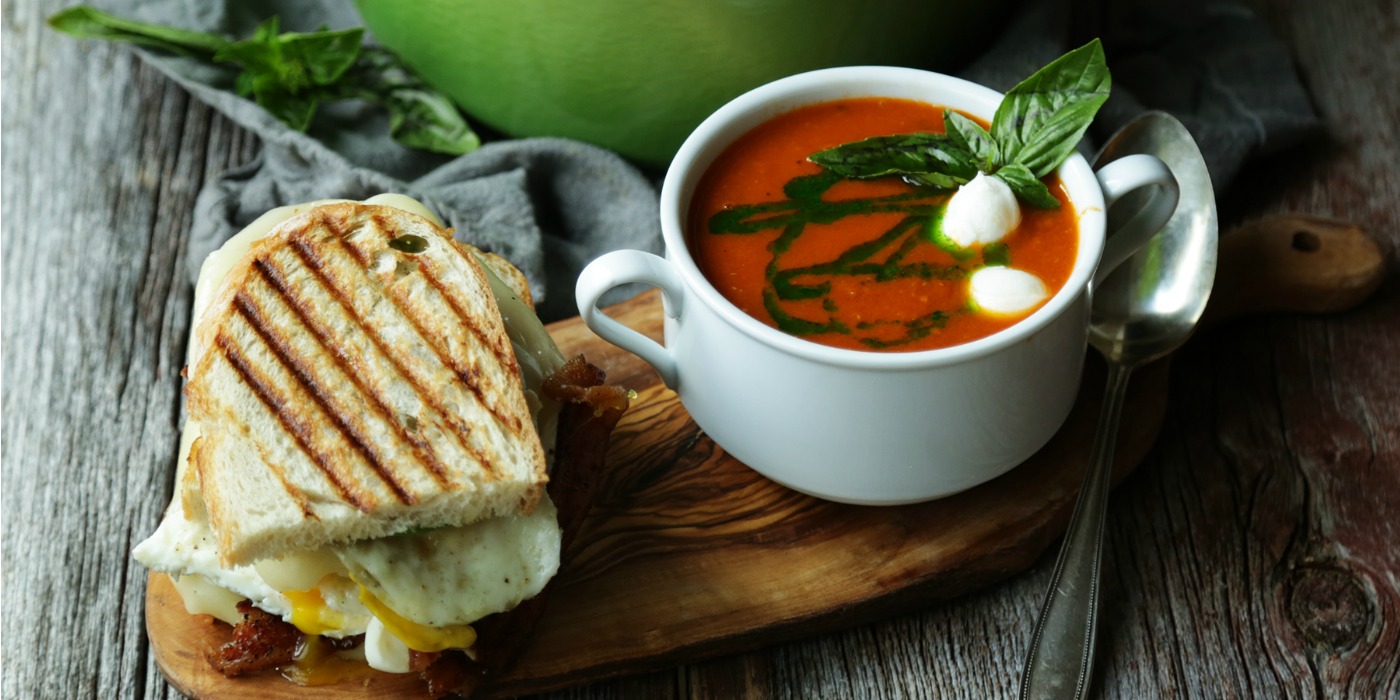 Is it just me or is just weird that tomato soup and grilled cheese is such a popular winter meal, yet tomatoes are fresh in the summer?
I mean, what a tease of delicious flavors that aren't in season? I suppose you could pick'em fresh and can them? However, with that being said, once you make this recipe you won't care if you're in Phoenix and it's 120¬∞; it's that good. Sorry I'm not sorry, it's good! But I digress…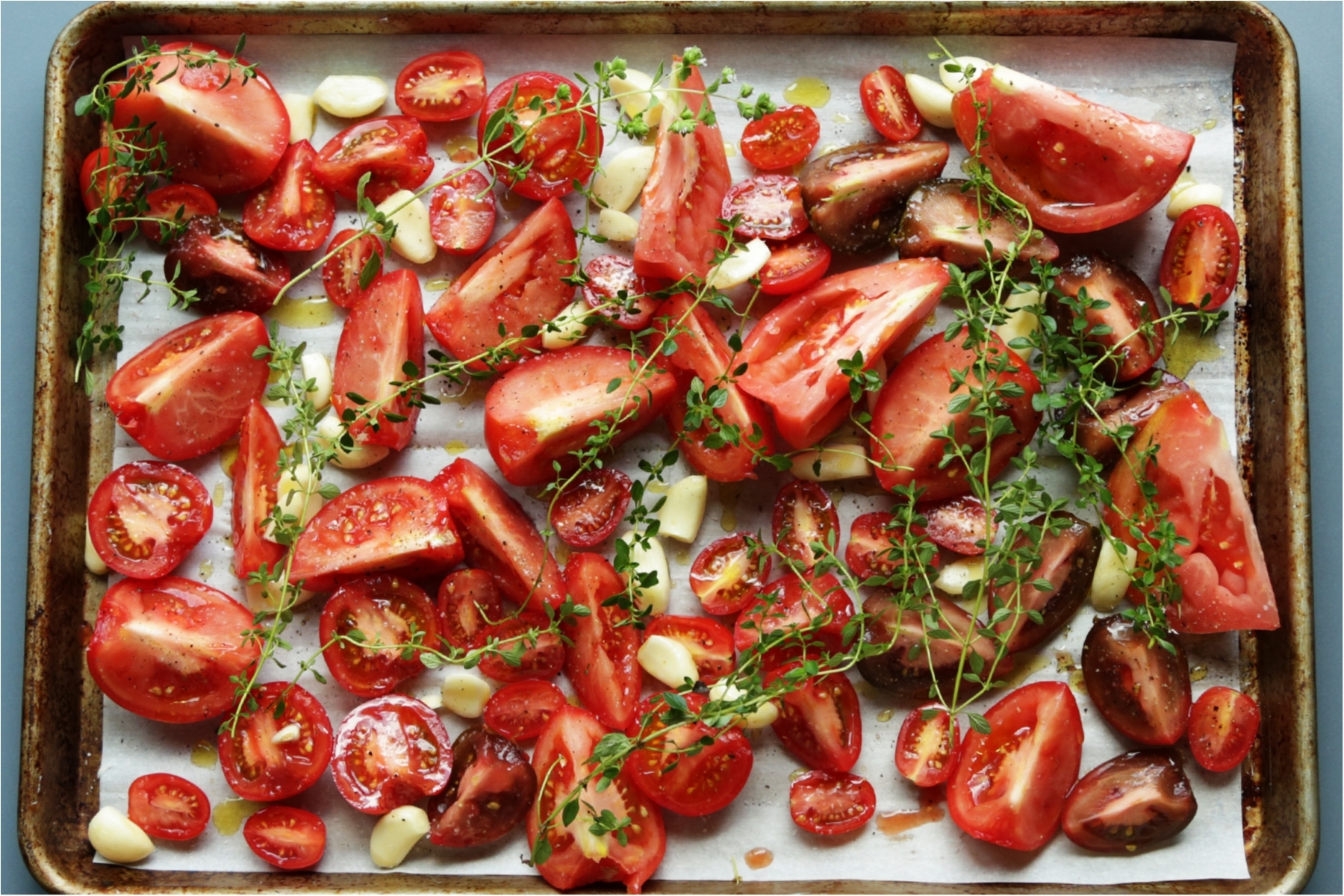 Really no matter how hot or how cold it is outside, soup is my absolute favorite thing to make. I was always told in the restaurant industry, and culinary school, that soup is hands down the most important course of any meal. After all, if a restaurant can't make a good soup chances are they can't make an entrée either. There is just something therapeutic about making and eating soup. It's one of those courses that really requires passion and patience, because like this tomato soup recipe, it can take some time to make.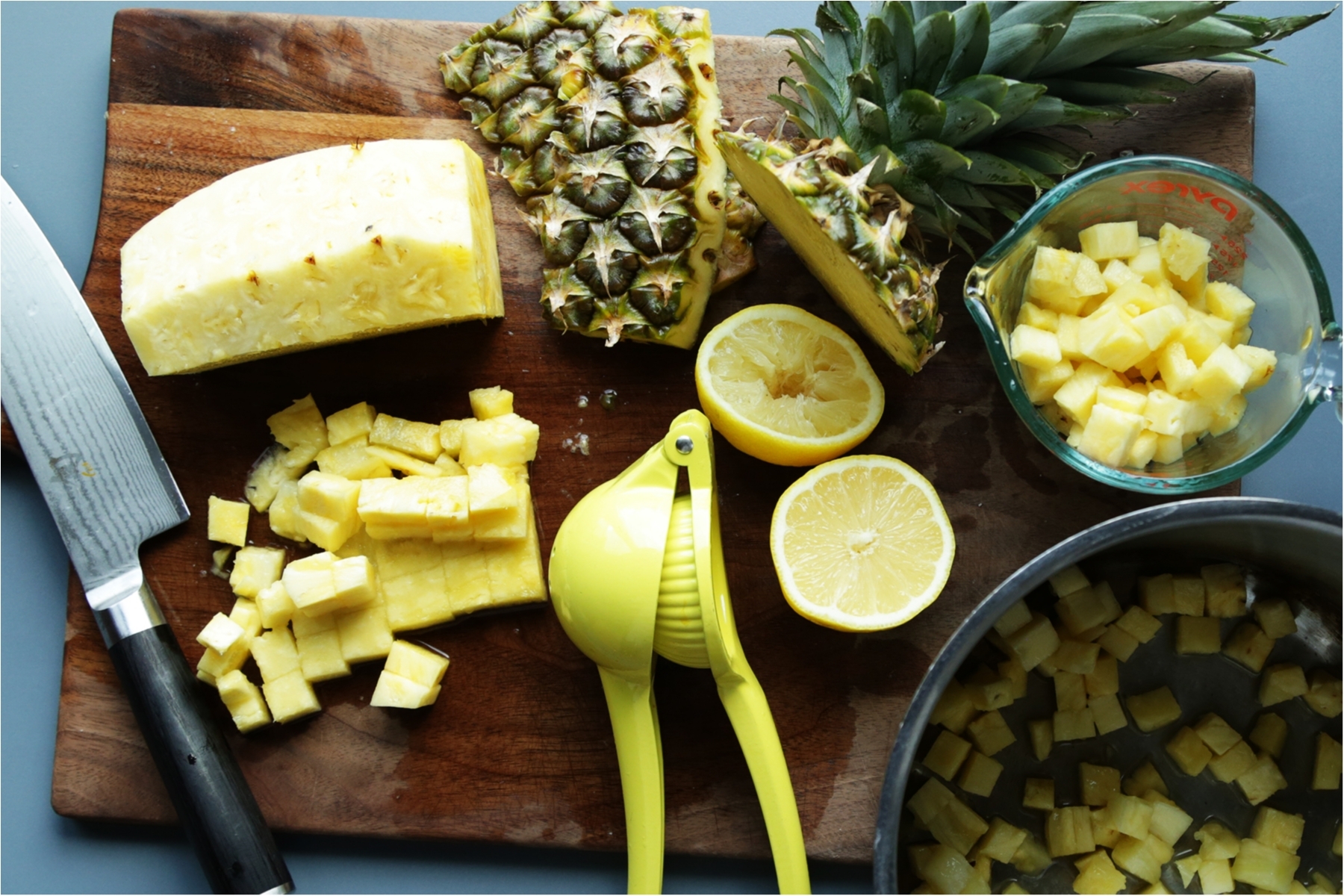 There were a lot of parts to this recipe as a whole — from the pineapple jam, to the tomato confit slow roast, to frying an egg — there were quite a few. Definitely not a hard recipe at all, it just takes some time but I promise it is well worth the wait. In fact, I've been eating it for 3 days straight, no joke.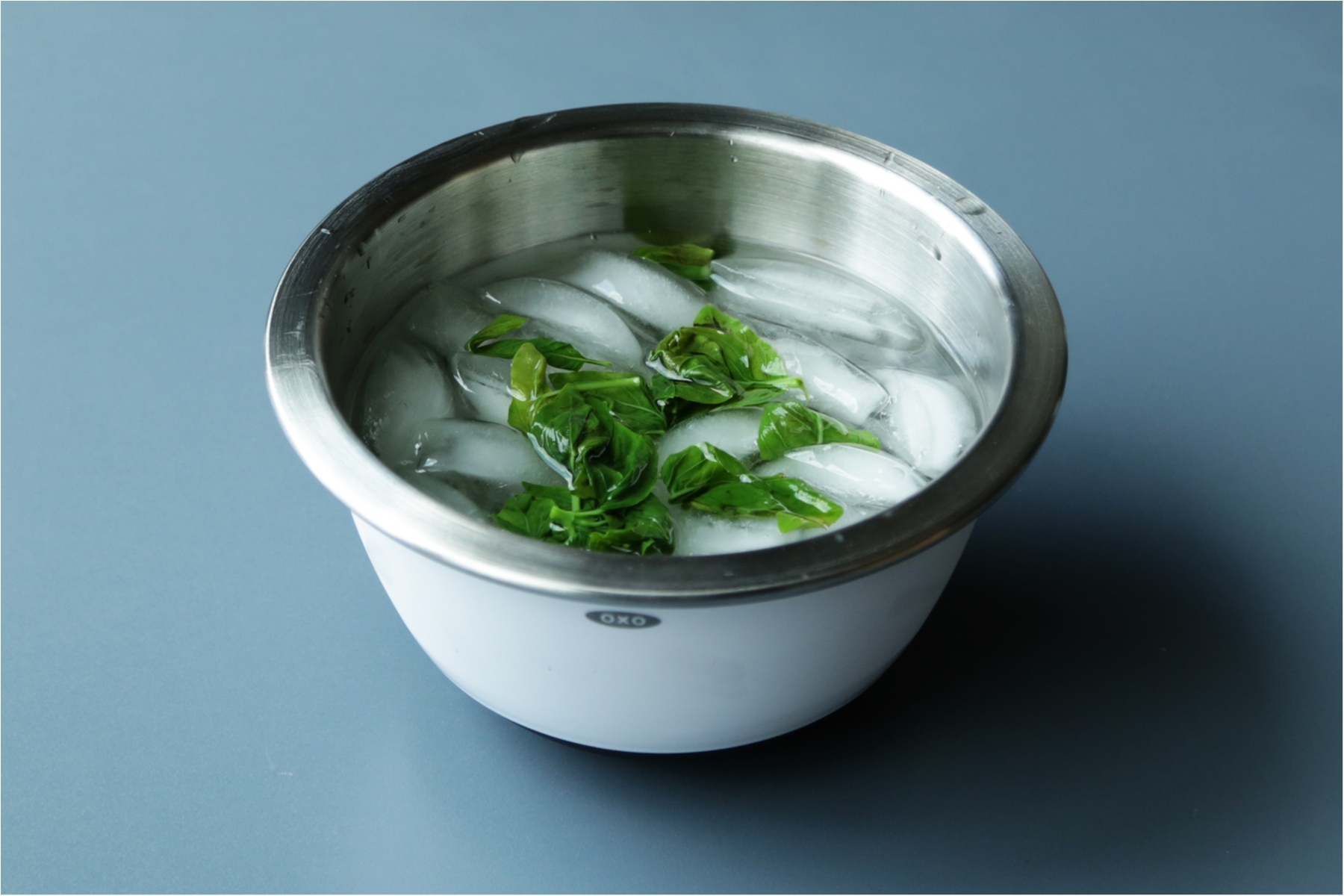 So what on earth is tomato confit? This is a technique I learned quite a while ago where you simply slow roast tomatoes, skin side down, on a sheet pan lined with parchment paper along with some fresh herbs, garlic, olive oil, salt and pepper on 275° for a few hours. You can cook them from 2 hours up to 4 hours and the coolest part is that the longer you cook them, the more intense flavor they produce.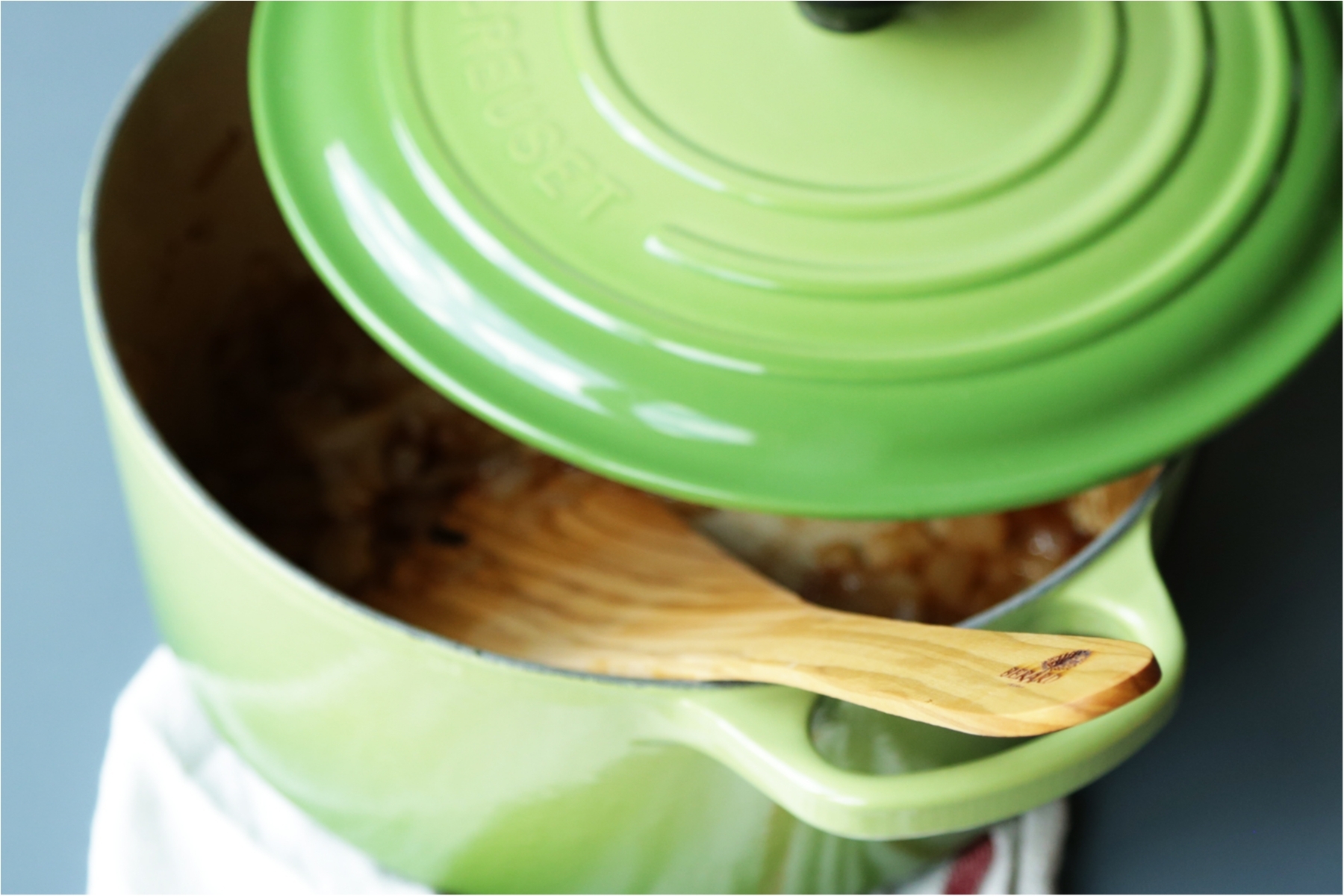 Once the tomatoes are done roasting is when this recipe starts moving. The soup recipe in itself is less than 10 ingredients and is perfect for further slow cooking in a Le Creuset pot. It's heavy enough to withstand the long cooking times without scorching any of the tomatoes in the process. It also looks gorgeous as do all of their products. You will have to stir often to keep things moving around and the Berard wooden spoon is perfect because it's flat at the end and allows you to scrape a bit. Once the onions are caramelized, simply pop in the tomatoes with some stock and simmer for a few hours. It's really that easy!
The sandwich requires making some homemade pineapple jam, which is simply simmering some fresh pineapple chunks, sugar, water and juice from a fresh lemon until it becomes thick. You can also blend it if you want to make it less chunky and more of a smooth jam.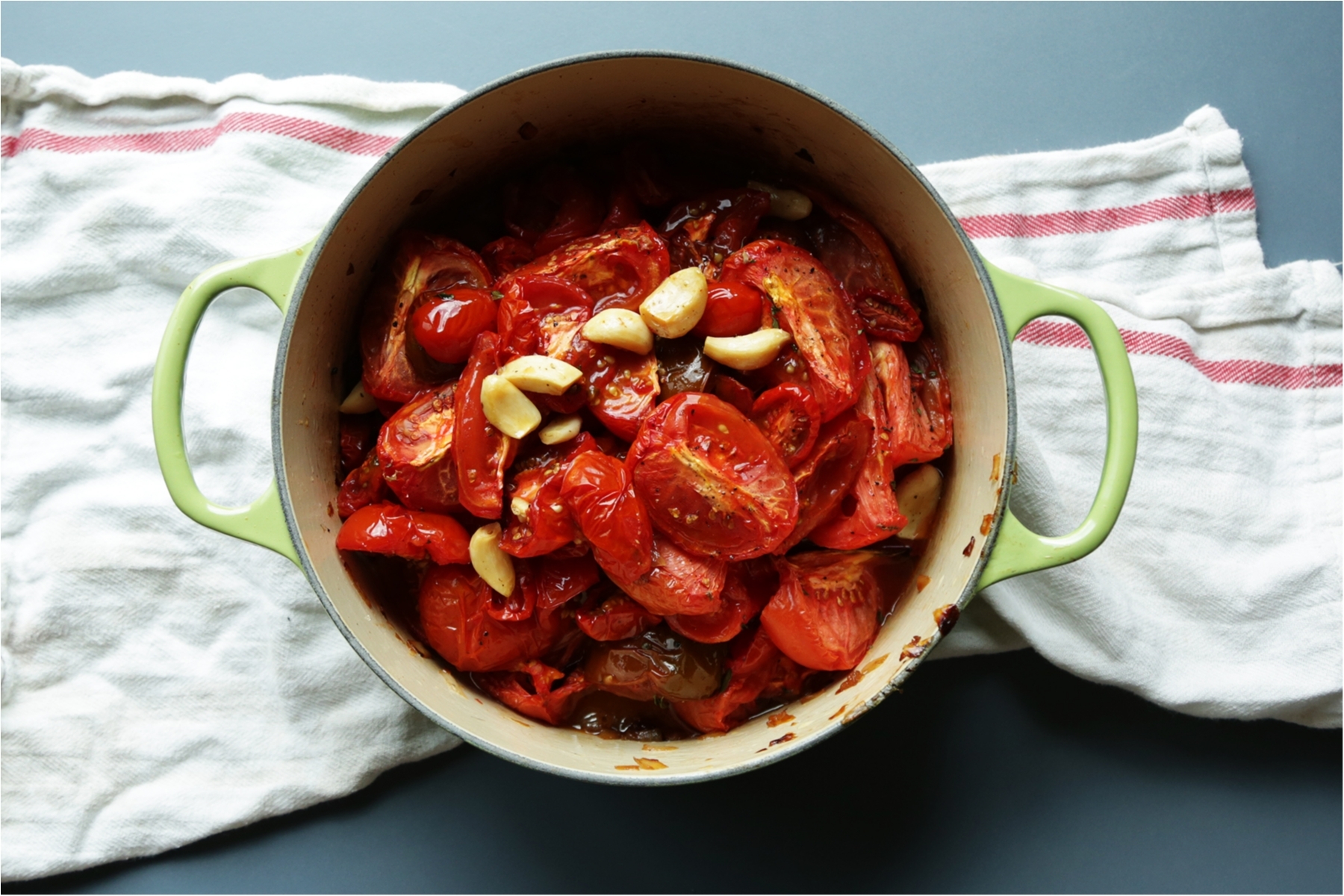 After that, it's really all assembly and I was looking to pair and match flavors in the sandwich that would carry over with ease to the soup. For instance, I know avocado goes great with bacon and pineapple, so I simply added some crispy bacon and hence, I made the jam. Well, avocados, bacon and pineapple also go great with tomato soup, so if you take a taste of soup and have a bite of the sandwich your mouth will explode with flavor. It is all about pairing and complimenting flavors so that everything you eat on a dish has the perfect balance and is bursting with flavor. To finish it off, simply spray the Hamilton Beach panini maker and cook the sandwiches. It literally crusts off the bread beautifully and beeps at you once it's finished cooking, which is perfect since you will be doing a few other things and may forget about them 'ò∫.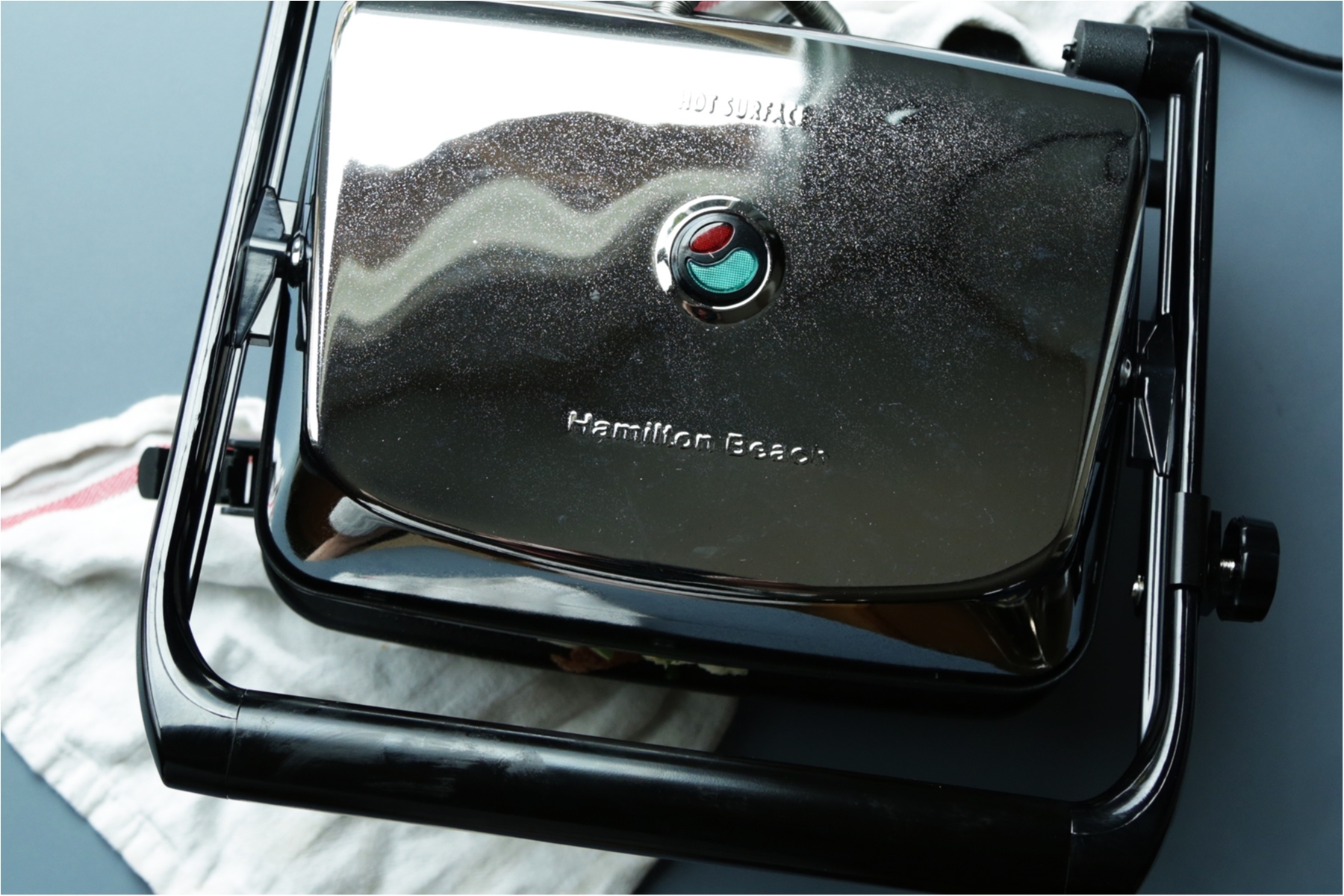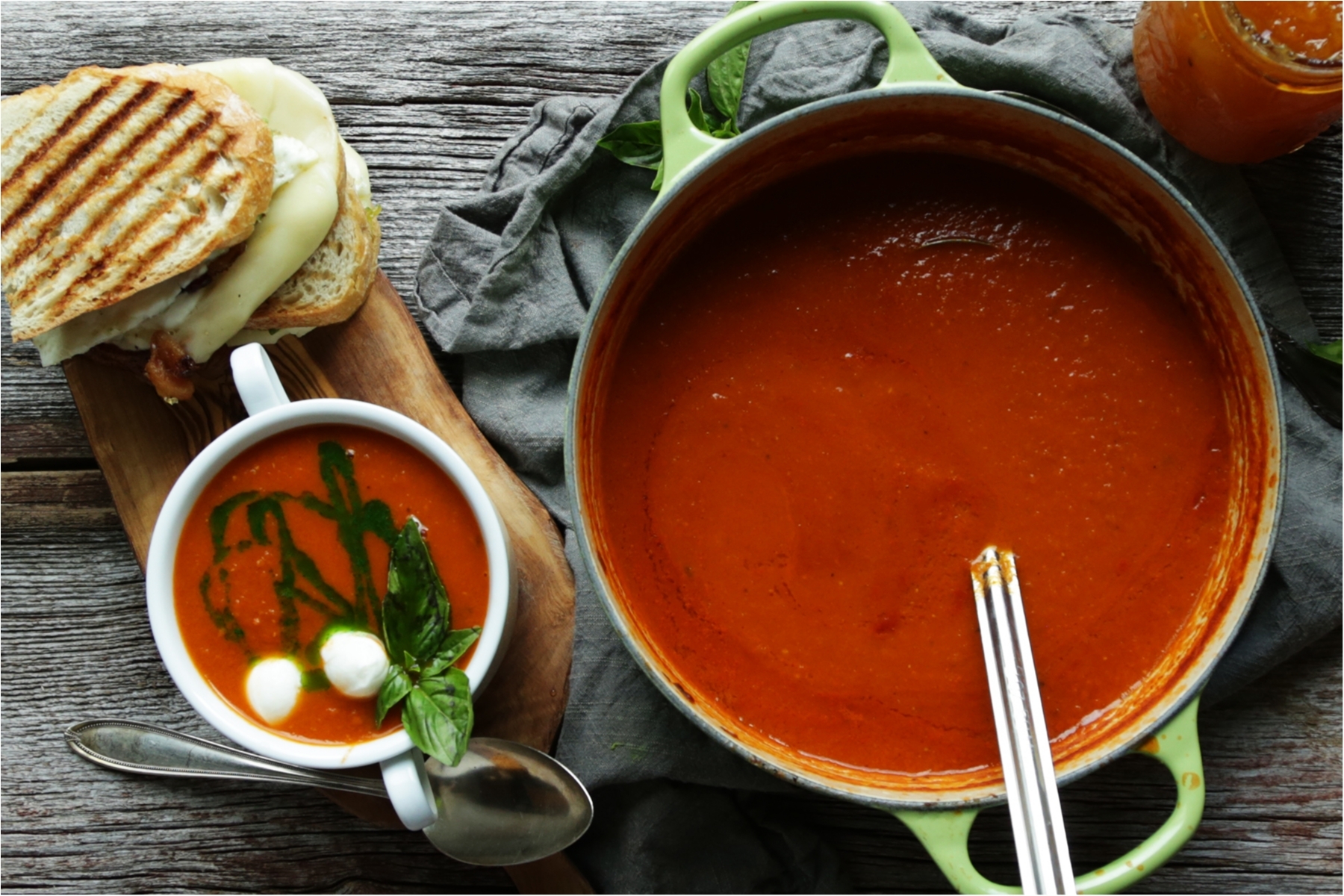 Roasted Tomato Confit Soup
Roasted Tomato Confit Soup + Avocado Bacon Grilled Cheese is a popular winter meal, but summer tomatoes are best. Enjoy this delicious recipe all year round.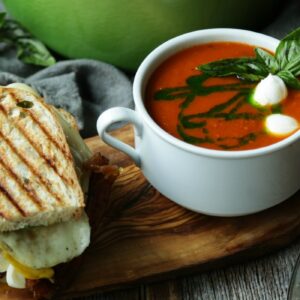 Ingredients
5

lb

Assorted fresh tomatoes cut into quarters

30

Garlic cloves

20

Sprigs of fresh thyme

.25

cups

Olive oil

32

oz

Vegetable stock

1

Small diced sweet onion

1

tbsp

Salted butter

1

tbsp

Sugar

1

tbsp

Balsamic Vinegar

2

tbsp

Soy sauce

Kosher salt and fresh cracked pepper to taste

Basil oil garnish
Instructions
Preheat the oven to 275°

Place the tomatoes skin side down on a sheet pan lined with parchment paper and evenly spread on the garlic cloves. Next, drizzle the olive oil onto the tomatoes, season with salt and pepper and place on the thyme leaves. Bake in the oven for at least 2 hours but no more than 4 hours.

In a Le Creuset Pot on medium heat, add in the butter and caramelize the sweet onion. Add in the sugar to help brown.

Once the tomatoes are done cooking, add them in only to the roasted sweet onion pot along with 8 cooked cloves of garlic from the pan.

Next, add in the stock, balsamic vinegar, soy sauce, salt and pepper and simmer on low for at least 1 hour. Puree the soup in a blender or with an immersion hand blender.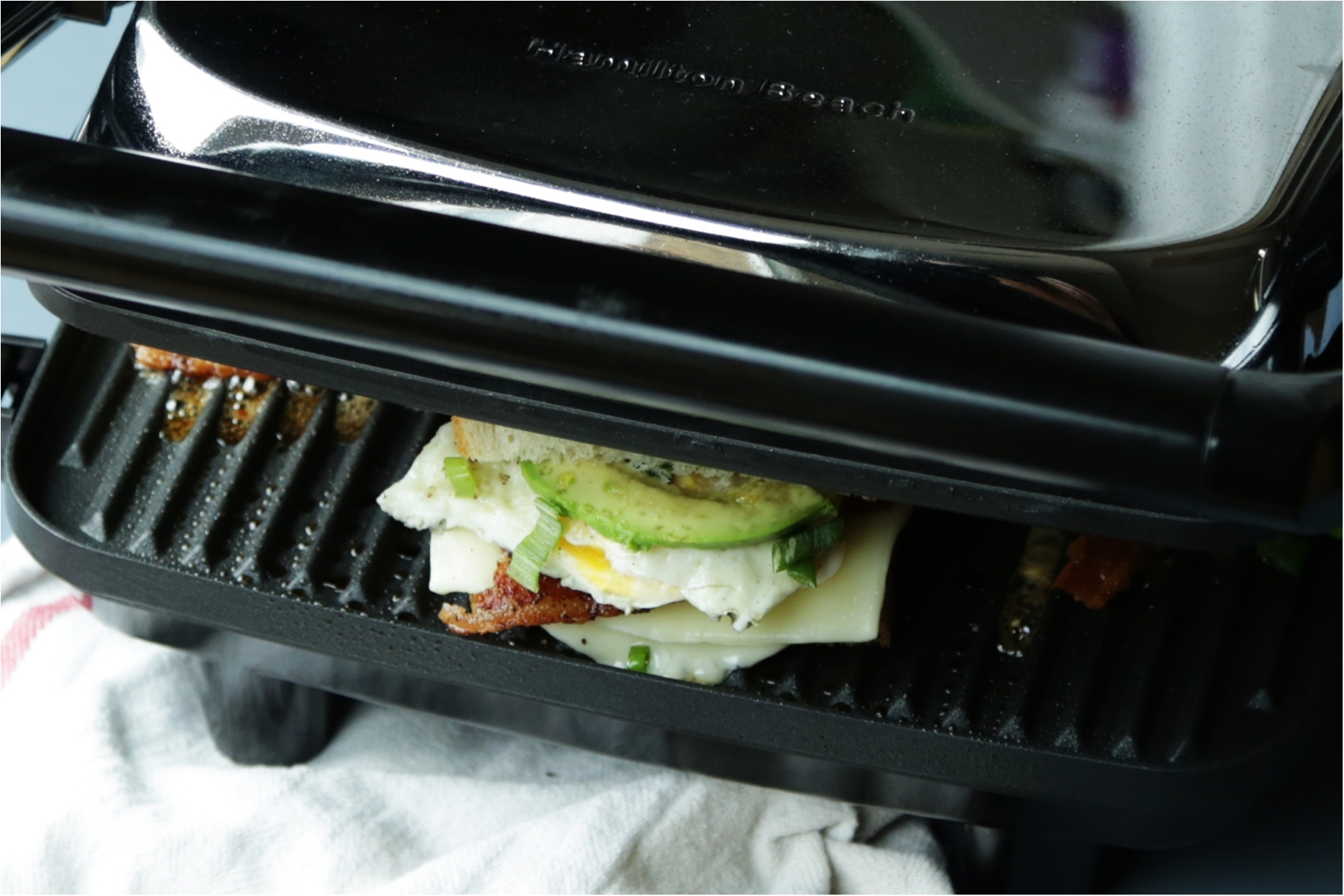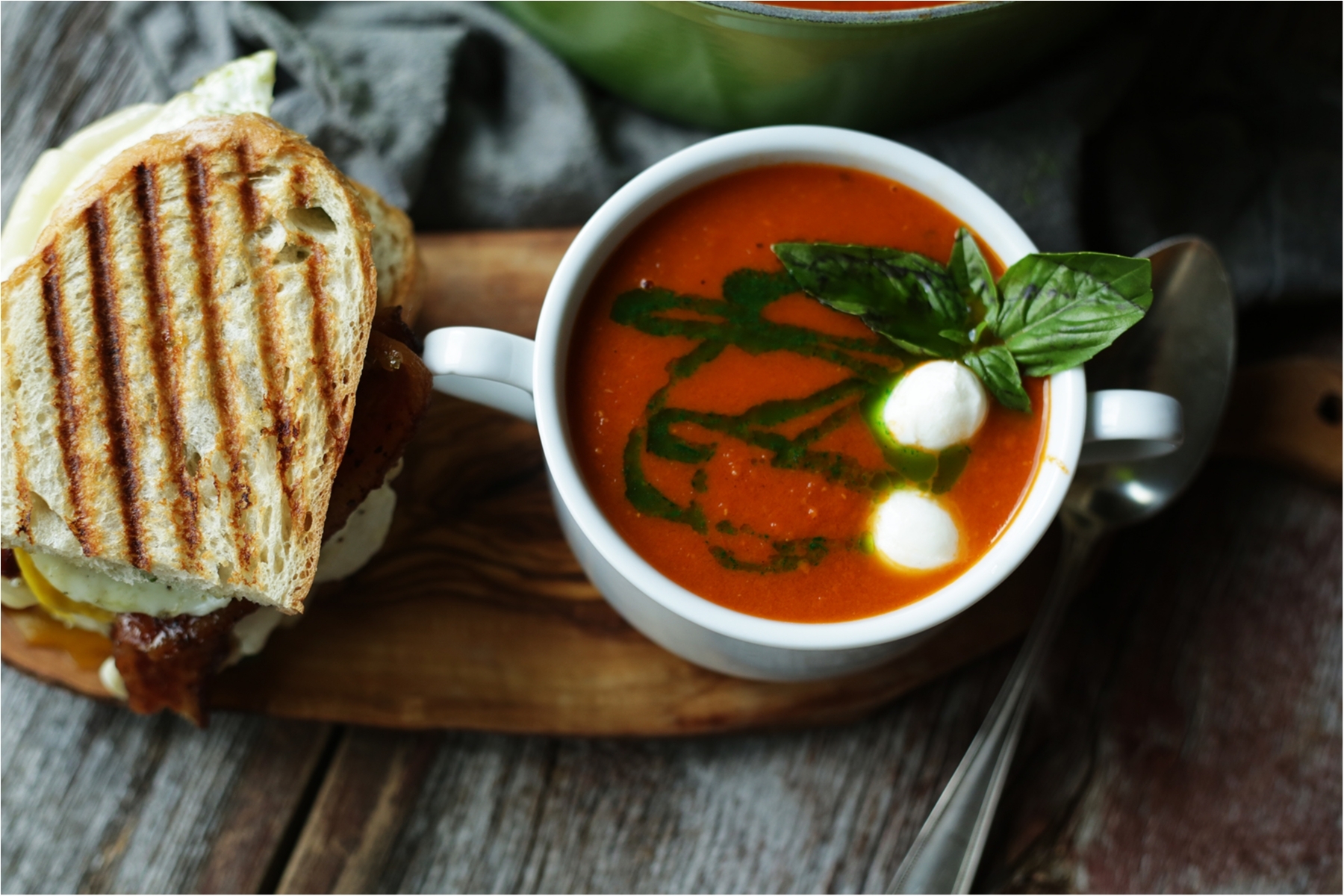 Avocado Bacon Grilled Cheese Sandwich
Avocado Bacon Grilled Cheese is a popular winter meal, but summer tomatoes are best. Enjoy this delicious recipe all year long.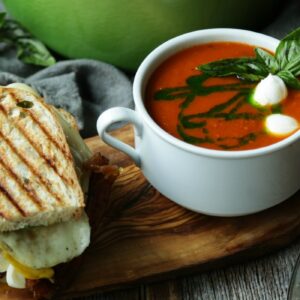 Ingredients
3

cups

fresh pineapple chunks

3

cups

sugar

.5

cups

water

Juice of 1 lemon

2

sliced avocados

4

over-medium fried eggs

12

crispy strips of cooked bacon

4

slices of mozzarella cheese

4

slices of provolone cheese

1

buffalo mozzarella ball sliced into 8 thin slices

.25

cups

sliced green onion

8

slices of artisan bread
Instructions
Add the pineapple, sugar, water and lemon juice to a medium sized pot and cook over medium low heat until it becomes thick, about 30 minutes. Puree the mixture and cool until it becomes jam like.

To assemble the sandwich, place down 1 slice of mozzarella cheese, provolone cheese, 2 slices of buffalo mozzarella, 3 slices of bacon, 1 fried egg, ½ avocado slices, 1 tablespoon of sliced green onions onto a slice of artisan bread. On the other piece of the bread, spread on some pineapple jam and cover the sandwich.

Spray the Hamilton Beach panini maker on both sides with PAM and cook until it beeps, about 4 minutes.

*Note: Serve the soup with some basil oil, and small buffalo mozzarella balls and alongside the grilled cheese panini.