Classic Beef Wellington Recipe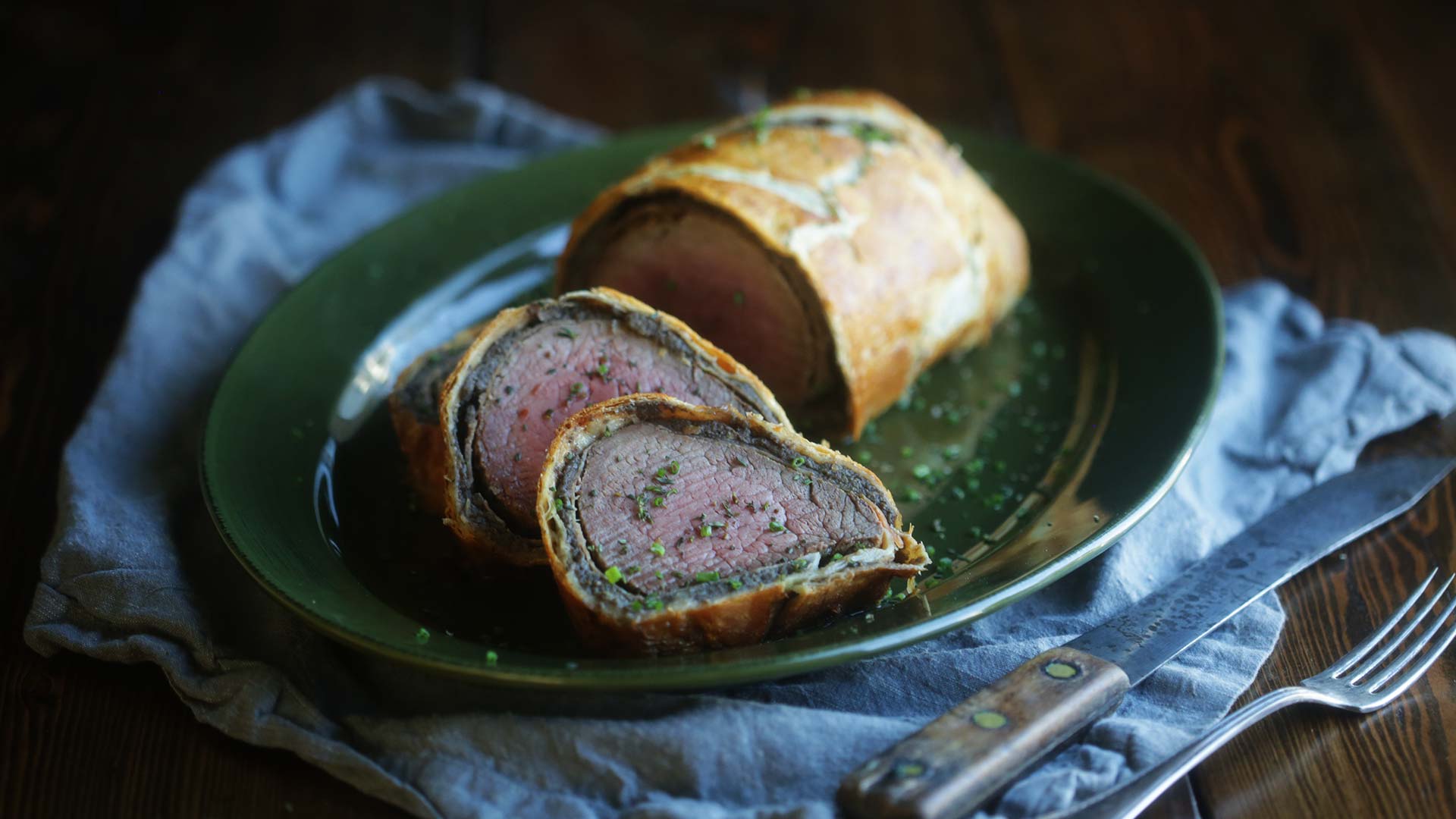 I feel like anytime you say Beef Wellington you have to say it in an English accent with a Chef Gordon Ramsay tone, it's just more fun! This recipe is my favorite take on a classic dish.
I feel like I've been making this recipe for almost 20 years now and every time I do a different variation. For instance, I've done bacon or pancetta instead of prosciutto, I've done different mushrooms, I've put herbs into the mushrooms, I've used different mustards… literally a million variations. However, in the end I'm a purist and this version is probably my favorite. Minimal ingredients, seasoned to perfection and really easy to make. I think when people hear Beef Wellington recipe they flip out and think that there is no way on earth they could ever make such a dish, but honestly they're wrong. It is so easy to make; it just takes some patience. If you want to impress some guests with this classic Beef Wellington recipe, I guarantee they will be impressed!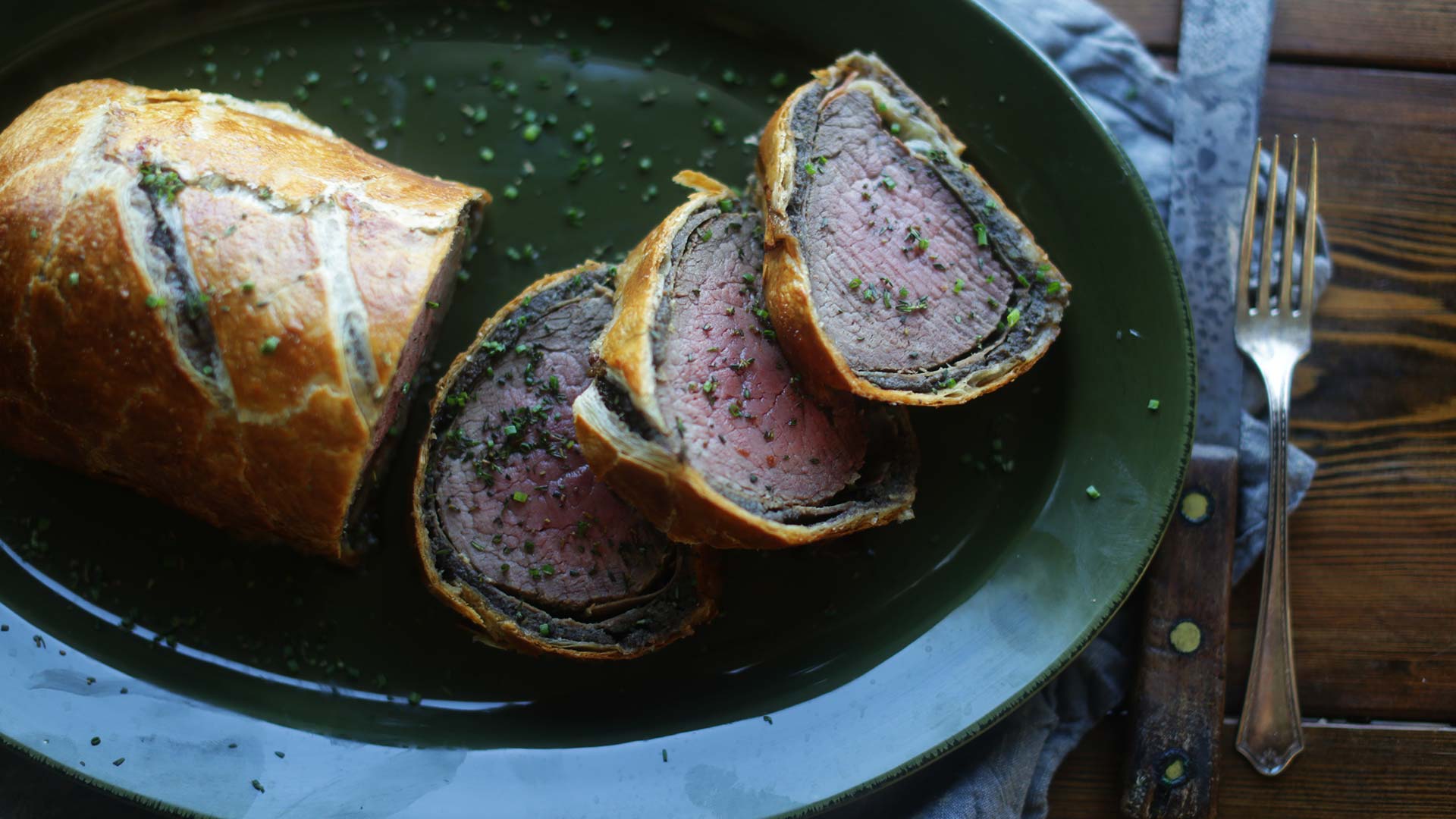 Classic Beef Wellington Recipe Recipe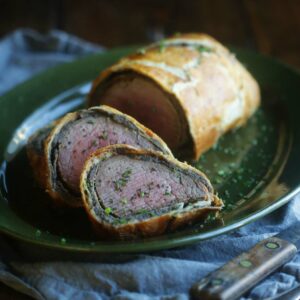 INGREDIENTS
2 pound center cut beef tenderloin
2 tablespoons of extra virgin olive oil
1 cup each domestic and portabella mushrooms
1 shallot
4 cloves of garlic
½ cup of madeira wine
1 puff pastry sheet + flour for dusting
6 slices of prosciutto ham
1 tablespoon of Dijon mustard
1 whisked egg
Kosher salt and fresh cracked pepper to taste
Chopped chives and thyme for garnish
INSTRUCTIONS
Preheat the oven to 400°.
Season the beef tenderloin on all sides with salt and pepper.
Next heat 1 tablespoon of olive oil in a large sauté pan and sear the beef on all sides until it is golden brown all around. Wrap it up tight in plastic wrap and refrigerate for 30 minutes or until cool.
Add the mushrooms, shallot and garlic cloves to a food processor and process on high until it is smooth.
Heat 1 tablespoon of olive oil in a separate large sauté pan on high heat and cook the mushroom mixture until all of the liquid is out of it.
Add in madeira wine and cook for 2 to 3 minutes. Season with salt and pepper and chill completely.
Roll out a sheet of puff pastry on a floured surface until is an additional 2" inches big on all sides.
Spread the chilled mushroom mixture all over the inside of it and place on the prosciutto ham.
Brush the chilled tenderloin on all sides with mustard and place it on the prosciutto ham and roll it up. Trim any excess.
Transfer the beef wellington to a sheet tray lined with parchment paper and brush on 1 whisked egg until coated. Make 3 scores in the top off the puff pastry.
Bake at 400° for 40 minutes or until golden brown.
Rest for 3 to 4 minutes before slicing and serving.