Roasted Garlic Lasagna Pizza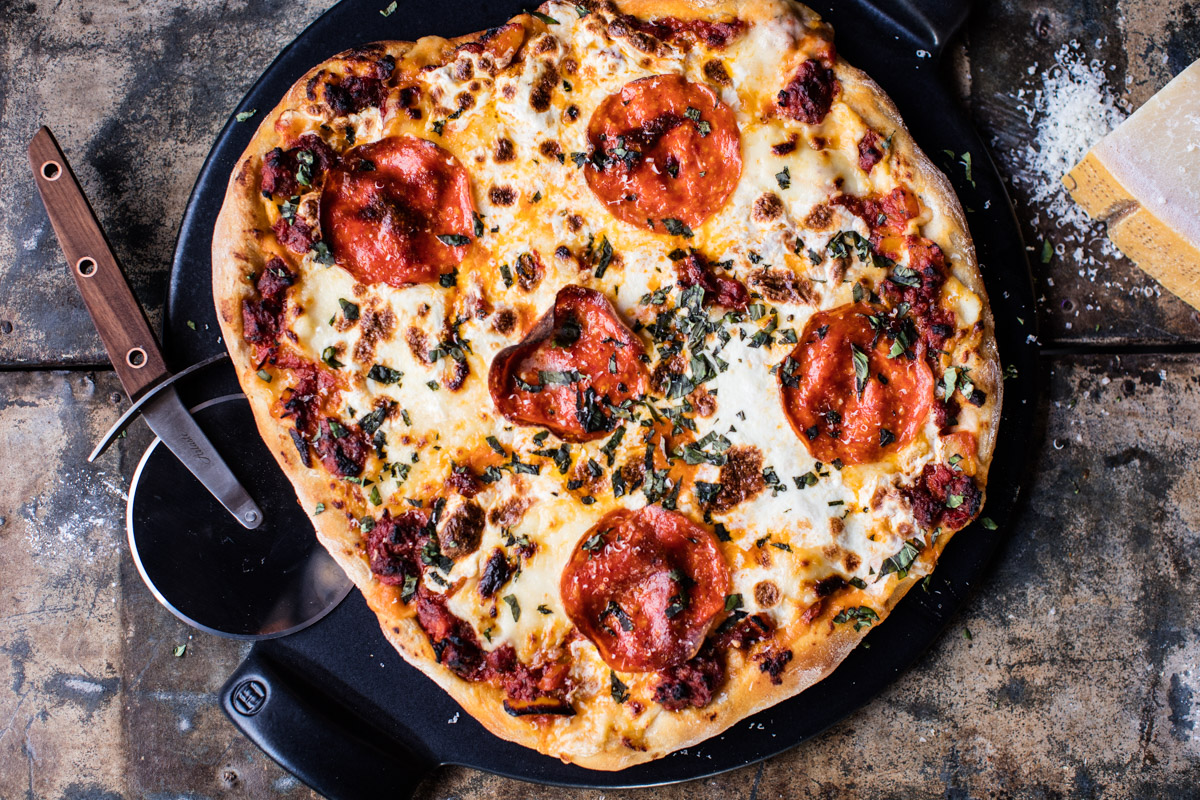 Two of my favorite foods are a great homemade pizza and homemade lasagna.
This time of year, when the holidays are kicking into high gear and dinners that feed a crowd are in need, both lasagnas and pizzas are made in abundance. I recently made my favorite lasagna recipe and had left over meat sauce, which got me thinking, what if I turned that sauce into a lasagna style pizza?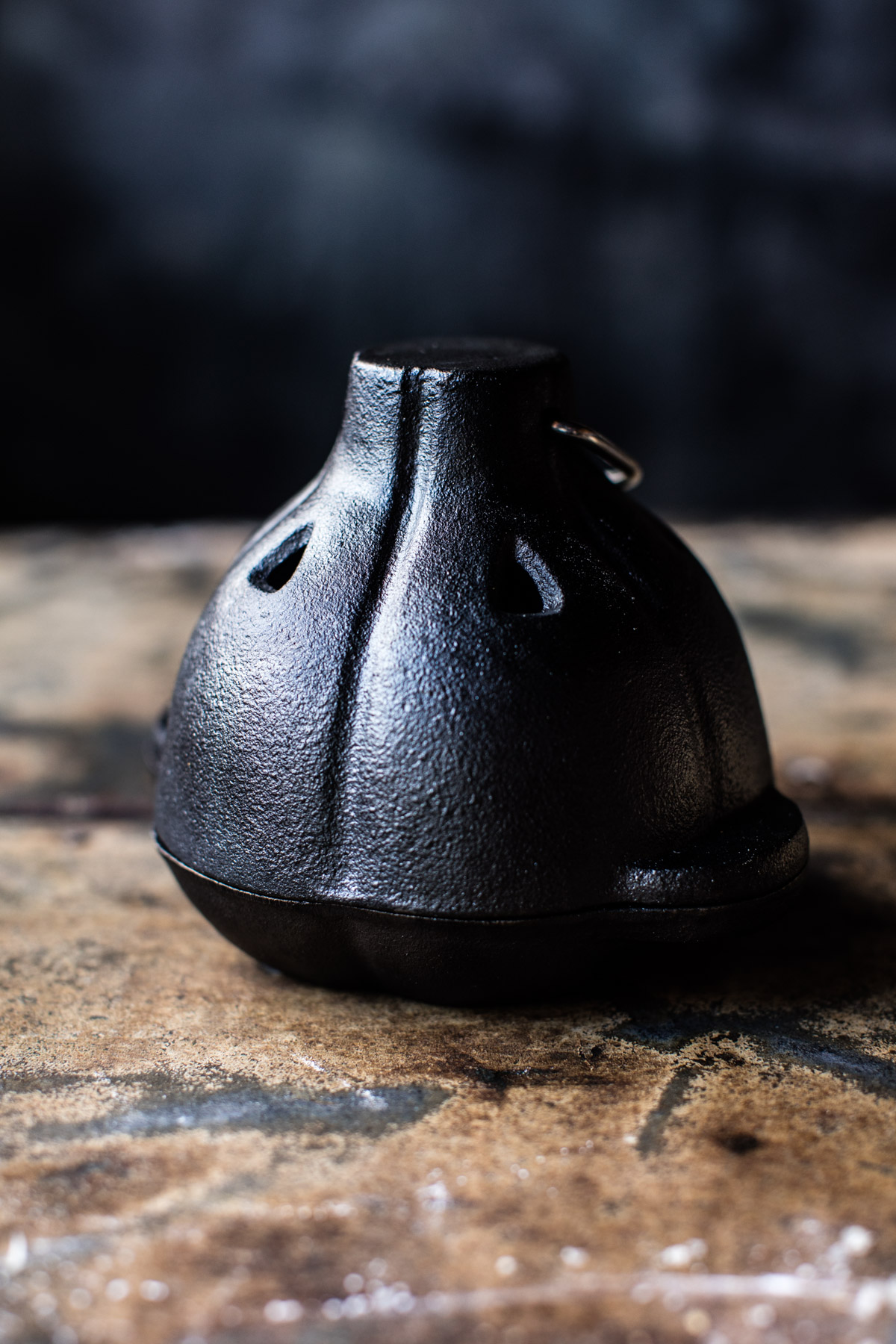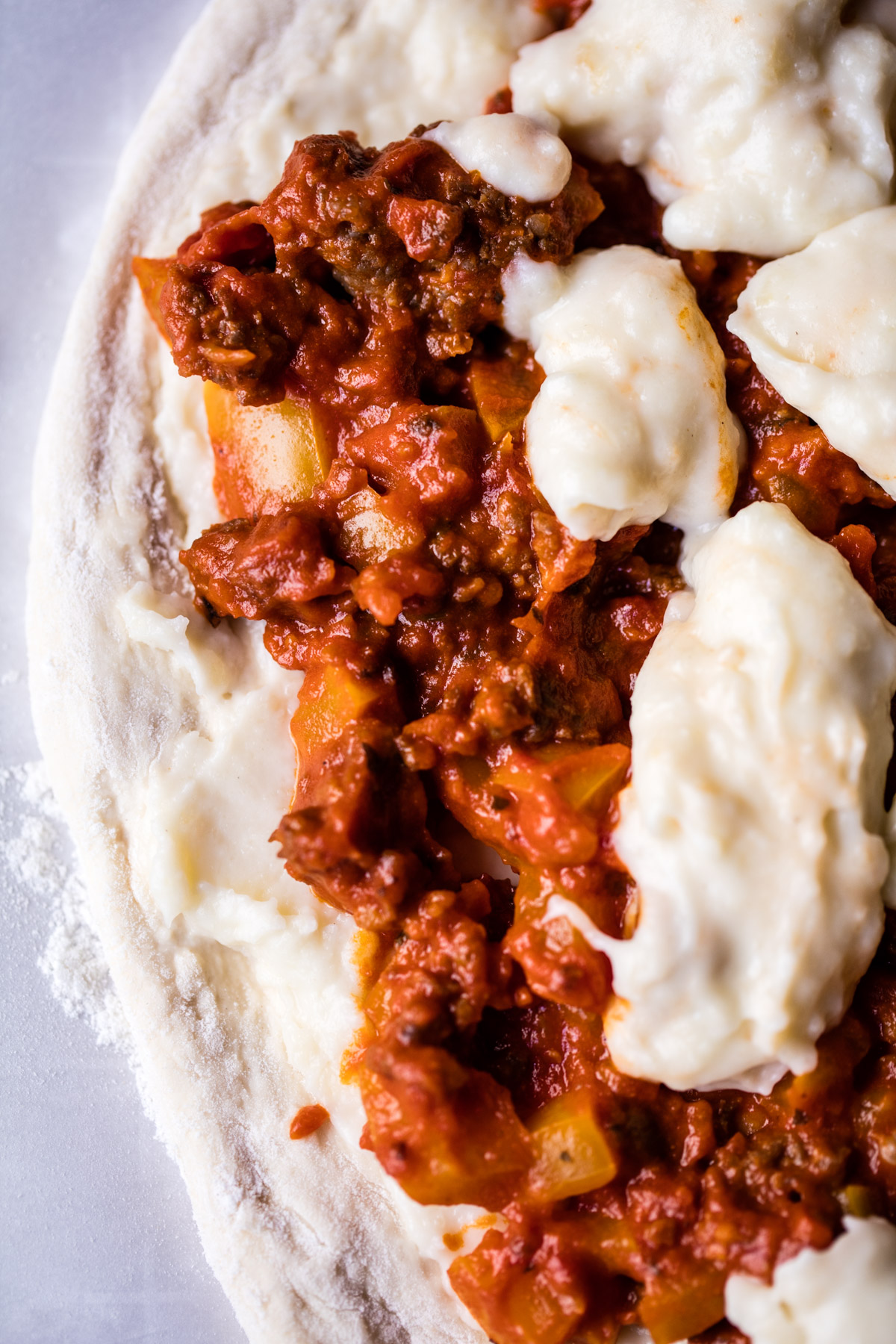 So, I gave it a try and found it was delicious. Cheesy, full of rich Italian flavors, and honestly the perfect hearty pizza for a cold and cozy night. I decided it was so good that I needed to remake it and share it here with you all!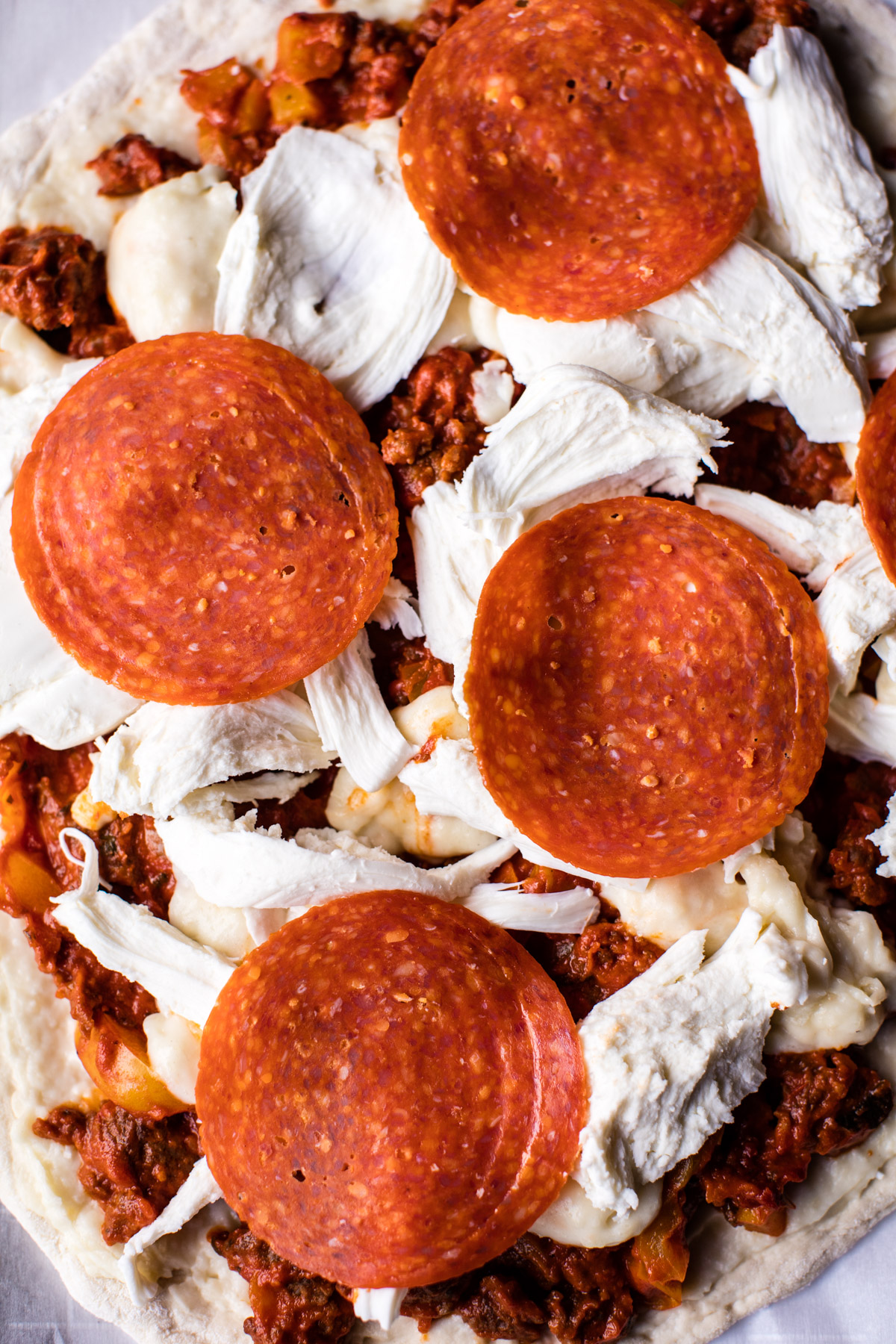 This pizza recipe is great for holiday entertaining, just make two or three when having guests. You simply can't go wrong with a flavorful pizza like this!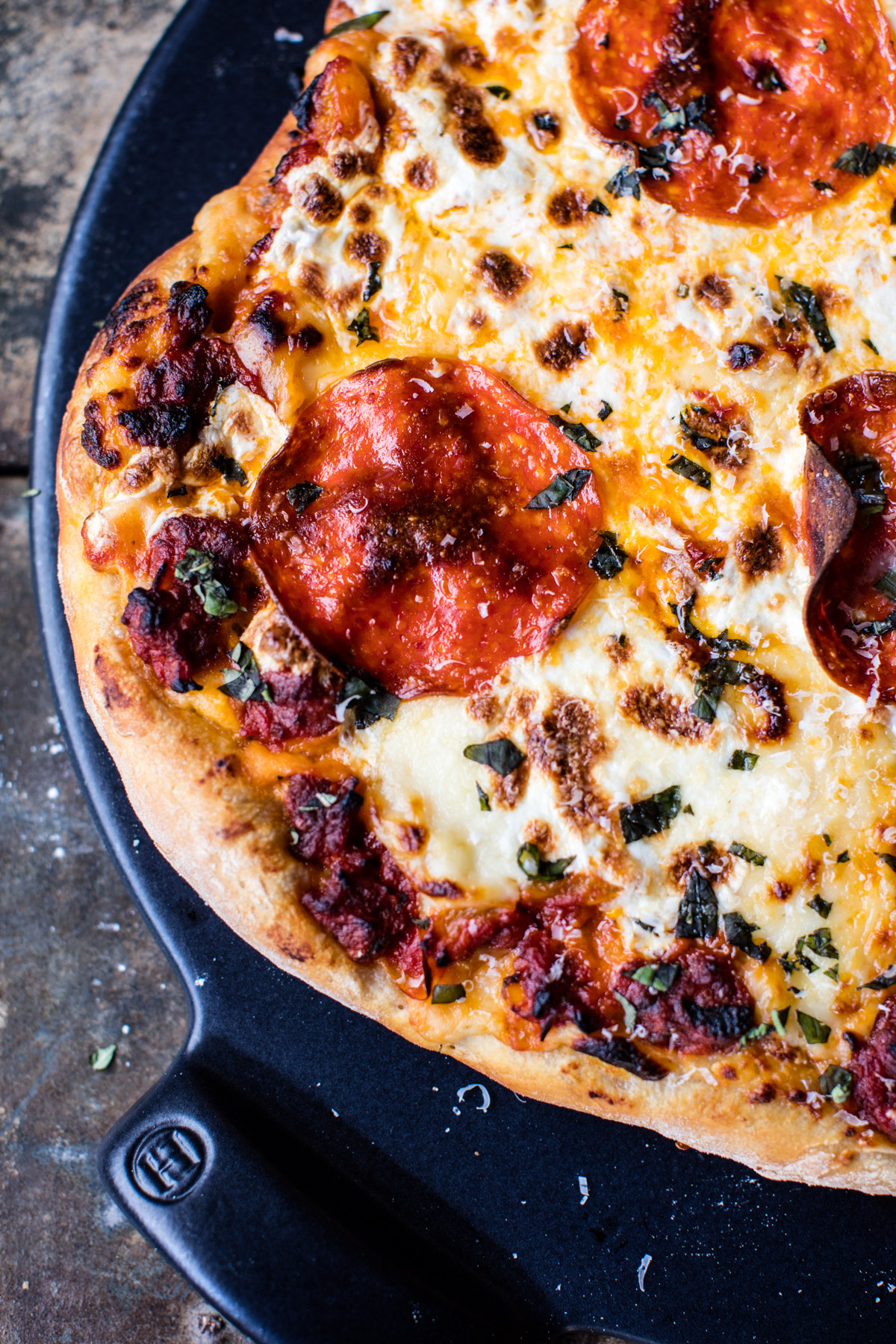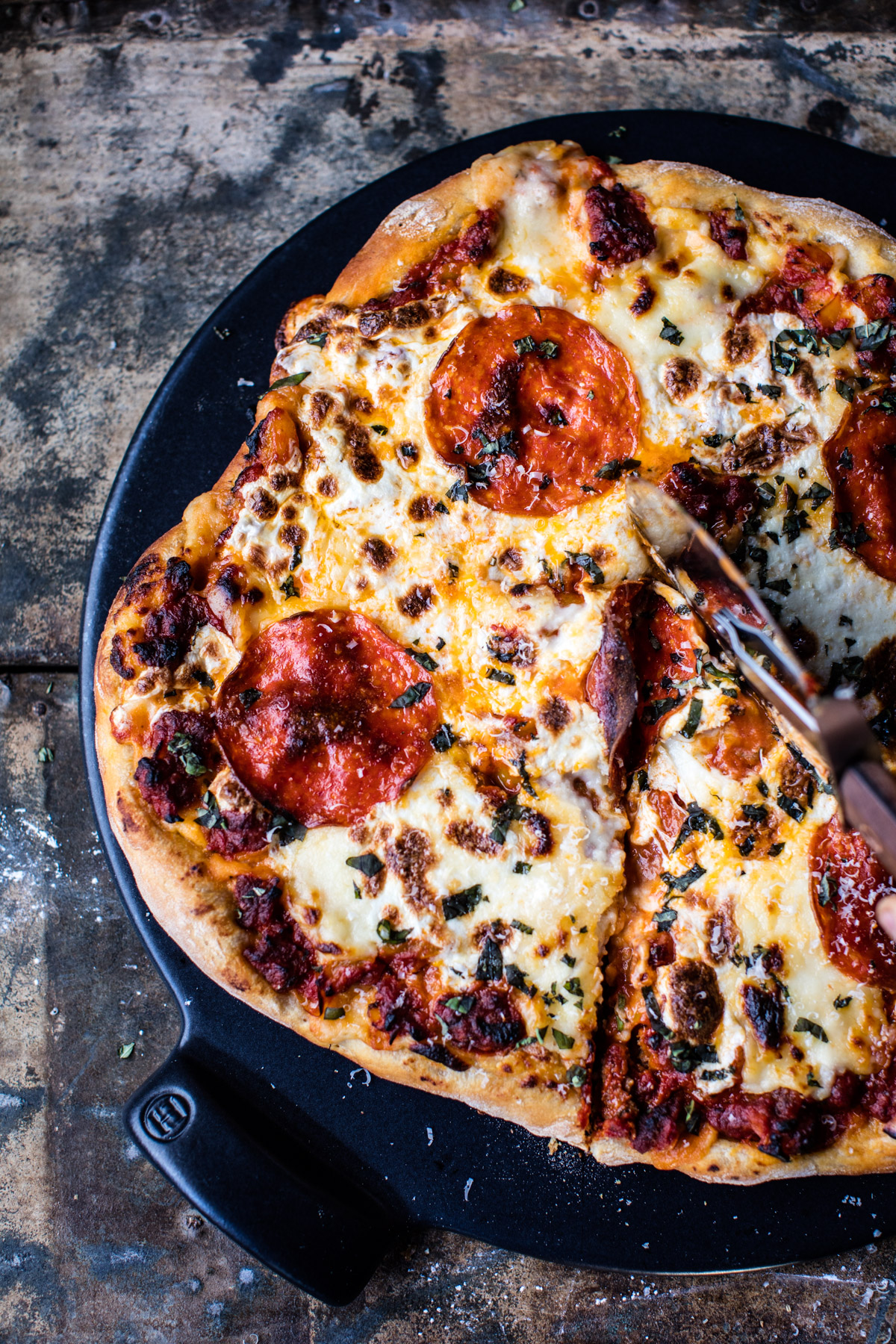 Roasted Garlic Lasagna Pizza Recipe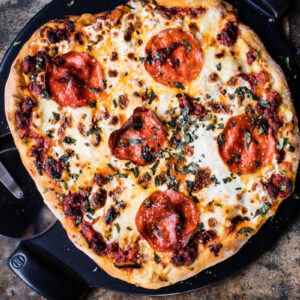 INGREDIENTS
1 head garlic
4 ounces pancetta, chopped (optional)
3 tablespoons olive oil
1 red pepper, diced
½ pound ground spicy Italian chicken sausage or ground chicken
Kosher salt + pepper
1 (28 ounce) can crushed tomatoes
2 tablespoons tomato paste
2 cups milk
2 tablespoons butter
2 tablespoons flour
2 cups shredded provolone cheese
½ cup parmesan cheese, grated, plus more for serving
½ pound pizza dough, store-bought or homemade
1 cup mozzarella cheese, shredded
Chopped parsley, for garnish
INSTRUCTIONS
To roast the garlic, preheat the oven to 400 degrees F. Chop off the top portion of the garlic head to reveal cloves. Peel any excess paper/skin off from the bulb of garlic. Place the cloves in a garlic roaster and drizzle with a teaspoon of olive oil. Cover and transfer to the oven and roast for 45 minutes, or until the garlic is golden brown and soft. Remove from the oven and allow to cool five minutes. Squeeze the garlic out of the paper skin into a bowl and mash well with a fork.
Position your pizza stone on the upper 1/3 rack of your oven. Preheat your oven to 500 degrees F. or as high as it can possibly go.
In a heavy bottomed pot, cook 1 tablespoon of olive oil and the pancetta over high heat, stirring, until the pancetta is lightly browned, about 3 minutes. Add 1 tablespoon of olive oil to the center of the pan and crumble in the ground sausage. Cook without stirring for 3 minutes, then begin breaking up the meat. Continue to cook, stirring occasionally, until well browned, about 5 minutes. Add the tomatoes, tomato paste, ½ cup milk, the roasted garlic, salt and pepper to the pot. Simmer the sauce, stirring occasionally until thickened, about 10-15 minutes. Taste to season with salt and pepper.
Meanwhile, melt the butter in a small saucepan over medium heat. Add the flour and cook, whisking constantly, for 1 minute. Whisk in the remaining 1½ cups milk in a steady stream. Bring to a boil and cook for 2 minutes, whisking consistently. Remove from the heat, stir in the provolone cheese and then add the Parmesan. Season with salt and pepper.
On a lightly floured surface, push/roll the dough out until it is very thin. Transfer the dough to a parchment paper lined baking sheet.
Spread the white sauce over the dough and then spread evenly with the meat sauce. Top with mozzarella and evenly place the pepperoni over the cheese. Carefully slide the pizza onto the hot stone and bake for 10-12 minutes or until the cheese is melted and bubbly. Remove from the oven, garnish with parsley and Parmesan and serve.