Easy One Pan Spicy Sausage Farfalle Recipe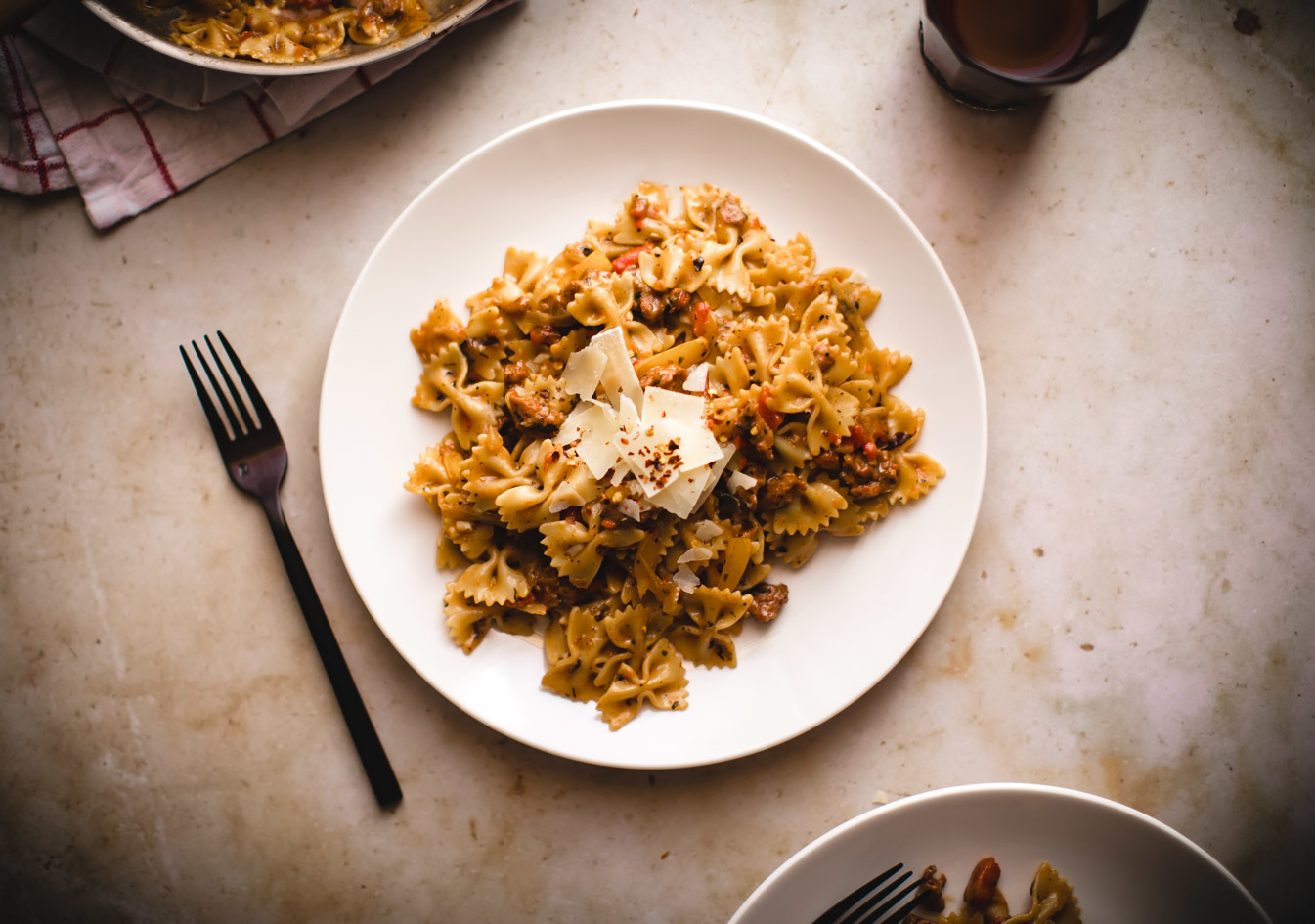 When the cool weather takes over and the trees begin to lose their leaves, one of my all-time favorite things to do is hunker down and make a warming meal. As much as I love a roasted chicken or something beautiful that takes hours to prepare, I don't often have that much time in the midst of my busy fall schedule.
Queue the easy one pan pasta dish: incredibly flavorful, budget-friendly, easy-to-follow, and with minimal clean-up to boot. It won't take long until you find yourself sitting at the table in front of a nourishing meal that pleases the whole family.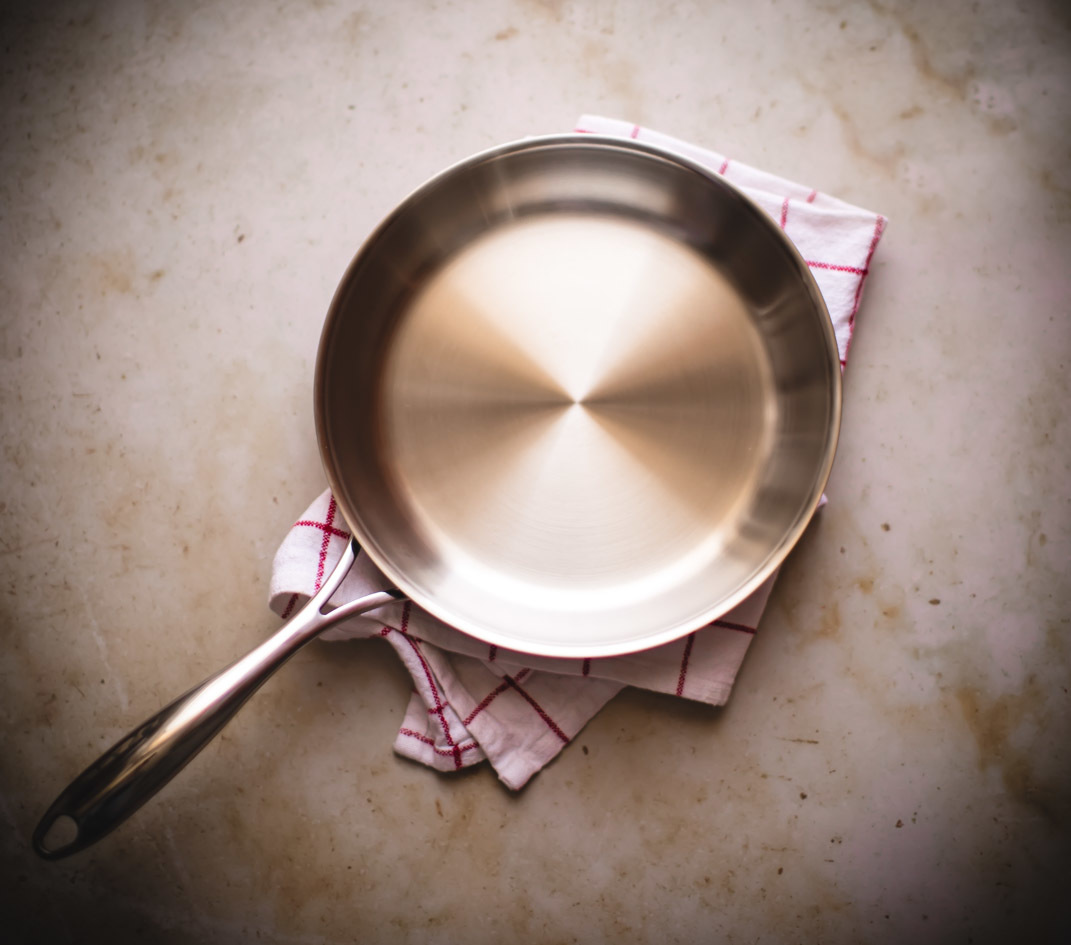 Is pasta good for me?
"But how can pasta be nourishment? Isn't it bad for me?"
To that common question I say, pasta gets a bad rap. To illustrate why: for normal function, our brains alone need the equivalent of 2 cups of pasta worth of carbohydrates a day. This of course can be in any form of carbohydrate, but the point remains.
Also, it's important to note that there's no such thing as a bad food. Instead of "Is this bad or good?", ask yourself: "What helps me feel satiated both emotionally and physically?"
The only way to know the answer is to explore all foods equally without judgement. This practice will help you reclaim the power to decide what feels good to you, unique from anyone else (the antithesis of diet culture's one size fits all approach!).
Remember this: to relinquish dichotomous thinking about food is to give yourself full permission to explore it in a truly healthy way.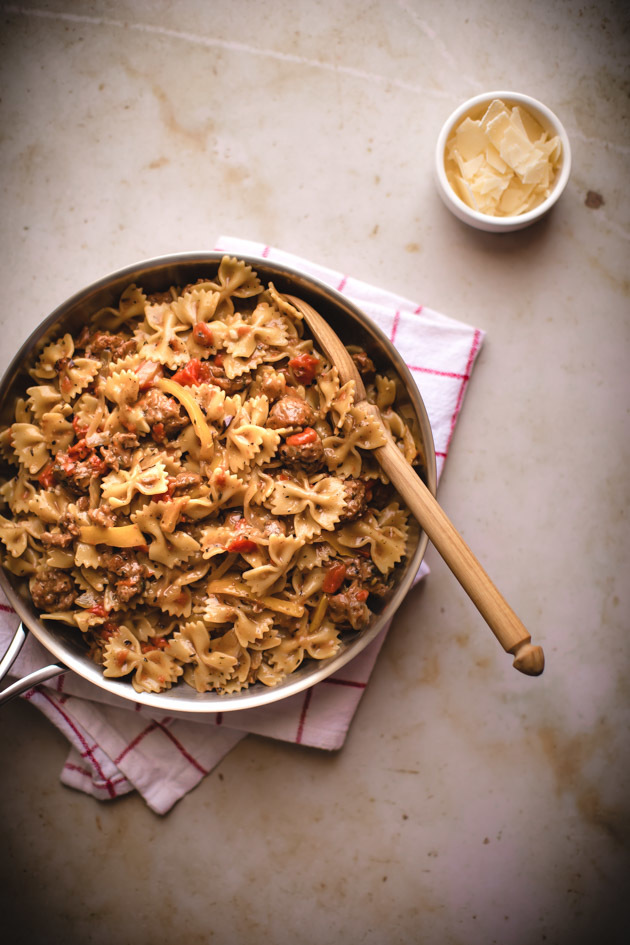 Duratux Open Frypan

By Tuxton Home

Shop Now
Now, back to pasta. I particularly appreciate it because pasta is at the base of so many delicious and comforting meals. It's a great accompaniment to so many different proteins and veggies that can oftentimes be hard for kids (and even adults) to eat on their own. Pasta is one of my favorite intuitive cooking tools because it is so adaptive, inexpensive, and easy. Don't let diet culture take it out of your dinner toolbox!!
Recipe Notes
Sausage. I recommend spicy or sweet Italian varieties to best blend with this dish's seasonings. It could even be a veggie sausage!!
Dairy. If dairy doesn't work for you. Make this dairy-free by substituting the butter for oil, and the parmesan for nutritional yeast. Just remember that nutritional yeast has a different flavor so start by adding a small amount and seasoning up until you get it just right.
Spice. If you don't love spice, knock the red pepper flakes down to 1/4 teaspoon and grab a sweet Italian sausage. If you love spice, pile it on until you're happy!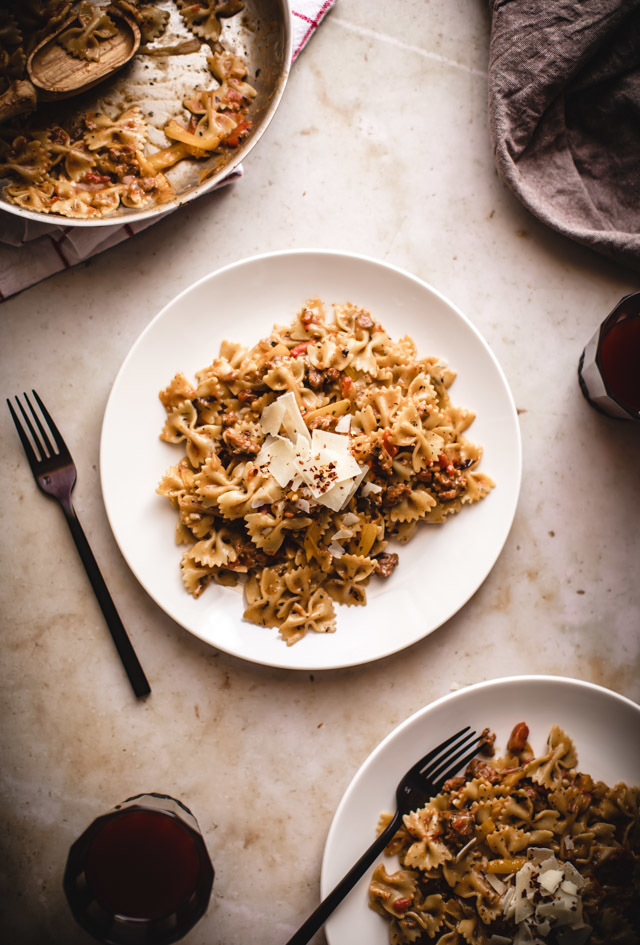 Zion Matte Coupe Salad Plate

By Tuxton Home

Shop Now
Garlic. I call for 4 cloves as a minimum. I love, love, love garlic in pasta dishes and recommend more if you do too. A good trick to speed up the garlic prep is to use the smashing method. To do this simply crush the cloves under the flat side of your knife, pull off the paper-y skins, and chop away. It doesn't have to be perfectly uniform for this dish.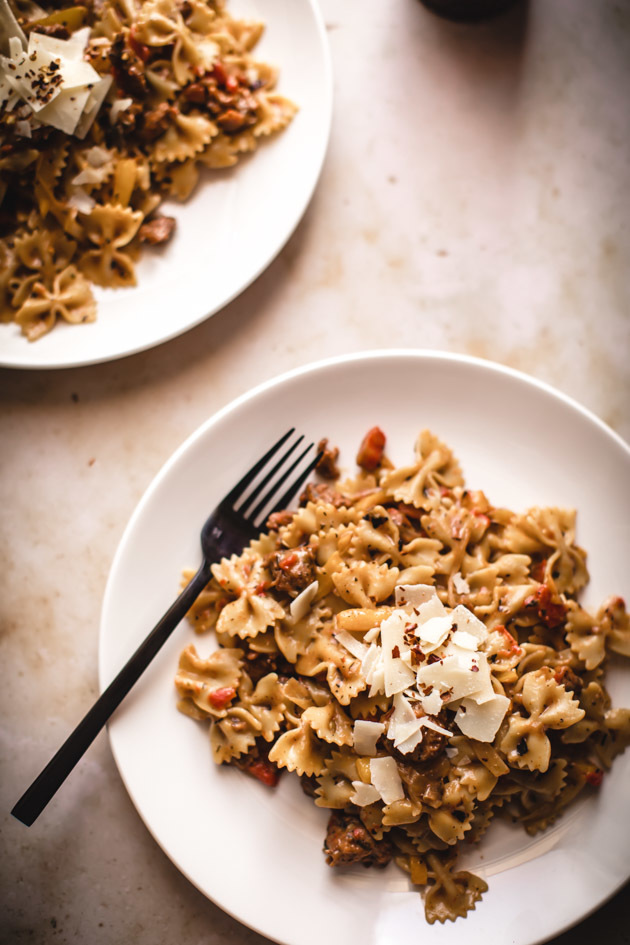 Arezzo 20-Piece Flatware Set

By Fortessa

Shop Now
Pasta. Feel free to use a gluten-free pasta in place of the regular stuff. Or rice!
Salt. I ask you to season the dish with salt at two different stages, and that's because the flavor of this dish develops as it cooks. By salting it throughout, and tasting as you go, you will give this dish the exact seasoning that works for it and your palate. It's also important to remember that parmesan is salty, and will be added at the end. Again, this is helping the flavor develop, and is why you can't possibly season this dish to perfection right out of the gate. Best to reserve final judgment for the end. And once you get there, don't be afraid to keep working the salt and parmesan until it's just right.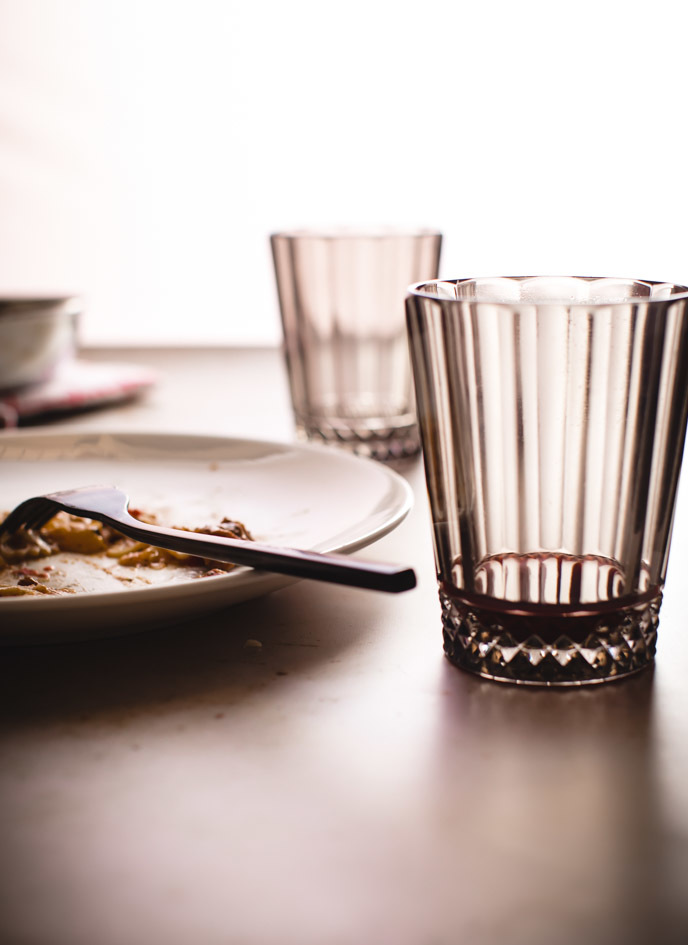 Opéra Smoke Water Glass

By Villeroy & Boch

Shop Now
Tomatoes. If you're making this dish in August, absolutely use fresh tomatoes. If you're making this any other time of year, I say stick with the canned, fire roasted variety.
The pan. Okay, it's important to know that once everything gets added to the pan it may seem like it's all going to overflow. It won't. Just be sure to use the largest pan you have. If you don't have anything large or high-walled, I recommend you purchase one to have on hand, but until then, reach for a Dutch oven/large pot.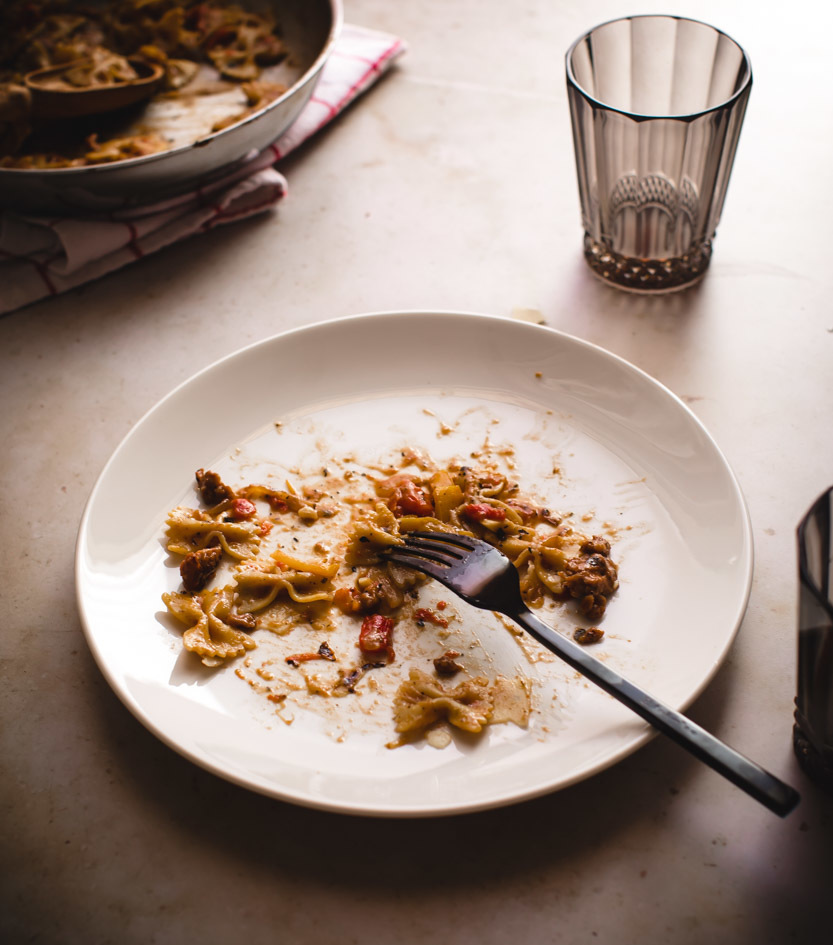 That's it! Now go light a candle, play some calming music, and get cooking!
One Pan Spicy Sausage Farfalle
INGREDIENTS
4 tbsp. butter, divided
1 large yellow onion, thinly sliced
1 bell pepper, thinly sliced
5 cloves of garlic, minced
1 lb. of spicy or Italian sausage, casings removed
14.5 oz. can of fire roasted diced tomatoes
1 lb. farfalle pasta
1 tbsp. Italian seasoning
½ tsp. red pepper flakes
1 tsp. salt, divided in half
1 qt. broth of choice
2/3 c. grated parmesan
INSTRUCTIONS
In a large pan, heat 2 tbsp. of butter over medium heat. Sauté onions for 7 minutes, or until caramelized, adjusting heat as necessary. If the bottom of the pan gets too brown, deglaze with water.
Add bell pepper and garlic, sauté for 3 minutes. Add sausage, using a wooden spoon to break into bite size pieces. Cook for another 5 minutes until browned.
Add tomatoes and pasta, Italian seasoning, red pepper flakes, first ½ teaspoon of salt and stir to combine. Add broth and bring to a boil. Cook to packaging instructions, or bring to a low simmer, cover and cook about 10 minutes, until al dente with a little broth left.
Stir in parmesan cheese, remaining butter, and salt to taste. Cover for 3-5 minutes until all liquid has been cooked off and butter has melted. Serve and garnish with a pinch of red pepper flakes and parmesan cheese.
Optional: Stir in chopped fresh parsley or top with a creamy, melty cheese like mozzarella or burrata. Enjoy!

Inspired to try a few more easy one pan meal recipes?
One Pot Carbonara with Pancetta & Peas
Only have 30 minutes? Try this One Pan Mediterranean Salmon Recipe
Pasta, pesto, and tacos… oh my! Try these Three Easy One Pan Dinner Recipes