Roasted Cauliflower Steaks with Green Tahini Sauce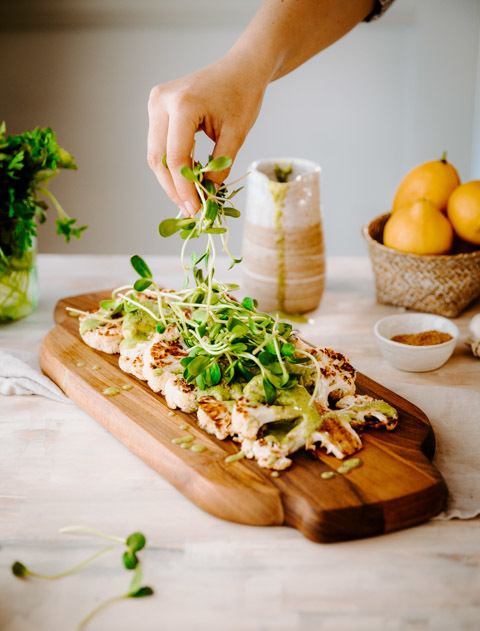 I'm a big proponent of eating the foods that we truly want and crave, rather than trying to trick the craving away. Denying our true cravings is very widely practiced in diet culture, and it often backfires in a big way.
However, that being said, sometimes we can make an alternative fun and delicious, like we are doing here with this recipe for Roasted Cauliflower Steaks with Green Tahini Sauce.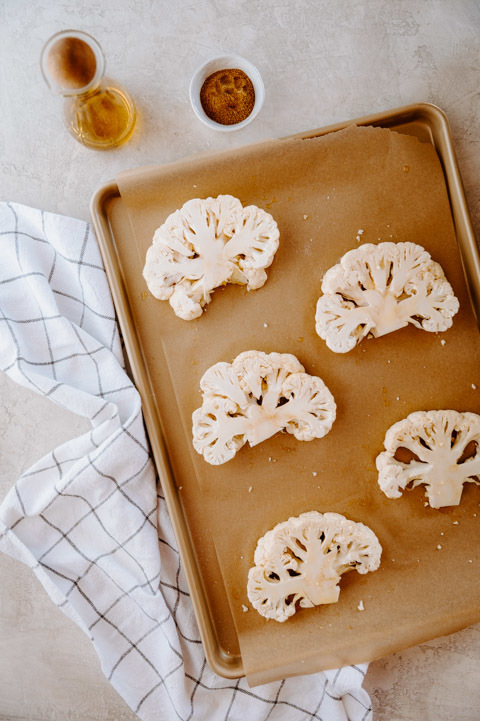 When our brains and bodies are denied food (even in the form of an innocent craving) we tend to fixate until we find it. This is sometimes referred to as "tunnel vision" or "feast or famine mode", and is a response programmed deep down in our psyche to help keep us in the pursuit of food until we are properly fed.
Gold-Coated Nonstick Sheet Pan

By Nucu

Shop Now
In today's food culture where all the nourishing options do exist, and quite readily so, this mechanism usually manifests as some variation of a binge; when the willpower runs out, we eat our way around until we've scratched the craving's itch, so to speak. We're searching for that satisfaction and are hardwired to find it.
It can happen very subtly, but the repercussion is usually eating more than we would have originally, had we honored our cravings from the get-go. Plus, the more we honor our cravings, the more our body trusts that it's getting everything it needs and turns the cravings down a notch or two — a total win/win.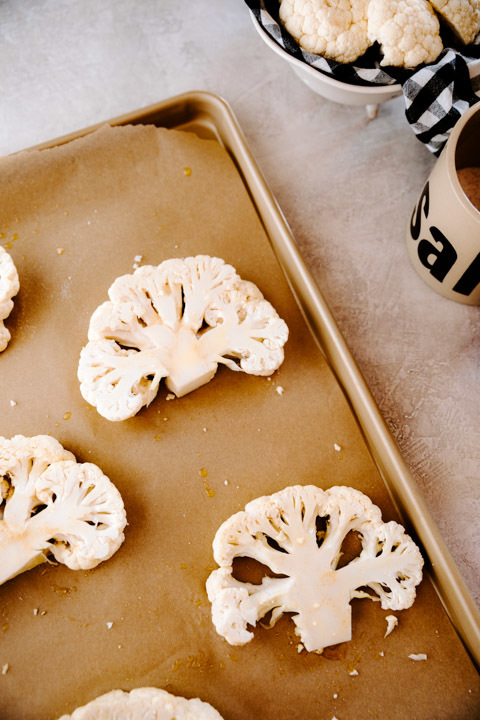 I mention all of this because cauliflower has become the latest craze in shapeshifting a vegetable into something it's not: rice, pizza, crackers, etc. often in an effort to "health-ify" the original food so we feel less guilt around eating it (this is obviously not referring to people with allergies who cannot eat the OG), a practice that I'm not a huge fan of because we should never feel guilty about any food!
Yet here I am, suggesting cauliflower as a steak!
Parchment Baking Paper

By If You Care

Shop Now
The thing about Intuitive Eating is that it's super nuanced. I want everyone to honor their cravings because of the information I mention above, but sometimes we're craving diversity. Sometimes that craving is coming from a place of needing variety for health, and sometimes it's variety for taste and satisfaction.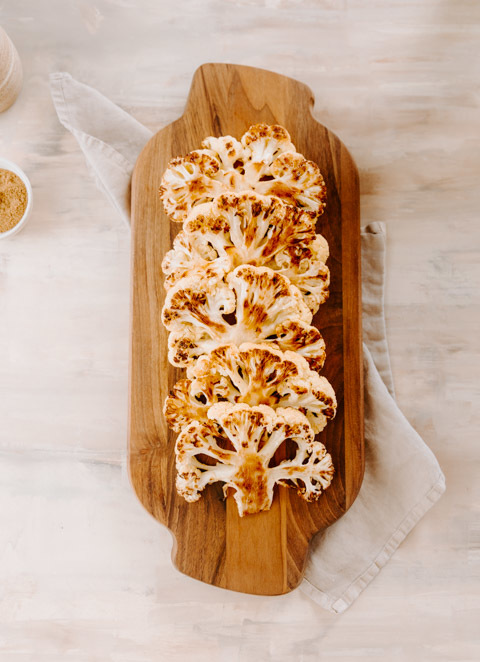 There is no wrong answer there, not when we are honoring our bodies and our minds. This area is where the nuance exists, and that's why tuning into YOU is the most important way you can receive information about your health and what you need.
Are you making cauliflower pizza because you think it's healthier? Or because you like the taste and texture and want some variety? Only you can answer that!
Convida Cutting Board

By Berard

Shop Now
Now back to my cauliflower steaks and why I'm sharing this recipe today. The number one question I get from people is, "how do I introduce variety into my boring meal rotational in a sustainable way?".
Well, the answer is in regular crust pizza AND cauliflower crust pizza. In a whole grain stir-fry AND a cauliflower rice stir-fry. Beef steak AND cauliflower steak.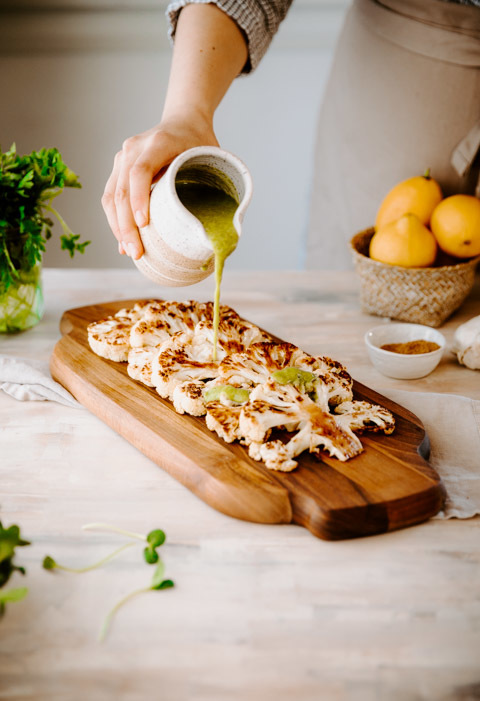 Okay, I think you get the pattern, but the point is to introduce one small variation to each of your recipes until you have created something fresh, new and fun.
This could happen by introducing one new piece of produce a week, like bok choy instead of spinach, or by finding recipe alternatives like these trendy cauliflower substitutions we see all over social media.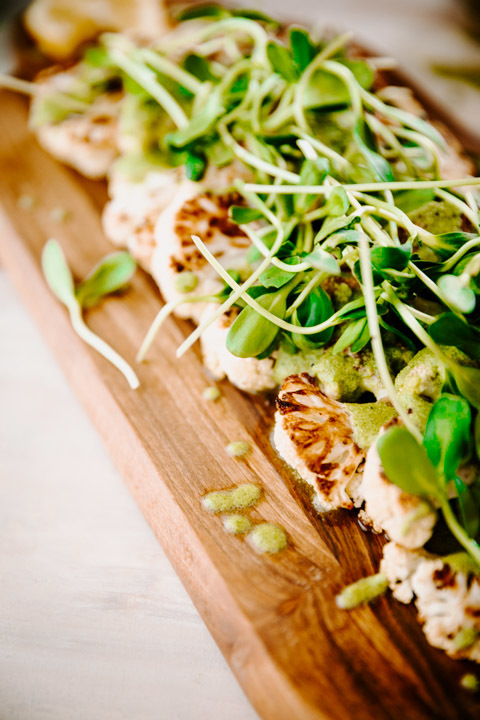 This cauli-steak recipe is super satisfying in an umami way, and is a fun and different way to roast cauliflower. I just love the way cumin amplifies the roasted flavor of the cauliflower, and the green tahini sauce is earthy and fresh, a perfect balancing component.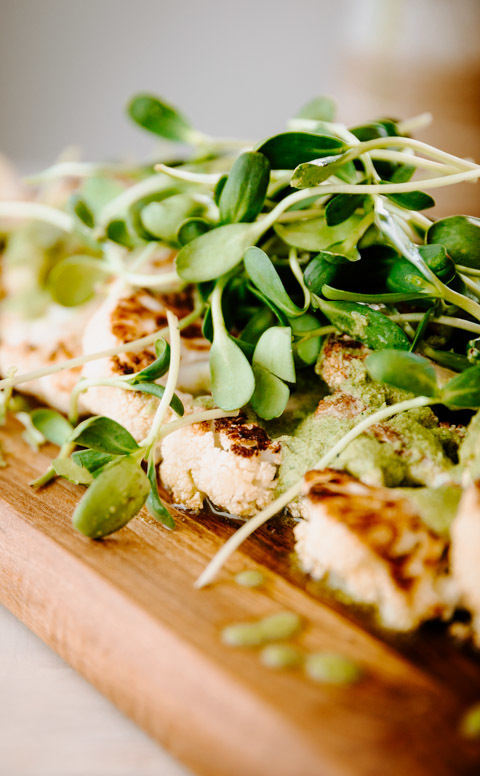 I also really love cutting into a surprisingly juicy, large cut of roasted vegetable. It definitely reminds me of a steakhouse meal in that way, and I'm not a huge fan of steak myself.
This recipe makes cauliflower fun and delicious in a very approachable form. Definitely give this one a try!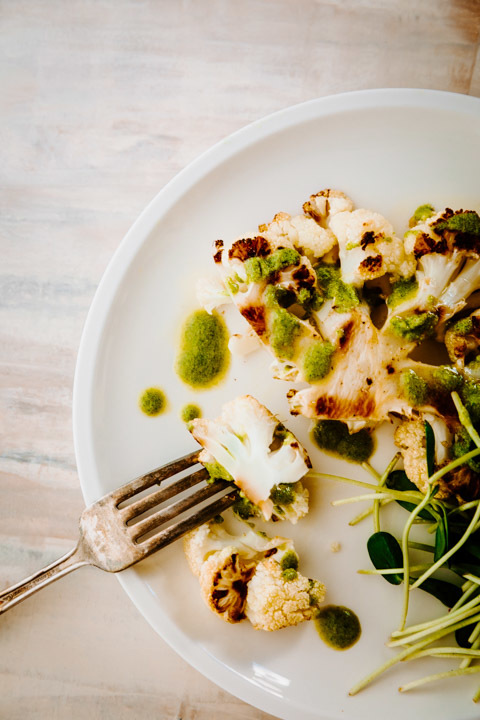 Roasted Cauliflower Steaks with Green Tahini Sauce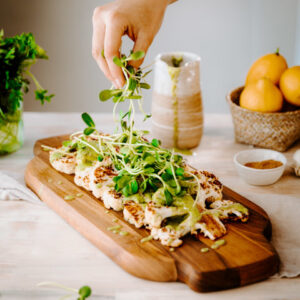 INGREDIENTS
For the Cauliflower Steaks:
2 large heads cauliflower
1 tsp. salt
1 tsp. cumin
2 tbsp. olive oil
Freshly cracked black pepper
For the Green Tahini Sauce:
½ c. light roasted tahini
1 lemon, juiced
large handful fresh parsley
large handful fresh cilantro
3 cloves garlic
½ tsp. salt
½ tsp. cumin
2 cups olive oil
INSTRUCTIONS
Line a large baking sheet with parchment paper and preheat the oven to 375. Prepare the cauliflower by removing and trimming any greens from the stalk, careful not to remove too much stalk to avoid cauliflower florets breaking off. Carefully slice 1" thick steaks from the center of each head (this should produce about 3-4 slices per head, and there will be florets leftover from the end pieces).
In a small bowl create a liquid-y paste of salt, cumin, olive oil, and black pepper. Rub each steak and place on the lined baking sheet. Bake for 15 minutes, or until side down is nicely browned, then flip and bake the other side for an additional 15 minutes.
Meanwhile, using a high-speed blender, blend all tahini sauce ingredients together, slowly pouring olive oil in as it blends until desired consistency is reached. It may take a little more or less olive oil depending on how big a handful of herbs used. Taste and adjust seasoning as needed. Note that the sauce may separate a little bit over time.
Serve steaks with a drizzle of sauce and garnish with any fresh microgreens or more fresh herbs and serve with a favorite Mediterranean side such as a feta couscous or parsley and lemon orzo!
Recipe Alternatives
Tahini. Not everyone's cup of tea. I love the light roasted variety to keep the bitterness in check, but you could try a different seed butter like sunflower seed, or omit it altogether. If you remove the tahini, just keep in mind that you won't have a thick sauce but rather a vinaigrette. Although, you could try to add mayo for a creamy green goddess-like dressing!
Lemon. Say you get a bad lemon or forgot to buy it altogether. No biggy! Use any vinegar you have in your pantry, preference being something neutral in flavor.
Herbs. I know cilantro can be super polarizing. I get it. Double the parsley or add some leafy green like spinach for bulk and variety.