Rhubarb Rose Lemon Fizz "Mocktail"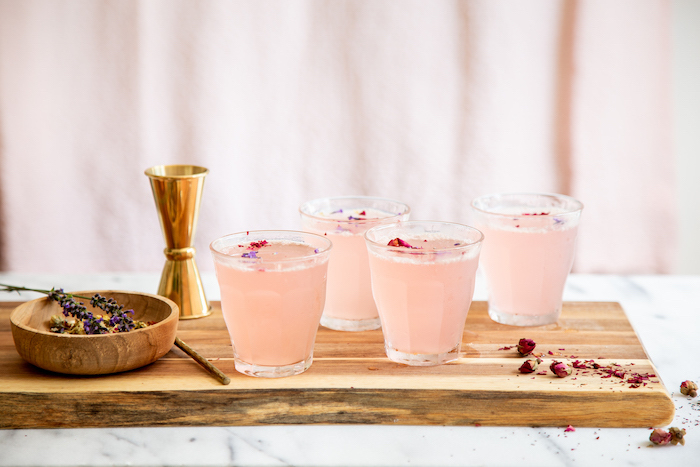 I absolutely love a good non-alcoholic cocktail. With a fridge full of seasonal syrups and fresh citrus (hazard of the trade), it's probably no surprise that I tend to sip on something delicious at all hours of the day. A boring beverage is a wasted opportunity — I'd rather be sipping a garden fresh herbal tea, a homemade latte, or an infused fizz of some sort.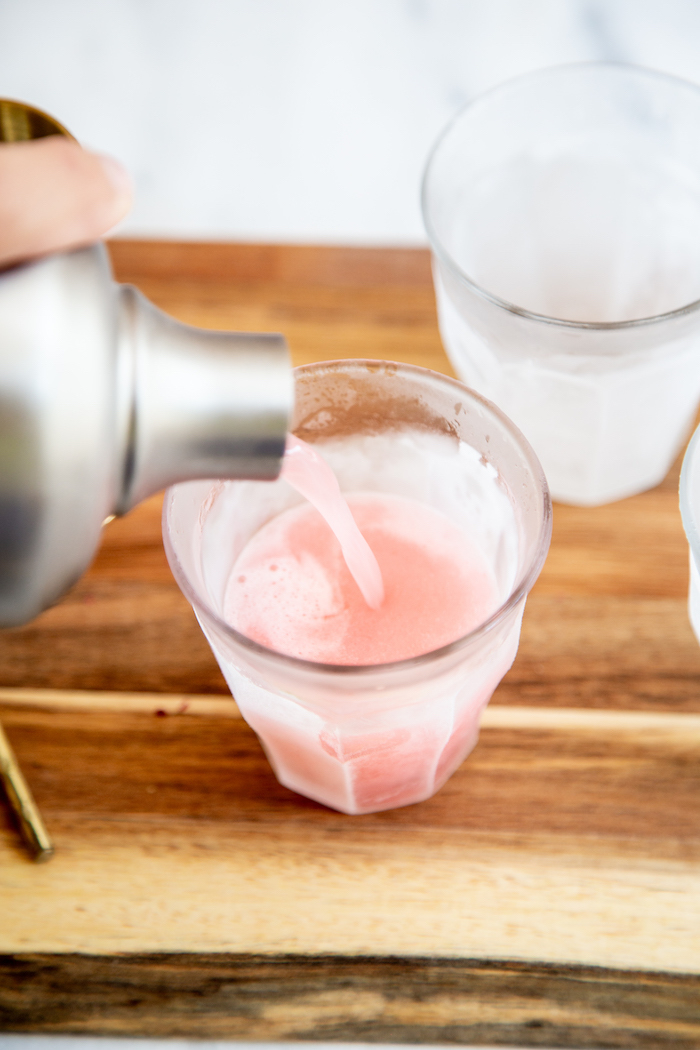 More importantly, I strongly believe that inclusive entertaining is the best kind, and you never know when you have people over who among them might not be up for a true cocktail. Designated drivers, pregnant women, under 21s — people choose not to drink for any number of reasons, and everyone should feel as welcome and taken care of as any other guest.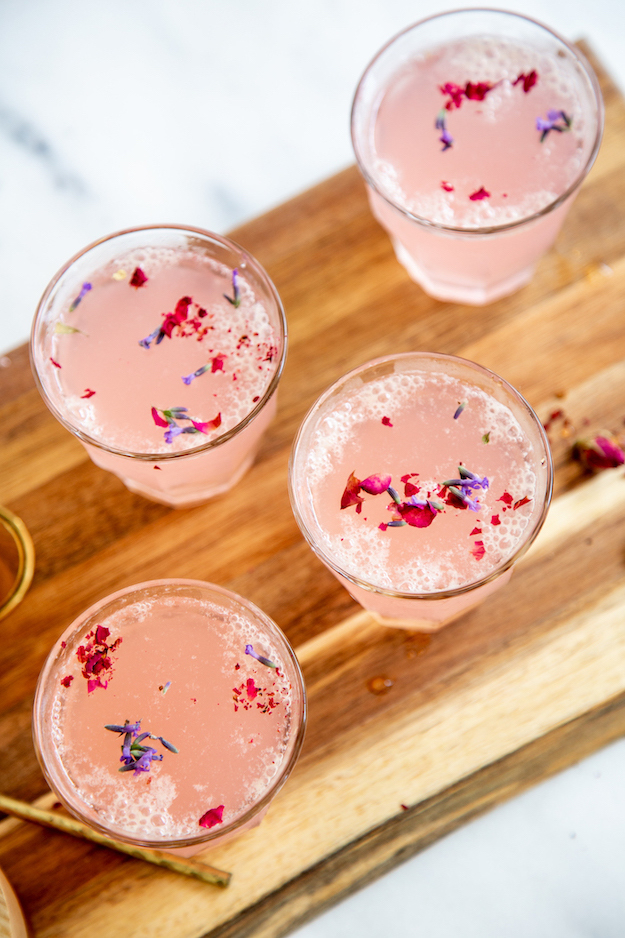 If you want to shake up something truly special but not alcoholic, I'm absolutely loving this Rhubarb Rose Lemon Fizz for the summer. It looks and tastes every bit the cocktail, and I keep returning to it on weeknights and particularly gorgeous afternoons when I'm not in the mood to imbibe. It tastes like a crisp, lightly floral lemonade with a touch of refreshing effervescence — a real thirst quencher for the hotter months.
Artisan Serving Plank

By Picnic Time

Shop Now
The rhubarb syrup I'm using here is my favorite seasonal syrup of all time, and you'll see me use it frequently in recipes here at the Inspired Home and on my Instagram feed, so if you make a batch and want more drinks to serve it in, you're definitely in luck.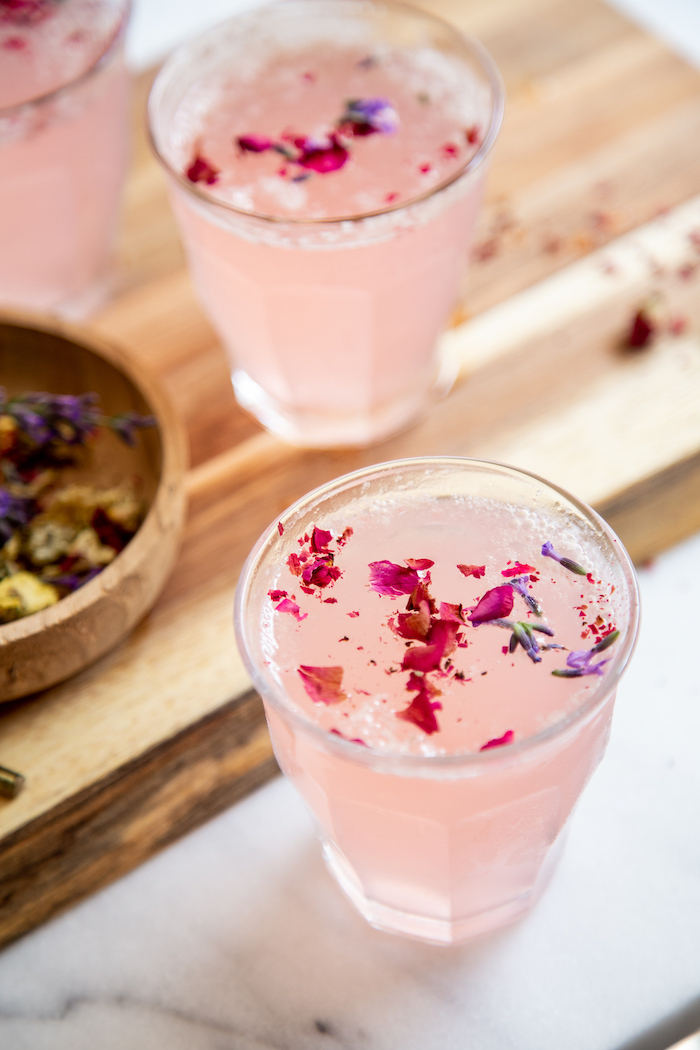 I like to make this one with egg white for a bit of extra body and fizz, but I realize that's not everyone's cup of tea — especially not for pregnant women — so just skip it if you're not a fan.
Garnish with floral potpourri (here I've got a mix of dried lavender, rose, and chrysanthemum, all generally available as teas), or a rose petal or two. Rose petals are edible, but make sure if you're using them they're organically grown for consumption (don't just stick a florist's roses in there — they're chemically treated and not safe to eat).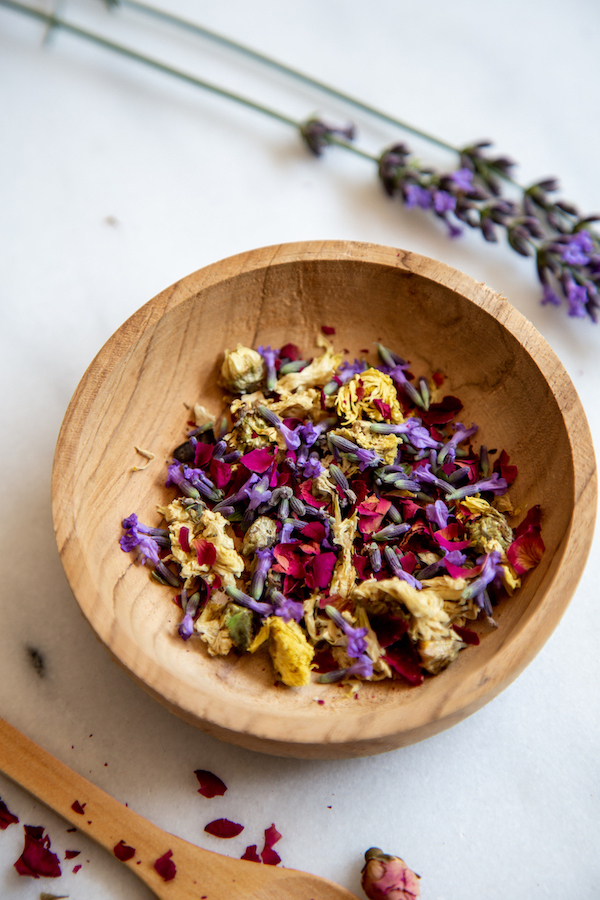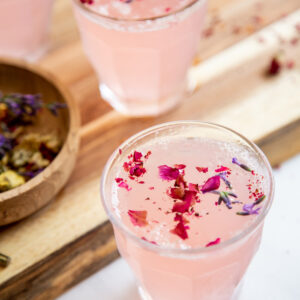 INGREDIENTS
For the Rhubarb Rose Lemon Fizz:

.75 oz fresh squeezed, strained lemon juice
.75 oz rhubarb syrup (recipe below)
3 drops rose water (usually in the international aisle)
Tonic water, to top
Optional: egg white
For the Rhubarb Syrup:
¾ lb chopped rhubarb
1 cup water
1 cup cane sugar
1 vanilla bean, split lengthwise (or 1 tsp good vanilla extract)
½ tsp orange blossom water
INSTRUCTIONS
For the Rhubarb Rose Lemon Fizz:
(1) Shake the lemon juice, rhubarb syrup, rose water and egg white in a cocktail shaker filled with ice. Strain into a small, chilled glass (a coupe or a bistro glass works well) and top with tonic water (about 2 ounces).

For the Rhubarb Syrup:
(1) Combine the chopped rhubarb in a saucepan with water, sugar, and split vanilla bean. Bring to a boil over medium-high heat, stirring occasionally, then lower heat and cover. Let simmer gently for 5 minutes, then remove from heat.
(2) Stir in the orange blossom water, replace lid, and let cool to room temp. Refrigerate overnight, then strain with a nut milk bag or a cheesecloth-covered sieve. Reserve the strained, broken down rhubarb for use as a compote, and store both syrup and compote in the fridge.
[TIP: you can make the syrup without the orange blossom water — it will still be awesome.]