Sous Vide Cocktails with Fig and Rosemary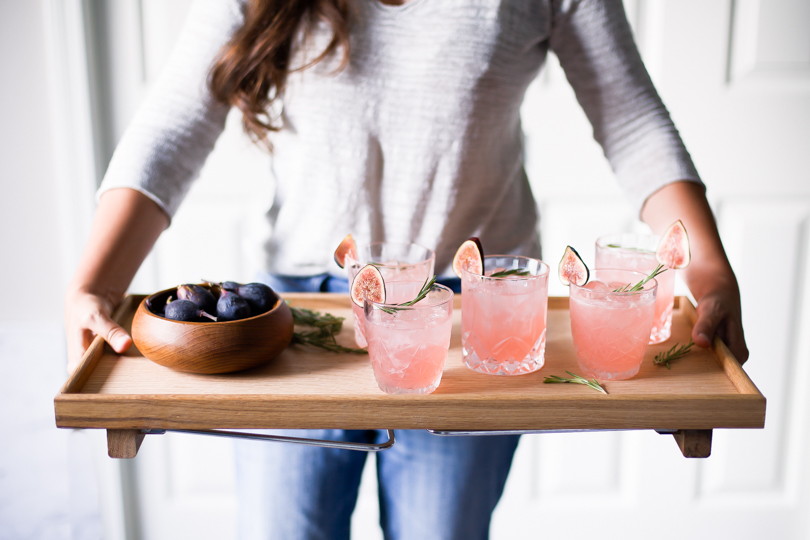 Fresh produce alert: figs are finally in season! My farm market is filled to the brim with figs in a stunning array of hues and varieties, and I'm so so excited to share my favorite method for preparing them – a sous vide fig vanilla syrup.
I shamelessly serve fig cocktails every year on the sole basis of how pretty they look as a garnish. But I don't have to be all that ashamed, since they provide such a wonderfully unique seasonal flavor. Most people are familiar with the taste of dried figs: highly sweet, caramelized, and jammy. Fresh figs retain a bit of that jamminess, but with a more delicate, almost floral, vaguely vegetal bent.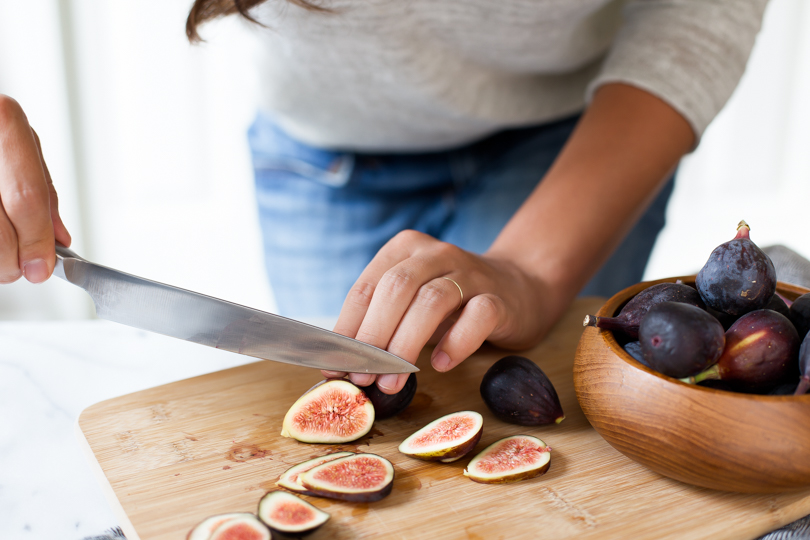 The delicate flavor of fresh figs is exactly what makes it difficult to capture in a syrup using traditional methods. You can't really juice them, so a juice based syrup is off the table. You could simmer them on the stove, but the higher heat produces caramel-y notes that overpower the fresh floral flavors.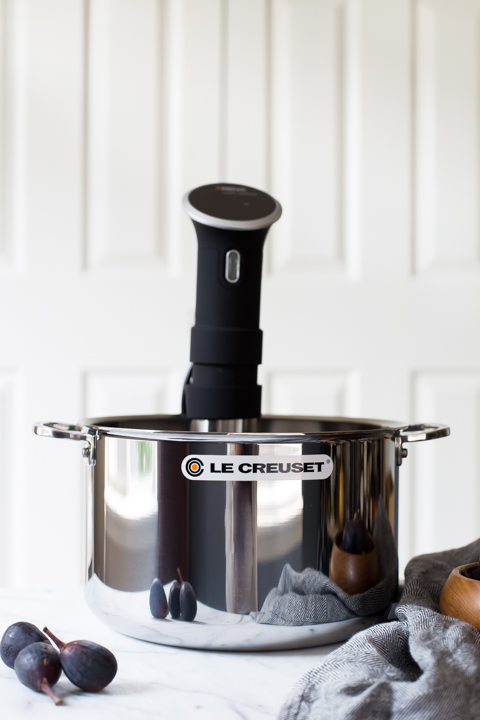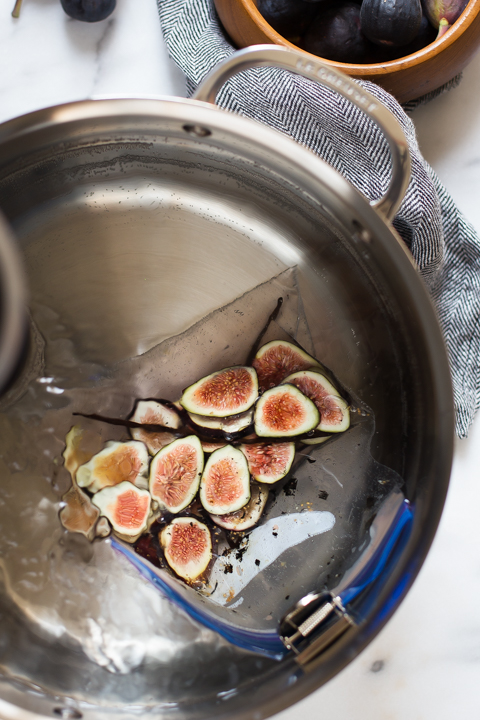 The answer, of course, is to cook at a low, consistent temperature for a long time using a precision cooker, otherwise known as the sous vide method. You've probably heard of sous vide cooking before in the context of culinary nerds and high end kitchens. But this precision cooker from Anova makes sous vide cooking an easy, affordable method for the home cook. It's pretty to look at (especially when paired with this classically beautiful stock pot from Le Creuset), simple to use, and takes up hardly any space. Most importantly, it makes it possible to capture the flavors of fresh fruits and herbs in their most true-to-life form, like you're biting into an apple as opposed to eating pie.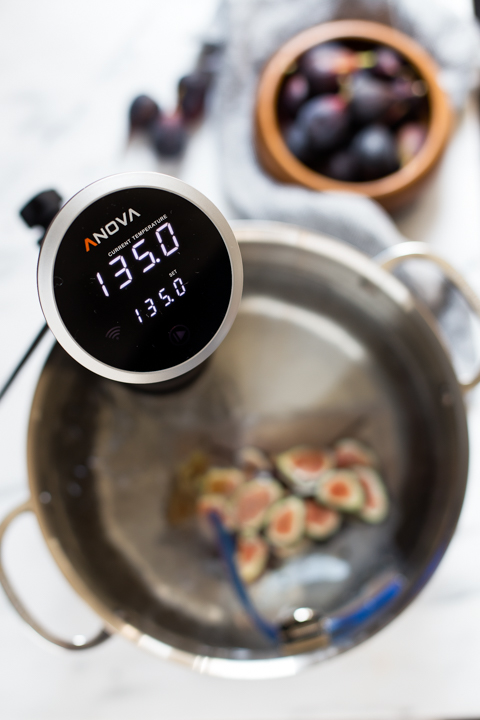 Whether you're new to sous vide cooking or an old pro, this vanilla fig syrup recipe is so very easy to toss together, and unbelievably satisfying in all the right ways. You're going to want to put it in a whole range of cocktails in place of simple syrup, and I won't try to stop you — it's incredibly versatile. I mixed up a Figgy Fizz to start, because I love the way fresh figs play with the botanicals in gin.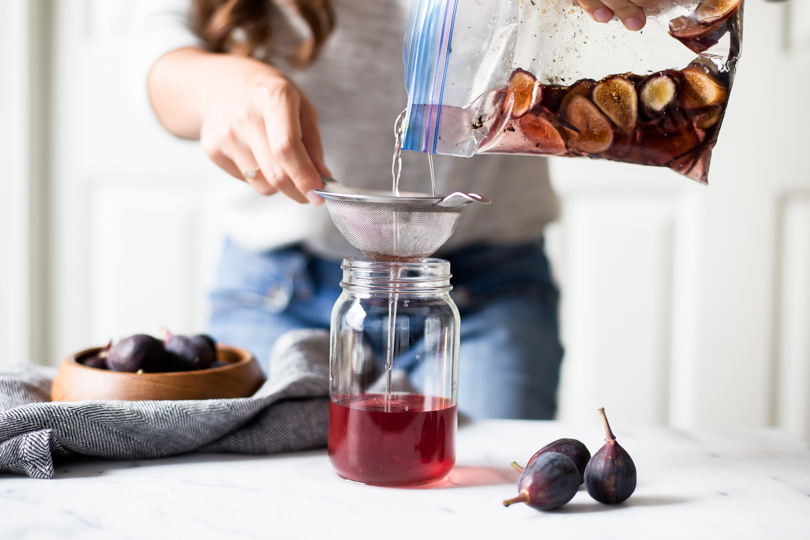 Final bonus: the fig syrup is pretty dang incredible on it's own. Try it over waffles, pancakes, or French toast for a super seasonal (and super impressive) breakfast upgrade. I also love a bit of this syrup drizzled over Greek yogurt with granola and sliced figs. And when I'm feeling particularly decadent, it's absolutely mind blowing on top of vanilla ice cream!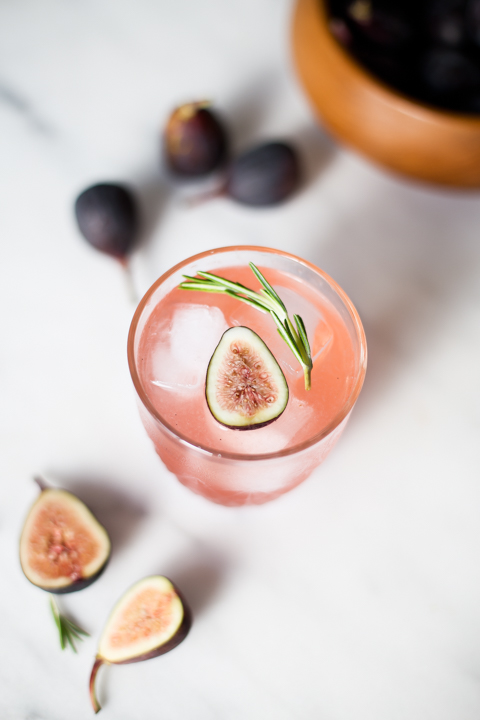 Sous Vide Fig Vanilla Syrup
Put your precision cooker to good work making this fig & vanilla syrup, then mix up a Figgy Fizz sous vide cocktail!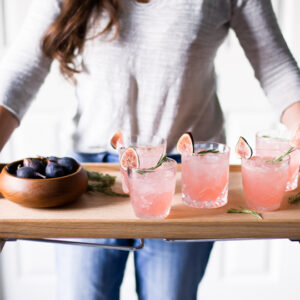 Ingredients
100

g

by weight fresh figs, sliced (about 5 figs)

400

g

by weight simple syrup

1

vanilla bean

1

Lemon for zesting, preferably Meyer
Instructions
Set your precision cooker to 135 degrees.

Split the vanilla bean lengthwise, scrape out the interior seeds, then add seeds and bean to a large Ziploc bag along with remaining ingredients.

Submerge the bag slowly, letting out as much air as possible as you slide it into the water, creating a vacuum effect. Seal the bag and clip it to the side of the pot.

Let sit for 2 hours, then remove and immediately submerge in an ice bath.

Strain the bag's contents using a fine mesh sieve. Store in the refrigerator.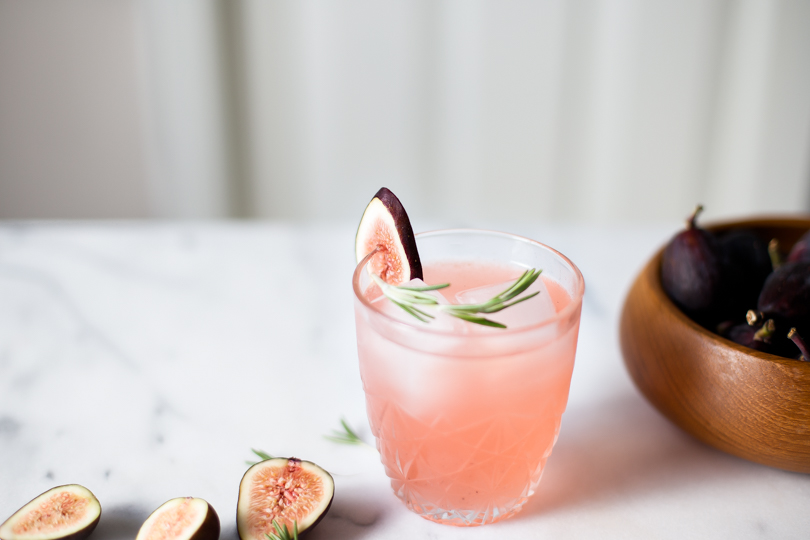 Put your precision cooker to good work making this fig & vanilla syrup, then mix up a Figgy Fizz sous vide cocktail!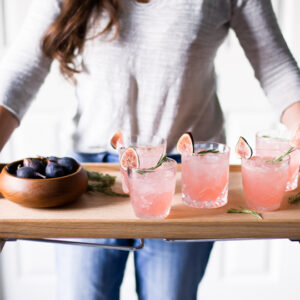 Ingredients
2

oz

Plymouth gin

.5

oz

Dolin dry vermouth

.5

oz

Fig vanilla syrup

.5

Fresh squeezed and strained Meyer lemon juice (regular lemons will work if you can't find Meyer)

Pinch of salt

Dash of angostura bitters

1

Club soda or seltzer to top

Sprigs of rosemary and sliced figs, for serving
Instructions
Add everything but the seltzer and garnishes to a cocktail shaker filled with ice.

Shake for 12 seconds, then pour into an ice filled rocks glass.

Top with seltzer to taste, then garnish with rosemary and sliced figs.