Raspberry Rose Baked French Toast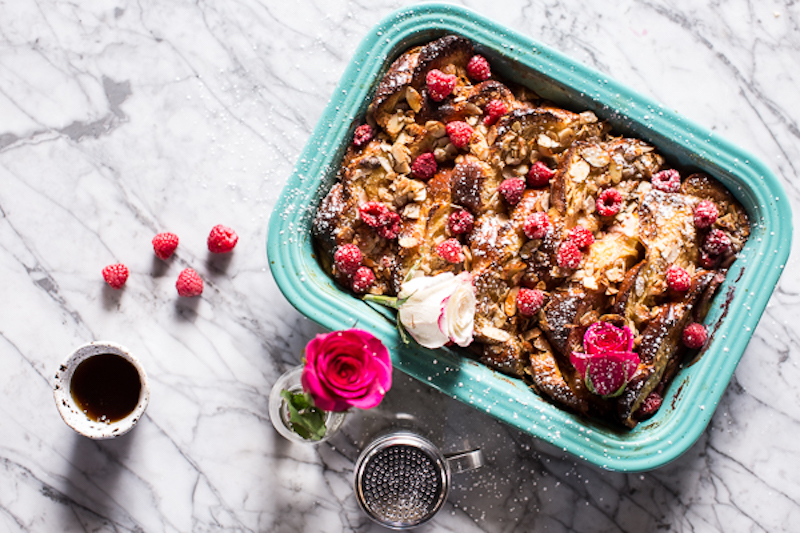 OK. How pretty is this French toast?? I mean, are you guys looking at all of the vibrant spring colors? Seriously, just looking at these bright and fresh photos has me feeling all happy inside. I know, that's crazy, but it's this French toast. I am telling you guys, it has MAGIC powers. No joke.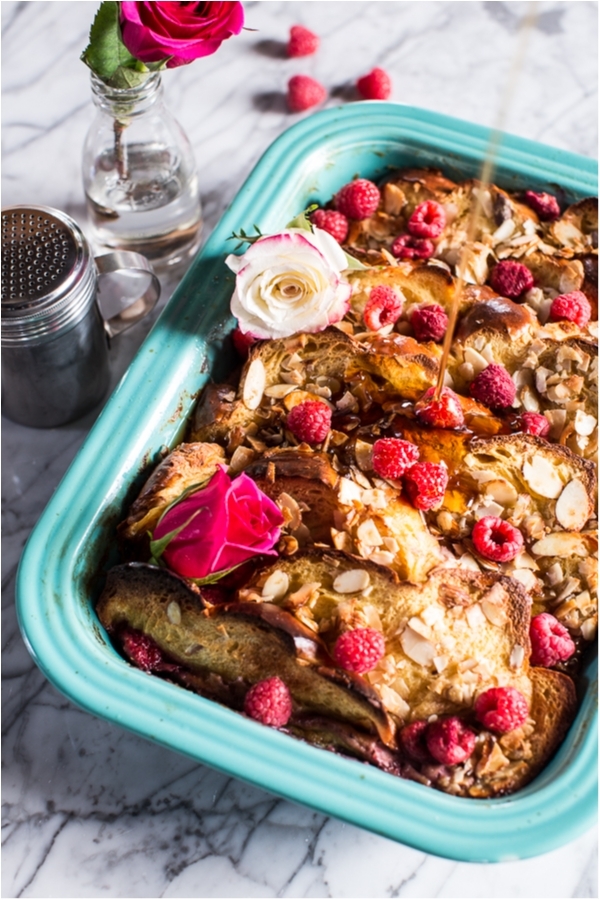 To me, spring is all about fresh berries, flowers and brunch. I have not a clue why, but when I think spring, I think brunch. Maybe it's because of Easter and Mother's Day (the best day to make your momma a KILLER breakfast!), but whatever the reason, it seems every spring I go through a bit of a breakfast food craze. Think French toast, pancakes, waffles, crepes, smoothies, doughnuts and the like.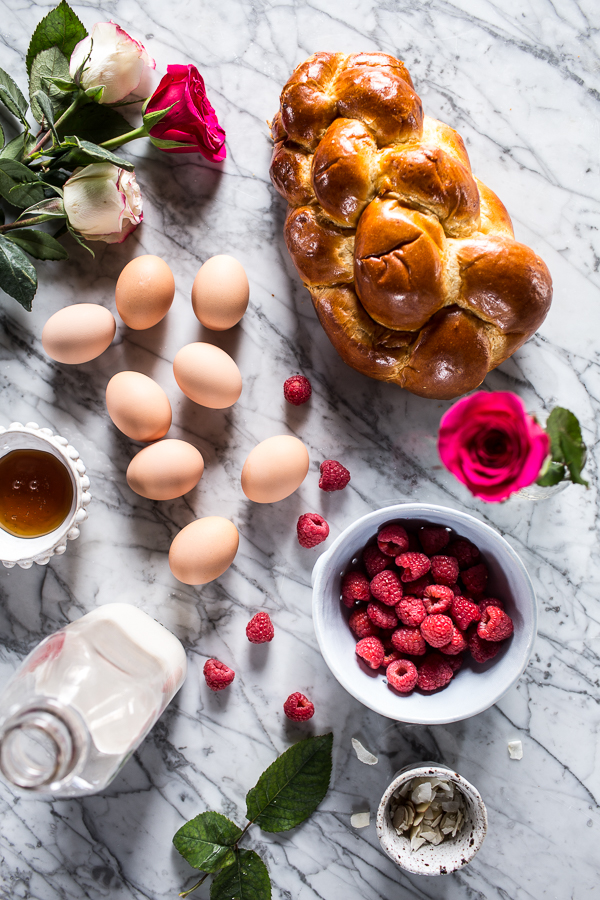 I am not complaining. Also, you must have noticed I am really into sweet, carby breakfasts. Oops…but not really.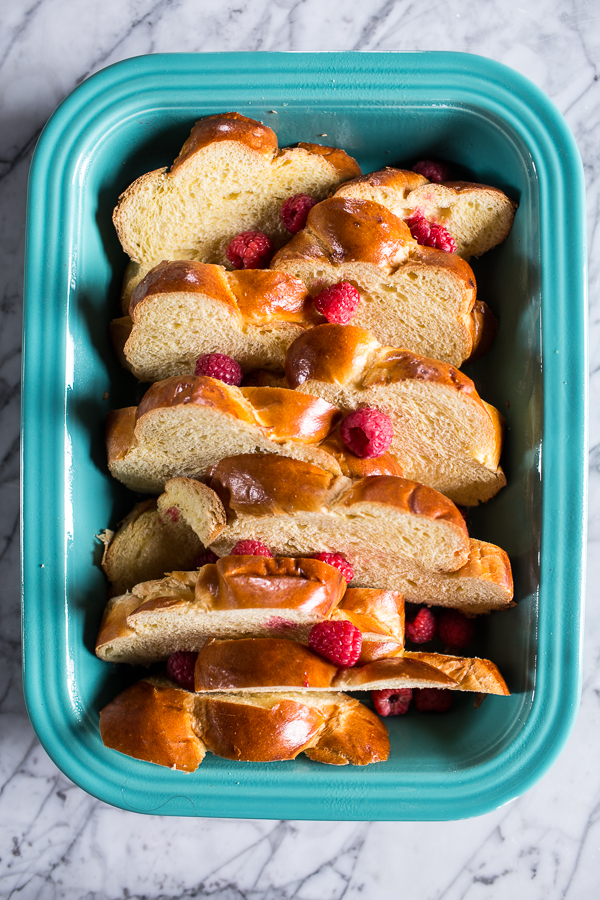 Breakfast has got to be one of my favorite foods to make, serve and eat. So today I thought it would be really fun to share with you guys one of my favorite make ahead, go-to spring brunch recipes. When thinking about what to serve at brunch, I am always thinking about dishes that one, will be easy to prepare and prep in advance and two, that will look pretty on the table with very little effort. If you can find recipes that have these two components hosting a brunch is about a million times easier.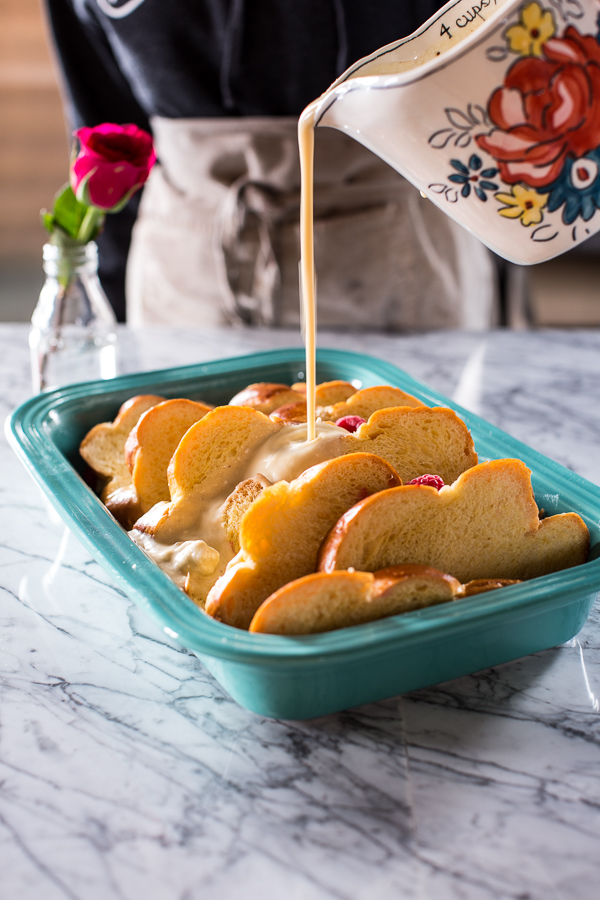 This Raspberry Rose French Toast is one of those winner brunch recipes. It can be prepared the night before, baked the next morning and it looks kind of, ok no, totally stunning on the table. Granted, I did use one of my favorite Fiestaware Bakers for this. Gosh, I love that pretty turquoise baker. Isn't is just so pretty?? It's like it was made for this French toast. I love the way the turquoise really makes those raspberries and fresh spring roses POP. So fun.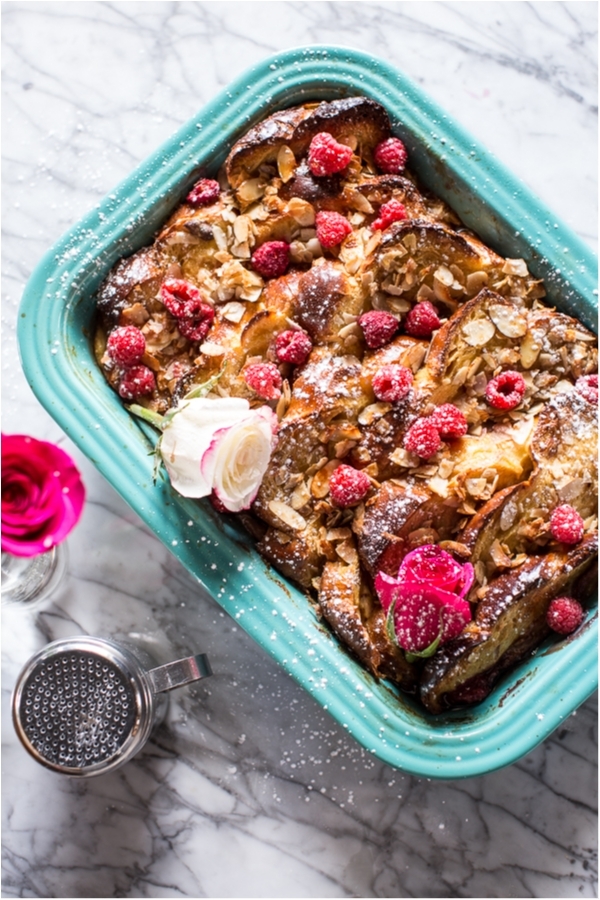 Alright, but let's get serious here. The French toast? The taste? SO GOOD. It's a very simple recipe with simple flavors, but still, it is delicious. The combo of raspberries, rose and a hint of honey is pretty much what my spring brunch dreams are made of. The rose adds a nice subtle kick that you would not expect and I love it paired with raspberries. I also used coconut milk and thick sliced challah, which of course is the only way to go. Challah rules!! To finish, I topped this with some buttery almonds and coconut before baking for some texture and crunch. Serve the French toast with a drizzle of pure maple syrup and a dusting of powdered sugar and you have the perfect spring brunch French toast.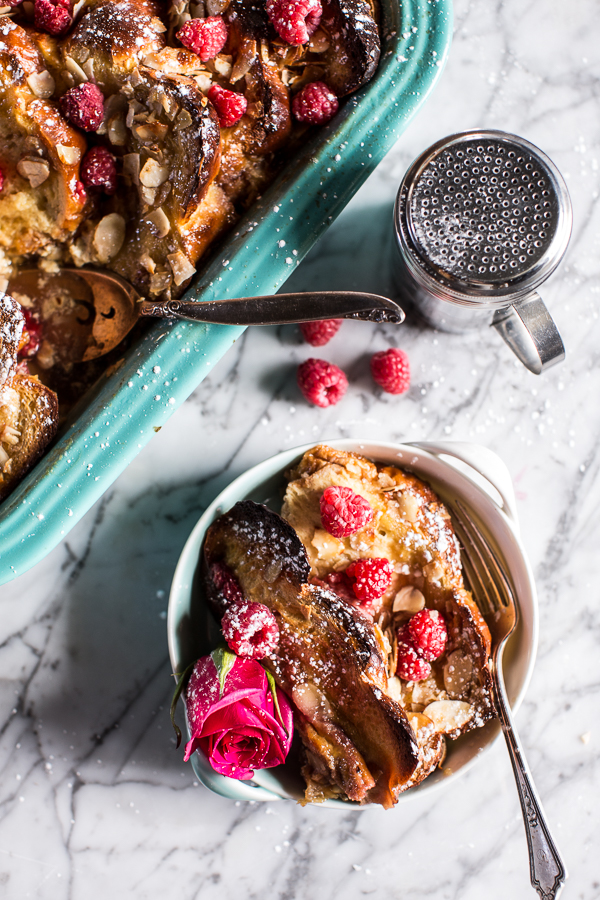 And now we all need to get up and go make some French toast. No seriously, let's!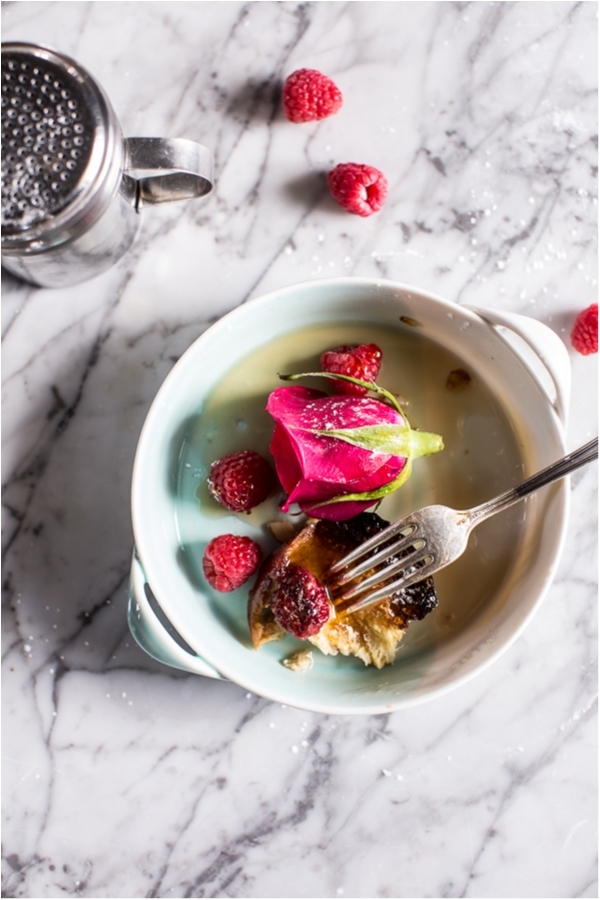 Raspberry Rose Baked French Toast Recipe
This Raspberry Rose French Toast is one of those winner brunch recipes. It can be prepared the night before or baked the next morning and looks like it could be straight out of a cooking magazine, so get you instagram captions ready.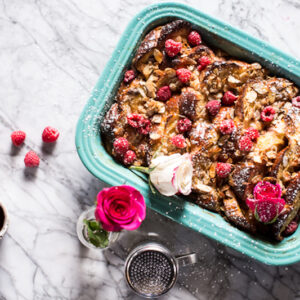 Ingredients
5

whole eggs

3

egg yolks

2.5

cups

coconut milk (or whole milk), I like using canned coconut milk

.5

cups

honey

1

tbsp

vanilla extract

1

tsp

rose water

.5

tsp

cinnamon

.25

tsp

fresh nutmeg

.5

tsp

salt

1

loaf challah bread, cut into 3/4-inch thick slices

2

pints fresh or frozen raspberries, plus fresh raspberries for topping

Maple syrup and powdered sugar, for serving

.5

cups

slivered almonds

.25

cups

unsweetened flaked coconut

2

tbsp

butter, cold

1

tbsp

brown sugar
Instructions
Grease a 9x13 inch-baking dish.

In a large bowl, whisk together the eggs, egg yolks, coconut milk (or milk), honey, vanilla, rose water, cinnamon, nutmeg and salt.

Submerge each piece of challah bread in the egg mixture, allowing the bread to sit at least a minute and soak up the eggs. Arrange the dipped sliced of challah in the prepared baking dish. Pour the remaining egg mixture over the bread slices in the baking dish. Add half the raspberries in between the slices and on top.

In another medium bowl, combine the slivered almonds, coconut flakes and brown sugar. Add the butter and use your hands to incorporate the butter into the almonds + coconut. Sprinkle the mix overtop the bread slices. Sprinkle a handful of raspberries overtop.

Cover and place in the fridge for 1 hour or overnight. When ready to bake, preheat the oven to 375 degrees F. Bake for 45-50 minutes or until the French toast is golden and crisp. If the tops of the bread begin to brown, quickly loosely cover the French toast with foil.