Green Tea Shamrock Waffles with Banana Coins & Pistachios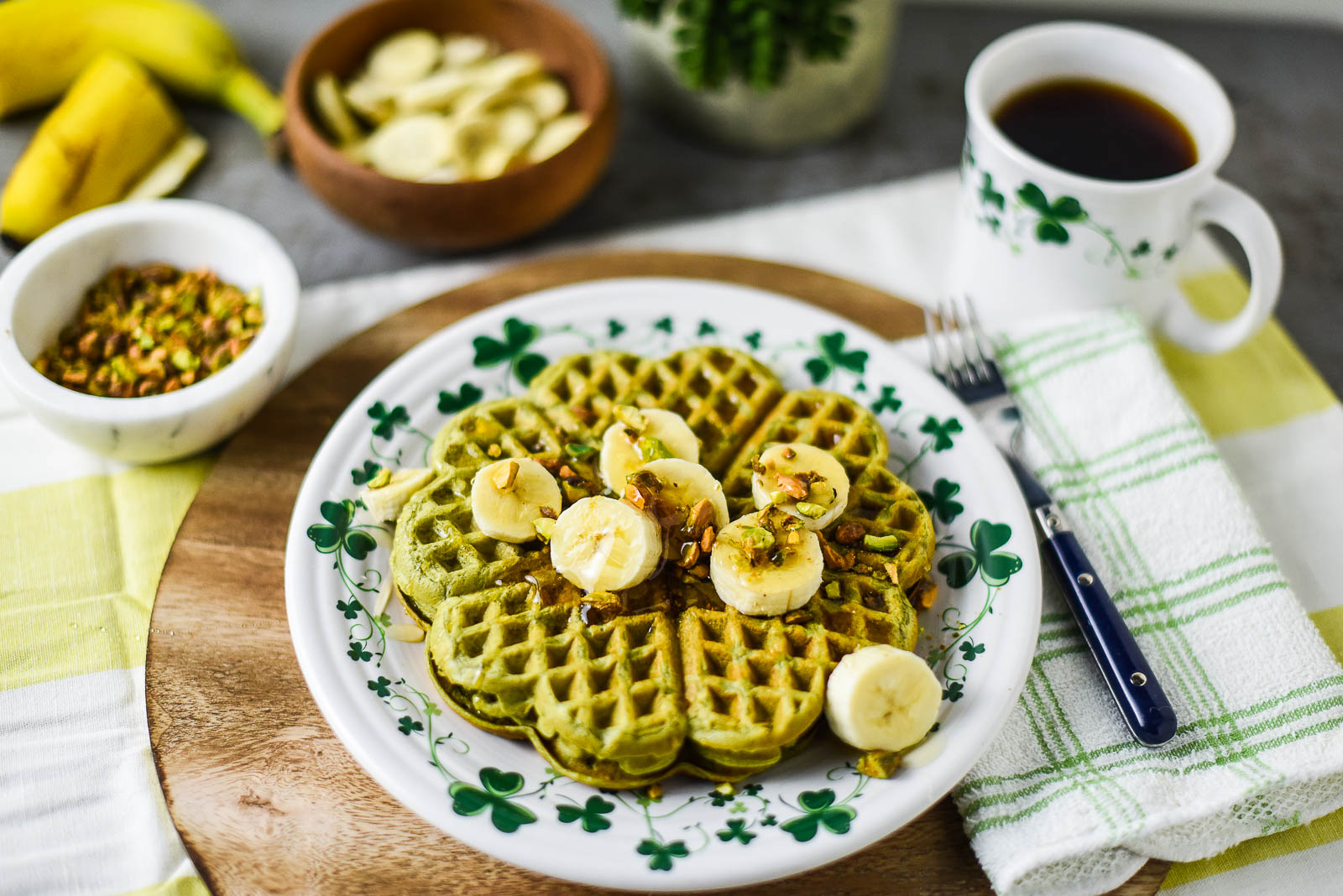 Looking for a delicious and slightly unexpected way to celebrate St. Patricks Day? These adorable shamrock shaped waffles are so crispy and light, you're sure to fall in luck at first bite!
The secret to the green color is matcha green tea powder mixed into the waffle batter. It provides a sublimely subtle flavor and the perfect hint of natural mossy green color. Even better, these waffles can be prepared very quickly using a blender with very little cleanup afterward.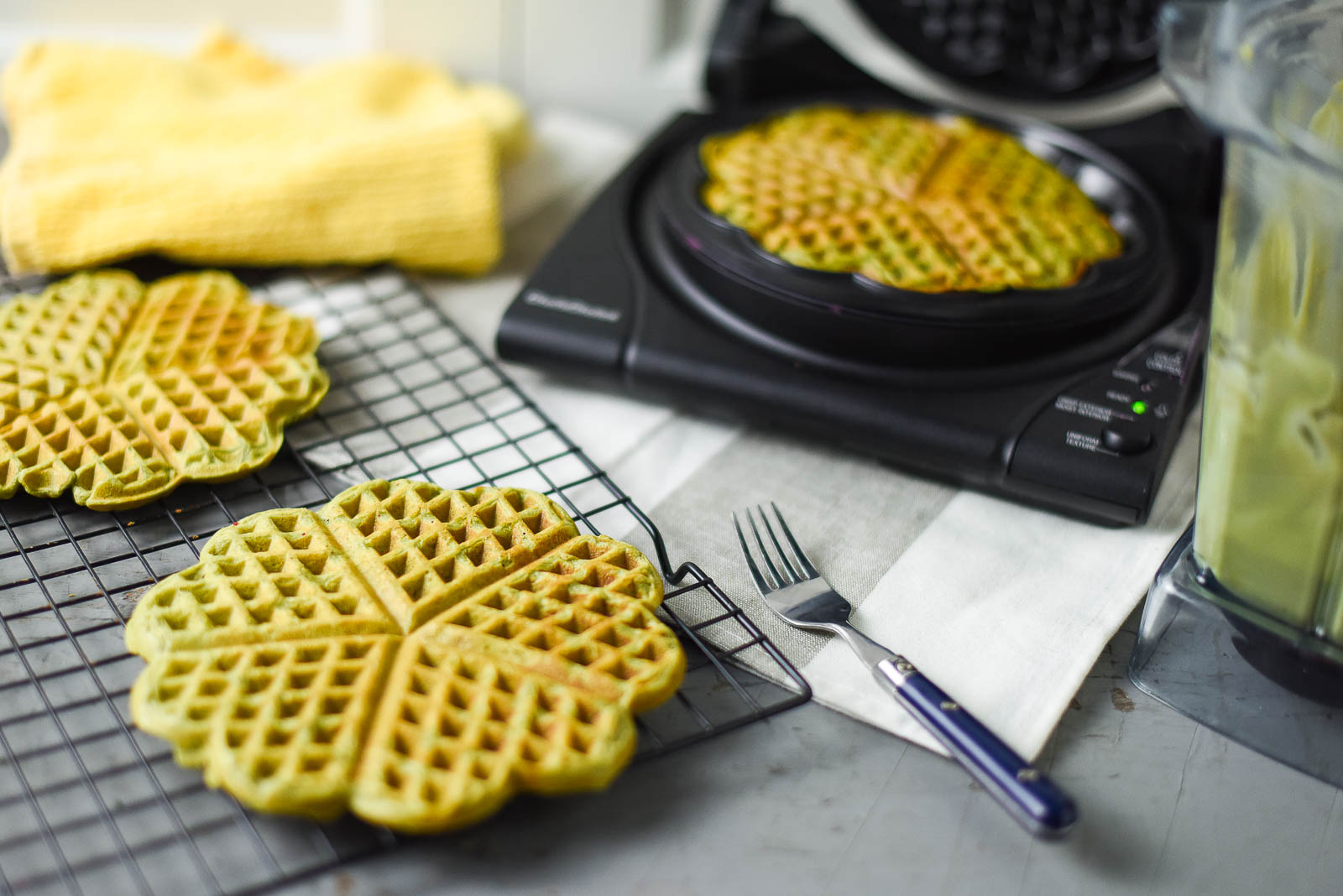 To set the festive tone, I prepared the waffles in a heart-shaped waffle maker. I know, you're thinking: "aren't hearts for Valentine's Day?" but because the waffle shape is made with 5 hearts in a circle, the pattern ends up looking like a giant shamrock. Perfect!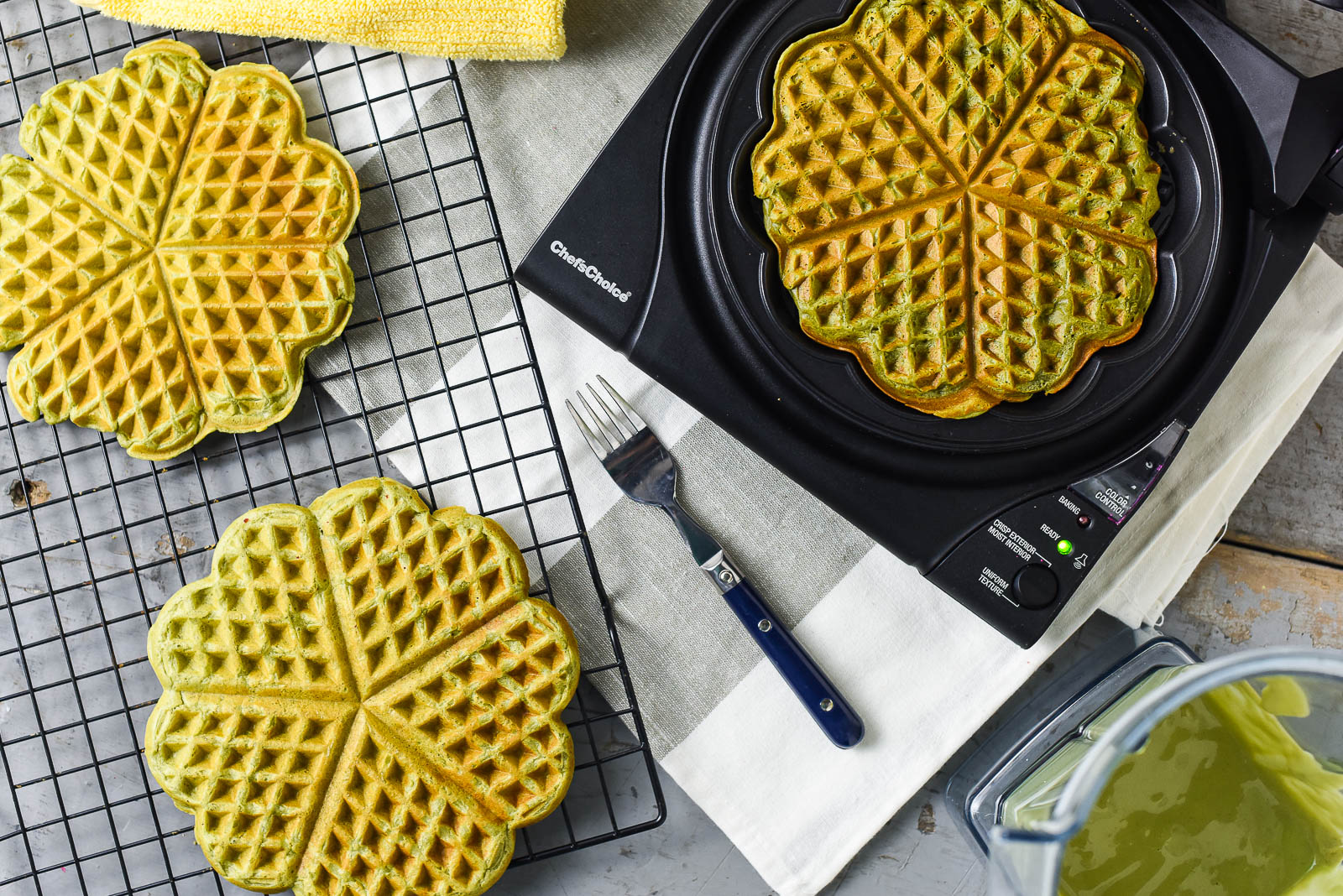 Taking the theme even further, I topped the waffle with banana "coins" and enough golden honey to make a leprechaun green with envy (see what I did there?).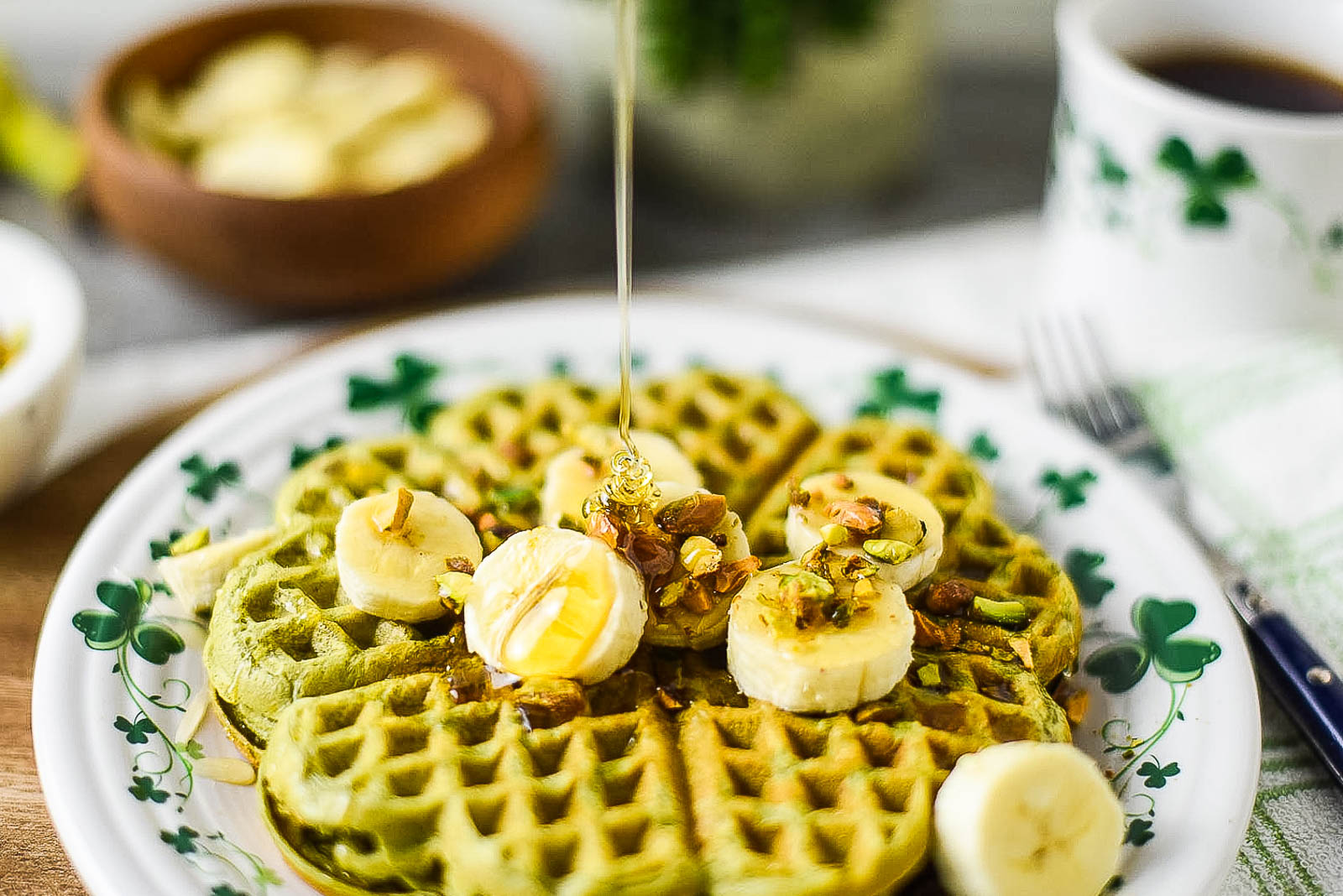 Finally, I tossed on some chopped pistachios for an extra hint of green and amazing crunch. Honestly, the pistachios were sort of a last minute addition but their nutty, saltiness provided the perfect balance to the mellow sweetness of the waffles and banana. It all came together so well.
These waffles would be such a fun and festive way to surprise the kids on St. Patricks Day, but they're also elegant enough to easily make an appearance at a St. Patty's Day brunch for grownups. Green beer optional.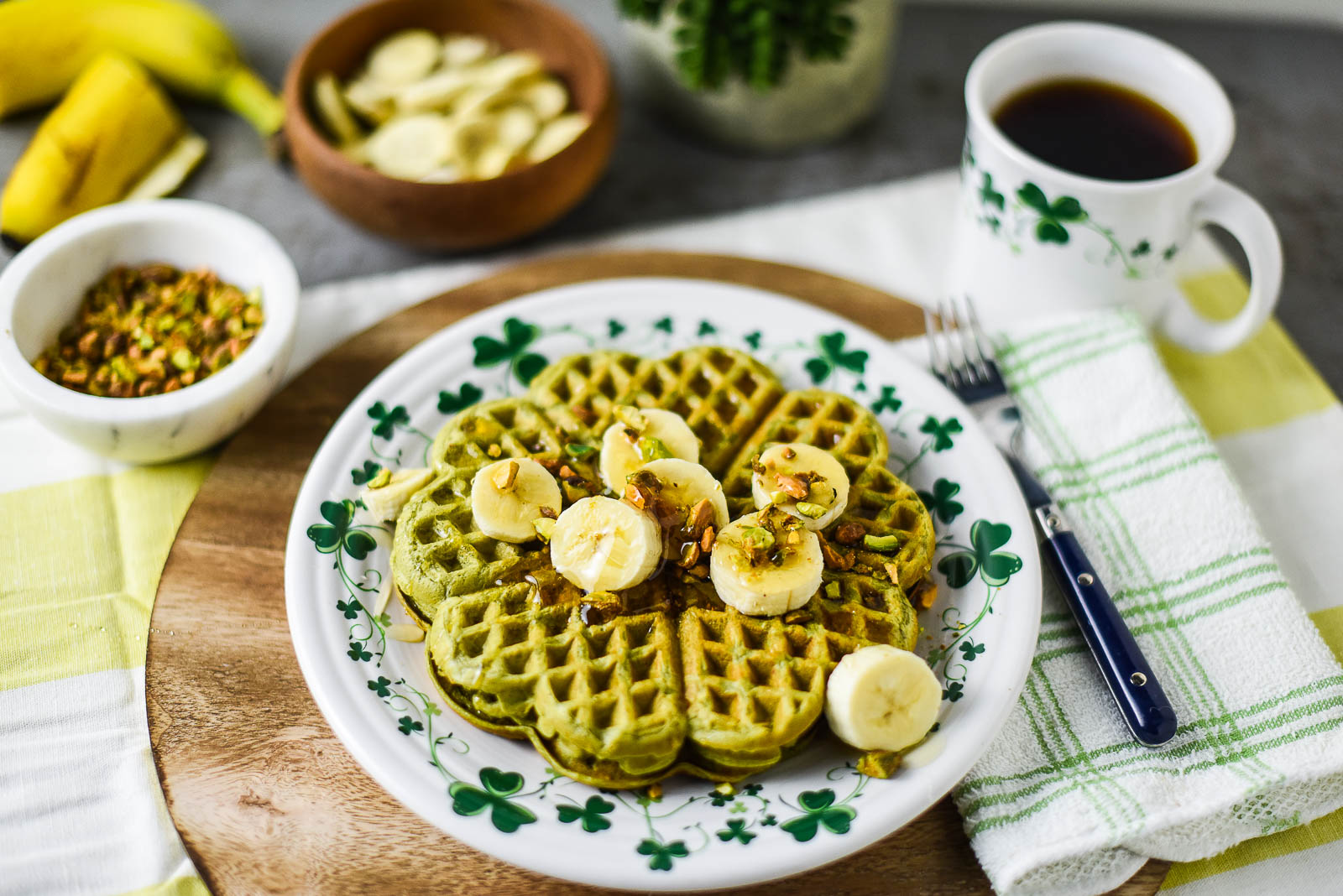 Green Tea Shamrock Waffles with Banana Coins, Golden Honey Drizzle and Pistachio Crunch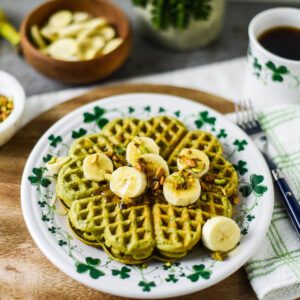 INGREDIENTS
1 cup all-purpose flour
2 teaspoons baking powder
1 tablespoon matcha green tea
1/4 teaspoon salt
1/8 cup sugar
1 egg
1/4 cup oil
1 cup milk
1/2 teaspoon vanilla extract
Garnishes: 4 bananas, peeled and sliced into coins, honey, and 1 cup roasted, salted pistachios, roughly chopped
INSTRUCTIONS
Combine flour, baking powder, matcha powder, and salt in the cup of a blender. Secure the lid and pulse to sift the dry ingredients until the matcha powder is evenly mixed into the flour.
Add wet ingredients and blend on medium speed just until the mixture is combined. Do not over mix. Allow mixture to rest for about 5 minutes before preparing waffles.
To prepare waffles, heat waffle iron according to manufacturers instructions. When waffle iron is preheated, add about 1/3 cup batter at the center of the iron. Close waffle maker and bake until waffles are crisp on the outside, about 2-3 minutes in most units, depending on thickness.
Top waffles with sliced bananas, honey, and pistachios to serve.