Pumpkin Gnocchi with Balsamic Sage & Blue Cheese Sauce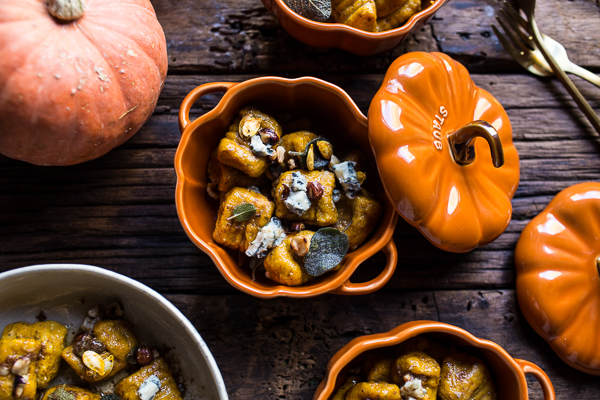 This savory, delicious recipe for Pumpkin Gnocchi with Balsamic Sage + Blue Cheese Sauce is one of my favorites. Clearly a typical fall dinner pick, it's just so good, why limit it to just one season? I hope you love this recipe as much as I do!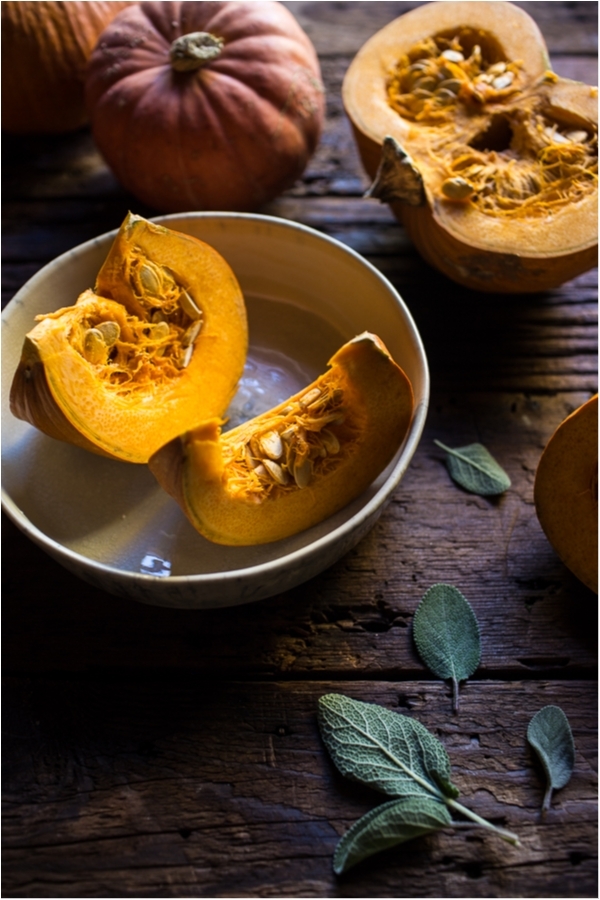 This recipe is for homemade pumpkin gnocchi is so easy to make and incredibly delicious, you'll be making this dish for everyone ! And umm, the brown butter, balsamic AND blue cheese sauce?? Yes, that is simply pure perfection. I really can't think of a more delicious, cozy fall meal.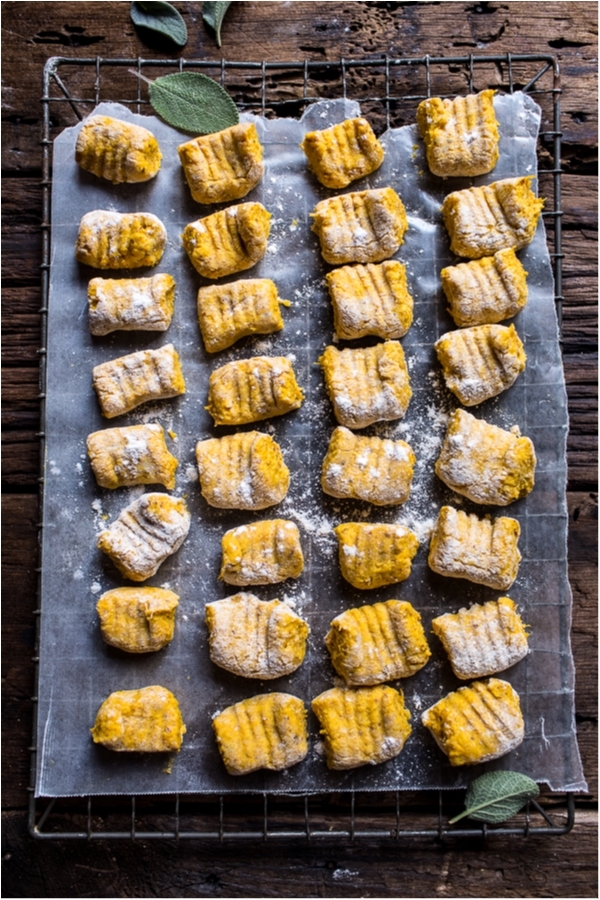 You can make this gnocchi the super easy way and merely use canned pumpkin or you can roast a pumpkin and use fresh puree. Either option works great. I roasted a pumpkin because I had one on hand (remember, kitchen overflowing). Well, that and I really wanted to take photos of all of my cute mini pie pumpkins. See? True pumpkin obsession going on.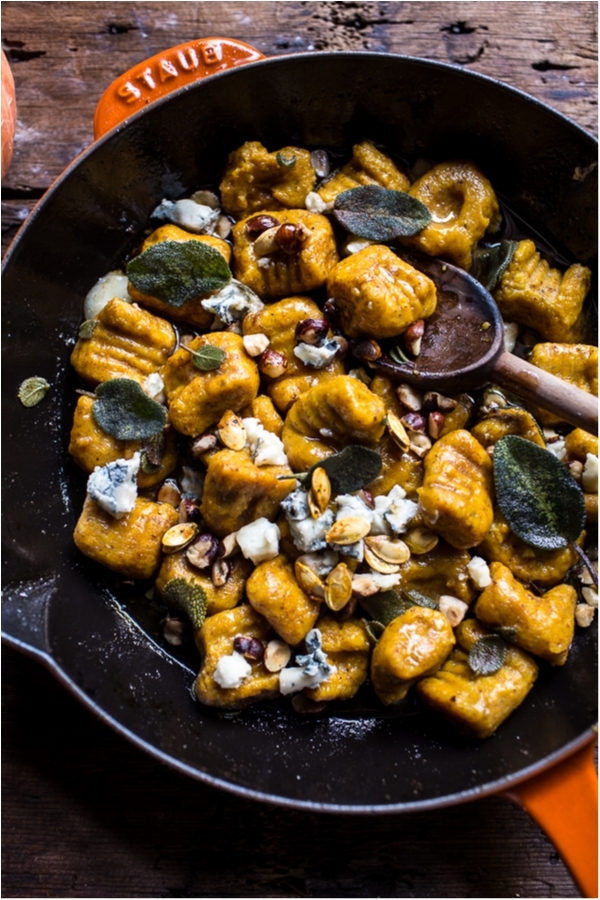 The gnocchi consist of pumpkin, flour, hazelnut flour, an egg, some nutmeg and a little manchego cheese. Just a few ingredients and nothing too fancy! Simply mix everything in a bowl, roll the dough into a long snake-like log and cut into cute little gnocchi pieces.
Then boil the gnocchi, brown some butter, add in sage, balsamic vinegar and blue cheese. Toss it all together and DONE.
See, you can do this!!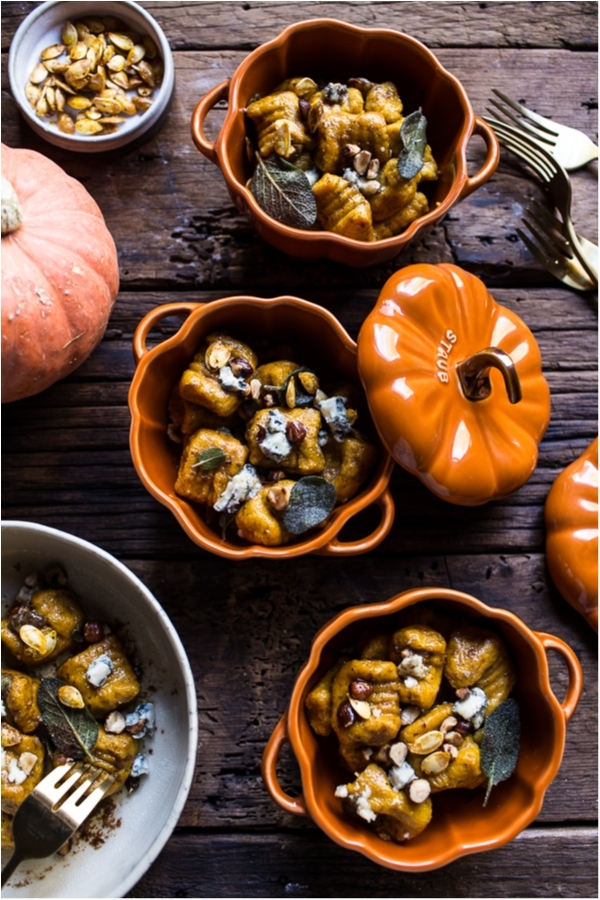 I just had to serve this dish in my cute little Staub Pumpkin cocottes. They're the perfect way to display pumpkin filled gnocchi.
I mean really, it doesn't get any more fall than this! YUM.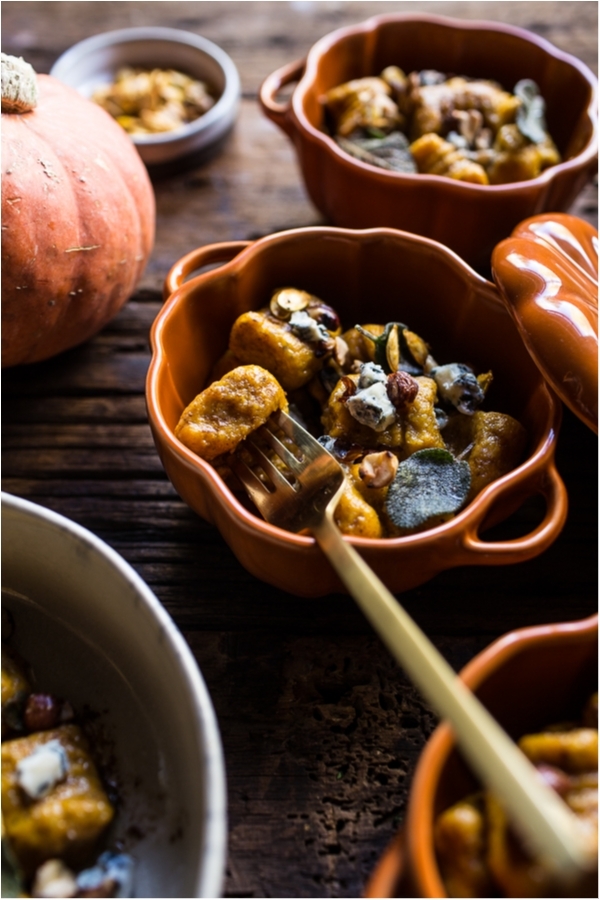 Pumpkin Gnocchi with Balsamic Sage + Blue Cheese Sauce Recipe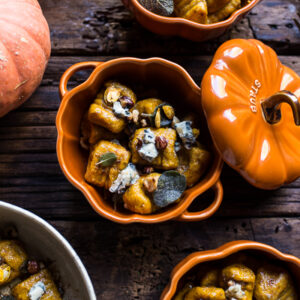 INGREDIENTS
For the Gnocchi:
2 cups pumpkin puree*
1 egg
½ cup manchego cheese, shredded
1 ¼ cups all-purpose flour
¾ cup hazelnut flour (or more all-purpose flour)
½ teaspoon nutmeg
Pinch of salt + pepper
For the Balsamic Sage + Blue Cheese Sauce:
8 tablespoons salted butter
¼ cup fresh sage, chopped
¼ cup balsamic vinegar (use white balsamic for a more pleasant colored gnocchi)
Salt + pepper, to taste
6 ounces blue cheese, crumbled + more for serving
1/3 cup chopped hazelnuts, toasted
Toasted pumpkin seeds, for serving (optional)
INSTRUCTIONS
Mix the pumpkin puree, egg, manchego cheese and a pinch of salt together in a large bowl. Add the flour, hazelnut flour, nutmeg and another pinch of salt + pepper. Mix well with a spatula. You want the dough to still be pretty sticky, but sturdy enough that it holds together in a ball. If it's not, keep adding a little all-purpose flour, 1 tablespoon at a time until you can get a soft dough.
Spread some flour on a large work surface. Cut the dough log into four equal pieces. Take one piece and cut it in half. Roll the piece of dough into a long log, like a snake about 1/2 inch thick, then cut it into pieces about the width of a fork. Dust the gnocchi with a little flour, then use one finger to push the gnocchi up onto the tines of a fork. Let the gnocchi drop back to the work surface. Doing this helps create ridges for the sauce to stick to, but you can skip it if you would like. Repeat this process with the other piece of dough and place the gnocchi on a large baking sheet lined with parchment paper, cover and set aside.
Bring a large pot of salted water to a boil.
Meanwhile, add the butter to a skillet and cook until browned and toasted, about 3 minutes. Once the butter has browed, remove from the heat and stir in the fresh sage, balsamic vinegar and a pinch of salt + pepper to taste. Keep the sauce warm.
Add the gnocchi to the boiling water and boil 2-3 minutes or until the gnocchi floats. Remove the gnocchi from the water using a spider strainer and add it directly to the brown butter sauce. Add the blue cheese and toss well to combine.
Serve the gnocchi with toasted hazelnuts, pumpkin seeds and extra blue cheese. Enjoy!
*To make your own pumpkin puree, preheat the oven to 425 degrees F. Cut one medium pumpkin into wedges and rub with a little olive oil, salt + pepper. Place on a baking sheet and roast for 45 minutes to 1 hour or until the flesh of the pumpkin is very soft. When the pumpkin is soft, remove it from the oven. Let cool enough to handle and then remove the rind. Add the pumpkin to a food processor and puree until completely smooth, about 3-5 minutes. If your pumpkin is on the drier side, add 1-2 tables of water to help the pumpkin puree better.