Vegan Chickpea Salad Sandwich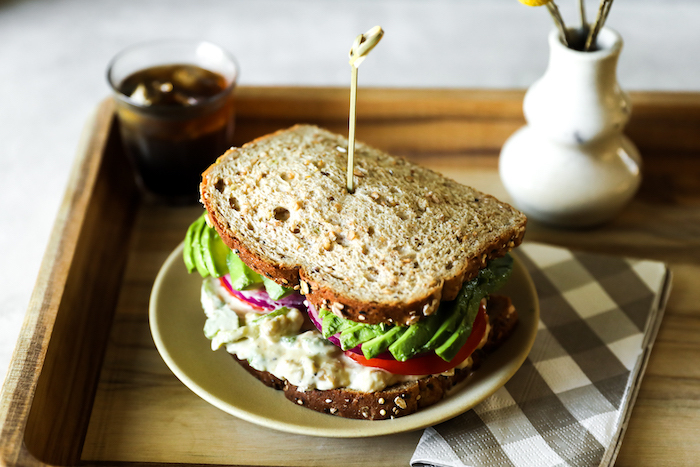 I spent a year in my early 20s as a vegan. I was just graduating college and felt like I wanted to investigate what it would feel like to remove dairy from my life. I've never been much of a meat-eater, so that part was easy, the dairy, however, is what felt like the challenge.
After a few months, I enrolled in culinary school and began learning to cook in a predominately vegan, health-supportive way. It made following a vegan lifestyle even easier, as my culinary school never once made me quit this dietary pattern to learn. In fact, it made my experience even richer, as I was extremely curious about learning vegan cooking tricks and techniques. I eventually started eating meat and dairy again, as I figured out that the best diet for me (as in what one eats, not as in a fad-diet) is one that is flexible.
Many years have passed since that time, but the one vegan swap I'll never forget is a chickpea salad. I love this vegan substitution because it's not stinky in any way like an egg or tuna salad (hello office-friendly lunch!), and can be a nice way to get some bean fiber into your diet.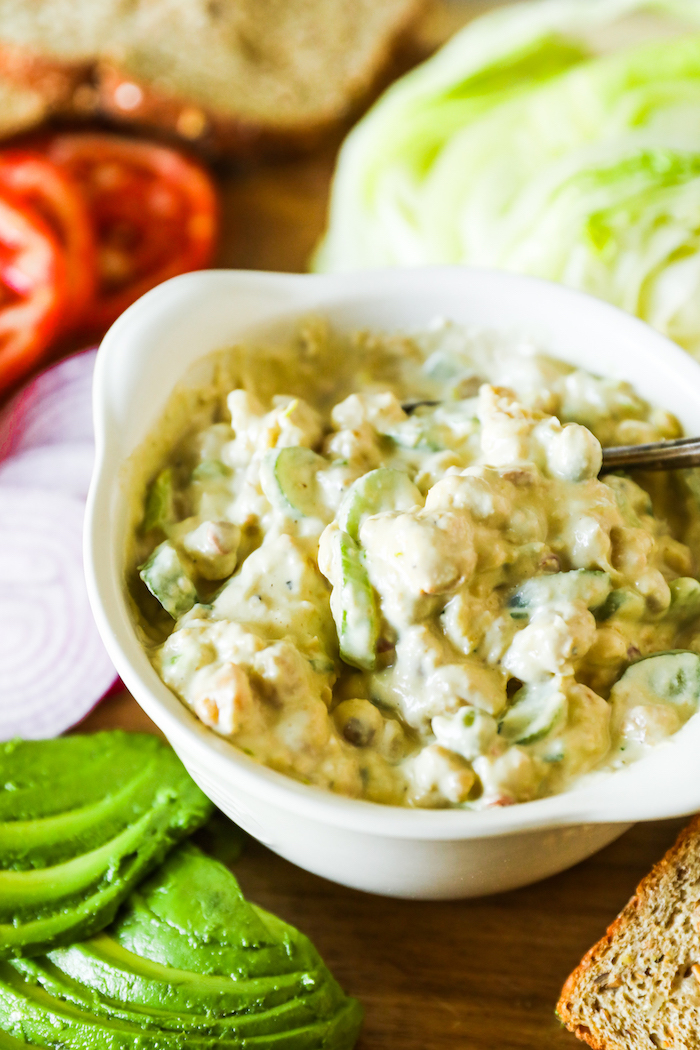 Ultime Gratin Bowl

By Emile Henry

Shop Now
I love a sandwich stacked high with fresh crunchy veg., so I've called for lots of that plus iceberg cut in a large stack. Make this salad more or less mayonnaise-based by starting small and adding more to reach your desired texture. I call for lots of fresh dill and chives because it really makes this salad feel like a deli prepared meal. Use pumpernickel instead of 9-grain, and you'll feel like you're in New York, I'm sure.
Bamboo Picks, 50 pack

By Sophistiplate

Shop Now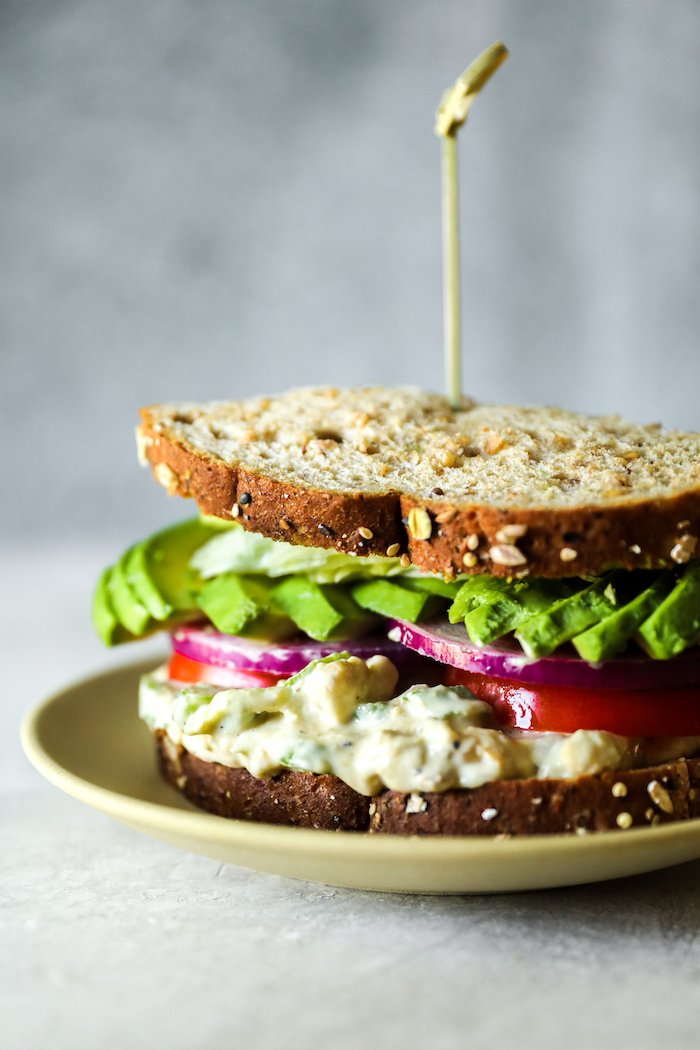 Zion Matte Coupe Salad Plate, Set of 6

By Tuxton Home

Shop Now
The one technique to be really aware of before embarking on this recipe is the removal of chickpea skins. Much like any other bean or legume, there is a slight filmy skin that coats the outside of the garbanzo bean. The step to boil the beans with salt and a bay leaf will loosen up the skins and begin to peel them away. I ask you to submerge the cooked and drained beans in cold water to help the skins float up to the top. This will make removing them so much easier.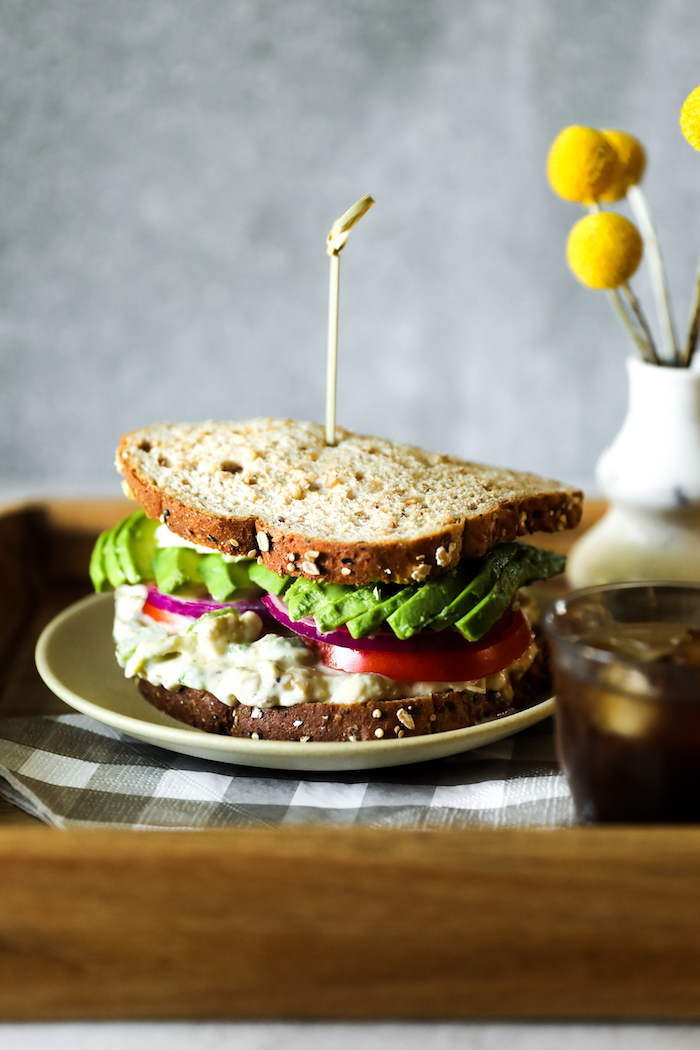 Taupe Gingham Paper Lunch Napkins, 20 pack

By Sophistiplate

Shop Now
It's up to you to decide how much time you spend on this step. You can certainly work towards removing the skin from each bean, or you can do a quick once over and get as many as you can. Either way will yield lovely results. If you want to remove as many as possible, I suggest agitating the beans to get the skins off, skimming them away with a slotted spoon, and then using your hands to get in there and gently rub the more stubborn ones off. This is a labor of love and not necessary if you don't have the time or patience.
Picardie Clear Tumbler, Set of 6

By Duralex USA

Shop Now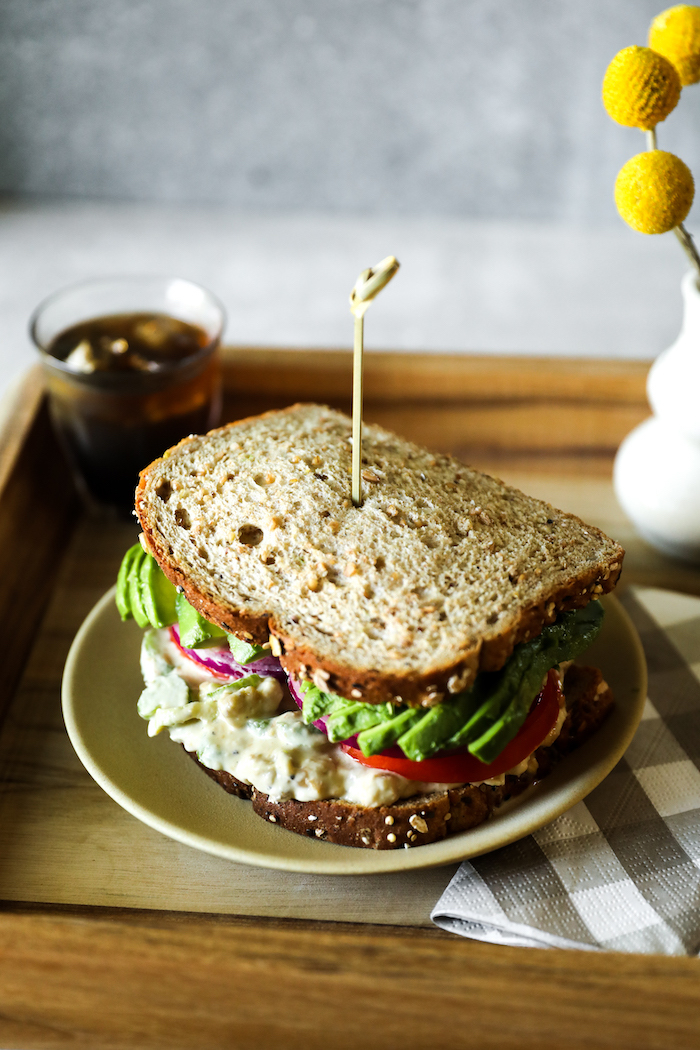 Teak Serving Tray

By Lipper International

Shop Now
Another option, if you like a bright balance of flavors, is to add a touch of maple syrup to the mix to add a slight sweetness that makes this salad irresistible. I usually prefer creamy and salty, over sweet, so I don't include this addition in the recipe.
Vegan Chickpea Salad Sandwich
This delicious, vegan chickpea salad sandwich has amazing flavors which make it feel like a deli-prepared meal. Stacked high with fresh, crunchy vegetables, this is the perfect lunch.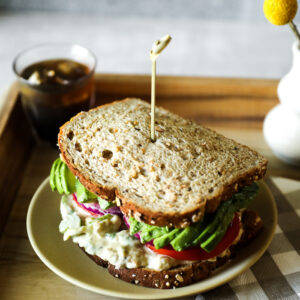 Ingredients
2

15 oz. cans of chickpeas, drained and rinsed

1

bay leaf

0.5

cups

Just Mayo or any vegan mayonnaise (use up to 0.75 cup)

2

tbsp

Dijon mustard

0.5

cups

crunchy sprout mix

2

green onions, chopped

2

large celery stalks, chopped

large handful chives, chopped

small handful dill, chopped

1

tsp

salt, divided

freshly ground pepper

4

slices of 9-grain bread, option to toast (2 slices per sandwich)

1

avocado, sliced thin (half an avocado per sandwich)

4

slices red onion (2 per sandwich)

4

slices heirloom tomato (2 per sandwich)

2

large slices iceberg lettuce (1 per sandwich)
Instructions
Fill a medium saucepan with chickpeas and water to cover. Add ½ teaspoon of salt and a bay leaf. Bring to a boil, remove the top and cook for 10 minutes. Drain and rinse, then submerge cooked chickpeas in cold water and skim off the chickpea skins using a slotted spoon. Remove the bay leaf and drain fully.

In a medium sized mixing bowl, combine the cooked chickpeas, crunchy sprout mix, green onion, celery, chives and dill. Mix in the mayo and Dijon, starting with less mayo and gradually adding more if needed. Add remaining ½ teaspoon of salt, and freshly ground pepper to taste. Add more fresh herbs if needed.

Assemble the sandwich by adding about ½ cup of chickpea salad to one slice of bread. Pile high with tomato, onion, avocado, and iceberg lettuce. Close the sandwich with the second half of bread and press down gently. Skewer with a sandwich pick to keep the sandwich together. Enjoy!
Nutrition
Serving:
1
g
Calories:
624
kcal
Carbohydrates:
72
g
Protein:
15
g
Fat:
31
g
Saturated Fat:
4
g
Sodium:
1657
mg
Fiber:
16
g
Sugar:
4
g