Perfectly Simple Steamed Artichokes with Dijon Butter Sauce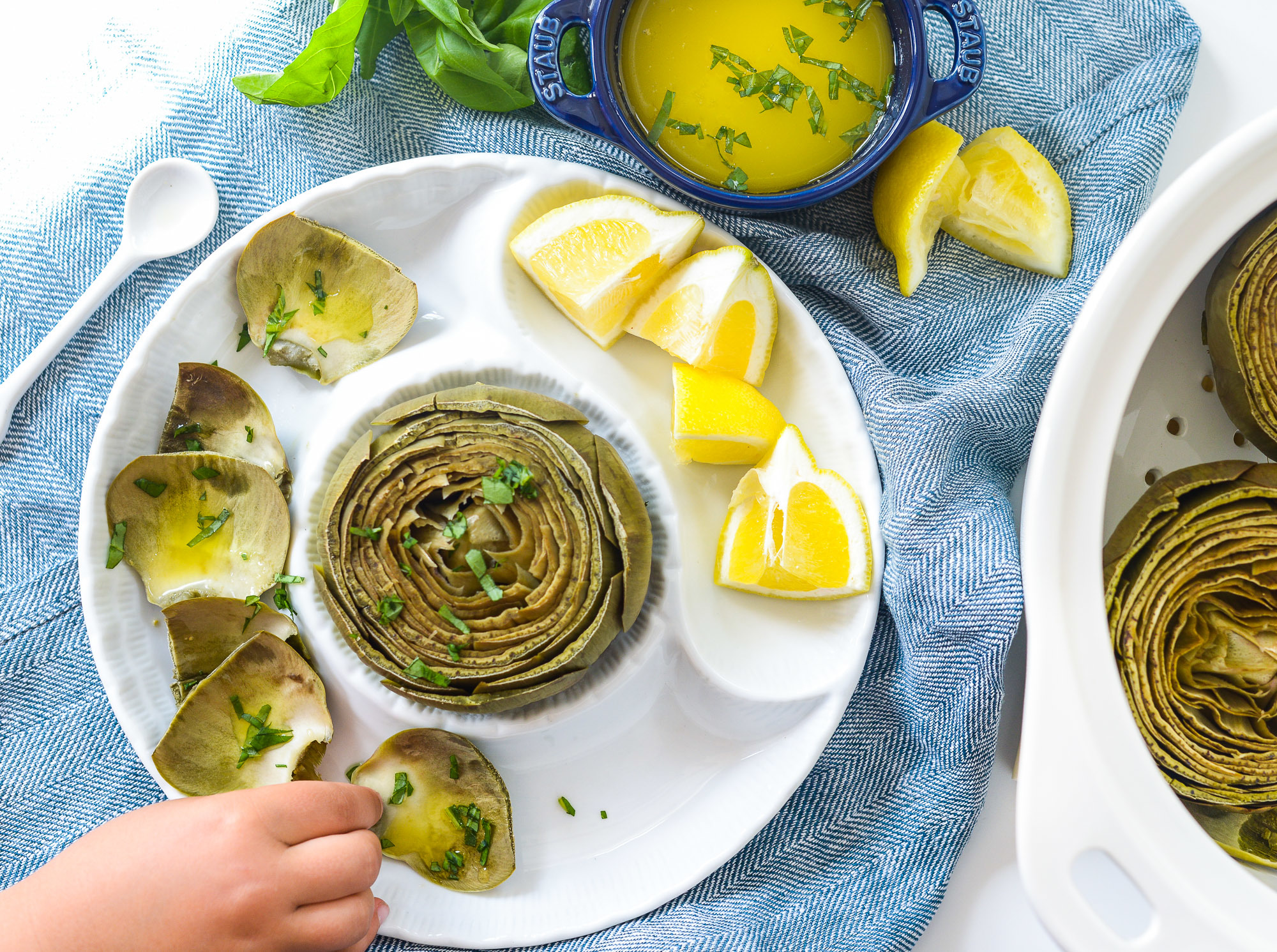 Despite their rather unfamiliar appearance, artichokes are actually quite simple to prepare. Coming from a family of Italian decent, I've eaten artichokes for most of my life and love making them for my artichoke-loving children. Imagine my surprise when I offered a few of them to a neighbor recently and she scoffed — she hadn't the foggiest idea what to do with an artichoke.
It's actually not the first time I've heard someone make that statement and since artichoke season is in full-swing, right now seems like the perfect time to unmask this mysterious veggie and offer a few simple tips for giving them a try.
Artichokes are a fairly versatile veggie but for the newly initiated, simple preparations are probably best. My grandma and mom prefer to prepare them Italian-style, stuffed with a mixture of garlic and seasoned breadcrumbs before baking or steaming. At my house we'll sometimes split them down the middle, drizzle them with olive oil and grill them. But really my favorite way to eat them has always been simply steaming. It's incredibly easy to do, a great way to highlight their mellow flavor and, best of all, lots of fun to eat.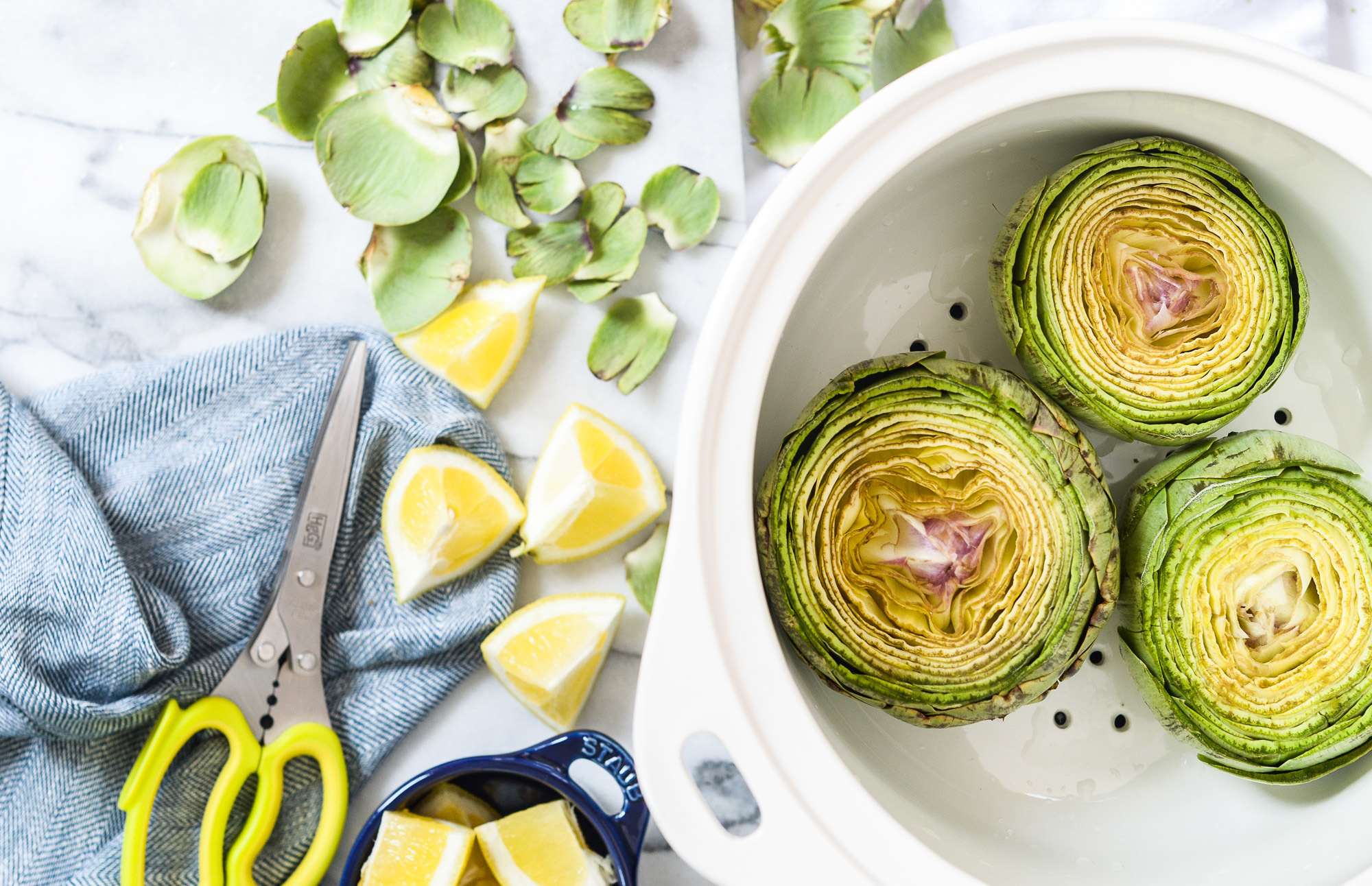 To prepare them for steaming, you start by removing the tough outermost leaves. Then use a sharp knife to cut the top third off of the artichoke. You should remove enough of the top that you can just see the tender center. Moving to the bottom, make sure the stem is no more than about an inch long and flat across to create a base. To keep the artichokes from turning brown before steaming, place them in a bowl of cold water mixed with the juice of a lemon. The acid will help maintain their color until its time to cook them.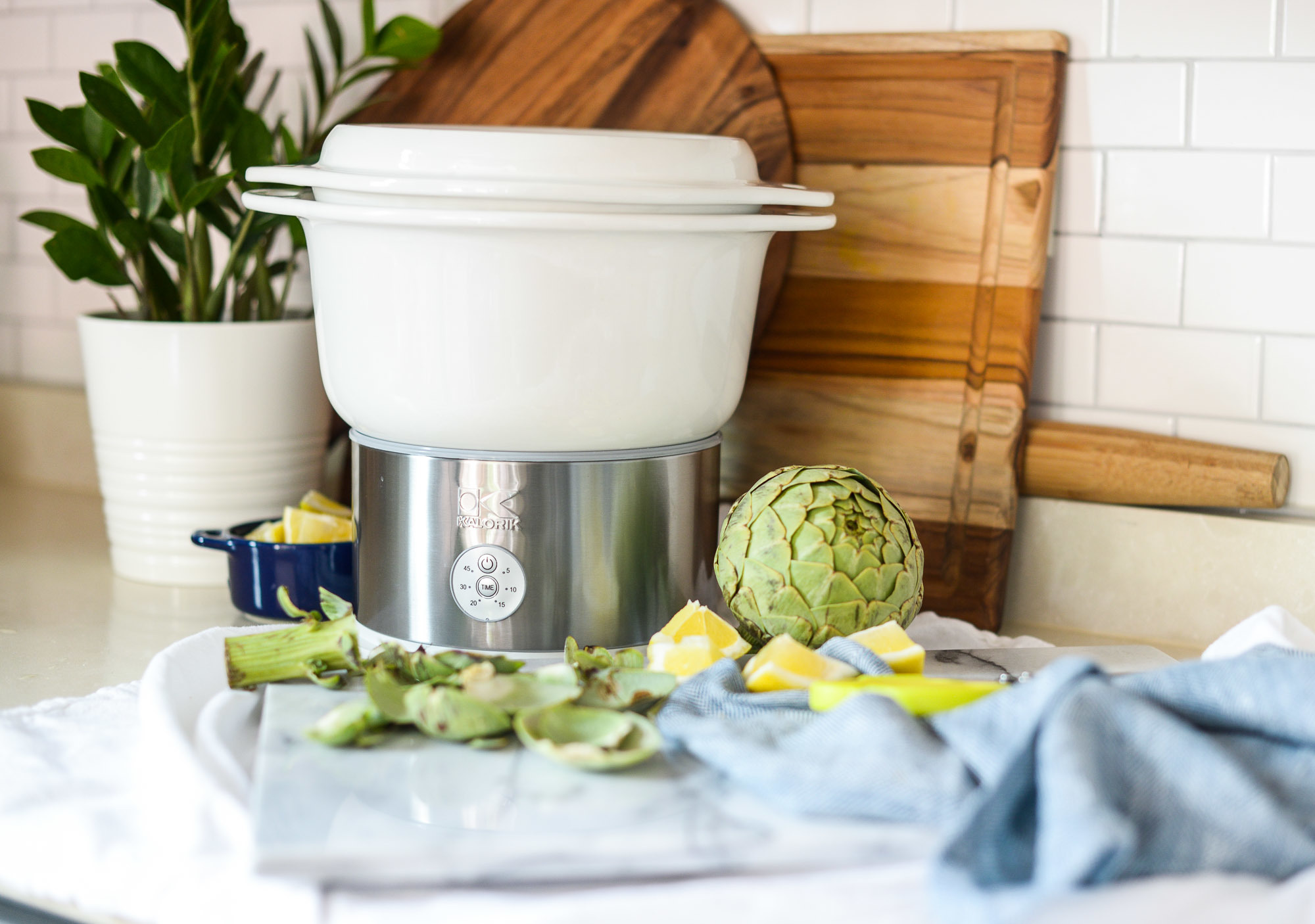 When you're ready to cook, arrange your artichokes in the basket of a steamer and fill the base with water. Cover tightly with a lid and allow the artichokes to steam for about 30 minutes. To check for doneness, grab onto a leaf and give it a gentle tug. If it pulls away from the base easily, the artichoke is cooked.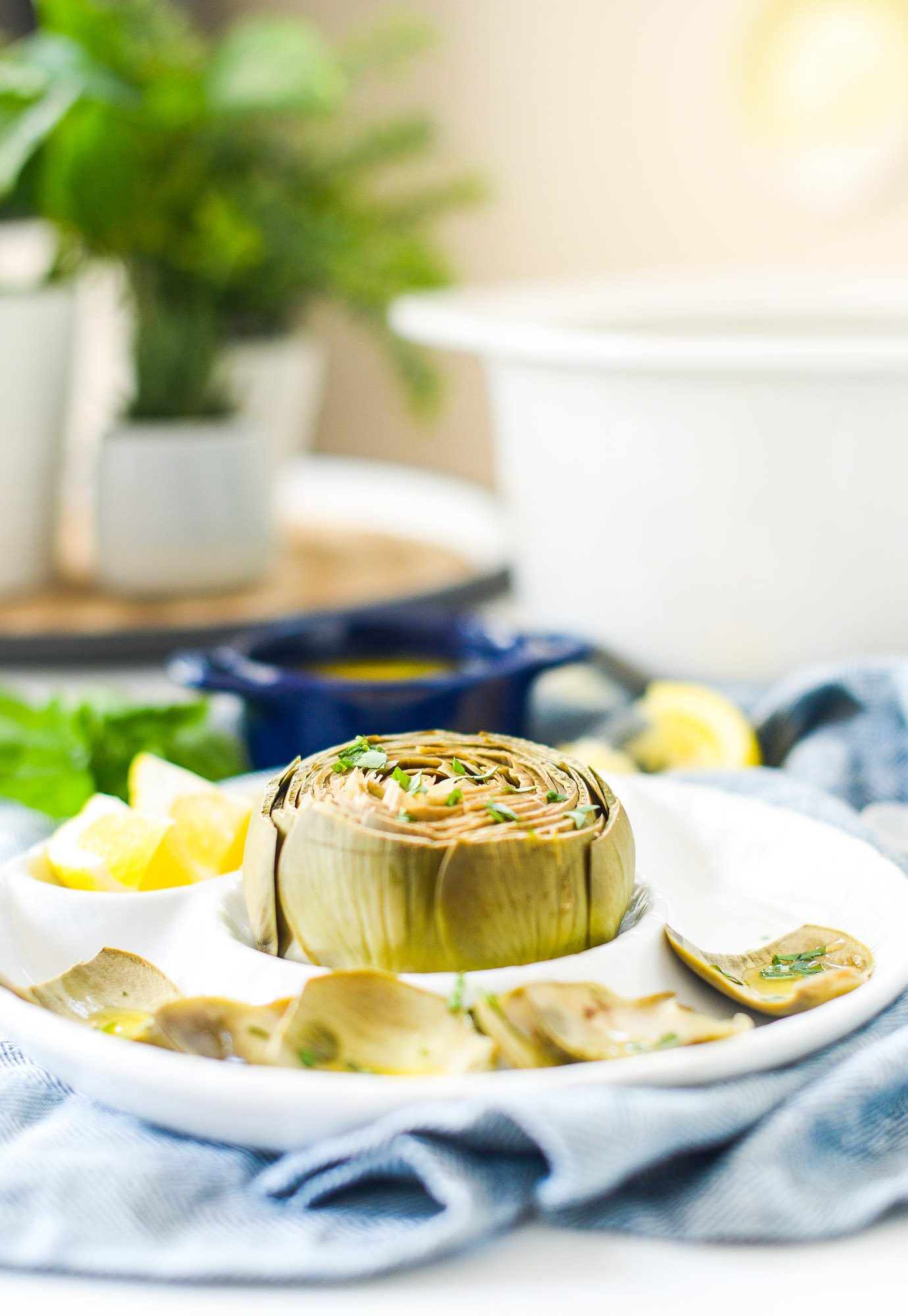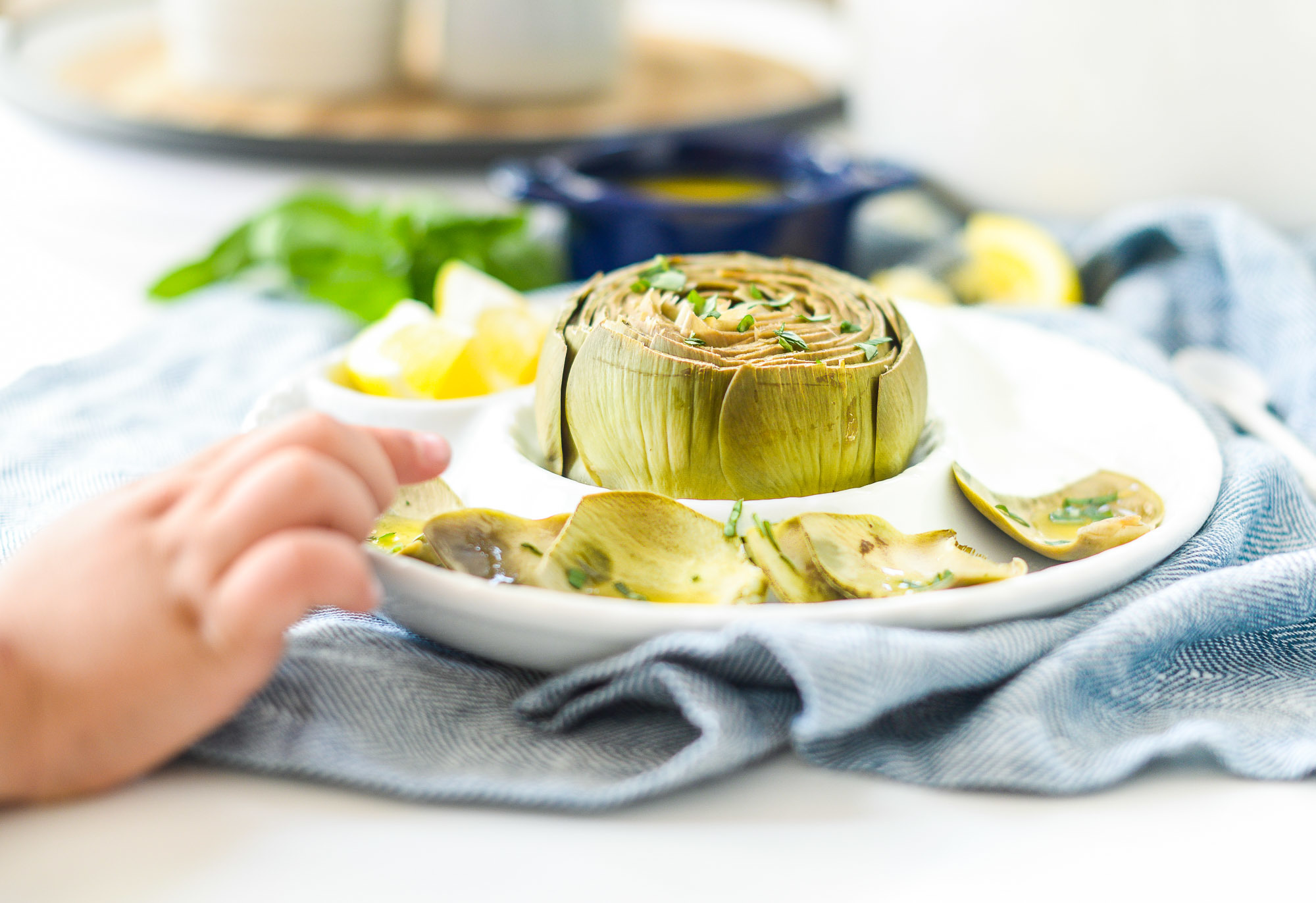 While your artichokes are cooking, its time to think about what to serve them with. Some people like them served with a bit of vinegar, an aioli sauce, mustard or just a squirt of lemon. For me though, butter sauce reigns supreme. Nothing does a better job highlighting the mellow flavor of an artichoke than a simple mixture of melted butter, dijon mustard and lemon juice. A sprinkle of fresh basil adds a bit of brightness. There's really nothing better.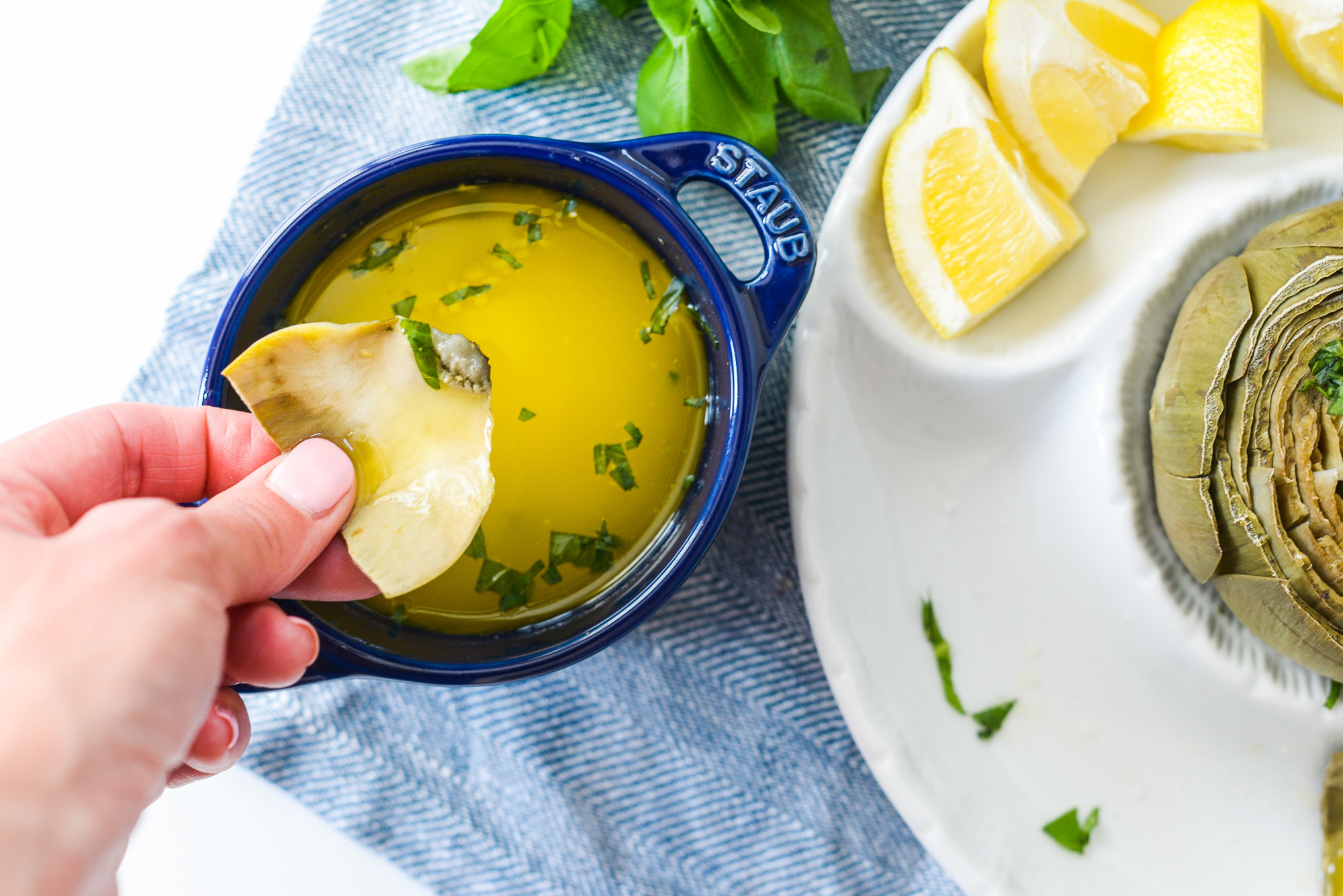 And while it may be hard to believe, my young children wholeheartedly agree with me. They love the novelty of pulling the leaves off one-by-one and using their teeth to scrape off the soft flesh at the base of each one (the top part of the leaves are fibrous and inedible). When we get to the center of the choke, they can't wait until I've removed the soft, tender heart.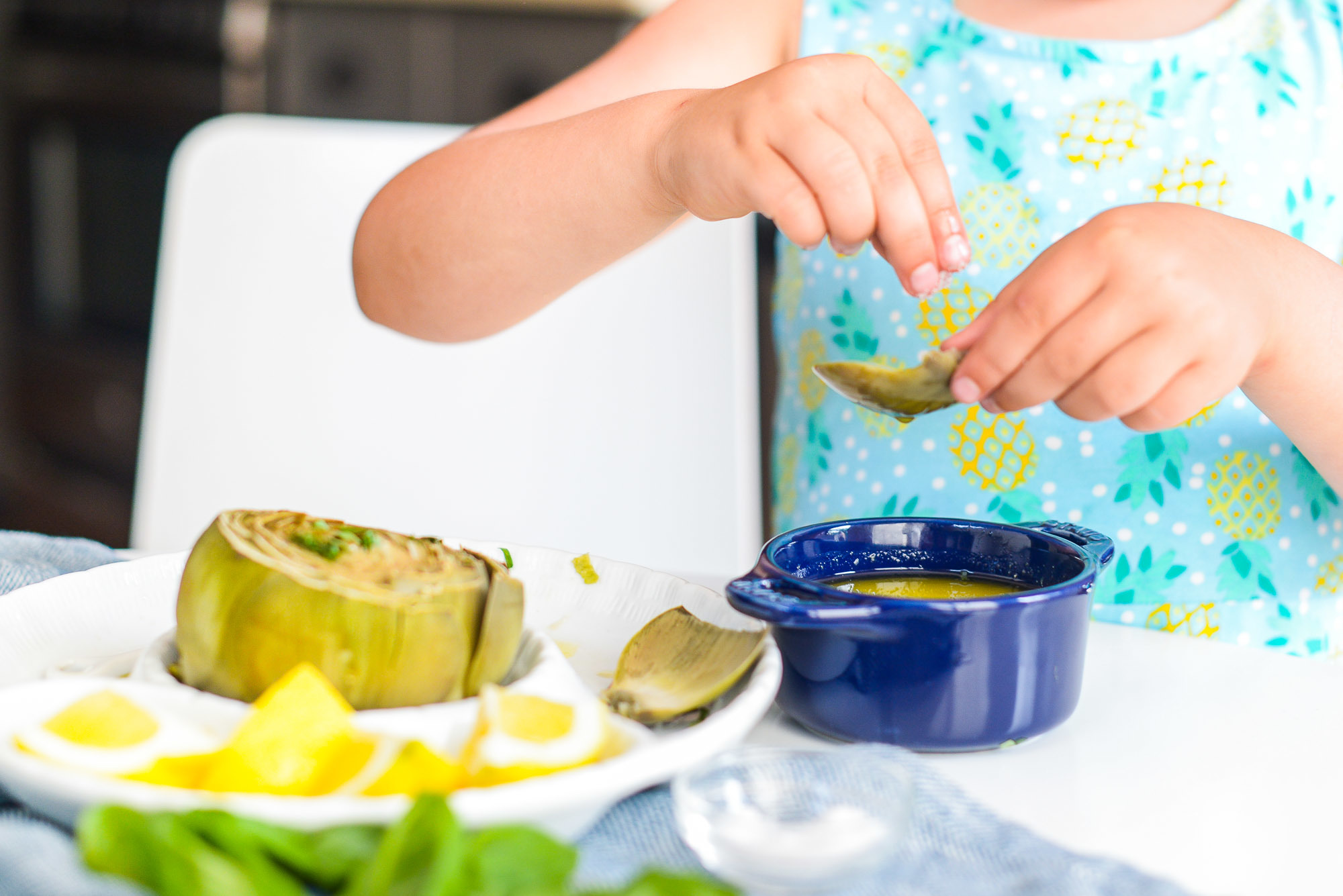 The heart itself can seem a little disconcerting for first-timers. Once you've pulled off all the outer leaves, you'll need to pluck off the thin leaves and fuzzy "choke" at the very center. This nifty little tool from Chef'n makes quick work of separating the heart from the choke, either before or after your artichoke is cooked. Once removed, carefully cut away the fuzzy bits from the tender heart. You can also use a paring knife.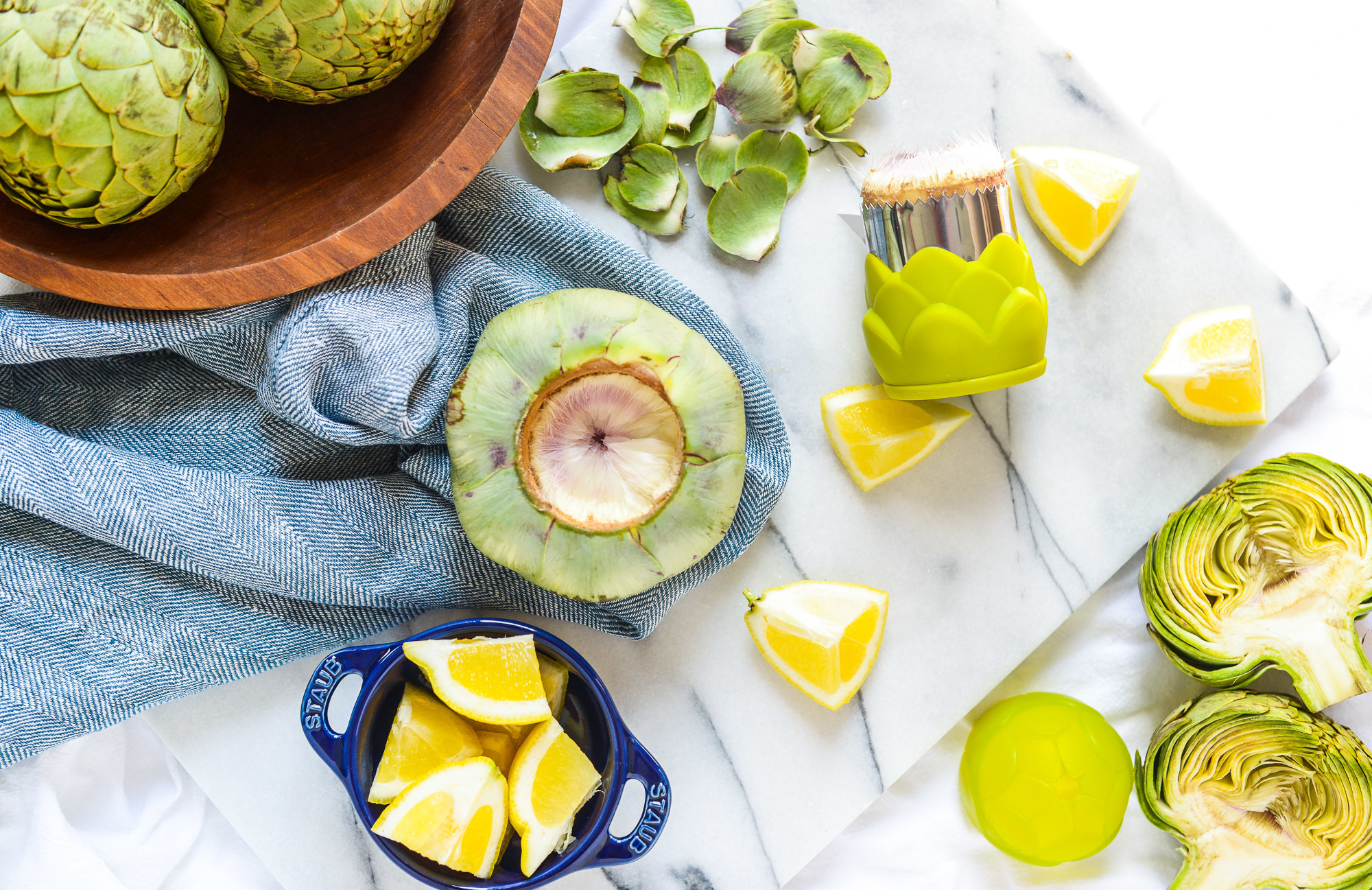 All of that effort is well worth it. The heart itself is the most tender and flavorful part of the artichoke. They are positively delicious dipped I a simple butter sauce with a squirt of lemon juice.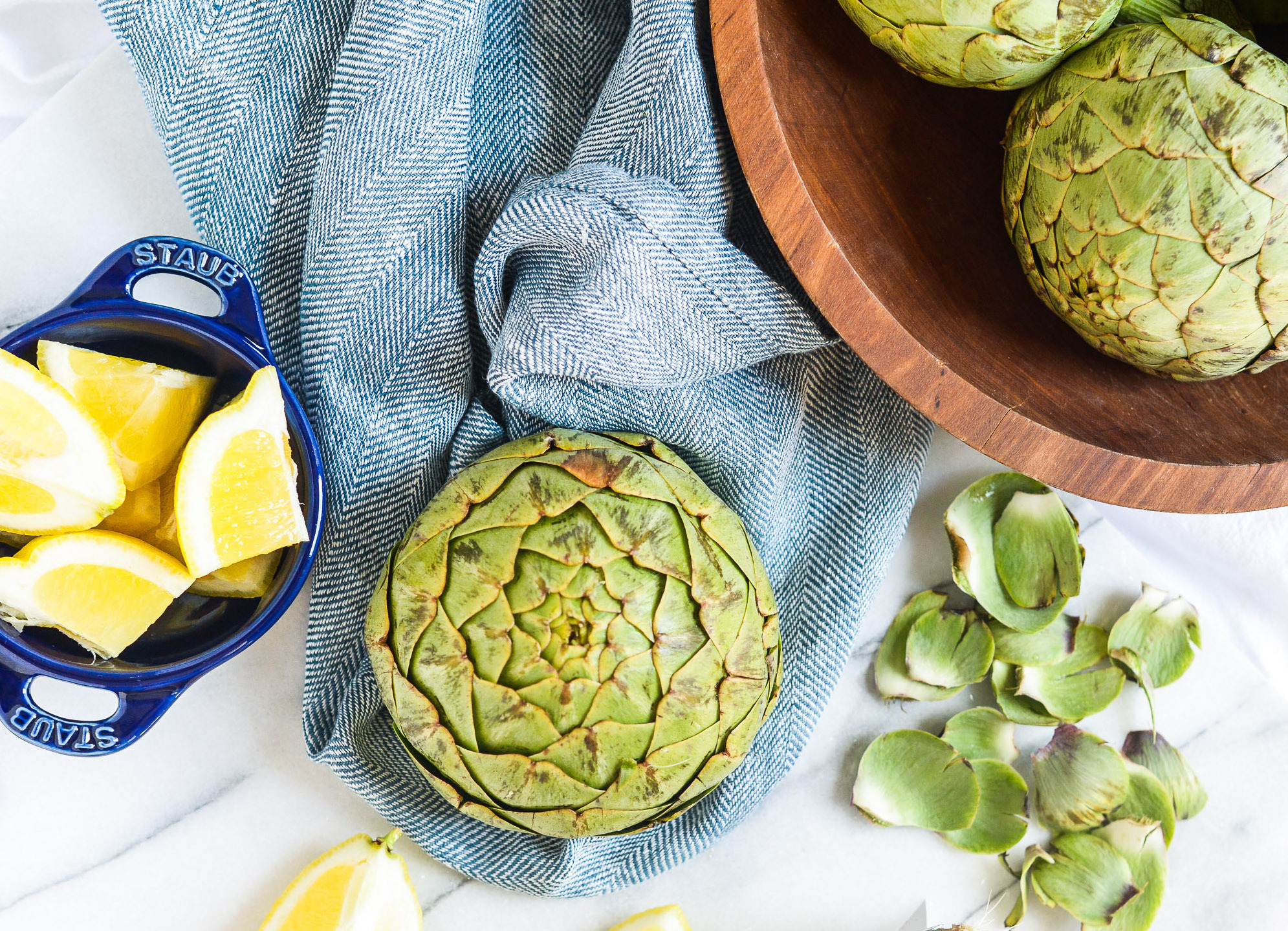 The next time you see artichokes at the supermarket, don't let their strange appearance scare you away. Under that strange façade lies a heart of gold.
Steamed Artichokes with Lemon Dijon Sauce
Incredibly easy to do, a great way to highlight their mellow flavor and, best of all, lots of fun to eat.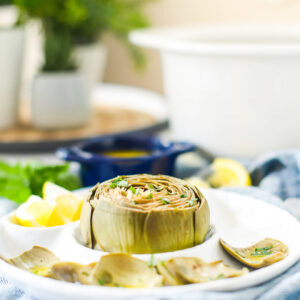 Ingredients
2

large artichokes

4

tbsp

butter, melted

1

tbsp

dijon mustard

1

tbsp

lemon juice

Pinch of salt

Optional garnishes: lemon wedges and fresh minced basil
Instructions
Using a sharp knife, cut about 1-inch off the top of each artichoke. Cut off the stem.

Arrange the artichokes in a steamer basket.

Fill steamer base with water and allow to steam for 30 minutes or until artichokes are tender and a leaves pull off easily with a gentle tug.

Meanwhile, make the dipping sauce by whisking the remaining ingredients together in a small bowl. Serve alongside the steamed artichokes. Garnish with lemon wedges and basil if desired.
Nutrition
Serving:
1
g
Calories:
287
kcal
Carbohydrates:
17.6
g
Protein:
5.9
g
Fat:
23.7
g
Saturated Fat:
14.7
g
Cholesterol:
61
mg
Sodium:
406
mg
Fiber:
9
g
Sugar:
1.9
g