One Pot Spiced Alaskan Crab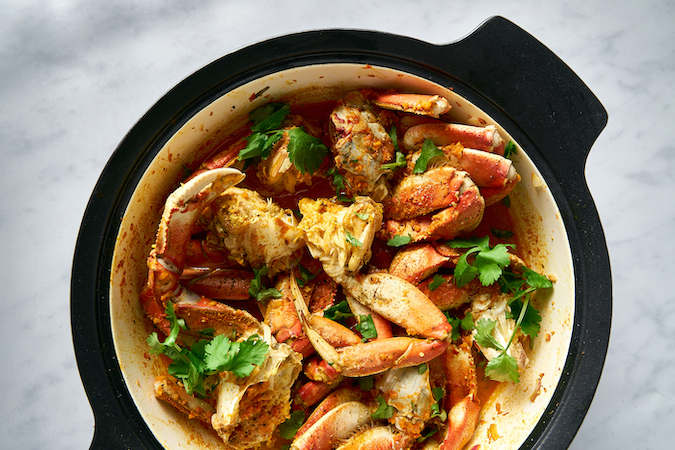 As a Virginian, my only basic level of crab understanding is Chesapeake Bay crabs in summer. Beyond that, I wouldn't have called my childhood upbringing with seafood "adventurous" beyond *maybe* two kinds of fish and a shrimp. In college, I became a pescatarian for a few years and was also getting my BS in dietetics (building repetitive meal plans for nutrition class of salmon + broccoli + brown rice). After that, I took a hiatus from seafood and it left me with a gap in my adult life of seafood technique.
I think many of us feel the same – a sense of overwhelm in the seafood department. What do you buy? What's the healthiest option? What's the most sustainable option? How do you know? Recently, I actually found the answer and I know it will be helpful information for you too.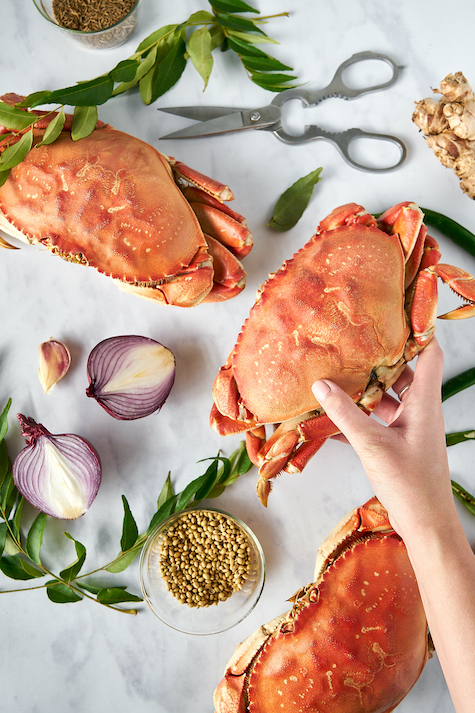 Stainless Kitchen Shears

By Wüsthof

Shop Now
If you're looking for a sustainable, healthy seafood look for "laskan seafood". It really is that simple. All seafood from Alaska is wild, sustainably caught and protected by the actual Alaska constitution. The state constitution regulates marine ecosystems to encourage replenishing.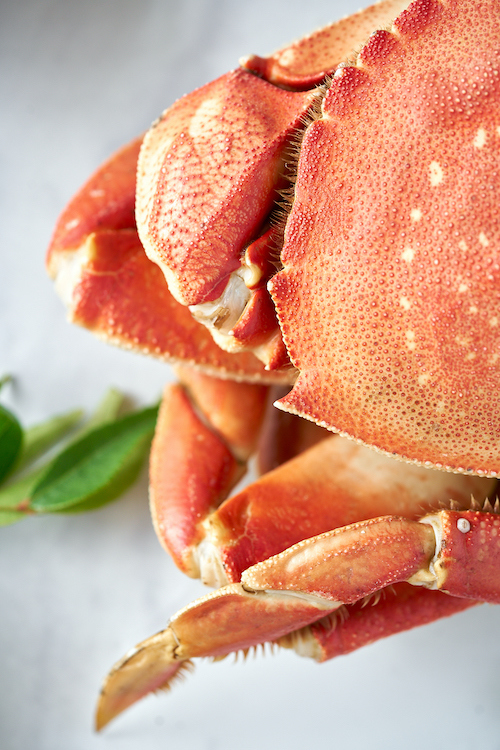 Alaska is the only state with a mandate for sustainable seafood with responsible fisheries management and sustainable fishing practices. Beyond this statewide standard, the majority of fisheries in Alaska are certified by the Marine Stewardship Council (MSC) and the Alaska Responsible Fisheries Management (RFM) Program.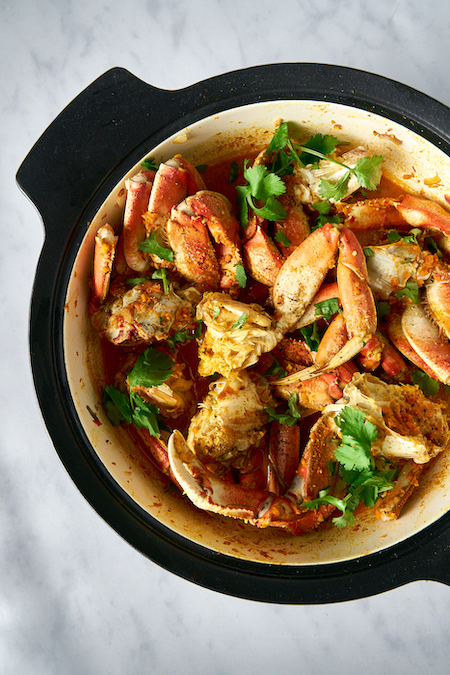 Ron Cast Iron Covered Deep Skillet

By BergHOFF

Shop Now
When I think about means for winter entertaining for special events, I think about shellfish and oysters. And as a house that doesn't 'do' oysters (trust us, we've tried at some of the top restaurants in the world and we still hate them – we tried okay?) that led us to 'fancy shellfish'.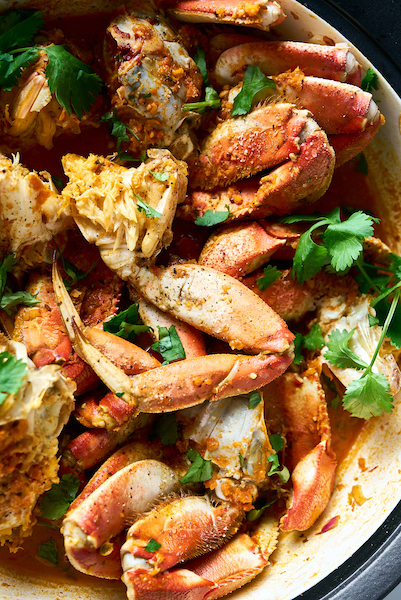 Dungeness crab from Alaska is the largest, most flavorful Dungeness crab. They're packed with white, flaky meat that can be served whole, in salads, pasta, etc. I didn't want this recipe to feel like a basic butter and herb affair. I wanted one pot, messy, flavorful. That's how we ended up learning about crab sukka (a crab dish with a semi-dry "gravy").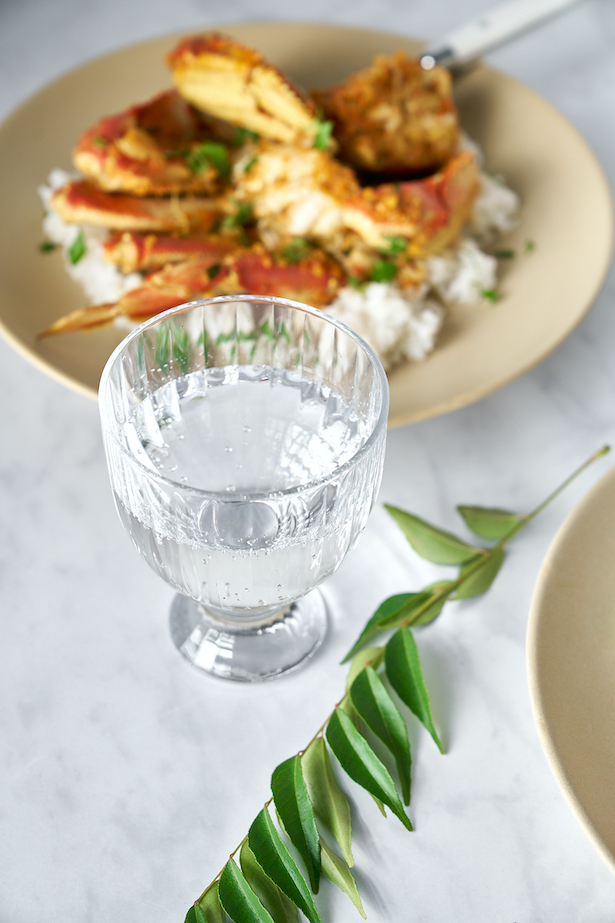 Artesano Original White Wine Glass

By Villeroy & Boch

Shop Now
I must emphasize, this is in no way an actual Mangalore crab sukka. It is merely inspired by the layers of flavor in traditional crab sukka (and making it saucier) This is just me, loving spices and wanting to bring you something different for winter seafood. If you've never heard of this dish, don't be intimidated by the spice list! Head to an international grocery, or the 'global aisle' of your store to find these spices at a fraction of the cost.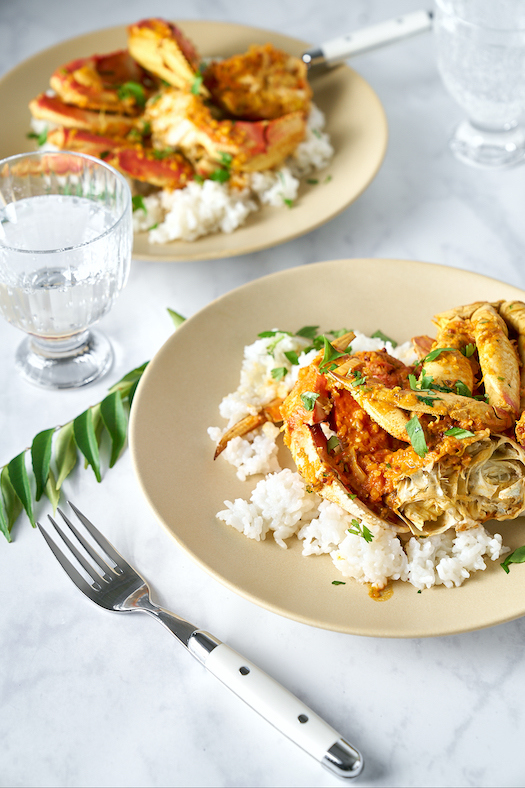 Signature Astoria Flatware Set

By Hampton Forge

Shop Now
One Pot Spiced Alaskan Crab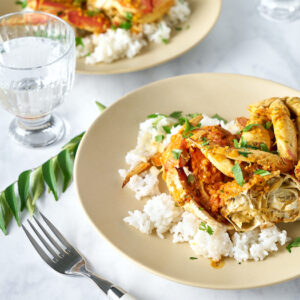 INGREDIENTS
4 large, whole Alaskan Dungeness crabs, pre-cooked
1 teaspoon coriander seeds
1 teaspoon cumin seeds
¾ teaspoon fenugreek seeds
1 teaspoon mustard seeds
1 Tablespoon coconut oil
1 small red onion chopped (about 1 cup)
5 curry leaves
1 finger hot pepper, sliced seeds removed
1-inch fresh ginger, thinly sliced
1 Tablespoon minced garlic
1 chopped tomato
1 teaspoon tamarind paste
½ teaspoon turmeric powder *(note, optional if you want to avoid any discoloration of hands or napkins)
2 teaspoons kosher salt
¾ cup seafood stock
¼ cup coconut milk
Fresh cilantro
Cooked rice
INSTRUCTIONS
Toast coriander, cumin, mustard, and fenugreek seeds in a large pan over medium heat for 5-7 minutes until aromatic. Stir constantly so as not to burn. Remove and grind in a mortar and pestle.
In the same pan, add coconut oil, red onion, curry leaves, pepper, garlic, ginger, tomato and tamarind paste. Cook for about 10 minutes, stirring occasionally until onion and pepper are soft.
While this is cooking, break down cooked crabs, starting with the crab upside down, removing the apron and carapace. Remove gills and innards, rinse inside so only meat remains. Cut or break in half or quarters and set aside.
Puree tomato mix in a food processor until smooth. Add back into pan with ground spices, turmeric, salt, seafood stock and crabs. Spoon liquid over crabs. Cover and cook for 10 minutes.
Remove lid, add coconut milk and cook an additional 10 minutes to thicken liquid.
Garnish with cilantro. Serve with rice.
Looking for some other one-pot recipes?
Check out this healthy one-pot zoodle pasta recipe.
Here are three easy one-pan dinner recipes for your busy schedule.
This one-pot carbonara with pancetta & peas is so easy and delicious.