Oven Roasted Spiced Pork Belly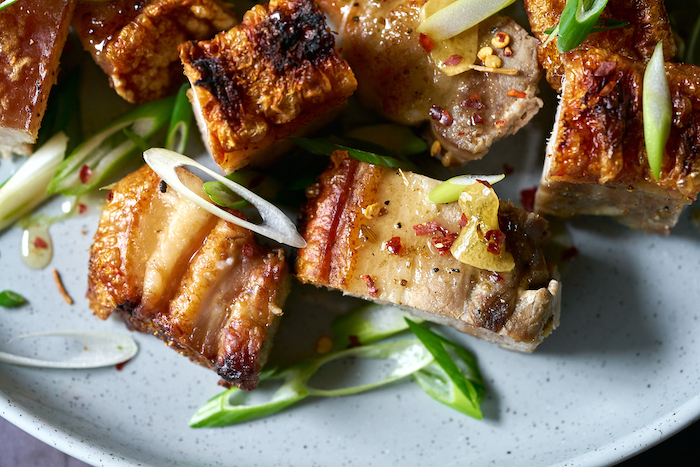 Last year started a bit of a love affair of ours with pork belly. Basically, we figured out how to intensely season and crisp this cut of meat and pair it with everything from ramen to veggies. Pork belly is something we had never made at home or bought at the grocery. Until recently, it was only ordered at a restaurant maybe once a year.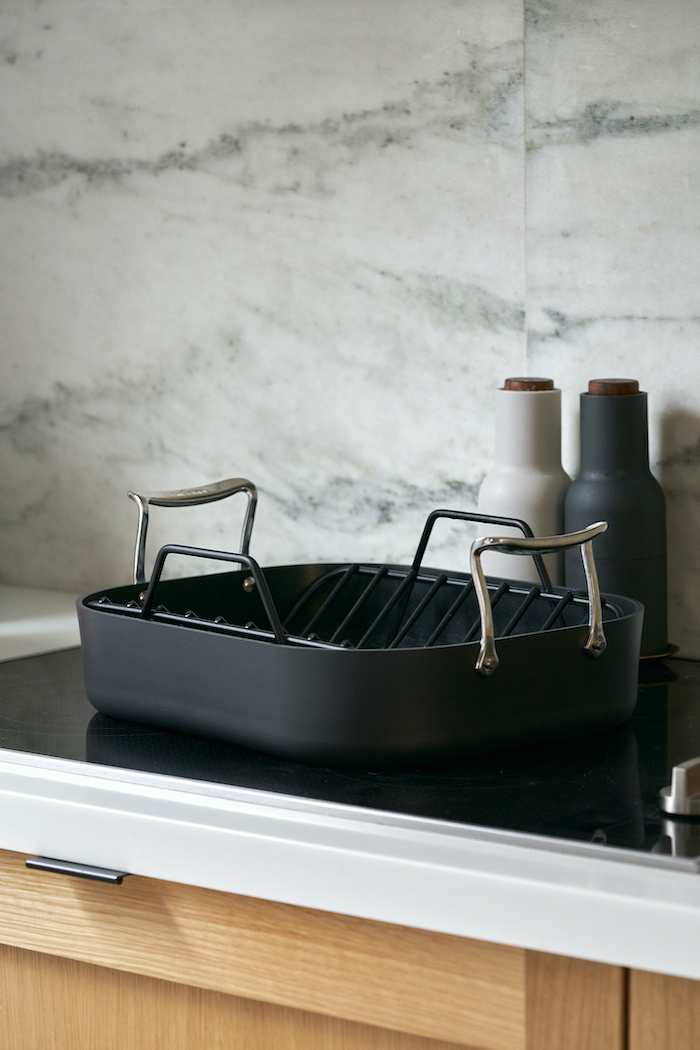 Essentials Small Roaster with Rack

By All-Clad

Shop Now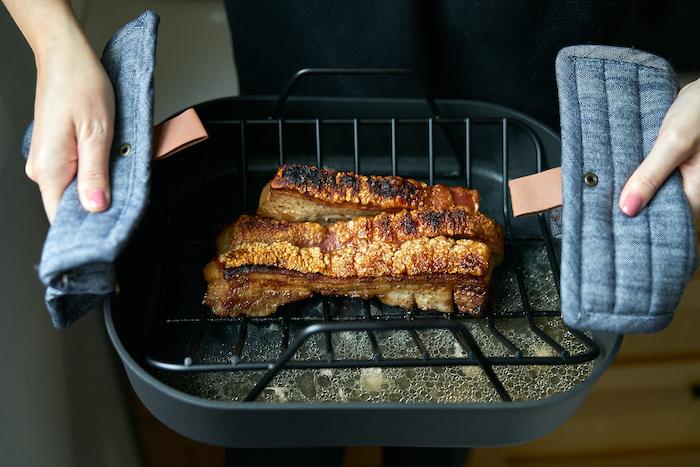 While you can buy it as a full slab (which we typically do but it was unavailable), you can also buy cut pork belly which saves you time later. Another lesson in working with what you have and for those unfamiliar with pork belly, a lesson in working with more unusual cuts of meat when the store is out of basics like chicken breast or pork loin.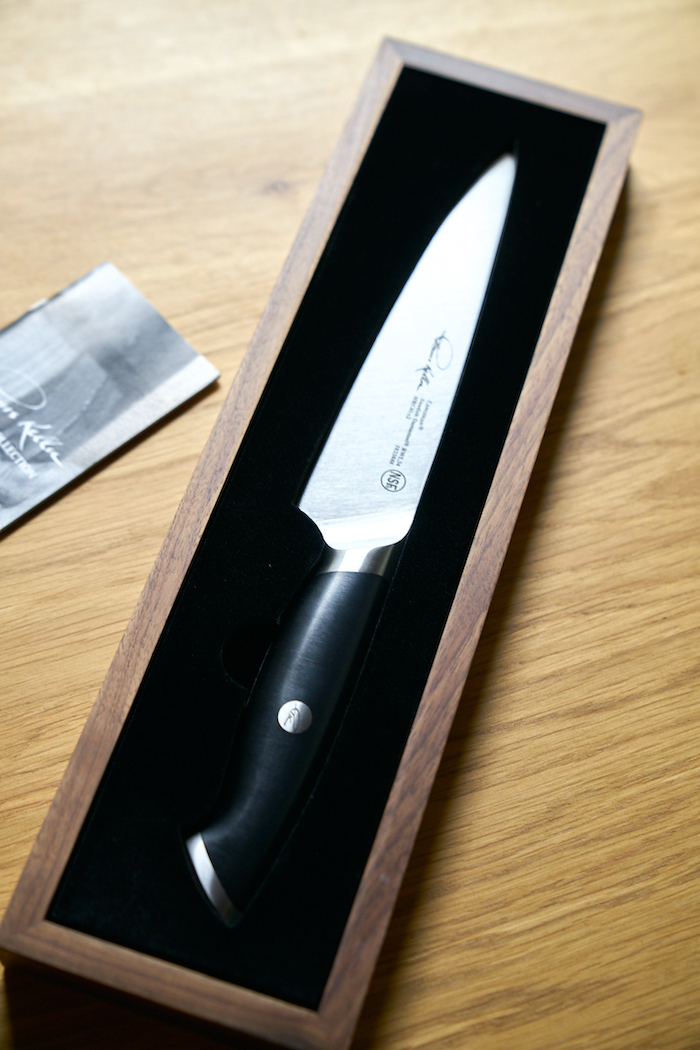 Thomas Keller 7″ Utility Knife

By Cangshan

Shop Now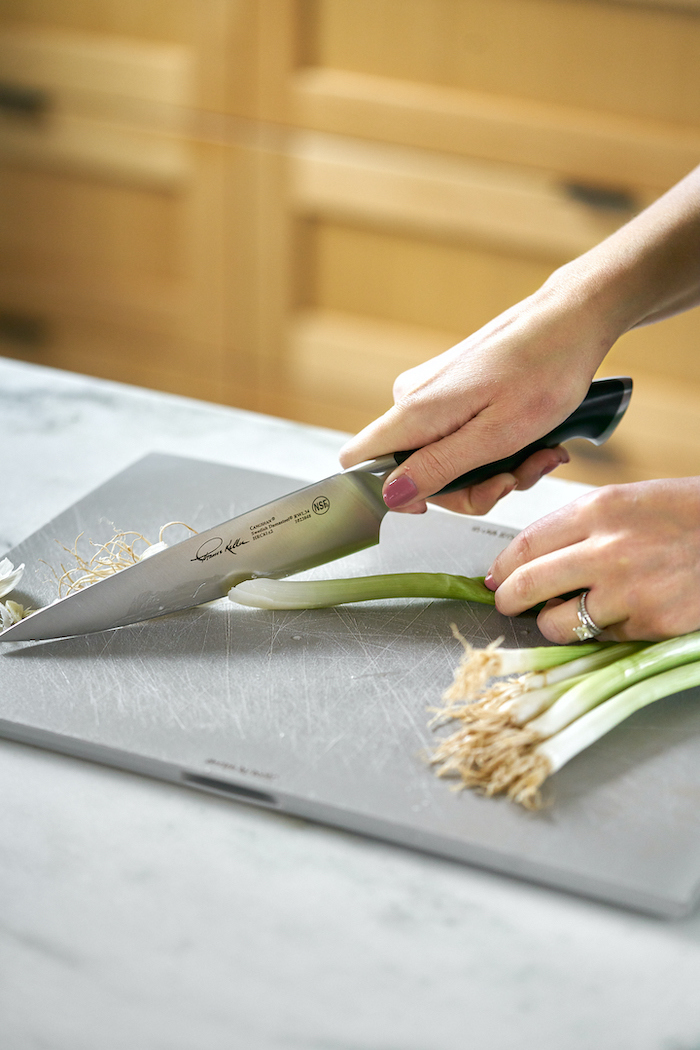 There is a little bit of prep work involved in making pork belly, but it's not hard work. It only takes planning ahead. Since there's a 24 hour fridge period involved, my advice is to start the prep process immediately when you procure it from the grocery.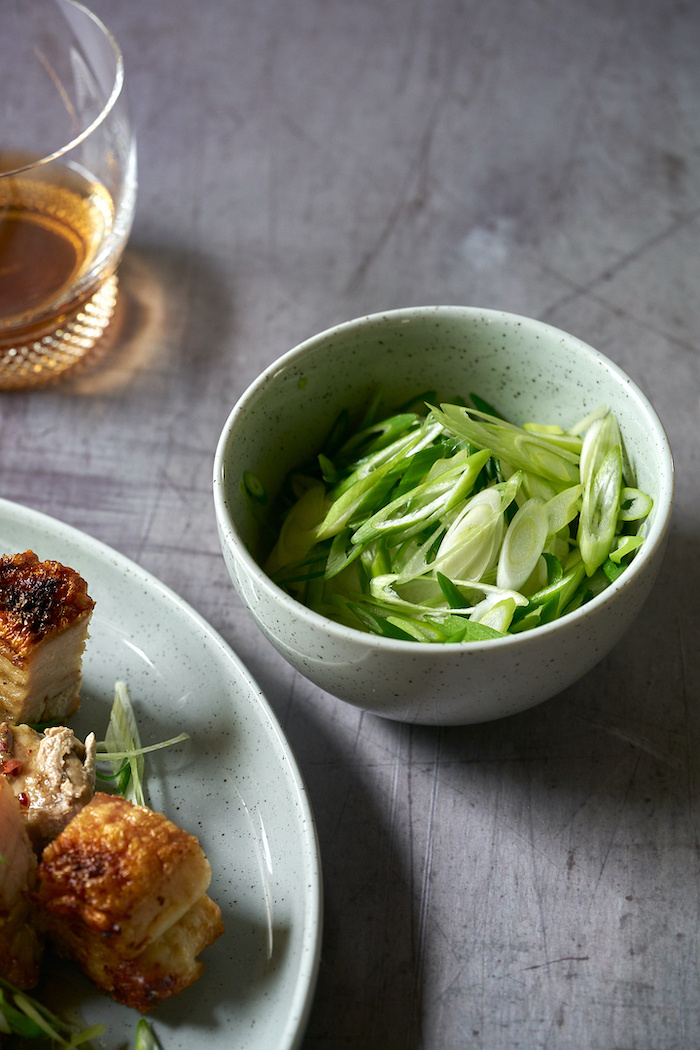 It's essentially a hunk of bacon so it really is ultimate comfort food. A small amount goes a long way, so think of all the ways you can use it as a topping or an accent in a meal. With eggs? With soup? Basically everything could use some pork belly.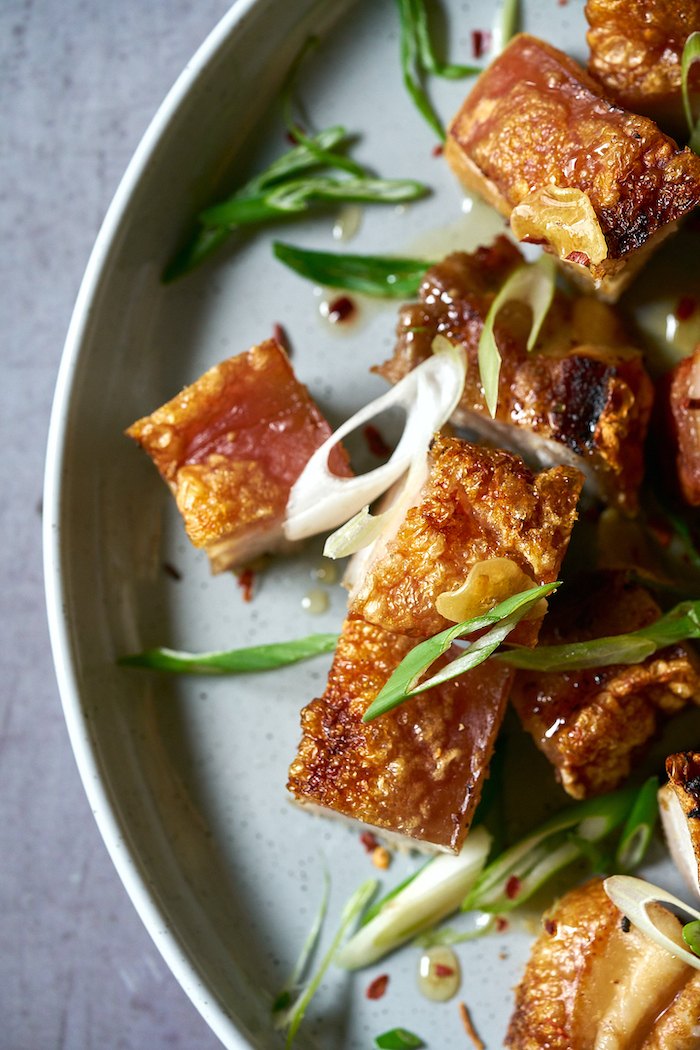 Raina Grey Dinner Plate

By Dansk

Shop Now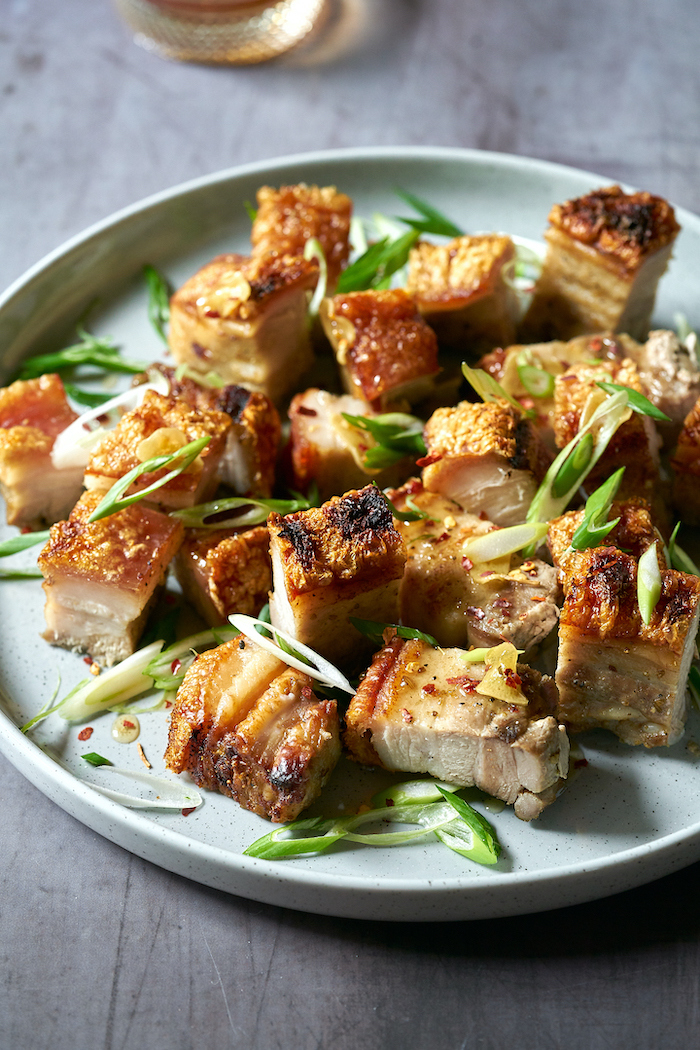 Octavie Double Old-Fashioned Glass

By Villeroy & Boch

Shop Now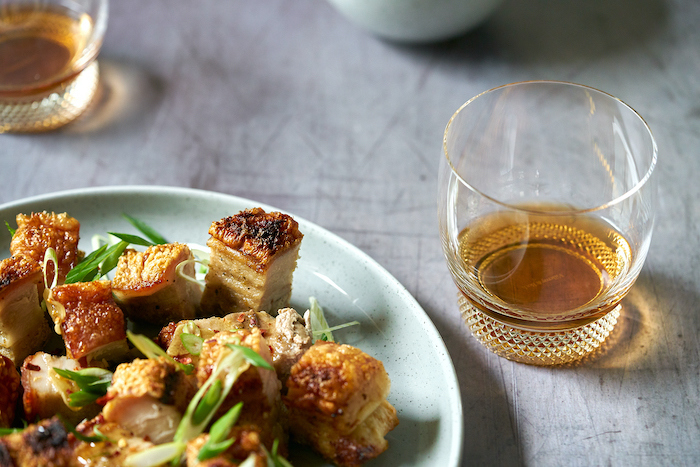 Oven Roasted Spiced Pork Belly
This delicious pork belly recipe is intensely seasoned and crisp. You can pair with everything from ramen to veggies!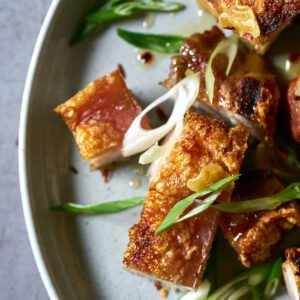 Ingredients
2

lb

pork belly (whole hunk or 1-inch strips work)

2

tsp

mirin or sherry

.5

tsp

sugar

.5

tsp

black pepper

.5

tsp

garlic powder

.5

tsp

onion powder

1

tsp

fennel seed

.5

tsp

anise seeds

5

cardamom pods (seeds only, husk removed)

1

tsp

rice wine vinegar

.75

tsp

Kosher salt

3

tbsp

wildflower honey

2

tbsp

rice vinegar

1

clove garlic, thinly sliced

.5

tsp

red pepper flakes

2

scallions, thinly sliced
Instructions
Using a small paring knife, make small cuts occasionally on the meat side (underside) of the pork belly.

In a small bowl, mix marinade ingredients, brush onto the bottom and sides of the pork belly, avoiding the top skin side. Place on a plate or small tray. Wipe top (skin) with a paper towel to dry. Brush with vinegar and sprinkle on salt on top.

Place in the fridge uncovered (very important) overnight or up to 24 hours.

Preheat oven to 400 F. Position oven rack in the bottom 1/3 of oven. Place meat skin side up in roasting pan. Place in oven and roast for 50 minutes. Adjust cooking time depending on actual size of meat (thin pieces vs very thick pieces).

Change oven to 'broil', keeping the pan where it is. Broil until skin is crispy and golden (could take 10-15 minutes depending on your oven). Remove meat, cool and cut into cubes if desired.
Nutrition
Serving:
1
g
Calories:
559
kcal
Carbohydrates:
9.1
g
Protein:
52.7
g
Fat:
30.6
g
Saturated Fat:
13.1
g
Cholesterol:
131
mg
Sodium:
2124
mg
Fiber:
0.4
g
Sugar:
8
g